A rich, velvety pot du crème that tastes like the soul of a pecan, this is one of my favorite hickory nut recipes. The best part is that there's no shelling individual nuts at all. The secret is kanuchi, or hickory nut milk. If you're not familiar, I wrote about hickory nut milk in an older post here, but I'll describe the process briefly so you understand what's happening.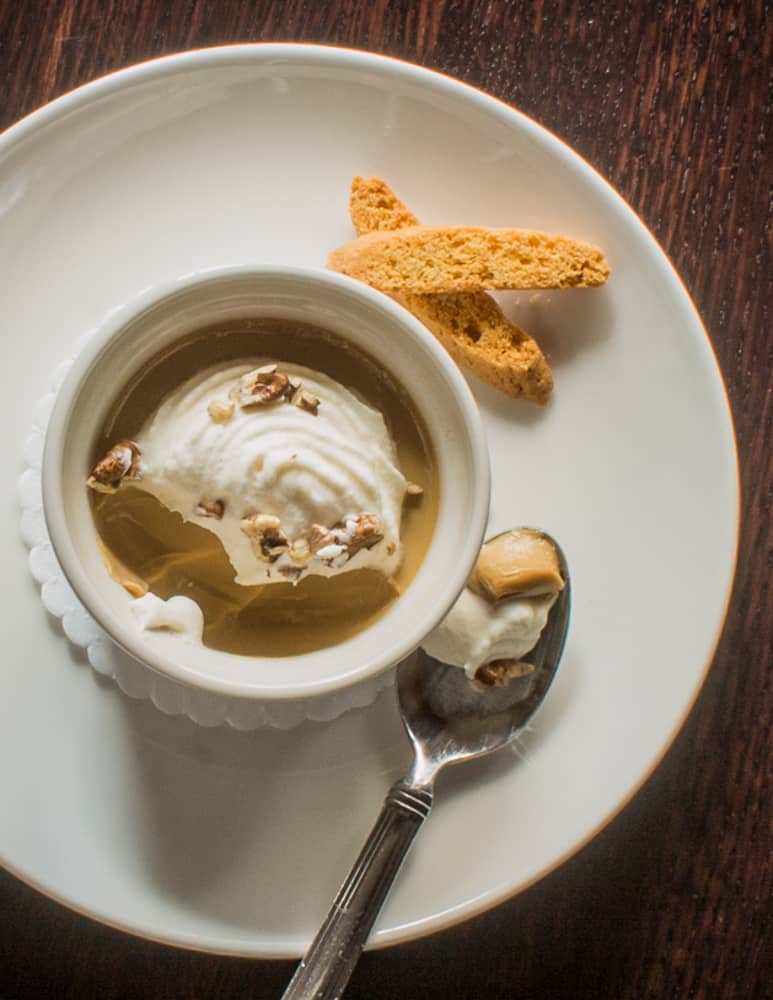 Hickory nut milk
Traditionally, hickory nuts (Carya ovata only here) were gathered and pounded, shell and all, in a hollowed-out tree trunk called a bootagen. After the nuts and shells are pounded into a sort of rough mash, they're simmered in water. After the nuts and shells are cooked for a while the mixture is allowed to settle for a moment. The nut shells sink to the bottom of the pot, and the nut milk is ladled off the top.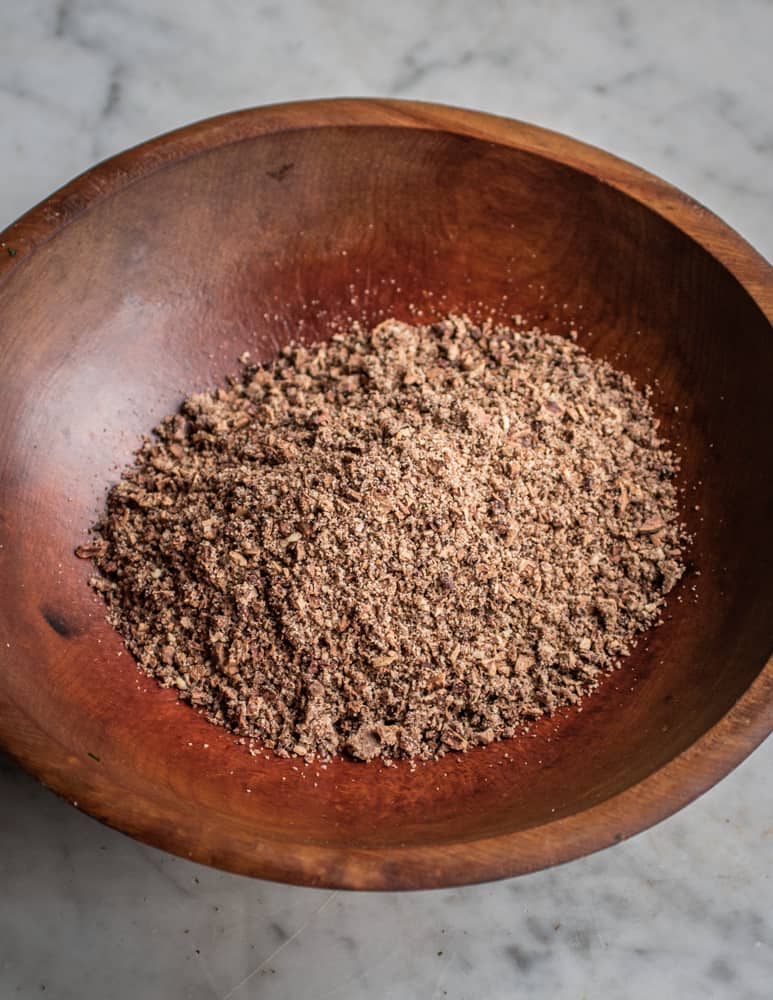 The rustic nut milk you get from the process is incredibly flavorful and has all kinds of possibilities in the kitchen where you can incorporate nut milk or another liquid.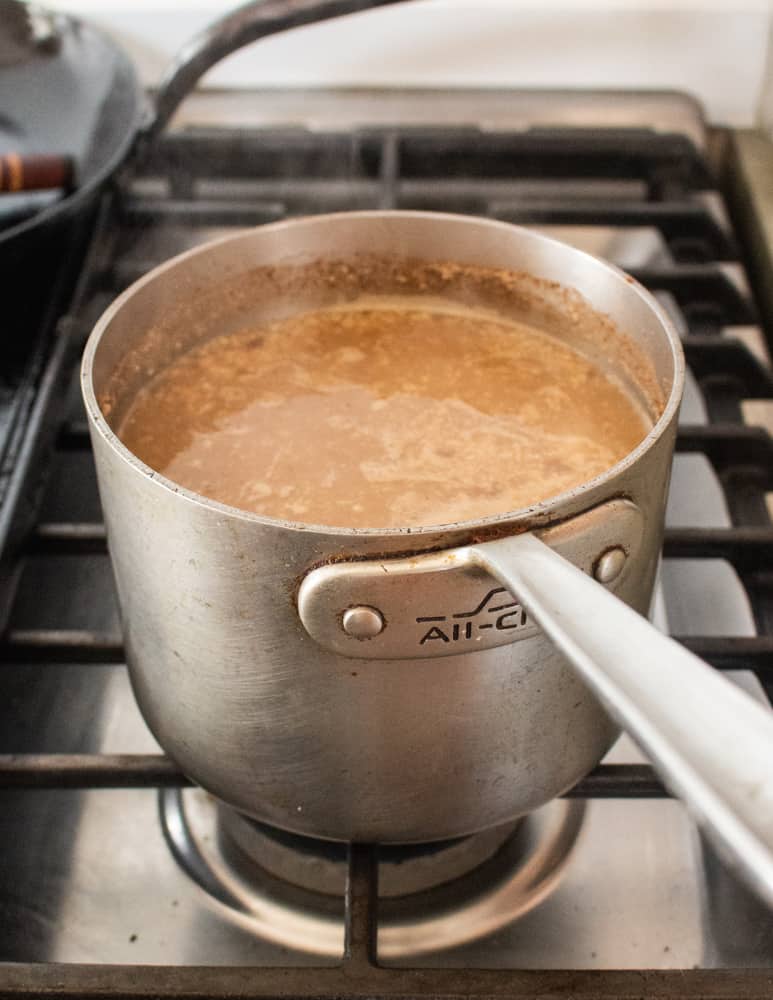 I knew that it would make a fantastic pot du creme, and I was pretty sure it would be easy. It is. There are a couple things to know though.
Tips
Don't omit the cream
The amount of cream here is important, more specifically the fat is important. It may be tempting to try and make a pot du crème with only hickory nut milk, but there just isn't enough fat in it to emulsify properly, and to make it thick enough to get it to the point of cream, you will need more hickory nuts than I think is economical for something like this.
Cooking uncovered in a water bath
The water bath is important as it helps the custard cook gently.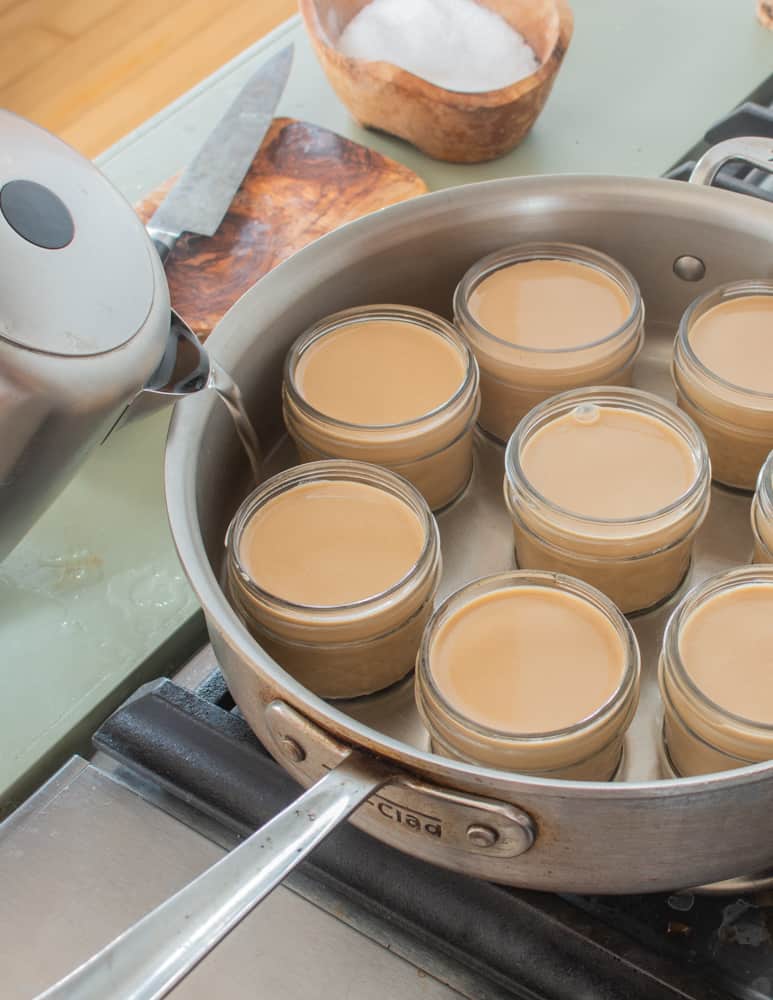 Cooking them uncovered is also important as it forms a thin layer called a pellicle that will preserve the custard underneath while taking on an attractive color. If you cook the custards covered, drops of water form condensation will form on the top of the custards, discoloring the top with speckles and spots.
Using different cooking vessels
I use 4 oz jelly jars here as they're a perfect, small serving, but as long as you know how to tell when a custard is set, you can make this in just about anything you want. If you use a cooking vessel that has a larger size, such as an 8 oz ramekin, you'll need to increase the cooking time. You can also get away with cooking the custards at 325 F, but you'll need to watch them a little more closely.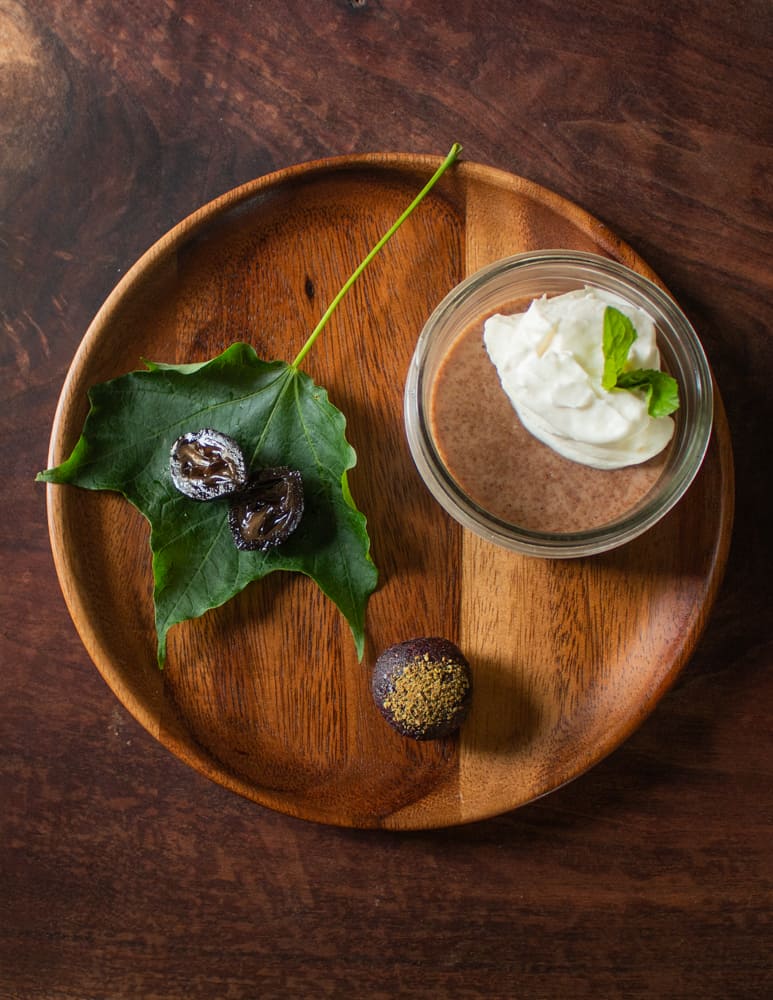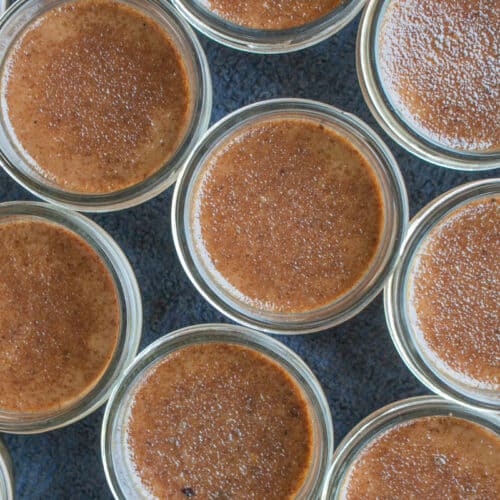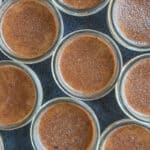 Print Recipe
Hickory Nut Pot du Creme
A rich, luxurious pot du creme made with hickory nut milk. Makes 8 4 oz ramekins or roughly 32 oz of custard that can be cooked in different vessels depending on what you have.
Ingredients
For the hickory nut milk
8

oz

hickory nuts

4 ¼

cups

water
Custard
2

cups

heavy cream

½

stick unsalted butter

½

cup

light brown sugar

7

eggs

¼

teaspoon

salt

Pinch

cinnamon
Instructions
Hickory nut milk
Crack the hickory nuts individually and inspect every one for any signs of rancidity or spoiled nuts. Just one nut will ruin the whole batch. This is only really an issue if your nuts are stored at room temperature.

Take the cracked nuts and pound or crush them, shell and all using whatever method you have available. Traditionally a bootagen is used, but I use the dry bowl of a vitamix. You can also just bash the nuts up with a hammer as well as you can and you'll still get a good flavor, it just won't be as potent.

When the nuts and shells are crushed up, add them to a 2 quart saucepot along with the water and bring to a simmer. Cook this for 20 minutes. After twenty minutes, stir the mixture for a minute, then stop. You will notice the nut shells sink to the bottom. Carefully ladle the (mostly) shell-free nut milk from the top, leaving the shells in the bottom of the pot.

At this point, I pour a fresh batch of water (4 cups again) over the nut shells and make a weaker batch of hickory milk. If you want to combine the first and second batches of nut milk and reduce it for a stronger flavor, you can do that, it just takes a little extra time to reduce it.
Pot du creme
Reduce the first batch of nut milk until only 1 cup remains., then pour it into another container, rinse out the pot, and reserve.

Heat the butter and brown sugar in the pot until sizzling and the butter is melted, then add the brandy and cook for 2 minutes on medium-high heat.

Add the cream, nut milk, salt, and pinch of cinnamon and heat through just until the sugar is melted, whisking occasionally. It does not need to boil.

Allow the mixture to cool for a bit-I like to put the bottom of a metal pot in a sink of cold water and whisk it to lower the heat until it's just above body temperature, about 100F.
Baking
Preheat the oven to 300 F

When the mixture is slightly cooled enough to not cook the eggs, add the mixture to a blender, along with the egg yolks. Puree this, then strain into a container you can pour from, like a small pitcher.

Arrange 8 4 oz jelly jars or ramekins in a wide pot with high sides, dividing the custard evenly between them and leaving at least ½-1/4 inch headspace.

Fill the pot with hot water that should come up ½-3/4 of the height of the jars. Transfer the pan with the pot du creme to the oven and cook for 30 minutes, or until just barely set. Remove the custards from the oven and allow to cool in the pan until room temperature, then screw on the lids and refrigerate until needed.

The custards will last for 5 days.
Serving
Top each custard with a spoonful of whipped cream and a few toasted hickory nuts, if you want.
More