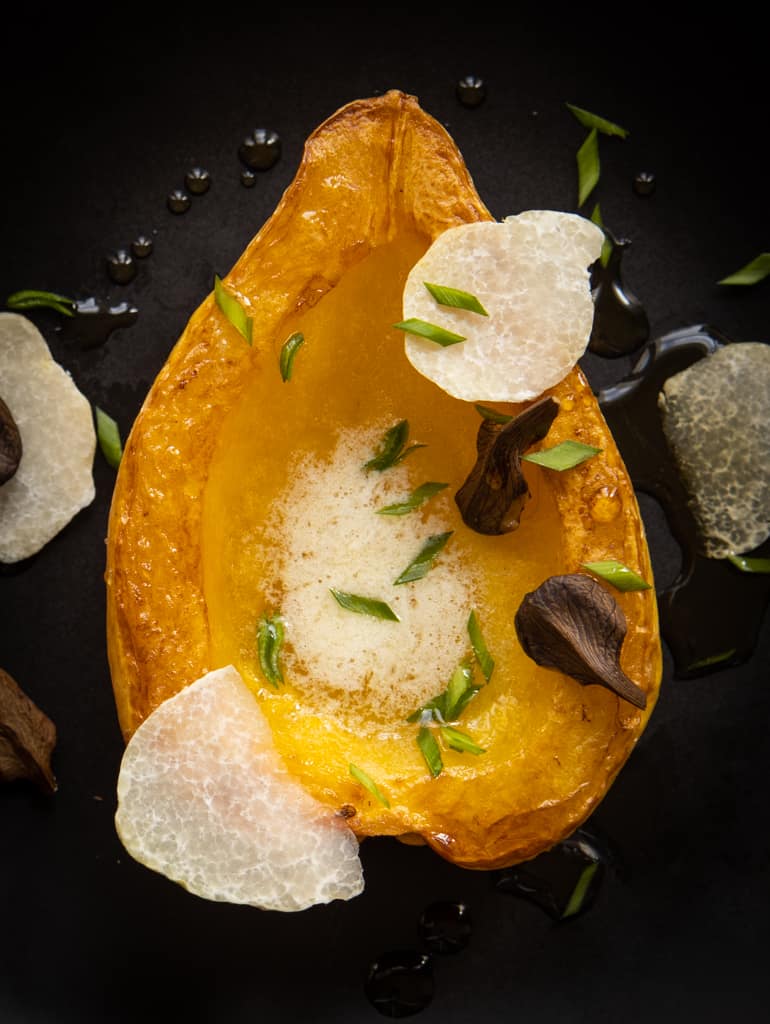 A while back I was contacted by a truffle hunter and soon to be author from Hungary wanting to know if I could contribute some recipes to a book on Honey Truffles (Mattirolomyces terfezioides). They offered to ship some to me direct from Hungary for the project, and being a fan both of truffles and new-to-me ingredients, I accepted.
Honey truffles are strange creatures though, they have a strong sweet taste, almost like saccharin, as well the typical truffle flavor, followed by a bready, cheesy note. It's an odd combination, and a lot more difficult to cook with than typical truffles.
With the sweet taste, but also strong mushroomy finish, I wanted something that would be savory, but a savory place where some sweetness would be welcome. Squash season is booming right now, and my favorite stall at the St. Paul Farmers Market is packed with heirloom squash, so I went and got a selection, and settled on Thelma Sanders Sweet potato Squash as the winner for the recipe.
The recipe is pretty simple: roast an acorn squash, then put a good tablespoon of cheesy chevre butter in the middle (the salty funk is good with the honey truffle, but just butter could work) drizzle with honey truffle-infused maple syrup, and garnish with a few cracked nuts and chives or some other herb. It's a pretty novel way to eat squash, and a great way to enjoy honey truffles if you find yourself with some.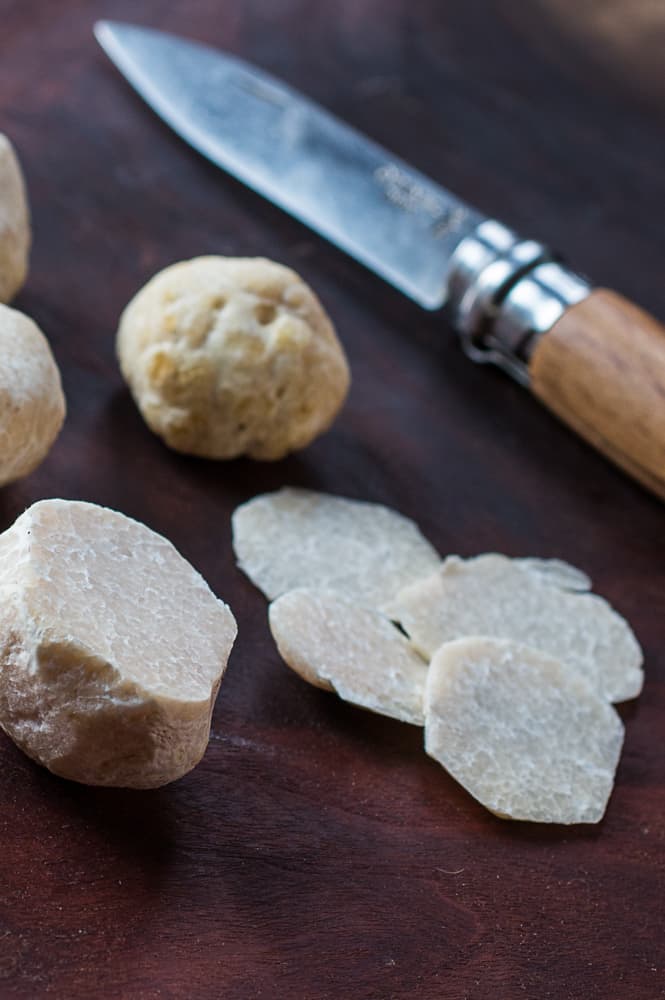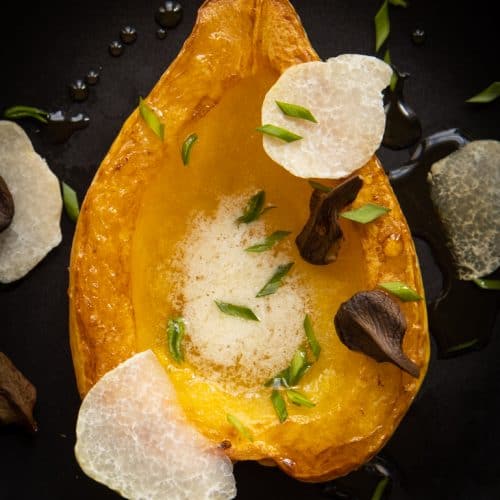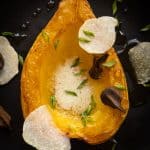 Print Recipe
Heirloom Acorn Squash with Truffled Maple Syrup and Chevre Butter
A shareable dish, assume half an acorn squash for two people. Thin sliced smoked ham like speck makes a good addition too. Serves 4
Ingredients
2

small acorn squash

4

oz

unsalted butter

at room temperature

2

oz

fresh goat cheese

at room temperature

Two teaspoons cut chives

A few freshly cracked butternuts or black walnuts

Kosher salt

to taste

Truffled maple syrup

for drizzling, as a garnish (see recipe)

10

grams

Fresh honey truffles

one small truffle, plus extra for shaving

2

teaspoons

cooking oil
Instructions
Mash or puree the butter and goat cheese, then roll into a log using parchment paper, refrigerate and reserve.

Preheat the oven to 375.

Cut the squash in half, scoop out the seeds and oil them lightly, then place cut side down in a pan and cook for 20 minutes, or until tender when pierced.

The cut side should be lightly browned.

Arrange half a small squash on each plate put a thick slice (½ oz) butter in the center, season lightly with salt, sprinkle with chives, a few slices of truffle and a drizzle of maple syrup. Scatter the nuts over the top and eat.