On one side of my family there's often a collaborative effort for Thanksgiving. This year, I'm bringing my favorite dried wild mushroom stuffing recipe, with a few handfuls of turkey gizzard confit for good measure.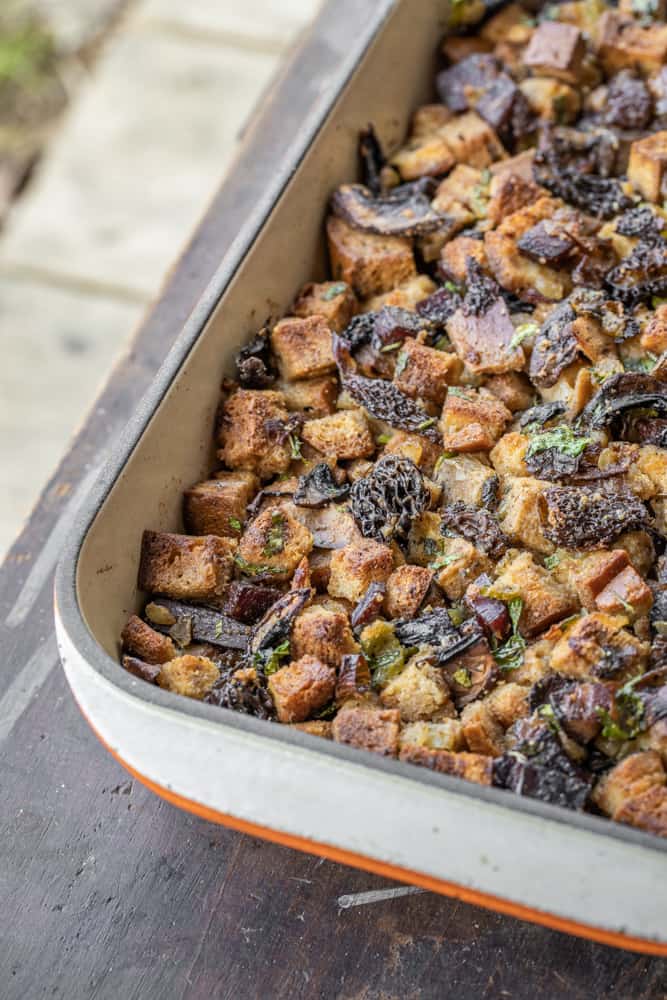 When I say my favorite stuffing too, I mean it. I'm including some images of the same recipe that go back at least 5 years. Sometimes black trumpet mushrooms, sometimes morels, always delicious.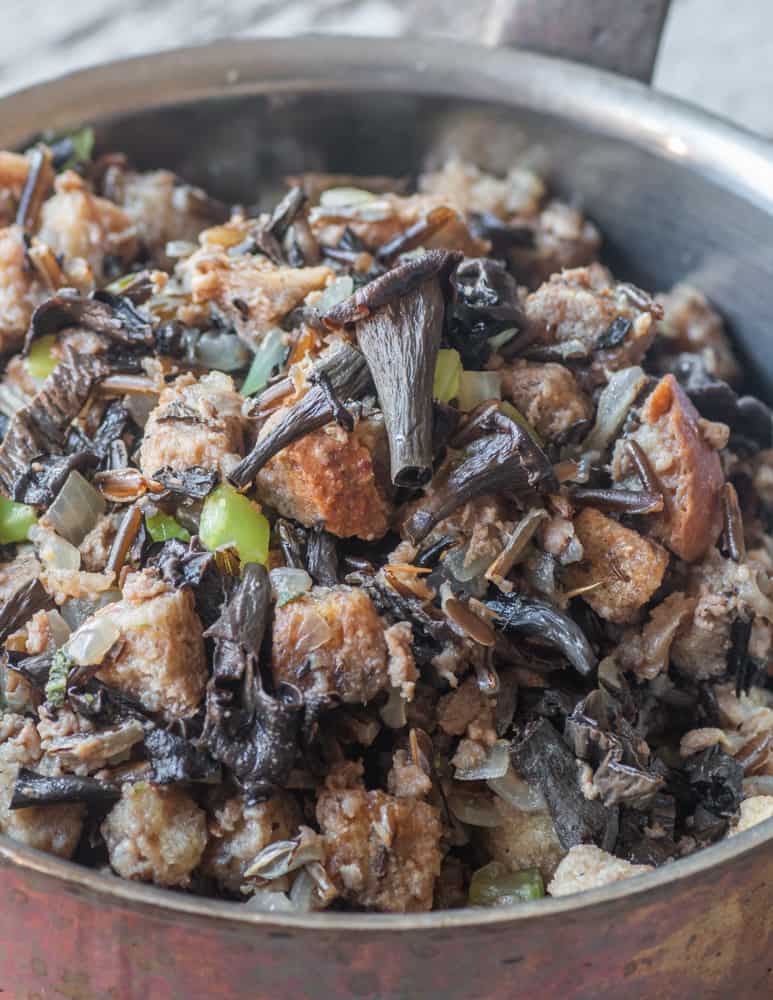 Stuffing can be so disappointing, but as most of us know, if you've had a good one, you remember it. Here's a few notes on what I think are important.
Good homemade stock
Not the packaged stuff. At the very least roast that turkey neck and make one with that, if you'll be prepping in the kitchen anyway it's hardly more work, plus you'll need stock for gravy anyway. Spatchcocking the bird by removing the spinal column so the bird can be roasted flat is a good way to get some extra stock bones in a pinch.
Here I used some stock made from venison trotters that I had in the freezer that gets infused with dried wild mushrooms. The stock below is super rich, so I thinned it a bit to avoid stickyness from collagen.
Dried wild mushrooms
A good wild mushroom stuffing recipe is a good place to use your dried mushrooms. Here I used a couple big handfuls of dried morels, honey and black trumpet mushrooms, but I also like using a single species like morels or black trumpets if I really want to taste them individually. Dried morels especially work very well.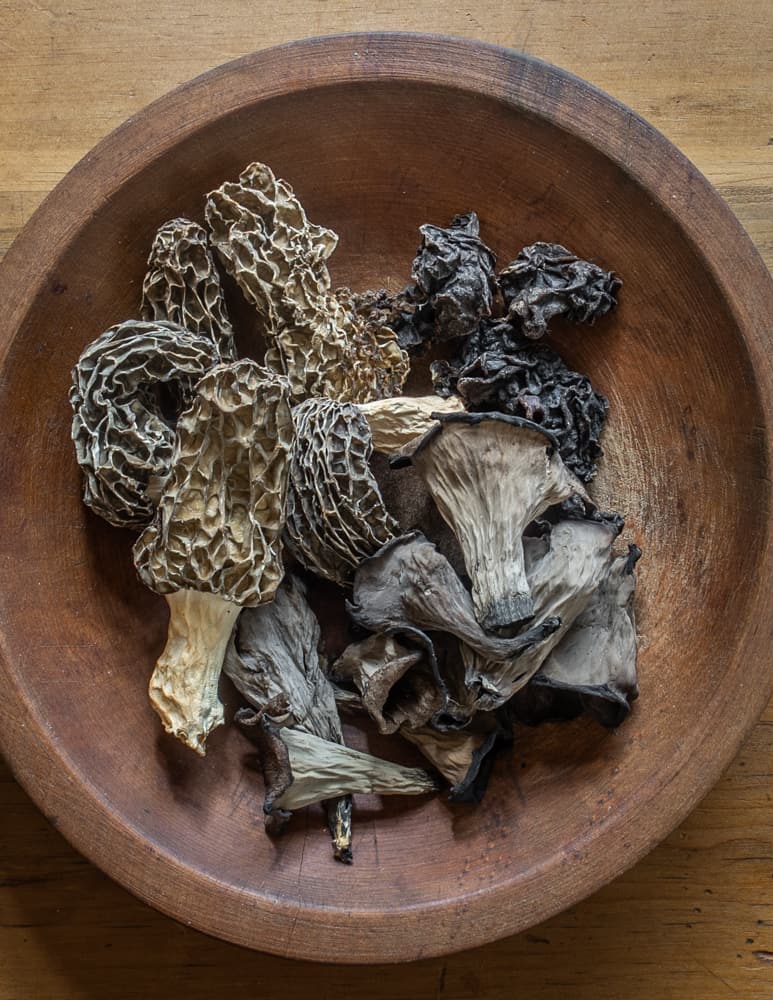 To get the most out of the mushrooms, I rehydrate them in meat stock, but, as the amount of liquid needed to rehydrate the mushrooms is more than needed to hydrate the bread, I reduce the rehydrating liquid down to a concentrated mushroom nectar (roughly 50%) before adding it to the bread.
Be careful to avoid any grit left at the bottom of the pot, so don't feel bad discarding the last tablespoon or so.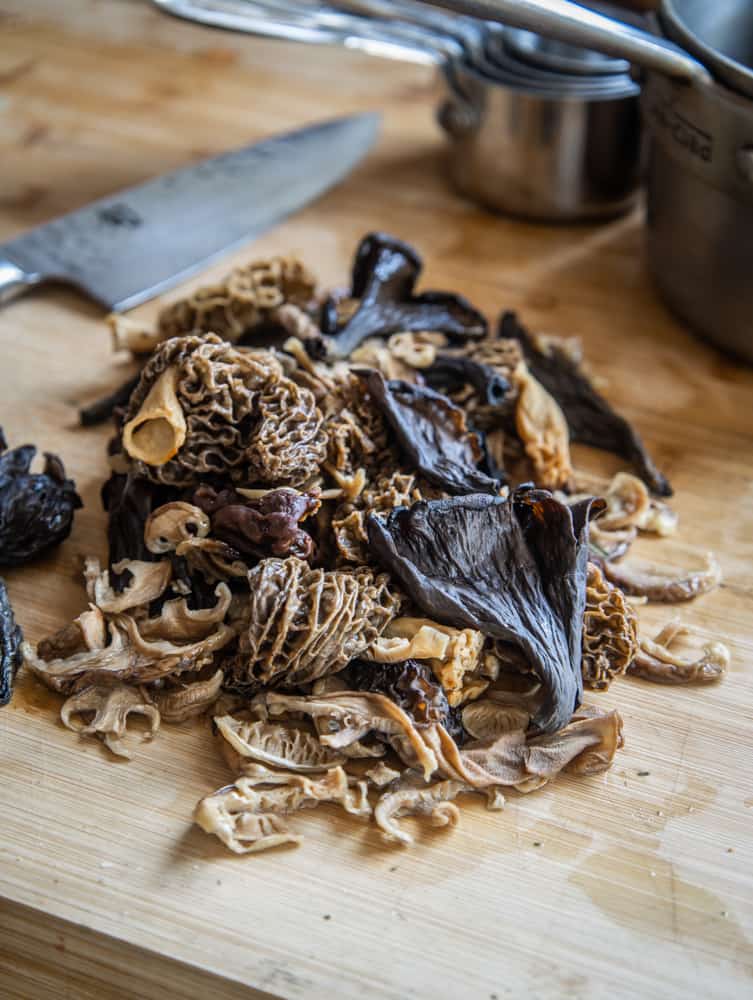 Sage
I go out of my way to use fresh sage. Some fresh thyme will do in a pinch but sage is the cornerstone herb of stuffings for me.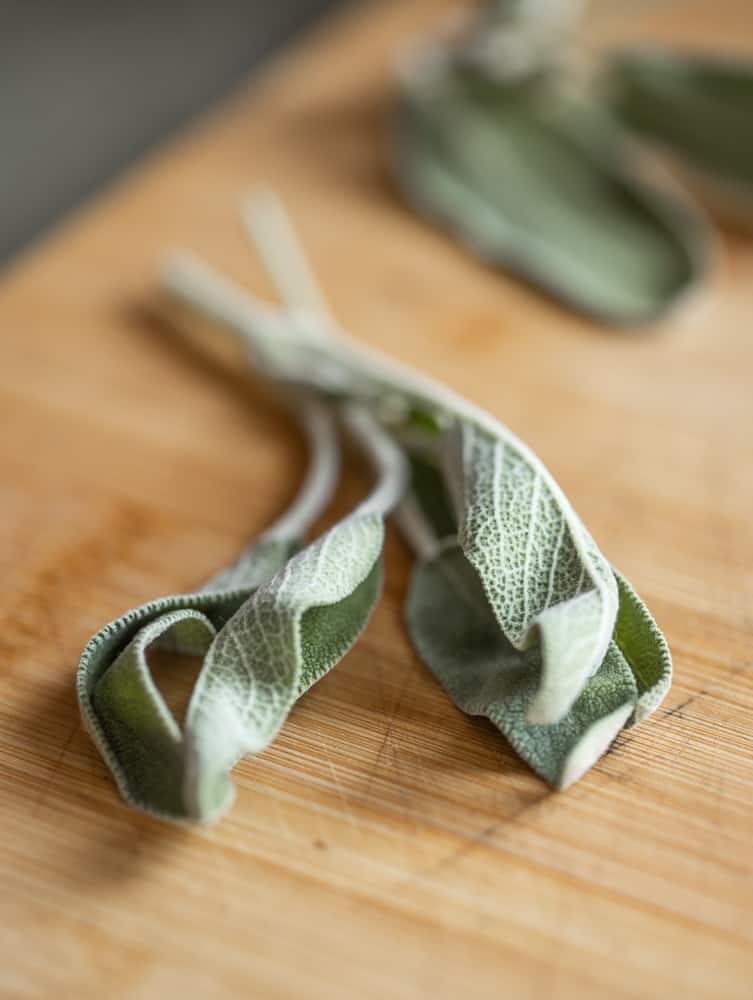 Meat scraps
This could be bacon, a little sausage, or, as I use here, confit turkey gizzards. Just a little, not too much. Using alternative smoked meats like beef bacon is good too.
Good, old-fashioned stuffings often have some offal in them, and it's a good place for any you may have laying around. In a pinch, just chop up some turkey offal and simmer it in the stock until tender.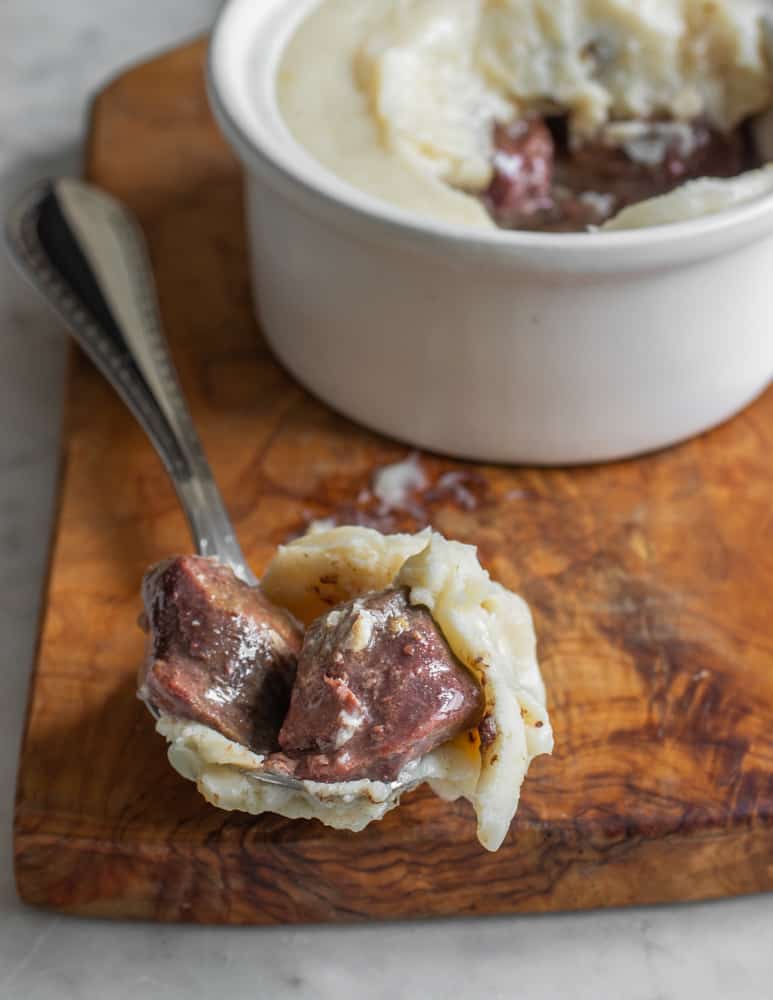 The bread
I think it's fine to use those dried slices in bags at the grocery store. While it can be tempting to look for super high-quality bread, and you can, just know that it's good to remove the crusts from them as they can be tough.
No one will think twice eating bread of questionable origin once it gets soaked in buttery mushroom juice.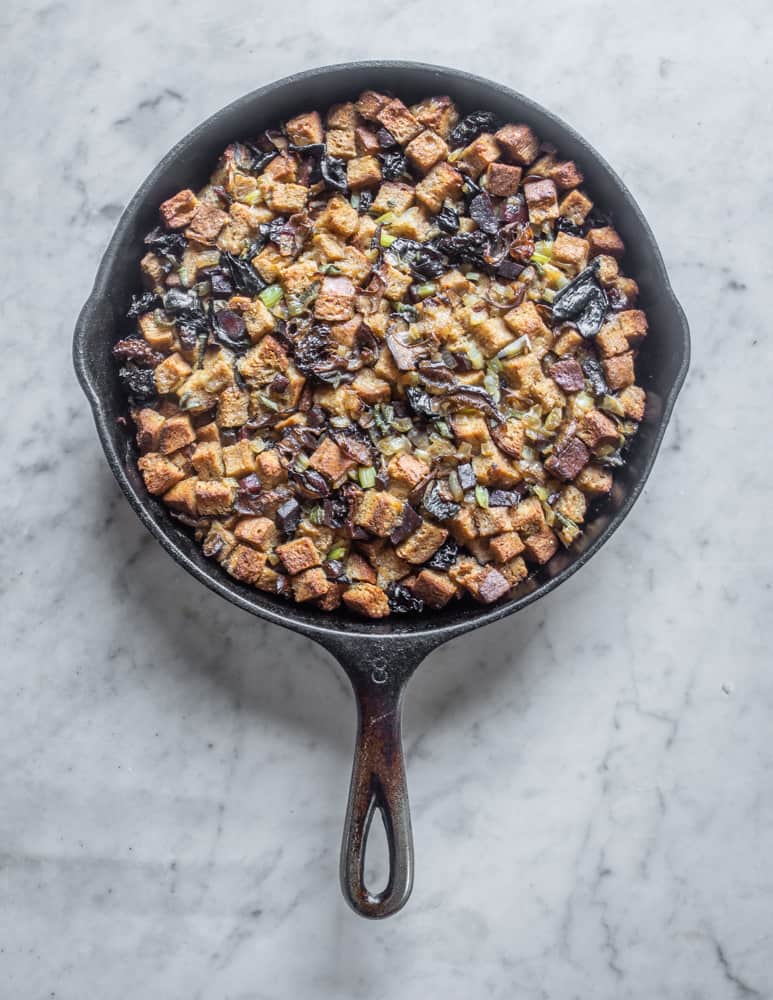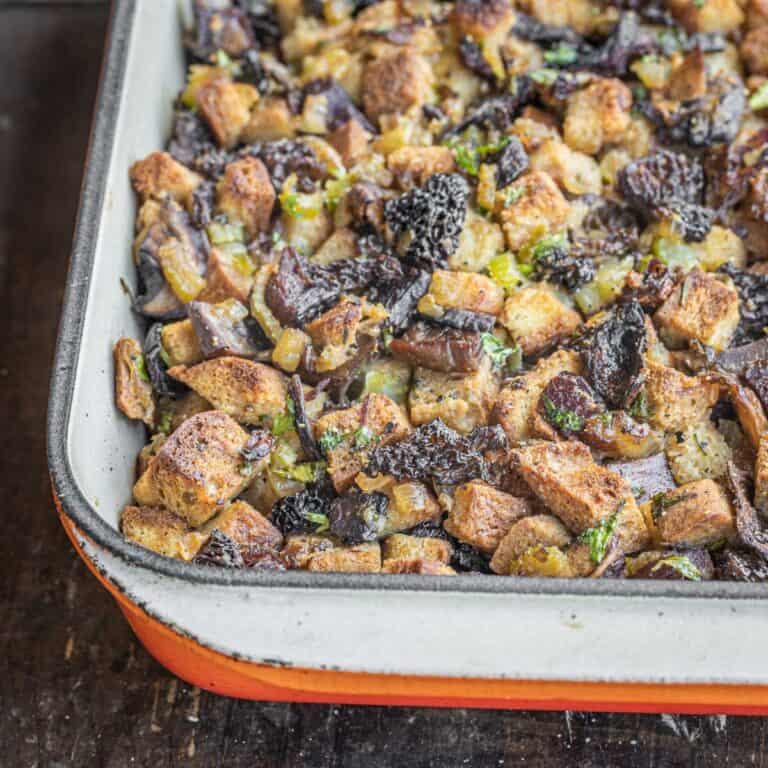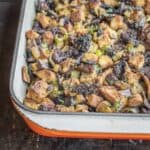 Print Recipe
Dried Wild Mushroom Stuffing
A simple stuffing made with dried wild mushrooms, sage, homemade stock, and bacon or gizzards. Makes 8 healthy portions.
Ingredients
1

small onion

about 4 oz, finely diced

2

ribs celery

ends trimmed, stems finely diced

4

oz

gizzard confit

preferably turkey, see note (chicken hearts or a mix off cooked chopped offal are good too)

5

cups

10oz diced bread, cubed ½ inch, if you use an artisan sourdough or similar, consider removing the crusts if they're hard

4

oz

1 stick unsalted butter plus 2 T duck or poultry fat is a good substitute

2

tablespoons

thinly sliced fresh sage or chopped fresh thyme

2-2.5

oz

dried morel or other dried mushrooms

3

cups

good homemade meat stock

like turkey, hot, see note

1

large egg

1

large clove garlic

Kosher salt and fresh ground black pepper

Small handful chopped fresh Italian parsley

optional
Instructions
Leave the bread out in a container in a single layer to dry out for at least 24 hours, preferably a few days.

Rehydrate the morels and or other mushrooms in the stock for at least 30 minutes (overnight rehydrating is fine too, as you are transferring the mushroom flavor to the stock here). Swish them around to remove grit, remove the mushrooms, squeezing the stock from them back into the container.

Coarsely chop the mushrooms, trying to keep them in semi large pieces especially if they're small. When in doubt, you want larger pieces of mushroom as opposed to smaller.

Let any debris in the stock from the mushrooms settle, then pour it carefully into a small pan, leaving the debris at the bottom of the container, sacrificing a tablespoon of stock to ensure there's no grit in the stuffing. Reduce the stock by half, or until it's roughly 2 cups, then reserve.

When the stock is cooled enough to not cook the egg, beat the egg in well, along with ½-1 teaspoon salt (or to taste) along with generous grinds of black pepper, about 10-15. If your stock or butter are salted, you will want to salt it to taste.

Sweat the gizzards or bacon, sage, onion and celery in the 4oz of butter, grating in the garlic using a microplane (alternately you can mince the garlic). If you're using regular commercial bacon, render it first until crisp first before adding the butter.

Add the rehydrated mushrooms and a couple grinds of pepper and cook over medium heat (a steady bubble) for 10 minutes for the flavors to meld.

Put the bread cubes in a large mixing bowl, then pour in the stock-egg mix, and then the buttery vegetable mix making sure to scrape every last drop of goodness into the bowl with the bread.

Gently mix the stuffing, adding the parsley if using, and set the mixture aside to hydrate before baking for at least an hour. It's also fine to leave it overnight, and it will benefit from the extended hydration.

To bake it, bring the stuffing to room temperature, then preheat the oven to 350. Melt the two extra tablespoons of butter, drizzle evenly over the top, bake for 30-45 minutes or until browned.
Notes
Gizzard Confit
To make gizzard confit, trim the gizzards of all membranes and discard, then season with 1-1.5% of their weight in salt, along with a generous pinch of chopped fresh sage, thyme, or rosemary.
Refrigerate the gizzards overnight. To cook, put the gizzards in a small pan along with a clove of garlic, cover with rendered tallow, cover with parchment, then with foil and bake for 3 hours at 250F. Cool and roughly chop the gizzards and reserve until needed.
Leftover stuffing 
One of my line cooks used to mix leftover stuffing with an egg and fry it in patties for sandwiches with cranberry preserves and turkey. I like it warmed up with a fried egg.
Nutrition
Serving:
5
oz
|
Calories:
575
kcal
|
Carbohydrates:
75
g
|
Protein:
21
g
|
Fat:
21
g
|
Saturated Fat:
9
g
|
Polyunsaturated Fat:
4
g
|
Monounsaturated Fat:
5
g
|
Trans Fat:
1
g
|
Cholesterol:
73
mg
|
Sodium:
939
mg
|
Potassium:
363
mg
|
Fiber:
6
g
|
Sugar:
11
g
|
Vitamin A:
399
IU
|
Vitamin C:
2
mg
|
Calcium:
200
mg
|
Iron:
6
mg