A simple pickle you can use for pickling unopened dandelion buds and making "capers". You can add the finished pickles to soups and sauces.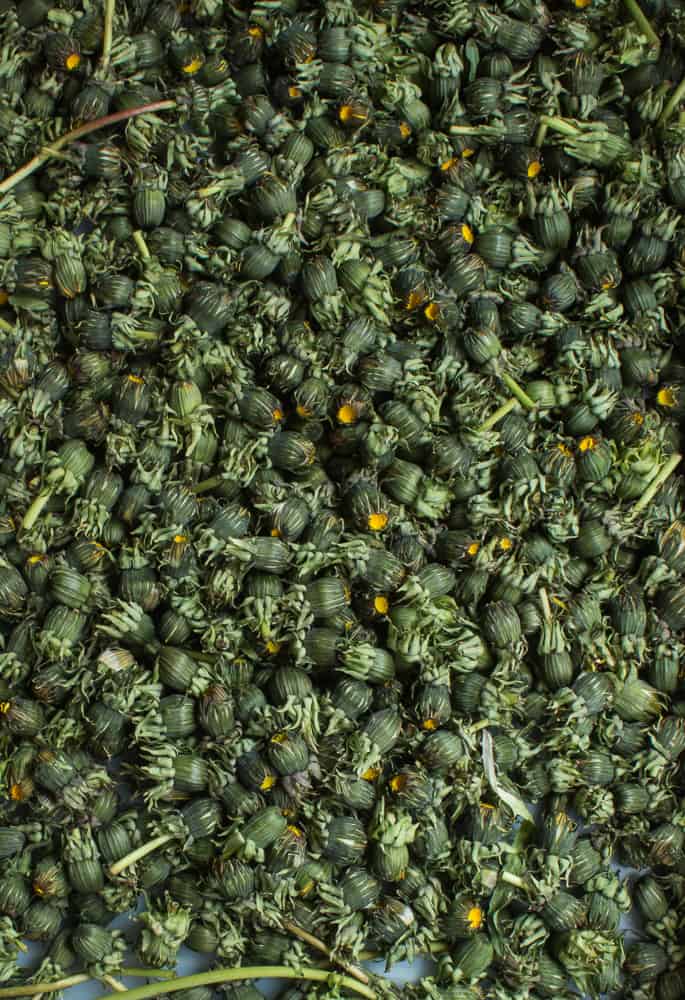 This is a variation on my original wild caper recipe, which at the end of the day is just simple pickle (the original is lacto-fermented). You can flavor the seasonings any way you like, but make sure to let them age a month or two before opening to age and let the flavors meld. Also, make sure to only pick the smallest, tightest dandelion buds, since mature ones will tend to open a bit as they sit in the pickling liquid.
You can use them just like you would regular capers, they're vinegar-salty punch add excitement to everything from salads to pickle plates, but my favorite it tossing them into a lemon-wine sauce for piccata, scallopine, or fish, or mixing in with tomato sauce and a bowl of pasta.
Preserving
Canning your dandelion bud capers
You can also preserve these for long term storage by processing pint jars in a water bath canner for 10 minutes, some of the capers may open up a bit though since they get cooked through the canning process.
Another method is to simply pour boiling vinegar brine into the jars, filling the jars up to the brim. When the jars are completely filled, put on the covers and then immediately turn the jars upside down. When the jars are completely cooled, you'll find they have formed hermetic seals, just as if you'd used a water bath canner.
Making sure the buds are tender
Raw, pickled, or just fermented in brine, some capers will be great (nasturtium are my favorite), some will need a little help. Dandelion capers, if not canned in a water bath, should be simmered in water to make them tender, then chilled, and pickled or fermented.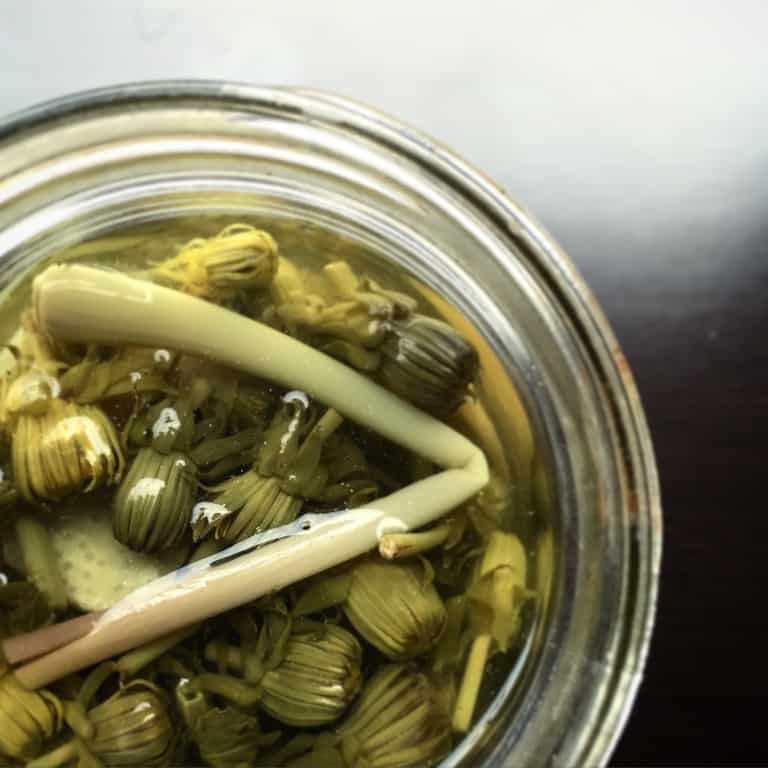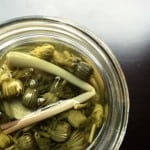 Print Recipe
Pickled Dandelion Capers with Ramps and Lemon
A simple pickle recipe for making dandelion caper pickles. Feel free to cut the recipe in half according to your needs. Yield: 4 pint jars
Equipment
1 wide mouth pint mason jars

1 2 quart sauce pot
Ingredients
1.5

cups

water

1.5

cups

champagne vinegar

or another vinegar you like

2

tablespoon

kosher salt

About 7 loosely packed cups of unopened dandelion buds

you may be able to fit more in jars depending on the size of your buds

4

cleaned ramps

green leaves removed

4

two inch pieces of lemon zest

white pith removed
Instructions
Bring a pot of water to a simmer, then add the dandelion buds and cook until just tender, about 3-4 minutes, then drain and reserve.

Meanwhile, heat together the water, vinegar and salt together until the salt is dissolved, then cool.

Take the dandelion buds and fill half pint canning jars with them

Press the buds down to decrease air pockets, in each jar place a piece of lemon zest and a ramp. Leave at least ½ inch to an inch of headspace in each jar.

When you've pressed the buds down, fill the jars with the boiling vinegar brine, jostling them around with a toothpick to remove air pockets, then turn the jars upside down and cool, which should seal them, or refrigerate, and wait at least a few weeks before enjoying. See note.
Notes
Dandelion capers need to be cooked to soften them somehow. I like giving them a blanch to tenderize them, and pour the boiling pickle liquid in the jars to avoid boiling a waterbath in the summer, but you can also pour the liquid into the jars with the raw buds and process in a waterbath for 15 minutes to store them at room temperature. Both ways work. 
Nutrition
Serving:
1
oz
|
Calories:
2
kcal
|
Carbohydrates:
0.03
g
|
Protein:
0.005
g
|
Sodium:
467
mg
|
Potassium:
5
mg
|
Vitamin C:
0.1
mg
|
Calcium:
1
mg
|
Iron:
0.1
mg