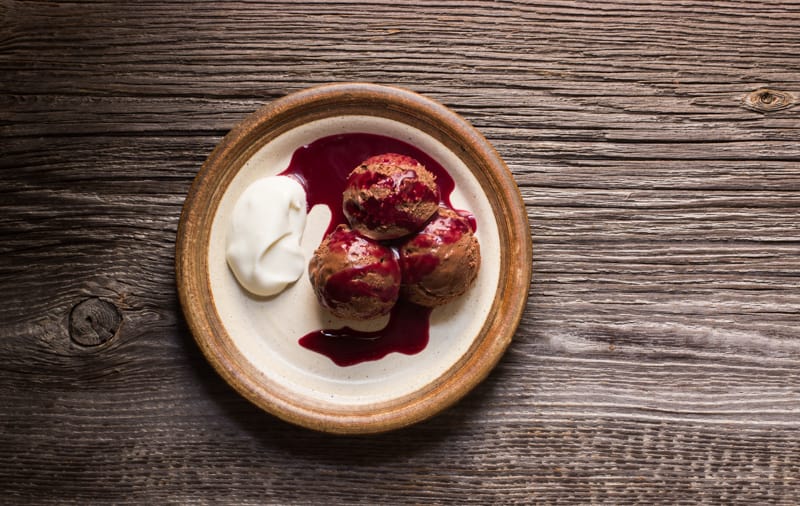 Chocolate mousse. It's one of the simplest, and most classic desserts I know. Simple can be relative, since there's a fair amount of whisking involved, but it can be made well in advance and put together at the last minute.
Recently this was the dessert I walked a number of home cooks through in a class I taught with Kitchen in The Market, a Minneapolis based catering kitchen that occasionally hosts something they call "Chef's Night Off"-a class featuring a rotating local chef, with all the proceeds going to a local charity.
Last year's class was on various types of pasta, this one was a little different. Basically I just thought of a couple seasonal, interesting recipes and made a 3-course, family style meal out of them for the guests to try. Here was the menu:
Fried Sunfish with Lovage Aioli
Parisienne Gnocchi
Harvest Vegetable Succotash
Piedmontese Culotte Steaks with Sauce Choron
Smoked Chocolate-Maple Mousse with Wild Cherry Sauce
The sunfish were served as a starter, followed by the steaks with the gnocchi and succotash, and finally the mousse. The mousse is a rich one, thick and custardy. The briefly fermented cream on the side gives it a nice tang, and helps the dish not taste so sweet. As a habit, I try not to use too much sugar in dessert, you want just enough, but not too much. I'm not a fan of desserts that make it feel like my teeth will fall out of my head. Here the chocolate takes center stage, but I employ a fun technique that gives plenty of food depth-smoke.
I smoke all kinds of foods, but desserts have a special place in my heart, especially smoked chocolate, and things made with cream, it adds a certain "je ne sais quoi" that diners go crazy for, even if they can't even tell the dish in question has been smoked.
Moderation is the key when adding smoke to foods like desserts though, since applying too much, or using things to smoke that aren't properly cured (a.k.a dried), or have too strong a flavor (like sage) will give inedible results. I'm going to outline an easy way to cold smoke things using a charcoal grill for you, it's pretty fool proof, if you pay attention.
But, you don't have to smoke the chocolate at all, or make the cherry sauce to have a good mousse. The maple syrup alone makes this a winner.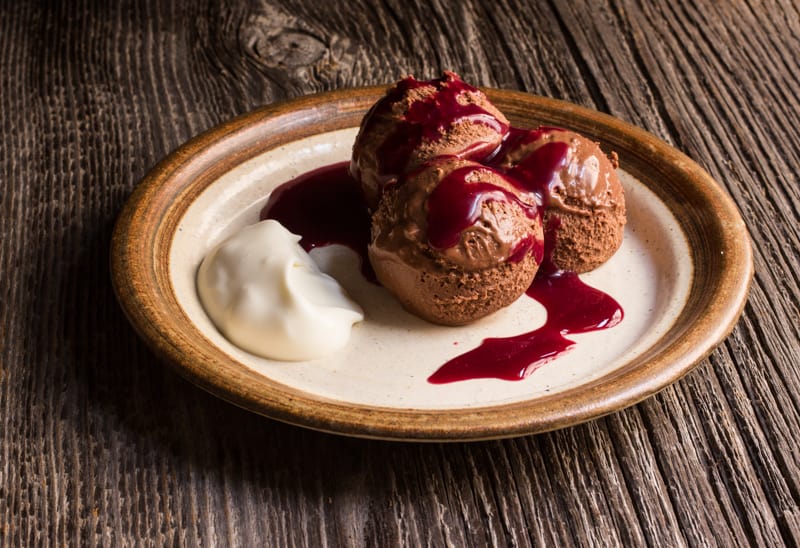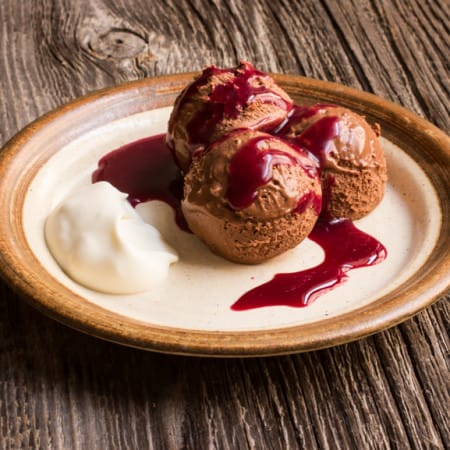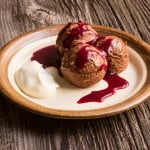 Print Recipe
Chocolate-Maple Mousse with Wild Black Cherry Sauce
Serves 4-8, yielding about 4 cups of very rich mousse, but not overly sweet mousse
Ingredients
5

oz

bittersweet chocolate

Preferably very bitter. If your chocolate is sweet reduce the maple to 3 oz / ⅓ cup

2

oz

unsalted butter

3

egg yolks

4

tablespoons

water

½

cup

Maple syrup

3

egg whites

8

oz

heavy cream

Handful of very dry wood for smoking

or another smoking medium of your choice, like grapevines or rosemary branches

½

cup

crème fraiche

to garnish, or use whipped cream

1

recipe wild cherry sauce

see recipe below
Instructions
Combine the chocolate and butter and melt over a hot water bath.

Combine the egg yolks with half of the water and half of the sugar and whisk over a hot water bath until fluffy and doubled in volume and fluffy. Remove from the heat.

Combine the egg whites with the remaining maple syrup and whisk until doubled in volume over the water bath as for meringue, then reserve.

Using a large rubber spatula, fold the egg whites into the egg yolks.

Fold in the butter-chocolate mixture into the egg mixture.

Fold in the whipped cream, then spoon into serving dishes, or chill in a larger bowl and portion as needed.

Dipping the spoon or scoop in warm water in between each scoop, arrange scoops of the mousse with a dollop of crème fraiche and a tablespoon or so of the cherry sauce on chilled plates and serve immediately.
Notes
To Cold Smoke Chocolate (optional)
Cold smoke the chocolate for 10 minutes. To rig up a cold smoker at home, put some smoking wood chips off to one side in the bottom of a charcoal grill. Put the chocolate into a container set on some ice to keep it cold and make sure it doesn't melt, then place that opposite the wood, after you've put the grate on. You want to smoke the chocolate, but you don't want it to get warm. Light the wood on fire, blow out the flames, then let the grill fill with smoke, put the chocolate in and let it sit for 10 minutes. Easy.
Creme Fraiche
A basic recipe
Ingredients
1

cup

cream

¼

cup

buttermilk
Instructions
Combine the cream and butter milk and store, covered, in an airtight container at room temperature for 72 hours, or until creamy and thick, like sour cream.


Transfer to a labeled, dated container and refrigerate until needed.
Notes
After fermenting, creme fraiche can be whipped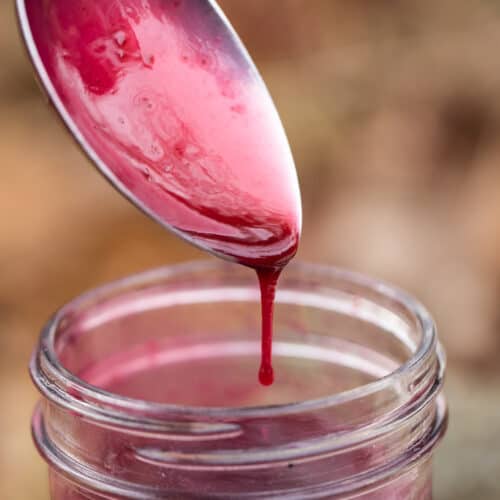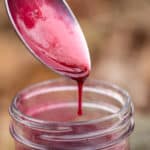 Print Recipe
Sweet and Sour Cherry, Berry or Grape Syrup
A simple sweet and sour syrup made from berries and fruits with lots of seeds or skin. Yield: about 4 cups.
Ingredients
5

cups

chokecherries

raspberries, wild grapes, elderberries, highbush cranberries, or another small berry with a lot of pit/seeds and little fruit/juice

1

cups

water

or substitute fruit juice like cherry or grape

2

cup

white wine vinegar or red wine vinegar for dark fruits

3

cups

sugar

Pinch

of salt
Instructions
Wash the berries, then add the water, and vinegar to the pot.

The berries should be just barely covered by liquid, with a few bobbing around here and there, a technical term we call "floating hippos" in the kitchen.

Bring the pot to a simmer, cover, and cook for 15 minutes on low heat. Mash the berries, or use a hand blender to break them up, simmer for a few minutes more, then strain the liquid and combine it with it's volume of sugar (equal parts). Boil for another 5 minutes, or until the syrup barely coats the back of a spoon, then transfer to jars and store. The syrup will be shelf stable canned in small jars and kept in a pantry, frozen, or refrigerated.