When you have a special occasion to celebrate, there's just about nothing better than a solid chocolate mousse recipe. Here I give it a twist with wild black raspberries that pair so well with chocolate.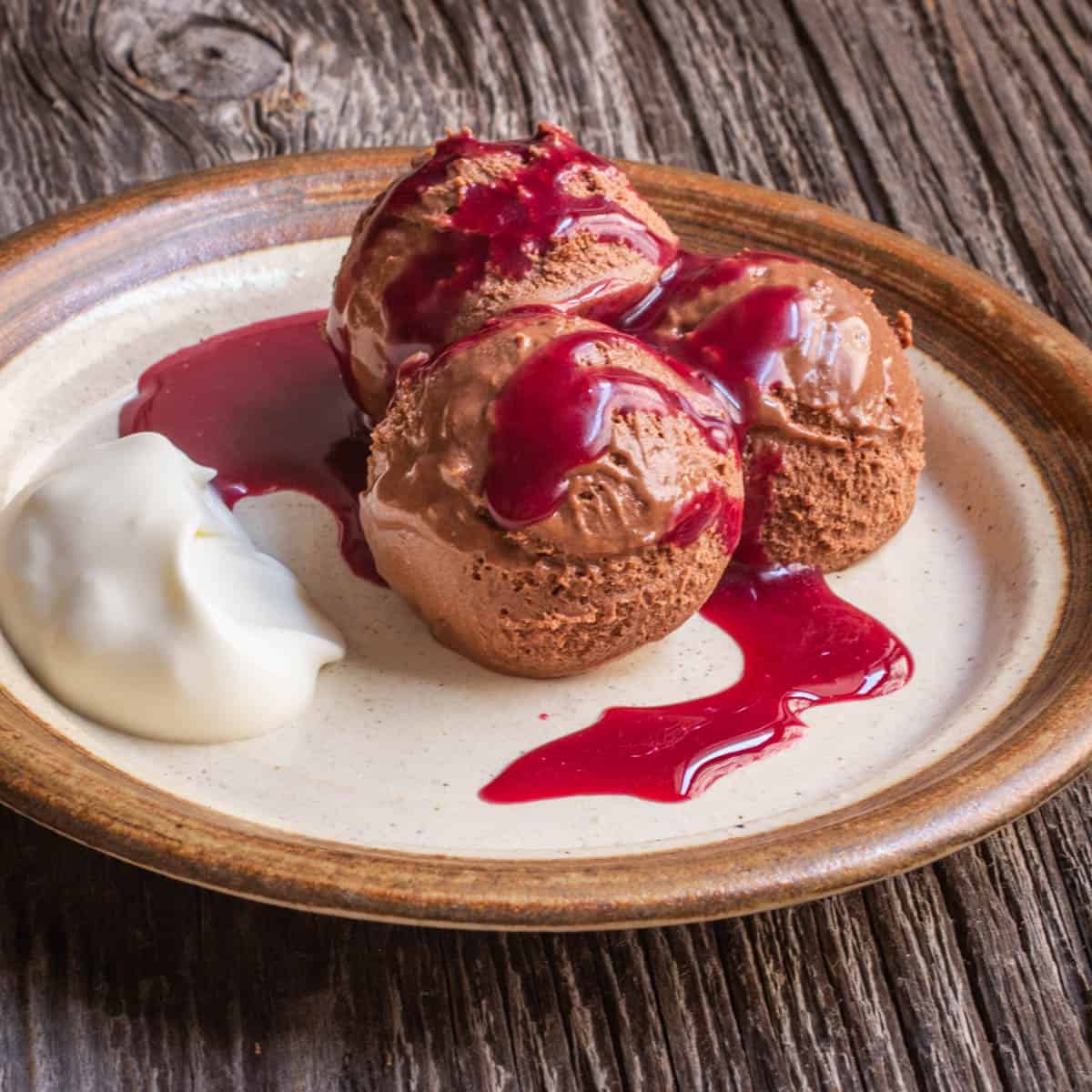 The basic mousse was a staple on my desert menu in both of my restaurants, especially during the summer when cold desserts sell like hot cakes. We would change the flavor pairings occasionally, but this raspberry-infused version was always a great seller.
This is a traditional mousse, meaning you'll need a couple mixing bowls. If you're looking for 3-ingredient chocolate mousse made with cocoa powder, this is not it.
How to make it
In the classic French style, this mousse has eggs, cream, and chocolate. I love the use of whipped eggs in mousse for the rich texture they provide.
First you infuse some cream with raspberries and puree in a blender and strain. After the cream is chilled it's whipped to soft peaks. The raspberries turn the cream a beautiful pink color.
Next you whip eggs over a double boiler. If you haven't done it before, this is a good technique to know. French Sabayon sauce is similar, as is Italian Zabaglione. So if you can make this mousse without cooking the eggs, you can make either of those classic desserts too.
Serving
Serving the mousse in a martini glass is fancy, but not very practical. At the restaurant I would have my cooks hold the mousse in a cooler. When an order would come in, they'd use a scoop dipped in warm water to portion it into dishes.
Piping the mixture into individual pudding cups or ramekins using a pastry bag works just fine too. Using ramekins will make it easier to serve after dinner.
Ingredient Notes
Here's a quick breakdown of some of the optional ingredients I use here.
Black Cap Raspberries
This is a chocolate raspberry mousse, Instead of common red raspberries, Iuse blackcap raspberries, also known as black raspberries. They're one of my favorite wild fruits I harvest each year. The berries have a deep flavor and color, and will make just about anything taste like summer.
If you don't have blackcap raspberries, you can use other berries, such as blackberries. The best part is the berries can be fresh or frozen.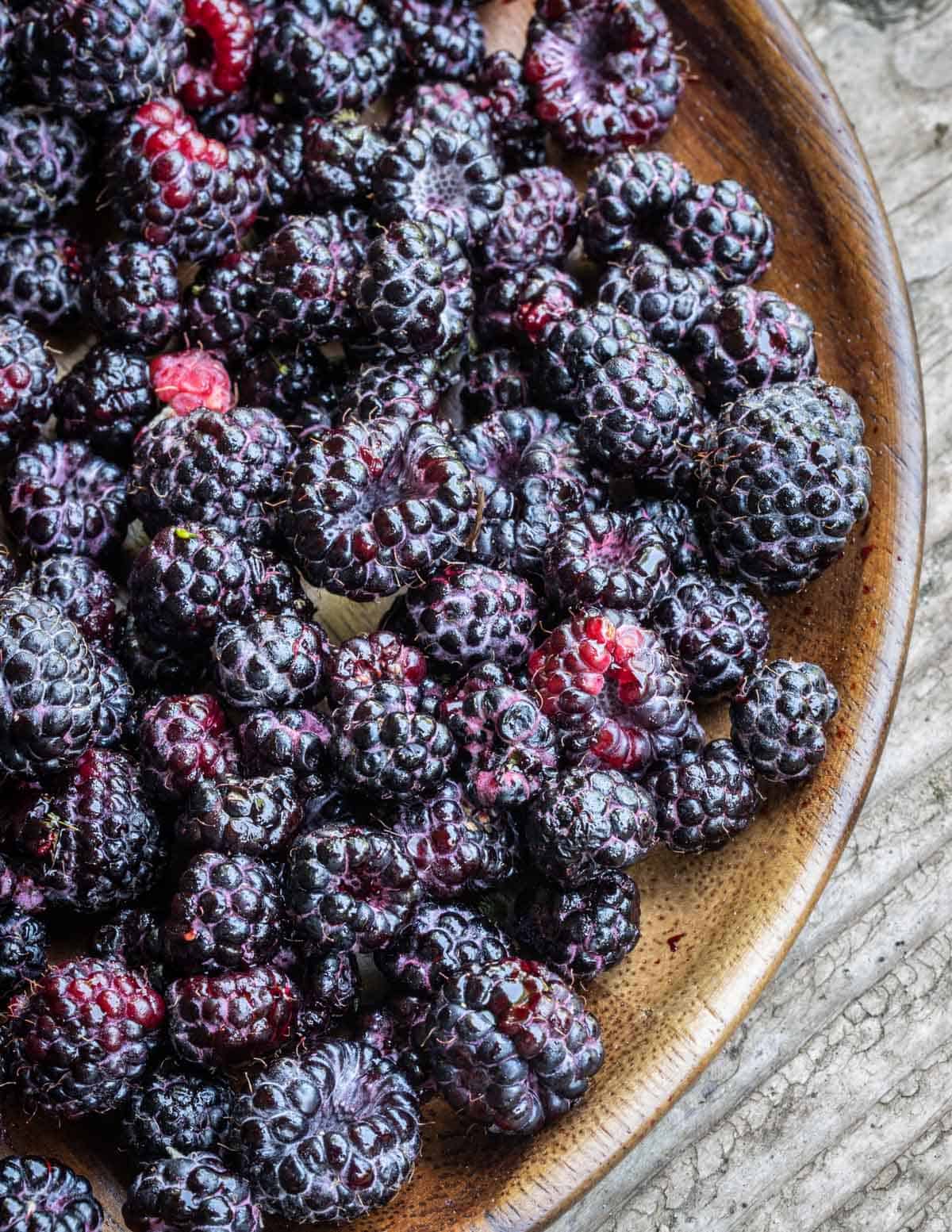 Using preserves vs fresh berries
Yes, you can use berry preserves instead of fresh or frozen berries, and it can be very good. You'll want to mix the fruit preserves with the cream as directed for fresh fruit. Warm the cream and preserves, then strain and proceed as directed.
If you use fruit preserves you'll want to omit the sugar, or add a little extra powdered sugar to taste during the final mixing of the mousse.
Crème Fraiche
I prefer using creme fraiche to whipped cream here as it has a deeper flavor, and a tart taste similar to buttermilk. If you want to use regular whipped cream you can.
To make your own crème fraiche, combine 2 cups of heavy cream with 1 tablespoon of buttermilk, put it in a glass mason jar with a lid on, and allow to rest overnight in a warm place. An oven on the proof setting works good.
You can also make sous vide creme fraiche like chefs do, and that is my favorite method.
To sous vide creme fraiche, combine 2 tablespoons of buttermilk for every two cups of heavy cream. Put the mixture into mason jars and cook at 95 F for 12 hours. I guarantee it's the best crème fraiche you'll ever have.
Sweet and Sour Berry Syrup
One of my secret sauces is my Sweet and Sour Wild Cherry, Berry or Grape Syrup, also known as a gastrique. It's a shelf-stable preserve you can make with just about any ripe fruit. It's essentially a syrup, but it includes vinegar to help offset the sugar.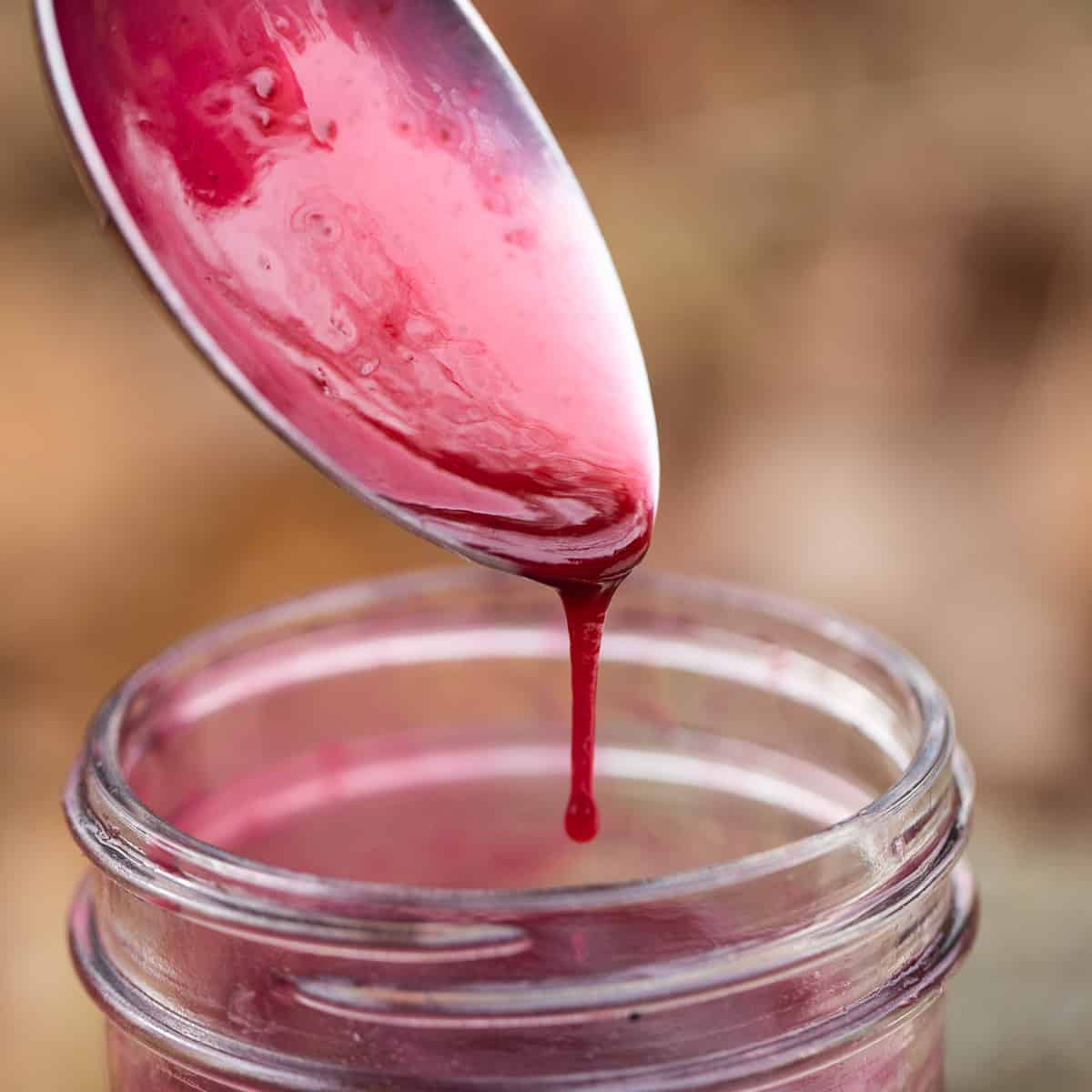 Even if you don't make the mousse below, you should definitely print off the gastrique recipe to try sometime.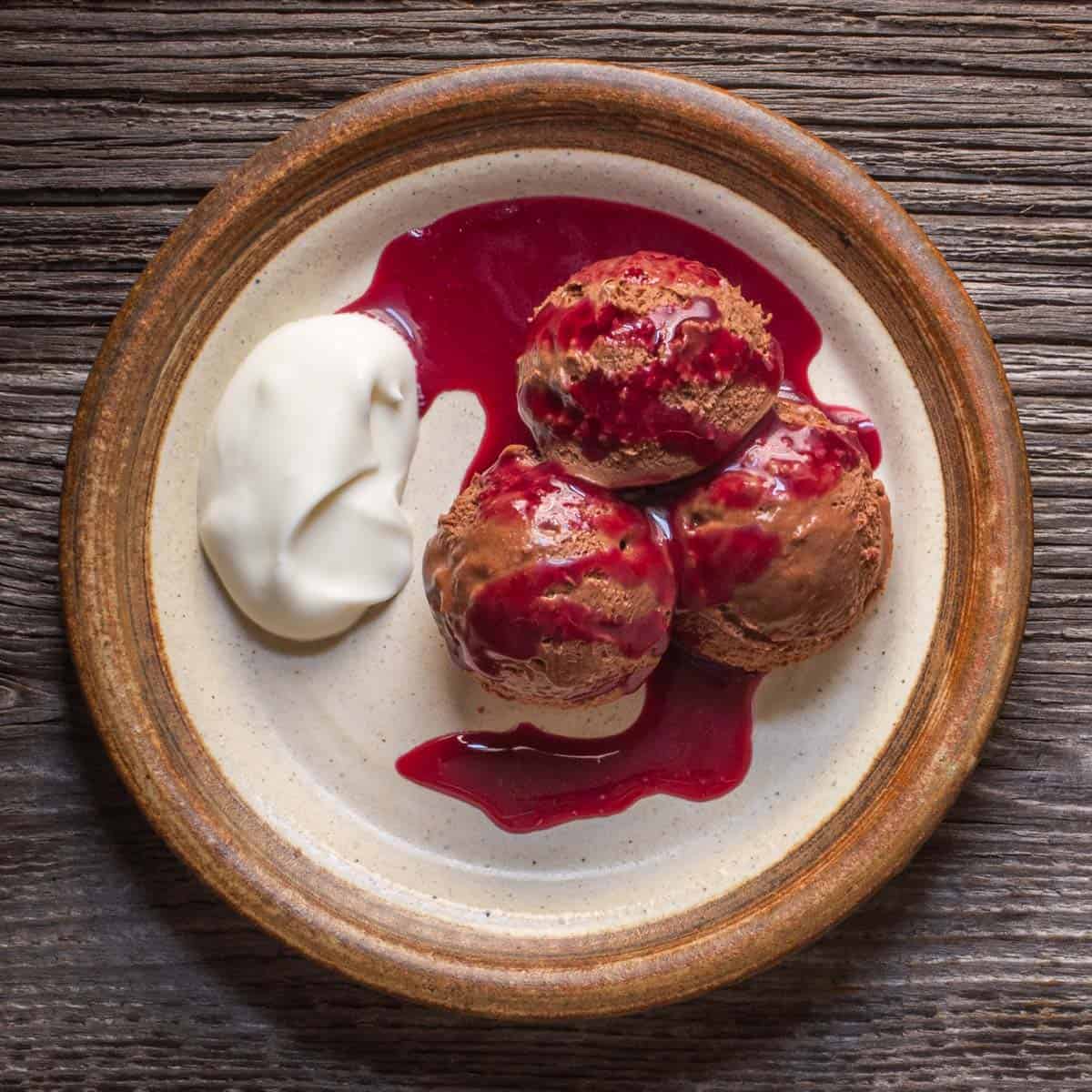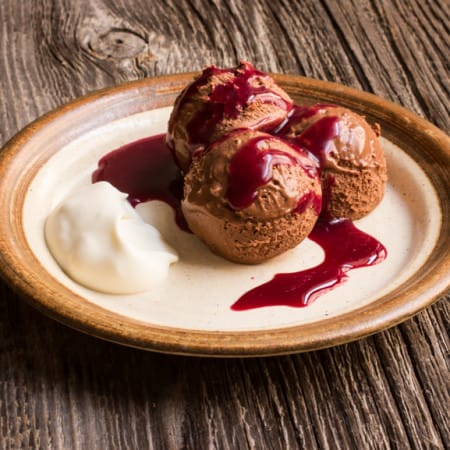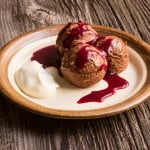 Print Recipe
Raspberry Chocolate Mousse with Creme Fraiche
Serves 4-8, yielding about 4 cups of very rich mousse, but not overly sweet mousse.
Equipment
2 2 qt capacity mixing bowls

1 beaters or stand mixer
Ingredients
Raspberry Cream
6

oz

fresh raspberries or frozen raspberries

preferably black raspberries

8

oz

heavy whipping cream
Chocolate
5

oz

semi-sweet dark chocolate

you can use chocolate chips, or your favorite chocolate baking bar

2

oz

unsalted butter
Eggs
3

large

eggs

4

tablespoons

water

2.5

oz

white sugar

This is ⅓ cup
Serving
½

cup

crème fraiche, lightly sweetened

or use whipped cream

1

recipe wild raspberry sauce

see recipe below
Instructions
Raspberry Cream
Warm the cream with the raspberries, then puree in a blender. Strain the mixture through a fine mesh sieve. Pour the pink cream into a bowl, chill and reserve until cold enough to whip.

When it's chilled, whip the cream until soft peaks form and reserve. Do not whip it until stiff peaks form or it may be difficult to fold into the finished mousse.
Chocolate
If you have a baking bar, cut the chocolate into 1 inch pieces, or break it apart. Combine the chocolate and butter in a small metal mixing bowl and melt over a pot of simmering water, making sure the water doesn't touch the bottom of the bowl.
Eggs
Combine the eggs with the sugar and whisk until light in color, fluffy, and doubled in volume, then reserve.

Gently fold the melted chocolate into the egg mixture using a spatula.
Cream
Fold in half of the whipped cream into the chocolate mixture, then the remaining whipped cream. Fold the mixture slowly, until completely mixed. Spoon the mousse into serving dishes, or into a large bowl and chill in the refrigerator.
Chilling the mousse
I like to chill the mousse for at least two or three hours to ensure it sets.
Serving
Dipping a spoon or scoop in warm water in between each scoop, arrange scoops of the mousse with a dollop of crème fraiche and a tablespoon or so of the raspberry sauce if using on chilled plates or bowls. Serve immediately or refrigerate covered with plastic wrap until ready to serve.
Notes
This uses a few mixing bowls, but other than that it's easy and straight forward.
Nutrition
Serving:
4
oz
|
Calories:
467
kcal
|
Carbohydrates:
30
g
|
Protein:
7
g
|
Fat:
37
g
|
Saturated Fat:
21
g
|
Polyunsaturated Fat:
2
g
|
Monounsaturated Fat:
10
g
|
Trans Fat:
0.3
g
|
Cholesterol:
169
mg
|
Sodium:
56
mg
|
Potassium:
274
mg
|
Fiber:
4
g
|
Sugar:
24
g
|
Vitamin A:
1067
IU
|
Vitamin C:
8
mg
|
Calcium:
83
mg
|
Iron:
2
mg