Chicken fried chicken of the woods mushrooms are one of the best things I've ever made with a wild mushroom. This is my original chicken fried chicken of the woods recipe, back from before I even ran my own restaurant.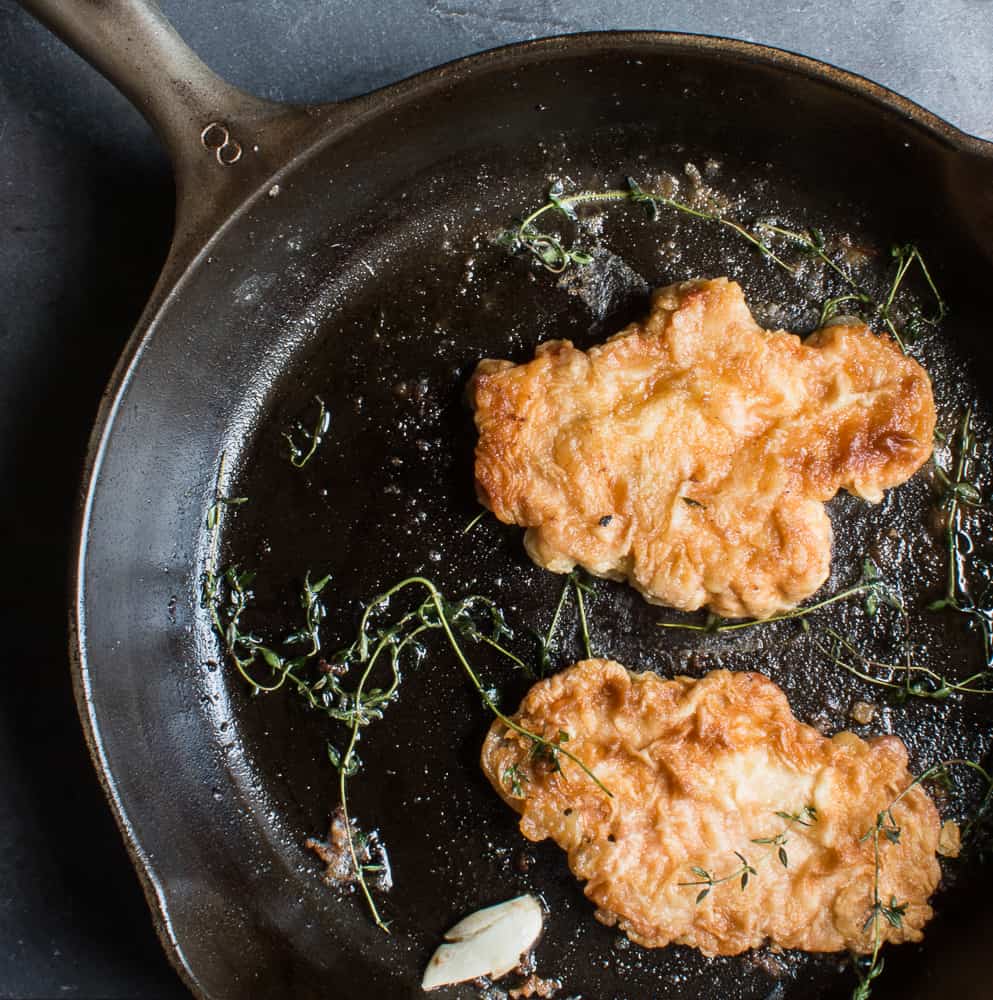 One week we got a big delivery of chicken of the woods or sulfphur shelf mushrooms at the restaurant I was cooking at. I grabbed them all to make a vegetarian mushroom entree: golden brown and chicken fried.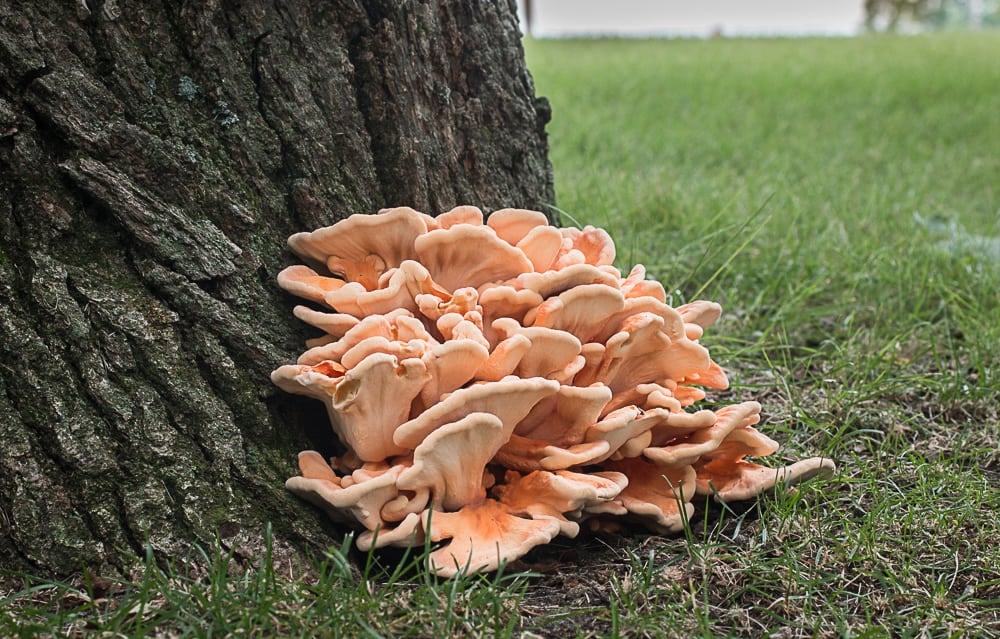 You can chicken fry just about anything
It's probably nothing new to most people, but your classic chicken fried steak is typically not made with chicken, but beef. The recipe is a Southern thing, and some serious stick-to-your-ribs kind of food when served with the requisite red eye gravy, a sort of pan sauce that can include everything from smoked pork to coffee.
For the tasting menu dish these were originally destined for, I served them with a little pan sauce garnished with some chive flowers, and wilted greens on the side.
For the purposes of this post, I think it's easier to just illustrate a simple method you can use to bread the mushrooms, and let you take the dish from there.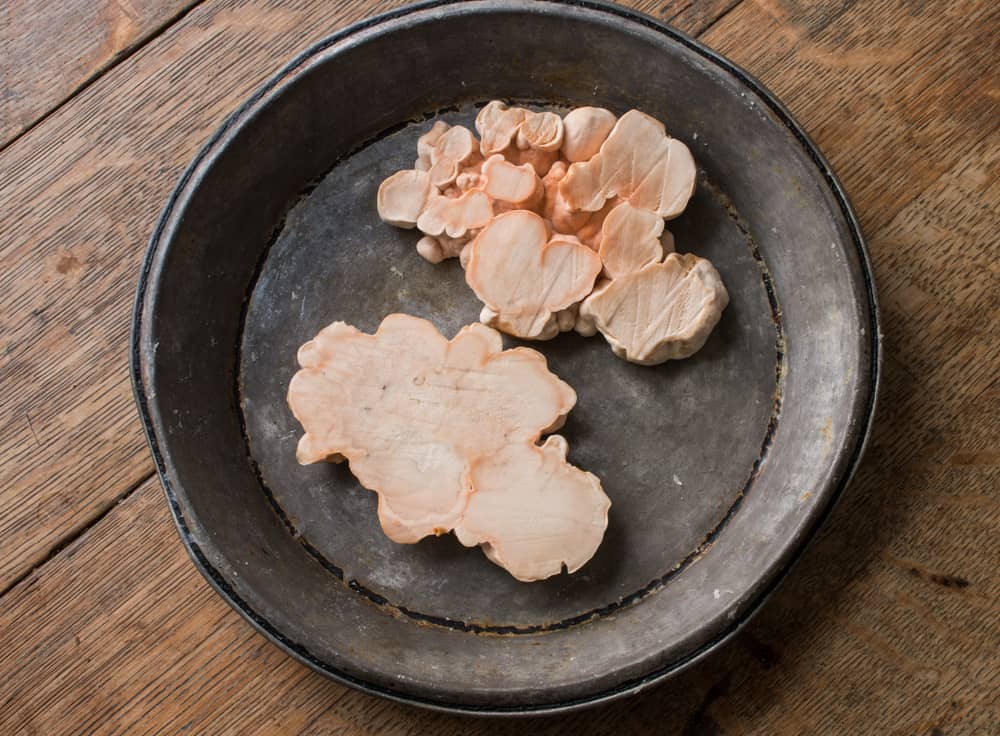 A perfect mushroom substitute for chicken
Since chicken of the woods definitely have a texture when cooked similar to chicken, they're a shoe-in substitute for meat. You can saute them naked in a pan, especially if they're young, but make sure to keep a bit of wine or stock nearby in case the pan dries out.
The genius of chicken frying is that encasing the mushrooms in a little breading lets the mushrooms steam, keeping them moist and juicy while the outside gets crisp and delicious.
At its heart, this is just a simple recipe for breading chicken of the woods--switch the accompaniments up however you like depending on what's in season.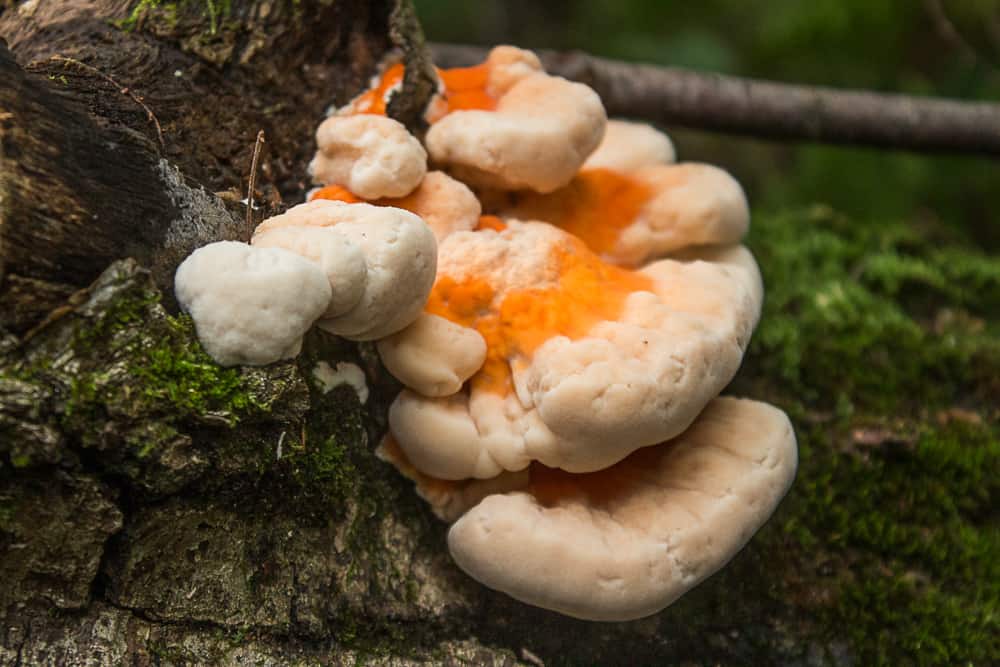 Blanching Chicken of the woods to pre cook them
The mushrooms illustrated in this post were from the tender young growth of a white-pored chicken of the woods.
Those needed no pre-cooking to be succulent and juicy, but depending on the age (and species) of your chicken mushroom, you may want to blanch them and dry before breading and cooking.
Breading vs Batter vs Flour-egg-crumb
The chicken of the woods here are breaded by dipping into flour-egg-flour here. It might not seem that important, but part of what makes this so addictive is the crust, as well as your mushroom being in a good stage for eating in a thick slice.
Using flour, egg and breadcrumbs can make things overly heavy, soggy, and oily. Sometimes it's nice, and I want that rock hard breadcrumb crust, sometimes I don't, and here, I don't.
By the same token using batter requires more oil, and can get messy with drips. The big takeaway here, is that the flour-egg-flour breading is a good trick to know, and it will work with more mushrooms than just good old sulphur shelves. Here's a few examples
Whole mushroom caps, as with meadow mushrooms or shaggy parasols
Chunks of hen of the woods
Ischnoderma resinosum chunks
Thick slices of puffballs pressed down with your hand to compress them
Slices of Hericium errinaceous and Americanum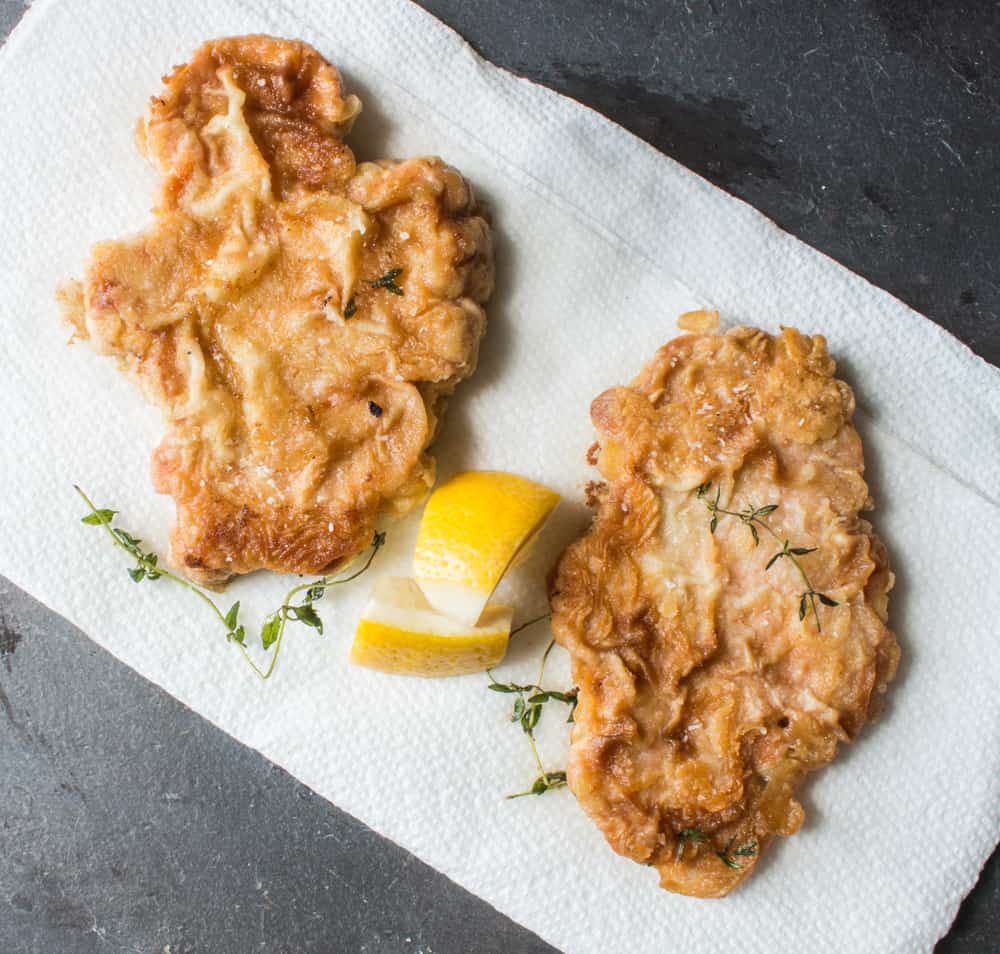 Variations
This recipe is fantastic as it is, but once you try it, you might be wondering if you can use it to make other things. You can, and it's great. Here's a few that would be good:
Picatta
Make a quick pan sauce with white wine and chicken stock, finish with parsley and capers.
Parmigiana
After breading, put a slice of fresh mozzarella on top, then tomato sauce, then parmesan. Bake at 450-475F or broil just until the cheese is golden and the mushrooms are hot throughout.
Buffalo Style
Gently toss the breaded mushrooms in Franks Red Hot that you've warmed and whisked with a knob of butter in a small saucepan. Eat it on a bed of fresh greens with blue cheese sauce on the side.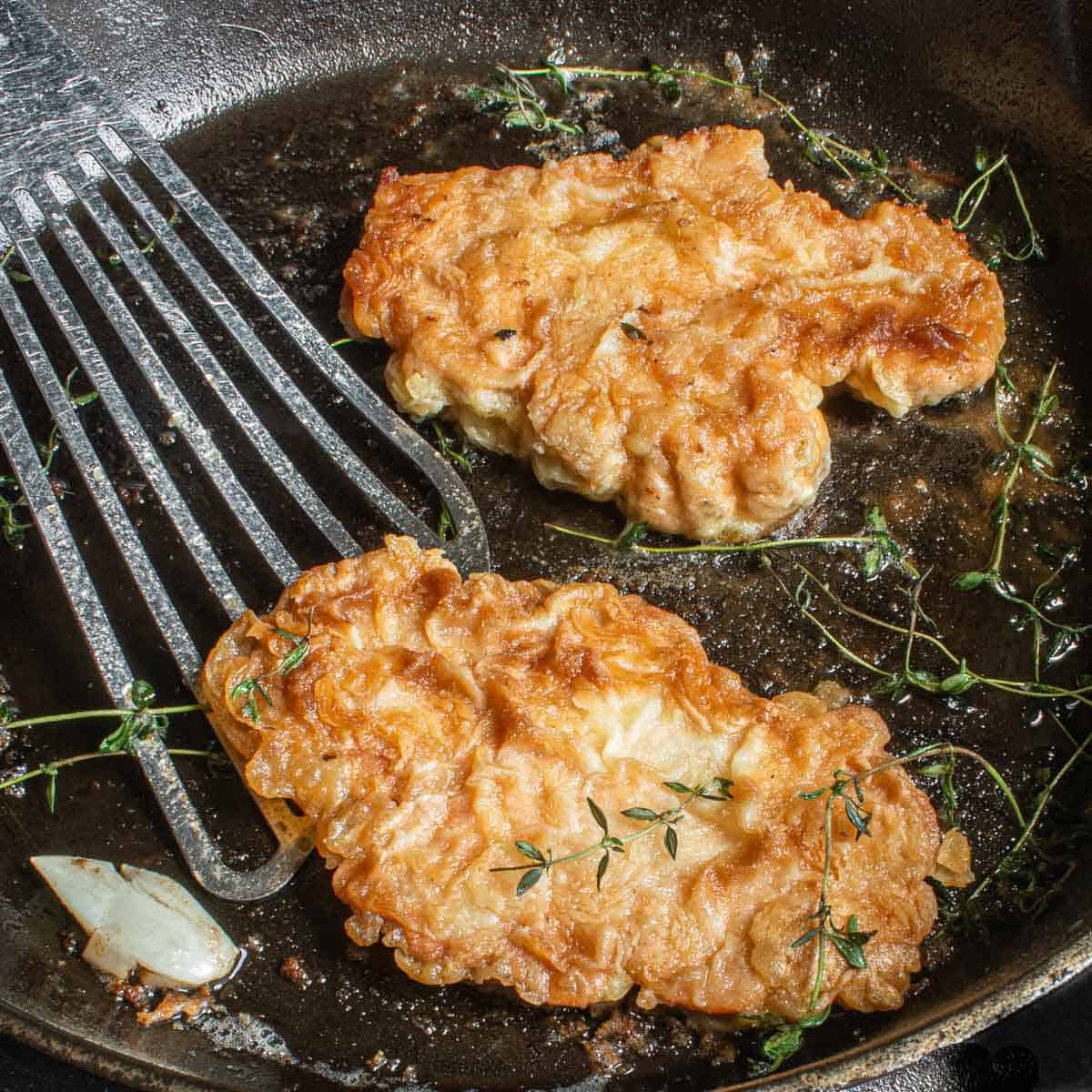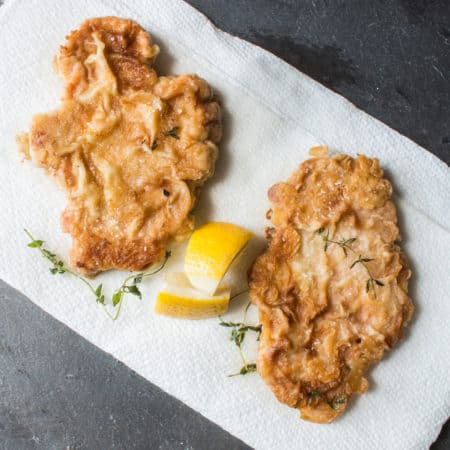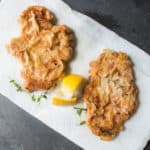 Print Recipe
Chicken Fried Chicken of the Woods
Possibly the greatest chicken of the woods dish you will ever taste.
Equipment
Heavy saute of frying pan, like cast iron
Ingredients
4

2 oz

pieces of young chicken of the woods, the size of a small fist.

Just imagine it's chicken

All purpose flour, as needed for breading, roughly 1 cup

kosher salt and fresh ground black pepper

to taste

1

generous pinch

sweet paprika

1

tiny pinch

cayenne pepper

3

eggs

for breading

6

Tbsp

Clarified butter or ghee, for cooking

or substitute a combination of cooking oil and unsalted butter

A few sprigs of fresh thyme

optional

Small clove of garlic crushed lightly with the back of a knife

optional

Lemon wedges for serving
Instructions
Take your pieces of chicken mushrooms and trim off the tough part where the stem starts to attach to the tree. Wash and dry the mushrooms well, which will help seasonings adhere.

Season the flour with a good pinch of salt, pepper, paprika and cayenne to taste (go easy on the cayenne). Toss the mushrooms first in flour, then in egg, then in flour again.*

Heat a pan with ¼ cup cooking oil, as well as 2 tablespoon unsalted butter. Add your breaded chicken mushrooms, the crushed clove of garlic, and the thyme.

Cook the chicken of the woods until they are golden brown on each side, about 4-5 minutes, adding extra oil if the pan gets dry, then blot the mushrooms on a paper towel quickly to weep excess oil, sprinkle with a little salt to finish and serve immediately.
Notes
*If your chickens have been in the fridge for a day or two they might be a bit dry, and could have trouble allowing the coating to adhere if they are, or if they're old, consider steaming them and patting dry to ensure the coating adheres.
Like your typical chicken fried steak, these would be fine with some red-eye gravy, or just a few lemon slices and a green salad for a lighter touch.
Related Posts
Chicken of the Woods Mushrooms