Burdock flower stalks have an interesting, grassy flavor that has a tendency to meld into the background--it's just not as flavor-forward as the roots.
For me, the texture is really where this easily harvested part of the vegetable shines, as it's tender and takes only a few minutes to cook, where burdock roots take digging, washing, peeling, cutting and extended cooking, and will never be "tender".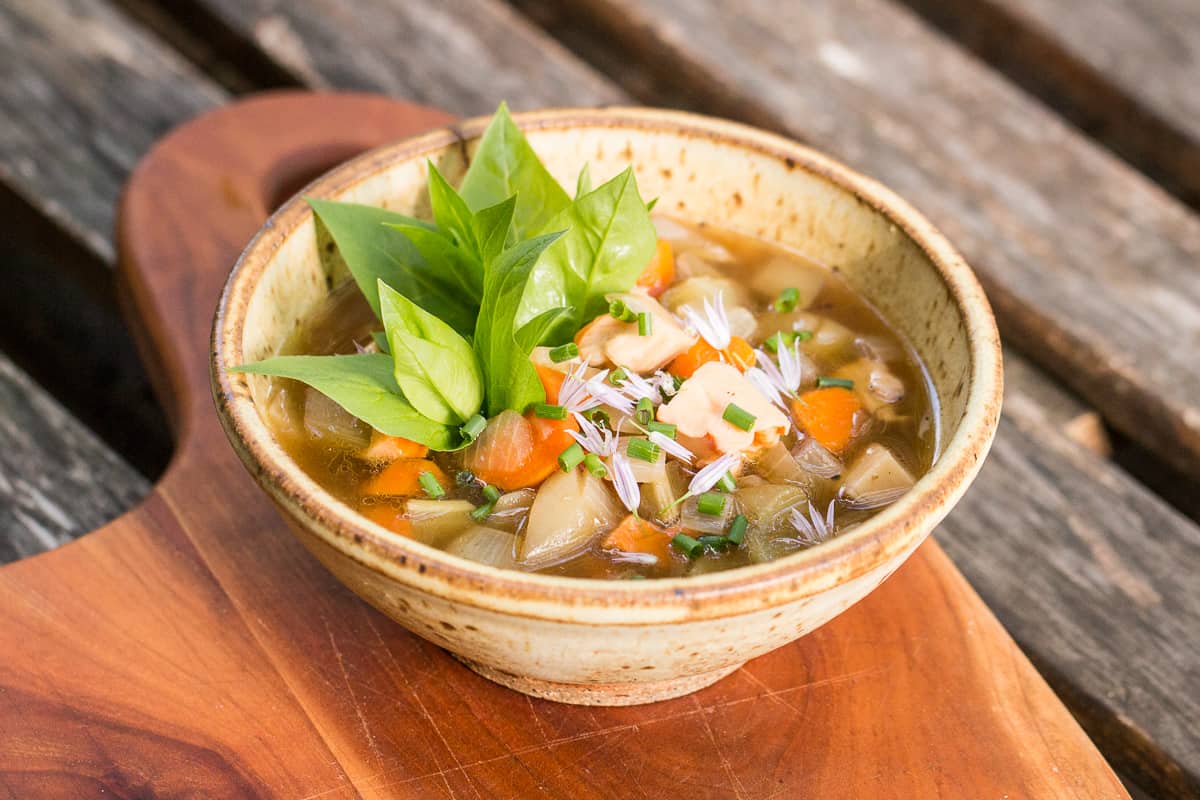 One of my favorite ways to use the mild flavored stalks the second (or third) year plants make is to use them in soup.
Mixed with other vegetables, the flower stalks will flavor a soup broth with some of their grassiness, but are happy to have other partners in the mix: carrots, onion, and celery, or your favorite soup base vegetables are perfect. If you're new to harvesting this abundant wild vegetable, take a look at my tutorial.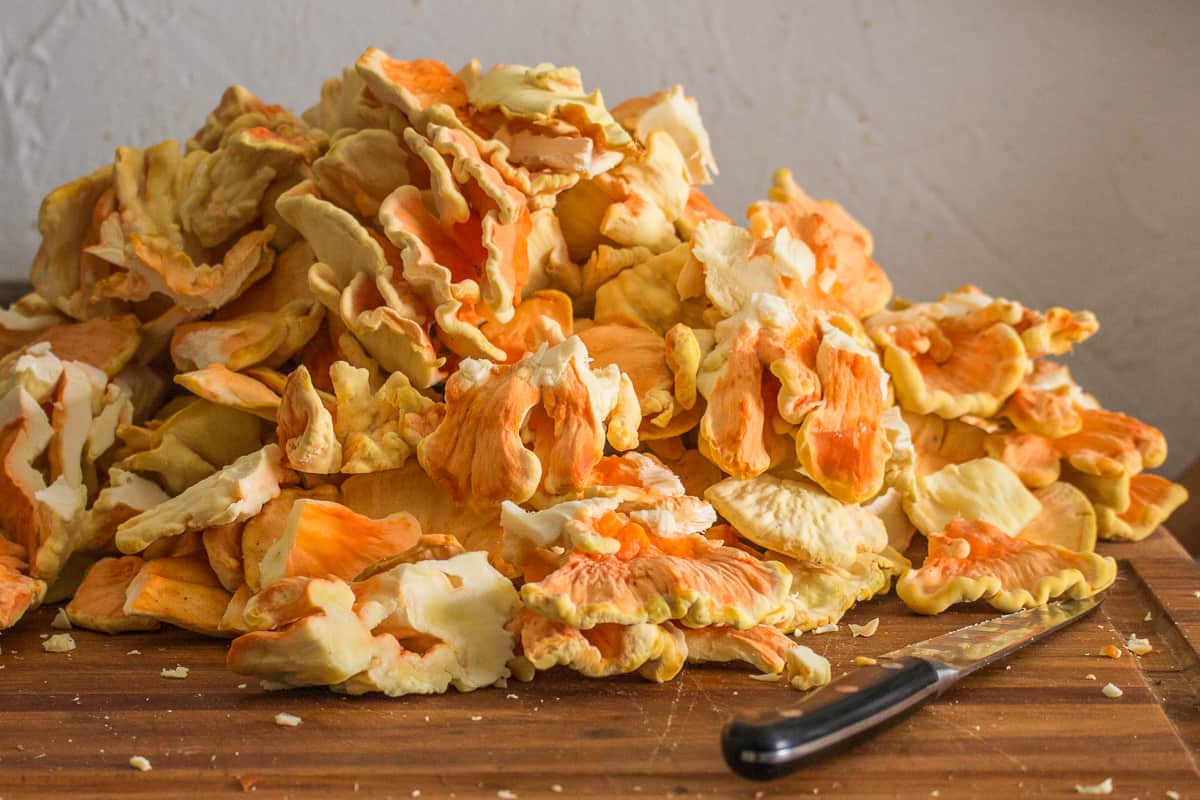 For a simple vegetable soup, the technique here is more important than the recipe. Can you cut up some vegetables, pour stock over them, cook until they're tender and then season it with salt?
Good--that's all you need to know how to do. Specific proportions that I typically add, can be helpful, but learning to put something together by feel will help you to cook "off-the-cuff" a bit, and channel your inner grandmother.
Wild vegetable soup
My original intention here was to make a 100% forest product soup out of all wild veggies. While that will be a fun one to do in the future, I decided to focus on the burdock flower stalks here, and tackle the pure forest version another time. But, if you have access to wild alliums, carrot family plants to substitute for carrots and celery, by all means make your own creative version and see what you can come up with.
Build flavors, and cook with stock
Whatever you do, make sure to do it with love, and by that, I mean really think critically about how you're building flavors here. Soup made from a base of water will taste watery. Soup made from a base of freshly made meat or mushroom stock will taste far better. Here I used chicken of the woods cooked in meat stock, but hen of the woods work well too.
Meat eaters have it easy, since meat stock will easily make a good tasting vegetable soup, and in my opinion, using meat stock, or even just tossing a piece of browned meat into the mix is the fastest way to deliciousness here. That being said, a well made vegetable stock can be ok too, but isn't my first choice.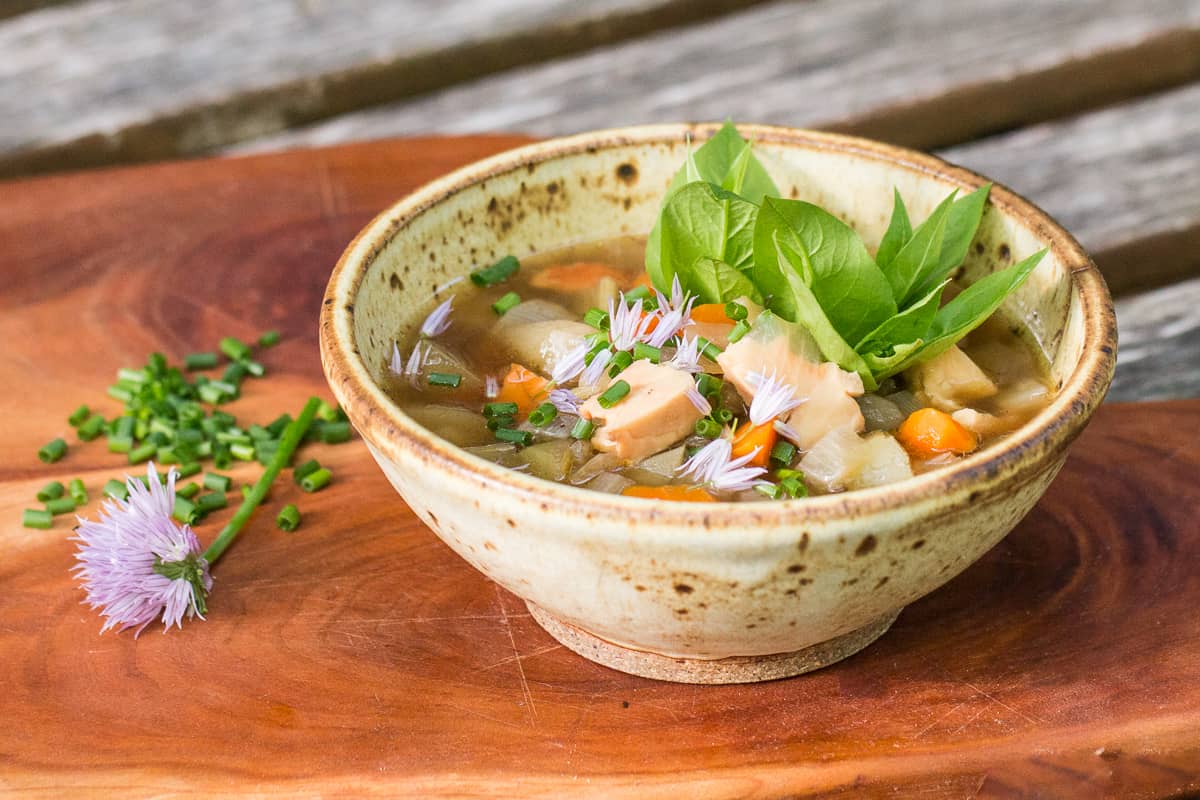 Whatever you choose, this is a great introduction to wild vegetable soups.
More
Vegan or Vegetarian Mushroom Recipes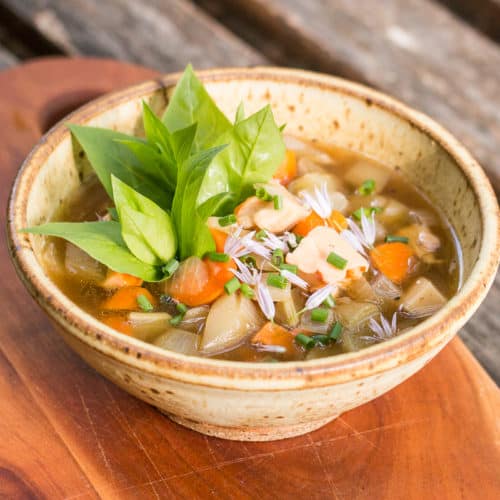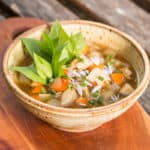 Print Recipe
Burdock Flower Stalk Vegetable Soup
A simple vegetable soup made from burdock flower stalks and traditional soup vegetables.
Ingredients
4

oz

each carrots

onion, celery (see note)

8

oz

Peeled burdock flower stalks

A couple dried or fresh bay leaves

one or two

Kosher salt

to taste

Fresh herbs

to finish, like chives, parsley, or equivalent

4

cups

really good stock

preferably made from roasted meat scraps, enough to cover the ingredients.

4

oz

diced chicken of the woods or other wild mushrooms

optional-- 1 cup chopped leftover meat from making stock or a combination can be used.

Dash of fresh lemon juice

to taste (optional)

3

tablespoons

flavorless cooking oil
Instructions
Cut the mirepoix or other soup vegetables into medium dice or similar-sized pieces.

Cut the burdock flower stalks into slightly larger pieces than the soup vegetables, then allow them to sit in acidulated (lemon) water until needed.

Sweat the vegetables in the oil (if you add mushrooms instead of meat, add them now and sweat) then add the stock and simmer until tender, about 20 minutes.

Add the meat if using and warm through, adjust the seasoning for salt, add the lemon juice and herbs, and serve.

Garnish with olive oil or your favorite aromatic oil.
Notes
Carrot, onion and celery are what we typically think of when we think of soup vegetables, but around the world different cultures use different things. For example, in Germany, a common soup base might include carrots celery root, and leeks, and so on and so forth. Feel free to experiment with what you like.