Bright greens and full of Spring flavor. Sautéed asparagus and mushrooms is one of my all time favorite spring vegetable side dishes I used to serve at my first restaurant. If you happen to have a handful of fiddlehead ferns, it will be the exact dish customers sold us out of whenever it was on the menu in the Spring.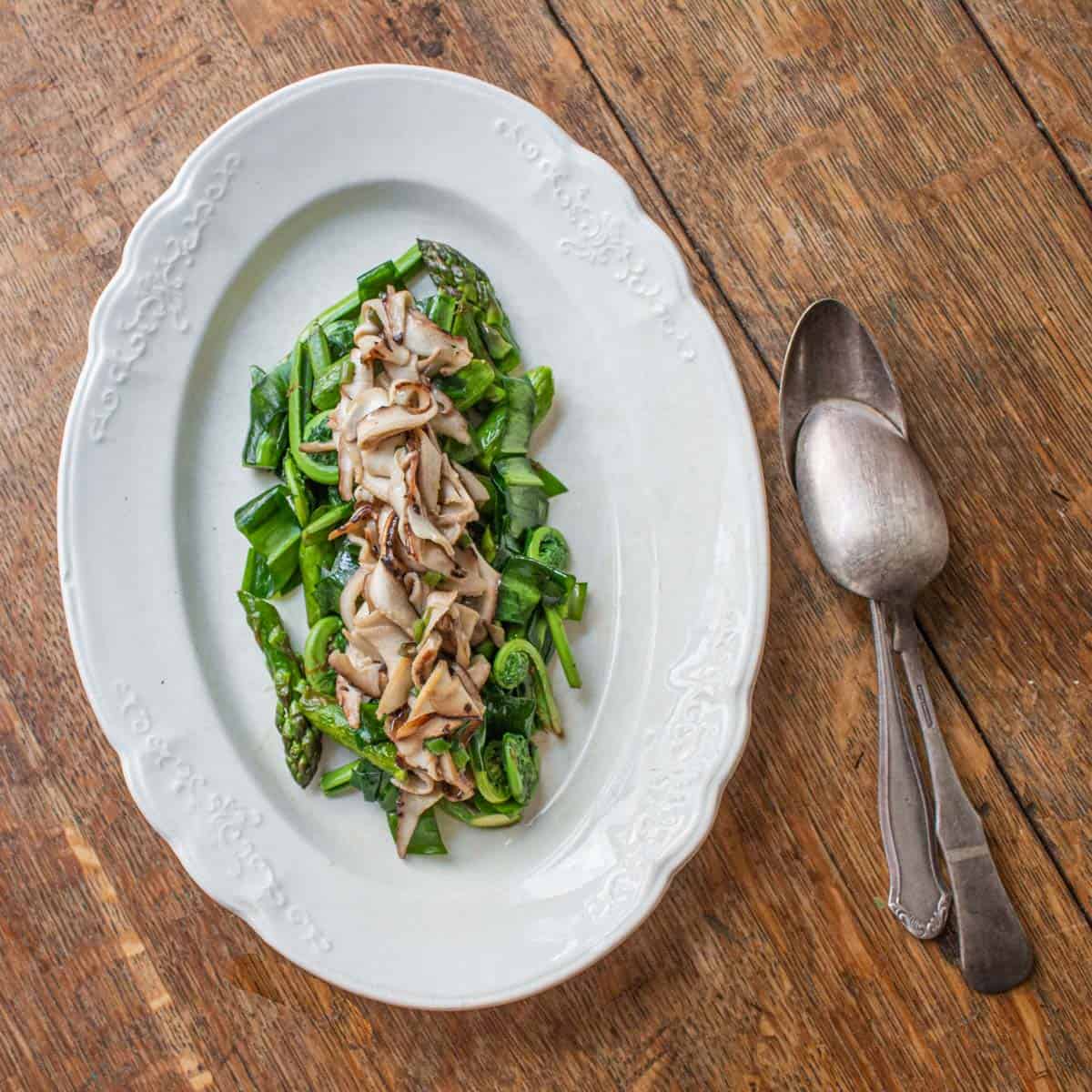 Special Techniques
This is basically a simple asparagus recipe, but I use a few special techniques that you can use to enhance lots of other recipes. One of the most important is how the vegetables are cut.
Oblique Cut Asparagus
As I was watched some people share the first version of the dish that used whole asparagus spears, I noticed that they had to stop and slice the asparagus, which made for some awkward sharing at the table. To improve it, I cut the asparagus on the oblique.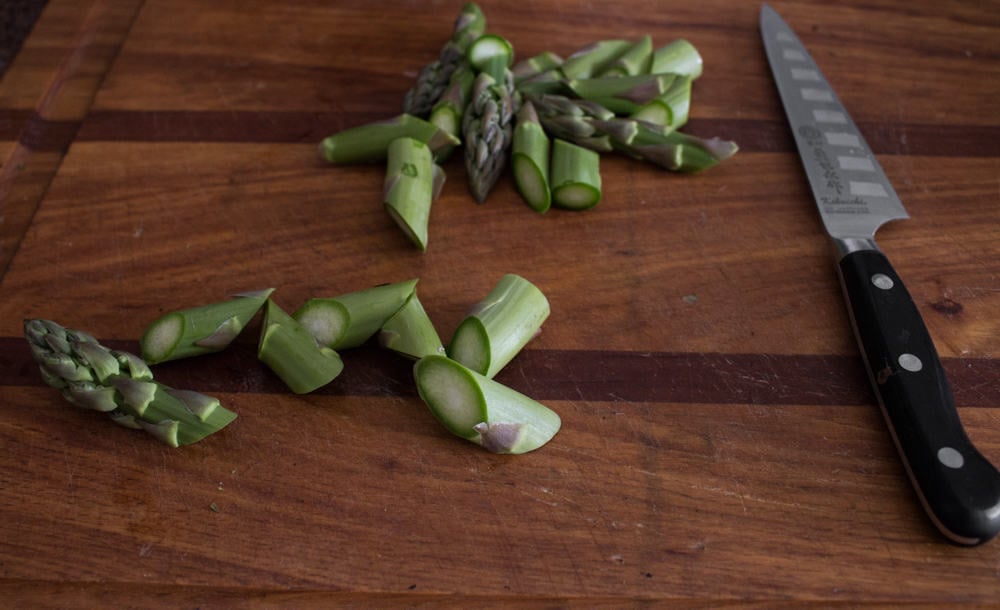 Cutting the asparagus on the oblique, or roll cut, gives a nice shape, and also make the dish easier to scoop and share at the table. I love the simplicity of the dish. The simple cutting technique really shows off how asparagus is a great, versatile vegetable.
Thinly Sliced Mushrooms
The second technique involves using a mandoline to slice fresh mushrooms. This is only necessary if you use a dryad saddle or pheasant back mushroom (Cerioporus squamosus) which can be tough, but have a great flavor. If you use cultivated mushrooms from a grocery store you can just slice them thin.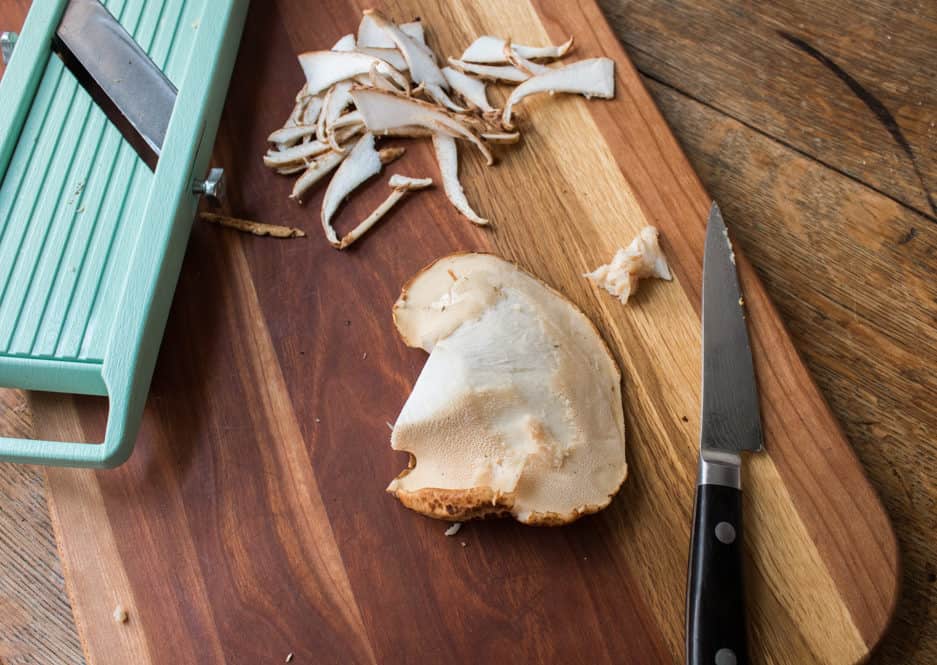 Instead of being tossed together, the mushrooms are piled on top of the asparagus and fiddleheads (if you use them). This gives the dish an attractive look and increases the height on the plate. If you only have one large skillet it's ok to use it, just know it's not exactly how I serve this.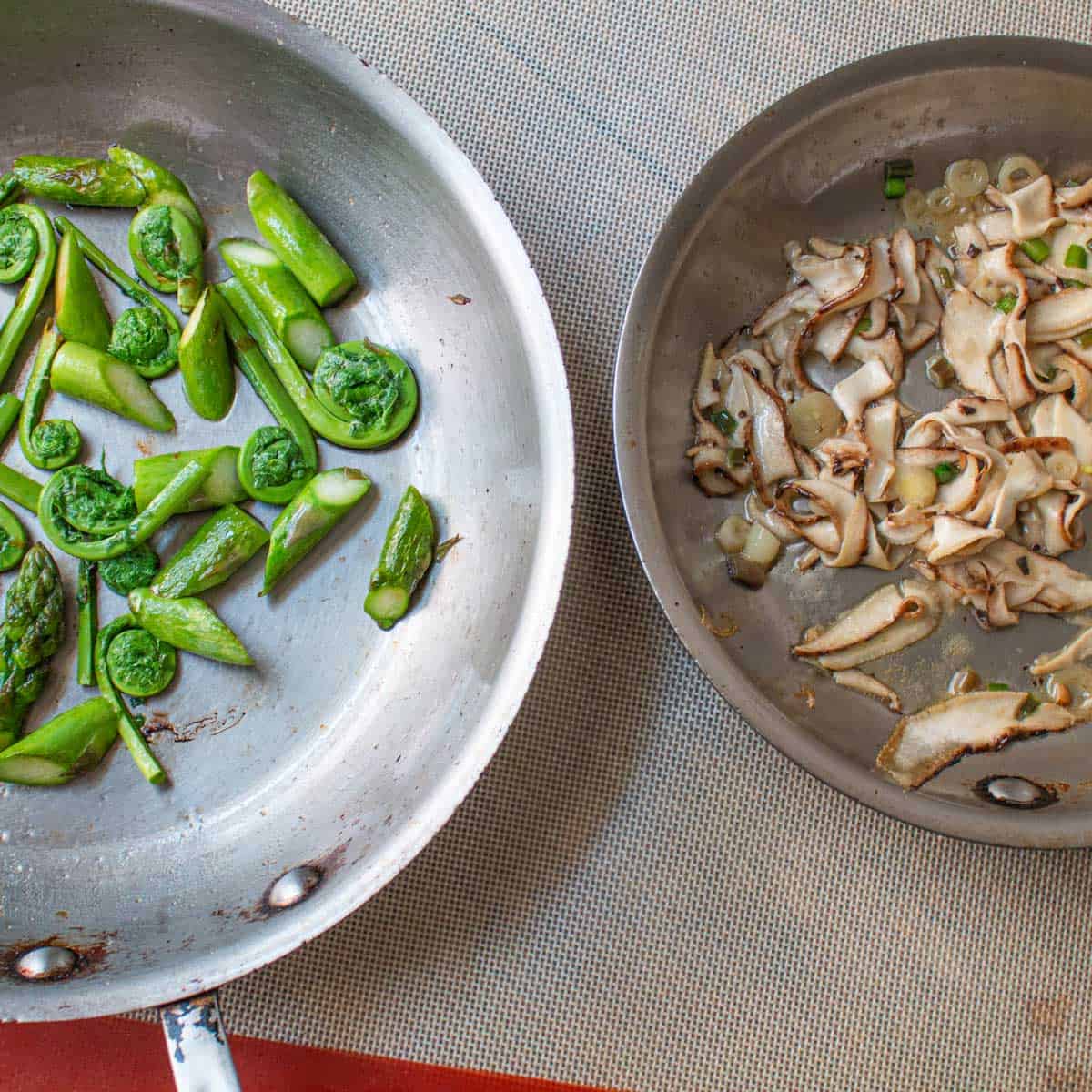 Kinds of Mushrooms to Use
Wild mushrooms are the best here, especially varieties that come up in the spring like Golden Oyster Mushrooms, Morels and Pheasant Backs. But, if you're not a forager, the best mushroom to use will be shiitakes from a store.
That said, it's fine to use white button mushrooms or cremini mushrooms (baby bellas) in a pinch.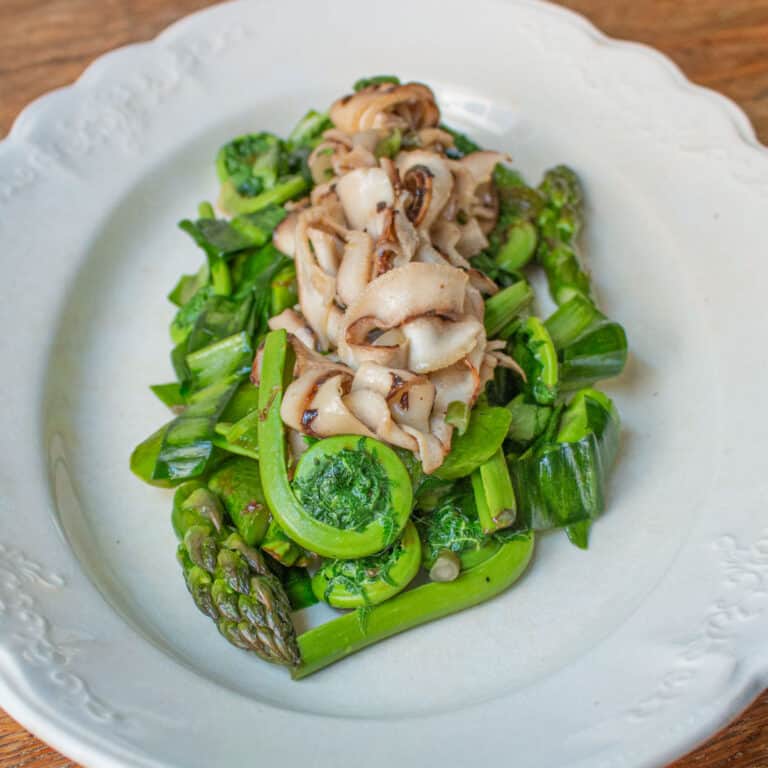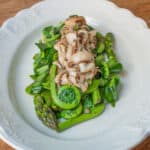 Print Recipe
Sauteed Asparagus and Mushrooms
Sauteed asparagus and mushrooms with fresh herbs, lemon and olive oil is an easy vegetable side dish that tastes like Spring.
Equipment
2 8 inch saute pans

1 small sauce pot

for blanching the vegetables
Ingredients
Vegetables
8

oz

asparagus

preferably large, thick spears

3

oz

(4 each) thinly sliced scallions

you can also use ramps

3

oz

(a large handful) fiddlehead ferns (optional)

or substitute a few extra spears of asparagus

Kosher salt and fresh ground black pepper

to taste
Mushrooms
4

oz

fresh mushrooms

thinly sliced

2

tablespoons

light olive oil or duck fat

squeeze of fresh lemon juice

(optional)

2

teaspoons

fresh cut chives

(optional)
Instructions
Blanching the Vegetables (optional but recommended)
Bring a quart of water and two teaspoons of salt to a boil. Add the asparagus and cook for 30 seconds. Add the fiddleheads if using and cook for exactly 2 minutes.

Remove the vegetables to a plate with a paper towel. Do not shock them in ice water as shocking the fiddleheads will cause them to discolor. Cut the fiddlehead stems into 1 inch pieces if using.
Mushrooms
Heat one tablespoon of the oil in one pan until nearly smoking. Add the mushrooms and onions, season with a pinch of salt and stir. Turn the heat to medium low and continue cooking gently without putting color on them while you quickly sauté the asparagus.
Vegetables
Heat one tablespoon of the oil in the other pan until nearly smoking. Add the asparagus cook for a minutes or two and lightly brown on medium high heat, then add the fiddleheads and cook for 2 minutes more, stirring occasionally. Season to taste with salt and pepper and add the scallions or ramps.

Double check the seasoning of both pans, adjust as needed, then mound the asparagus on a warmed serving dish. Arrange the mushrooms on top, garnish with chives and serve immediately, with a squeeze of fresh lemon on the side if you want.
Nutrition
Serving:
4
oz
|
Calories:
93
kcal
|
Carbohydrates:
6
g
|
Protein:
3
g
|
Fat:
7
g
|
Saturated Fat:
1
g
|
Polyunsaturated Fat:
1
g
|
Monounsaturated Fat:
5
g
|
Sodium:
6
mg
|
Potassium:
342
mg
|
Fiber:
2
g
|
Sugar:
2
g
|
Vitamin A:
1410
IU
|
Vitamin C:
13
mg
|
Calcium:
37
mg
|
Iron:
2
mg
Related Posts
Asparagus End Soup (What to do with Asparagus Ends)  
Fiddlehead Ferns: Identifying, Harvesting and Cooking
Dryad's Saddle or Pheasant Back Mushroom