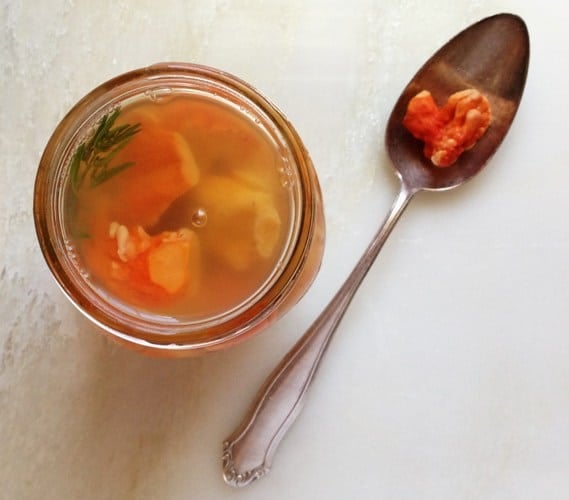 Once the mushrooms start to come up in the summer, chickens are some of the first you'll see. After going out and hunting over the course of the season though, they can almost get a little annoying. You pray for a nice patch of chanterelles or hedgehogs, but all you keep finding is chickens, and more chickens.
It's not really the chicken of the wood's fault though, I mean c'mon, they're bright orange and stick out like a sore thumb. I do my fair share of grumbling when I come across flushes of them that are past their prime, again and again, but once in a great while you can find some that are really good. The key is timing.
Chicken of the woods grow pretty fast, and as they grow they get tough and leathery. Once in a while though, if you have a good eye, you might be able to spot some that are really young and just starting to pop out of the wood. You might be tempted to let the chickens grow so that you can come back for a larger shroom later, but more often not, especially with chickens, they will be riddled with bugs before you know it.
I can't stress enough how important it is to get the youngest chicken of the woods that you can find. Older chickens just aren't the same, they're a little tough, and I don't like them as near as much. Next time you stumble upon some really young ones, try this recipe.
After you can them, it's best to let the mushrooms age and develop for a few months before eating, it will improve their flavor.
Pickled Chicken of the Woods Mushrooms
You can easily scale this recipe for larger batches, but since many people haven't pickled wild mushrooms before, this makes a good small testing batch. 
If you're never made pickles at home before, make sure to use a ph tester, and check to make sure your pickling liquid is at a ph lower than 4.2.
Makes 2 pint jar of pickles

Ingredients
1 lb very young chicken of the woods
3 cups water
1.5 tsp salt
2 large cloves of garlic
A few sprigs of fresh thyme
Two dried bay leaves
1 cup of champagne or white wine vinegar
Method
In a small stock pot, bring the water, salt, garlic and herbs to a simmer.
Add the chicken of the woods and cook until they have released their juice and cooked through, about 5 minutes.
Add the vinegar to the mixture, then pack pint canning jars full of the pickles. Pour the pickle liquid over the mushrooms and fill the jars leaving 1/2 an inch of headspace, then process the jars in a waterbath canner for 15 minutes.