When I first wrote about my experience detoxifying and eating Amanita, the fly agaric, some eight years ago now, I remember getting plenty of chippy comments from people in the mushroom community portraying me as a reckless, attention-seeking newb, which I expected, and understood. Muscaria is a polarizing mushroom, to say the least.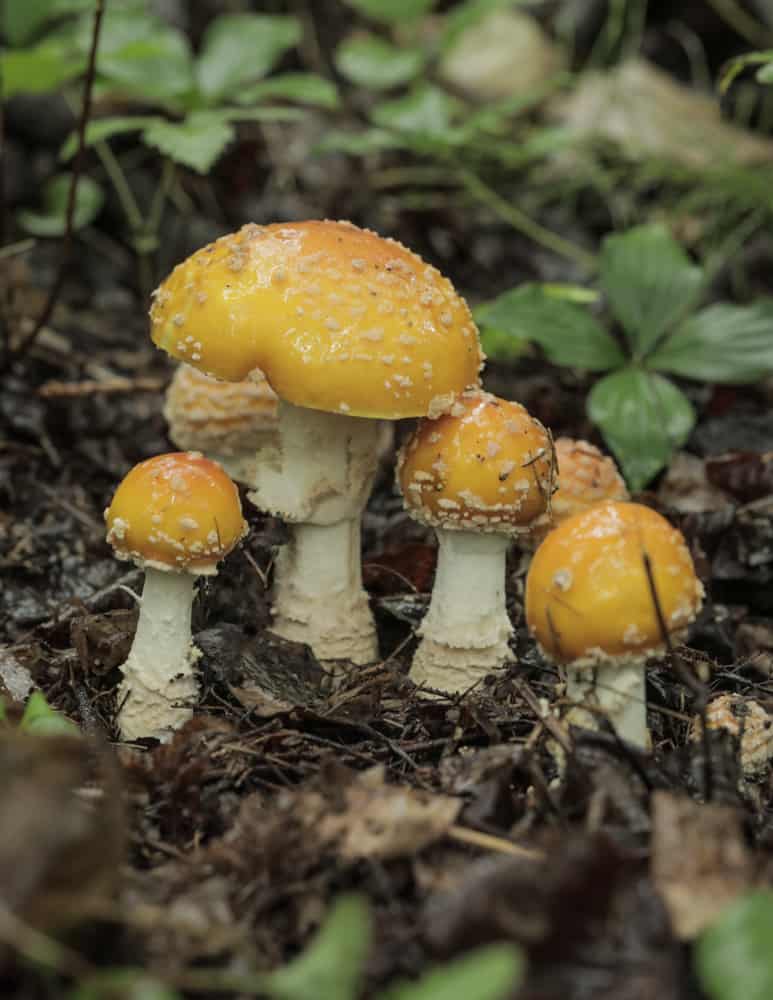 It's widely known that if you eat Amanita muscaria raw, or even cooked from raw, you will get sick.
It's also widely known that the mushroom contains "other" compounds, that, when ingested after the right preparations, such as dehydrating, has been used as a narcotic, the sale of which is not at all uncommon under the table at local wicca shops. Personally, I've never consumed it for anything other than culinary purposes.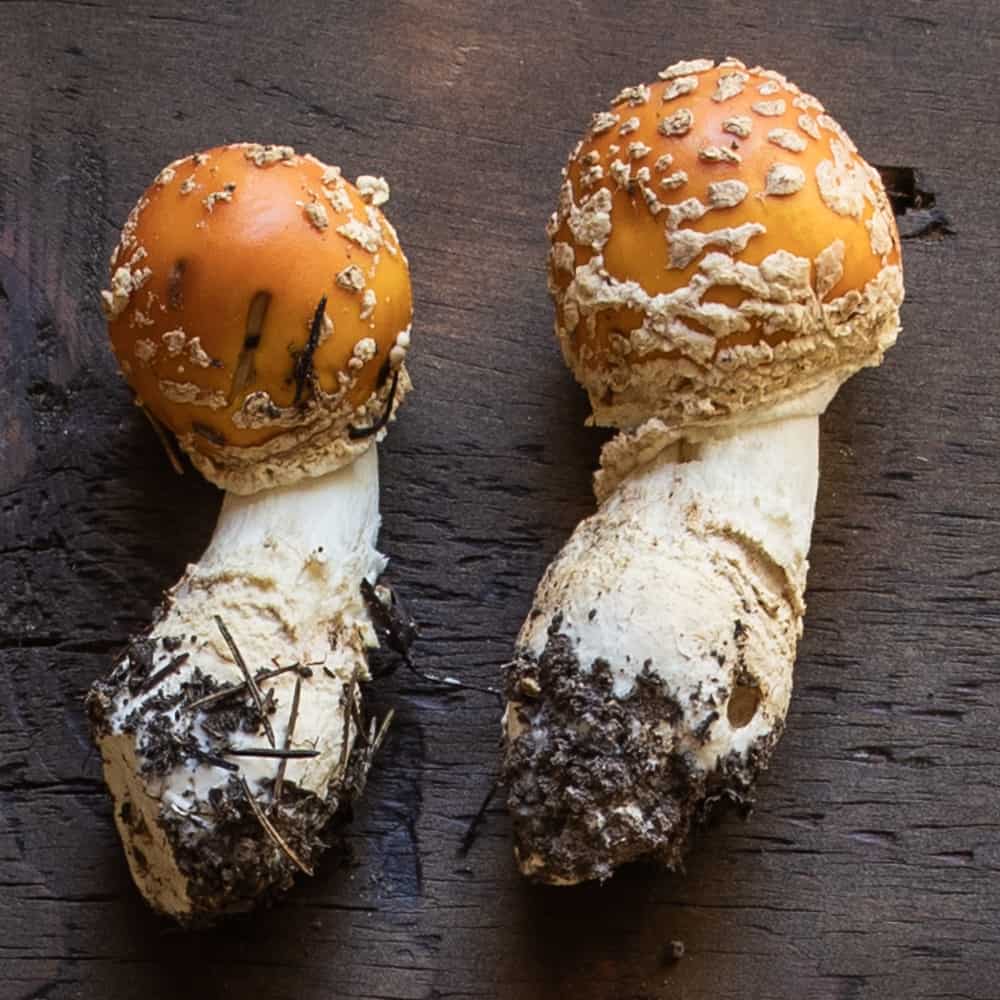 What isn't widely known, is that muscaria is also a traditional food in the form of fermented pickles in Japan (although it seems to be in a very small, localized region). It's also documented in Russia.
Culinary traditions involving fermentation of wild mushrooms are uncommon, and I know of only one other traditional mushroom fermentation in the salt pickling of milk caps and other mushrooms in Eastern Europe, which it seems, at least to me, is still prepared more or less regularly by their mushroom hunting descendants in the United States, if online mushroom groups are any barometer of use.
Bias in the literature
Every modern field guide I own makes no mention of traditional food practices involving muscaria. I'm not trying to say everyone should eat muscaria, or that it's some huge revelation, but the examples of Western scientific bias ignoring food traditions is nothing new, Scandinavian murklor (Gyromitra) being another good example.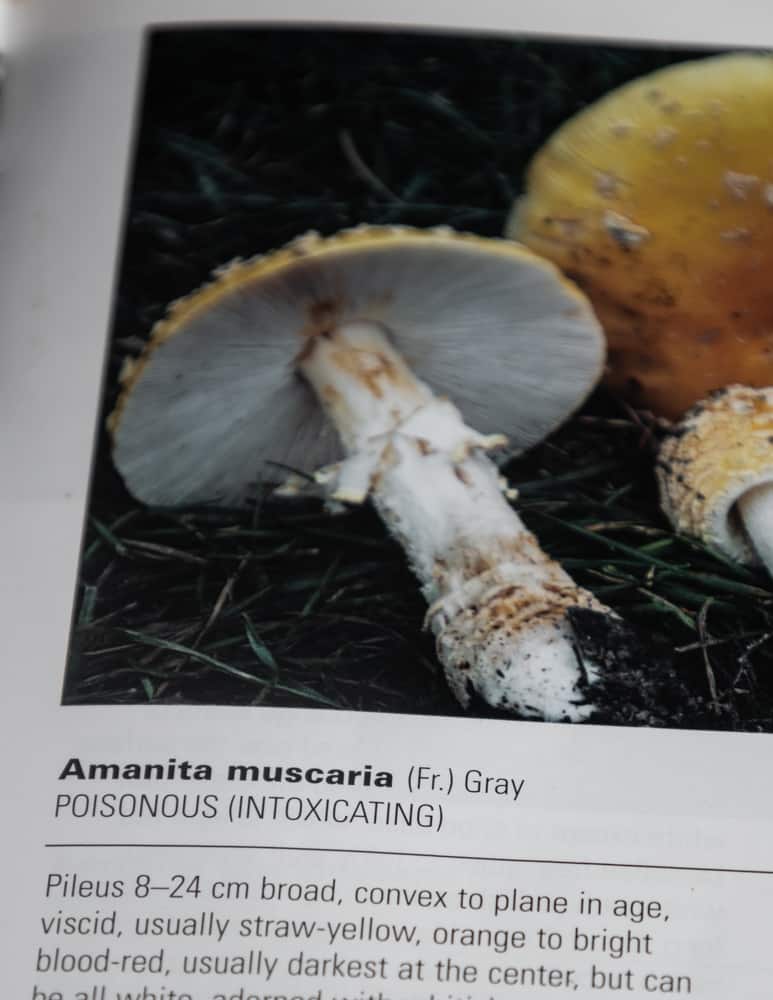 On occasion, I've even seen guides branding the mushroom's image in books with the same dreaded skull and crossbones applied to it's lethal cousins in the Phalloideae, conveying the message that this mushroom is poisonous, and, if you make a false move, potentially deadly.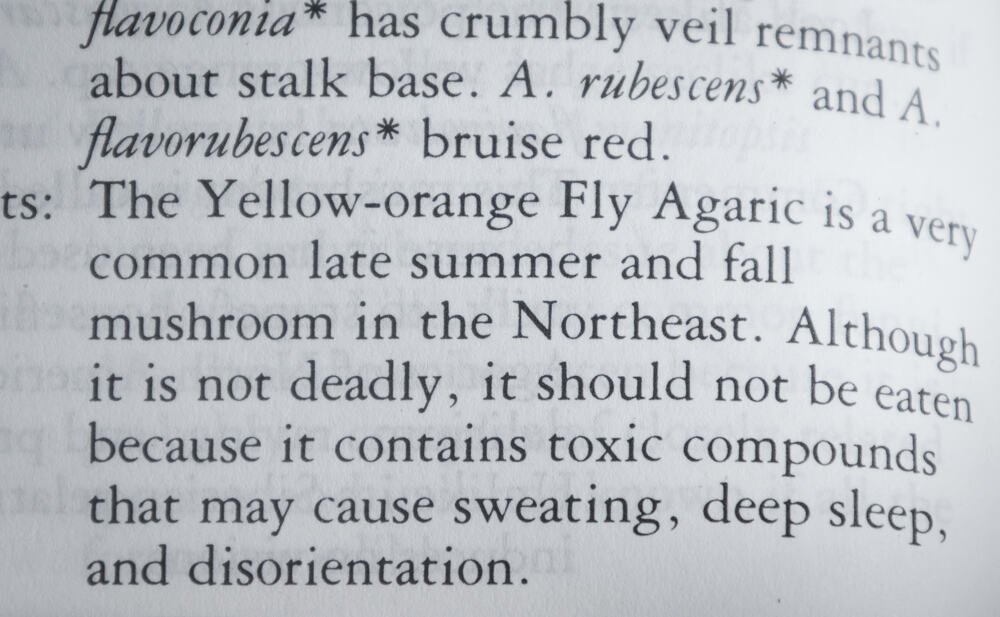 I knew Amanita muscaria could be rendered edible after boiling, but I had never heard of any specific culinary traditions featuring them until I read a paradigm-shifting experience posted by David Arora on one of the online mushroom groups I'm in. It was a fascinating, exciting read-one of many he's shared online which are not exactly easy to locate.
From an eater's perspective, there's a very big difference in trying to enjoy something that has been "rendered edible", and sampling a culinary tradition documented first hand by a respected mycologist.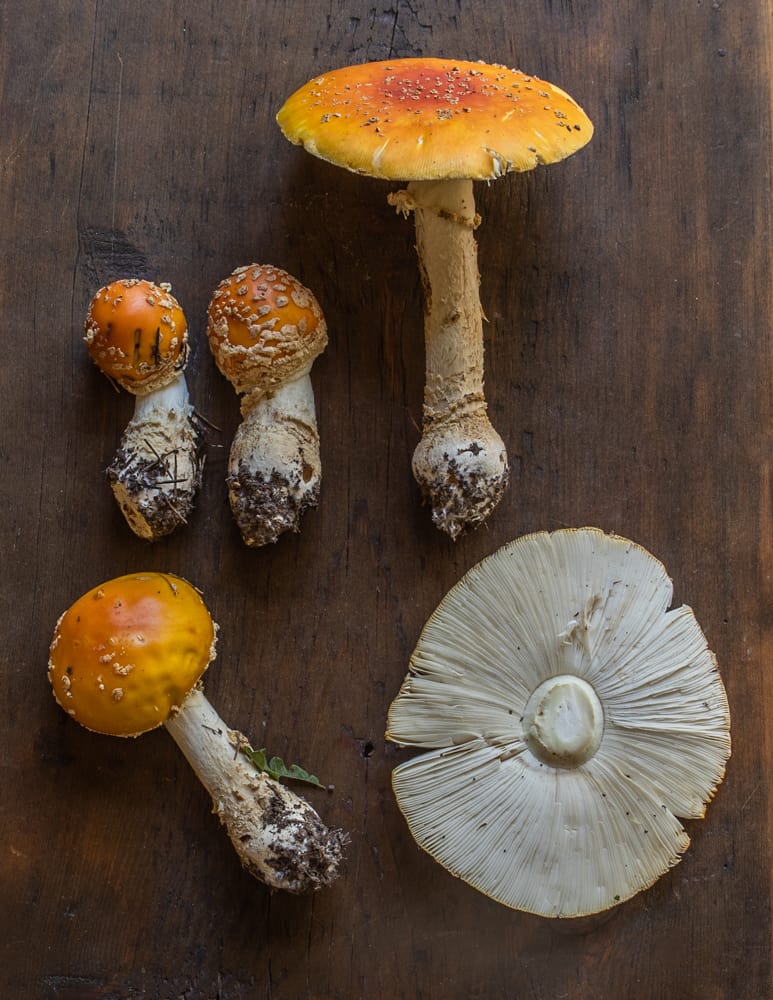 Before I forget to mention it, David wrote an academic paper on the subject with a lot of myth-busting, fascinating, and even off-putting tidbits (19th century testing on canines, etc) It's well worth the read, even if you only glance at the abstract.
The entire article can be viewed and downloaded here: A Study of Cultural Bias in Field Guide Determinations of Mushroom Edibility Using the Iconic Amanita Muscaria as an Example. I found it pretty interesting.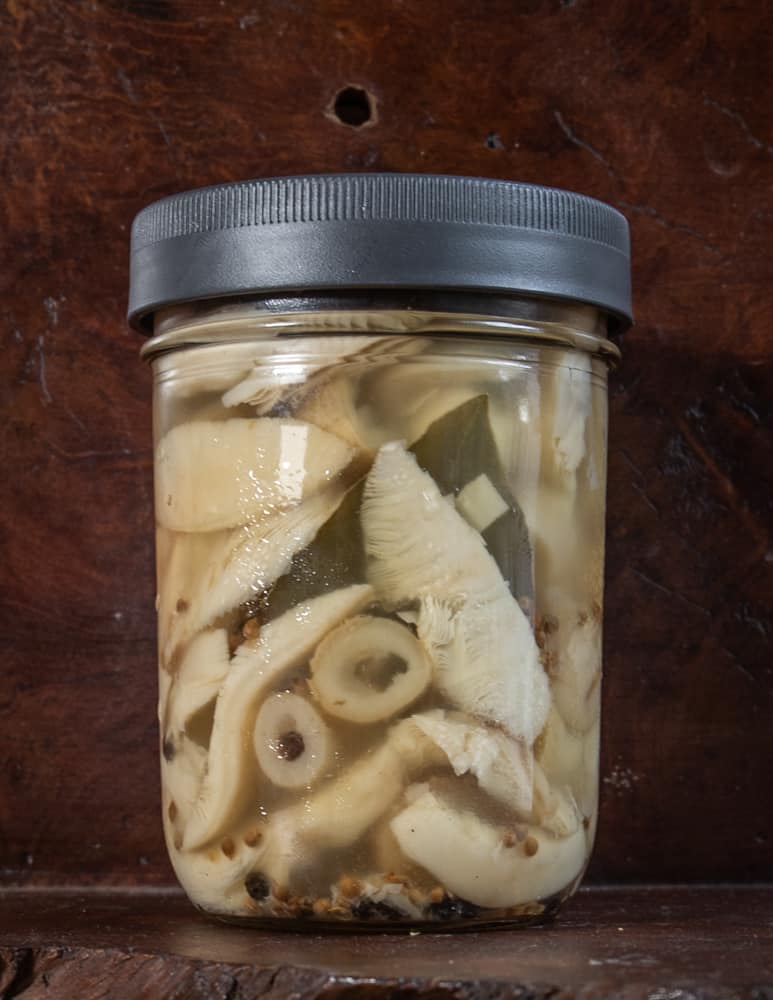 In pursuit of pickles, by David Arora
Here's an excerpt from some of David's posts on his travels to the area. "20 years ago I spent almost a month in the town of Ueda, Japan, learning about the localized traditional use of Amanita muscaria as food (mainly pickles), I took many film photos but had no digital camera at that time."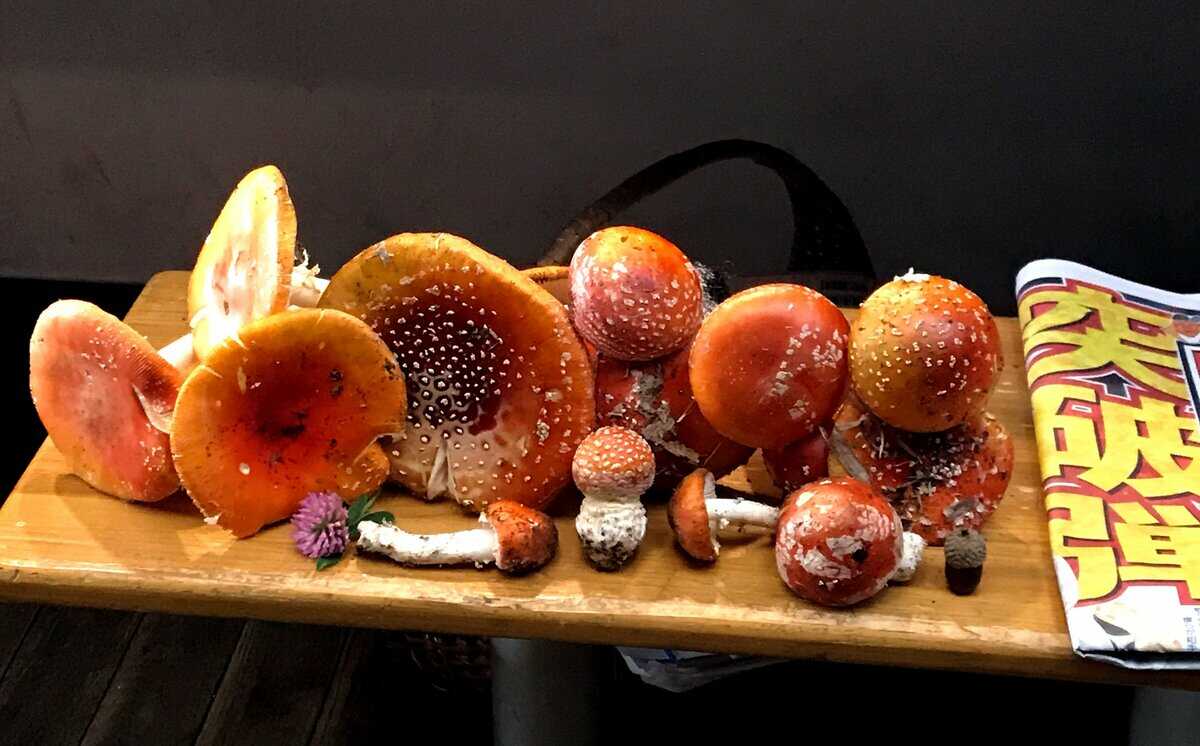 "Last month I decided to return there to see if people were still gathering A. muscaria. and if they were, to digitally document the preparation. I was accompanied on this trip by culinary historian William Rubel, my co-author on a paper on edibility criteria for field guides that used Amanita muscaria as the main example. Also accompanying me were his partner Jane Levy (another culinary historian), and Wendy So (whom some of you know as a fabulous cook with a strong interest in Amanita muscaria as a food). It was my third visit to Japan, William and Jane's first, and Wendy's sixth."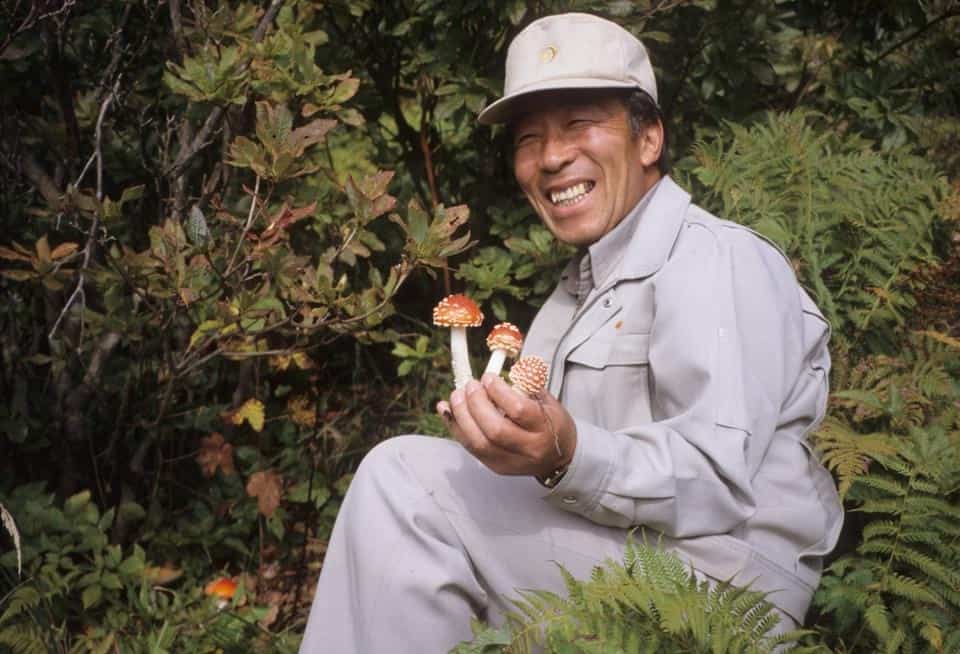 "Unfortunately I had lost all contact info for the people I met 20 years ago, so we had to start from scratch with no local contacts at all. I scanned a few photos of people from my previous visit and loaded them into our phones on the off chance that someone we met would recognize one of them. None of us speak Japanese so we relied heavily on Google Translate."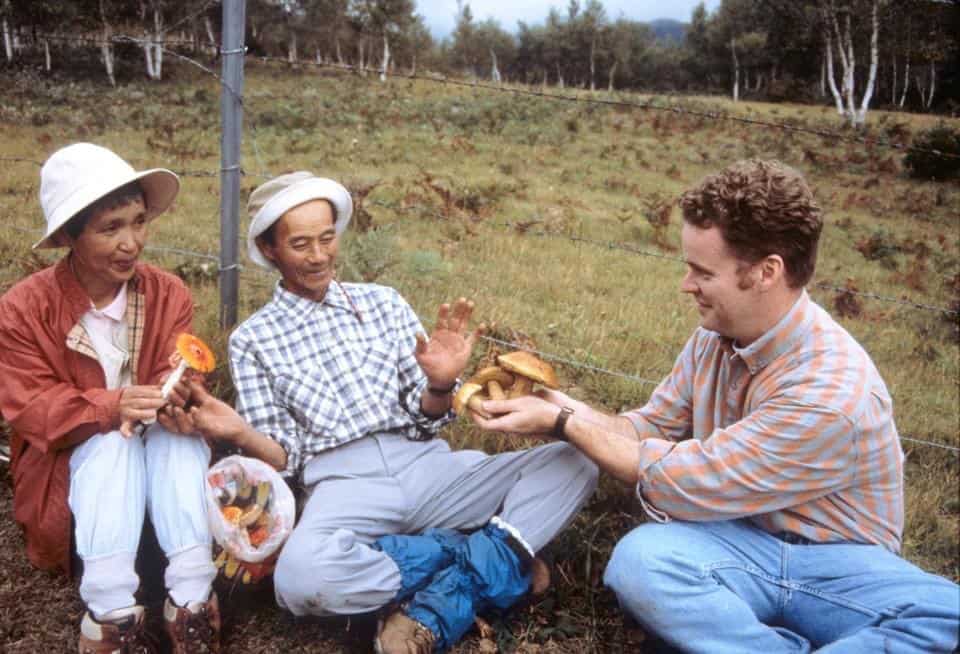 "Old traditions, especially localized ones, are dying out all over the world, and the preparation of Amanita muscaria pickles appears to be no exception. We didn't see any mushroom gatherers with big sacks of muscaria as I did 20 years ago. In fact, we didn't see any mushroom gatherers at all, though certainly there are some."
The salt pickling process
"The mushrooms are boiled for 20-30 minutes, then drained and rinsed. Finally they're packed in 3-5% salt and fermented, for months under refrigeration."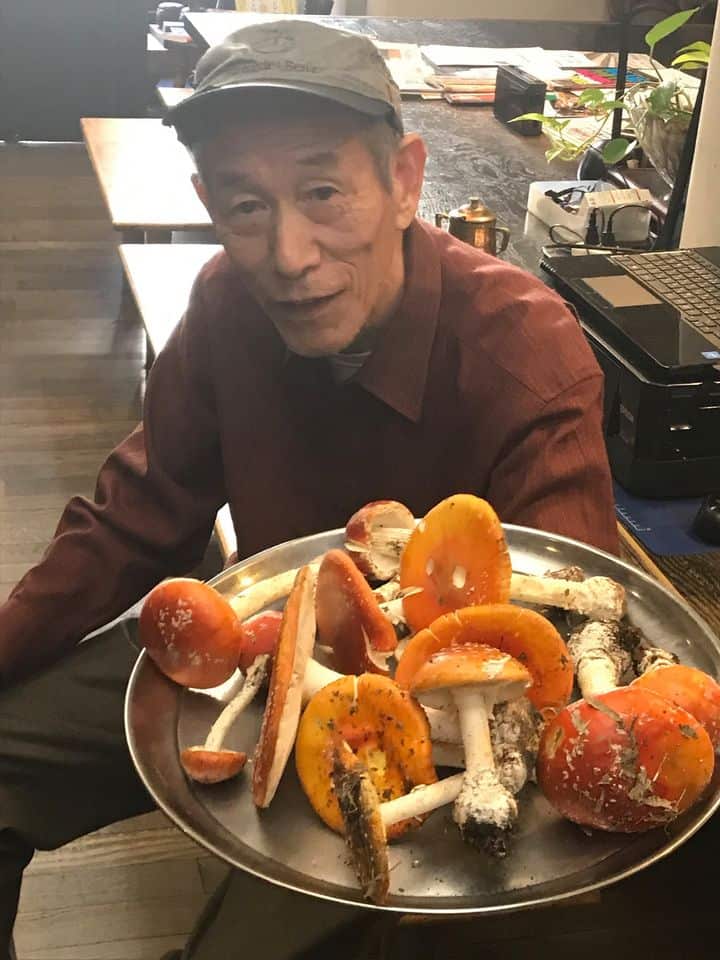 I find it a little depressing to imagine how many interesting food traditions that hold more value than just calories have been slowly extinguished and forgotten. Even if the practice is only in a small area, I see no reason to disregard it as a novelty, or not worth examining, as some people have commented here.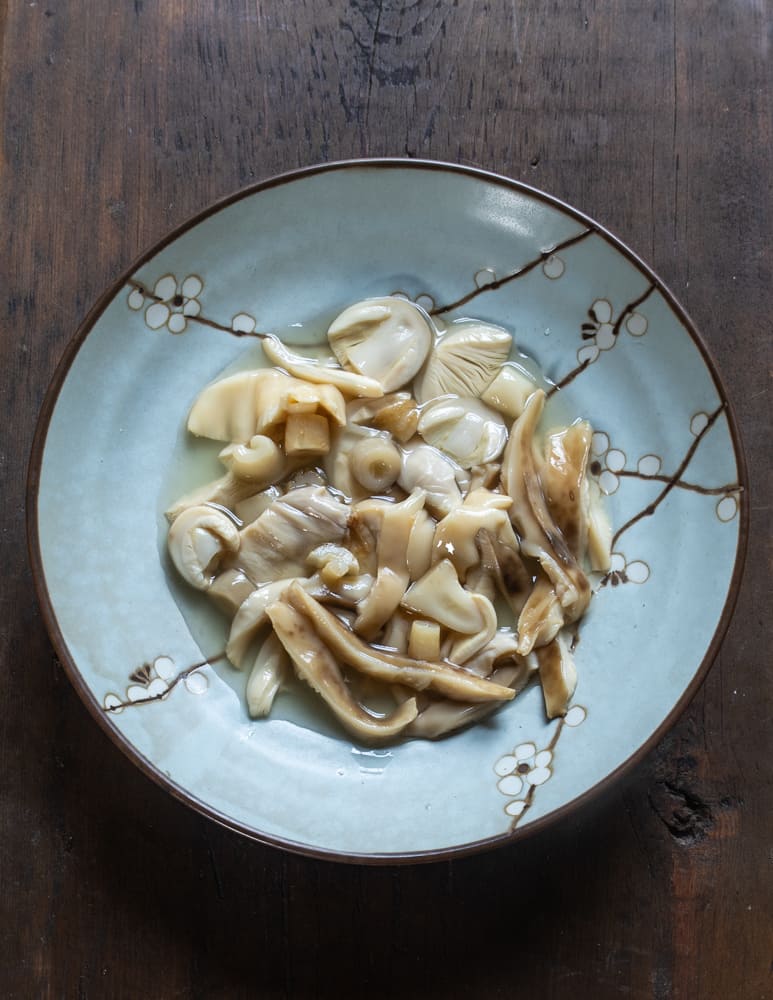 Of course, you know that after reading about something so obscure and fascinatingly funky I had to try fermented muscaria pickles. Well I did, and, they're really not bad, I've actually been (gasp) enjoying them.
All of my instincts made me presume that eating anything boiled within an inch of its life would taste like nothing afterward, but that's not exactly true, and I think muscaria pickles are a pretty cool example.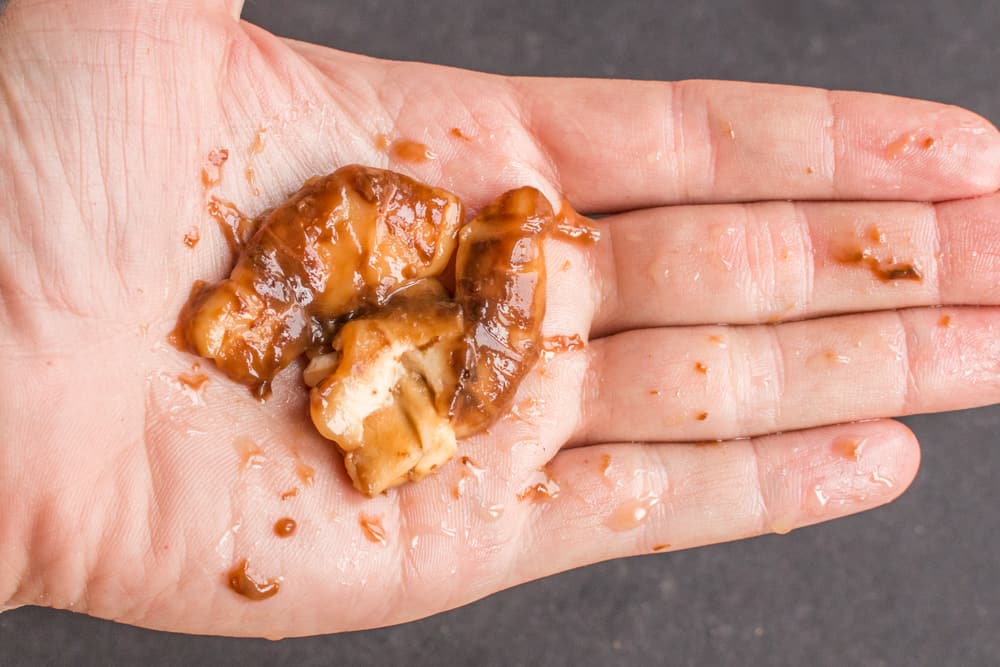 I've fermented plenty of mushrooms, but isn't something I reach for often. Fermented wild mushrooms can be good, in the right place, but those places are few and far between, as the finished product can be very strong tasting.
And, depending on the particular species, the fermentation process is prone to making many mushrooms mushy, causing them to break down into pulpy, brown slimy goo, which, while not bad if you're making a puree, isn't exactly appetizing either.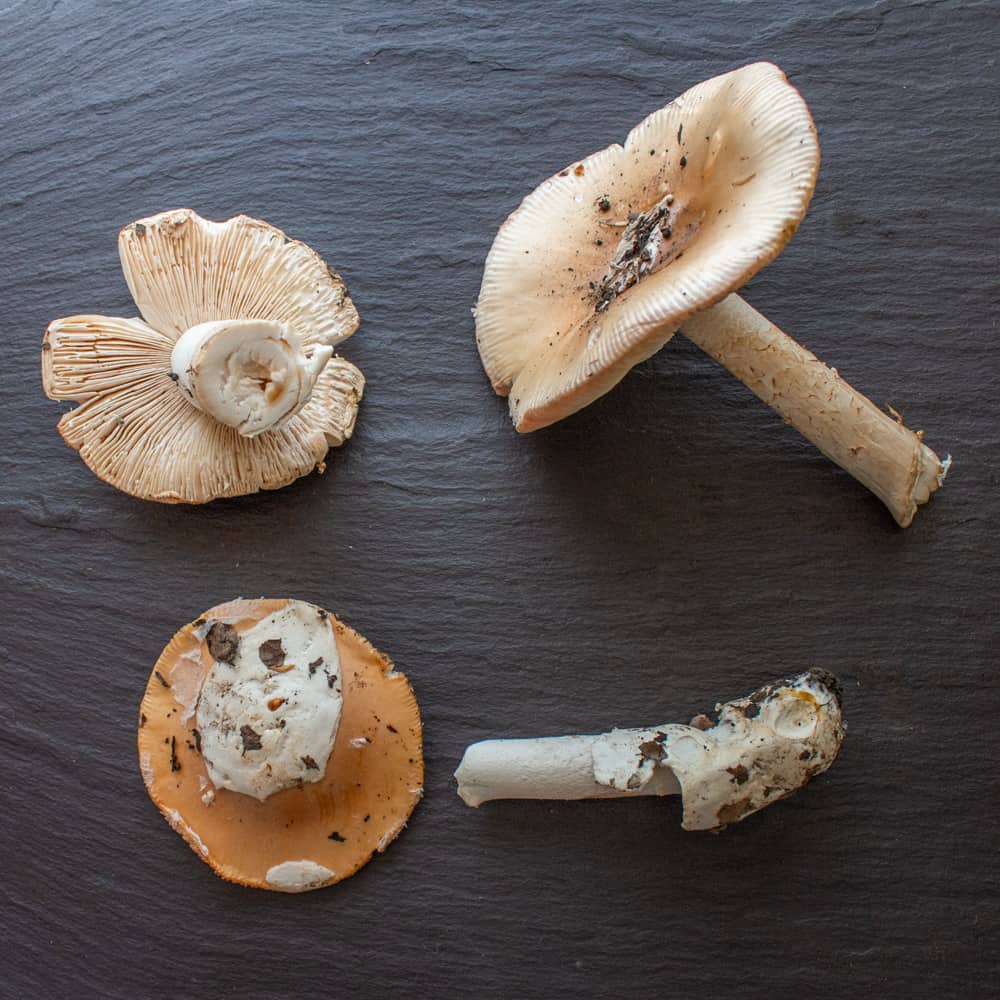 Muscaria retains a great texture, and more flavor than you would expect, making this one of the most interesting wild mushroom recipes I've made. I can only presume that other edible amanitas, like velosa and mushrooms from the rubescens group, both of which I've also eaten (the former being excellent, the latter less-so) should produce a similar result.
Cooking, detoxifying, and fermenting
Finding the mushrooms is the difficult part, cooking is relatively easy, and will take about 30-45 minutes for the method I've used here.
You cut the mushrooms into pieces, put them in a pot of water, boil, drain, immerse in salted water, and let sit on the counter like you would sauerkraut in brine. After a while, say 5-10 days, you put them in the fridge, where they'll continue to age more slowly over the months.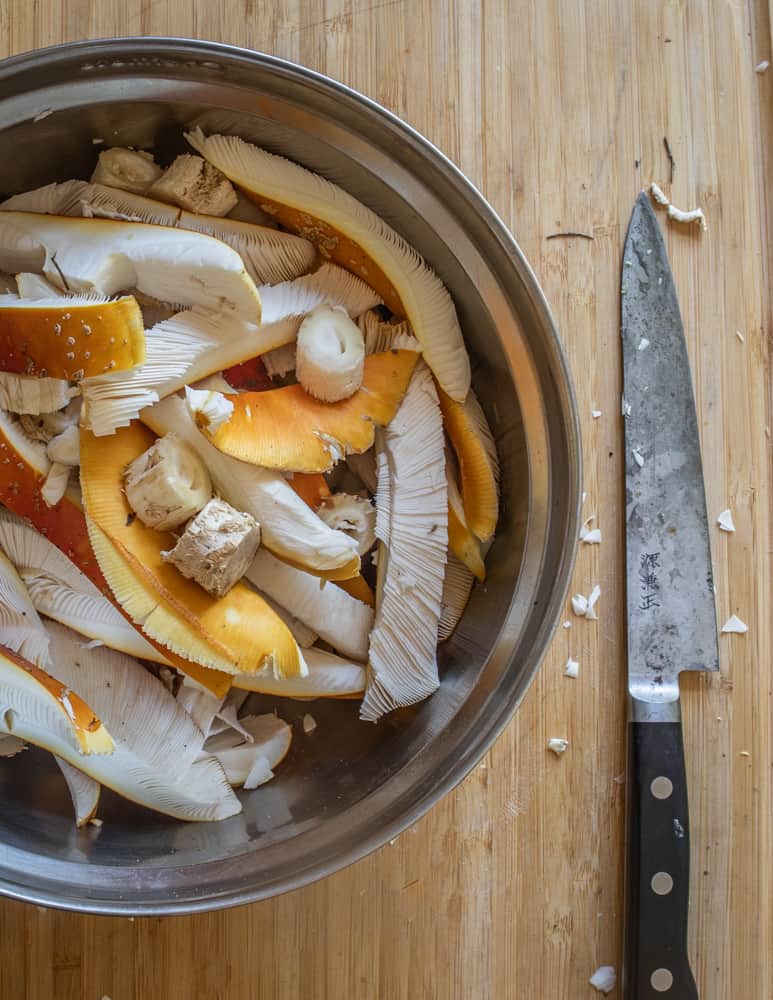 In my first batch a few years ago, the first thing I noticed was that, gradually during the aging process, the mushrooms were no longer sitting in clear brine: they were immersed in a beige mushroom liquor.
Like honey mushrooms, they gently thicken the liquid too over time, but it's not mucilaginous like okra, it's more silky and subtle.
My latest batch I'm eating as I write these were just warmed up in a bowl of miso soup, a preparation one of muscaria pickers shared with David Arora. It's excellent, and at least for me, the best part is the texture.
All the amanitas I've eaten have been similar in that the stems are a sort of chewy but tender mushroom bite, that, because of the hole in the middle, always reminds me of calamari. Muscaria is no different.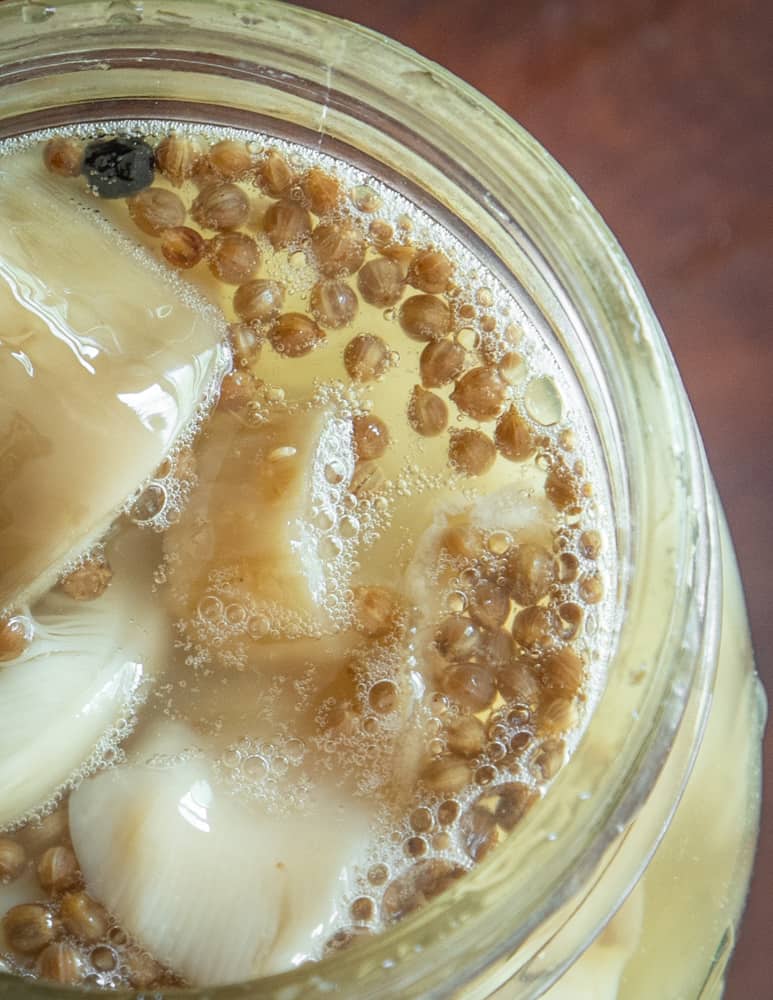 After fermenting and aging for a while, the mushrooms keep a delicious chew to them, and will sublty pick up aromas you add to the jar, although the basic traditional method seems to be nothing more than salt, boiled mushrooms and water.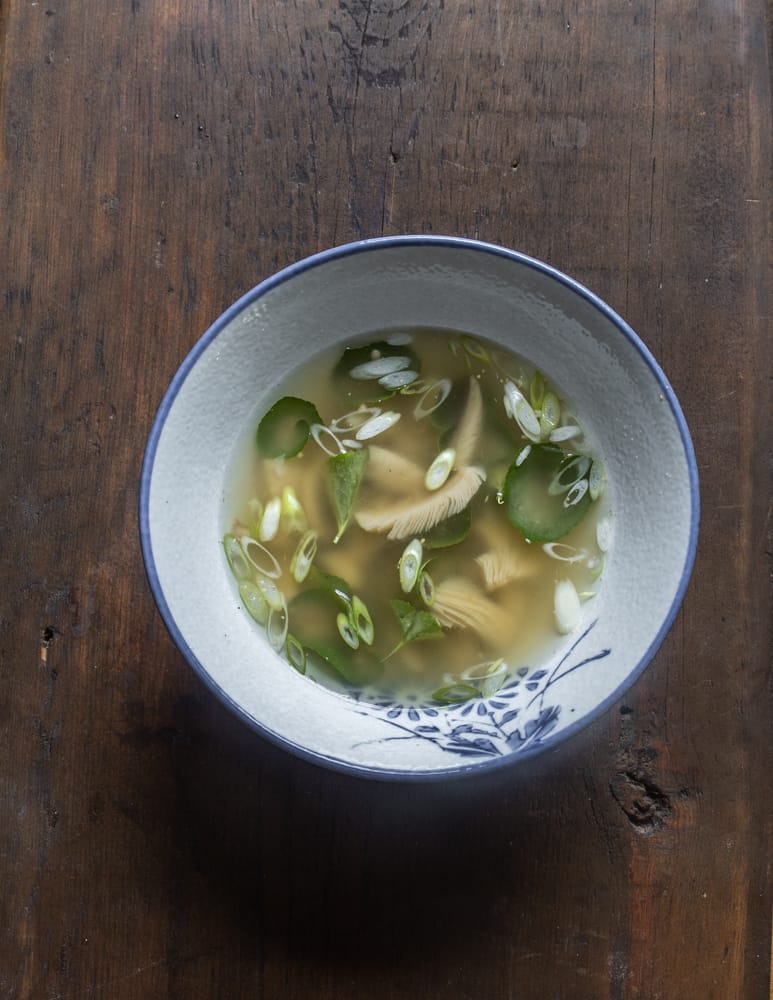 Miso soup is the only way I've enjoyed them so far besides of of the jar, and it's been hard to find a better preparation, especially as their "silkyness" dissolves into the broth. Here with homemade miso made from flint corn, a few violet greens, and scallions. Tofu seems hardly necessary but I don't mind it. To make it, just chop the mushrooms into bite-sized pieces and add them to your favorite miso soup. 
How much salt?
I use a 3% weight of salt by volume here, so there will be a little less funk to the pickles, and the fermentation will be slower. If you want more tangy lacto-zip I'd use a 3-4% concentration of brine, or even 2% if you want them to sour quick (see my notes below if you're unfamiliar with that).
Many of the common, edible milkcaps will be good like this too, as well as the hot and/or acrid ones, although the latter may need longer aging to soften the flavors.
Safety
It goes without saying that this should only be attempted by people who can confidently and correctly identify Amanita Muscaria, since lethal amanitas grow at the same time of year, often in close proximity.
Please watch my video on detoxification of Amanita muscaria to familiarize yourself with the process beforehand if you would like to try them.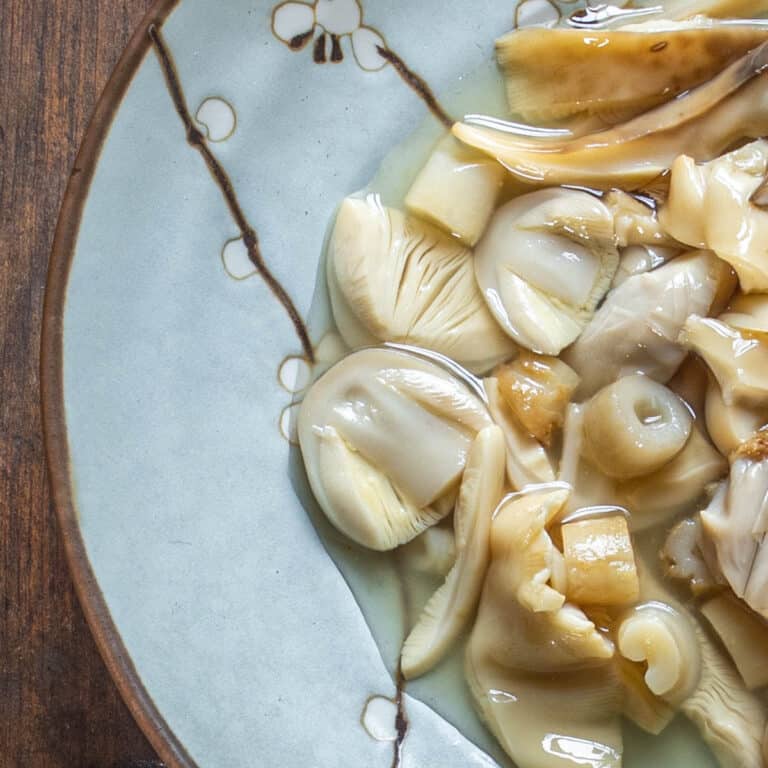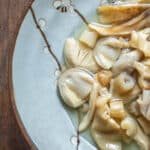 Print Recipe
Japanese-Style Muscaria Pickles
Amanita Muscaria mushrooms seasoned with salt and fermented in brine inspired by the Traditional Japanese technique. You can also pickle the mushrooms with vinegar for a decent, although more acidic result if you aren't experienced with fermenting. Please view my video on detoxifying muscaria to familiarize yourself with the process before attempting these.
Equipment
Mason jars

you can start with a pint size
Ingredients
8

oz

Amanita Muscaria

as fresh as possible

13

grams

Kosher salt

as needed

Splash of whey or juice from another ferment

Filtered water
Instructions
Detoxify the mushrooms
Cut the mushrooms into pieces (see my video for reference) put in a pot of water at a ratio of 6 quarts of water to each 1 lb mushrooms

Cover the pot and bring the mushrooms to a boil, still with the lid on, then set a timer for 15 minutes.
Salting
After 15 minutes, remove the mushrooms rinse them vigorously and dry well, then put them in a glass jar or other non-reactive container placed on a scale tared to 0 in grams.

Add water to cover the mushrooms by ½ inch, weighing the water and mushrooms in grams as you pour it in. Multiply the final grams by .03 or 3%, then add that many grams of salt to the jar. A pint jar is a good place to start, for that, you can use a tablespoon of kosher salt, or roughly 13 grams. Also remember that a pint is one pound, or 448 grams, and 448 x .03 = 13.44 grams of salt. (You can use anywhere from 2-5% salt here for reference).

Add a dash of sauerkraut juice or fermented brine if you have some to speed up the process.
Fermentation
Shake the jar, weigh the mushrooms down with a clean stone or clingfilm, screw on the lid, and leave in a dish to catch any liquid at room temperature for 5 days, and up to 10, or until they taste to your liking. The mushrooms should be covered with liquid the entire time.

After that, refrigerate the mushrooms. The mushrooms will continue to age a bit in the fridge. If you want a stronger flavor, leave them out for another day or two, tasting them regularly.

They'll last for a long time if always kept completely submerged in liquid, and will continue to develop as they age.
Notes
Fermenting with a vacuum bag
You can also ferment the mushrooms in a vacuum bag after boiling. To do that, dry the mushrooms well. Weigh the mushrooms in grams, multiply the number by .03, or 3%. Add that amount of salt, mix well, and vacuum seal. 
Nutrition
Calories:
50
kcal
|
Carbohydrates:
7
g
|
Protein:
7
g
|
Fat:
1
g
|
Saturated Fat:
0.1
g
|
Polyunsaturated Fat:
0.4
g
|
Sodium:
5050
mg
|
Potassium:
722
mg
|
Fiber:
2
g
|
Sugar:
4
g
|
Vitamin C:
5
mg
|
Calcium:
10
mg
|
Iron:
1
mg
More
Amanita Muscaria: A Poisonous, Hallucinogenic, Edible Mushroom