A grilled cheese sandwich with morels? You betcha. I was born in Sturgeon Bay Wisconsin-there's cheese in my blood, or arteries, as the case may be.
My great aunt and uncle have lived in Ellworth for as long as I can remember, it's a town famous for one thing: the creamery, and the cheese curds that come from it.
Last year my great aunt sent my grandmother a message to give to me about a grilled cheese competition in Wisconsin, being put on by the grilled cheese academy. I'd never heard of anything like this, and brushed it off as a novelty for a while. The more I thought about it (and the 10,000 purse) the more I thought I could do it though. Check out the website linked above, it's easy to enter the competition.
I started studying previous entries, to see if I could pick out any similarities in the winning sandwiches. What I found was what I feared, the most gussied up, wacky sandwiches were the ones that were winning. There were lobster rolls with mascarpone, dessert grilled cheeses, you name it. I still gave it a shot though.
It was spring, so I knew I wanted to incorporate what was growing. I also wanted it to taste really, really good, and represent Wisconsin. After a couple trials, I came up with a sandwich that was simpler that most of the winners, but relied on ingredients of much higher quality. The heart of it is a pile of sauteed morels, accented with a creamy sauce made from ramp leaves.
The grilled cheese portion is where I got to give a nod to Wisconsin, since it uses brick-an aromatic, washed rind cheese that has a cult following in the badger state. The rye bread I chose since morels have a natural affinity for it, for some reason they just really taste good together.
In the end I didn't win the, but that's only because the judges must not have actually tasted it. They were supposed to cook and test every sandwich-I guarantee you, if they really tried it, it would've won.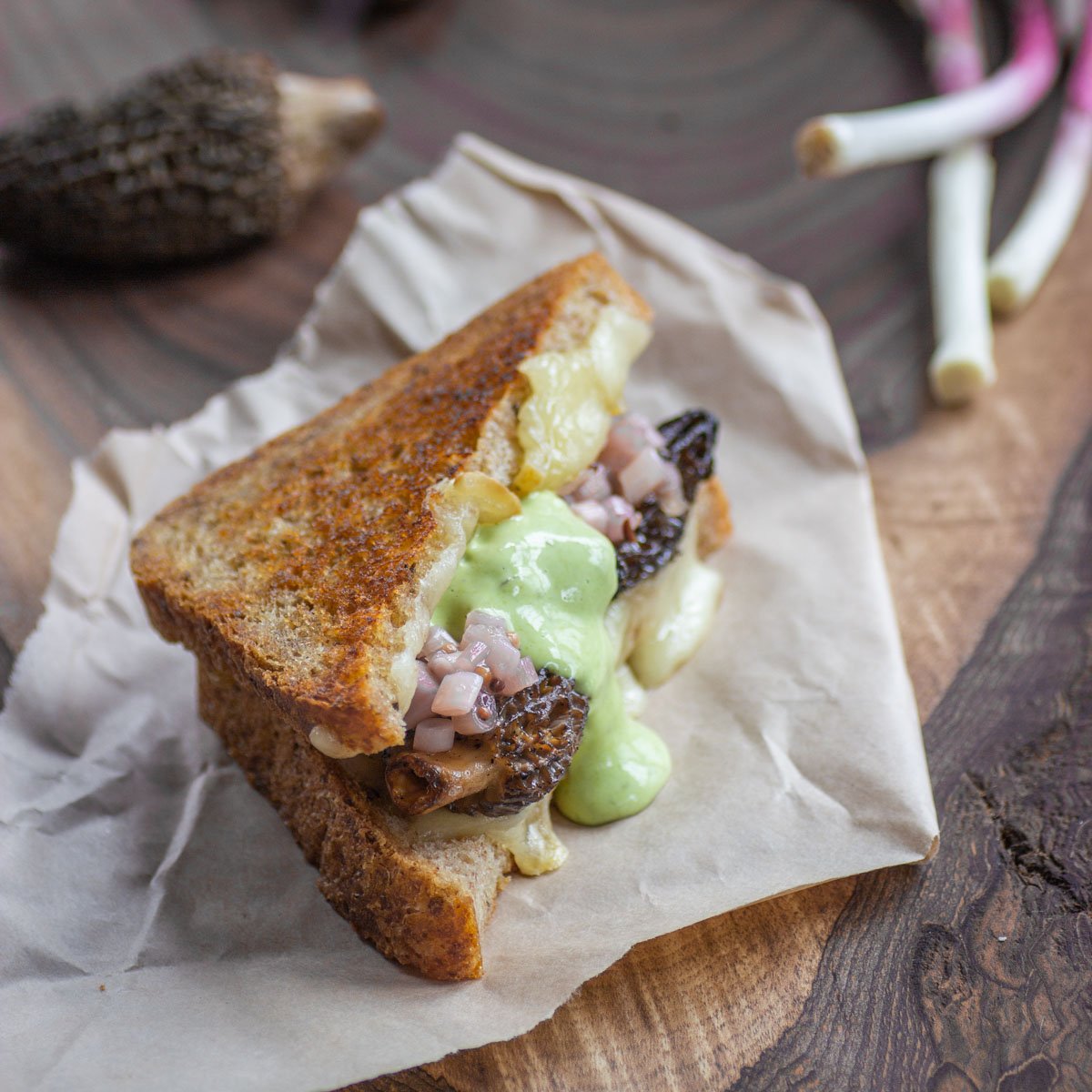 Morels And Brick Cheese On Rye, With Ramp Leaf Aioli
Recommended equipment: Large cast Iron pan
Yield: 1 sandwich, scale as needed
Ingredients
• 2 slices caraway rye bread, sliced 1/2 inch
• Room temperature unsalted butter, as needed
• 1.5 ounces fresh whole morel mushrooms, rinsed, cleaned, and inspected for debris on the inside.
• Kosher salt and pepper
• 1 Tbsp Lard, other animal fat, or high heat cooking oil such as grapeseed
• 1.5 ounces brick cheese, sliced
• 1 teaspoon chopped fresh ramp bulbs
• 1 recipe ramp leaf aioli (follows)
Method
1. Spread each side of bread with butter. Place the bread buttered side down in the cast iron pan. Arrange the cheese slices on the bread and cook on low-medium heat, until the bread is nicely toasted and the cheese is melting.
2. In a separate pan, heat the lard or grapeseed oil until lightly smoking, add the morels and cook over medium high heat until brown and caramelized, about 4-5 minutes. Add a tsp of butter to the pan, then add the ramps. When the morels are totally cooked, season with salt and pepper. Allow the morels to drain on a paper towel briefly to shed excess oil if needed.
3. Place the morels on top of the cheese on one slice of bread, top each with some of the ramps from the pan, then add a tablespoon of the ramp leaf aioli. Place the other slice of bread on top of the slice with the morels and sauce. Press the sandwich lightly to make it stick together.
Ramp Leaf Aioli

Recommended equipment: chinois or mesh strainer (optional)
Yield: 1 cup
Ingredients
• 1 ounce fresh wild garlic leaves, about 10 large leaves
• Kosher salt and pepper, to taste
• 1 cup mayonnaise, preferably homemade
• 1 tsp champagne vinegar
Method
1. Bring a pot of lightly salted water to a boil. Add the wild garlic leaves and cook for 5 seconds, until just wilted. Immediately refresh the ramp leaves in an ice bath to preserve their color. Squeeze the leaves dry in a towel, then mince finely.
2. Puree the leaves in a highspeed blender with the mayonnaise. A food processor will work fine too. After words, pass the sauce through the chinois or mesh strainer to remove any stringy leaf particles and give it a velvety texture. Stir in the champagne vinegar, season to taste with salt and pepper and reserve until needed.