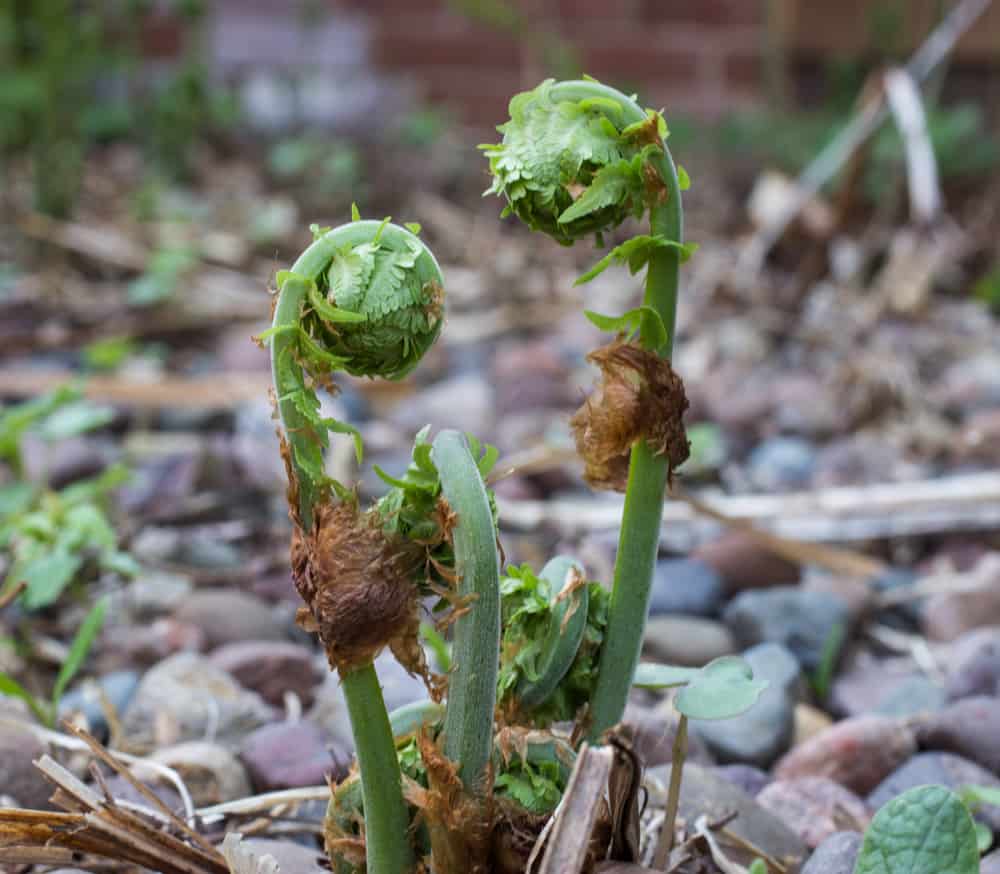 Here's what I made with the last of my fiddleheads this year, it's a great little spring salad.
The origins are Italian. In the Spring, it's an Italian tradition to have fresh fava beans with hunks of pecorino cheese, a great example of less is more-just beans and cheese, that's it.
A colleague of mine, Fillipo Caffari, executive chef at the Butcher Block in Minneapolis used to just pop unpeeled, raw favas in his mouth with a hunk of cheese and enjoy them like that (It's a little hardcore for my tastes).
The ingredients that really make this special though are the fiddleheads, spruce, and mint. They add bright, refreshing flavor that's really nice. The fiddleheads add texture, and the spruce, when used sparingly, give a great citrus-y pop here and there. Mint is really good with green spring vegetables too, so it's a natural addition.
Obviously, this is just an example, favas could easily be replaced or combined with peas, radishes, or anything other green veggie you like. A little cooked green garlic would be a great addition as well, try it out sometime.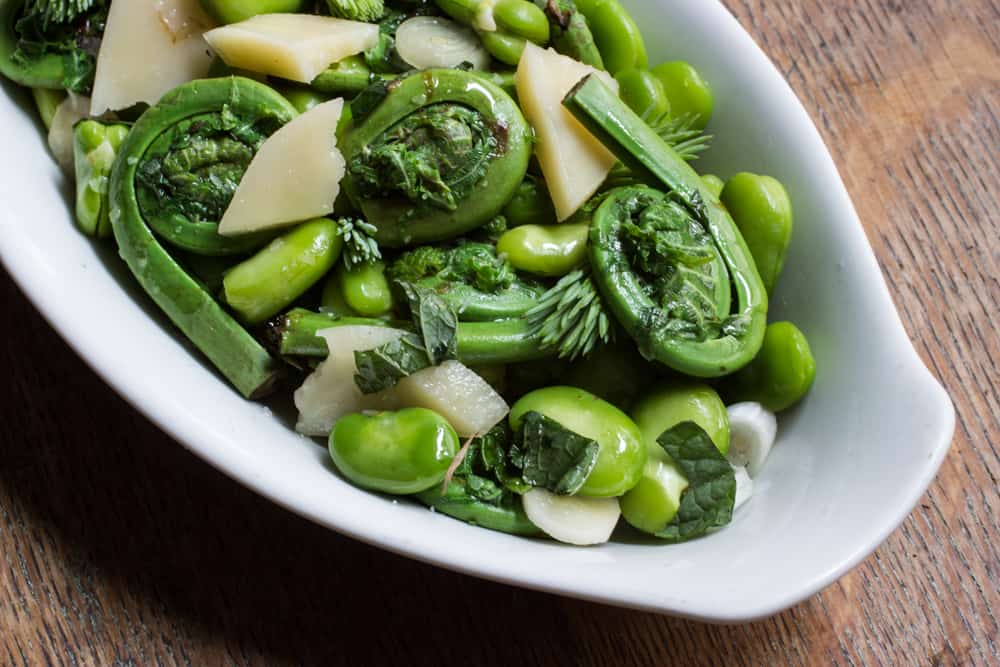 Fiddlehead Salad, With Spruce Tips, Peppermint, And Pecorino
One of the most interesting parts of this is the rough, salty pieces of cheese, it's important they're in chunks, so resist the urge to grate it.
Also, make sure you have a species of spruce tips that have a nice flavor, since the bitterness can vary considerably between species. I've been commissioning Amish in Wisconsin to pick them for the Salt Cellar, they don't know what species they are, but they know what bitter tastes like.
Serves 2 as a side dish
Ingredients
2 cups shucked fava beans, still inside the green shell
1.5 cups fiddlehead ferns, stems trimmed
1 tablespoon ramp bulbs, sliced (shallots or green garlic would be a good substitute too)
1/8 cup extra virgin olive oil
Fresh squeezed lemon juice, to taste
Kosher salt and fresh ground black pepper, plus additional salt for the blanching water
1 tablespoon spruce tips, picked into 1/2 in pieces
1 tablespoon wild peppermint (commercial spearmint or peppermint can be substituted)
1 ounce pecorino romano cheese, highest quality available, broken into rough 1/2 inch chunks
Method
Bring a few qts of salted water to a boil. Blanch the fava beans for 2 minutes, then shock in ice water, drain, peel, and reserve. Next blanch the fiddleheads for no less than 1 minute, then shock in ice water, drain and reserve.
In a small saute pan, heat 1 tablespoon of the extra virgin olive oil and the ramps, do not color the ramps, you just want to remove the raw flavor, cook them for 2 minutes or so on medium-low heat, then reserve.
When you want to serve the salad, combine the peeled fava beans, fiddleheads, ramps and remaining ingredients and toss in a salad bowl. Double check the seasoning for salt and pepper and adjust as needed, then serve immediately.