If you know watercress, you probably know watercress soup. While I enjoy the versions with cream, sometimes I might not have any around, or, I might want a lighter soup, people might be lactose-intolerant, or I might just want a change of pace.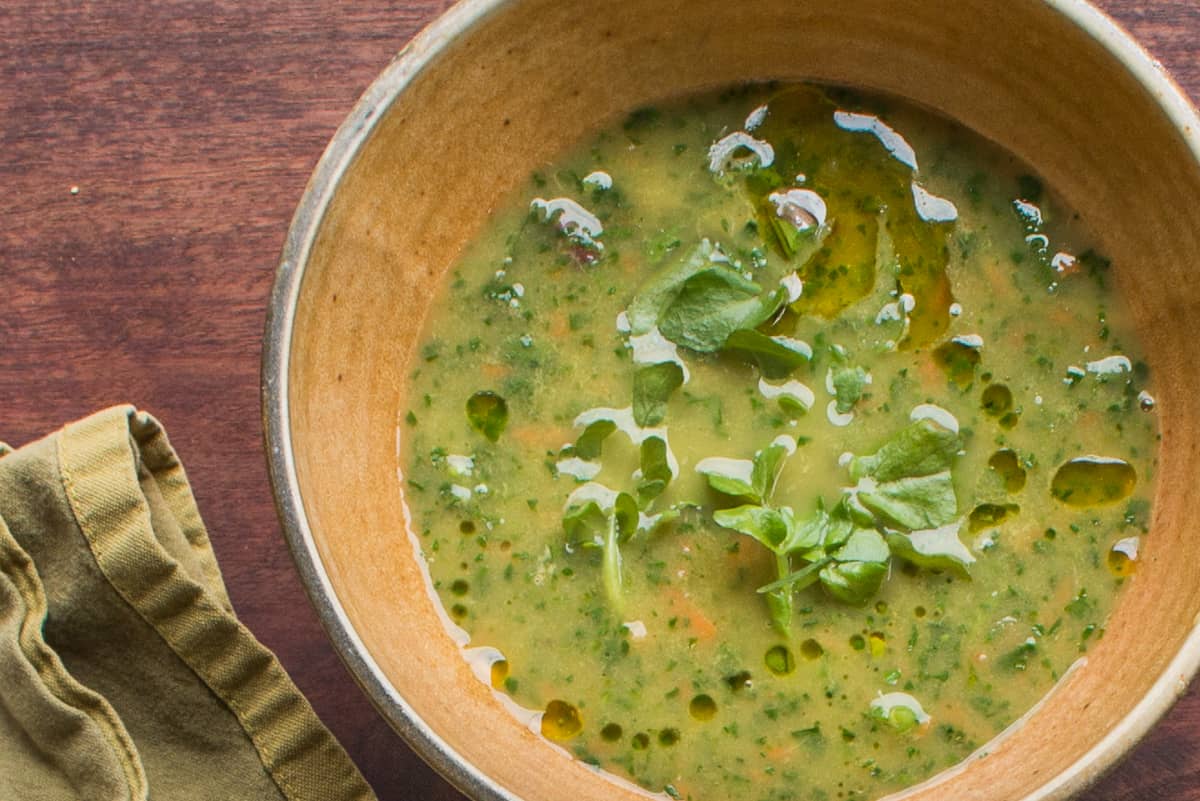 My new favorite watercress soup recipe is this simple, rustic one, scented with a little handful of ramp leaves and some grated carrots. It's based off a meal I had at my friend, James Beard Award winning food writer Steve Hoffmans house. Steve served a light soup made from wood nettles that had no cream, but was rich with meat stock, and not completely pureed--I could still see bits of carrot and vegetables in it, and I loved it. (see my favorite rustic version of nettle soup here).
I took the same approach with a soup made from watercress, but, since watercress has a natural affinity for carrots and sweet things like orange, I upped the quantity of carrots I would typically add to a soup, making sure to add some grated ones at the end to amplify the color a bit. The gentle, subtle sweetness the carrots add is great, and gives a different sort of depth than you might be used to with typical soups.
The other key ingredient, if you have access, is ramp leaves. Ramp leaves like sweet vegetables, and are in season at the same time as watercress in the Spring where I live. While I don't harvest many ramp bulbs anymore, I harvest the leaves with abandon, and use them in all kinds of things. If you can find some, definitely add a handful, if you can't, a small clove of garlic and some green onions are a great substitute, or just omit them.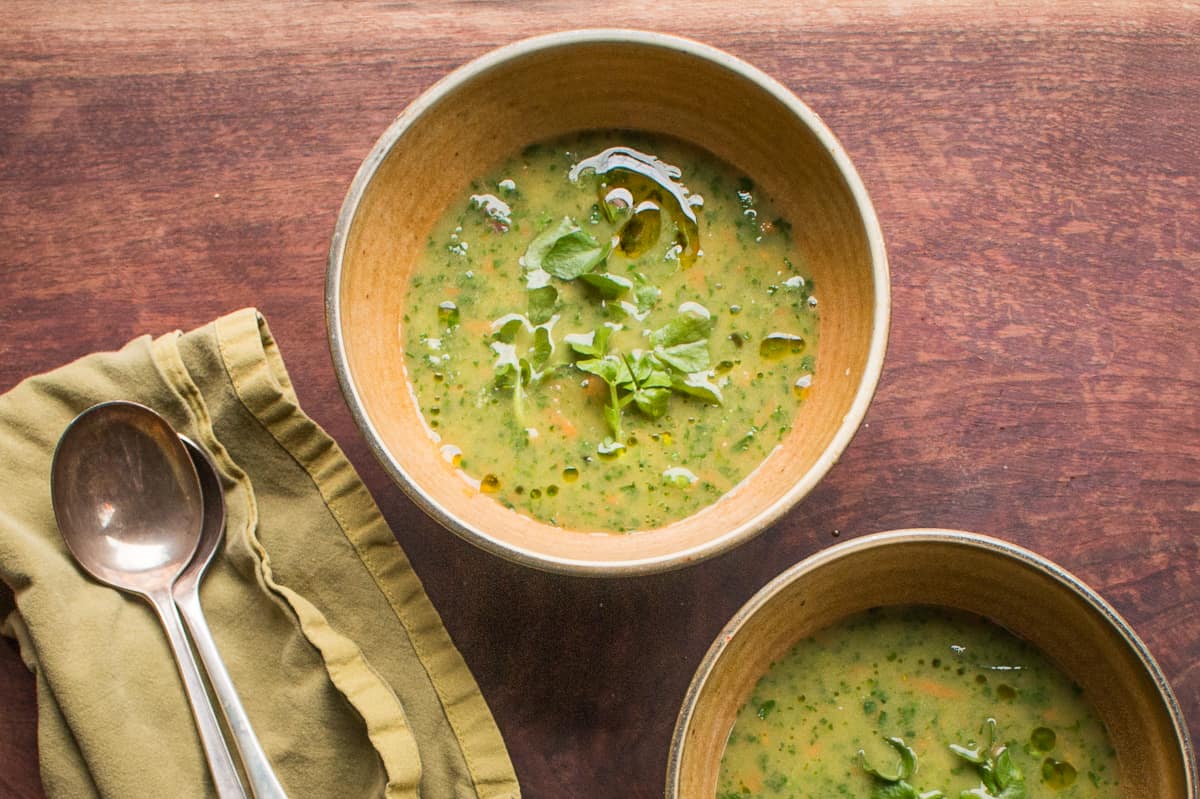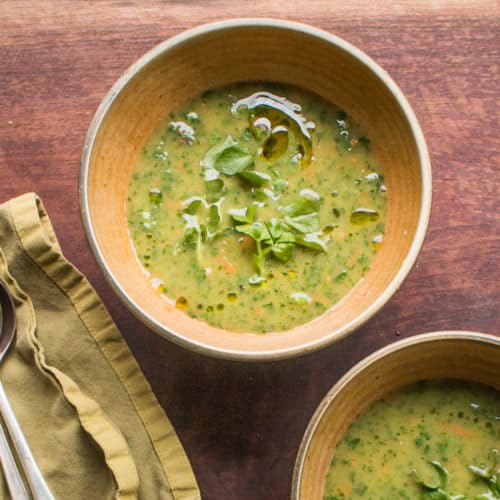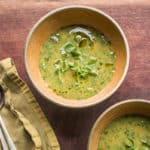 Print Recipe
Rustic Watercress Soup with Carrots and Ramp Leaves
A pureed, but not smooth soup of watercress scented with ramp leaves. Grated carrots are the secret.
Ingredients
4

oz

fresh watercress

about 4 cups, chopped

8

oz

1 large russet potato, peeled and chopped

4

oz

2 small carrots, grated

4

oz

1 medium yellow onion, chopped

½

oz

ramp leaves

1 cup chopped

4

tablespoons

unsalted butter

1

teaspoon

kosher salt

4

cups

chicken stock or vegetable broth

¼

cup

dry white wine
For serving
Extra virgin olive oil

Cracked black pepper

Fresh watercress leaves
Instructions
Sweat the onion, potato, and half of the carrots in the butter for a few minutes until just tender, then add the wine and cook off. Don't let the bottom of the pan darken.

Add the stock, salt and sugar and bring the mixture to a boil, then turn the heat down to low and cook for 20 minutes. Add the watercress and puree with a handblender, leaving it a bit coarse.

Add the remaining shaved carrot and pulse a few times to break it up. There should be visible pieces of carrot and watercress in the soup.

Allow the soup to sit for a few minutes so the carrot particles become tender, or put back on the heat for a moment, then double check the seasoning adjust as needed, and serve with a few sprigs of watercress on top, cracked black pepper, and drizzles of extra virgin olive oil.