Lyme disease, and all the other tick borne illnesses are scary, especially if you're a forager. In this post I'll tell you how I prevent myself from getting lyme disease again. My secret is that I use permethrin-an extract from flowers that's the best defense against ticks I know.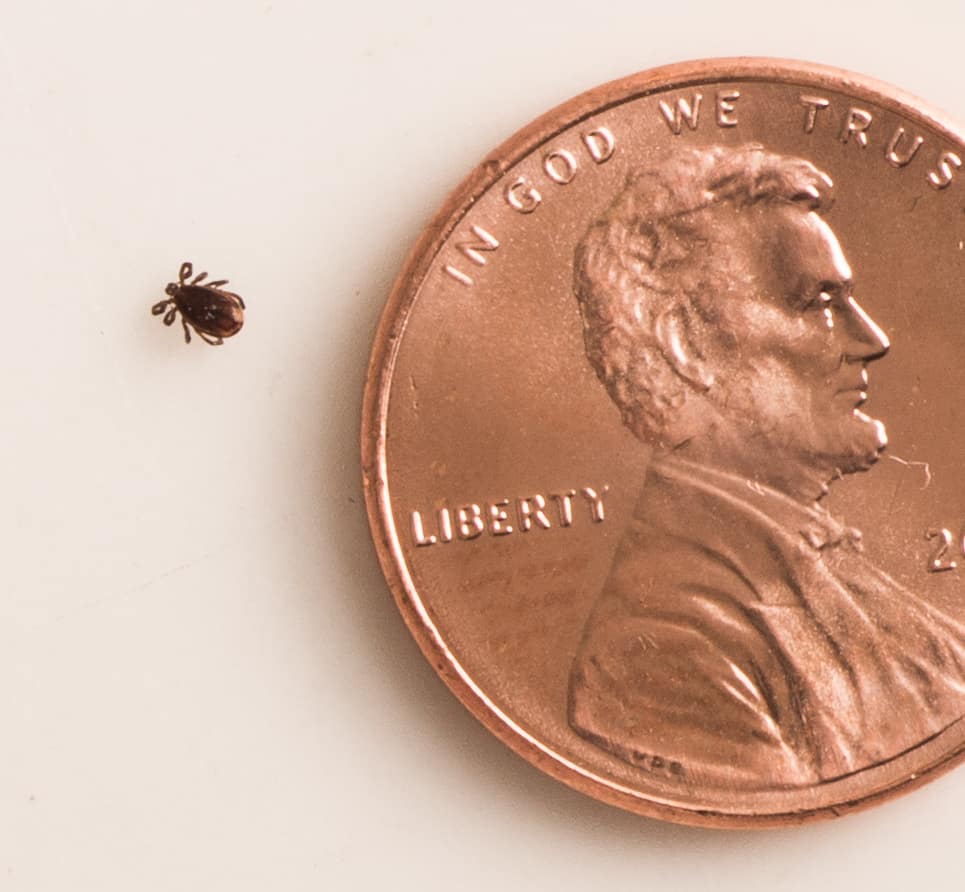 Most of us are inside right now, but come May there will be more things to inspect for than morels. I'm talking about the growing legion of tick borne diseases: Lyme, Bebiosis, Erlichiosis, Tularemia Rocky Mountain Spotted Fever, and STARI the disease carried by the lone star tick, and possibly the worst of all of them, that can make you allergic to red meat. Yes, allergic to red meat (most sources just say beef and pork, but It's safe to assume more, too).
If that wasn't fun enough, there's also tick paralysis, which can affect the heart and lungs, causing death. Then, if you're doubly unlucky, like I was, your choice of blood-borne tick disease may interact and exacerbate pre-existing conditions permanently damaging your neurology, and, while it probably won't kill you, it could definitely make your life miserable enough to make you think of killing yourself. These are some of the tick-borne illnesses and side effects people who venture outside for fun are at risk for contracting, and if you're one of those people, you need to be aware.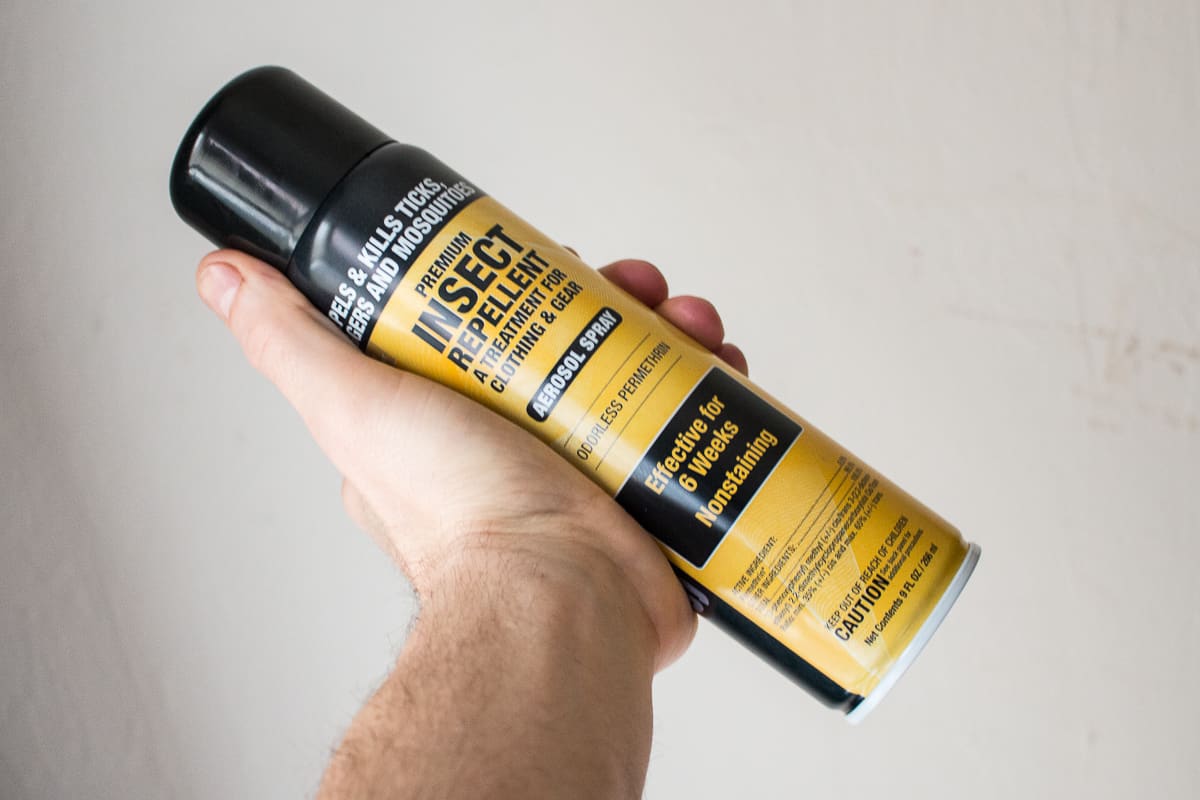 A tick check is standard, but dangerous tick nymphs are so small you can barely see them with the human eye (see above). For all the ticks and the fear they instill in us, Permethrin--a topical insecticide widely used and supported by the Department of Natural Resources, is the best prevention I've found. I use the Sawyer brand or a bulk concentrate.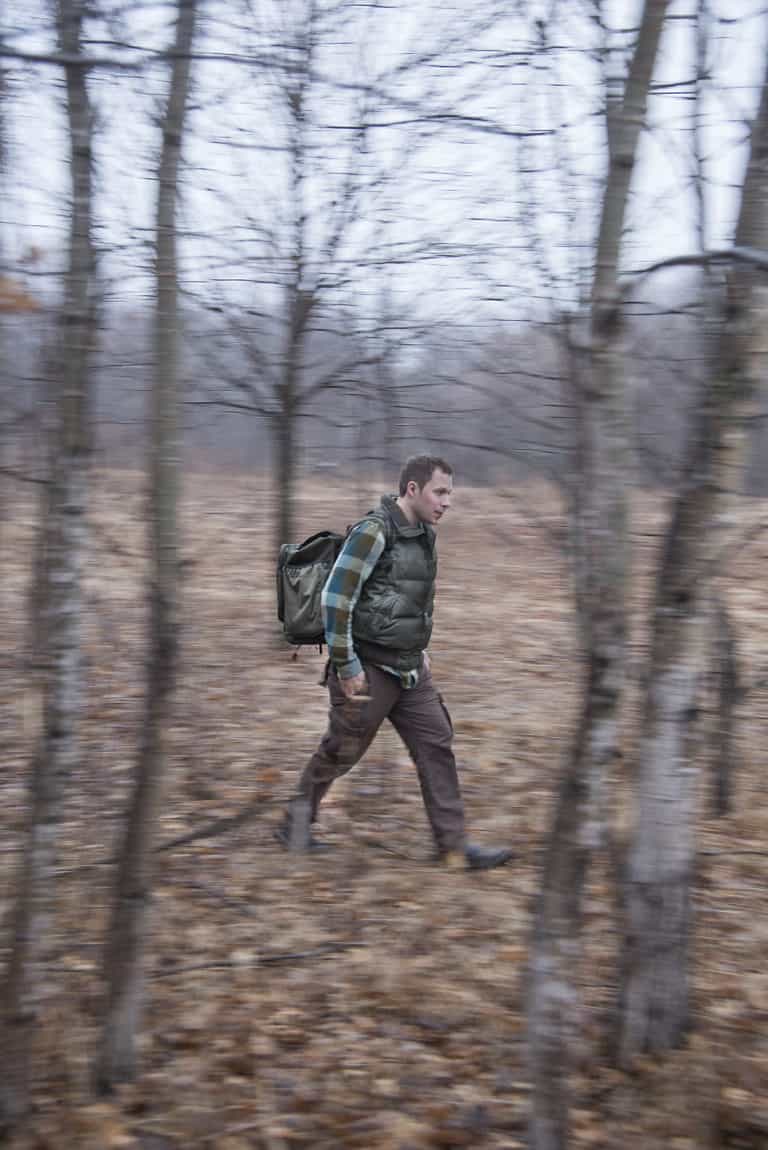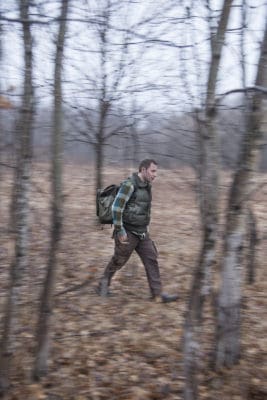 But, insecticides, pesticides? The words make my skin crawl, and make me think of things like Roundup and DDT, dead bald eagles, class action cancer lawsuits, and all the things we humans have really messed up with the goal of controlling nature. Generally speaking, I don't like chemicals, I don't even like standing next to people that use conventional detergent and softener sheets--the smell is nauseating to me.
Natural vs Synthetic
Many of you are already familiar with it, if you're not, here's the skinny. Like many insecticides, permethrin is a synthetic compound modeled after a natural one, in this case, it's one of a number of chemicals known as pyrethroids, named for their being based on pyrethrum--an extract from crushed chrysanthemum flowers historically used as a natural, topical insecticide to treat things like body lice.
Pyrethrum, like you might expect, is less powerful than permethrin, and more quickly broken down back into nature after it's used.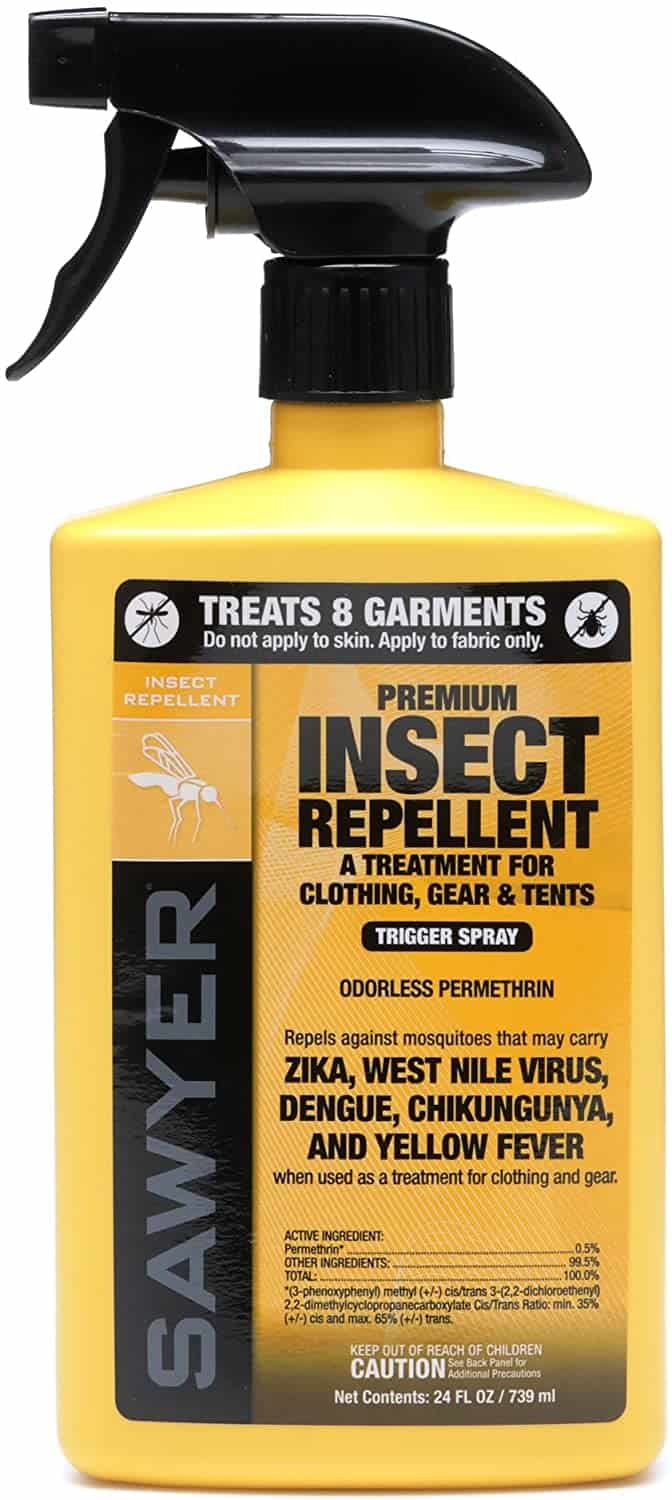 Liquid or aerosol permethrin=lethal to cats, bees, and fish
What permethrin does, when used correctly, and it does it very well, is kill and repel ticks. Unfortunately, if not used correctly, it can also kill other things, and both natural pyrethrum and synthetic permethrin are toxic, and potentially lethal to cats, bees, and aquatic life, which brings us back to the phrase "when used correctly".
Note too that the mortal form for those creatures is the liquid, or aerosol spray. Fluffy isn't going to die from coming in contact with a pair of socks you've treated, dried and worn. So, for the record, don't spray the bee hive or fluffy, and don't dump it in the river when you're trout fishing.
How it's used
For me, this involves heavily spraying an outfit including a shirt and pants while wearing a mask outside about once a month during the growing season, at the cost of about 12$ a month, simply following the guidelines on the container (I do it every 4-5 weeks instead of 6 to be safe and account for human calendar error).
After the outfit is sprayed, you set them to dry naturally. Afterwords, your tick suit needs no other attention for a month, or a couple washes--whichever comes first. There's no constant spraying like deet, and no rubbing it into your skin. You can also buy a concentrated form, and dip your clothes, then dry, which removes the airborne spray application from the equation. Look for concentrated forms at your local farm/fleet type store. I'm going to outline the dilution method below.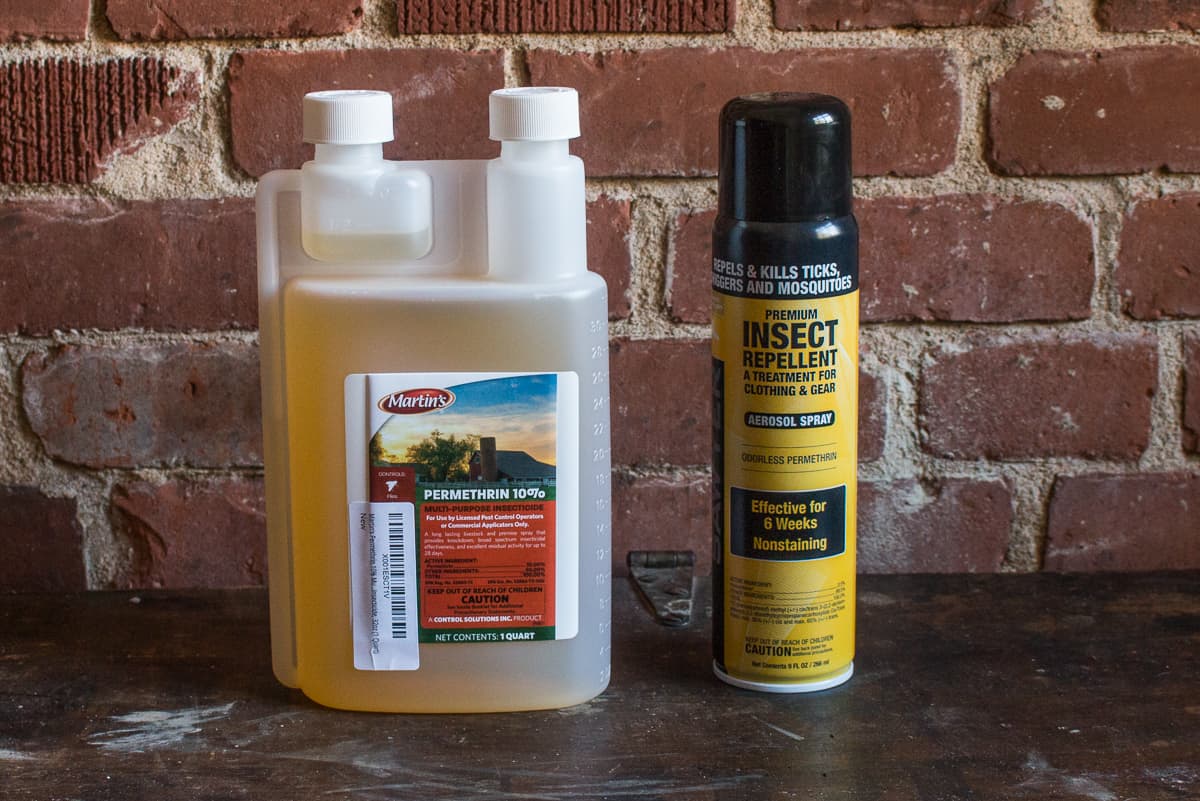 How to treat your clothes
The cheapest way to use permethrin, as well as not involving spraying anything, is to dilute a concentrate like pictured above (10%) into the same concentration as the spray bottles (.5%). To do that, we have to harness a special power, that of the ancient art of algebraic fractions. Luckily for you, a group of friends and I did the math for you.
Math
To dilute a concentration of 10% permethrin to .5%, I started with the goal of using 1 gallon of water to soak a batch of clothes. While I did the fractions and cross multiplication, it's easier to explain here with simple percentages.
If there's 32 oz in one quart, and that is 10% concentration, then a 1% concentration would be 3.2 oz. From there, a .5% concentration is 1.6 oz, so 1.6 oz of the permethrin concentrate in one quart gives us a .5% solution. From there, we just need to multiply a quart by 4 to get the needed dilution of 1 gallons to come in at .5%
1.6 oz of concentrate x 4 quarts = 6.4 oz of concentrate in 1 gallons for a .5% solution.
MASTER FORMULA
For 1 gallon of liquid ready to soak clothes, you'll add 6.4 oz of 10% concentrate or roughly ¾ cups plus 1 tablespoons to 1 gallon of water.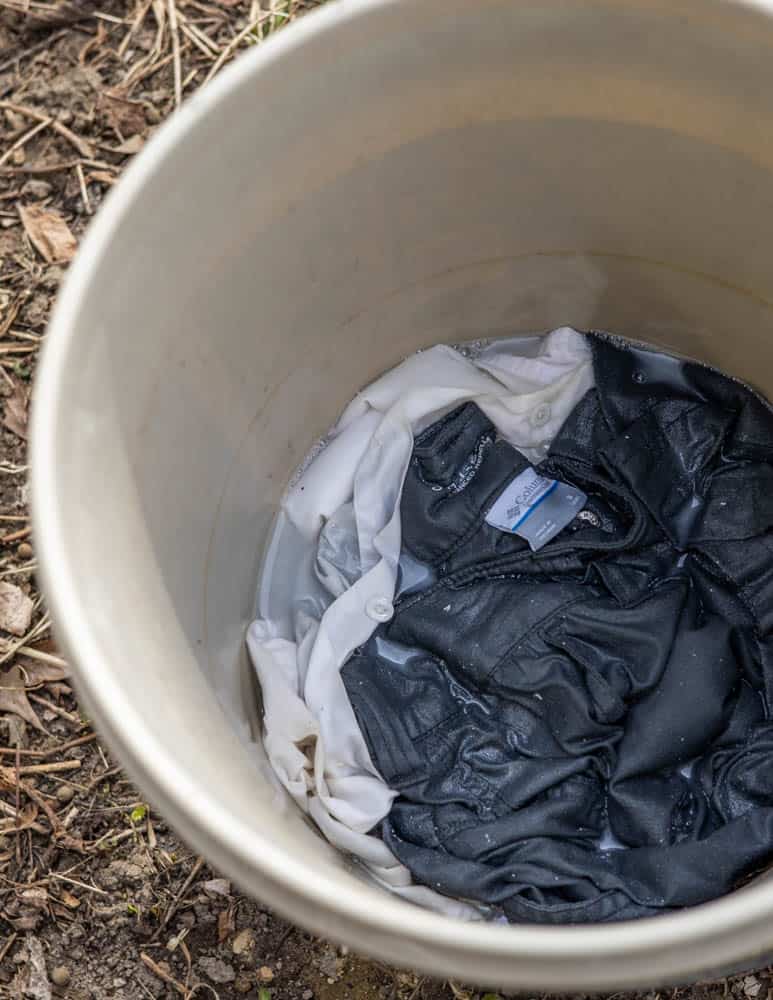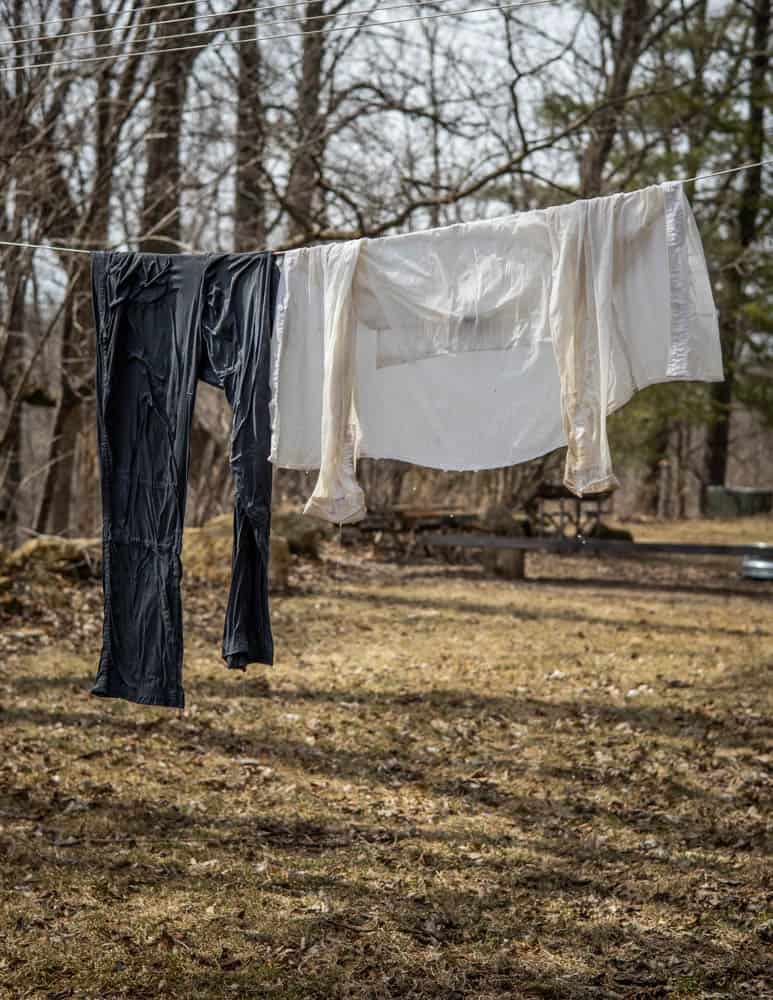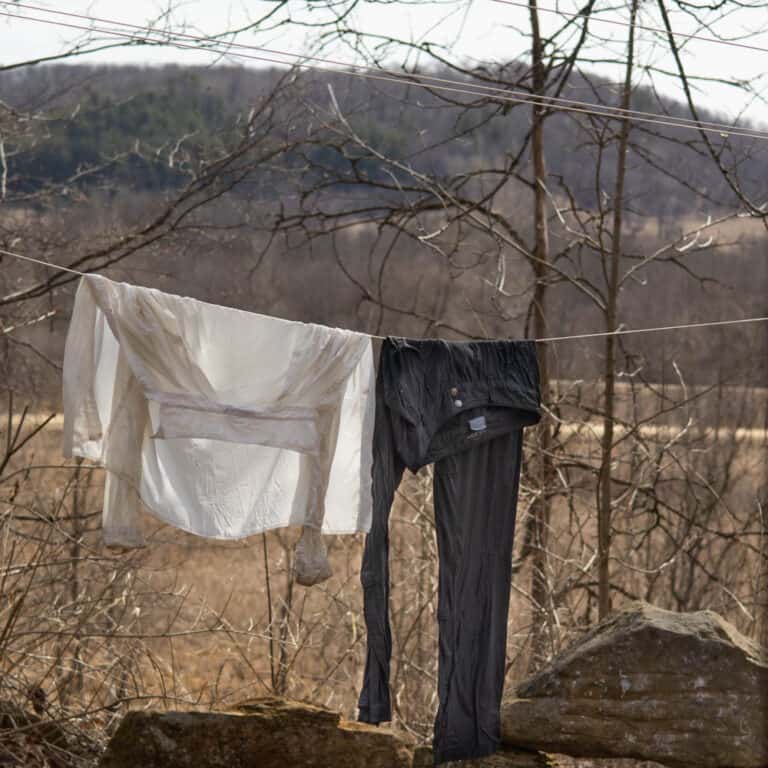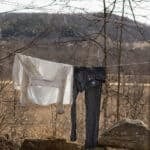 Print Recipe
How to soak or spray treat clothes with permethrin
How to soak or spray your clothes with permethrin in a few easy steps to avoid seeing ticks-for good.
Ingredients
Permethrin Mixture
1

gallon

For 1 gallon of liquid ready to soak clothes, you'll add 6.4 oz of 10% concentrate or roughly ¾ cups plus 1 tablespoons to 1 gallon of water. 

6.4

oz

(¾ cup plus 1 T) 10% permethrin concentrate

Clothing. You can soak socks, shirts, pants, hats, anything. I usually only soak shirts and pants.
Instructions
Spraying clothes with permethrin
Lay out some clothes outside or in a very well ventilated area. Spray the clothes according to the manufacturers directions, completely saturating them on both sides.

Hang the clothes to dry until completely dry. I keep them separate from my other clothes.
Soaking clothes with permethrin
Measuring the permethrin with a container you don't use with food, weigh out 6.4 oz of 10% concentrate and mix with 1 gallon of water in a 10 gallon bucket or similar container dedicated for the purpose of soaking your clothes. I keep my bucket in the garage, it is only used for soaking clothes with permethrin.

Using waterproof gloves, soak the clothes completely in the permethrin water, then remove to dry outside on a line to dry naturally.

When your clothes are completely dry, remove them, and keep in a place dedicated for them, like a bag, box, etc.
General info
When you'll be going outside and will be exposed to ticks, wear the outfit. You can wash it normally, but after 2-3 washes the permethrin will be gone. Without washing the permethrin may last much longer, especially if the clothes were soaked vs sprayed. I usually soak my clothes every other month, and it's likely overkill.

I also keep my outfits together, separate from my other clothes.

Some of my friends claim to have used one outfit without washing for an entire season without seeing ticks.

Every two months, re-soak the outfits, repeating the soaking and drying process. See the notes for how to dispose of permethrin.
Notes
How to Dispose of Permethrin 
Permethrin should be treated as a hazardous household waste. If disposing of it makes you uneasy, remember you can always use the spray as an alternative. 
The first way to dispose of permethrin is to bring it to your local collection center. If you don't want to bring it in, you can leave it in a bucket and let it dry out, or cover any remaining liquid with a tight fitting lid and save for more clothes in a garage or shop. 
Why use it?
Many of you know that I had Lyme disease. It's been 7 years since it happened, and I'm thankful that I was able to get the antibiotics in me before the spirochet wriggled it's way into my spine. Terrified I'd never go outside again, a close friend of my mother who works for the D.N.R. in Minnesota recommended permethrin to me, which was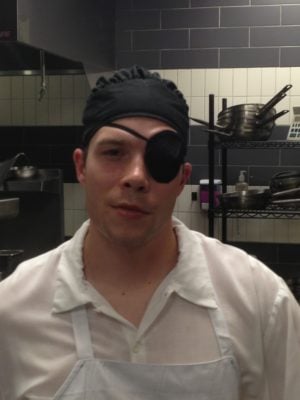 what he and his colleagues used. If it worked for the D.N.R. I thought, I could try it out. So, I gave it a shot, and to this day, seven years later, I have spent more time in the woods than I ever though possible for one person, and I can probably count on one hand the ticks I've seen since I had Lyme, and most of those probably crawled on me from the dog.
Nothing, and I repeat, nothing, I have found or heard of, works like permethrin. Deet needs to be continually applied (sometimes I wonder if it works at all) and things like essential oils, to me, are a joke (don't get me started on the multi-level-marketing shemes used to sell many of them, either).
Is It Dangerous?
Like I mentioned, permethrin is lethal to cats, birds, and bees, so don't spray them with it. In the scheme of things though, lots of things we use or have used are dangerous. DDT is a good example.
The problem with DDT was that it persists in the environment, concentrating in fish that bald eagles ate, and, as the compound stayed in their system, it eventually denatured eagle egg shells and increased bird mortality. Permethrin is a little different, and it's half life is a far cry from DDT. There's also no evidence I can find that it harms wildlife after it's been used correctly.
From the National Pesticide Information Center
"The average half-life range for permethrin in the water column is about 19-27 hours, however permethrin adsorbed to sediments can persist more than a year. Permethrin is not likely to contaminate groundwater due to its low water solubility and strong adsorption to soil."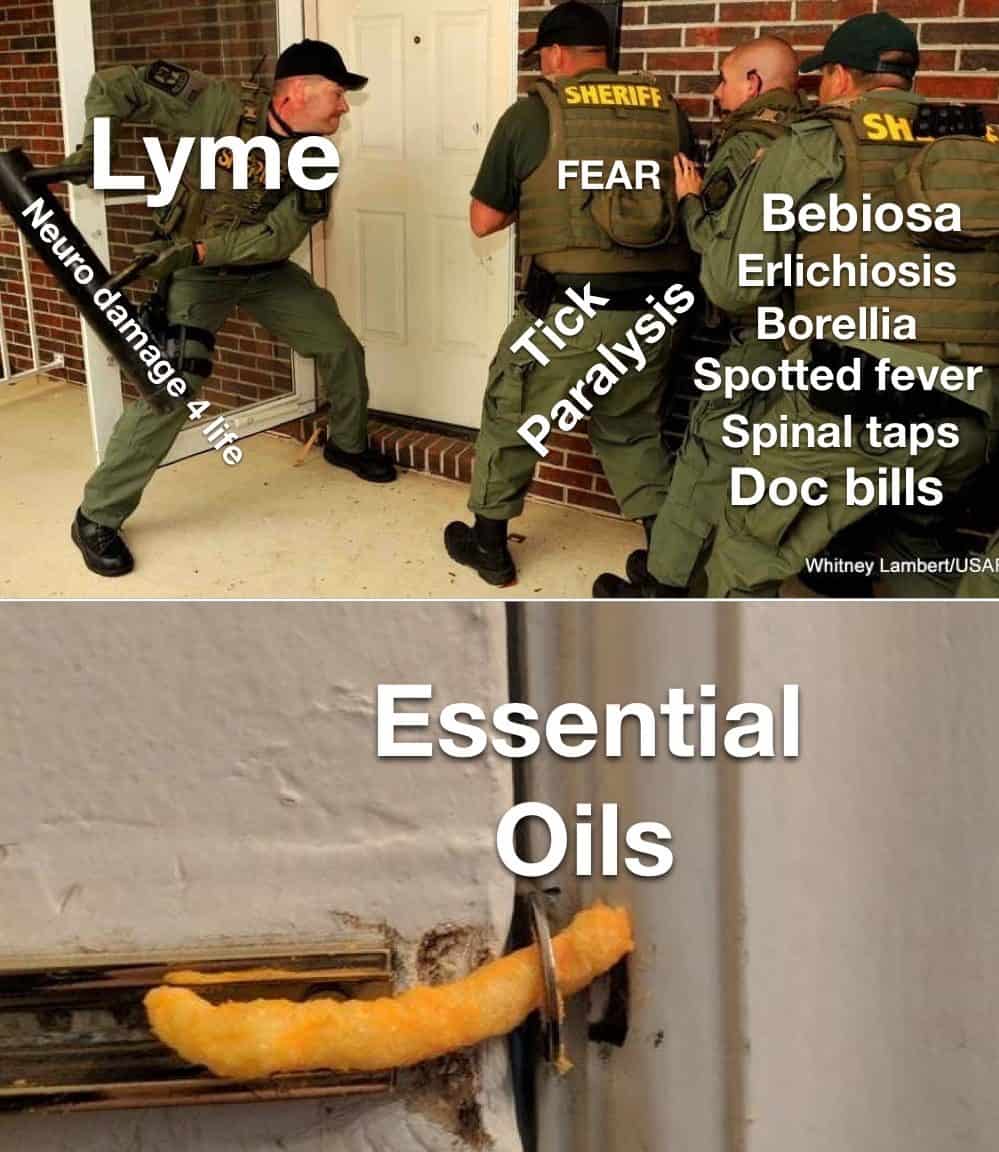 Don't Ingest it
Another good rule of thumb with chemicals is not good to ingest them, or rub them all over your body, or generally misuse them. Permethrin and deet are both widely used, and, like other similar chemicals, if there's some glaring issue, you'd expect there to be a little information, at least anecdotal, out there to peruse.
With deet, there is, and it's pretty much what you'd expect: a few cases here and there of people getting sick or developing a rash, most of them coming from people abusing or misusing the product.
Unfortunately, with Permethrin, there's only a few blips here and there--not a lot of information, besides one case of a woman's fetus developing Leukemia since she had arachnophobia, and (presumably) drastically overused the product inside her home. But, before we throw it out the door as a carcinogen because of a single case out of millions of users, remember there's plenty of things people claim are carcinogens.
Like with a lot of things, dosage is super important. Eating a couple teaspoons of Cassia cinnamon a day will 100% bring you to a toxic threshold of coumarin, the compound which was also used to make medical drugs like Warfarin. Cherry and plum stones contain cyanogenic glycosides, and if you eat enough raw, they're toxic too, although edible, with uses dating back thousands of yeas. Balance in all things.
Saving lives: Malaria, Zeka, Dengue, West Nile and others
If you're skeptical, consider that permethrin, besides killing ticks, also repels mosquitos that carry things like Zeka and West Nile Virus. The Oxford Academic journal link in the resources below outlines how insecticides like permethrin can be used to curb those diseases, for which there are no vaccines.
In our current climate of Coronavirus, we've all seen how a lack of a vaccine can work and bring society completely to it's knees. For diseases like that, spread by mosquitos, repellents and insecticides may literally be the only effective preventative measure we have to save people at this time. Since those products are already at work around the world saving lives, it's a good idea to balance those sort of positives with any drawbacks, while we wait for the miracle tick-disease cure.
In closing, I've tried to gather some helpful information here to really explain to people why I use and support this stuff. Permethrin, insecticide that it is, was the only thing that gave me courage to go outside after my experience with Lyme, and, if you've been wondering about it, I hope my account can help you.
Resources and Further Reading
Tick Tick...Boom. Minnesota Conservation Volunteer
National Center for Biotechnological Information: Carcinogens
Oxford Academic Journal of Tropical Medicine and Hygiene (Fighting Malaria with insecticide treated nets)
Permethrin and Deet
Consumer Reports: Deet Safety and Reported Side Effects