If you process acorns, acorn grits are another great, simple acorn flour recipe to enjoy your harvest. I guarantee they're the richest bowl of grits you'll ever eat.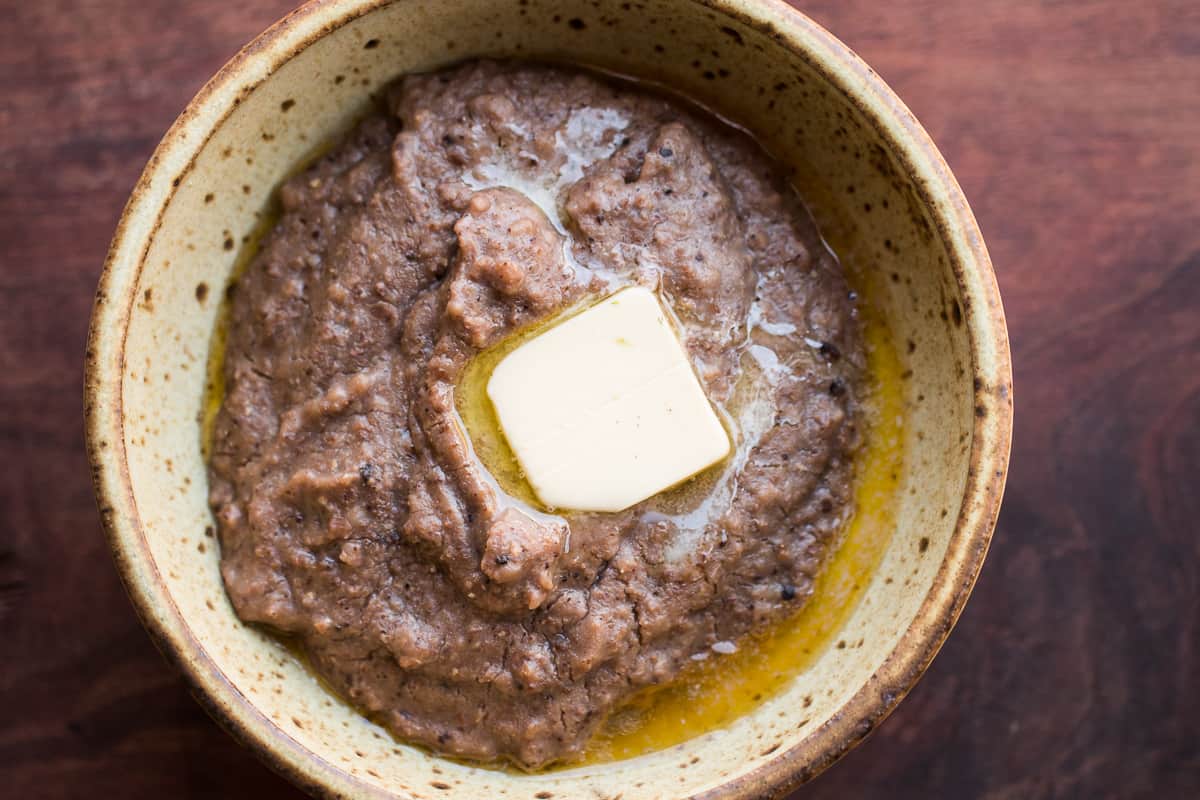 There's plenty of guide books and people in the foraging space that talk about making acorn grits, and most of them seem to like using 100% acorn meal. Personally I find it way too heavy of a food to eat in quantities like I would oatmeal, or a breakfast-type dish.
Just because acorns have been leached (I typically cold-leach mine to retain their starchy quality) doesn't mean that every last bit of bitter tannins has been removed.
Even after weeks of leaching, I still find the white and red oak acorns I process retain a little bit of tannin-not anything offensive, but enough to let you know that you're eating acorns, and enough that I prefer my acorn grits, and most things I've eaten so far, cut by at least 50% by volume with another flour or grain, in this case basic corn grits.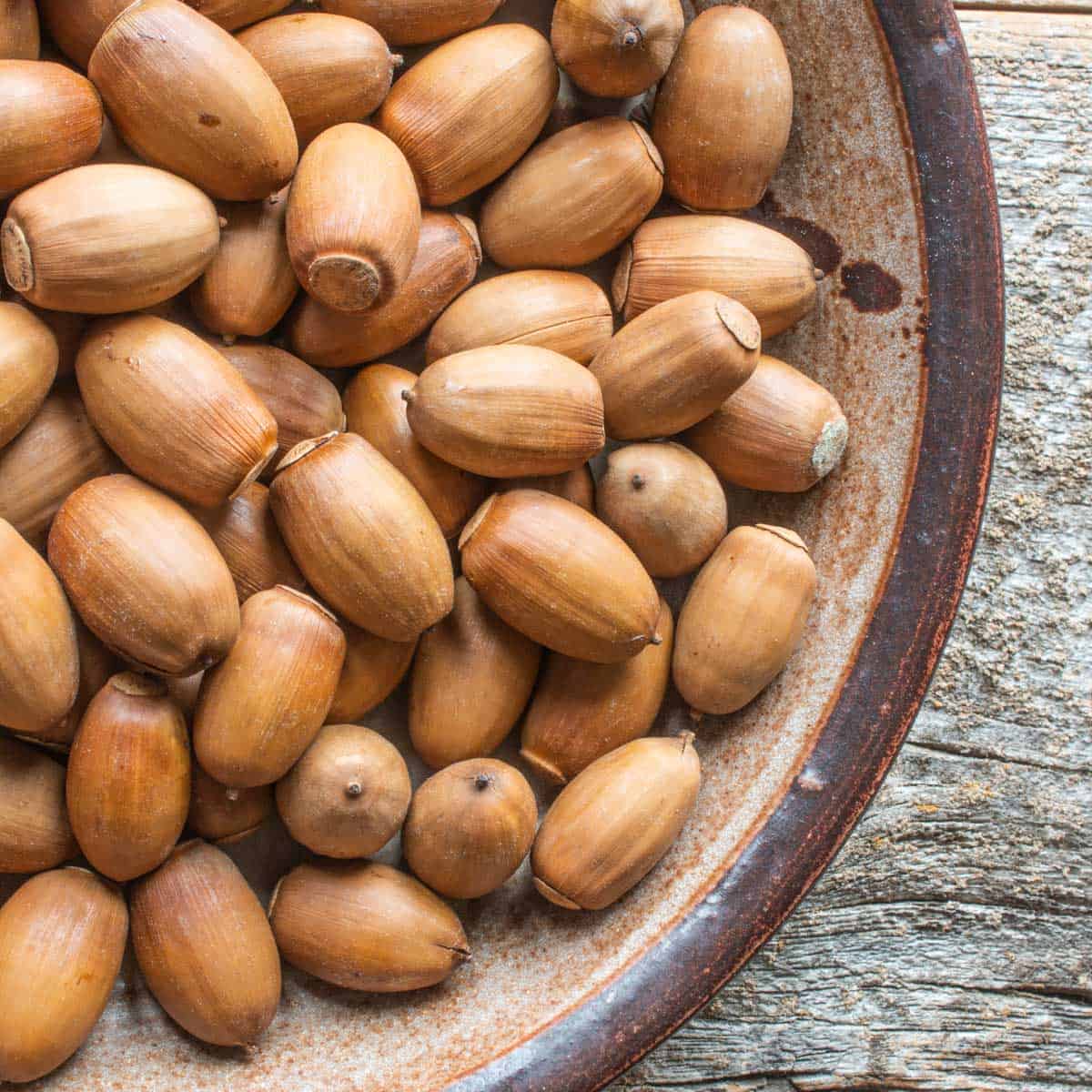 Low and Slow
If you haven't made grits from really good corn, the proportions in the recipe below might seem like a lot, trust me, they aren't. Grits made from flint or dent corn, when coarsely ground, will take at least an hour, possibly longer to get soft.
If you want high-qaulity, textured grits, it's the only way. The prolonged cooking is also good with acorn meal that's coarse ground too, although I just use finely ground acorn flour, since that's what I have.
Hominy Grits
Hominy grits have been nixtamalized by cooking with pickling lime or another process. These take much less time to cook. If you want to use hominy grits here, follow a recipe for hominy grits, using half acorn flour.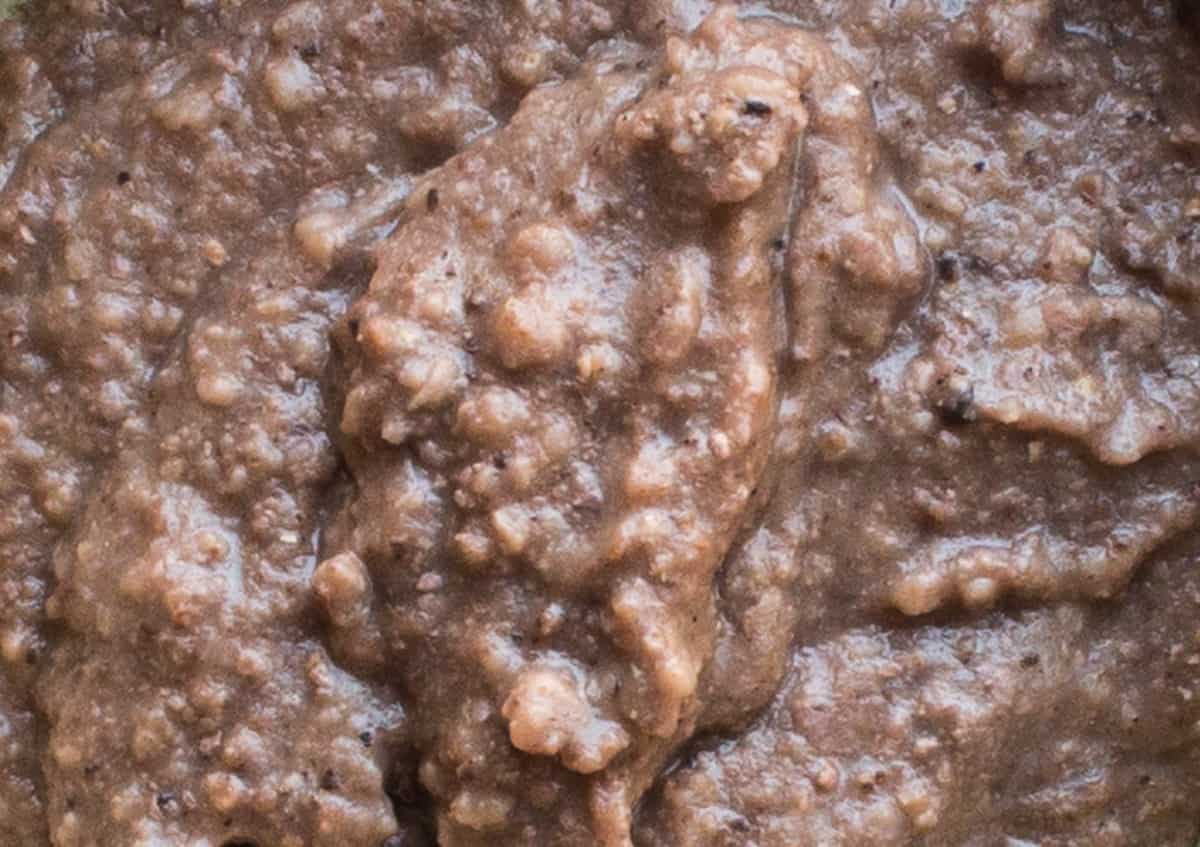 I make my own grits by grinding flint corn through a grain mill, but you can use your favorite brand. There's different ways you can incorporate the acorns here, and some people will point out that they are softer (easier to grind) if shelled fresh.
During the fall, I prefer to dry most of the nuts and things I harvest, so that I can process them at my leisure during the winter. So know there's more than one way to shell an acorn here, and if you have a different way of processing acorns you like, do it that way. Refer to my method if you don't know how to make acorn flour.
Serving
These can be savory or sweet, but I prefer mine sweet. Pictured is just a simple bowl of the acorn grits recipe outlined below, sweetened with maple syrup and topped with a knob of salted butter-the purest form.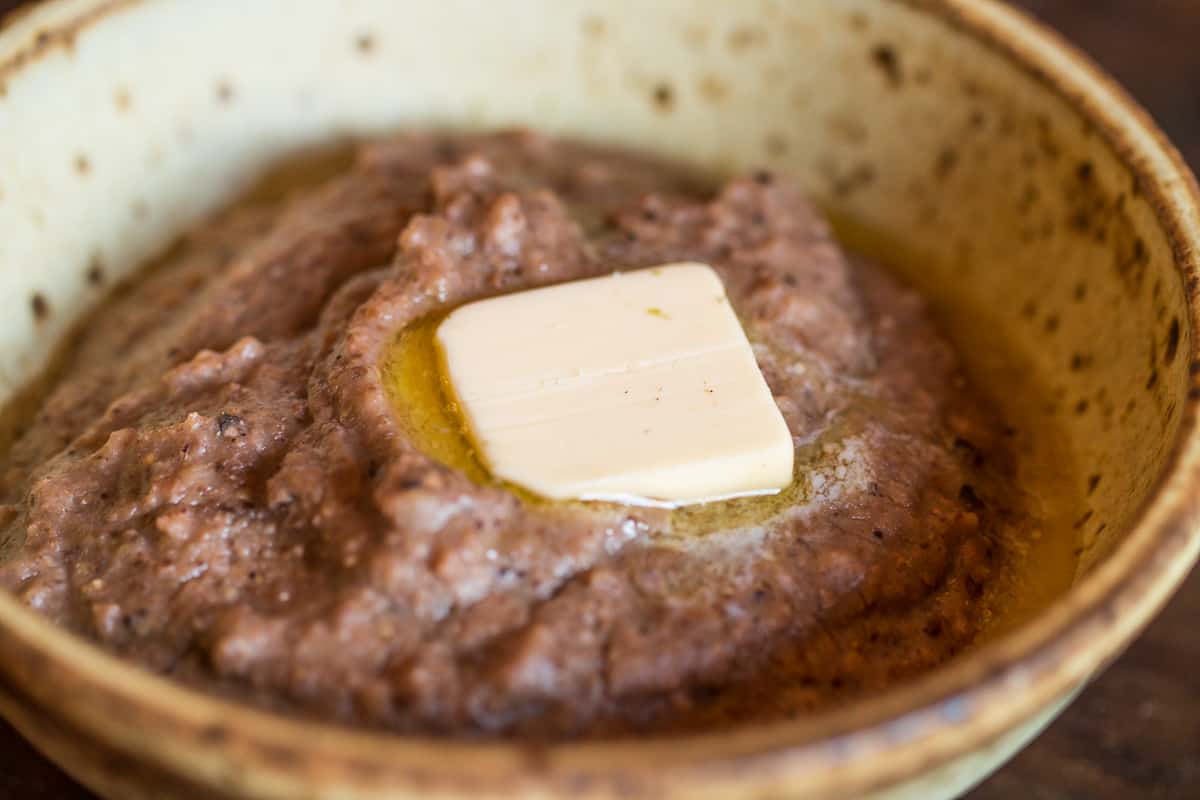 You can treat it just like you would oatmeal, adding maple syrup, butter, berries, seeds, nuts or cream. Anything you'd put on a good thick bowl of oatmeal will be great.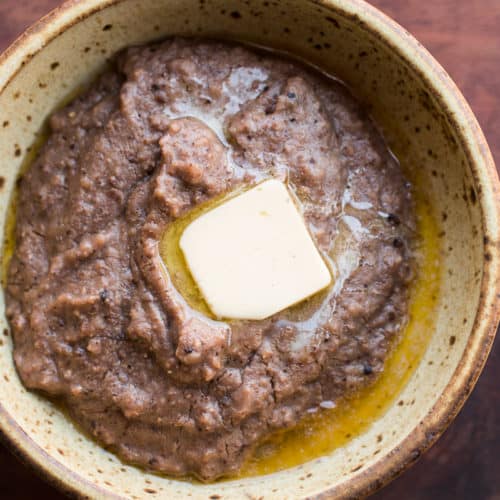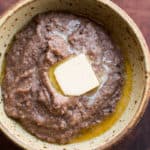 Print Recipe
Acorn Grits
Grits made from acorn flour and coarse ground corn. Great for breakfast, brunch, or lunch.

Ingredients
⅓

cup

cold-leached acorn flour

⅔

cup

coarse-ground corn grits

like flint corn

4

cups

water

Kosher salt

to taste

Butter

maple syrup, or other garnishes, to taste
Instructions
Combine the water, corn and acorn flour, whisk and heat until simmering, whisking constantly. When the mixture thickens, transfer it to a 250 degree oven, cover, and cook for 1 hour, or until the corn and acorn particles are tender.

Season to taste with salt, and serve. If the mixture is too thick or loose for your taste, adjust it by cooking longer, or thinning with water, etc.
Notes
Playing with your acorn flour %
This is super rich stuff. could even up the amount of acorn flour to 50 % if you want, but ⅓ is fine for me, any more ends up making a very heavy bowl of food.
Nutrition
Serving:
6
oz
|
Calories:
166
kcal
|
Carbohydrates:
21
g
|
Protein:
4
g
|
Fat:
8
g
|
Saturated Fat:
1
g
|
Polyunsaturated Fat:
5
g
|
Monounsaturated Fat:
1
g
|
Sodium:
13
mg
|
Potassium:
128
mg
|
Fiber:
3
g
|
Sugar:
1
g
|
Vitamin A:
2
IU
|
Vitamin C:
0.1
mg
|
Calcium:
18
mg
|
Iron:
1
mg