It's high watercress season here in Wisconsin, and I've been eating it every day, for just about every meal until the other green plants start to come up. I love fresh, wild, peppery watercress in salads, but, I often cook it too, since it's easier to eat large amounts of it raw vs. cooked.
If you live in an area that's warmer than Wisconsin or Minnesota, cooking watercress also does the double duty of sterilizing it to avoid liver fluke. Anyway, this is one of my favorite recipes for watercress--a simple variation on classic glazed carrots.
Take a few carrots, whatever type you have, a drizzle of maple syrup, a little chicken stock, salt, a grating of fresh ginger if you have it, and most importantly--butter, cook it quickly until the carrots are just tender, and throw in a couple generous handfuls of your cress--preferably in young clumps. That's it.
It's a great side dish you can throw together in seconds with a few pantry staples, and the classic appetite-inducing green and orange color combo will be a hit with watercress devotees, as well as skeptics.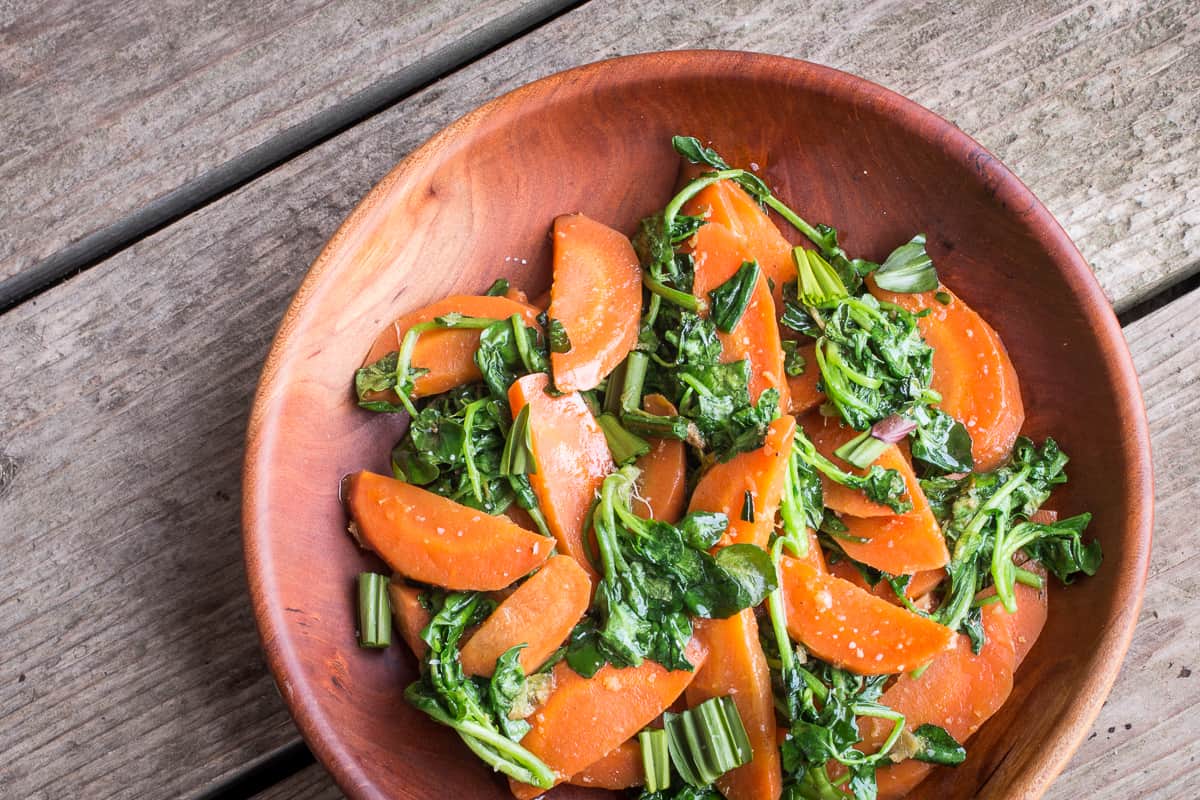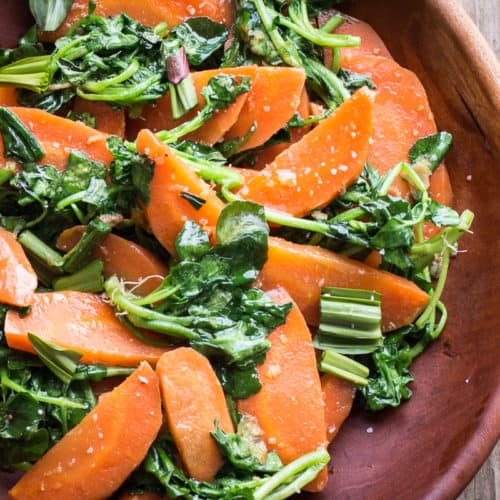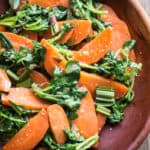 Print Recipe
Glazed Carrots with Watercress
Serves 2-4
Ingredients
10

oz

(2 large) carrots

4

oz

2 very generous handfuls watercress, trimmed into small clusters

3

tablespoons

unsalted butter

1

oz

a handful chopped ramp leaves or a few sliced green onions

1

tablespoon

maple syrup

or a couple pinches of sugar

1

inch

piece of fresh ginger

finely grated (optional)

1

cup

chicken stock or water

½

teaspoon

kosher salt

plus more to taste
Instructions
Peel the carrots and cut them on the diagonal into ¼ inch thick coins. If your carrots are large, cut them in half the long way, then cut on the diagonal into half-moons.

Put the carrots, stock or water, ginger, butter, salt and sugar in a wide pan, like a 12 inch skillet, cover and bring to a boil. Remove the lid and continue cooking.

When the liquid gets thick and syrupy and the carrots are tender, reduce the heat, making sure the pan doesn't dry out, Add the watercress and ramp or green onions if using, cover the pan to wilt it for a few moments, then toss, taste and adjust the seasoning again, and serve. It should be buttery, seasoned with salt, with just a hint of sweetness.
Notes
Young nettles make a great variation too!