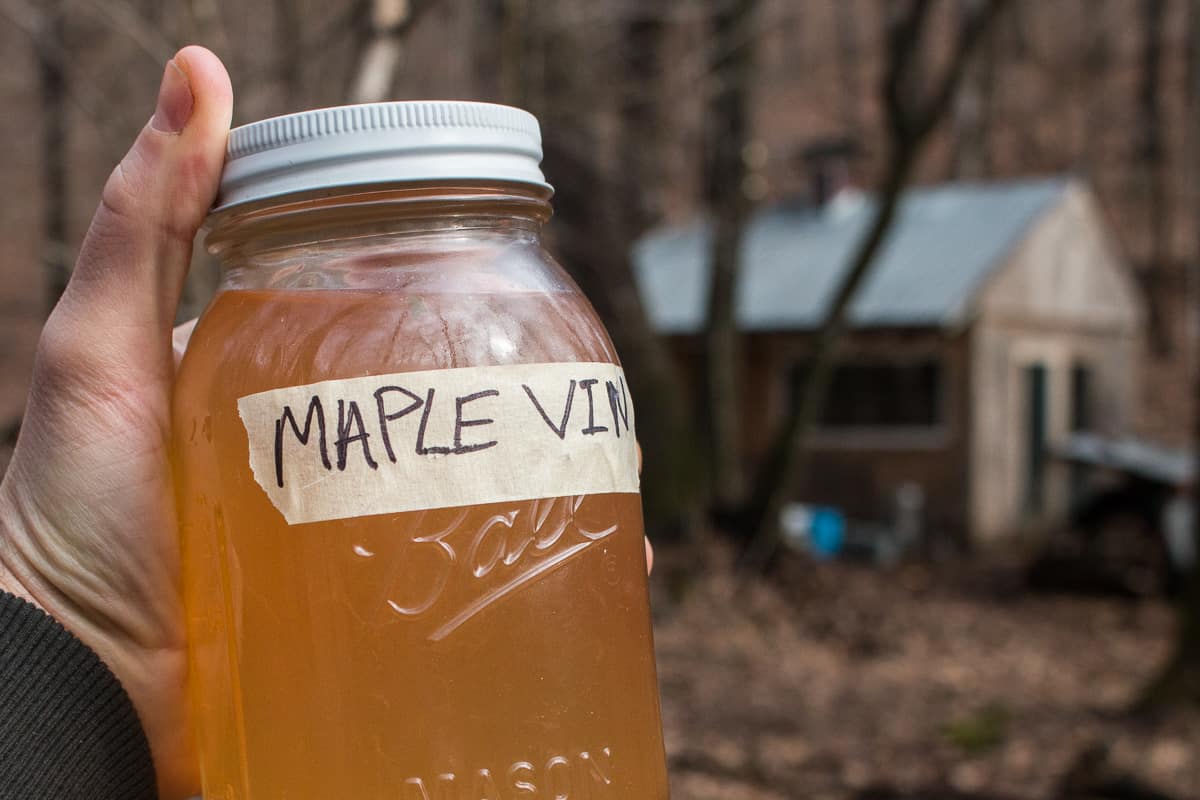 Cooped up alone during quarantine? Consider a bacterial companion. With just a few household ingredients and a little time, you too can give birth to a a jiggly, wiggly vinegar mother you can take out of the jar and play with during isolation, or...eat if things take a turn for the worst. Either way you'll have a good compliment to the boiled cabbage we'll all be eating once the food supply chain breaks down.
In all seriousness, vinegar is one of the human culinary constants: just about every corner of the world has their specialty. There's Chinese black vinegar, Italian tomato vinegar, and the famous French banyuls and other vinegars made from rare wines. Move down to Africa and you'll probably see malt vinegars made from beer, hop across the pond to Costa Rica and South America, and you'll see vendors on the street with bottles of pure white coconut vinegar. Travel up to North America and, of course you'll find apple cider vinegar, but another, and possibly even older one, is maple vinegar.
Indigenous people of North America knew of maple vinegar, and it's use is pretty well documented in culinary ethnobotany texts that I have (especially Native American Foodplants by Daniel E. Moerman). Just like wine vinegar, some lucky person left some reduced sap out, or maple some partly reduced sap, accidentally let it to ferment to alcohol (or what you'd probably call acerglyn/maple mead) and from there, it eventually turned to vinegar.
Up until a few years ago, I'd never heard of maple vinegar--not a whisper. There's no fancy food suppliers I know of that sell the stuff, and you're not going to find it at a grocery store. I learned about it in passing from speaking to local author Beth Dooley, when she told me about a book she was working on with our mutual friend, photographer / author Mette Neilsen called Sweet Nature--all about cooking with honey and maple syrup. Look online though, and you won't see much, except one recipe for maple vinegar from the well known Aki Kamozawa and H. Alexander Talbot from the popular website of Ideas In Food, and one or two suppliers of the real deal.
Now, unless you're tapping your own trees and reducing your own sap, maple syrup is expensive, and the recipe I referenced above is going to set you back a whopping 3 cups of syrup--probably not a big deal if you're cooking your own. But, without a lot of maple syrup to experiment with myself, I wanted to use something with cheap, plentiful maple sap. I wanted a maple sap vinegar hack--a thrifty shortcut.
Sidenote: if you want to skip all the fun and purchase maple vinegar, read the ingredients and processes carefully in the description. The devil's in the details. You want pure, fermented maple sap, not an infusion, extract, or other b.s. like wine vinegar with maple flavoring, etc.
Now, most of the accounts I've read of maple vinegar describe it as "fermented sap" or similar, which might bring to mind a jar of white vinegar. But, you need to read into it a bit. Pure sap, which is white and clear, is basically water. In order to get a good sugar content, which leads to a high alcohol content, which in turn transforms to a solid acetic acid content, the sap needs to be reduced, which darkens the color, bringing us back to maple syrup.
You might be wondering if you can just ferment pure maple sap, and, of course you can, the version in the tall jar is one using only sap and white sugar, in an attempt to get a clear vinegar like the vinagre de coco from South America. Unfortunately sap by itself, especially with white sugar to keep it clear doesn't taste like anything, and, the fact remains: why use white sugar when you could use maple? It's just more interesting. With all of that in mind, I set out to build a little hybrid maple vinegar recipe that I could use, doing a few experiments loosely based on some of my reading in Rene Redzepi's The Noma Guide to Fermentation, with the following goals:
Use as much sap (or water) as possible
Use as little maple syrup as possible
End up with a product that still has a good bite and decent flavor
It should fit in a quart jar, since I have a bunch
I took 3 different jars, mixed up a couple solutions (1 cup, ¾ cup, and ¼ cup ratios of maple syrup in a quart jar) waited, and took notes. Jars with more maple syrup took longer to have their sugars digested, and the jar with the smallest amount of maple had the most vigorous fermentation, and fastest turn around. All of the concentrations there will work, but the cheap maple-sap-vinegar-hybrid is a fun, thrifty kitchen hack, so that's the one I'm sharing.
The Secret: Booze and Bacteria
The secret is a team effort of science and bacteria: adding some living vinegar (preferably homemade) functions as an inoculate, and adding alcohol jump starts the alcohol by volume (ABV) to ensure a decent amount of acetic acid (sourness) in the finished product. Is it as traditional as fermenting straight maple syrup to vinegar? No. Will it make decent tasting vinegar in a few weeks for next to nothing? You bet.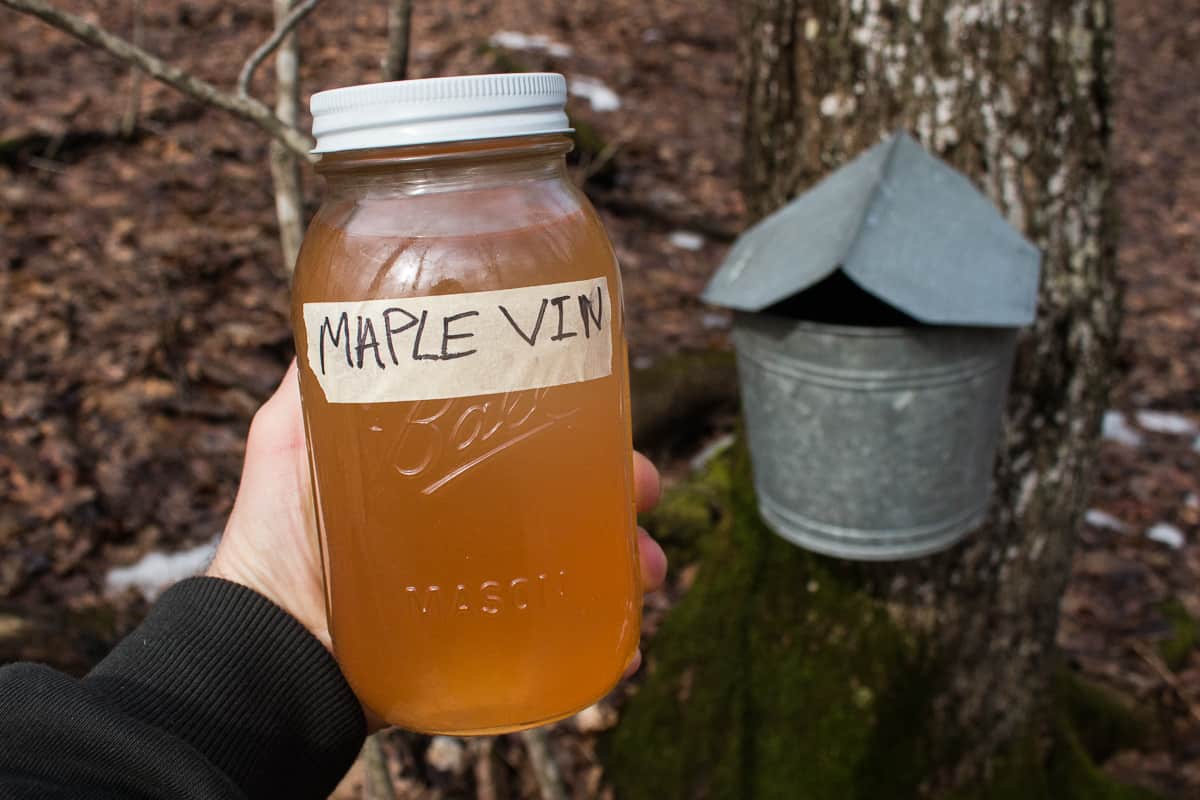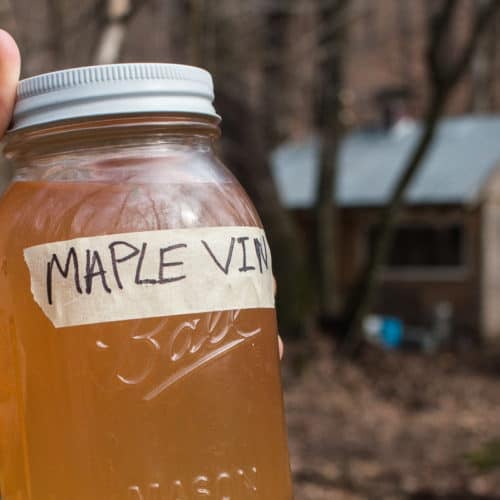 Print Recipe
Maple Sap Vinegar
A low-cost maple vinegar shortcut made with or without maple sap.
Ingredients
120

grams

(½ cup) 80 proof vodka

or equivalent

60

grams

(¼ cup) raw apple cider vinegar "with the mother" or homemade vinegar

700

grams

(3 cups) maple sap

80

grams

(¼ cup) maple syrup
Instructions
Combine all ingredients and mix well, then place in a quart mason jar with a cloth tied around the top and ferment at room temperature, stirring occasionally as often as you can remember for the first week.

After a few weeks, you'll notice a mother forming inside the bottle like a flubbery jellyfish.

Continue tasting the vinegar from time to time until it tastes good and acidic to you--a few weeks to a month, then put a lid on the jar and store in a pantry.
Notes
Notes 
It's Alive
As long as the vinegar isn't heated enough to kill the ferment, it can be used to start other vinegars.
Don't Skip the Booze 
The alcohol is part of the magic here, helping to jump start the ABV to ensure a tart end product in the shortest period of time. 
Tweaking the Vinegar Innoculant %
You can adjust the vinegar up or down a bit--up to 25-ish % of the total volume of combined sap and syrup, before adding the alcohol, which will speed up the process a bit.