I've worked for years with a lamb and goat farm. Occasionally customers send in requests, and one that caught my eye awhile ago was the Barnsley chop.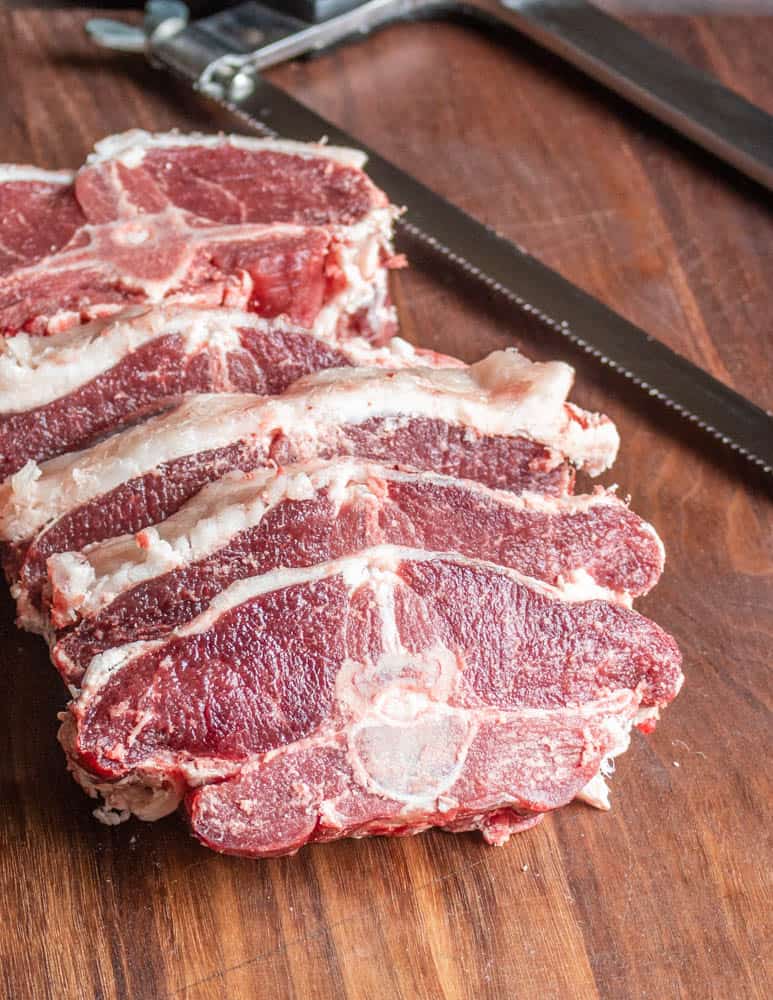 What is a Barnsley chop, you ask? It's a saddle chop: a thick, cross-section of the loin that creates a lamb double-chop or double loin chop.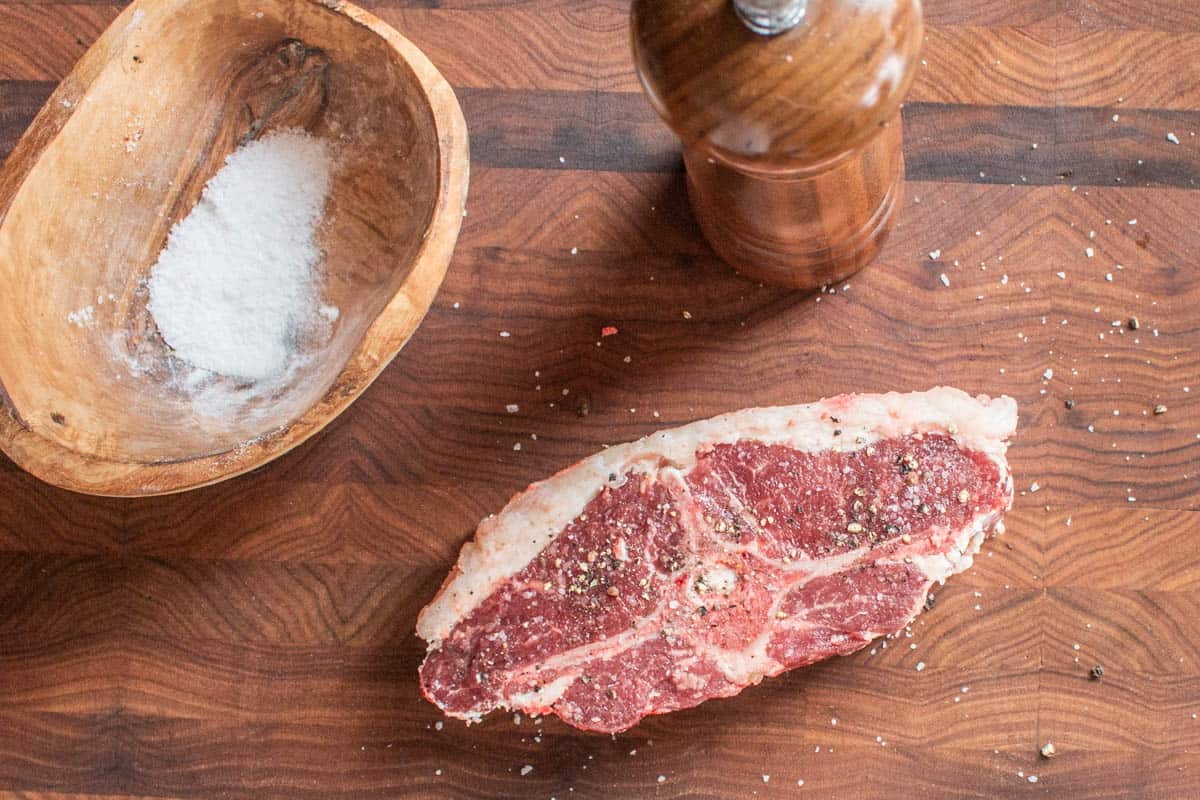 History
Accounts seem to vary a bit, like many interesting foods, but one thing that's certain is the Barnsley chop is a cut most enjoyed in the UK, and from there, specifically Yorkshire.
Most of what I've read says that the chop was first served at the Kings Head Hotel, but the Brookland's Hotel Restaurant in Barnsley, where it's said to be served to this day also claims to be the place it was first served. Most resources I can find claim it became popular in the 19th century.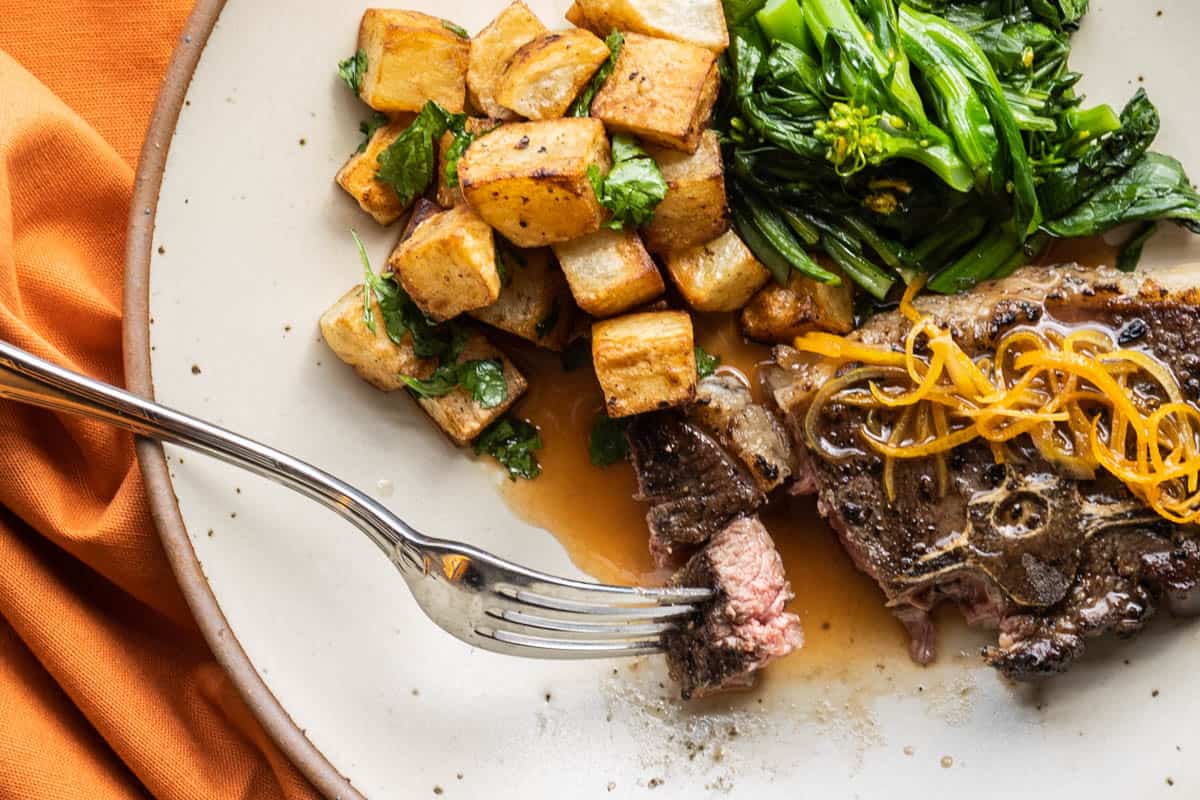 Wherever it came from and how we'll probably never know, but one thing both camps can agree on is that the chop is delicious, and a perfect example of how butchery cuts and fabrication techniques for one animal can vary from place to place.
As this is most popular in the UK, don't expect to buy Barnsley chops at your local butcher unless you make a special request. If you to find or order some, I'd expect a price of about $15 US per chop.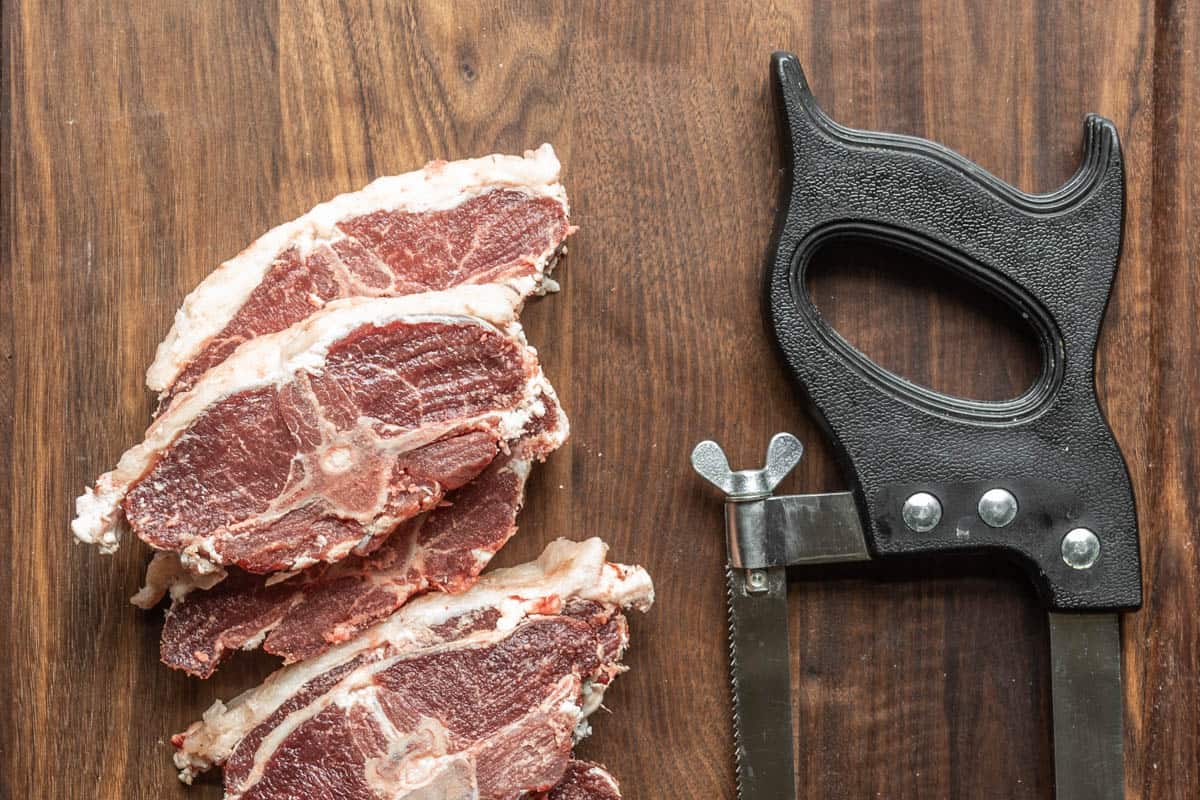 How to Cut
If you process your own animals at home and are wondering how to cut a Barnsley chop, it's easy, and faster than cutting racks and individual t-bones from the loin since you're serving two chops at once. To do it, just cut directly across the saddle at the thickness you want. In the video at the bottom of the post I demonstrate the process with a handsaw.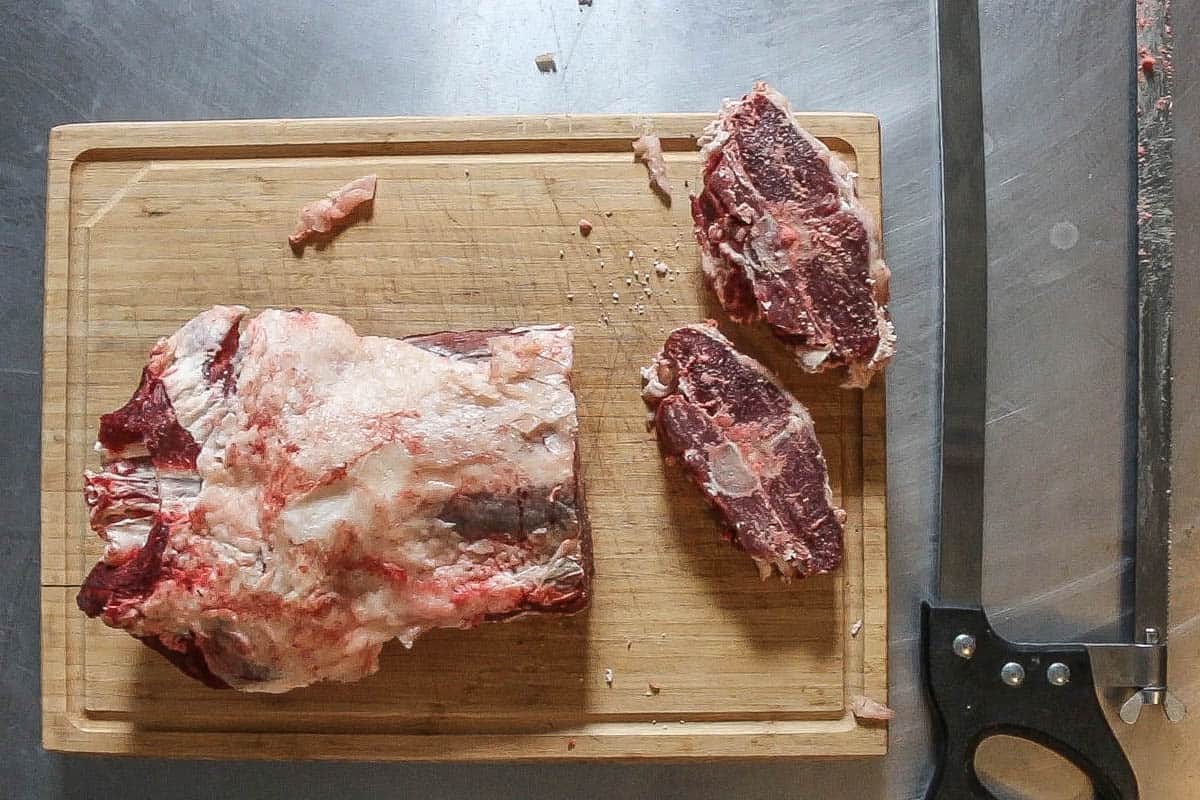 Lamb is one of a number of animals you can cut Barnsley chops from. Goat and venison are similar, and I've even heard of people cutting them from pork. With cutting, there's two things to consider that I'll cover next: thickness, and if you want the belly attached.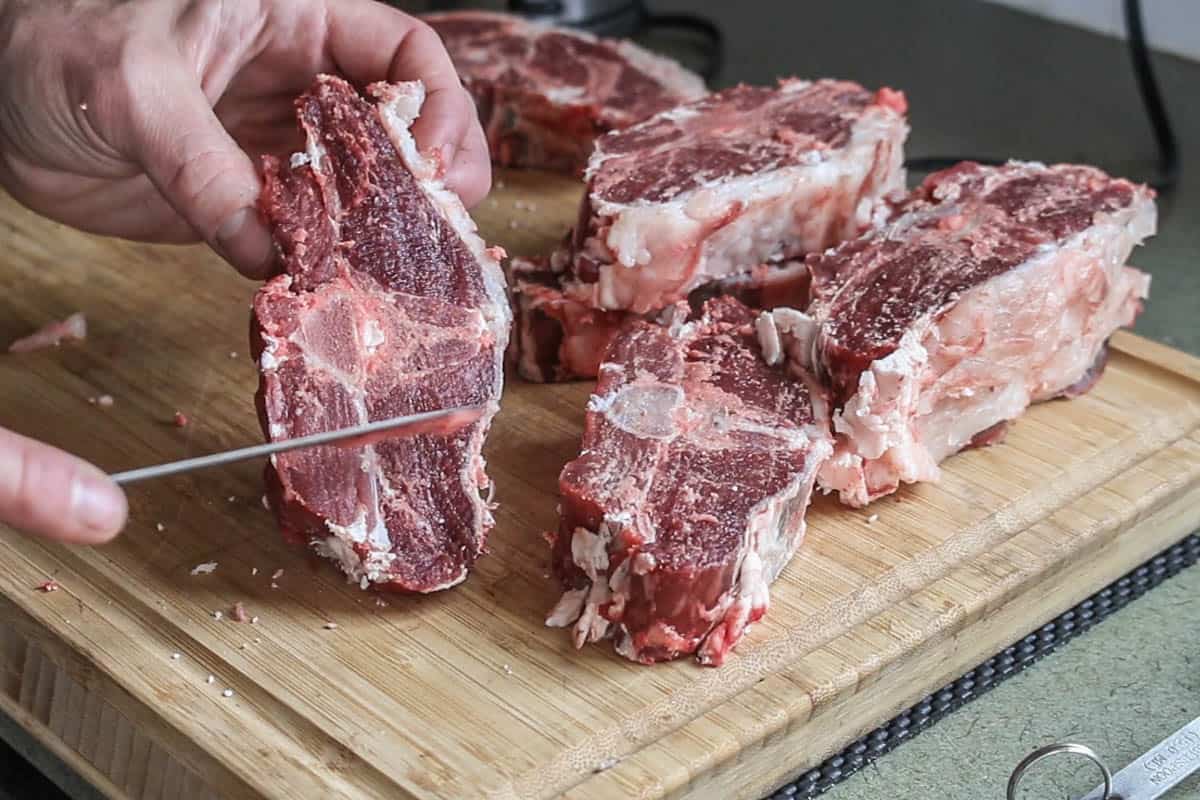 Thickness
Older references say that two chops could be taken from an entire saddle, and could weigh as much as 1.6 pounds-a massive chop by any standard. Now, most chops will be the same thickness as a regular lamb rib chop. I prefer my chops about the thickness of 1-2 rib bones.
Belly, or no belly?
Some butchers will leave a "tail" on each side of the chop, which is part of the belly. Some chops are strictly the two t-bone chops side-by-side. I like the chops either way, but if you don't like a fatty chop, you'll want to buy one without the belly, or cut it off yourself.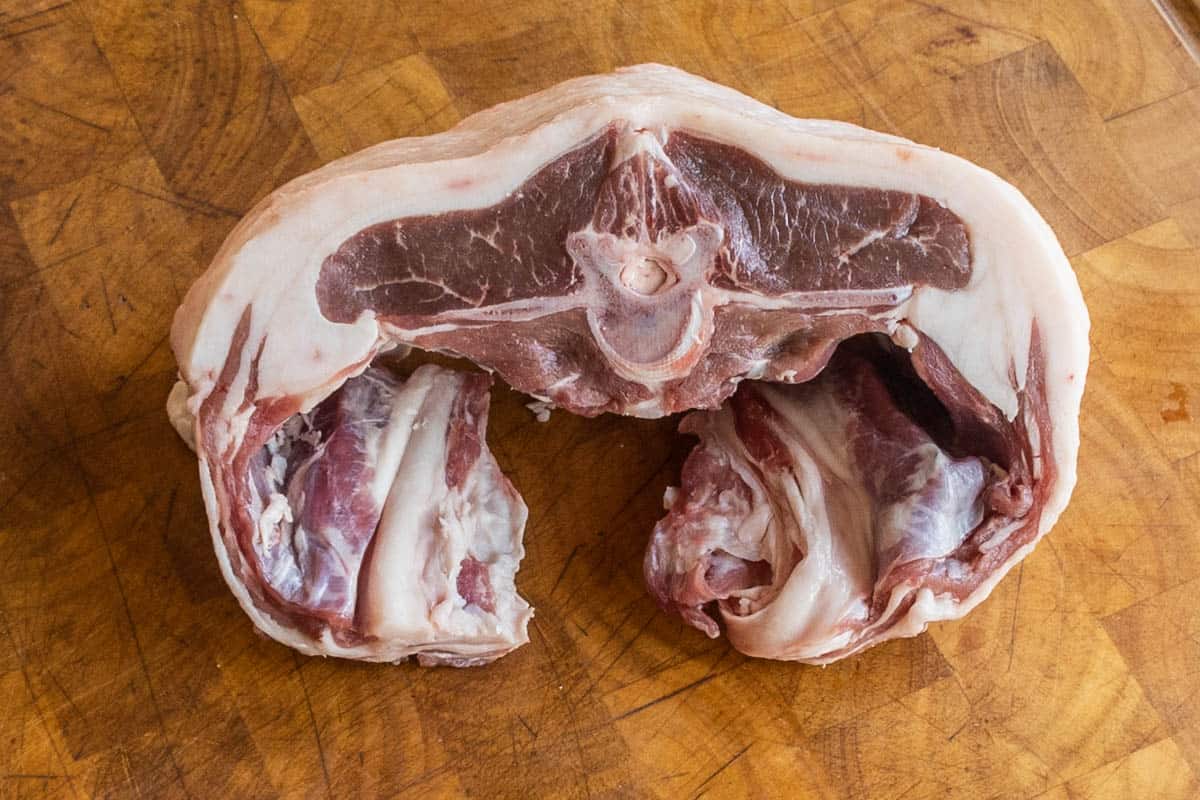 I prefer my chops without the attached because by the time the loin is perfectly cooked, the may not be, which, if I had to guess, is probably why some think Barnsley chops are tough. I will mention that I do like the occasional t-bone with the belly attached, which is a traditional cut in South Africa.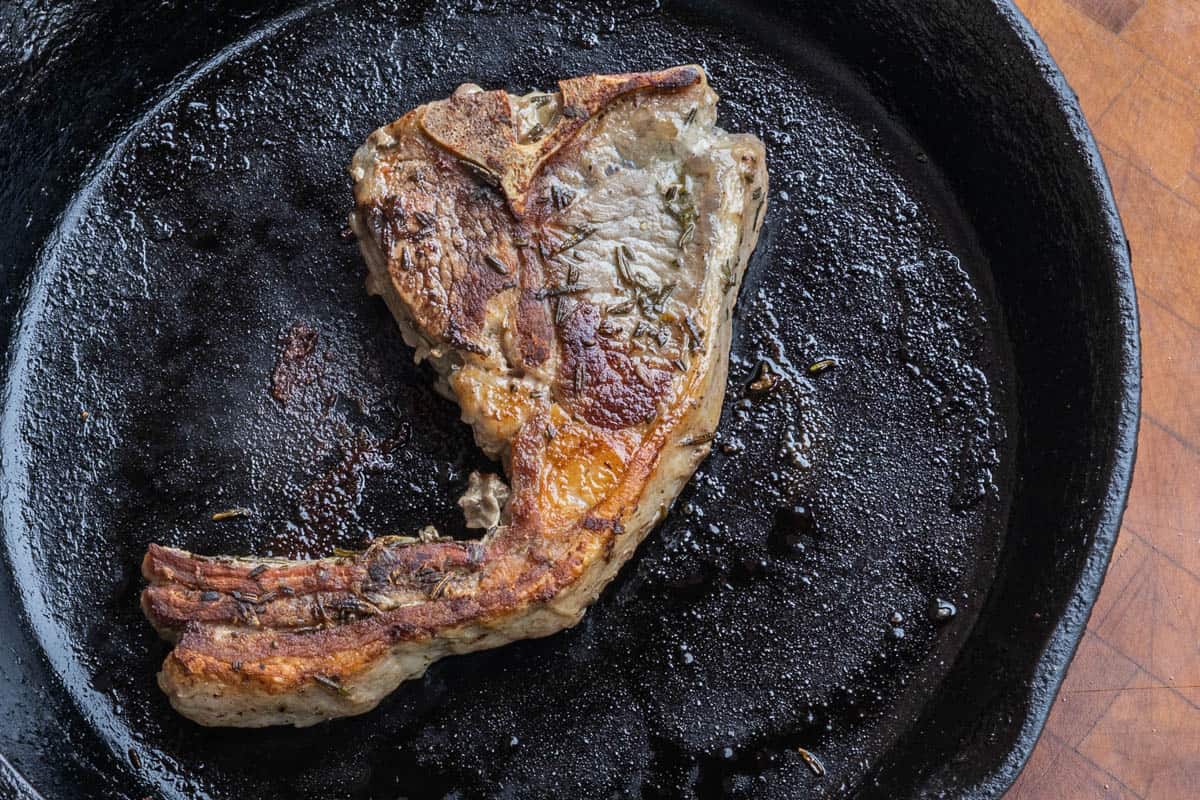 Cooking
How to cook the perfect Barnsley chop is up for debate. Pan roasting, or starting in a pan and baking in the oven is popular, but grilling works too. I'm going to explain the differences in both methods, and why you might choose one over the other.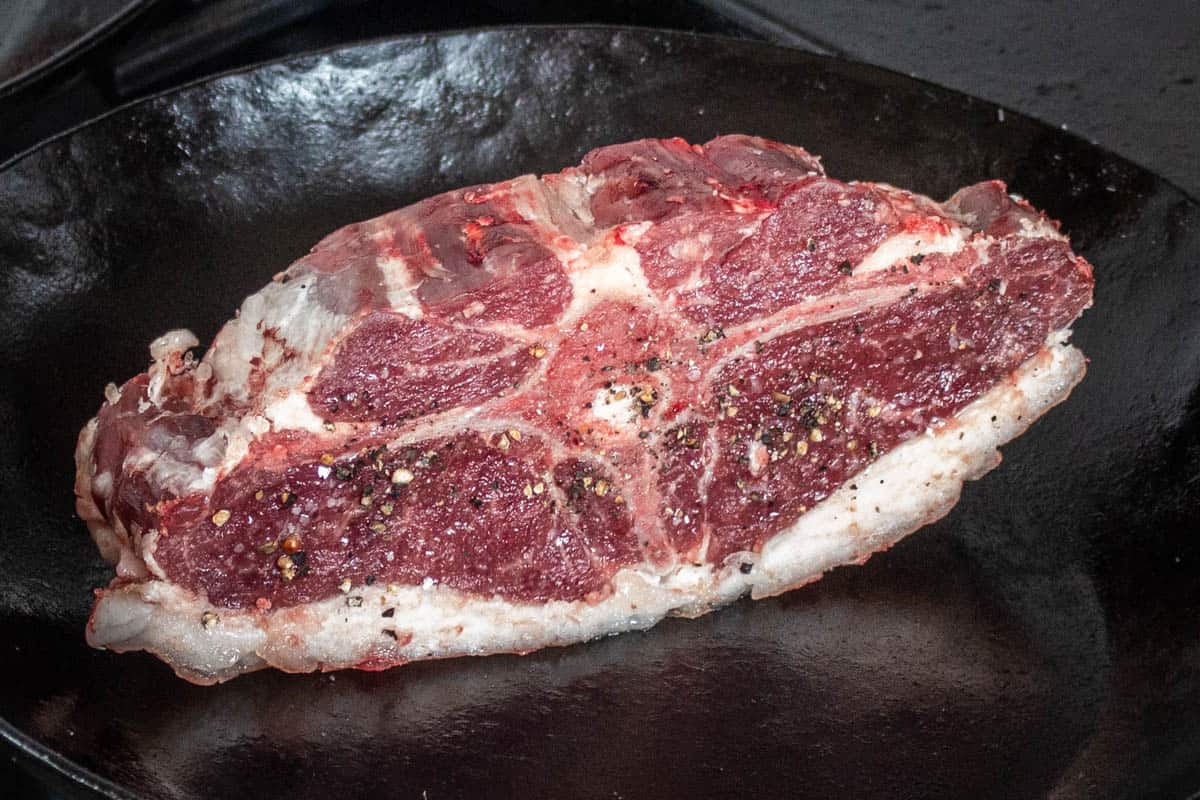 The biggest question to consider with cooking the chops in a pan and baking versus grilling is how you like the fat on your chops to taste, or if you eat the fat at all, as the Barnsley can be a very fatty cut.
Pan Roasting
Pan roasting, or cooking in a hot pan and putting in the oven, is one of the most popular choices. They can also be griddled or cooked on a flat-top.
To pan roast, put the chop fat-side down in a pan and cook it golden brown before cooking the other, large sides of the chop in the oven. You can cook them on the stove as well, but it can get smoky.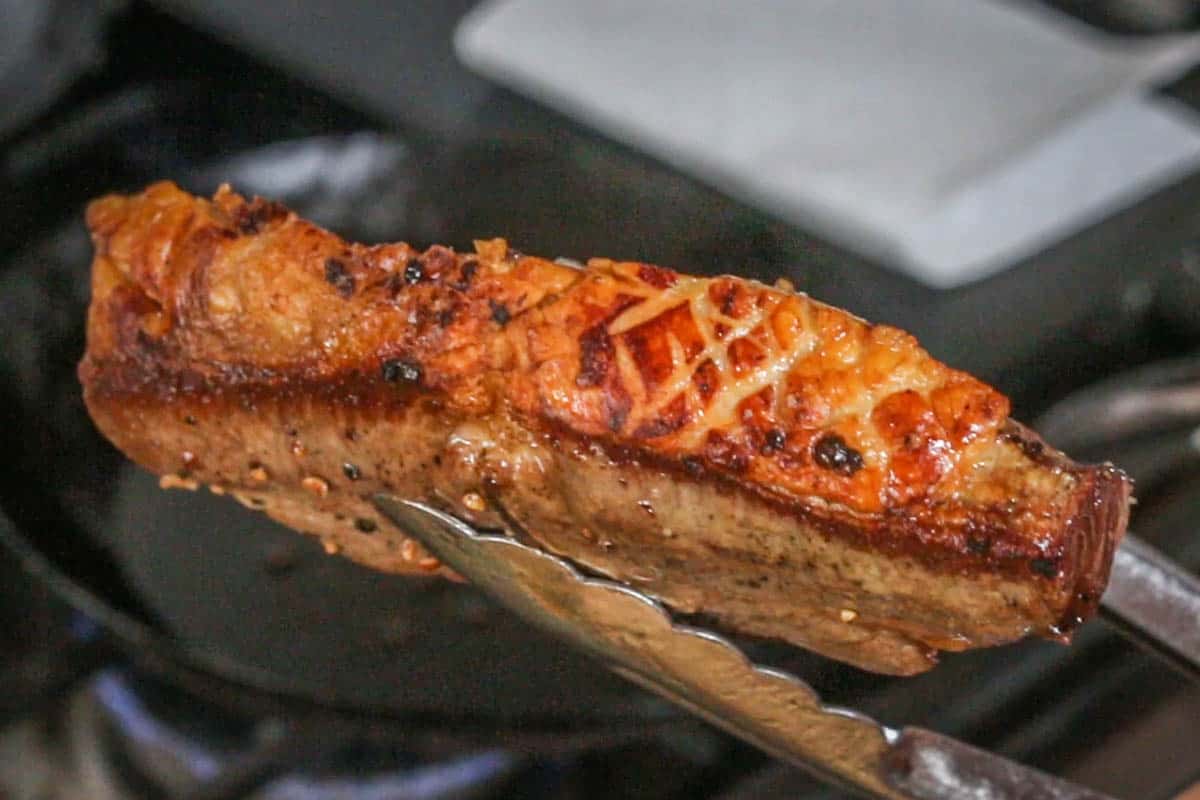 Grilling
Grilling fatty chops is tricky. Dripping fat can ignite into flames, giving food a bad flavor, but, if you're careful and cook the chops over hot coals it's still a good way to cook them. In my opinion, pan roasting is the best way to cook these, but it also takes time and patience, where with grilling you just cook hot and fast.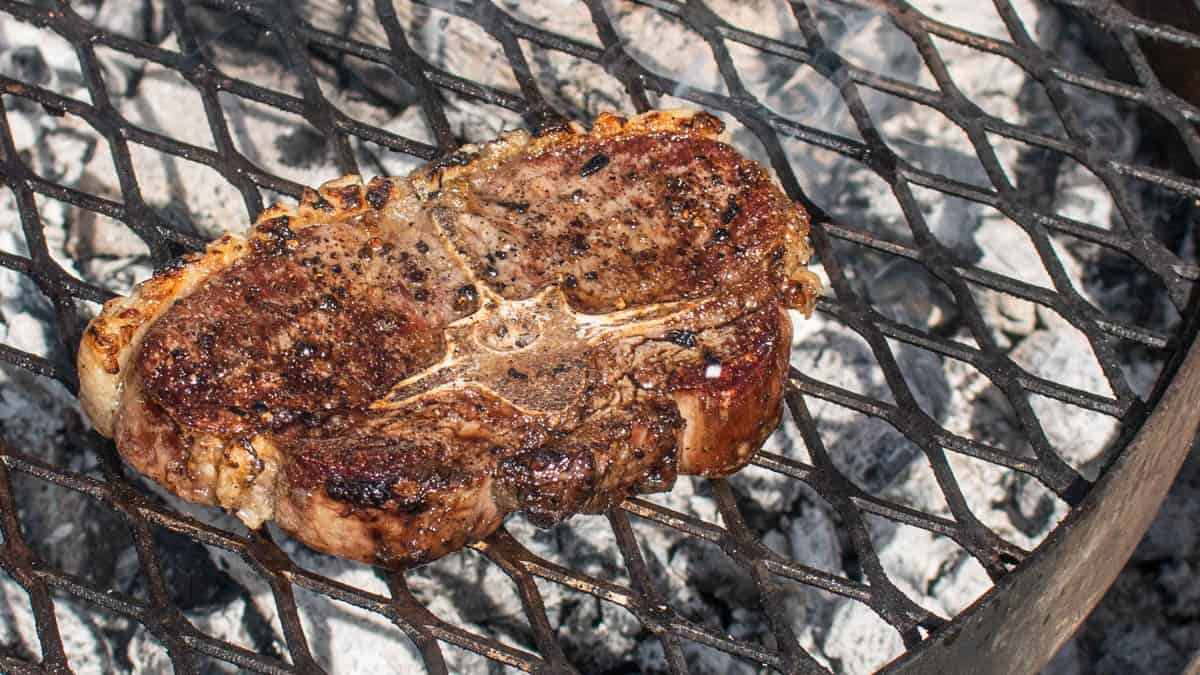 If your guests don't like the fat on steaks and chops, grilling can be a good option. Don't carefully render the fatty top if someone's just going to cut it off and feed it to the dog after dinner.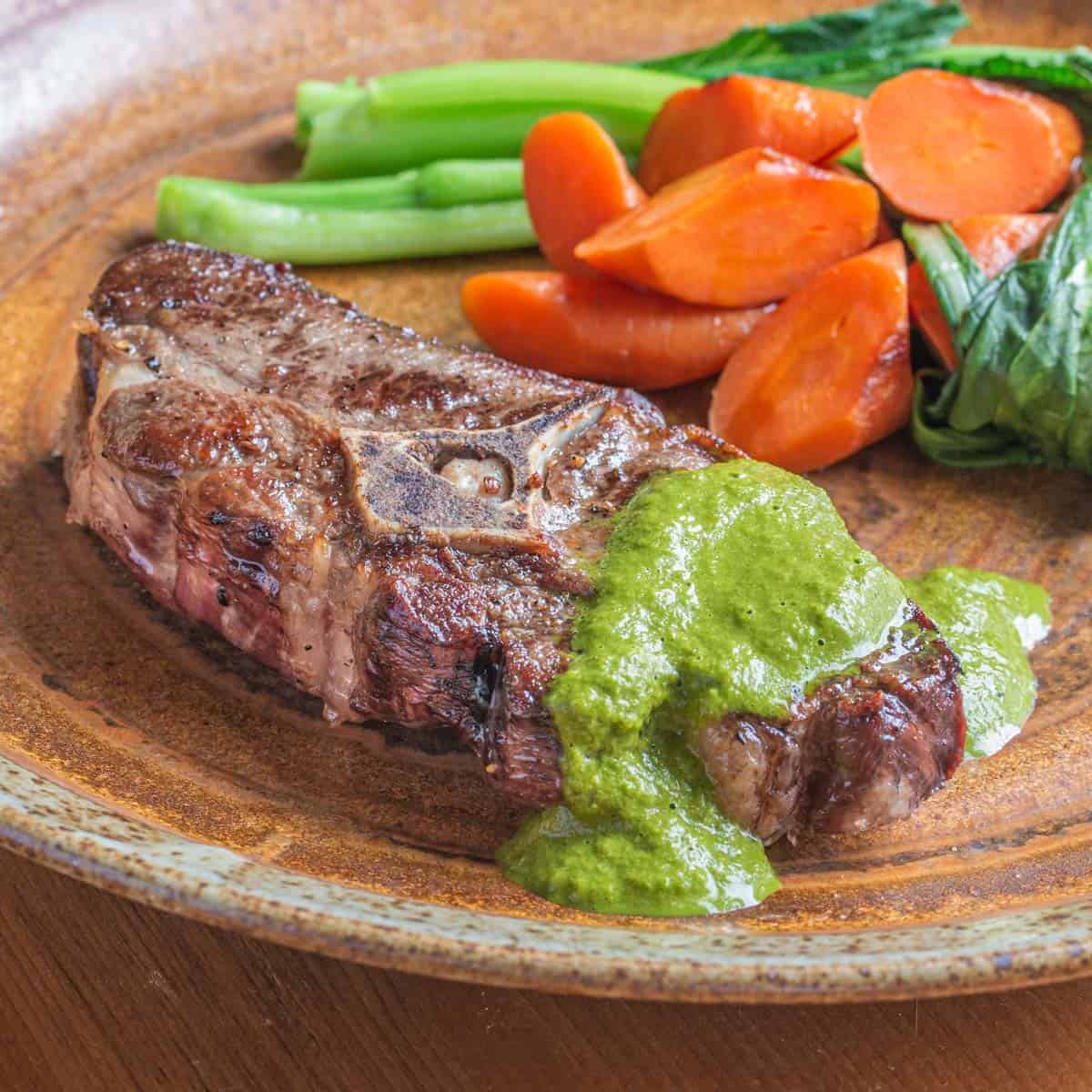 Related Posts
How to Cook Lamb or Goat Breas (Brisket)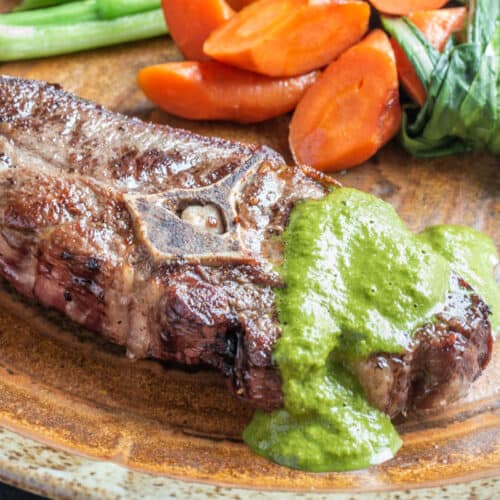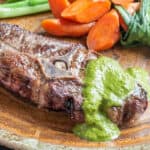 Print Recipe
How to Cut and Cook a Barnsley Chop
A simple demonstration of how to cut and cook Barnsley chops.
Ingredients
Kosher salt, to taste

Fresh ground black pepper, to taste

2

5oz

Barnsley Chops
Instructions
Dry brining
Season the chops all over with salt and pepper and allow to rest in the fridge, uncovered for a couple hours or overnight.

Preheat an oven to 350 F (gas mark 4).
Pan Roasting
To cook, put the chops fat-side down in a pan on medium-high heat. If they threaten to fall over, secure them with a toothpick. You can also grill the chops if you prefer.

Cook the chops until the fat renders and becomes crisp, about 5-10 minutes.

Put the chops cut-side down in the pan, increase the heat to high for a minute, then put in the oven. Turn the chops at the 2 minute mark. When the chops are medium (140F) remove the chop(s) and rest for 5 minutes, then serve on warm plates.
Accompaniments
Mint sauce, Cumberland sauce, or a wedge of lemon are perfect accompaniments. Serve with chips (roasted potatoes) and fresh vegetables.
Nutrition
Serving:
1
chop
|
Calories:
284
kcal
|
Protein:
42
g
|
Fat:
12
g
|
Saturated Fat:
5
g
|
Polyunsaturated Fat:
1
g
|
Monounsaturated Fat:
5
g
|
Cholesterol:
129
mg
|
Sodium:
100
mg
|
Potassium:
536
mg
|
Calcium:
20
mg
|
Iron:
4
mg