My rosemary maple spiced nuts are the most additive bar snack recipe I have, especially when I make them with extra pecans. They were a staple on the bar menus in my restaurants.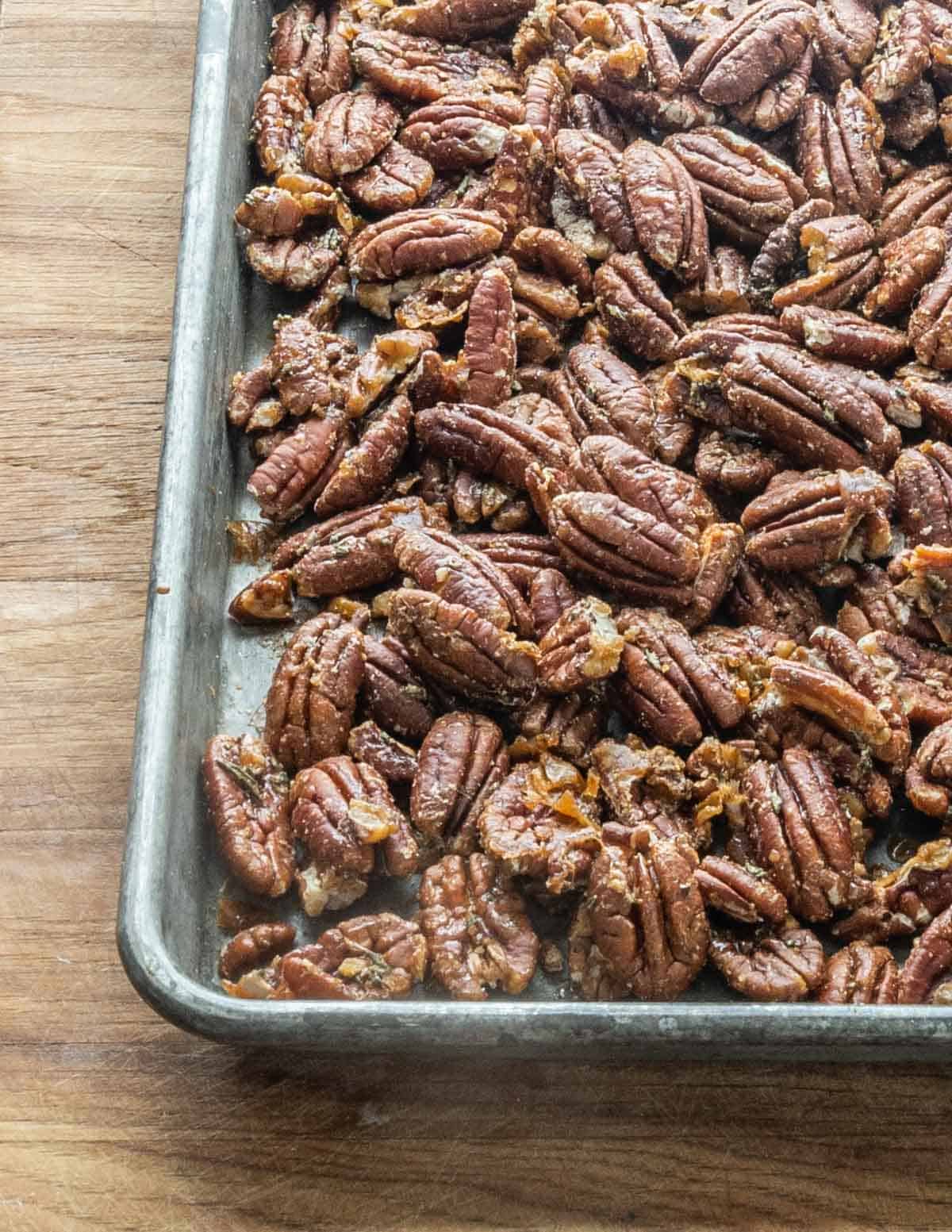 No matter where or when I make them, people ask for more, and comment on how good they are. They're easy to make at home.
The secret is the flavor: a perfect balance of salty, sweet, aromatic and spicy. Think of it as something you can make your own as I've done here with maple, rosemary and cayenne.
Important notes
It's important to only use unsalted nuts for this recipe. If you use salted nuts they will be too salty.
If you use roasted mixed nuts they'll burn, since the nuts will have been cooked twice.
Only fresh rosemary should be used. Dried rosemary will get stuck in your teeth.
Line your baking sheet with parchment paper to make clean up easy.
The nuts must be hot and fresh from the oven before you toss them with the caramel or they won't be coated correctly.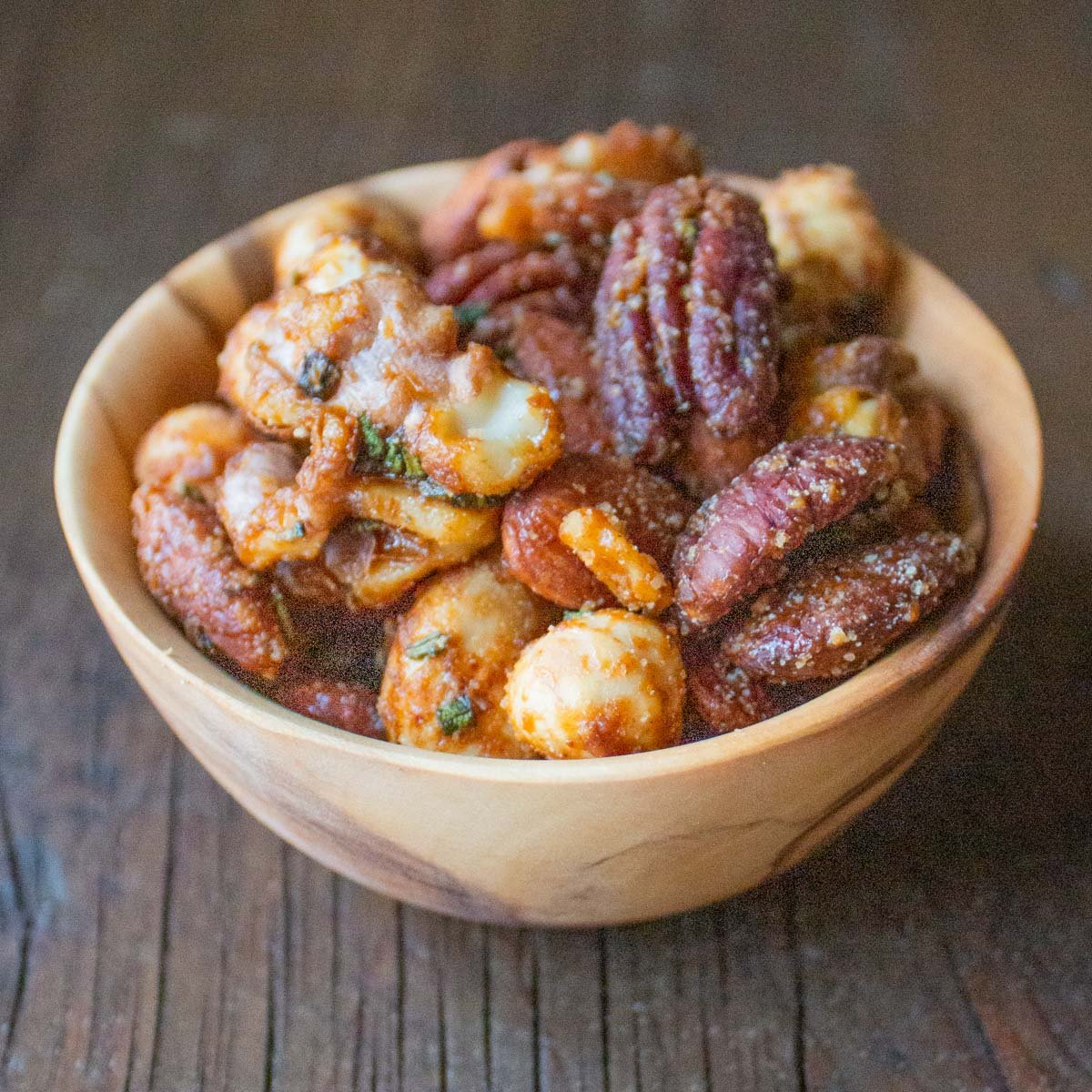 Other uses
Oven roasted nuts make a great holiday gift.
Great tossed in a salad for crunch sweetness.
Sold as a stand-alone, mini appetizer, with their salt helping to encourage alcohol sales.
Great additions to combination plates, like cheese plates and charcuterie platters.
And, of course, these things come with me in the car as energy food for when I'm outside on the hunt. Even though they're a little sweet, they're nothing compared to the bags of junk food sold as trail mix with all the chocolate and sugary dried fruit, although you will want a water bottle around.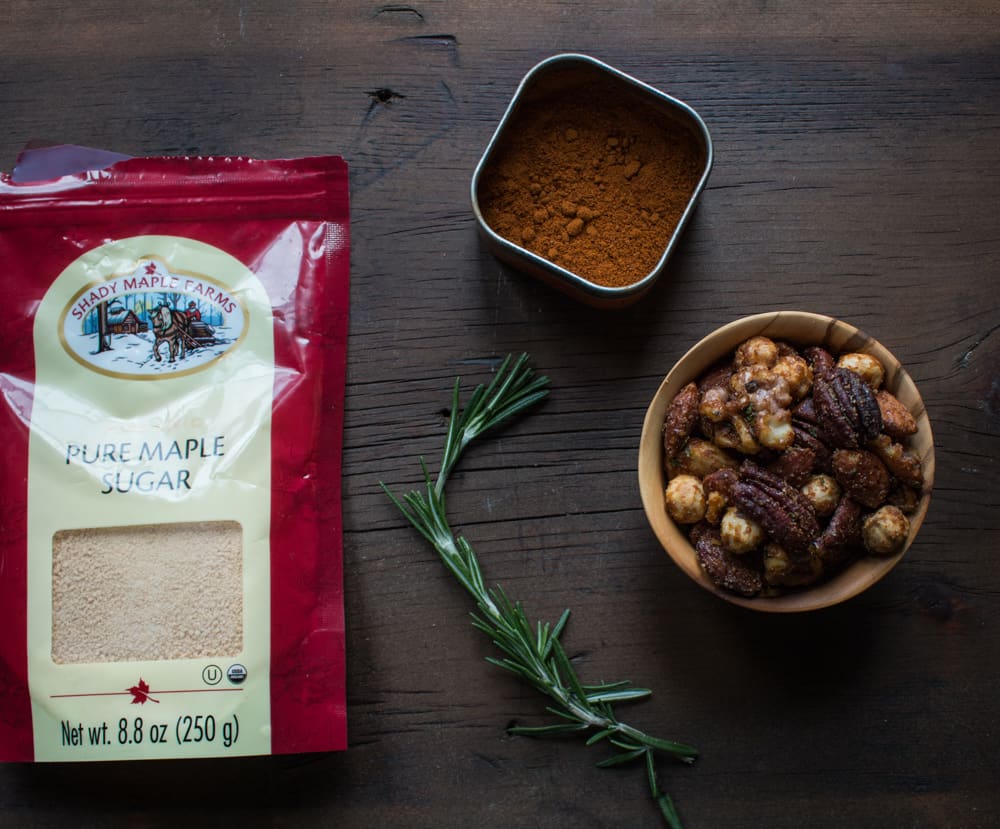 Tossing the nuts with some maple sugar after roasting helps to layer the flavor, but it's only a suggestion.
Adjusting flavors
It's ok to experiment. But you need to be careful. Too much butter will make greasy nuts. Too much sugar makes cloying dessert candy.
The most basic method I've made uses only maple, cayenne, butter, rosemary and sea salt, and it's just fine. Substituting a seasoning that has cayenne in it, like berbere, or my friend's spice mix they produce in Wisconsin is even better, and you'll be rewarded for a real treat if you seek some out.
Or, play with spices and make your own, smoked paprika mixed 75/25 with cayenne would be great, or add a little cayenne to curry powder. Cut the recipe in half if you want to experiment.
Using Maple vs Brown Sugar
This isn't as complicated as it sounds, but technique is important. Part of what makes these so good is the even, crisp coating of sugar. Basically you make a caramel out of melted butter and brown sugar, the consistency of which needs to be perfectly amalgamated to coat the nuts.
Using the maple cuts processed sugar out of the original recipe I modified these from and deepens the flavor. Maple is an invert sugar, which means it makes good caramel and isn't prone to crystallization.
The trade-off is that the water in the maple needs to be cooked off and evaporated for the nuts to have the perfect texture when they're cooled and ready to eat.
The perfect nut blend
I vary the blend of nuts here and there, but know that every nut you add will add a different character to the finished product.
The craggy folds of walnuts and pecans get beautifully crisp.
Hazelnuts develop a concentrated flavor.
almonds give a good backbone (I used to have one guest who would make me pick out just almonds for her).
If I'm trying to be on a budget, I might add 20-25% peanuts, but they water it down a little so consider them a last resort.
If I'm feeling rich, I may add some black walnuts or butternuts.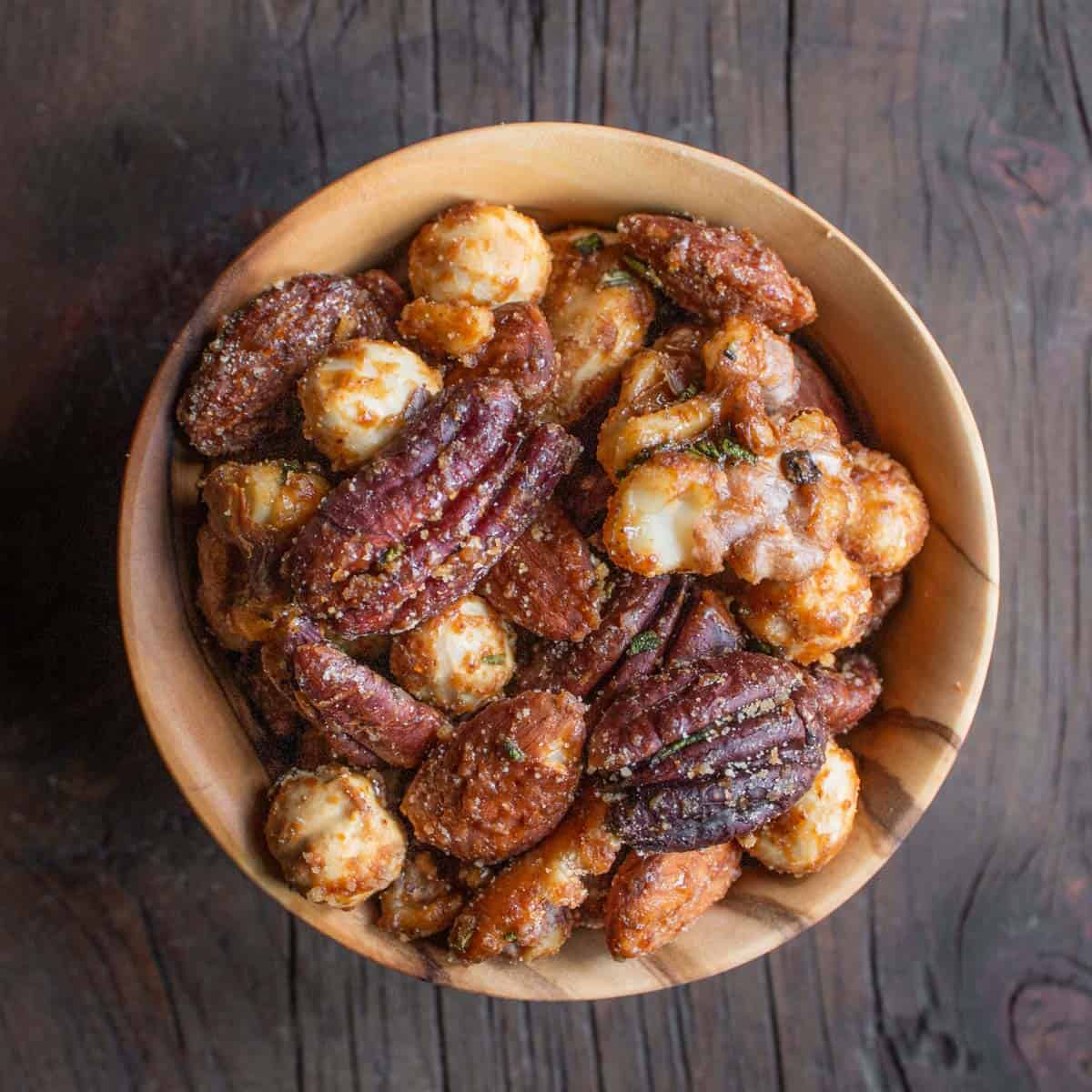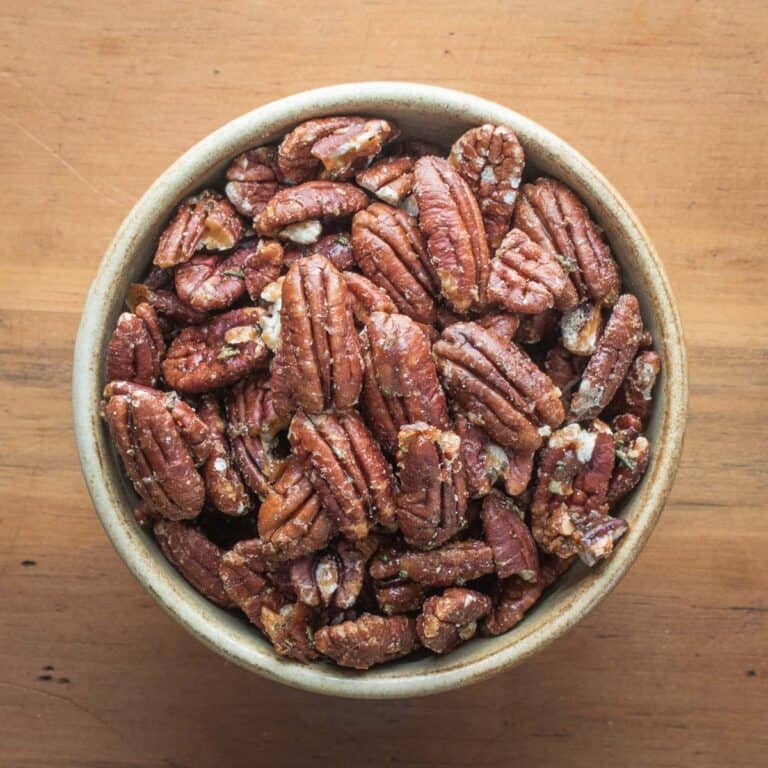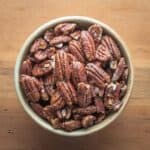 Print Recipe
Spicy Candied Pecans or Mixed Nuts with Maple and Rosemary
These were one of the most requested items on the appetizer menu when I was the Chef of Lucia's in Minneapolis, but don't be scared-they're very easy to make. I've adapted the recipe to use maple, but I make it with brown sugar too. They're spicy, so if you're on the fence about heat cut the cayenne in half. Makes enough to feed 12 people as a snack.
Equipment
1 Large baking sheet

Parchment paper

1 3-4 quart metal mixing bowl

Pot holders
Ingredients
16

oz

whole pecan halves, raw (roughly 4 cups)

or a blend of equal parts almonds, cashews, walnuts and pecans or hazelnuts

½

teaspoon

cayenne pepper

½

tablespoon

kosher salt

¼

cup

maple syrup

or 4 tablespoons brown sugar and 1 tablespoon water

1

Tablespoon

chopped rosemary

2

tablespoons

unsalted butter
Instructions
Preheat the oven to 300 F. Spread the nuts out on a sheet tray and toast for 10 minutes.

Meanwhile, simmer the remaining ingredients in a small saucepan on medium heat, whisking together until the maple and butter are melted and amalgamous, Simmer gently for 3-4 minutes.

The syrup should be slightly thickened. If you scale the recipe, you have to account for excess water from additional maple syrup by cooking it longer.

Remove the very hot nuts from the oven. Carefully and thoroughly toss the nuts with the syrup mixture. Spread the nuts on a baking sheet lined with parchment in a single layer.

Return the nuts to the oven and cook 15-20 minutes more, stirring once or twice to ensure even cooking, until the nuts are nicely toasted and smell wonderful.

Cool the nuts, then keep at room temperature in a sealed container-a glass jar looks nice.
Nutrition
Serving:
2
oz
|
Calories:
316
kcal
|
Carbohydrates:
17
g
|
Protein:
8
g
|
Fat:
26
g
|
Saturated Fat:
4
g
|
Polyunsaturated Fat:
5
g
|
Monounsaturated Fat:
15
g
|
Trans Fat:
0.1
g
|
Cholesterol:
5
mg
|
Sodium:
297
mg
|
Potassium:
299
mg
|
Fiber:
4
g
|
Sugar:
4
g
|
Vitamin A:
100
IU
|
Vitamin C:
0.3
mg
|
Calcium:
41
mg
|
Iron:
2
mg