Many recipes on this website are drawn from my study of wild food traditions from around the world. Sesame Baked Chicken of the Woods isn't. The recipe is from an old family cookbook my Grandma Phyllis put together-you know, the kind of homestyle, church basement arrangement of pages held with plastic bindings.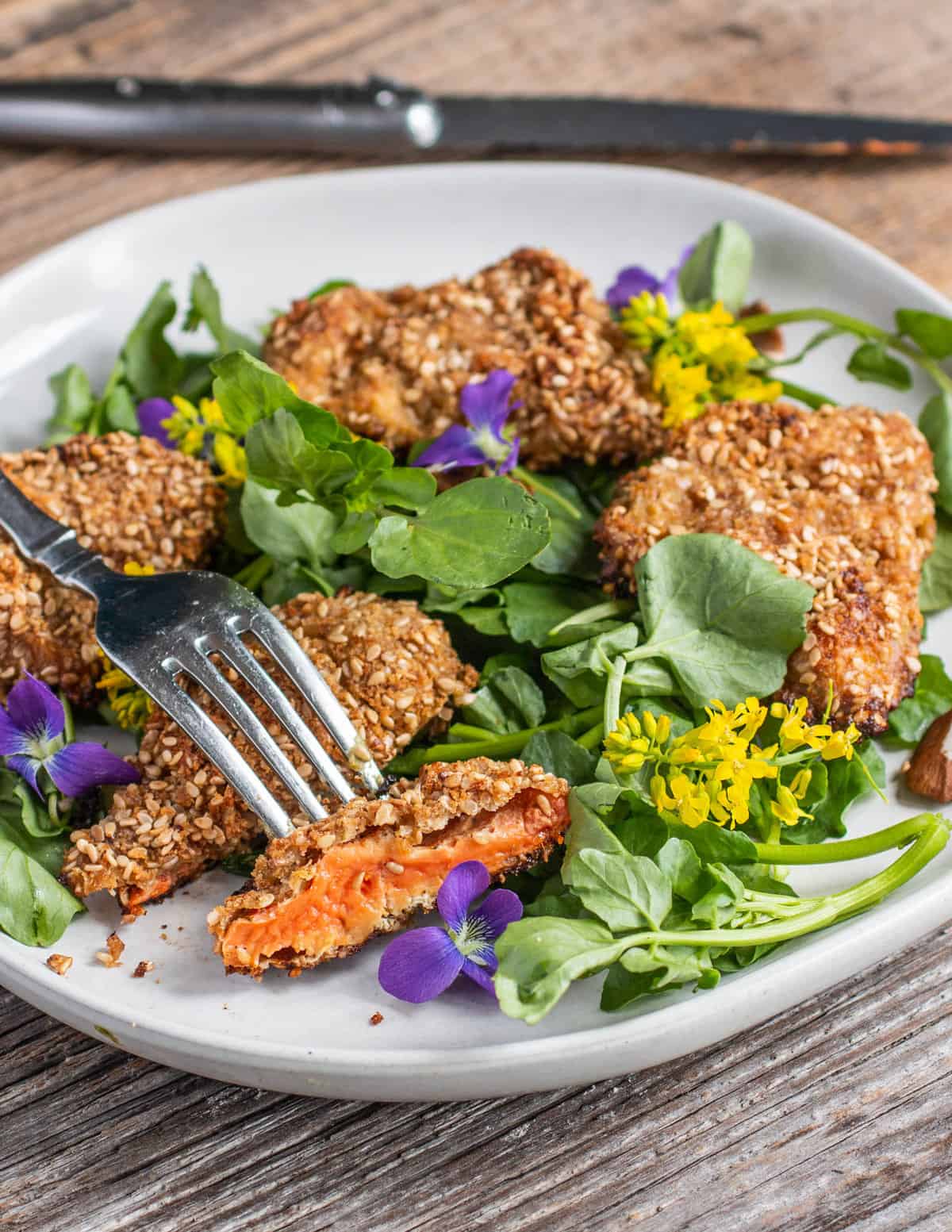 Sesame Baked Chicken was my family's all-time favorite way to eat chicken that my Grandma Gerri on my mother's side used to prepare, which she taught my mother to make, who would make it for me, and then my younger siblings after me, upon request, on special occasions.
If I close my eyes, I can still imagine opening up the door after playing outside as a child (or more likely, coming upstairs from playing video games in the basement) and having the ethereal fingers of scent pull me by my nose up to the kitchen.
The aroma of chicken coated with breadcrumbs and sesame seeds, the chicken's juices slowly mingling with the seed's oils creating a delicious crust of "griblets" on the bottom of the pan family members would fight over, is probably the fondest scent memory I can think of from my childhood.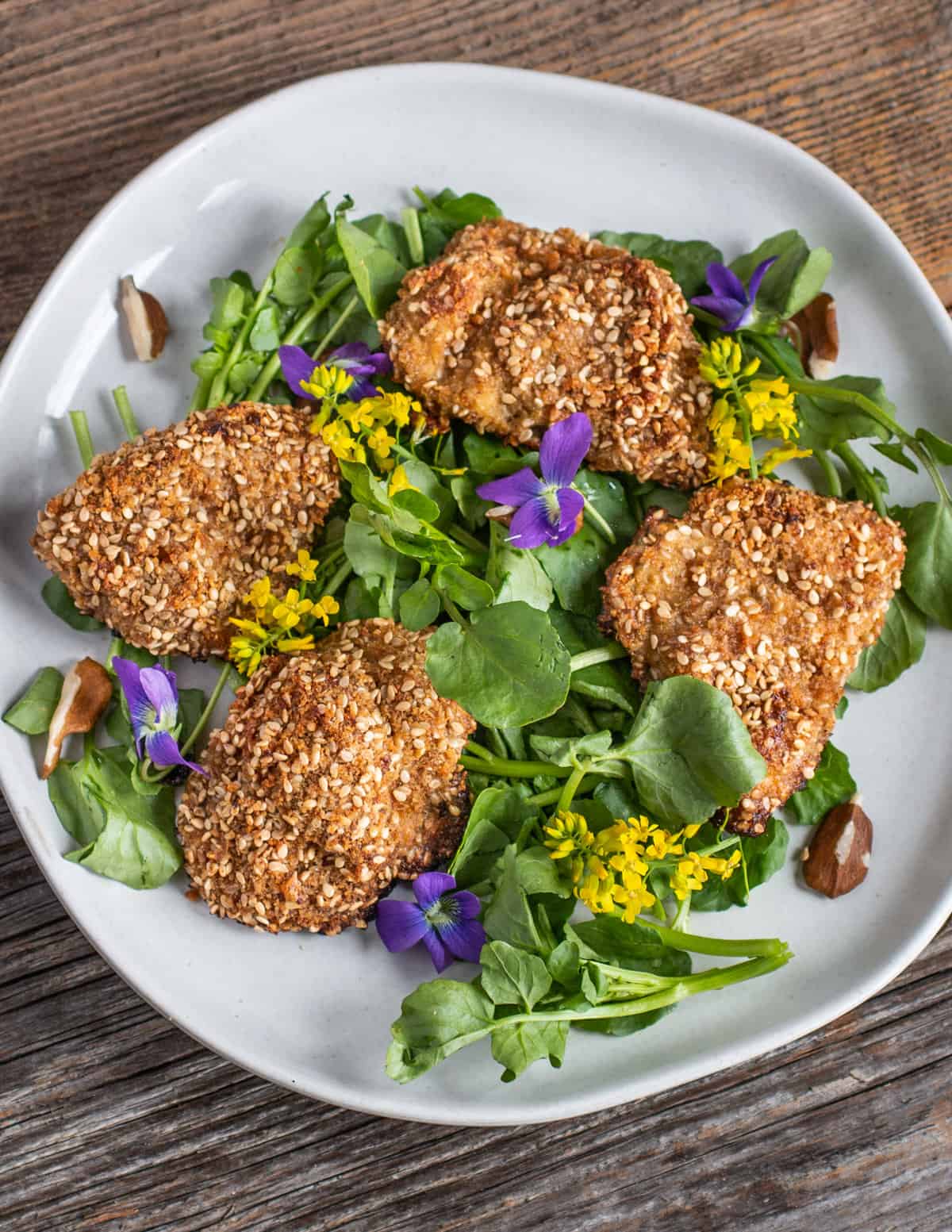 Fun story (and glimpse back to a more relaxed era), one of my favorite times I can remember eating Sesame Baked Chicken was when I was in Second Grade. My teacher at the time (shout out to Mrs. Stoeberl!) held a reading competition in our class.
The grand prize was plucked from a child's dream: the winner got to go to the teacher's house for an evening, where she made your favorite recipe for dinner. 30 years later, this sort of thing wouldn't fly.
I mean, you're not going to know your teachers address, let alone go to their house to share a meal. Not in a million years. Back in 1992, things were a bit simpler I guess.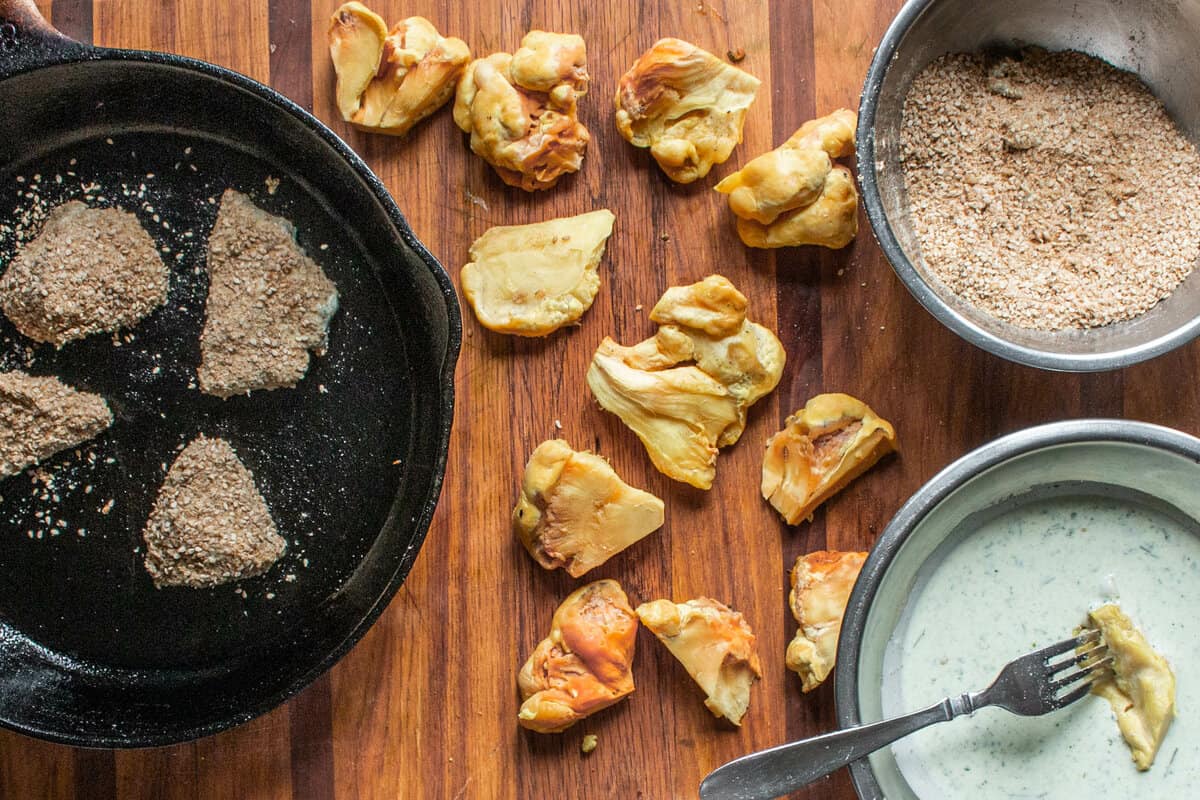 The recipe's really simple. You take some chicken (the original recipe calls for bone-in chicken) dip them in evaporated milk, roll it in a mixture of sesame seeds and breadcrumbs and bake until it's golden brown and delicious. For the version here, I made a few changes I think even my family will appreciate.
I don't often use evaporated milk as in the original recipe, but I do make a lot of crème fraîche (you can use sour cream) and the gentle tang it imparts is a welcome compliment to the rich crust of breadcrumbs and seeds the same way it works with fried chicken.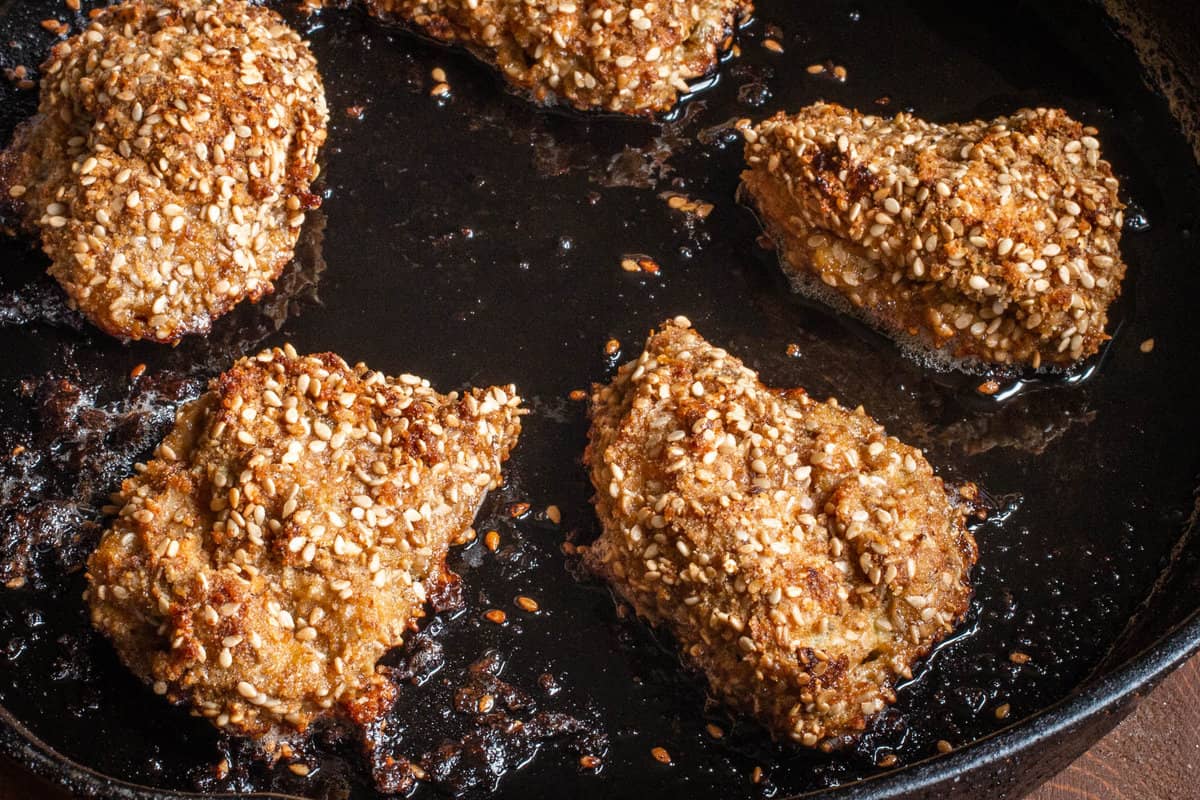 To layer extra flavors, I mix some dried ramp leaves into the sour cream. You can use some onion powder if you want, but don't reach for garlic powder, or even worse, the awful stuff known as granulated garlic-it's way to powerful for my taste, and comes off tasting synthetic and overly-strong.
From there, the recipe is basically the same: dip the chicken of the woods into the sour cream batter, dredge in the breadcrumb-seed mix, and bake until crisp and golden. With a little green salad or your favorite veggies alongside, it's the sort of thing memories are made of.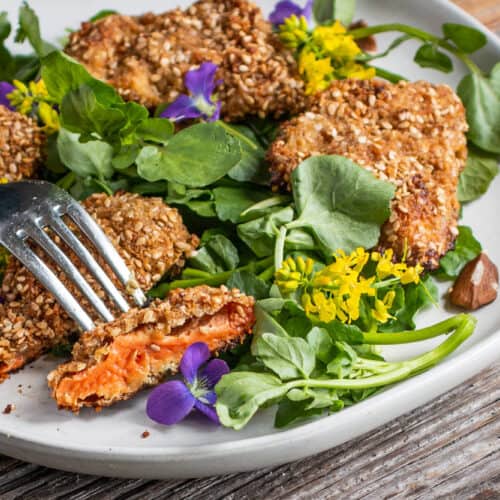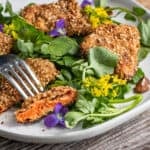 Print Recipe
Sesame Baked Chicken of the Woods Mushrooms
Chicken of the woods, dipped in sour cream batter and coated with a crisp crust of sesame seeds is a delicious way to enjoy your harvest.
Equipment
3 Mixing bowls

1 Frying pan
Ingredients
1

lb

young

tender chicken of the woods mushrooms
Sour cream batter
1.5

teaspoons

kosher salt

1

Tablespoon

dried crushed ramp leaves

optional, 2 teaspoons of onion powder can be substituted

6

oz

sour cream

1

large egg + 1 yolk

½

teaspoon

fresh cracked black pepper
Dredge
½

cup

breadcrumbs

½

cup

sesame seeds

For serving

Fresh lemon wedges

or your favorite dip, for serving

4

tablespoons

unsalted butter

A fresh green salad

pictured is watercress with violets and wild mustard flowers (optional)
Instructions
Combine the sour cream, egg and yolk, salt, pepper, and ramp leaves or onion powder in a bowl. Mix the breadcrumbs and sesame seeds in another bowl. Preheat the oven to 350. Clean the chicken of the woods and cut into roughly 1.5-2 oz pieces about the size of a child's fist.

Using a fork or toothpick, pierce each mushroom and dip into the sour cream-egg mix, then into the sesame mix.

Sprinkle on extra sesame mix as needed, transferring finished mushrooms to a baking sheet or pan, such as a cast iron skillet. You can line it with parchment if you like.

Add the butter to the pan around the mushrooms. And bake for 10 minutes.

After 10 minutes, when the butter is melted, take the pan out of the oven and baste each mushroom nugget with some of the butter, then put back in the oven and bake until golden, about 10-15 minutes more or until the mushrooms are golden brown and crisp.
Notes
This should bread one pound of mushrooms, but you will have sour cream mix leftover. You can easily scale the recipe up for larger batches, taking into account you'll probably go through sesame mix faster than the sour cream batter.
Nutrition
Calories:
772
kcal
|
Carbohydrates:
40
g
|
Protein:
22
g
|
Fat:
62
g
|
Saturated Fat:
27
g
|
Polyunsaturated Fat:
11
g
|
Monounsaturated Fat:
18
g
|
Trans Fat:
1
g
|
Cholesterol:
192
mg
|
Sodium:
2018
mg
|
Potassium:
1093
mg
|
Fiber:
8
g
|
Sugar:
9
g
|
Vitamin A:
1352
IU
|
Vitamin C:
6
mg
|
Calcium:
528
mg
|
Iron:
8
mg
Related Posts
Chicken of the Woods Mushrooms