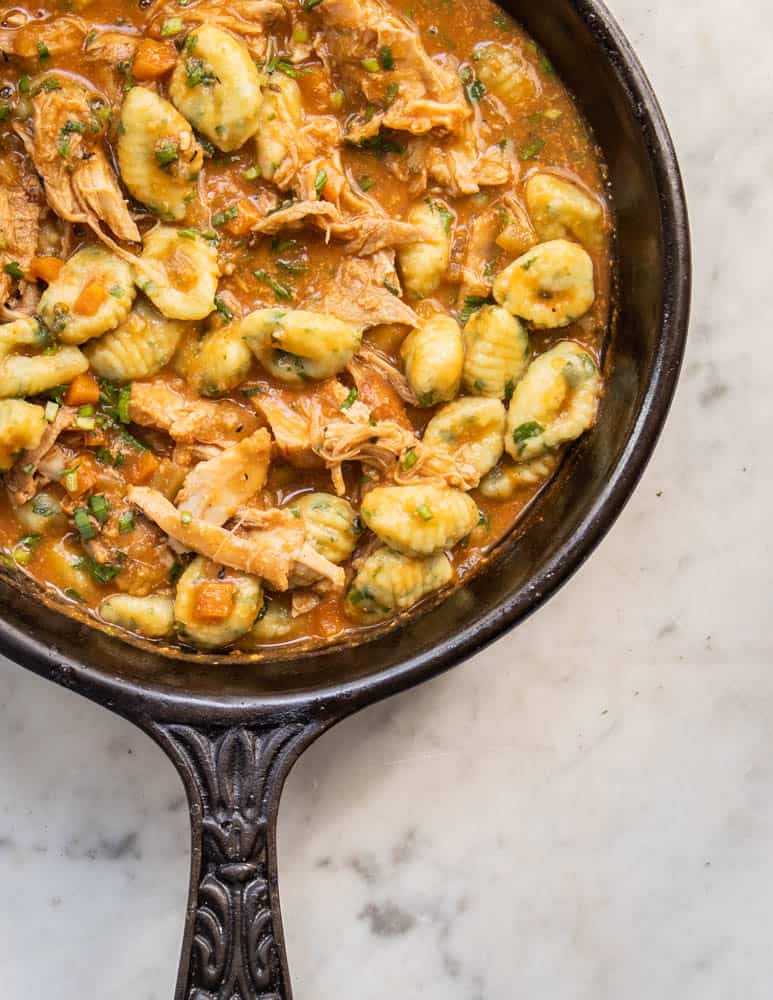 I love small game, and I have plenty of rabbit recipes on this site, but most of them are for the whole creature cut into parts, or maybe stewed. One thing I've been meaning to put up is a solid rabbit pasta sauce like I used to make working under my chef from Rome, Angelo, or what we'd call "sugo de coniglio".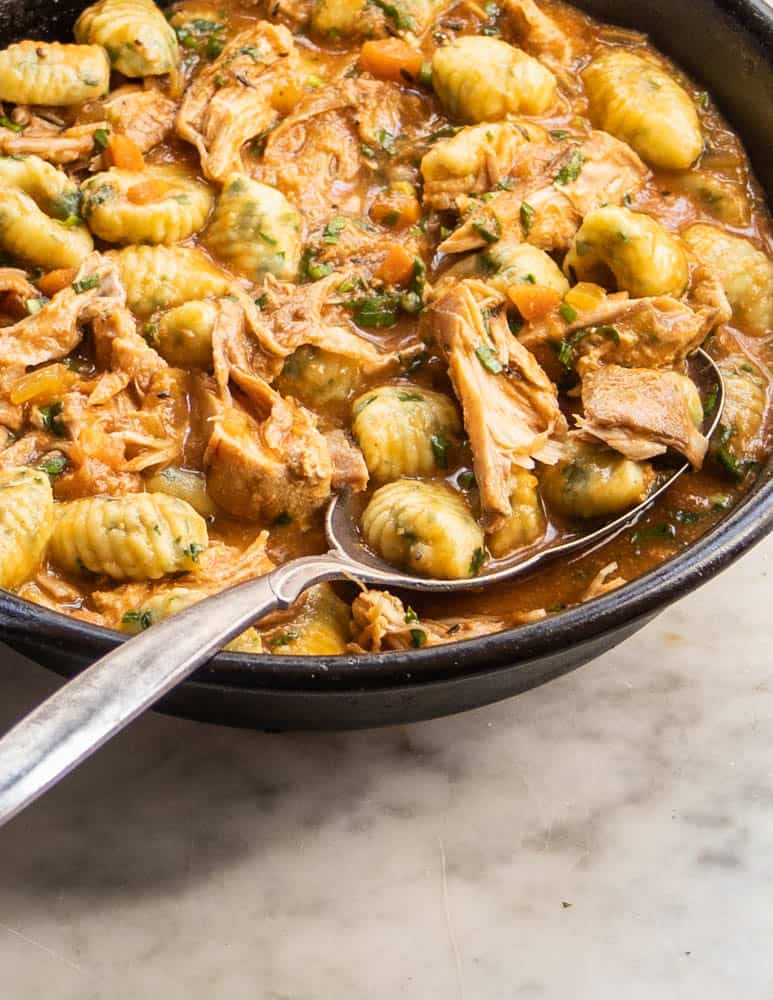 It's a great way to enjoy rabbit, especially if people are on the fence about eating it in large pieces, since the meat is picked from the bones and cooked spoon-tender.
You can substitute squirrels, woodchucks, possums, and other small game for the weight of the rabbit if you like.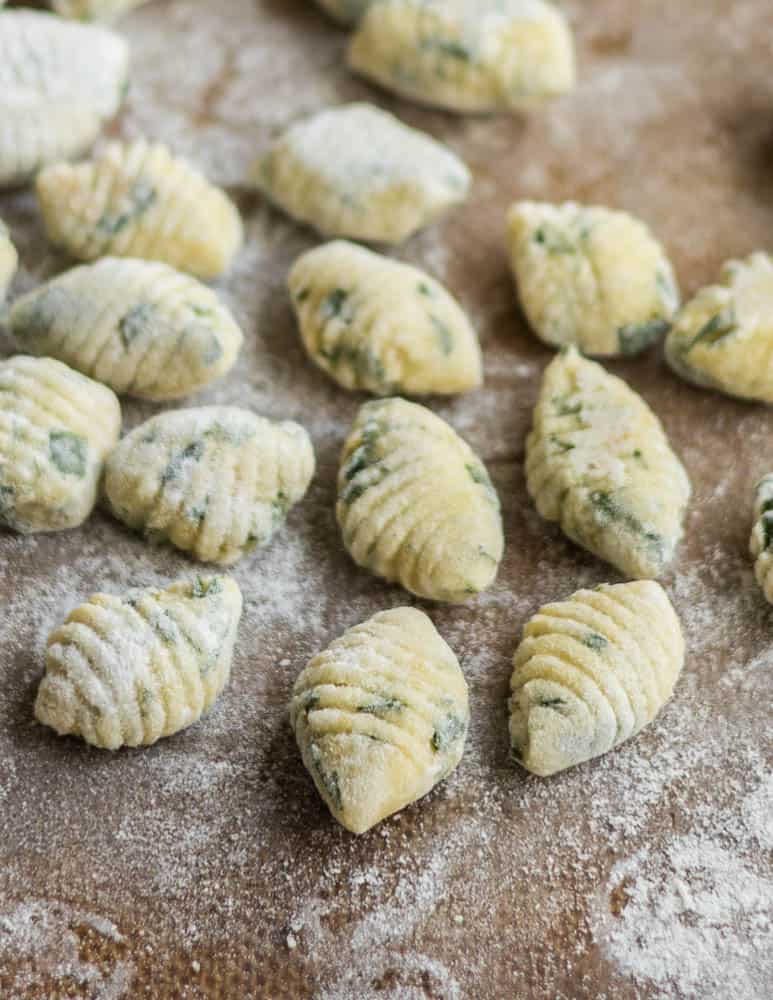 The gnocchi are great all by themselves too. The only thing to know about them is that I like to use at least 50% oniony herbs most of the time I make them, with the rest a nice blend of whatever herbs I can forage around from the garden, like a rabbit would. Use your imagination, and don't skip the lemon zest.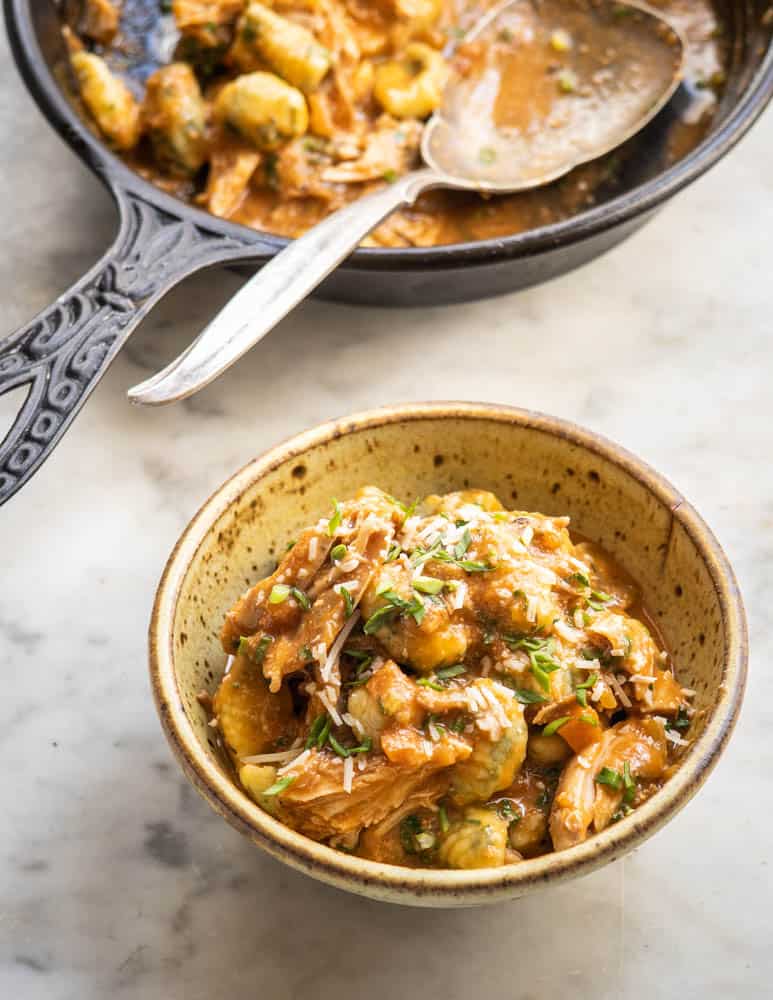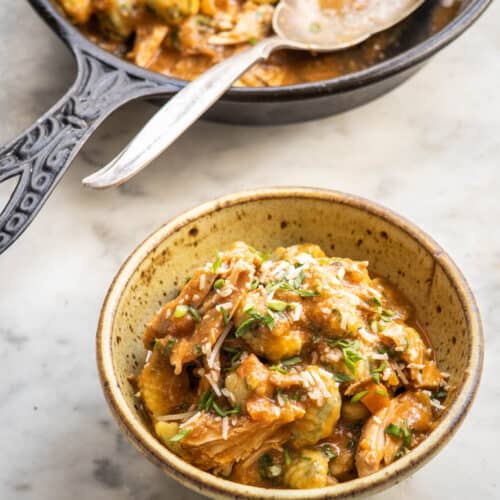 Print Recipe
Rabbit Ragu with Wild Herb Gnocchi
A simple ragu of rabbit or other small game for serving with pasta or gnocchi. Serves 4 with leftovers.
Ingredients
Ragu
1 40

oz

rabbit

or one large rabbit with it's offal

2

oz

finely chopped pancetta or prosciutto

or bacon

3

tablespoons

animal fat

such as duck

6

oz

mirepoix

small dice (1 medium carrot, a large rib of trimmed celery, one small onion)

1

cup

dry white wine

⅓

cup

tomato paste

1

cup

milk

1

cup

meat stock

¼

teaspoon

dried thyme

1

dried bay leaf

Tiny pinch

⅛ teaspoon crushed red pepper flakes
Serving
3

tablespoons

unsalted butter

Grated parmesan cheese

to taste

Small handful roughly chopped Italian parsley or other herbs

to garnish
Instructions
Cut up the rabbit
Cut the rabbit into 8 pieces with a cleaver or shears. Finely chop the heart, liver and kidneys and reserve.

Season the pieces all over with salt and pepper, then allow to rest uncovered in the fridge overnight or for at least a few hours to dry-brine (optional). In a 12inch satois, or deep, wide pan with high sides like a 12 inch cast iron skillet, or braising pan, brown the pieces of rabbit in the fat on medium heat, working in batches if necessary.
Browning
Remove the rabbit pieces, add the prosciutto and a tablespoon of butter and cook for 2 minutes, add the offal stir, cook for a minute more then and the mirepoix and garlic, along with the tomato paste, and cook for 2-3 minutes, stirring occasionally.

Scrape with a wooden spoon to combine all the goodness forming on the bottom of the pan, more color=more flavor.

Add the wine, milk and stock, along with the browned rabbit pieces and red pepper, bring to a simmer, then cover and transfer to a preheated 275 F oven for 1.5 hours, or until the meat moves freely from the bone.
Pick the meat
Cool the rabbit until you can handle it (preferably overnight) then pick the meat into pieces. Carefully inspect the meat for small bones, and, when you're done, go over it one last time for good measure.
Serving
Heat the ragu without the meat, stirring in the butter and adjusting the seasoning to taste as needed. Reduce the sauce until it coats the back of a spoon and tastes delicious.

Return the meat to the sauce, heat through, then add the gnocchi to the pan if the pan is large enough. Alterately, simmer the sauce until thickened, then toss in a large serving bowl with the gnocchi.

Off the heat, add a small handful of parmesan and the parsley or other herbs.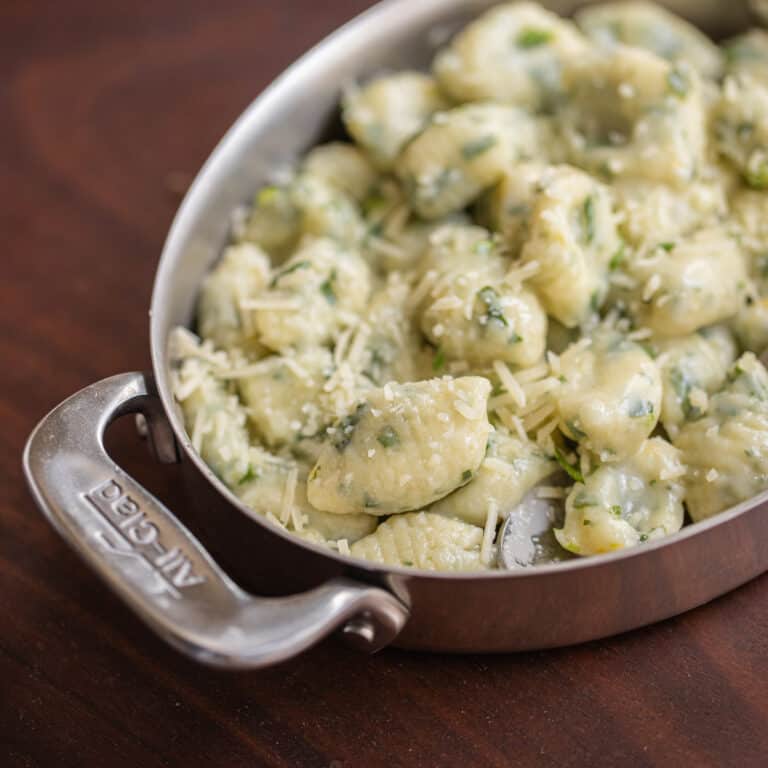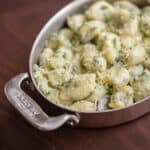 Print Recipe
Traditional Potato Gnocchi with Herbs
Simple gnocchi flavored with herbs of your choice.
Ingredients
1.5

lb

russet potatoes

¼

teaspoon

kosher salt

½

cup

finely chopped mixed fresh herbs

greatest variety possible

Zest of half a medium-sized lemon

or to taste

4

large egg yolks

¾

cup

all purpose flour

plus more for rolling out the dough
Instructions
Steam the potatoes for 30 minutes or until very tender, alternately you can simmer them gently until they can be pierced with a knife, but don't over cook them.

Remove the potatoes to a bowl to cool.

Peel the potatoes, cutting thin slices off with a knife. Discard the skins, then rice the potato, moving quickly to not let them cool down.

Mix the riced potato with the egg yolk, salt, zest and herbs, tasting a little to gauge if you want a little more of this or that.

Gently mix in (don't knead) the flour to make a dough, then roll the dough into logs about ¾ inch in diameter, cut into small morsels, toss gently with flour and roll off a gnocchi board onto a cookie sheet lined with parchment or a silicone mat.

From here the gnocchi can be cooked straight away, or frozen for storage and cooked directly from the freezer.

Freeze the gnocchi until rock solid, then transfer to a zip top bag until needed.
To cook gnocchi from frozen
To cook the gnocchi from frozen, bring a large pasta pot (at least 1 gallon or preferably more) of lightly salted water to a rolling boil, add the gnocchi, stir, cover the pan to help it heat up quickly, bring it back to a boil, turn the heat down to a simmer and wait for the gnocchi to float, with the lid on to trap the heat.

After the gnocchi float, allow them to cook for 1 minute more, then remove to the pan with your sauce, or toss in a bowl.
Par cooking gnocchi
Alternately, rinse the gnocchi in warm water to remove starch, drain, toss with oil, and keep in the fridge spread out on a tray in a single layer covered with cling film for a couple hours to par cook them, then slip them into a sauce and heat through. Par cooked gnocchi in the fridge will get gummy if left overnight.
Notes
The herbs you choose will have a big impact on the flavor. Just be careful not to use herbs that are too strong. Here's a few examples of herbs I like in this. 
Tarragon, chervil, fresh thyme or lemon thyme, lovage, sorrel, chives and mint are some of my favorites. 
Nutrition
Serving:
4
oz
|
Calories:
185
kcal
|
Carbohydrates:
33
g
|
Protein:
6
g
|
Fat:
3
g
|
Saturated Fat:
1
g
|
Polyunsaturated Fat:
1
g
|
Monounsaturated Fat:
1
g
|
Cholesterol:
130
mg
|
Sodium:
109
mg
|
Potassium:
503
mg
|
Fiber:
2
g
|
Sugar:
1
g
|
Vitamin A:
174
IU
|
Vitamin C:
6
mg
|
Calcium:
33
mg
|
Iron:
2
mg