I love a good bowl of gnocchi, and after you master the basic method, it can be nice to play with simple additions to the dough. A generous blend of freshly picked herbs is one of the simplest and most delicious I know of, and you can play around with all kinds of fun combinations to make your own blend with what's growing.
Herb gnocchi tips
Herbs
I generally add only soft herbs to gnocchi like this, but, if you have a little rosemary, sage, or thyme, you could add a very small amount (start with a teaspoon) in combination with more soft/delicate herbs like parsley and chives.
I like to add a lot of alliums, things like wild onion greens, finely chopped ramp leaves, seeds, or flowers, usually about 50% of the total volume.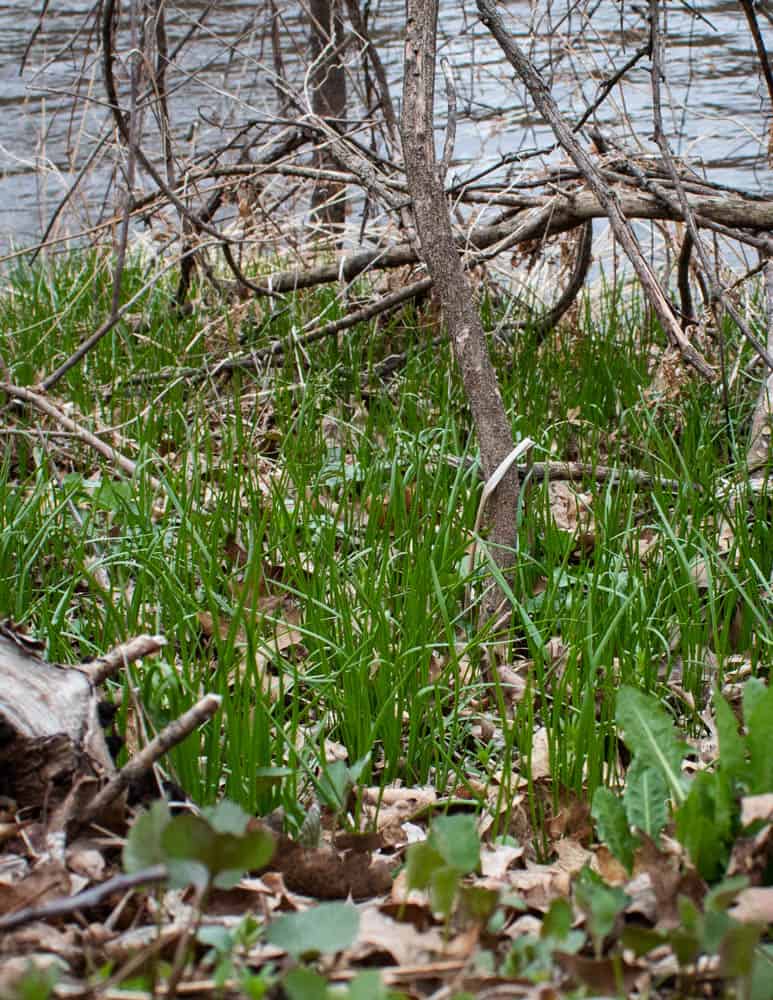 The biggest blend of herbs in small amounts will give the most interesting flavor. If you can taste a soft melange of herbs when you eat them, but have trouble picking out exactly what they are-that's a good sign you did a good job. The sum should be greater than the parts, so to speak.
Technique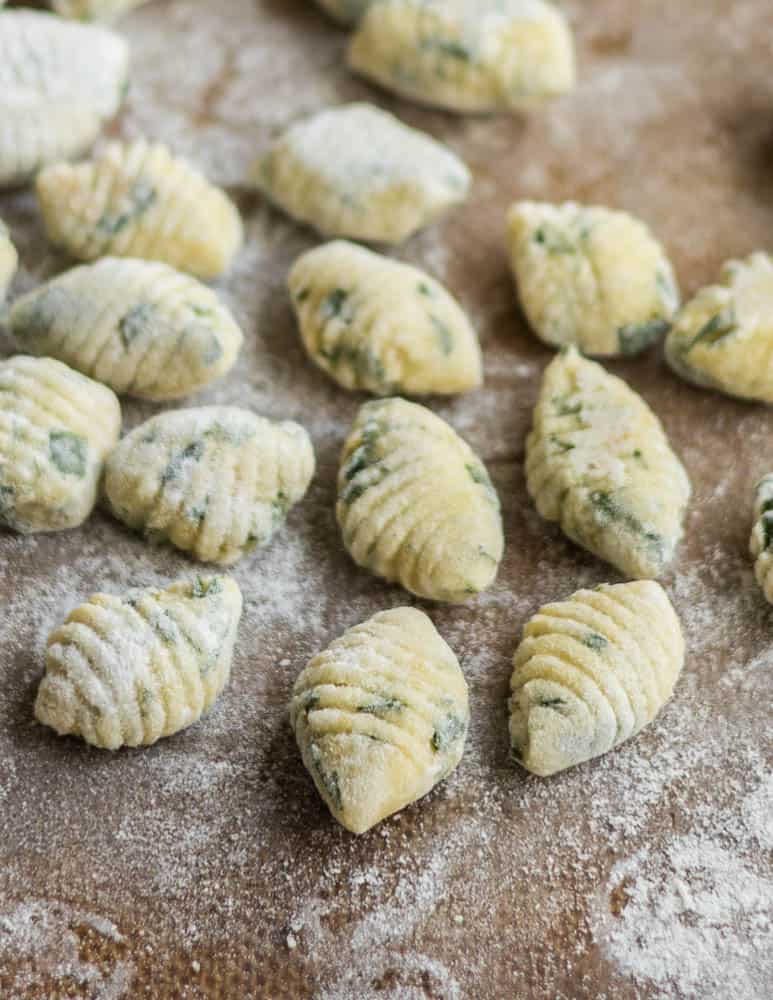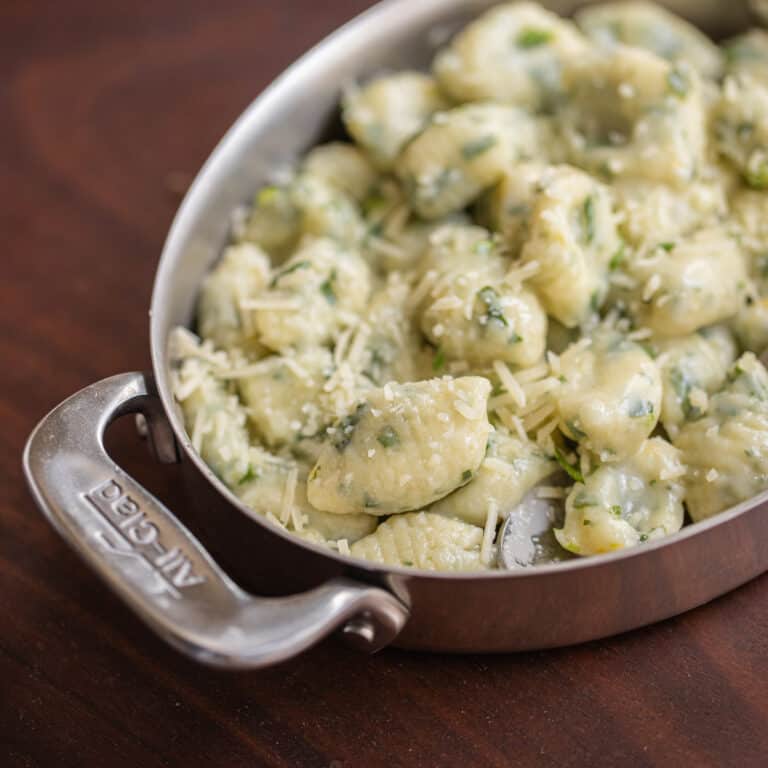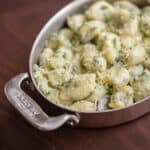 Print Recipe
Traditional Potato Gnocchi with Herbs
Simple gnocchi flavored with herbs of your choice.
Ingredients
1.5

lb

russet potatoes

¼

teaspoon

kosher salt

½

cup

finely chopped mixed fresh herbs

greatest variety possible

Zest of half a medium-sized lemon

or to taste

4

large egg yolks

¾

cup

all purpose flour

plus more for rolling out the dough
Instructions
Steam the potatoes for 30 minutes or until very tender, alternately you can simmer them gently until they can be pierced with a knife, but don't over cook them.

Remove the potatoes to a bowl to cool.

Peel the potatoes, cutting thin slices off with a knife. Discard the skins, then rice the potato, moving quickly to not let them cool down.

Mix the riced potato with the egg yolk, salt, zest and herbs, tasting a little to gauge if you want a little more of this or that.

Gently mix in (don't knead) the flour to make a dough, then roll the dough into logs about ¾ inch in diameter, cut into small morsels, toss gently with flour and roll off a gnocchi board onto a cookie sheet lined with parchment or a silicone mat.

From here the gnocchi can be cooked straight away, or frozen for storage and cooked directly from the freezer.

Freeze the gnocchi until rock solid, then transfer to a zip top bag until needed.
To cook gnocchi from frozen
To cook the gnocchi from frozen, bring a large pasta pot (at least 1 gallon or preferably more) of lightly salted water to a rolling boil, add the gnocchi, stir, cover the pan to help it heat up quickly, bring it back to a boil, turn the heat down to a simmer and wait for the gnocchi to float, with the lid on to trap the heat.

After the gnocchi float, allow them to cook for 1 minute more, then remove to the pan with your sauce, or toss in a bowl.
Par cooking gnocchi
Alternately, rinse the gnocchi in warm water to remove starch, drain, toss with oil, and keep in the fridge spread out on a tray in a single layer covered with cling film for a couple hours to par cook them, then slip them into a sauce and heat through. Par cooked gnocchi in the fridge will get gummy if left overnight.
Notes
The herbs you choose will have a big impact on the flavor. Just be careful not to use herbs that are too strong. Here's a few examples of herbs I like in this. 
Tarragon, chervil, fresh thyme or lemon thyme, lovage, sorrel, chives and mint are some of my favorites. 
Nutrition
Serving:
4
oz
|
Calories:
185
kcal
|
Carbohydrates:
33
g
|
Protein:
6
g
|
Fat:
3
g
|
Saturated Fat:
1
g
|
Polyunsaturated Fat:
1
g
|
Monounsaturated Fat:
1
g
|
Cholesterol:
130
mg
|
Sodium:
109
mg
|
Potassium:
503
mg
|
Fiber:
2
g
|
Sugar:
1
g
|
Vitamin A:
174
IU
|
Vitamin C:
6
mg
|
Calcium:
33
mg
|
Iron:
2
mg