Besides fried puffballs, a good wild puffball mushroom parmesan recipe is a great thing to keep on hand if you live in the Midwest where puffballs can be so abundant.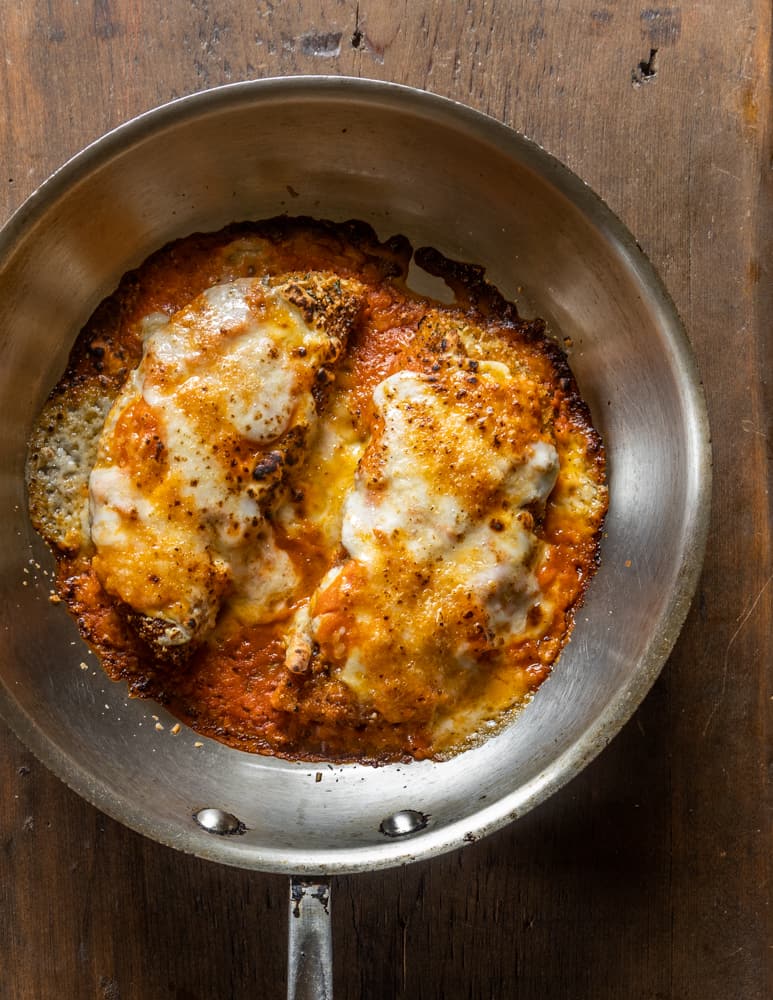 It's pretty simple: take some crisp fried puffballs, layer them in a pan with homemade tomato sauce, mozzarella cheese, more tomato, a drizzle of white sauce or bechamel and some parmesan, and bake until bubbly and delicious.
There's other, more simple recipes than mine out there, and, I'd encourage you to take a look at them, but know that while mine takes a little more time to prepare, it's worth it.
The preparation here is exactly how I was taught to make classic chicken parmesan from Chef William Salvadore, an Italian chef from Milan who was previously maitre'd at the famous La Gavroche restaurant in the U.K.
They were the first restaurant in the U.K. to get 3 Michelin stars. Needless to say, the chicken parm was one of the highest selling entrees on the menu and I made many of them.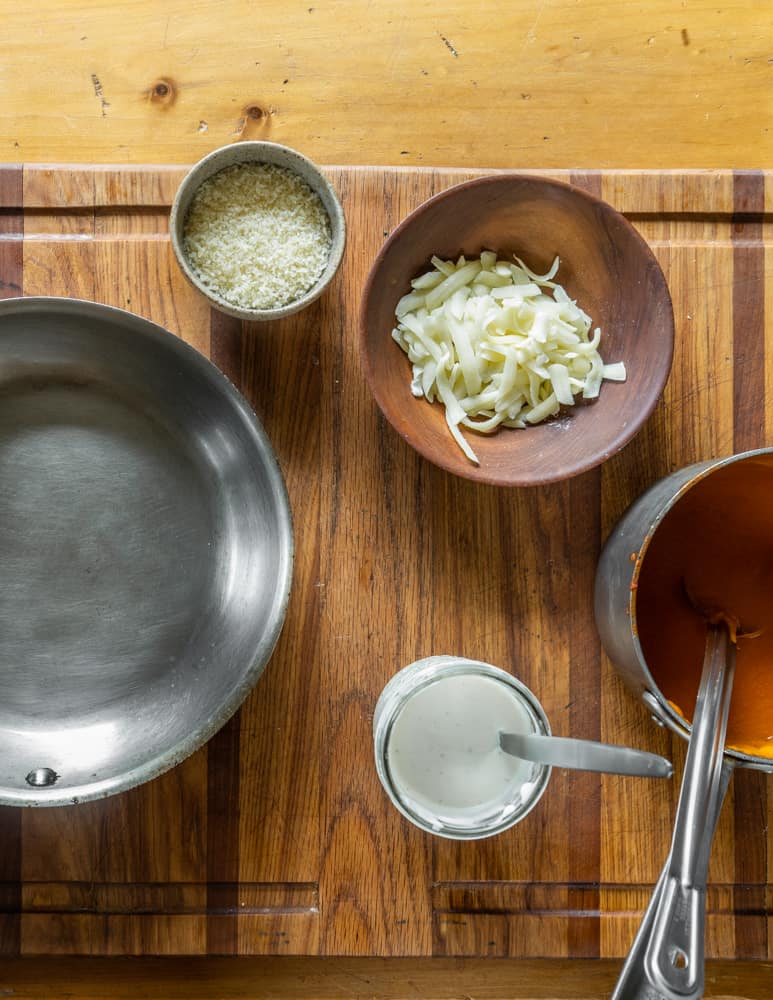 Most people know the drill: take a fried something, add some tomato sauce, mozz, more tomato, parm and bake, but William taught me to add some bechamel to the mix, which I recommend. The bechamel helps keep things juicy and saucy, and is well worth the few minutes it takes to put together. Don't skip the bechamel if you want the real deal.
If you look at the following recipes and think it looks to complicated to make, don't be intimidated. Watch the video and you'll see it's really easy. I separate the recipes here for the sake of clarity.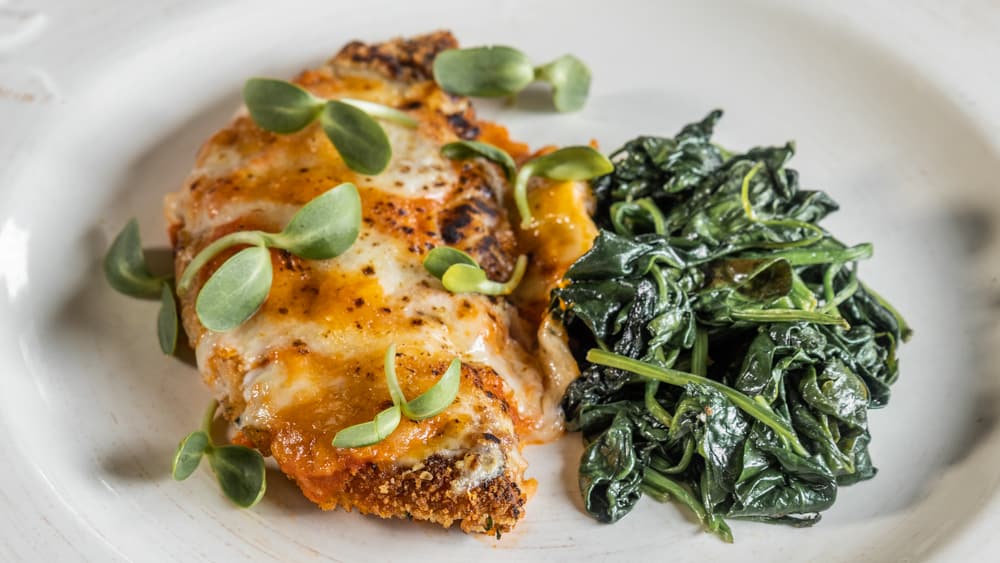 Vegetarian Puffball Mushroom Parmesan
Fried puffball mushrooms topped with mozzarella, tomato sauce, bechamel and parmesan.
Ingredients
slices of fried puffball mushrooms

see recipe

1 recipe basic tomato sauce

see recipe, or use your favorite sauce

1 recipe basic bechamel sauce (optional but recommended)

see recipe

4

oz

grated mozzarella cheese

2

oz

grated parmesan cheese
Instructions
In a baking dish or in a wide pan, put down a couple spoonfuls of tomato sauce where you will put each piece of fried mushroom.

Lay down the pieces of fried mushroom in the pan, then top each with a small handful of mozzarella cheese.

Spoon some tomato sauce over the mozzarella on each piece of mushroom, then drizzle with a few spoonfuls of the bechamel sauce, top with grated parmesan, and broil or bake on high heat until browned, bubbling and delicious, about 15 minutes.

Pay close attention to the amount of oil in the pan, the breadcrumbs are going to soak up a ton of oil, and you don't to let the pan get dry, think of it like a shallow deep-fry. If the pan gets dry, add more oil.

Once the mushrooms are browned, place them in the warm oven on a cookie sheet with a resting rack to prevent the heat from being trapped and steaming the crispy crust until you're done with the rest.

When the mushrooms are all fried, dress the arugula or other greens with the lemon, olive oil, salt and pepper to taste, then serve immediately.
Notes
I recommend making these for 2-4 people at a time. Trying to fry your whole puffball, if it's large, will require a hood vent or outside cooking. 
Basic Tomato Sauce
A simple homemade tomato sauce made with canned tomatoes inspired by the original sauce my chef from Rome taught me to make. Yield: 3 cups
Ingredients
1 32

oz

can whole peeled tomatoes

or fresh tomatoes, blanched, peeled, seeded and chopped to yield 3 cups

3

ounces

total

¾ cup small dice carrot, onion, and celery

1

large clove of garlic

trimmed and lightly crushed with the back of a knife

2

tablespoons

unsalted butter

¼

cup

dry white wine

Kosher salt

to taste
Instructions
Working over a sink or bowl in a sink, squeeze the seeds out of the tomatoes, then transfer to a bowl with their juice. Sweat the garlic and vegetables in the butter until the onion is translucent, about 5 minutes.

Add the wine and cook for a minute, then add the tomatoes and their juice, bring to a simmer, then reduce the heat, cover and cook for 20 minutes on low heat.

Puree the mixture in a highspeed blender for 3-4 minutes, on medium heat, or until very smooth, then cool and refrigerate.

Be very careful pureeing hot sauces in a blender, as they will build up pressure in the blender bowl if air isn't allowed to circulate.
Basic Bechamel
A basic small batch recipe for bechamel sauce. Yield: 2 cups
Ingredients
2

Tablespoons

ap flour

2

oz

unsalted butter

2

tablespoons

grated parmesan cheese

2

cups

half and half

A few gratings of fresh nutmeg

3-4 scrapes, or to taste

Kosher salt

to taste
Instructions
Melt the butter in a large saucepot, when it's melted, add the flour and cook until combined with the butter, whisking.

Add the milk, a little at a time, whisking between each addition.

Add the parmesean, nutmeg, and salt to taste-about ¼ teaspoon. If the sauce is lumpy, puree it in a blender. Transfer to a container, pressing cling film onto the surface to prevent it forming a skin, cool and refrigerate.
More