If you harvest your own prickly ash berries (Xanthoxylum/Szechuan peppercorns) sausage should be on your list of things to make.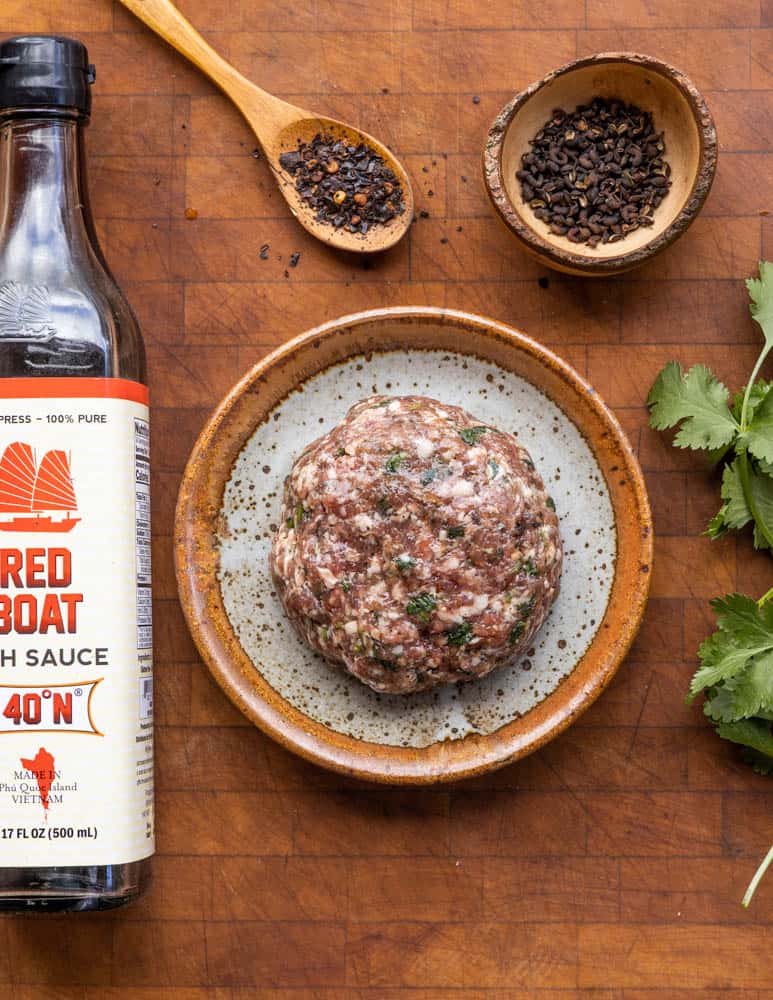 I love the bright, citrusy flavor and gentle numbing quality that prickly ash adds to a dish, but it can be difficult to incorporate them into foods and have them taste coherent if you're not versed in how the spice is traditionally used in Chinese and Japanese cuisine (I'm not an expert by any means).
Sausage is a nice blank canvas though, and the recipe here is another good example of how you can steer flavors in a direction that will make sense on your palette.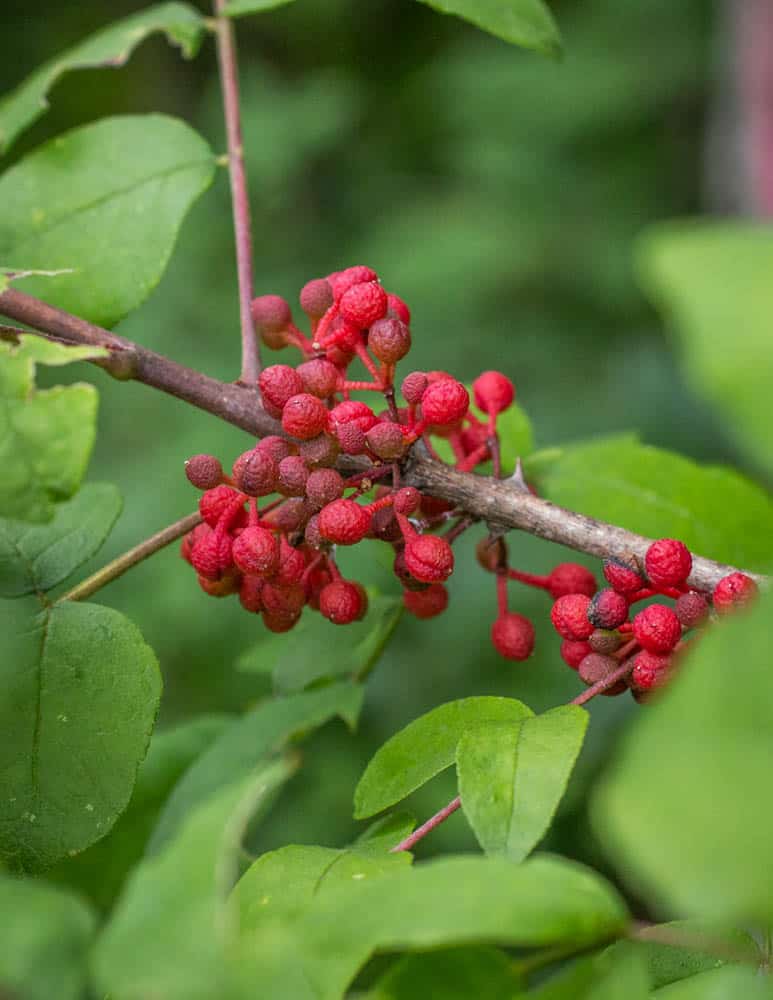 DIY prickly Ash vs Commercial
Dried wild prickly ash is a little different than the dried Szechuan peppercorns you might buy in a store. My jars of wild prickly ash are usually brown to black in color after drying, since I wait for the husk to dry on the plant which allows the gritty black seed to fall out, doing the work of winnowing and separating the seeds from the husk for me.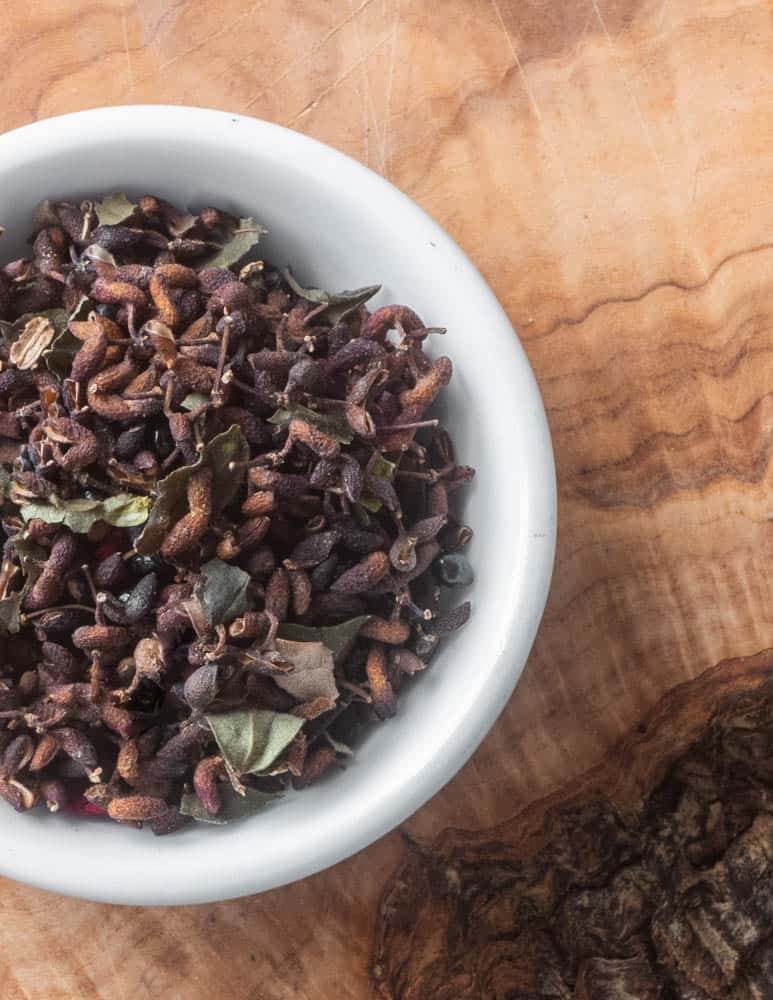 The flavor is a bit more muted than commercial Szechuan peppercorns that are often harvested while they're still red (they're harvested green as well for other products).
Since dried, crunchy black seed husks don't make for the most exciting mouthfeel, I take a cue from Chinese cuisine and often grind my dried prickly ash into powder in a spice grinder before using it, which releases the aroma, and transforms it into a rough powder that won't add any noticeable texture to the finished product.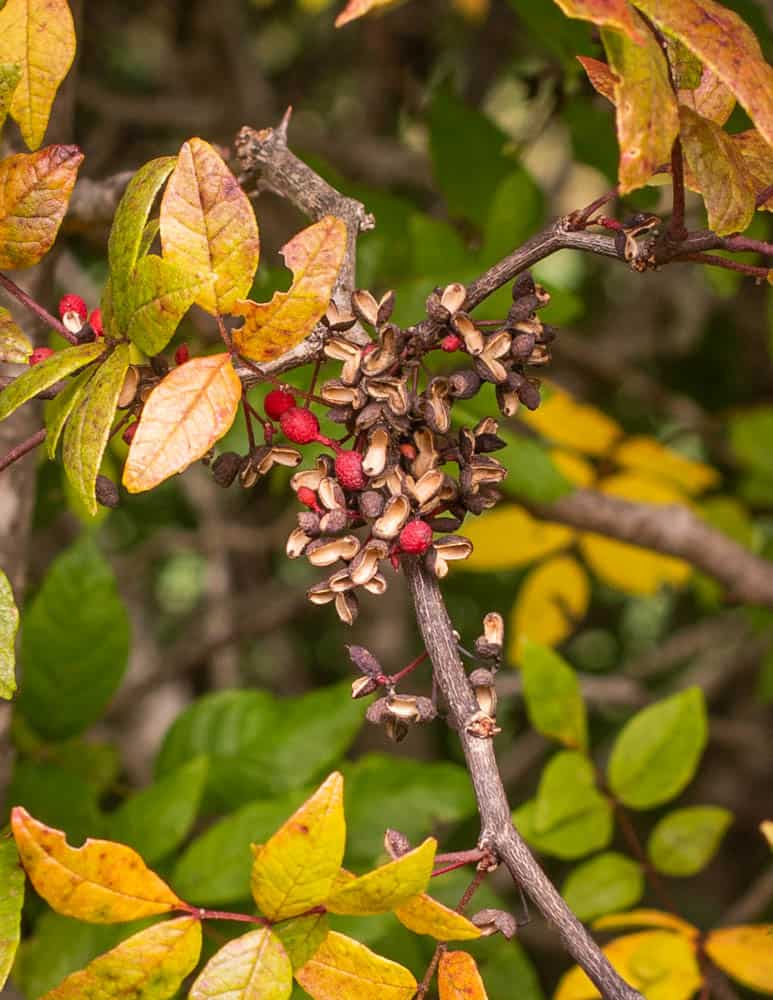 As for the sausage itself, it's easy—no casing and meat stuffer required, meaning that it's great for stuffing into wonton wrappers and making dumplings, or just frying up as is and adding to stir fry or a bowl of noodle soup.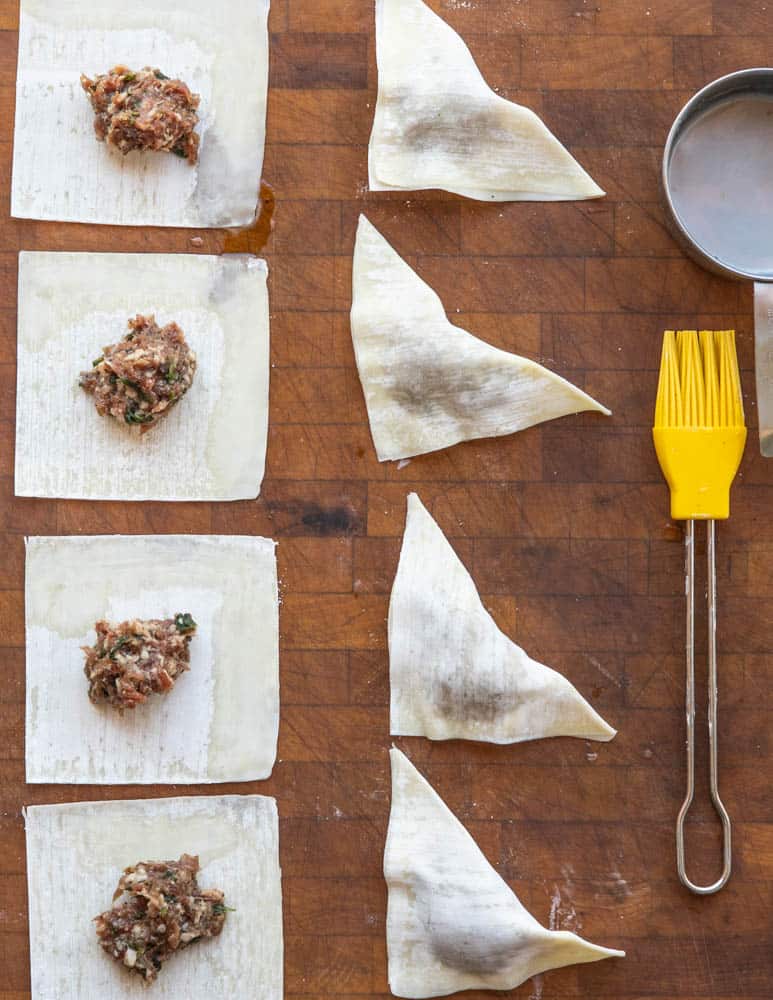 Supporting flavors
Fish sauce
This forms a component of the salt, but not all of the salt, since it also adds water—just a little bit adds those umami-rich glutamates that helps make people say "This is so good, what's in it?!" . Red Boat brand fish sauce is the gold standard in restaurants, if you don't have some, I highly recommend it. Fun intro video from their homepage. 
Hot chili
Szechuan peppercorns are one of the key components of the flavor Mala flavor combination in Szechuan cuisine, which translates to "hot-numb". Literally hot and numbing at the same time, it's a fascinating combination that makes your mouth water, sometimes profusely when used with a heavy hand. I'm addicted to it.
Fresh Grated Ginger
I love adding grated fresh ginger to sausages, it adds a tiny amount heat, and a more floral quality than powdered. You'll want a microplane grater to do this. It's also a great way to incorporate garlic into dish without making the cutting board smell.
Fresh herbs
Cilantro, culantro, and rau ram are perfect compliments here.
Touch of sugar
Just a little sweetness helps add a nice undertone and balance the fish sauce.
Spices
Just a little bit of spices help add interest. Wild spice bush berries and ground cloves both made excellent versions.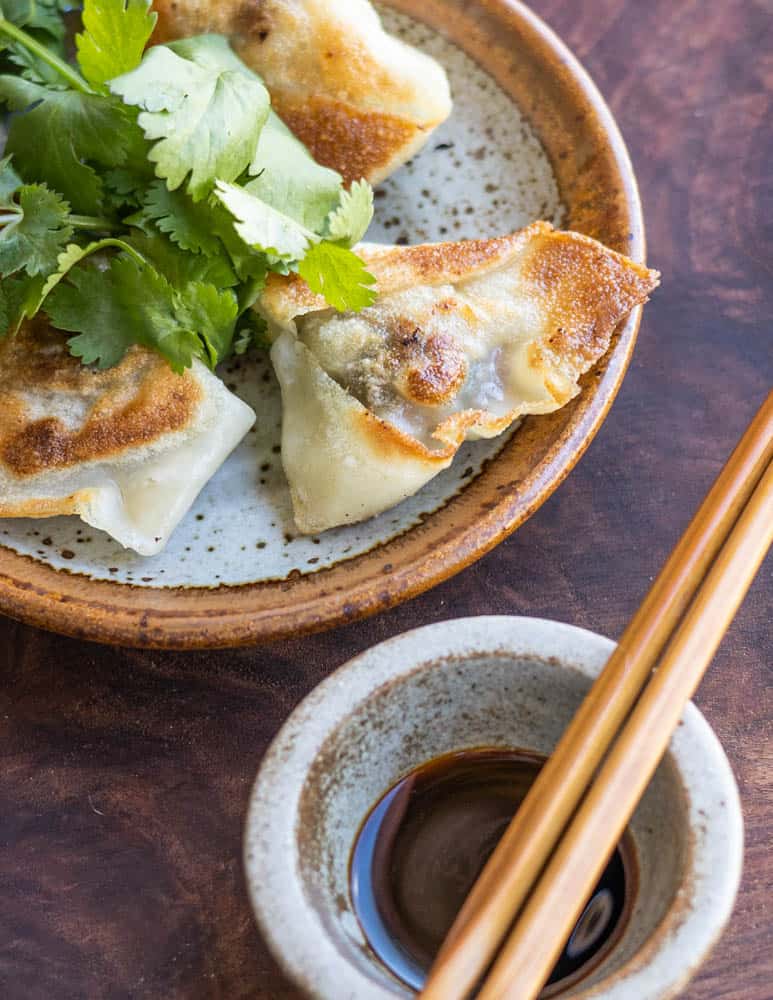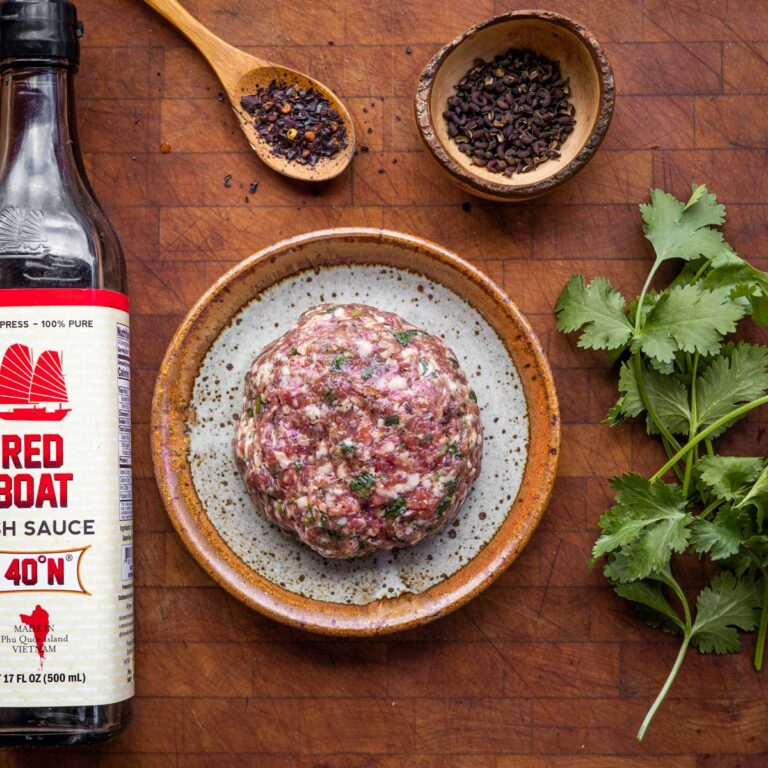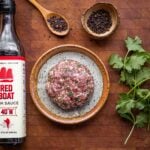 Print Recipe
Prickly Ash Sausage
A rich sausage flavored with ground prickly ash berries, spices and herbs. Makes a pound, which is a good test batch to make sure you like it.
Ingredients
1

lb

ground goat

lamb or pork

2

teaspoons

ground dried prickly ash berries or Szechuan peppercorns

Use half this amount if using commercial Szechuan peppercorns or if your peppercorns are very aromatic or red in color.

1

tablespoon

fish sauce

preferably Red Boat brand

½

teaspoon

salt

½

teaspoon

red pepper flakes

or to taste, depending on your heat tolerance

⅛

teaspoon

freshly ground cloves or ½ teaspoon ground spicebush berries

1

teaspoon

fresh ginger

finely grated

1

small clove garlic

finely grated (about ½ teaspoon)

1

teaspoon

maple sugar

or other sugar

Small handful of chopped fresh cilantro, culantro, or rau ram
Instructions
In a mixing bowl, combine the meat mix with the remaining ingredients and mix thoroughly, then allow to rest overnight, which will allow the salt time to bond and activate the myosin in the meat which helps keep it moist.

The sausage will keep for 3-4 days in the fridge.
Notes
Scaling 
You can scale this up as needed, but adjust the salt down, aiming for about 1 % of the total weight of the meat when making larger batches (a great reason to have a kitchen scale).
Nutrition
Serving:
3
oz
|
Calories:
261
kcal
|
Carbohydrates:
1
g
|
Protein:
15
g
|
Fat:
21
g
|
Saturated Fat:
9
g
|
Polyunsaturated Fat:
2
g
|
Monounsaturated Fat:
9
g
|
Cholesterol:
66
mg
|
Sodium:
572
mg
|
Potassium:
221
mg
|
Fiber:
0.1
g
|
Sugar:
1
g
|
Vitamin A:
60
IU
|
Vitamin C:
0.2
mg
|
Calcium:
19
mg
|
Iron:
1
mg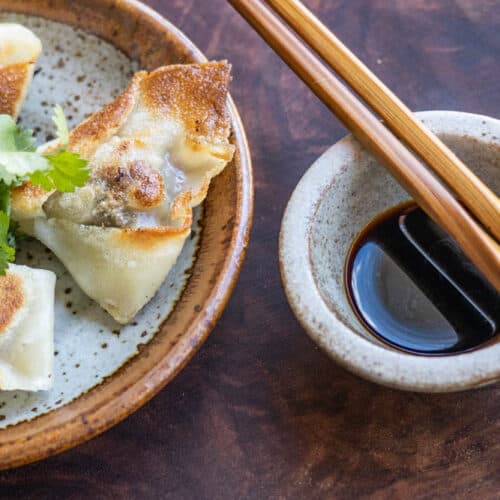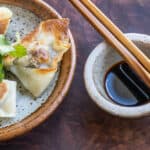 Print Recipe
Prickly Ash Sausage Postickers
Crispy fried dumplings filled with prickly ash sausage. Great dipped in a little soy or ponzu sauce.
Ingredients
1

lb

Prickly Ash Sausage

See recipe

1

package

pre-made wonton wrappers

Look in the vegetable section of the grocery store near the tofu.

Water, for brushing the wrappers

Soy sauce, or another condiment like ponzu, for serving
Instructions
Lay out the wonton wrappers, brush lightly with water, then put a generous teaspoon of sausage in the middle of each one.

Close the wontons to make triangular packets, seal, and repeat until all the sausage is used.

Unused wonton wrappers will keep in the fridge for weeks.

To cook the wontons, bring a pot of lightly salted water to a boil, add the dumplings and cook for 30 seconds or so, just until they float, then immediately remove with a strainer or slotted spoon to drain.

From here, ideally you'll cook the dumplings straight-away, but you can toss them with oil and keep them in the fridge for a day or two, separated with parchment or on a cookie sheet, not touching to prevent them sticking.

To finish and serve, brown the blanched dumplings in a pan with some flavorless cooking oil until browned (one side only is fine) then serve. They can also be deep or shallow fried.