A refined French mousse of pheasant with morel mushrooms and spring vegetables is a restaurant dish I used to serve at the peak of Spring. It takes some time to prepare, but it's worth making just to learn how to turn pheasant breast into a juicy, tender main course.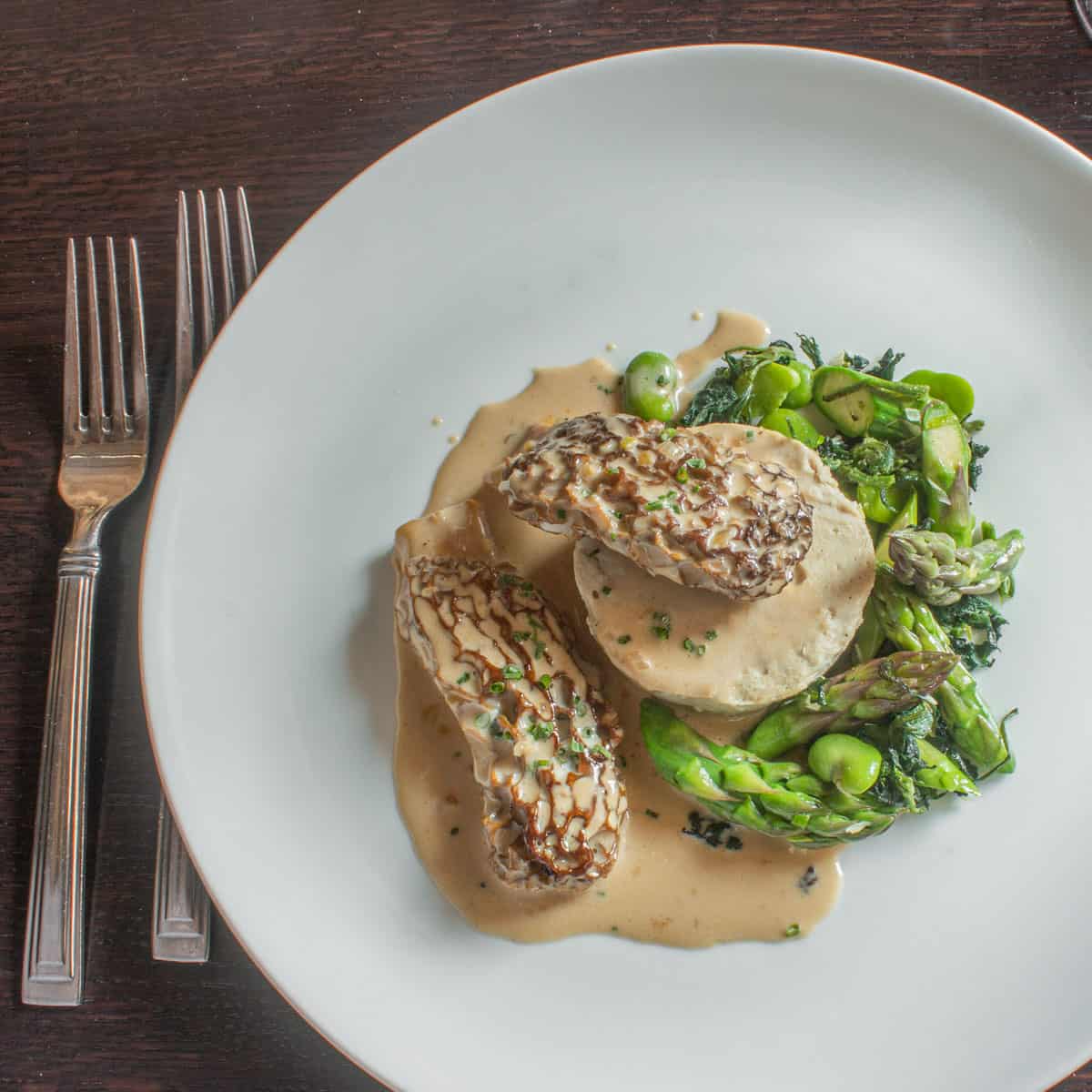 This Spring I was rummaging around the freezer and found a couple pheasant breasts, the sad kind I usually get donated by friends who hunt and just breast the birds out and throw away the legs and skin. It's too bad more people don't save all of the animal they kill, but I'm happy to give the meat a good home when I can, rather than it rot in someone's freezer until next season, and the next.
Pheasant, turkey, and game bird breasts that need to be cooked through (peacock!) can be tough to cook, and eat. The breasts are lean and need to be cooked gently, or wrapped with some sort of fat to mimic the natural skin that helps keep the meat moist.
Another way to ensure tender meat is to make a mousseline, or forcemeat a technique I use where lean meat is pureed with egg white, cream and bread in varying proportions depending on what I want to make.
What you end up with is a fluffy, juicy little nugget of meat. I use it often when I'm working with game meat, since combining the meat with other, neutral ingredients like cream, egg white or bread mellows strong flavors.
If you have anyone around that says they hate pheasant, venison, duck or pretty much anything else that can have a stronger flavor, try it out sometime. Real quick too, I used common stinging nettles here, but wood nettles would be great too.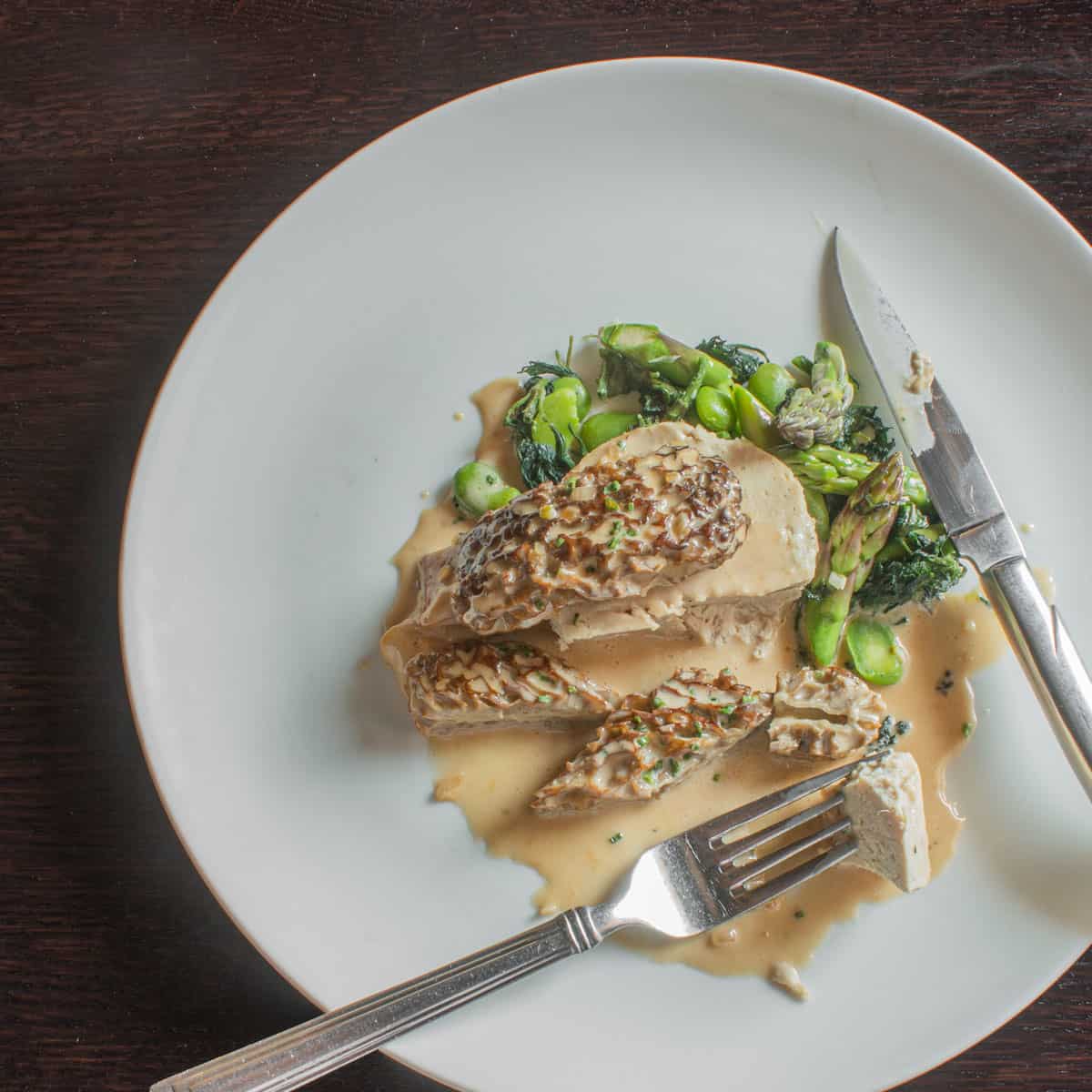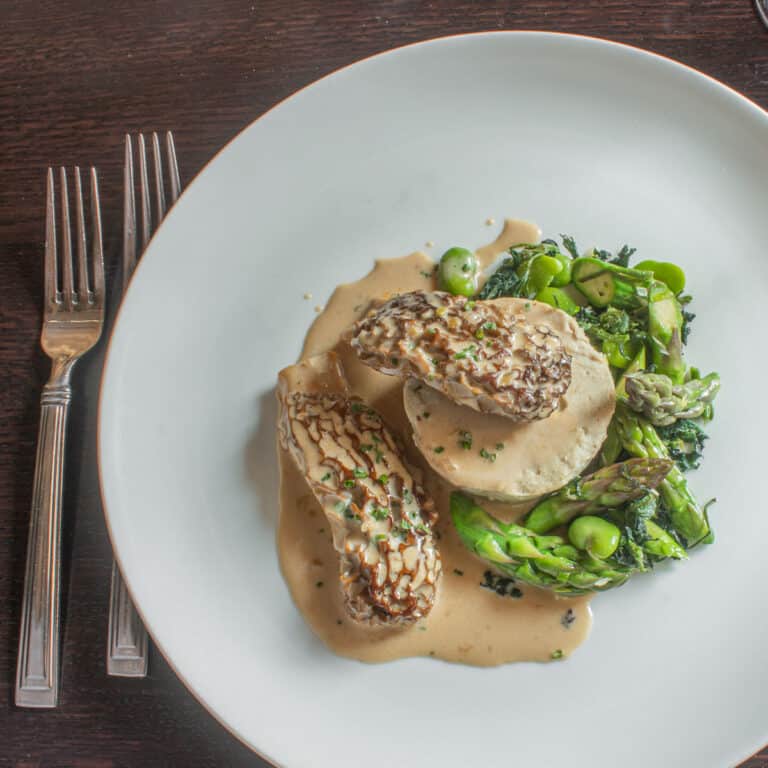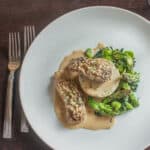 Print Recipe
Pheasant Mousseline With Morel Mushrooms, Nettles, Asparagus and Green Garlic
Yield: Four 4 ounce ramekins, enough for 4 entree portions
Ingredients
Pheasant Mousseline
1

lb

pheasant breast

4

large egg whites

roughly 4 ounces

2

ounces

mild tasting

seedless bread, like a white pullman or brioche, crust removed, diced 1 inch

½

cup

whole milk

for soaking the bread,

½

cup

heavy cream
Seasonings
5

teaspoons

kosher salt

7

scrapes of fresh nutmeg

1

teaspoon

fresh chopped thyme

1

teaspoon

garlic

microplaned or ground to a paste in a mortar and pestle

2

ounces

pork back fat

diced ½ inch and chilled (bacon can be substituted, but it will make a smoky tasting mousseline, and will taste more like smoked pork than pheasant)

⅛

teaspoon

ground fresh white pepper

optional, I use white pepper for lack of color mostly
Brandy Morel Sauce
8-12

ounces

fresh morels

depending on size and availability

2

tablespoons

unsalted butter

1

tablespoon

shallot diced ¼ inch

1

ounce

cognac

½

cup

very strong homemade chicken stock

½

cup

heavy cream

Kosher salt

to taste
Sauteed Asparagus, Nettles, and Fava Beans with Green Garlic
8

ounces

fresh asparagus

3

ounces

stinging nettles

2

ounces

shucked fava beans

1

tablespoon

green garlic

diced ¼ inch

3

tablespoons

unsalted butter

Kosher salt and fresh ground black pepper

to taste
Instructions
Pheasant Mousseline
Preheat the oven to 250 with the fan on low if using a convection oven.

Soak the bread in milk until very soft, about 10 minutes.

Dice the pheasant meat and fat into 1 roughly 1 inch cubes. Grind the pheasant and fat through the fine plate of a meat grinder, then squeeze the milk from the bread and add it to clean the grinder, reserve the ground meat and bread.

Remove the meat-bread mixture to the bowl of food processor, then process, gradually adding the egg whites one at a time until the mixture is smooth. Finally drizzle in the cream.

Cook a small amount of the mixture to double check the seasoning and adjust as needed.

Butter four 4 ounce ramekins, then fill with the mousse mixture.

Put the ramekins of mousseline in a baking dish, fill until water comes half-way up the sides, then cover the pan with plastic wrap (preferably heavy-duty as it doesn't melt-see a good home brand here) finally wrap the pan in foil.

Steam the pan of mousselines for 20 minutes or until just set. Remove and serve immediately, or cool, wrap in plastic wrap and refrigerate until needed.
Brandy Morel Sauce
If the morels are very large, cut them into slices or halve them. Sweat the morels in the butter until lightly browned, add the shallot, season lightly with salt, cook for a few minutes more, then deglaze with the cognac. Add the chicken stock and reduce by half, then add the cream and simmer a moment more until slightly thickened. Reserve the sauce until you're ready to serve the dish.
Vegetables and Plating
Bring a pot of lightly salted water to a simmer and have an ice bath ready. Blanch the favas, then the asparagus, then the nettles, shocking them in ice water. Heat the butter over medium heat, then add the green garlic and cook for 30 seconds then the asparagus and fava beans. Add the nettles, season to taste with salt and pepper and serve alongside the hot mousseline. Spoon the sauce and morels on top of each mousseline and serve.
Notes
This is easy to make if the mousseline is made the day before, which will make it taste better too. Just saute some morels with a little shallot and make a sauce, then quick saute some green vegetables. Cook any blend of fresh green vegetables you like here, lettuce, peas, favas, and asparagus are particularly good. 
More