Buttery hot morels spooned on top of a toast spread with goat cheese and a fresh green salad is one of my favorite French morel recipes. My girlfriend passed the recipe to me, and it's one of her favorite memories of living in France.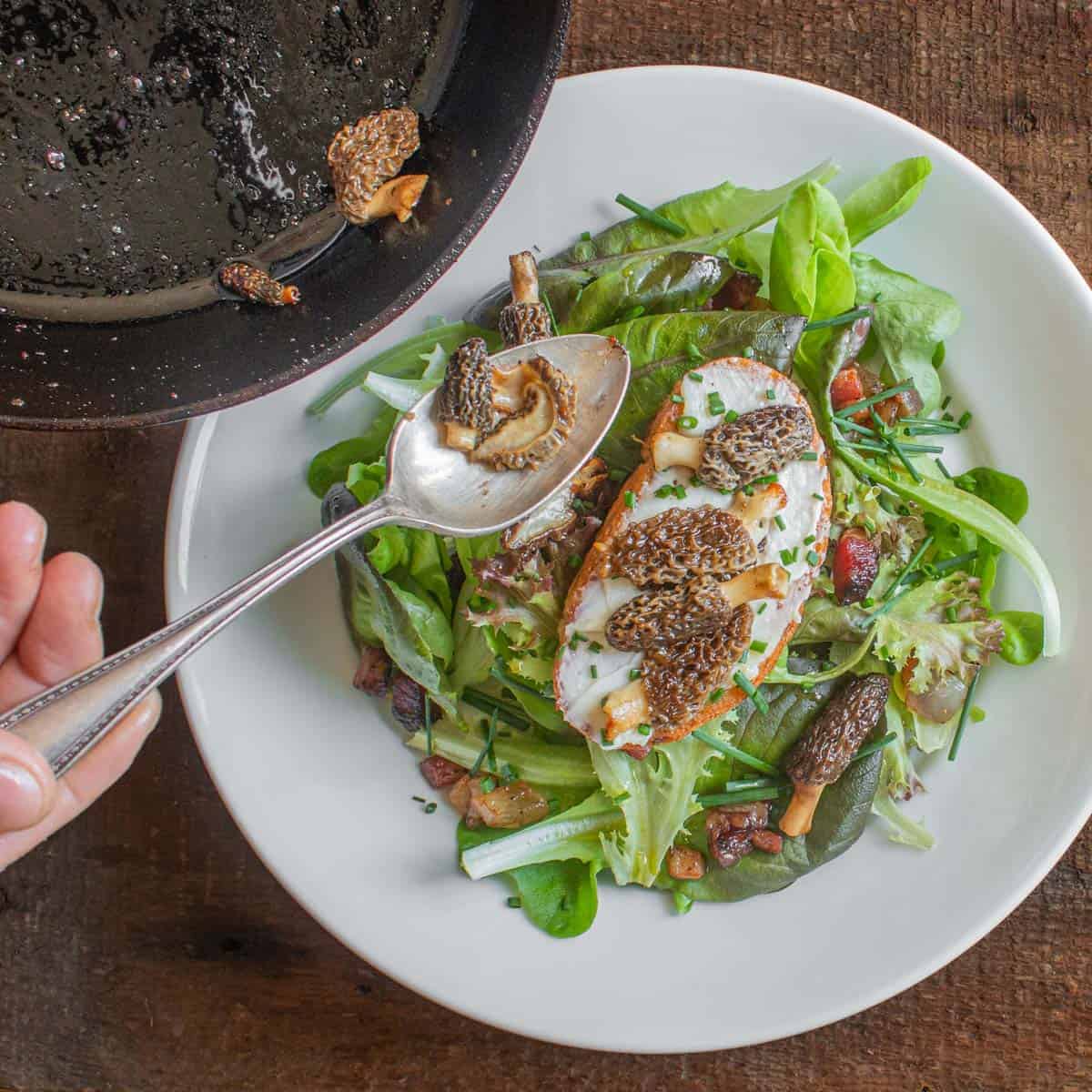 The connection between memories and what we eat is a strong one. If I wanted I could recall my entire life as a timeline through what I ate, or just foods I remember, each particular thing imprinted for a reason only my esculent oriented brain could tell you.
Wild mushrooms are no exception, and the memories connected with them even more vivid for those that hunt them. I bet anyone who's picked a morel can probably tell you about the first time they ate them, where they were, who they were with, and how they were prepared.
This salad isn't a memory of mine, it's my girlfriends. When she arrived in France to study abroad for a semester as a teenager, one of the first things she did was go to a little bistro and get something to eat. Here's the story she told me.
It was her first night in Paris as a Fulbright scholar, she didn't have much money, but took a little of what she had to treat herself to dinner.
She walked around for a while and found an inviting looking bistro filled with dim, romantic lighting, that classic French restaurant music and lots of cool looking French people, it felt comfortable, a welcoming sight in the new country she'd be calling home for a time.
Her French was still a little choppy, and she remembered feeling self-conscious about it talking to her waiter, a calm older gentleman. She asked him what she should order, and he told her about a salad they were serving with morilles (moh-reez), or morels.
She didn't know all of the other ingredients on the menu, but she knew morels from back home in Wisconsin. Being a little homesick, she ordered the salad and the nicest glass of French wine she could afford.
When the salad arrived, she could smell the steaming morels, drenched in butter and smothering a grilled slice of pain de campagna (google boule for a picture of the classic loaf the restaurant used) along with melted goat cheese.
She ate her morel salad, divvying up every last piece of cheese toast, lettuce and morels equally so that every bite was perfect. She washed down the salad with the rest of the wine and went out into the night happy, and satisfied.
It's fascinating to me how a nudge or question about food memories can bring you immediately back into the moment, into the memory. I could've closed my eyes and been in the little bistro with her while I listened to all the details.
For her, the morels were a little taste of home, a little something new and seemed to me a sort of symbol of her stay in France, which ended up being a personal journey that would influence her the rest of her life, and consequentially through her work being a writer and editor, the lives of millions of people in the years to follow.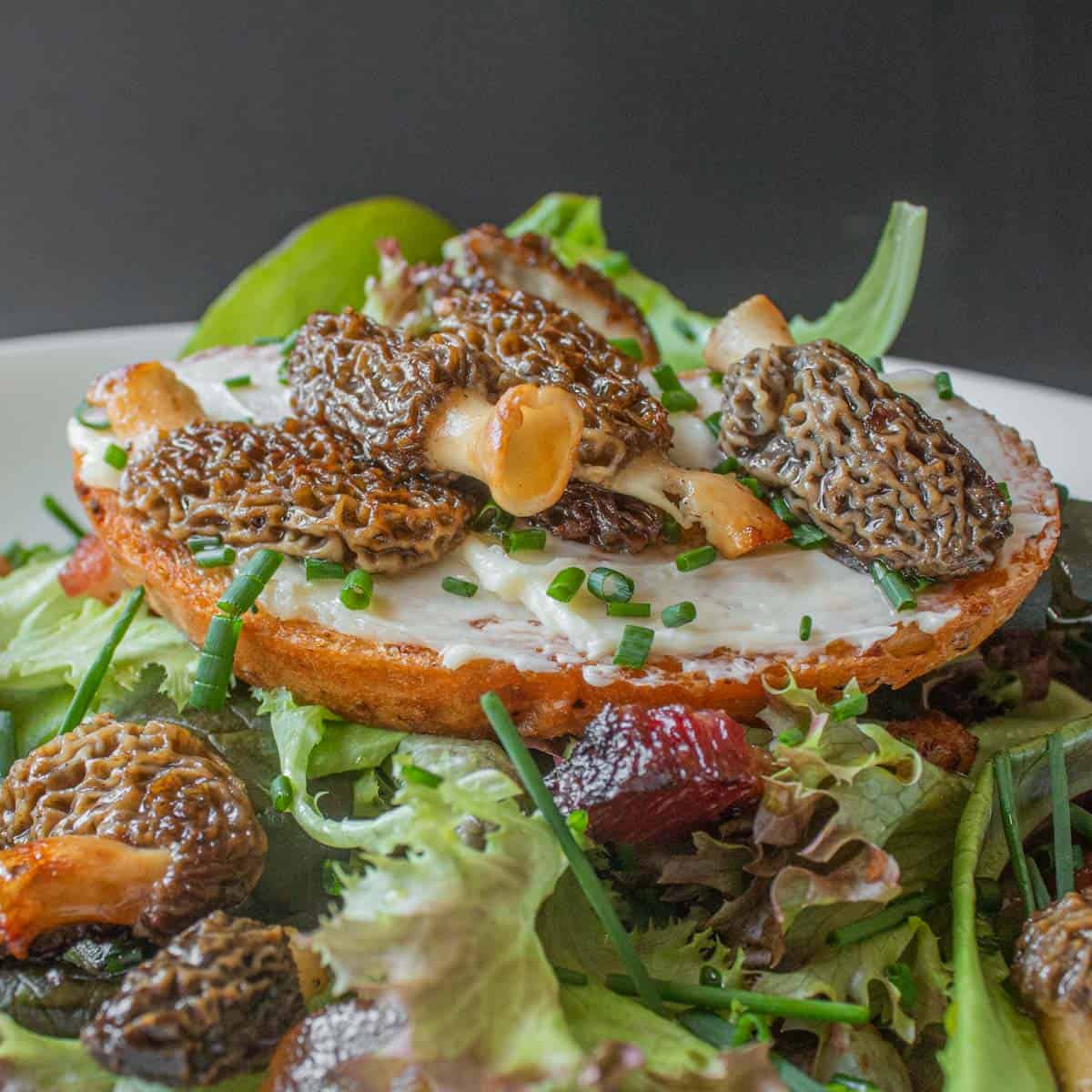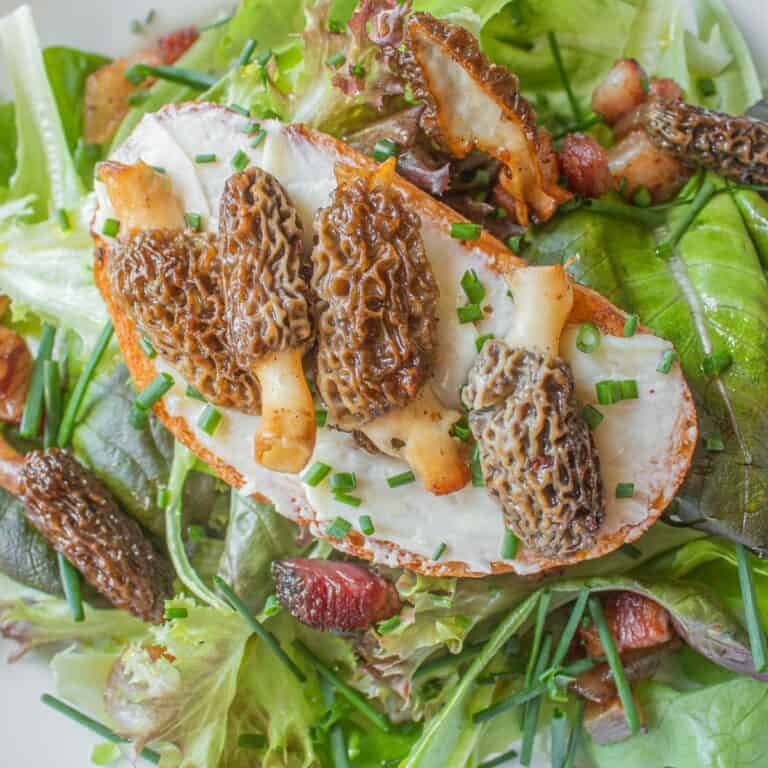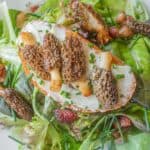 Print Recipe
French Morel Mushroom Salad
A classic French salad with warm morels and goat cheese croutons
Ingredients
4

ounces

fresh morel mushrooms

4

ounces

fresh slab bacon

optional, but recommended

3

tablespoons

unsalted butter

Fresh cut chives

sliced ¼ inch, to taste

¼

cup

red wine vinegar

Kosher salt and fresh ground black pepper

to taste

6

ounces

highest quality salad greens you can find, a mix of tender sweet lettuces, washed, and dried. I like varieties like deer tongue, speckled romaine, oak leaf and small butterhead.

2

slices

of rustic French boule

or another bread you like, cut into ½ inch slices +a little flavorless oil for grilling

¼

cup

soft

spreadable chevre (if your chevre isn't spreadable I loosen it by stirring in a little heavy cream)
Instructions
Trim, clean and rinse the morels if needed to remove any grit, then allow to dry on towels.

Dice the bacon into ½ inch cubes, then cook slowly in a heavy pan, like a cast iron skillet or 10 inch saute pan, add the vinegar to the pan and cook for a few minutes, then pour the bacon-vinegar mixture into a small bowl and reserve.

Wipe out the pan so you can cook the morels in it. Meanwhile, oil and grill the bread or fry in a pan (it's better grilled). Melt the butter in the pan and add the morels and cook until any juices have evaporated and the morels are caramelized, season the morels to taste with salt and pepper.

To plate the salad toss the vinegar-bacon dressing with the lettuces, adjust the seasoning as needed, then divide the salad evenly between two room temperature plates. Take a piece of hot grilled toast and smear with some of the goat cheese, then put on top of the salad, and divide the morels evenly between the two pieces of toast on each plate. Sprinkle each plate generously with the chives and serve immediately.
Notes
A great variation would be to get some really nice French cheese to melt on the toast here. St Marcellin, a brie, boucheron, or another of your choice would be great. I use my favorite chevre (from Donnay dairy) because it's what I had on hand, but you'd be rewarded for going out of your way to get a little bit of something special.
Nutrition
Serving:
3
oz
|
Calories:
588
kcal
|
Carbohydrates:
20
g
|
Protein:
14
g
|
Fat:
51
g
|
Saturated Fat:
24
g
|
Polyunsaturated Fat:
5
g
|
Monounsaturated Fat:
17
g
|
Trans Fat:
1
g
|
Cholesterol:
111
mg
|
Sodium:
633
mg
|
Potassium:
575
mg
|
Fiber:
2
g
|
Sugar:
2
g
|
Vitamin A:
1893
IU
|
Vitamin C:
20
mg
|
Calcium:
99
mg
|
Iron:
9
mg
More