Cow parsnip blossom tempura is one of, if not the best cow parsnip recipe, ever. The young, unopened flower blossoms of the plant are delicious, and much more mild tasting than the stems and leaves.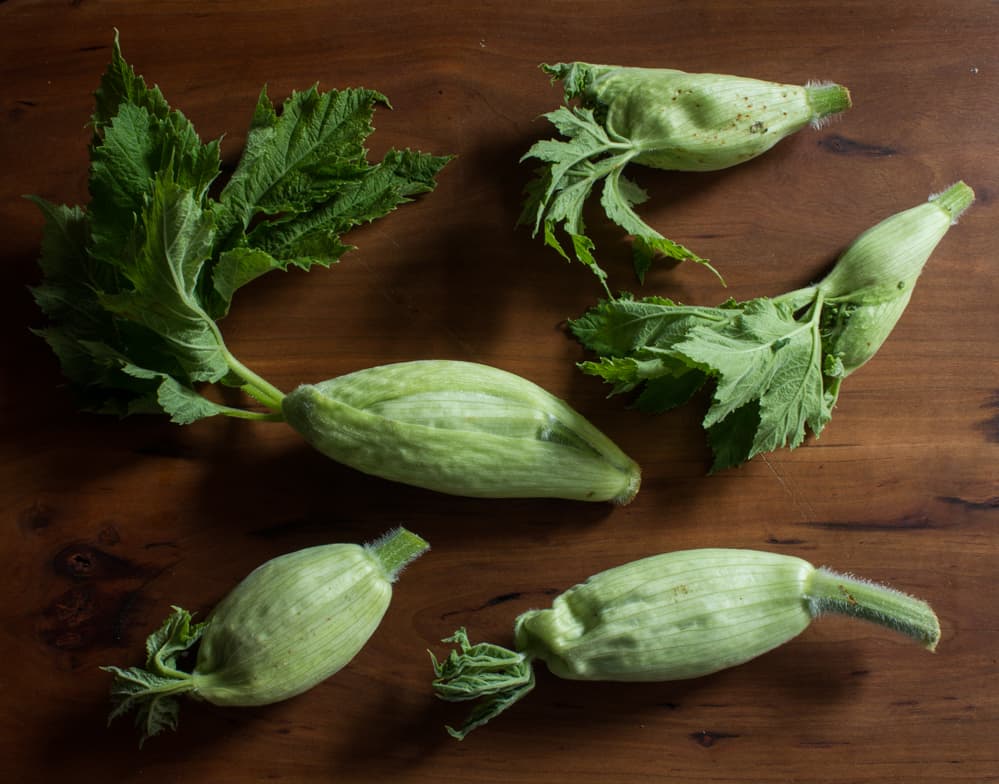 I found an Italian website (I've since tried to find it and it's gone or has been taken down) that talked about hunting mushrooms, but also mentioned older women from the Italian village where the author was staying who picked wild plants to bring to the local market to sell.
While I was translating the website content from Italian, I ran into a couple words in one of the paragraphs: "frittura", "fiori", and in parenthesis "Heracleum". I knew what was happening: the Italian ladies were picking (and deep frying) cow parsnip flower blossoms. I thought it was fascinating. To my knowledge in Minnesota we have Heracleum lanatum.
The Spanish and Italians are known for their zucchini and pumpkin blossom eating penchant, but I'd never really thought about eating the blossoms of any other plant before. It made me wonder too, since foraging is an integral part of so many cultures, if consumption of Cow Parsnip blossoms (or some other blossom that's really awesome I don't know of) could pre-date the more well known zucchini and pumpkin.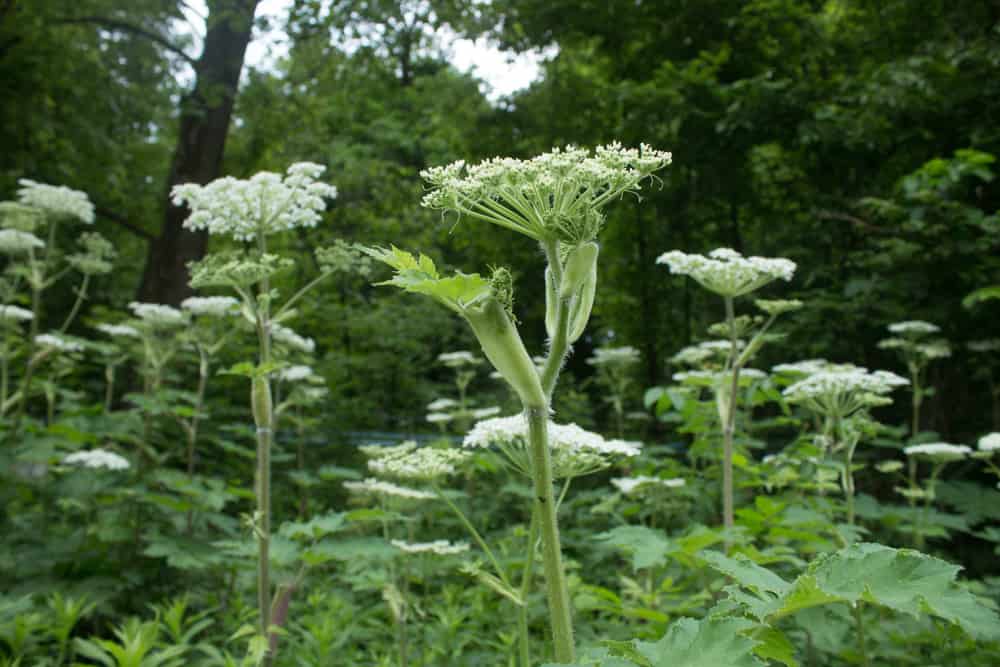 If you haven't eaten cow parsnip stalks or leaves, the flavor is fantastic. Like it's relative angelica, it has a potent aroma/flavor, intense and full of perfume. It's a strong flavor, but an awesome one.
Pressed, I'd probably say it tastes a bit like lovage, but with less celery and more citrus notes, and much less medicinal tasting than angelica, especially after cooking. I can't talk enough about how Cow parsnip is a fantastic vegetable, not a toxic danger.
I kept on checking a place I was staking out for the cow parsnip and once summer started creeping in I knew I was going to hit paydirt, the question was all going to be about timing. The plant shoots out flowers that come out of a blossom that gradually opens, the trick is getting the blossoms at the right time-a few days late and they'll just be a cluster of flowers.
To compound things, after the flowers form, most edible parts of the plant will start undergoing the changes we associate with a plant going to seed and maturing: becoming tough, stringy and not that pleasant to eat.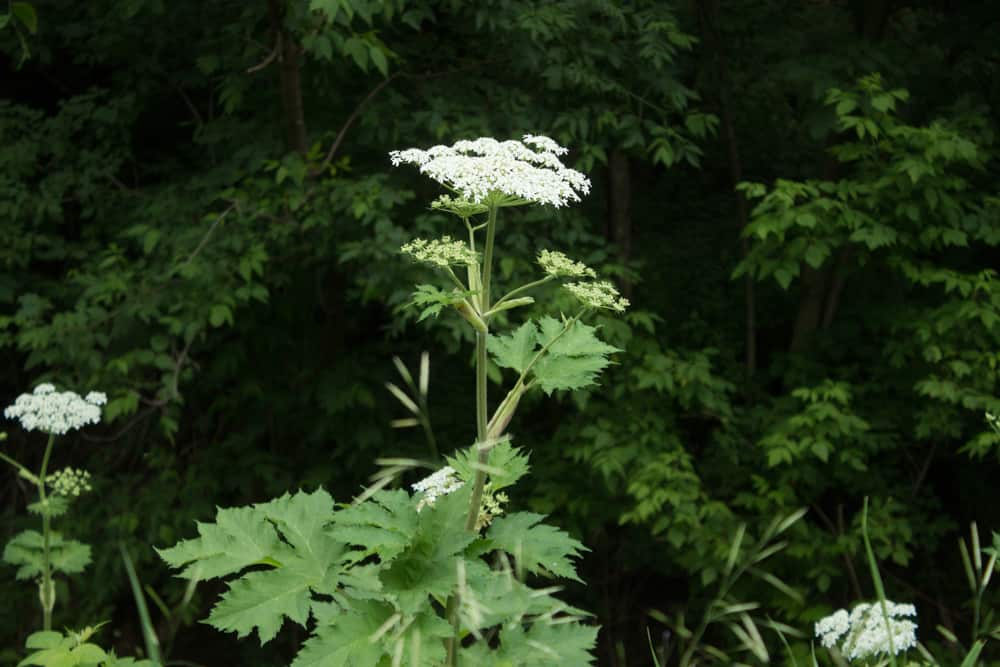 I ended up being able to harvest from the colony a couple different times, since not all of the plants will shoot their flower stalks up at the same time.
I'd put on my gloves to prevent getting the parsnip rash (which is really nothing to be scared of), pick a bag of blossoms, cool them down quickly and refrigerate, wait a couple days, pick another bag, repeat. After a couple trips I had enough for 2 nights of dinner service at the restaurant.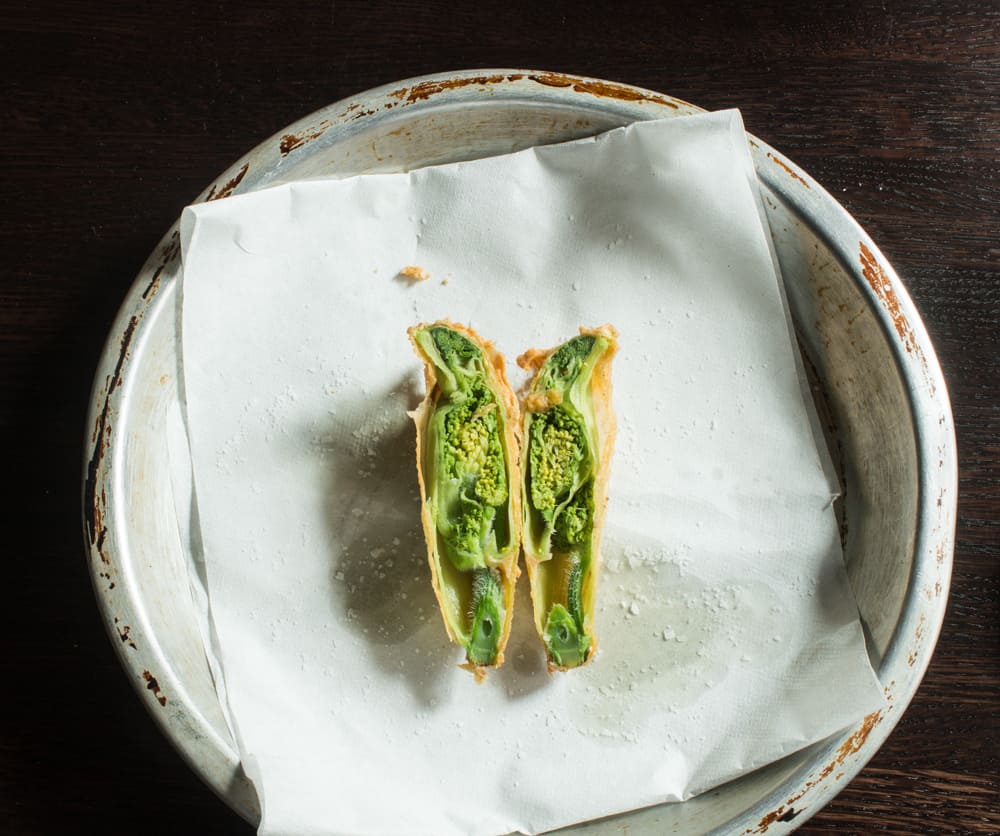 One night I remember just standing with my fridge open staring at the outer space-looking blossoms in their plastic bags, appreciating them, inspecting them.
They're large, meaty blossoms, with a lot more going on compared to to zucchini or pumpkin, since unlike those blossoms, cow parsnip is filled with unopened flower buds, which ends up tasting like perfumey broccoli, in a soft little caccoon.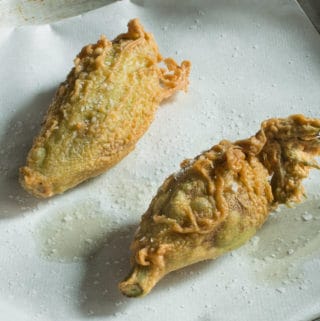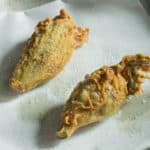 Print Recipe
Cow Parsnip Blossom Tempura
Yield: enough batter to bread roughly 10-12 cow parsnip blossoms
Equipment
1 3 quart pot for deep frying
Ingredients
8

oz

Cow parsnip blossoms

or as needed, leaves removed

1

cup

flour

1

large

egg

¾

cup

soda water

½

teaspoon

salt

1

tablespoon

paprika

for color, optional

⅛

teaspoon

black pepper
Instructions
Inspect the cow parsnip blossoms for any debris or foreign particles, then wash if needed and dry.

Combine the dry ingredients, then mix the wet until just combined.

Heat a deep fryer to 375 degrees.

Dip the blossoms in the batter until well coated, then drop one at a time into the hot oil. Cook the blossoms until golden brown then drain, sprinkle lightly with salt and serve hot with a slice of lemon or some aioli.
Notes
I don't usually like to make any cliche wild food fritters, since deep frying things is heavy handed and can be a cop-out, but these don't care. Just give in and fry them. They're great served with slices of lemon, or my favorite: a lemony, garlic aioli. 
As strong as the flavor of cow parsnip is, overcooking them will destroy their perfume, just a tip. 
Nutrition
Serving:
2
blossoms
|
Calories:
145
kcal
|
Carbohydrates:
27
g
|
Protein:
5
g
|
Fat:
2
g
|
Saturated Fat:
1
g
|
Polyunsaturated Fat:
1
g
|
Monounsaturated Fat:
1
g
|
Trans Fat:
0.01
g
|
Cholesterol:
47
mg
|
Sodium:
356
mg
|
Potassium:
239
mg
|
Fiber:
2
g
|
Sugar:
1
g
|
Vitamin A:
1184
IU
|
Vitamin C:
2
mg
|
Calcium:
39
mg
|
Iron:
2
mg
More
Cow Parsnip: Identification, Edible Parts, and Cooking