I'm a wild mushroom devotee. Hunting, researching, harvesting, cleaning, cooking, preserving-I love it all. Up until now, I've only shared mushrooms I enjoy eating. The old man of the woods (Strombilomyces) is one I do not like, eat, or tell others they should eat. In fact, it's got to be one of my least favorite mushrooms partially due to the fact that it's edible.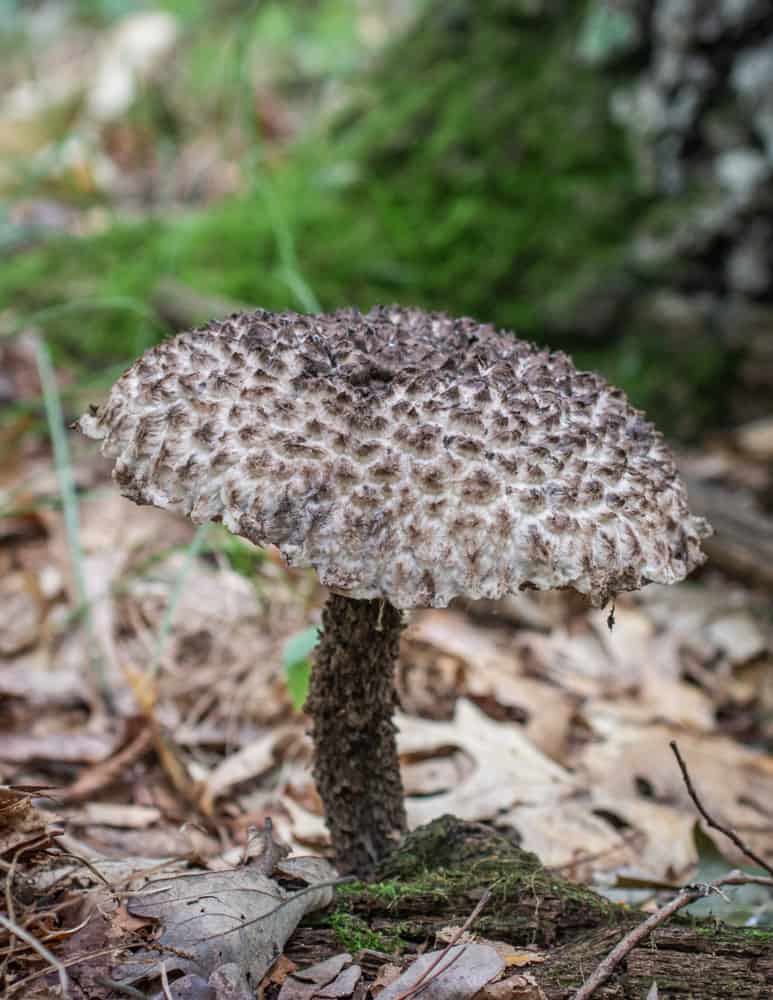 These mushrooms have a woodsy, smoky color and attractive cap pattern are easy to identify. They also have a wide distribution. These nice qualities in a mushroom, and that can make them tempting to bring home.
Tastes can vary, and some people have told me that they actually enjoy eating this mushroom. If you're one of the people that enjoy eating old men of the woods, go for it. There's going to be plenty of them out for you to enjoy since most hunters I know avoid them.
For years I've been putting off writing about the old man of the woods because the mushroom hunter in me keeps wanting to give it another shot.
But, after years of playing Ground Hog's Day with this mushroom, seeing it in the wild, enjoying it's shape and form, bringing it back to the kitchen thinking "I'll give it one more chance", then cooking it, eating it, and repeatedly finding it disgusting, I have to pass some judgement on it.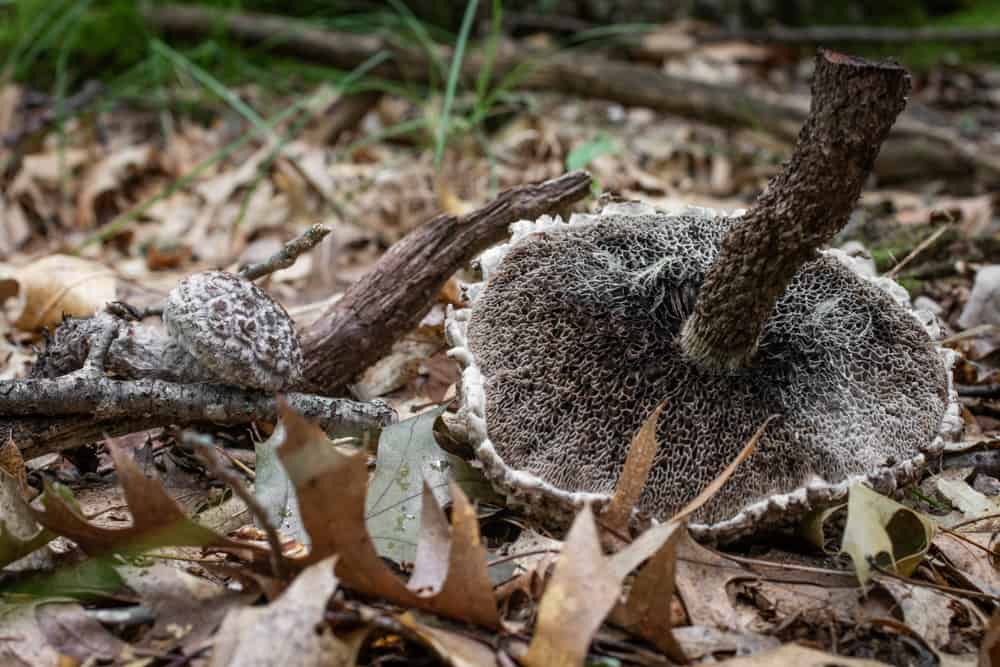 First though, a quick armchair description for those of you who may not be familiar with it, although as far as boletes go this is an easy one to identify. To clarify, when I saw "easy to identify" I'm talking about seeing the look and shape of this bolete and being able to put it in a genus, which is broad.
There are multiple types of Strombilomyces in North America, and the the mushrooms pictured are only one of them. That being said, if the as-of-yet-not-differentiated species of the old man of the woods taste anything like the ones I see in Minnesota and Wisconsin, I'm pretty confident they'll disgust me too.
In my opinion, any subtle culinary differences between different species of a mushroom that tastes this foul are probably not redeemable enough to make me put this mushroom in my mouth even one more time.
Habitat
I see the old man of the woods in deciduous forests in summer from July-Sept (roughly), typically growing with oak, as you can infer from the images in situ here.
The only good thing I can say about this mushroom, is, well, it's a mushroom, and seeing it can mean that there are other mushrooms nearby that actually taste good, especially porcini and other boletes, chanterelles, black trumpet mushrooms and hedgehogs, all of which I regularly find nearby. 
The taste: licking the underside of a moldy desk
Don't get me wrong, it's a beautiful mushroom, dark and mysterious, it just tastes awful. The taste, as good as I can describe it, starts out tasting like mushroom with the texture of a bolete, but quickly fills your mouth with a foul aroma I think is best described as musty, or moldy.
Usually when people ask why I don't like the old man of the woods, I tell them it's because it tastes like licking the underside of a desk that's been stored in an attic. That isn't the kind of taste I want to impart to a soup, or any dish for that matter.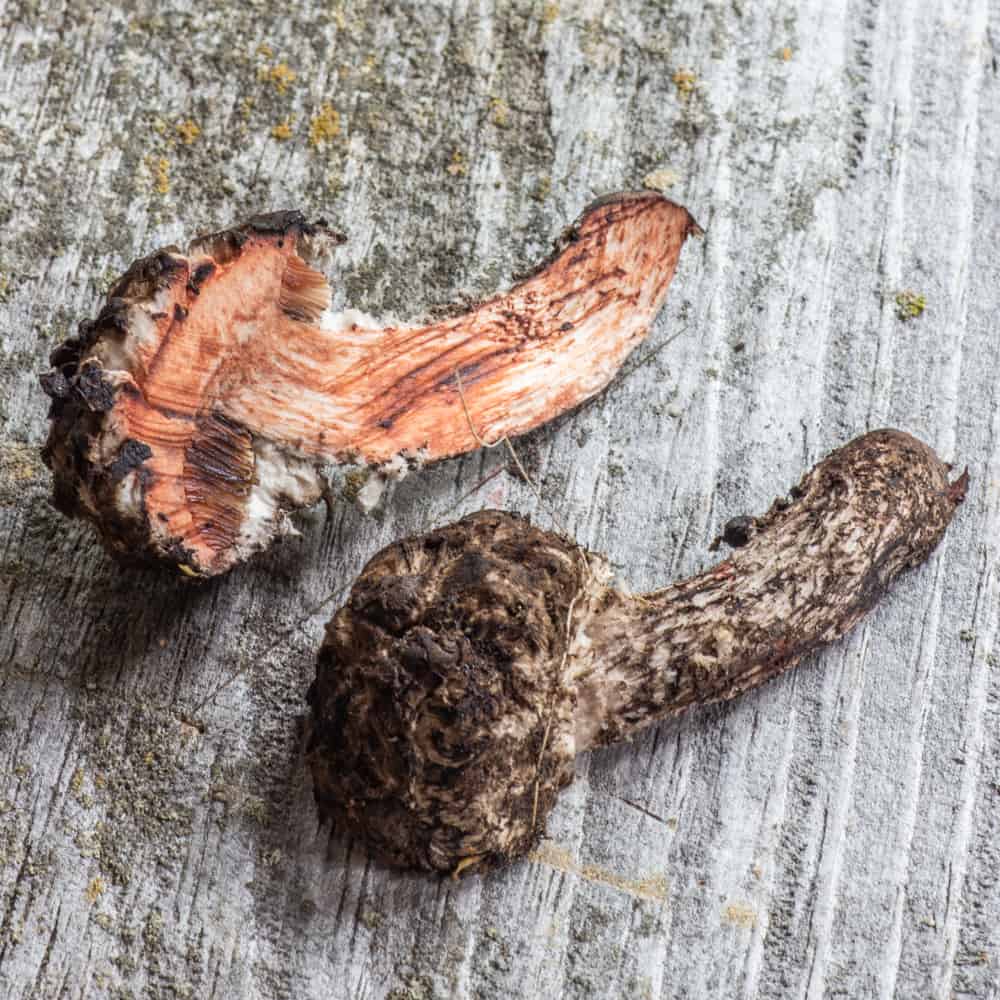 I want to know what you think though. Have you tried the old man of the woods? Do you actually like it? If so, why? From there, if you have any special tricks for taking away the awful taste, let me know. I told myself I'd never try it again, but if you have a special preparation for it I could be game, maybe.