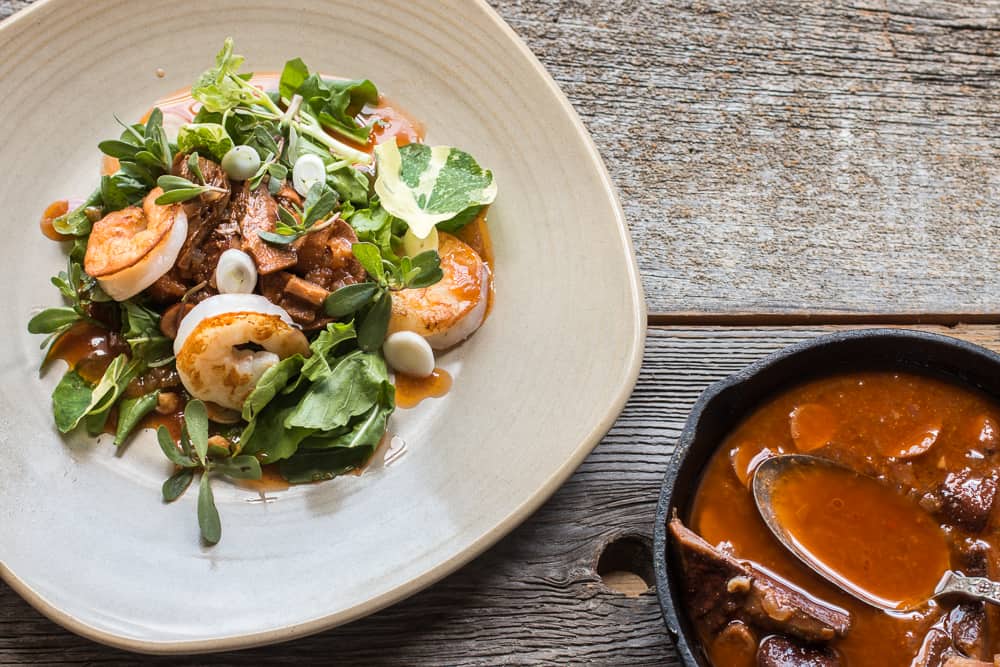 The marinated milkcap mushroom preserves I talked about in this post are fine out of the jar, but even better warmed up and put on a plate with something. I love a good salad, and my nasturtiums have been in full swing, so whatever I made, I knew they'd be going in there. A great variation on a simple cold salad is a sort of lunch-type dish I'll make on occasion where something warm is placed on the greens-sauteed mushrooms are common.
I use shrimp here, but scallops, or even something like good canned crab, gently warmed up in some butter would be great too. You could also use pieces of chicken or poultry, preferably hunks of chicken thigh, roasted in a hot pan to crisp the skin, then rested and chopped into bite-sized morsels, and spooned on the greens, along with any juice they give off.
The greens wilt a bit as you eat them, and mix them around with the hot things spooned on and around them, but they keep a bit of their crunch and life-perfect for a light meal, or when it's hot outside. With a cold glass of rose and a crust of good bread to mop up the juices of the marinated mushrooms it's excellent. I'm just going to outline a method here without proportions as it's very simple. Use whatever you have on hand and make it your own. For each person, assume four 16/20 per-pound sized shrimp. For the greens, I used nasturtiums, verdolagas / purslane, and arugula, but feel free to use your favorite fresh salad greens.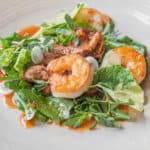 Print Recipe
Nasturtium, Arugula, and Purslane Salad with Milkcaps and Shrimp 
Nasturtium, arugula and purslane salad with milkcap mushrooms and shrimp
Ingredients
1

recipe marinated milkcap mushrooms

4 16/20

shrimp per person

or 10/20 scallops, chicken can also be substituted

Kosher salt and fresh ground black pepper

to taste

Fresh greens

from the garden and wild spaces in between, washed, and dried well-I used purslane, arugula, and variegated nasturtium leaves

Fresh green onions

to taste, optional

Cooking oil

for searing the shrimp

Extra virgin olive oil

for finishing

Fresh lemon wedges

optional
Instructions
Warm the marinated mushrooms and get them hot, but make sure they don't evaporate too much juice, which will function as the salad dressing.

Meanwhile, Heat some oil in a pan, such as cast iron, large enough to accommodate the number of shrimp or scallops you'll be searing.

It is absolutely crucial the crustaceans not touch while searing, unless you like your shrimp stewed. While the oil is heating, arrange the shrimp on a platter and season with salt and pepper, then, when the oil is lightly smoking, sear the shrimp deeply on one side, then flip and turn off the heat while you assemble the salad.

Mound the salad on room temperature plates, spoon some of the still hot mushrooms and their juice over the top, and finish by placing a few shrimp on each plate. Drizzle each plate with a little olive oil, then serve at once with the lemon wedges, and a little crusty sourdough to soak up the juices.