A simple relish made with fresh beefsteak mushrooms, or other mushrooms. There's a few things to know about this, especially if you'll use regular mushrooms. Read on and I'll explain the details.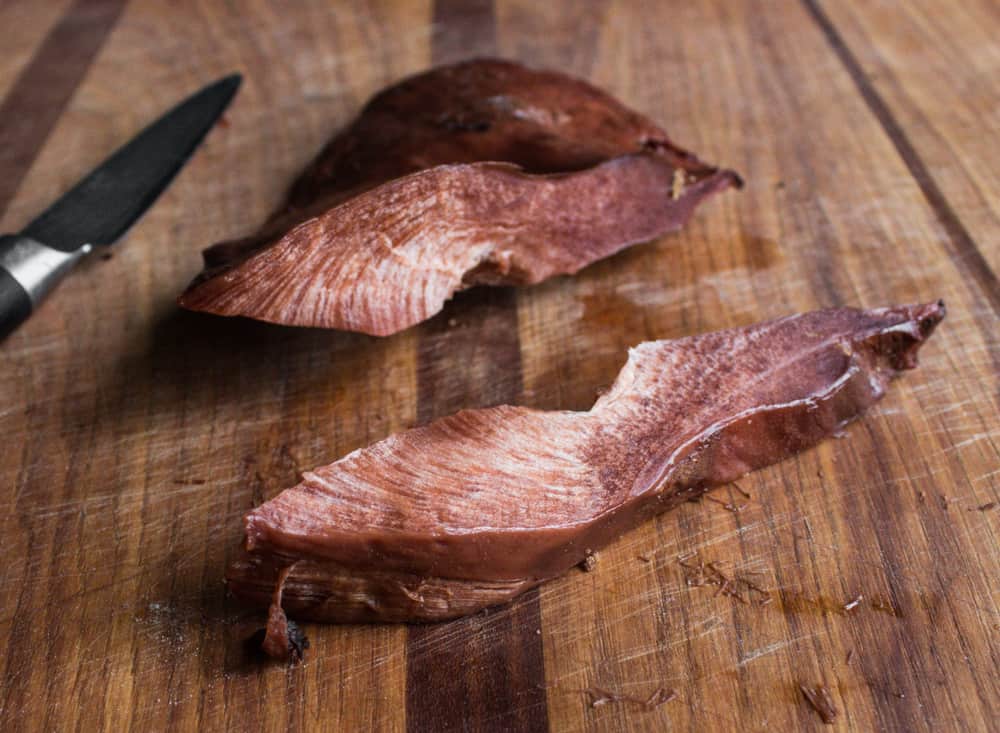 Cutting up my first beefsteak mushroom (Fistulina hepatica) was a mess. My cutting board looked like a murder scene, my hands were tacky and red, there was sticky trim scraped off of the knife in little piles around the board. In the end though, I did get a nice pile of dice from it to make the relish recipe I could see in my mind after I tasted it for the first time.
After I made a simple salad with them I enjoyed, I saw some other potential. The mushrooms were good raw, but less assertive than I thought they would be: they needed a little help, just a touch of acid.
The sour flavor is really novel with them, and absolutely worth experimenting with, as it's not often mushrooms in their natural state scream to become a condiment, or eaten raw.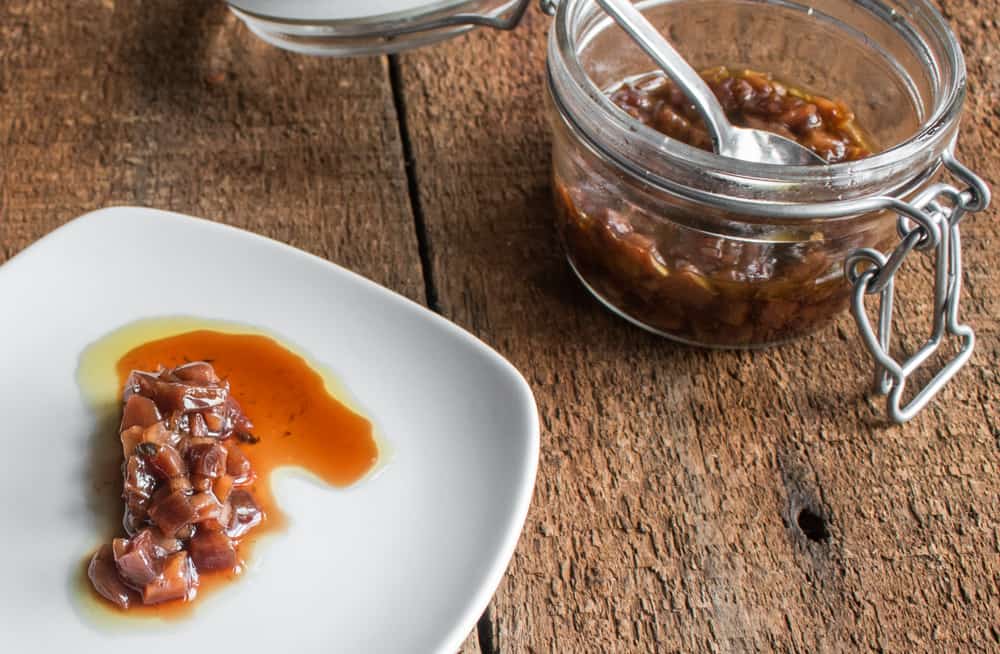 How it's made
Gently enhance the sour flavor of the mushrooms with a marinade that's low on the acid, let them sit for 24 hours, then put them on stuff. There was a bonus effect in that the juice of the beefsteaks is red.
I guessed that high heat and searing would change the composition of the juice to no longer be red, or just evaporate juice out of the mushroom to the point where it was juice-less. Keeping it raw though, could be a good experiment. Salt draws out water, and keeping the mushrooms in a wet atmosphere meant that the juice that flowed out of the mushrooms stayed red, blood red, and I was happy.
If you use other mushrooms besides beefsteaks, cook them first
Herbs to use
The relish recipe is delicate. You could add herbs to it, but I would keep them mild ones: parsley, chives, tarragon, chervil, would all be good. What I have for you here is a relish that tries to be pure and honor the beefsteak, it's nothing more than some lemon juice, a pinch of salt, some great olive oil, shallot, and mushrooms. Sometimes less is more, you know?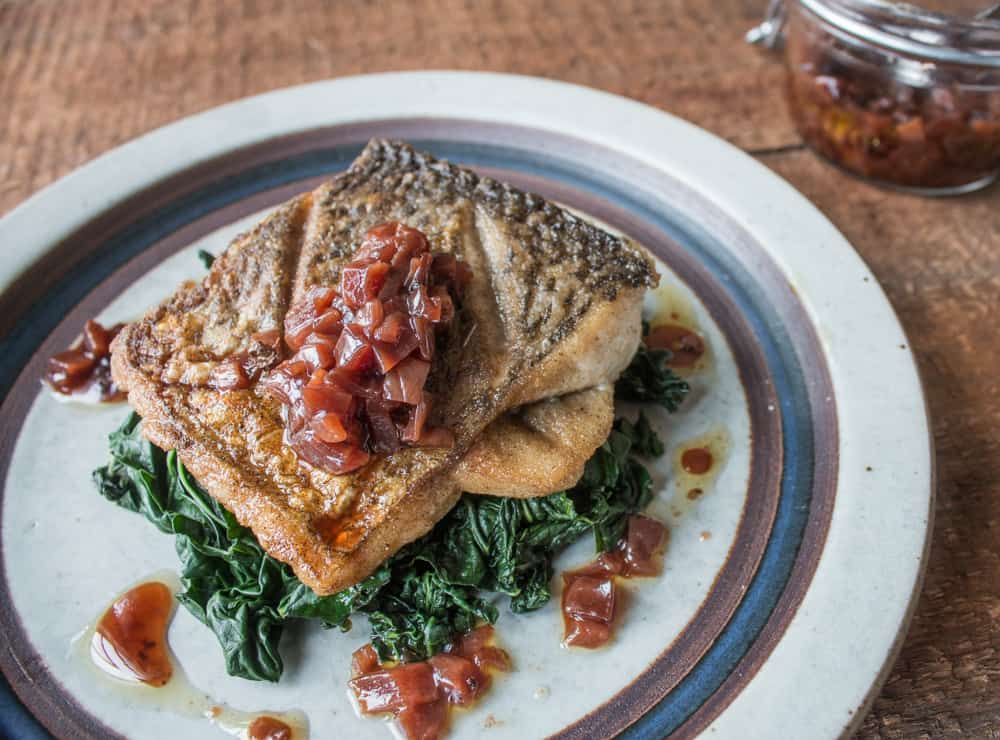 It goes without saying that it would be a shame not drizzle the blood-red juice over things that you use it on. Refer to the picture of cornmeal crusted whitefish with the relish I have pictured as an example.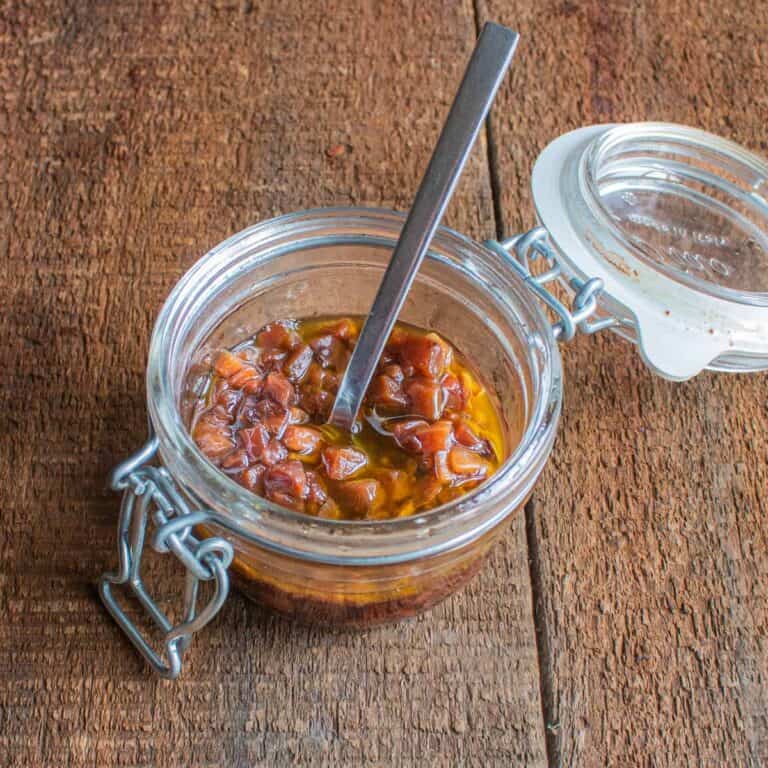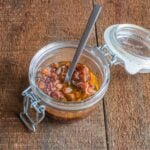 Print Recipe
Beefsteak Mushroom Relish 
Equipment
1 small mixing bowl
Ingredients
½

cup

beefsteak mushrooms

diced ¼ inch

1

tablespoon

shallot

diced ¼ inch

1

tablespoon

extra virgin olive oil

5

cracks of the pepper mill

Squeeze of fresh lemon juice

to taste

¼

teaspoon

kosher salt
Instructions
In a non-reactive bowl, like a stainless steel salad bowl, combine the salt and the shallot and let sit for 10 minutes. Add the mushrooms, oil, pepper and lemon juice and combine.

Refrigerate until needed.

The relish will keep under refrigeration for 5 days.
Notes
A quick preserve
This is a quick method for preserving beefsteaks for a few days, if you want to preserve them for longer, increase the quantities of oil and switch the lemon juice to a mild vinegar like rice or champagne since they have a controlled PH (more reliable for hermetic storage). 
Using other mushrooms 
You can make a good mushroom relish out of plenty of different mushrooms. Most wild mushrooms should be cooked before marinating. Many cultivated ones will be fine raw. 
Nutrition
Serving:
1
oz
|
Calories:
142
kcal
|
Carbohydrates:
3
g
|
Protein:
2
g
|
Fat:
14
g
|
Saturated Fat:
2
g
|
Polyunsaturated Fat:
2
g
|
Monounsaturated Fat:
10
g
|
Sodium:
585
mg
|
Potassium:
186
mg
|
Fiber:
1
g
|
Sugar:
2
g
|
Vitamin A:
0.4
IU
|
Vitamin C:
2
mg
|
Calcium:
6
mg
|
Iron:
0.4
mg