Mushroom matar or mutter mushroom masala is a well known North Indian recipe. It's basically an Indian curry of mushrooms and peas, simmered in a rich sauce with tomatoes, onions, garlic, spices and coconut milk that will make your house smell incredible. I make it with morels which are traditional, but you can use just about any mushroom.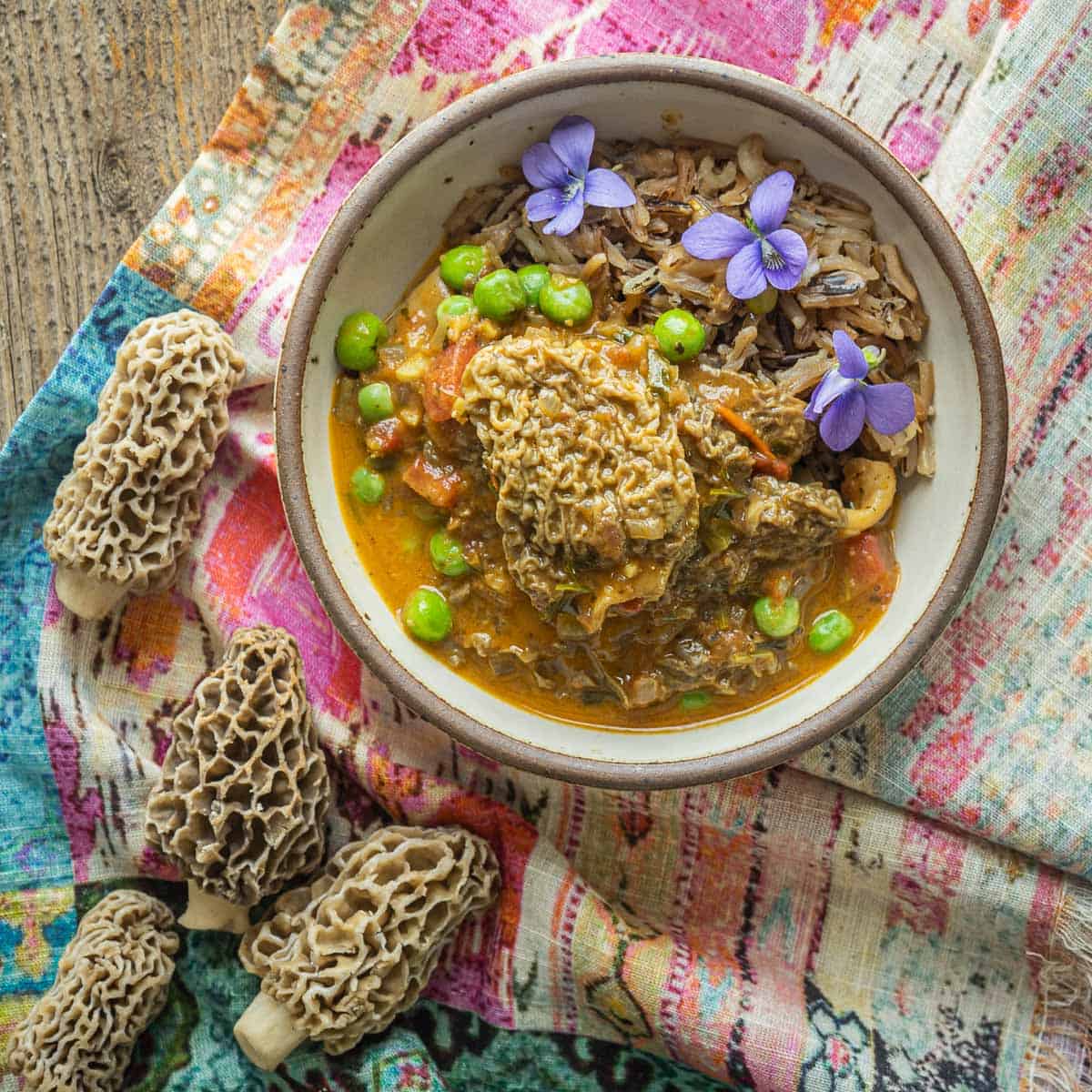 Gucchi: A Special Himalayan Mushroom
In the foothills of the Himalayas, morels are harvested and considered a delicacy for their honeycombed shape and savory flavor. The traditional Hindi name for them is gucchi (pronounced like guttchee).
They're similar to common morels (Morchella americana). Larger mushrooms are a bright to pale yellow, and younger ones come in shades of brown and grey.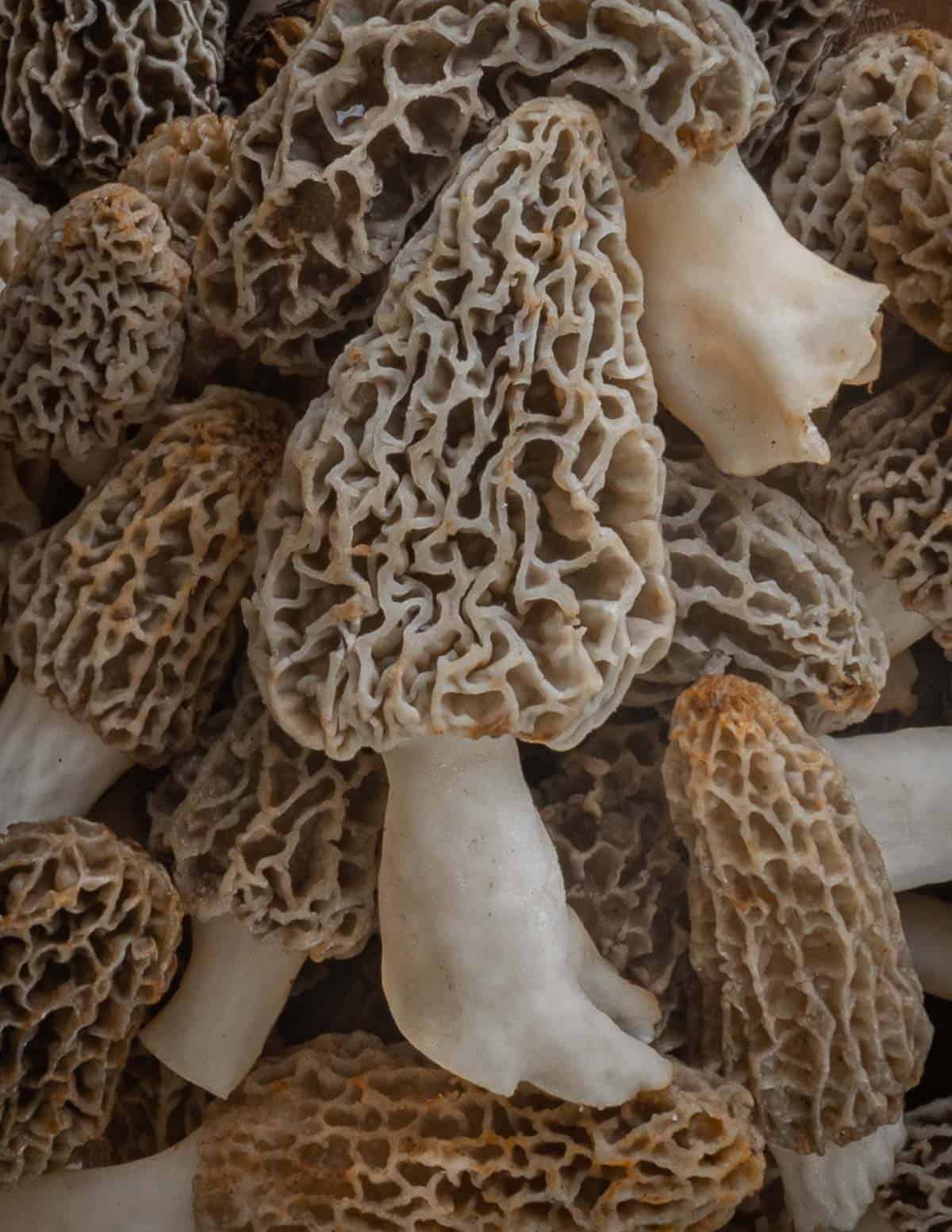 They're considerably expensive relative to other ingredients in the area. Gucchi mushrooms cost around 18000 rupees per pound (500 g), or roughly $218 USD. That's roughly half of the average monthly income in Northern India.
I suspect that price is for dried mushrooms as it's nearly the same price of dried morels in North America. Fresh Himalayan morels can be purchased in the U.S. by chefs for around $38/lb USD through wholesalers like Foods in Season.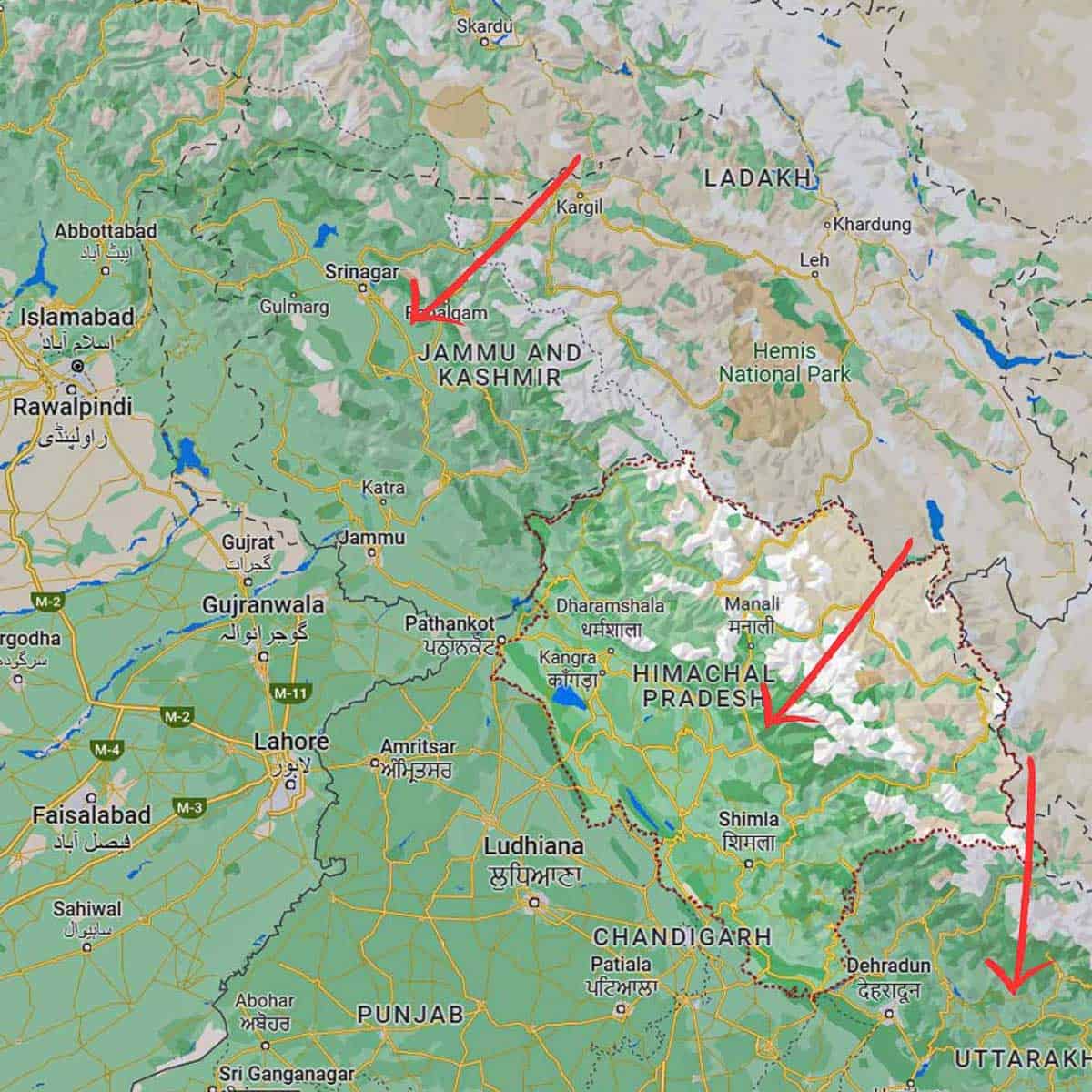 Above: Himachal Pradhesh, Uttarakhand, Jammu and Kashmir contribute to the Himalayan guchhi mushroom crop. The season goes from around February to March, depending on the elevation.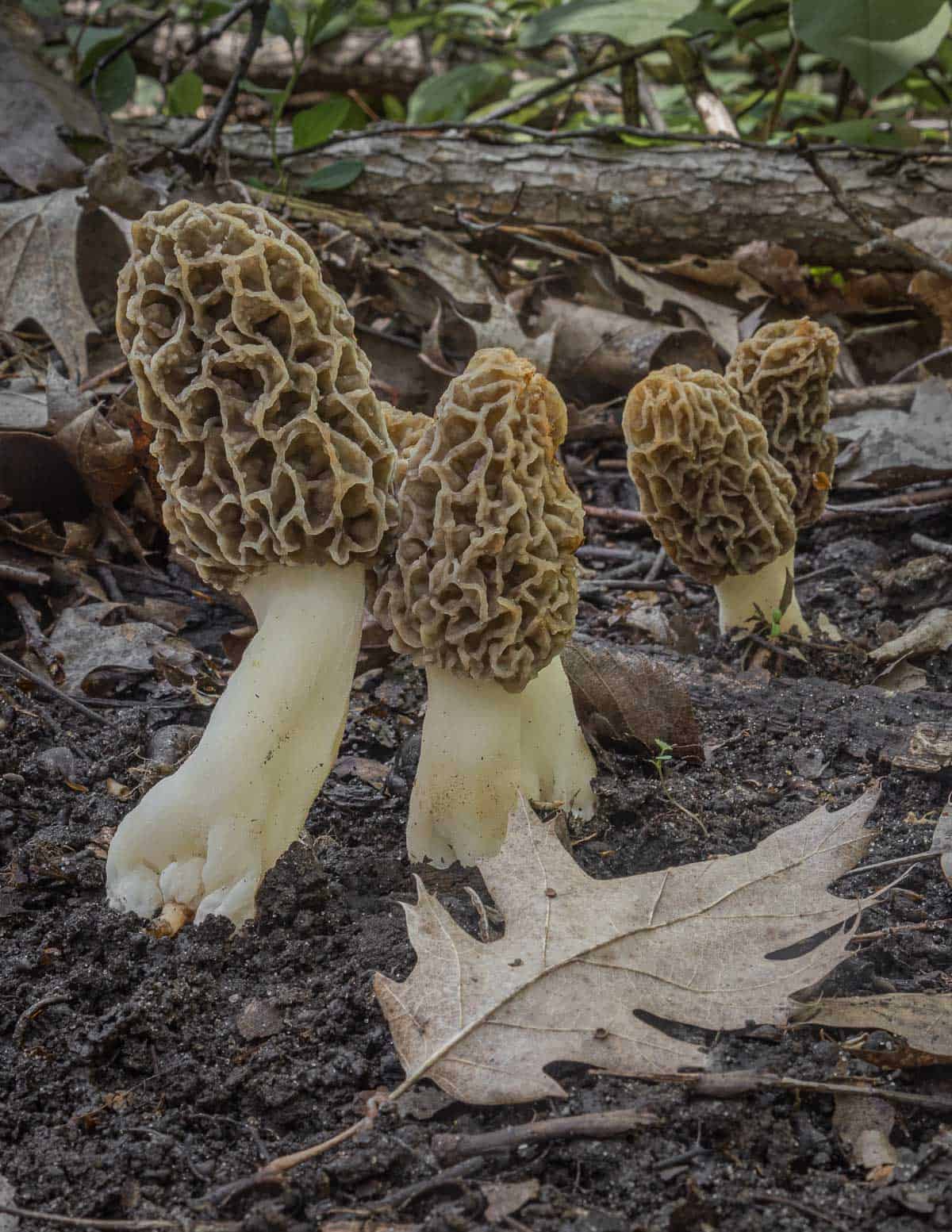 Gucchi matar, or mushrooms and peas (the Hindi word for peas is matar, also spelled as mutter), is a traditional Indian recipe for the mushrooms. Gucchi pulao or Indian Mushroom Rice is another popular recipe, pictured below.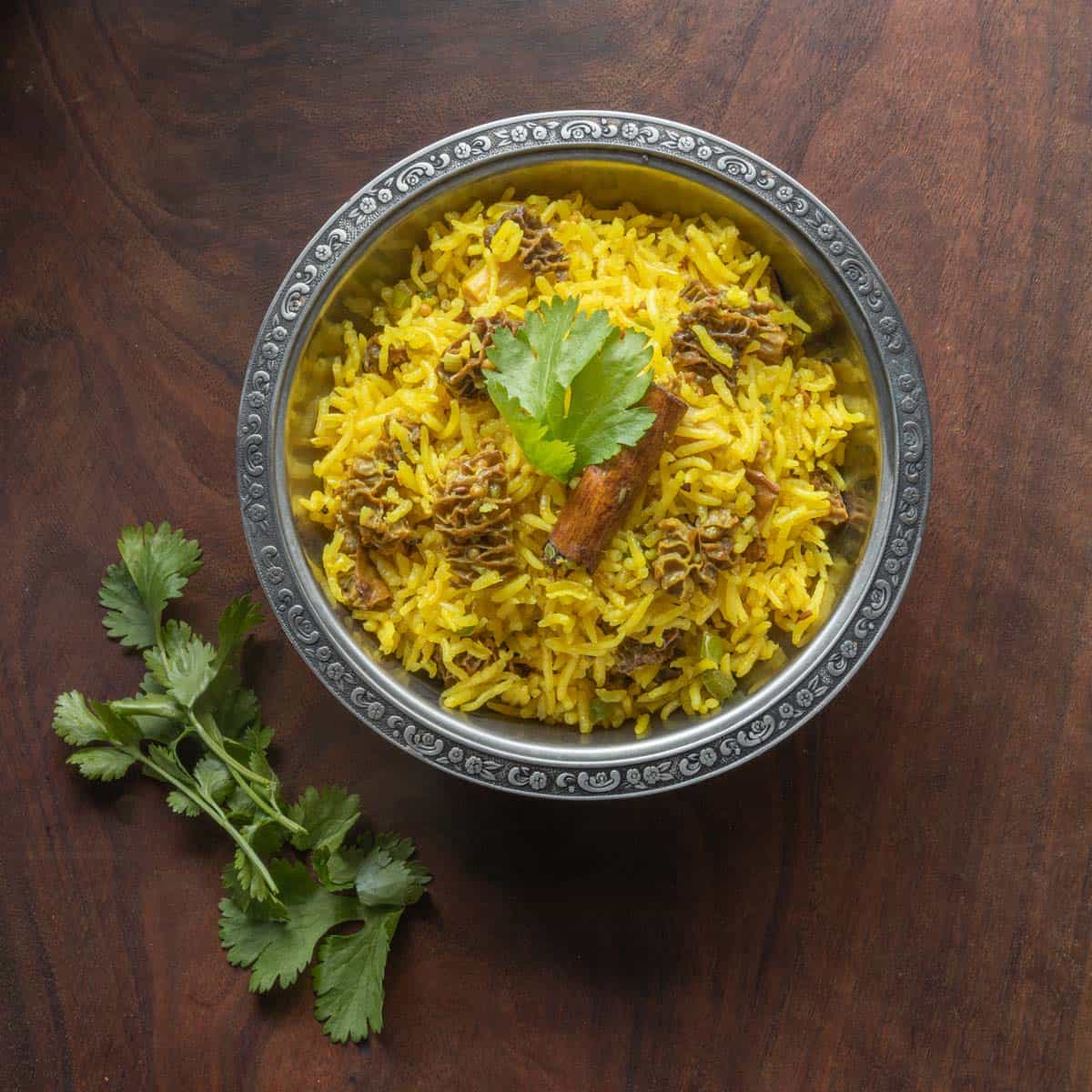 Other Himalayan Mushrooms: Cordyceps and Truffles
Morels aren't the only Himalayan fungi with commercial value. Cordyceps, which has gotten more attention in recent years is harvested too, although it's typically used as a medicinal mushroom.
Below: cultivated Cordyceps sinensis can be cooked like any other mushroom or used for its "medicinal properties".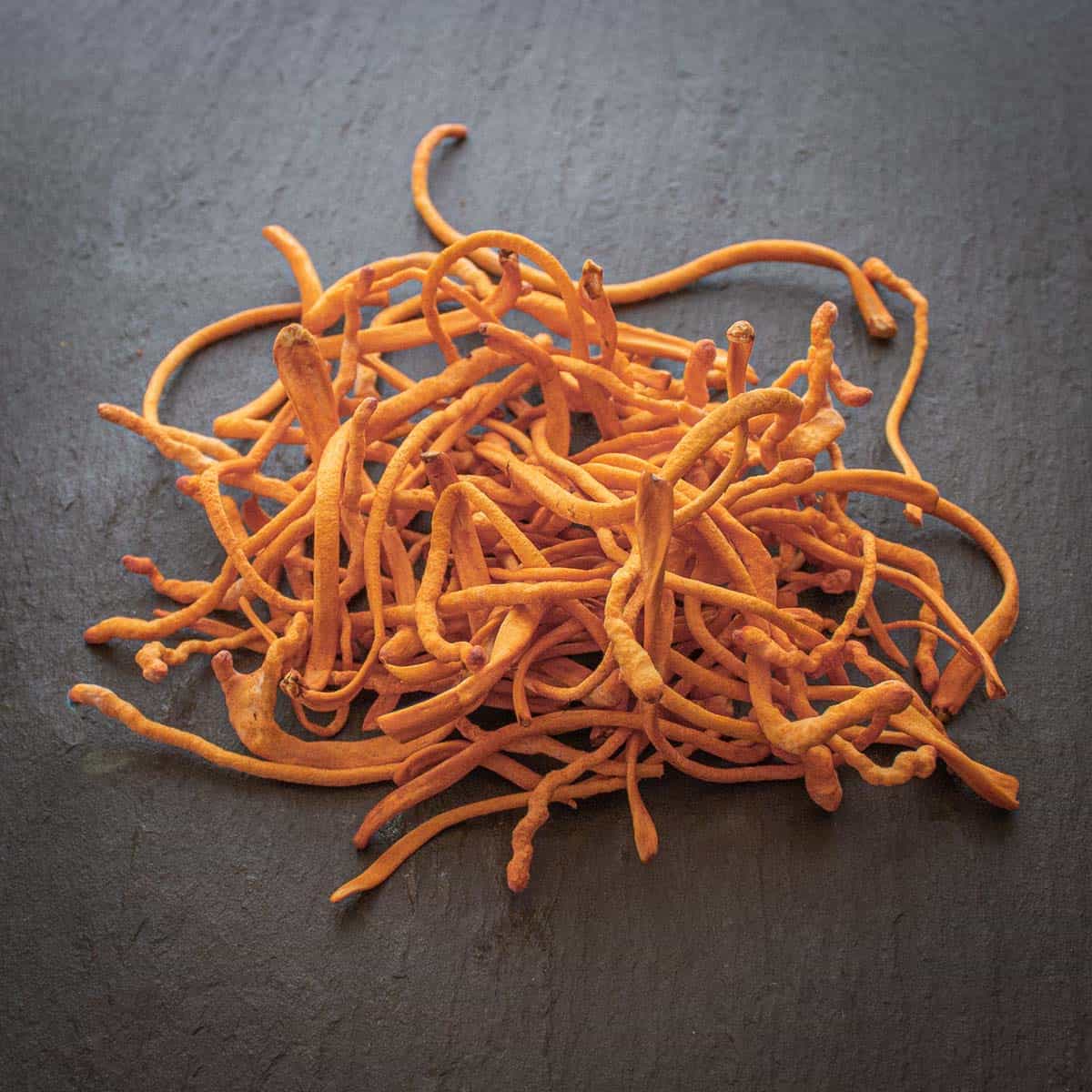 Black Himalayan truffles (Tuber indicum) are in between the quality of summer truffles (Tuber aestivum) and the prized Tuber melanosporum). All of the aforementioned are available to chefs in the United States through mushroom wholesalers like Foods in Season.
Also known as the Chinese truffle, T. indicum can be confused with true T. melanosporum (pictured above).
Matar Mushroom Ingredients
This is a simple curry anyone can make. Like most curries there's a list of spices, but most can be found at your local grocery store or coop.
Besides mushrooms and green peas, you'll need finely chopped onions, garlic, ginger, or garlic ginger paste. You'll also need a can of whole peeled tomatoes or a few fresh tomatoes, tumeric, garam masala, coriander, and cumin. Fenugreek leaves (kasuri methi) are optional but add a traditional nutty flavor.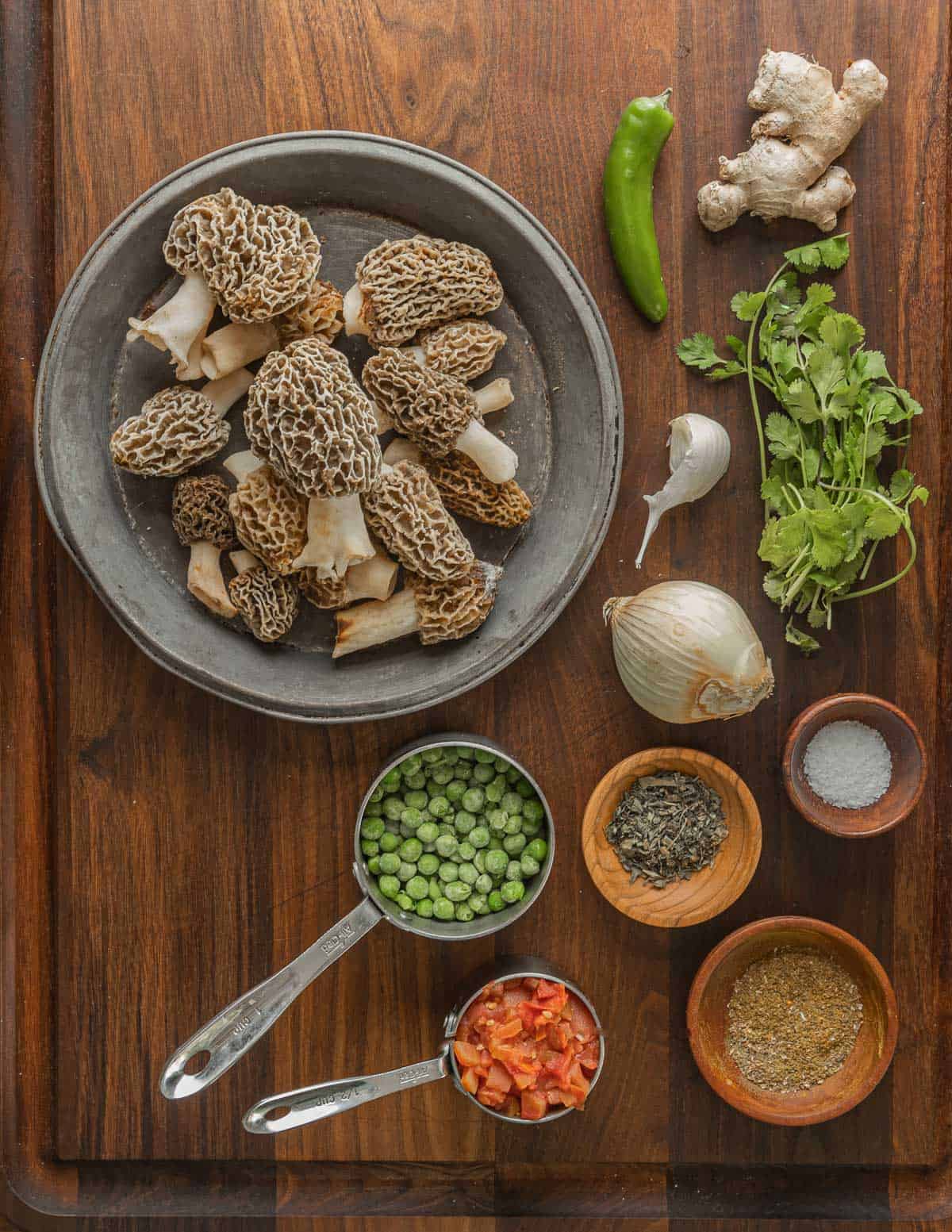 Some recipes for mushroom mutter curry are served dry without coconut milk. But, once you try it I'll think you'll agree it's a fantastic, novel way to cook mushrooms with cream.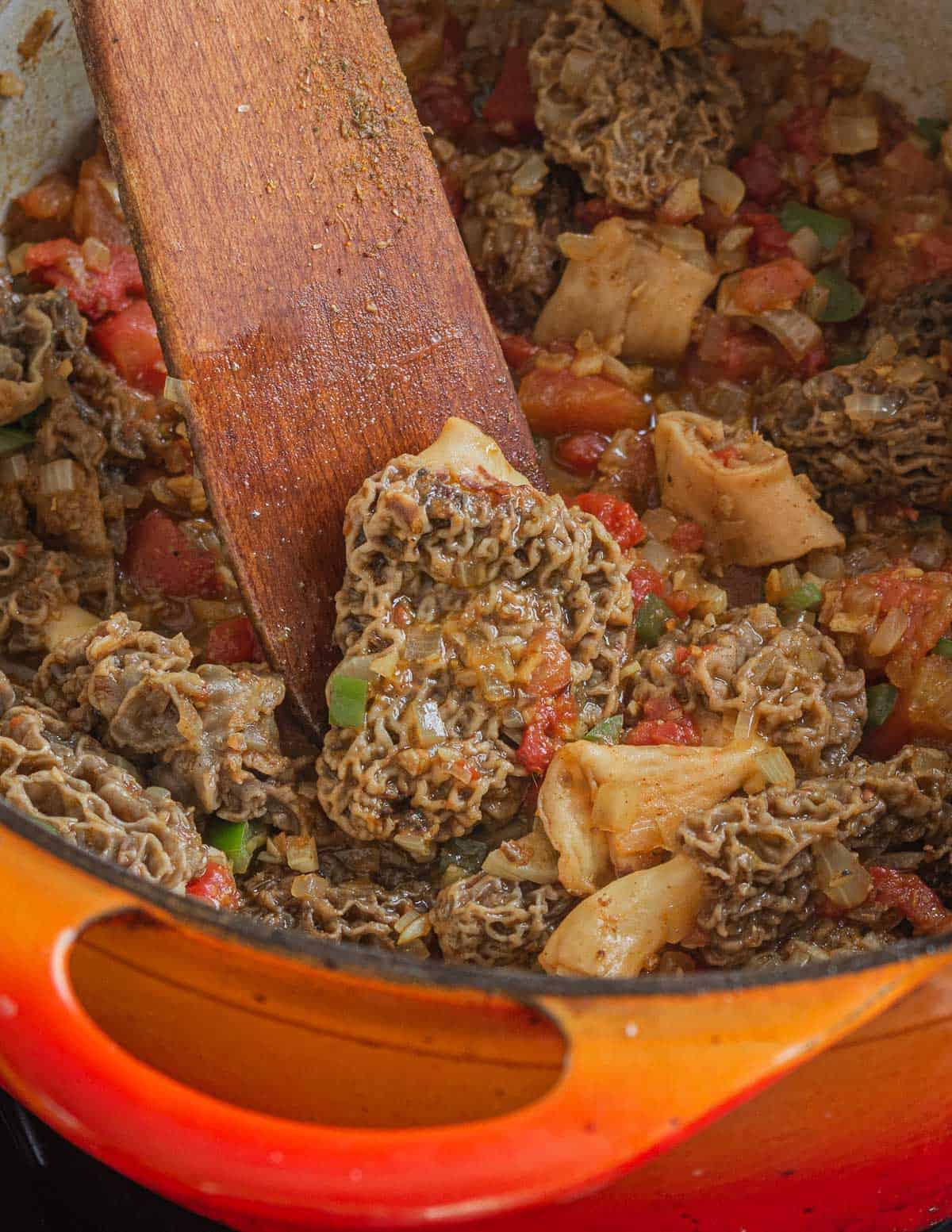 How to Make Matar Mushrooms
First the mushrooms are cleaned, trimmed and washed if needed. I like to keep morels whole so the juices get inside the hollow center.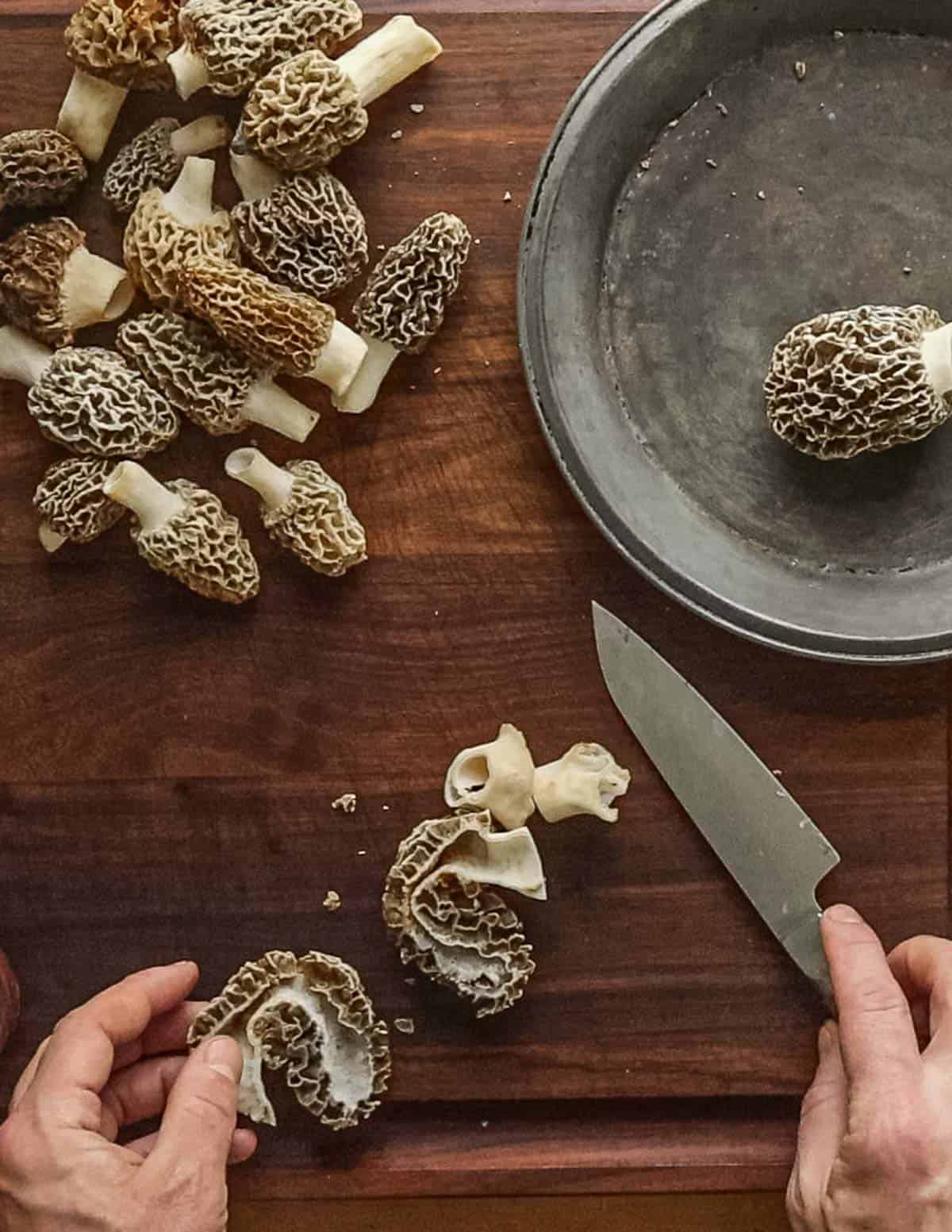 Next you heat oil in a pan. Add the garlic and ginger with chopped onion, then the ground spices are added and cooked for a minute.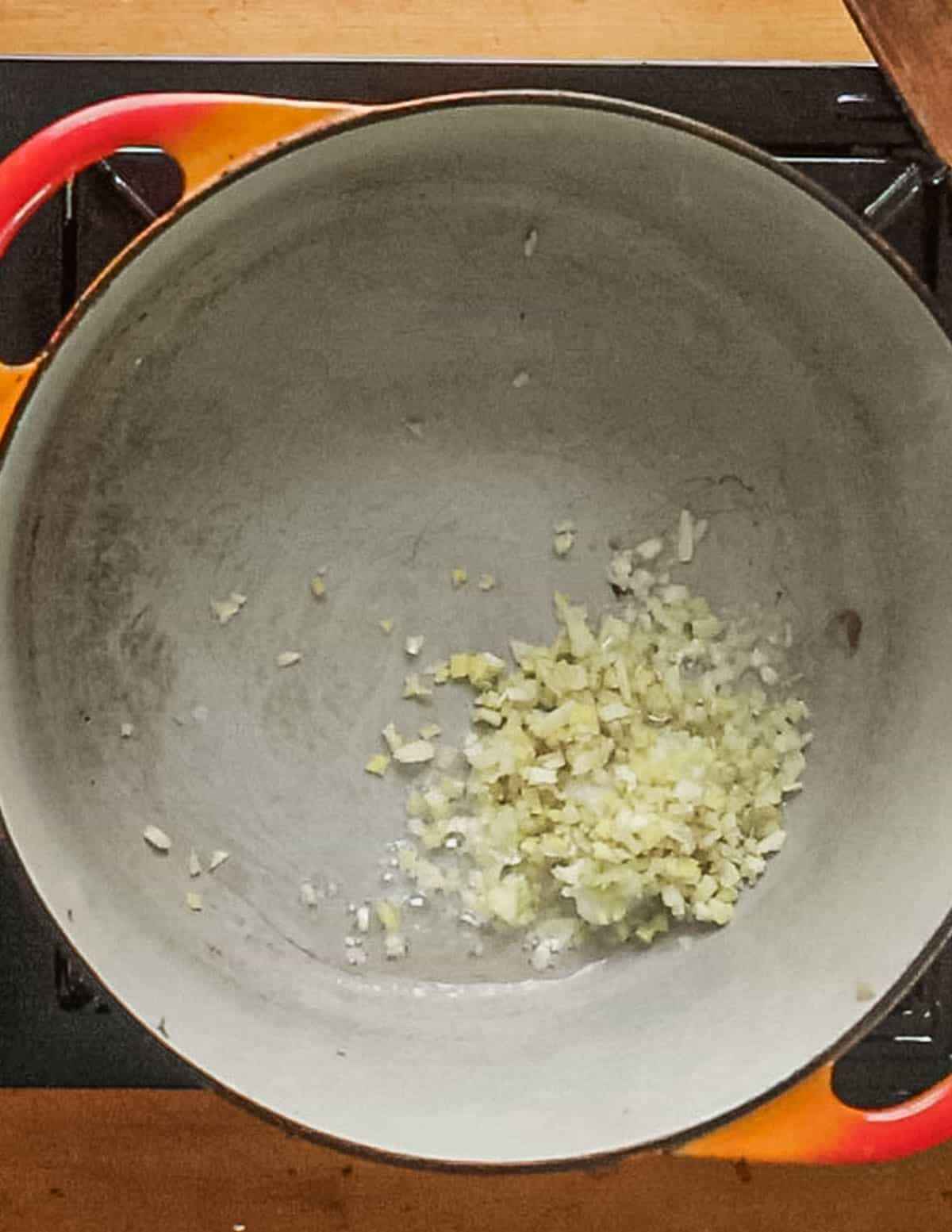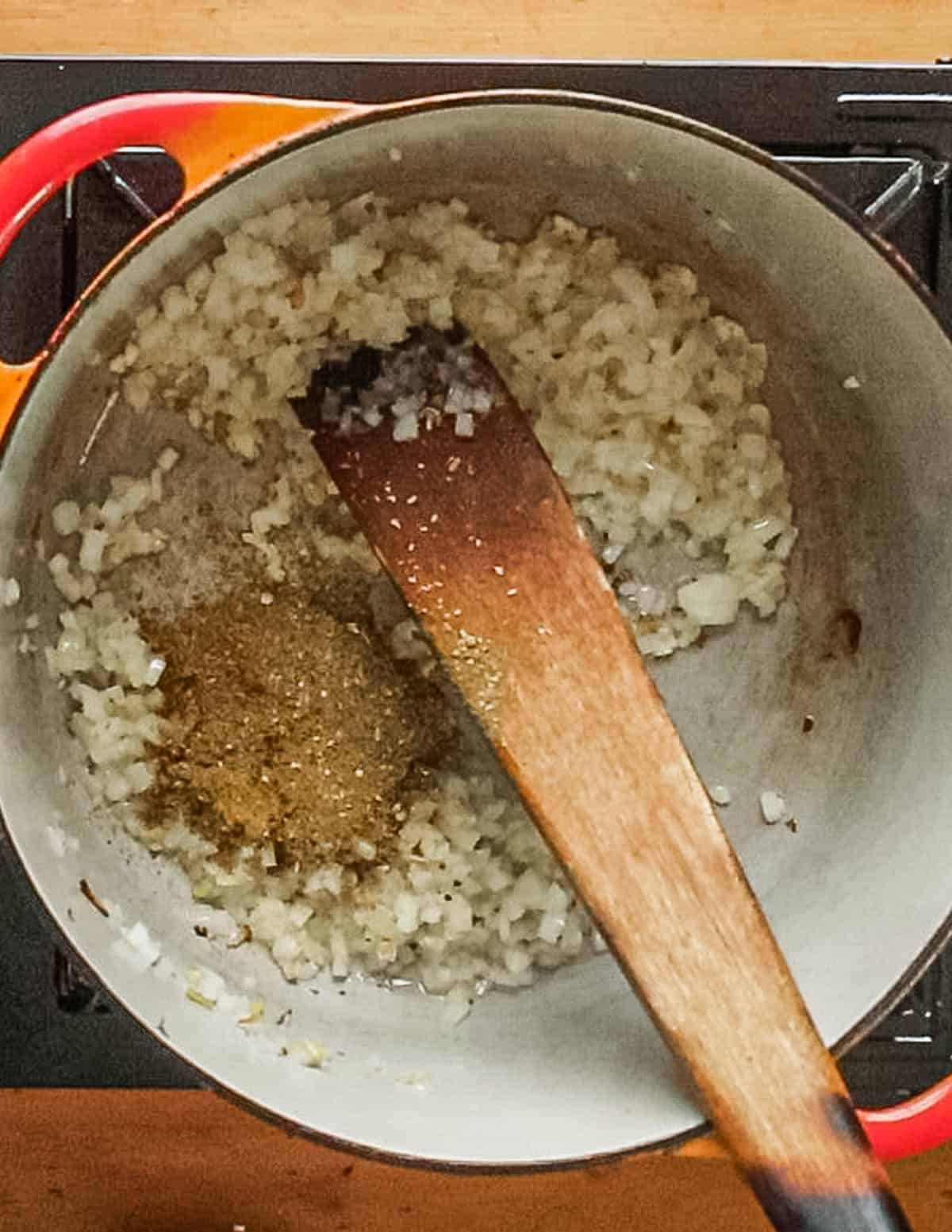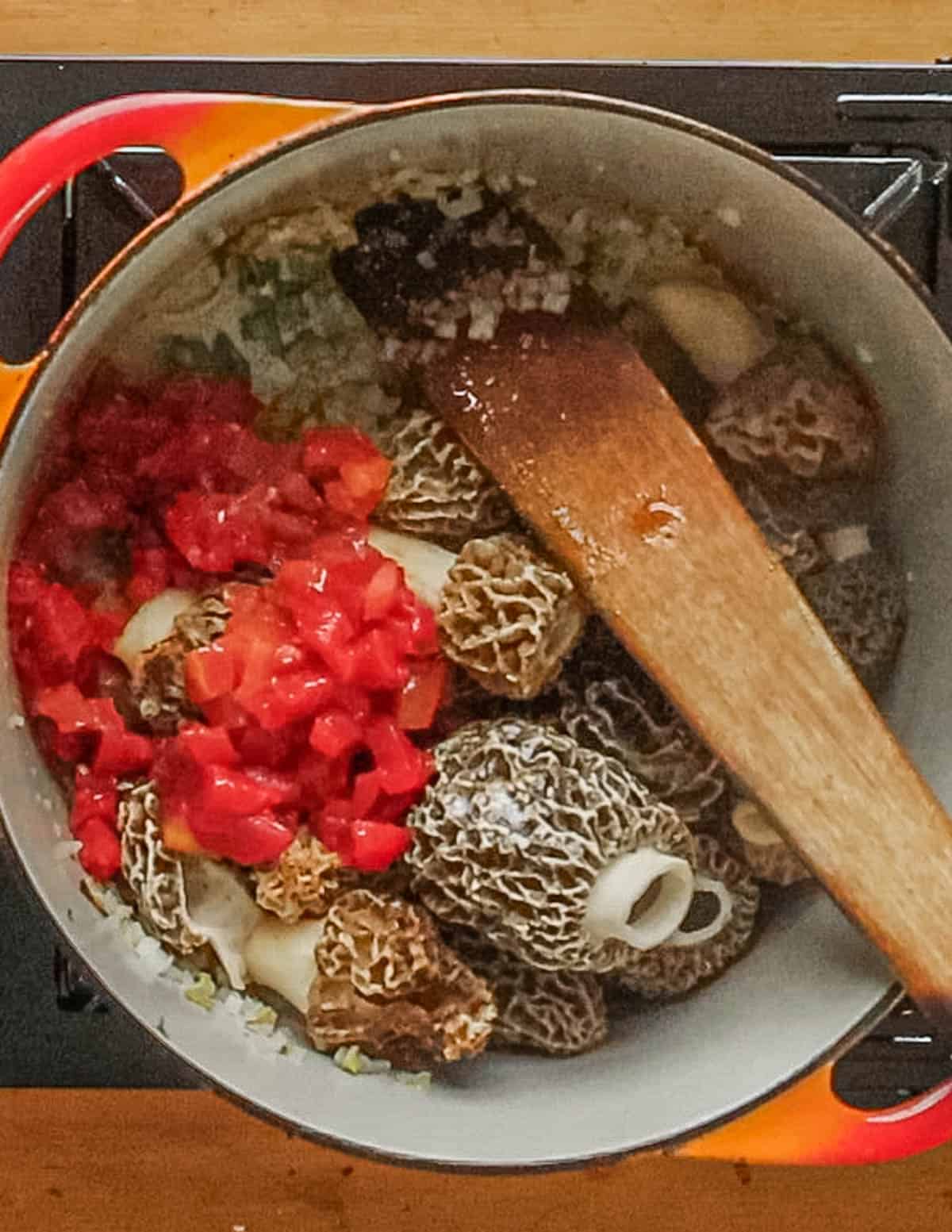 The mushrooms are added along with the tomato, green chili (serrano pepper) and fenugreek leaves. Everything is cooked until the mushrooms wilt and have given up their juice. You're making what's known as an onion-tomato masala here.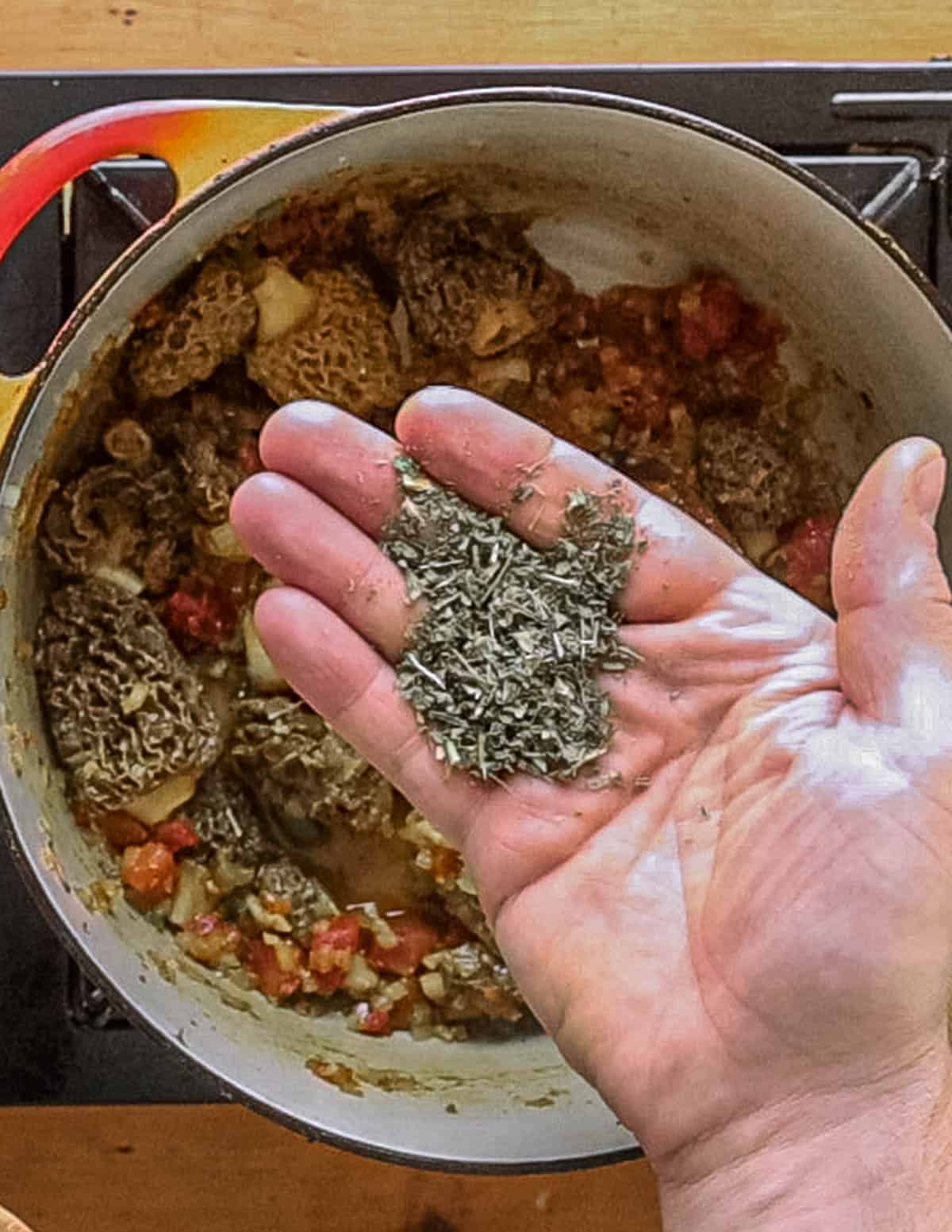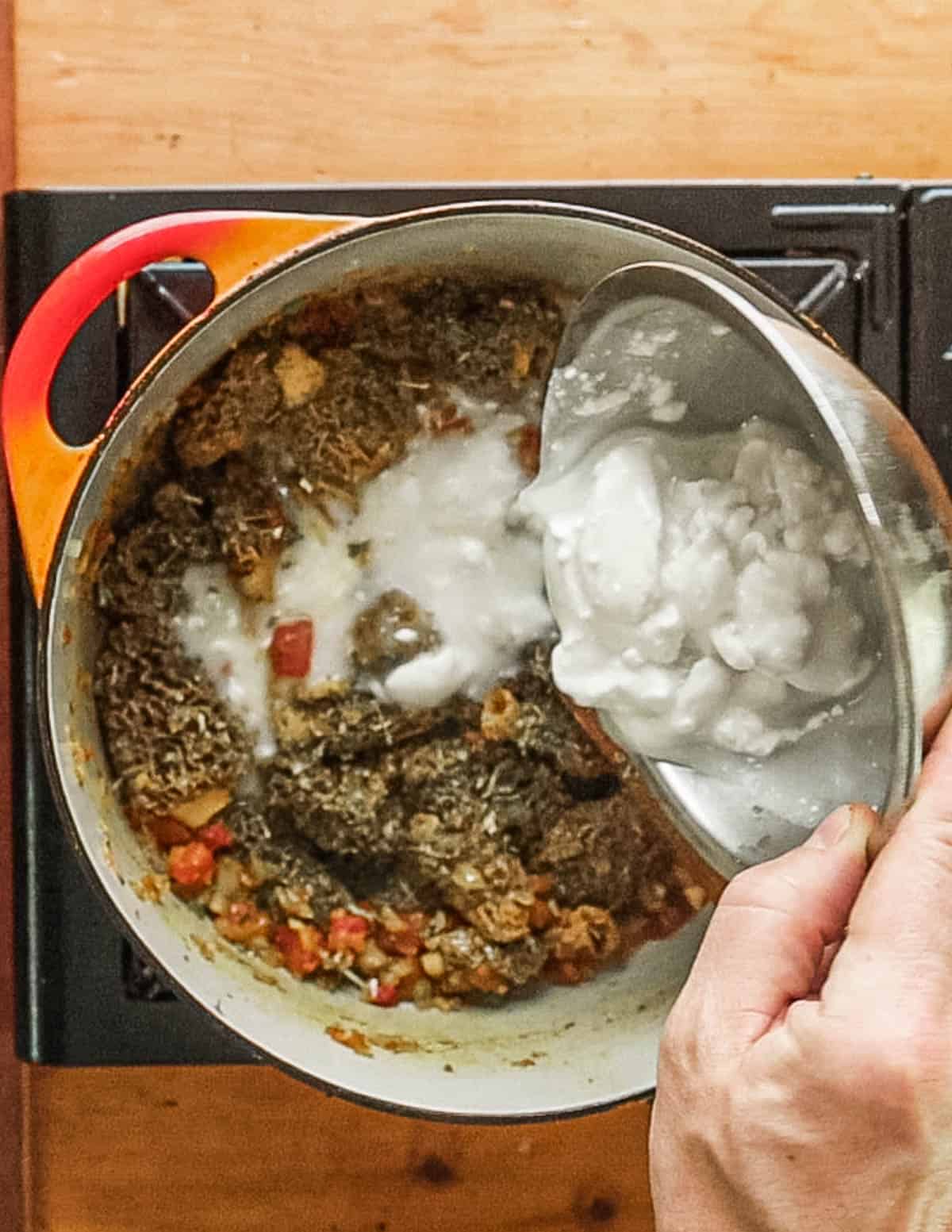 Finally you add some coconut milk and simmer until thickened. Add some tomato puree or a smaller amount of tomato paste to adjust the color and flavor.
Most recipes add the peas and cook them until soft. I prefer to keep them green, so I add them at the very end, along with plenty of chopped fresh cilantro.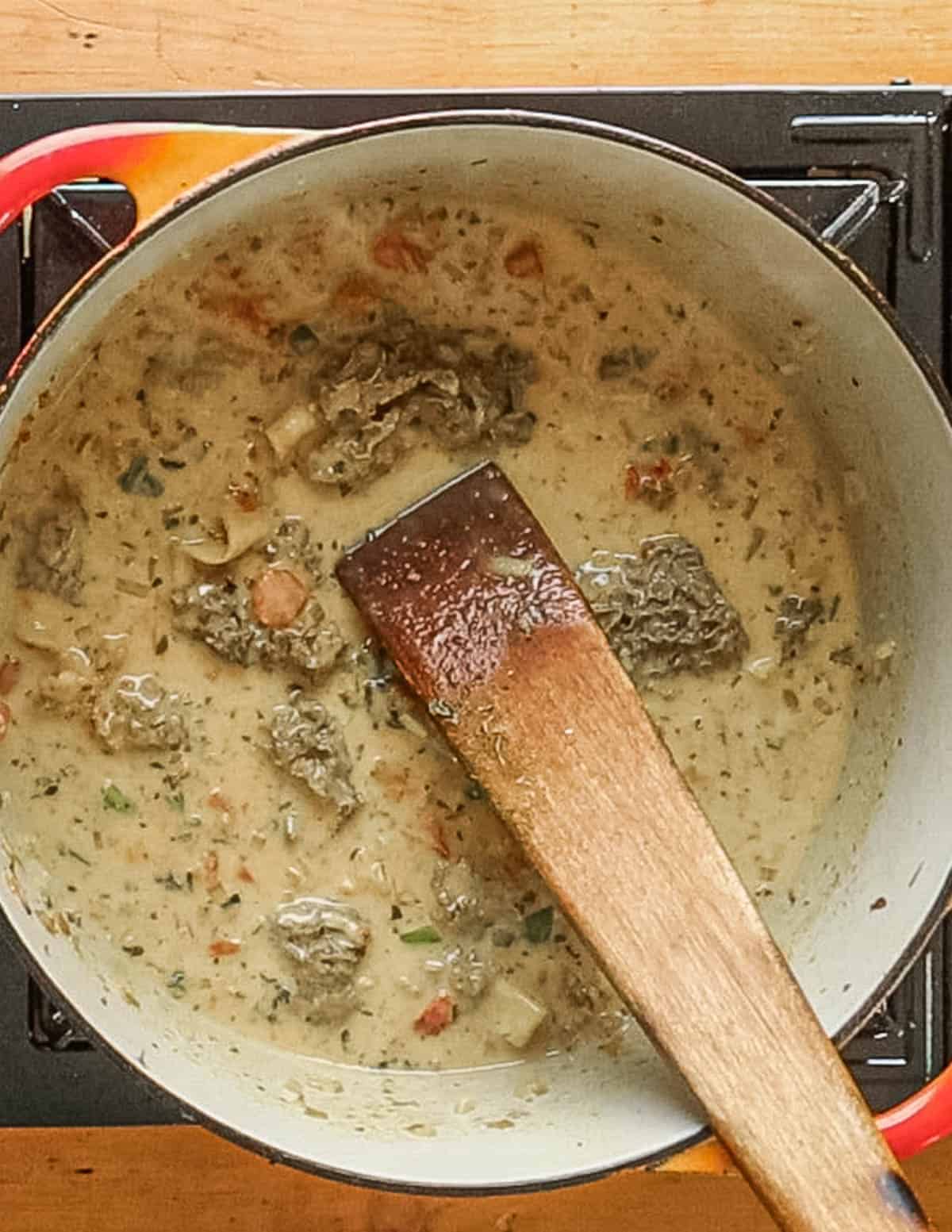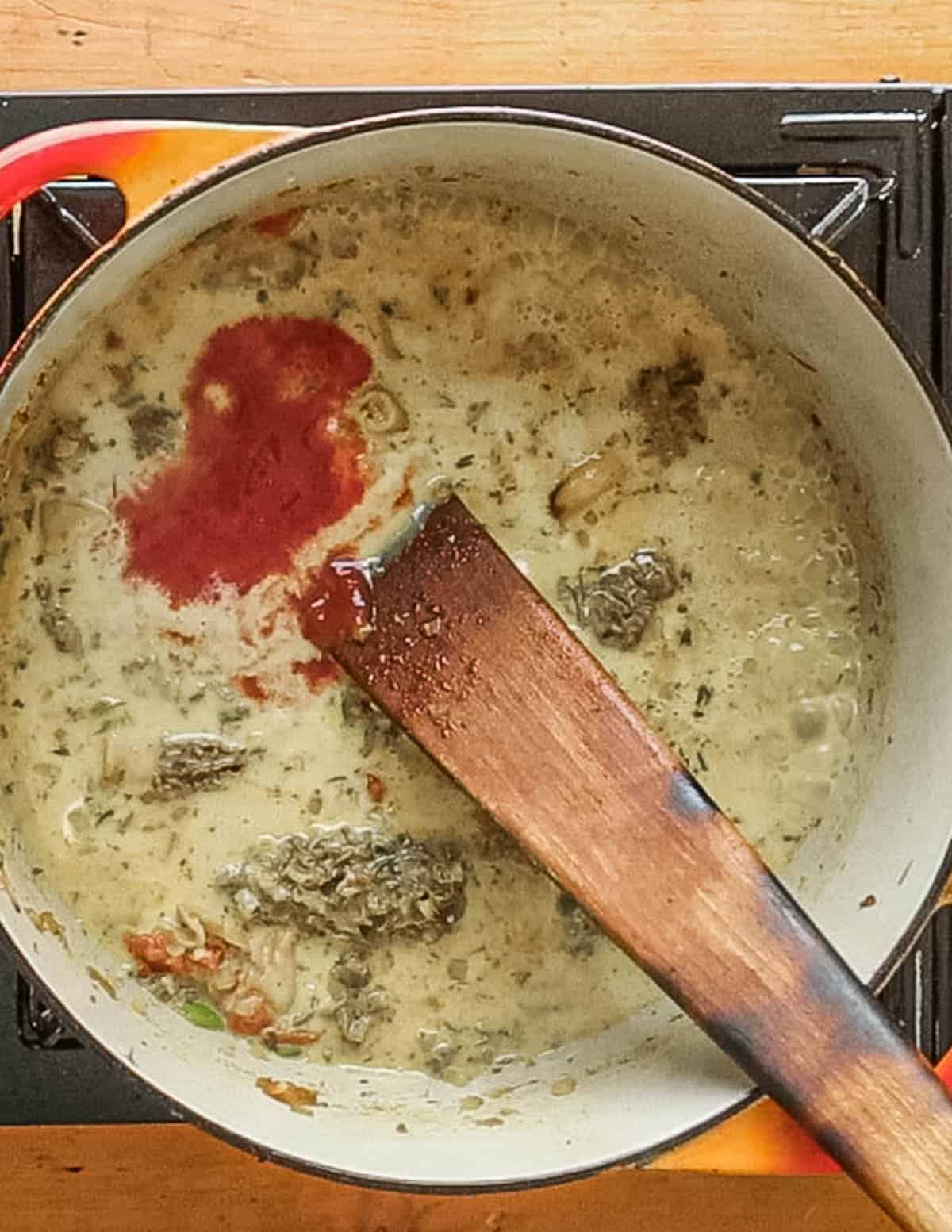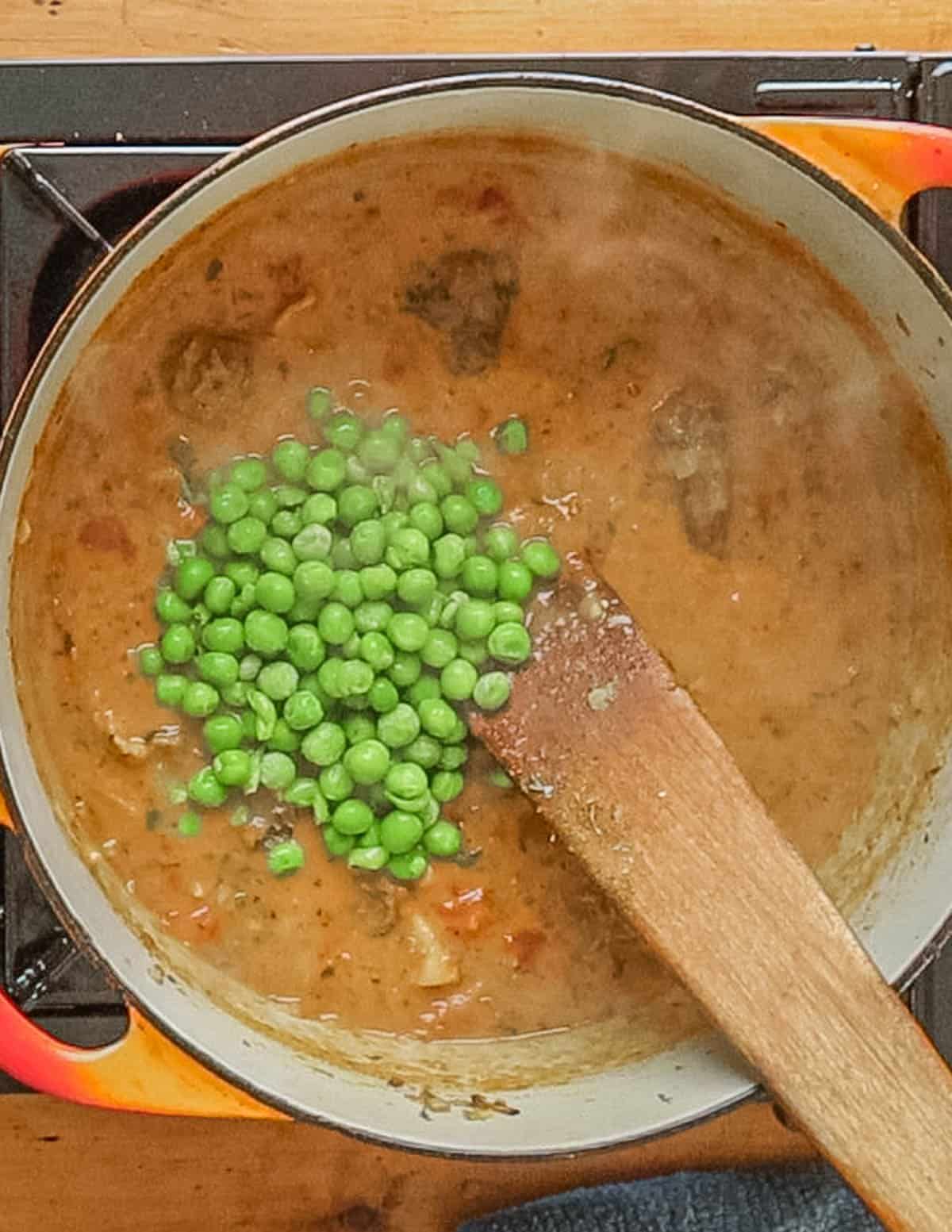 Last week I made it for an event as it's a great vegetarian mushroom recipe. One guest said it was the best meal she'd ever had. I loved it too, but I'll let you make it and decide for yourself.

Tips
Use your favorite wild mushrooms instead of morels. Oyster mushrooms, chanterelles, and coral mushrooms would be very good.
Buy fenugreek leaves from an Indian grocer for a traditional flavor.
Adjust the curry to your taste. I use a small can of peeled tomatoes here, which will give you some puree and juice, and chopped tomatoes.
If you can't do much heat, use a chopped, de-seeded jalapeno, adding it to taste.
For a fun mushroom themed dinner, serve as a side dish for mushroom pulao/Indian mushroom rice.
You can serve matar mushrooms with plain rice, jeera rice (rice whole cumin seeds), chapati, or paratha. Or just a piece of your favorite bread to soak up the juices.
Swap the peas for green chickpeas or fava beans for an elegant twist.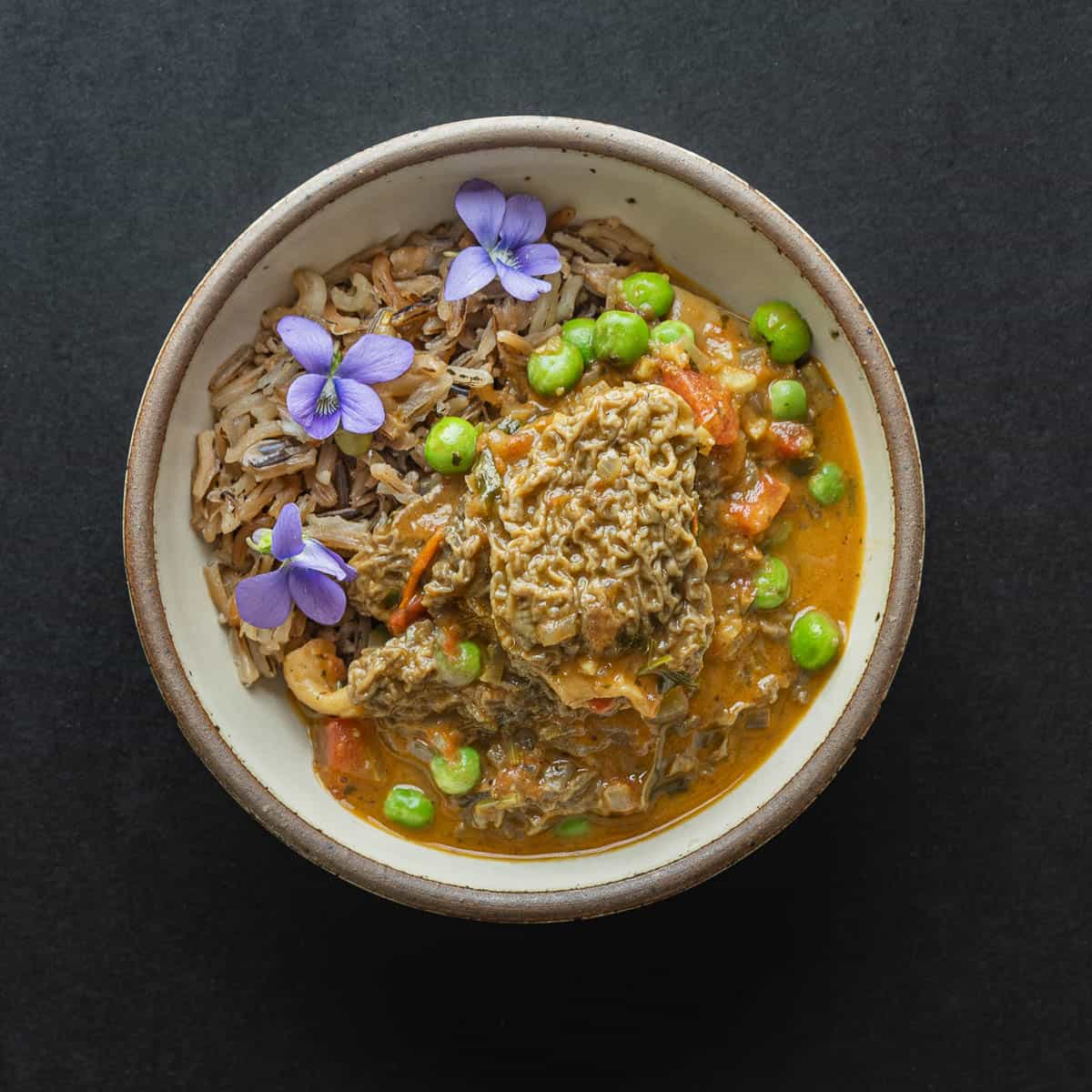 Related Posts
Chicken Mushroom Thai Red Curry
Vegetarian and Vegan Mushroom Recipes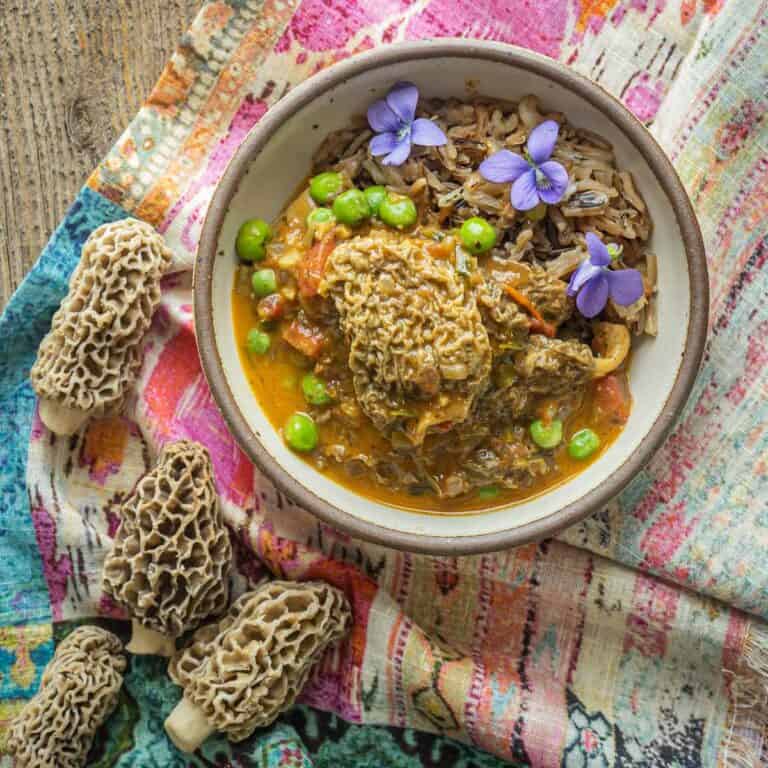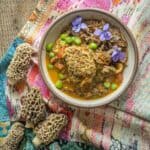 Print Recipe
Mushroom Matar / Mutter Mushroom Masala
A traditional mushroom curry made with green peas and mushrooms in a rich gravy. Many different mushrooms can be used. Serves 2 or 4 as an appetizer
Equipment
1 soup pot or Dutch oven
Ingredients
Curry
8

oz

fresh mushrooms

¾

cup

frozen peas or frozen peas

1 13

oz

can whole peeled tomatoes

1

serrano green chili

seeds removed

½

tablespoon

garlic

½

tablespoon

ginger

3

oz

1 small onion

½ cup

½

teaspoon

kosher salt

1

tablespoon

ghee or coconut oil

½

cup

coconut milk

Handful of chopped fresh cilantro

to taste, optional
Spices
½

teaspoon

garam masala

1

teaspoon

ground coriander powder

½

teaspoon

ground cumin seed

¼

teaspoon

turmeric powder

1.5

cups

Cooked basmati rice

for serving

½

T

Kasuri Methi

fenugreek leaves
Instructions
Mushrooms
Wash and clean the mushrooms in water and allow to dry on paper towels. Very clean mushrooms may not need to be washed. Morels can be kept whole or halved, other mushrooms should be cut into large pieces.
Tomatoes
Open the can of tomatoes. Working in the sink to avoid splattering, squeeze the seeds from the tomatoes, removing 2 to a cutting board. Dice the reserved tomatoes. Puree the rest of the tomatoes and juice from the can, or just finely chop them.
Curry
Add the coconut oil, garlic, ginger and onion to the pan and cook for 3-4 minutes on medium heat, stirring occasionally. Add the spices (except the fenugreek leaves) and additional tablespoon of oil and cook for a minute.

Add the mushrooms and green chili and cook slowly. Turn the heat down to medium and take your time, stirring regularly until the morels are wilted and have given up their juice, about 5-6 minutes. Add the chopped tomatoes, ¼ cup of tomato puree and coconut milk and simmer until thickened. Pause to enjoy the aroma coming off the pan.

Taste and adjust the seasoning for salt and tomato (you may have a little leftover from the can) and adjust until it tastes good to you.
Serving
Finally, add the peas and heat through just to warm them, taste and adjust the seasoning and add the cilantro right before serving. Serve with rice, dollops of yogurt, more fresh chopped cilantro, and or toasted nuts or seeds, especially cashews.
Notes
Use your favorite mushrooms or a blend. 
You can use dried morels. Soak an ounce of dried morels in 2 cups water, making sure to cook the water down until nearly dry before adding the coconut milk.  
Serve mutter mushrooms with rice mixed with cumin seeds (Jeera Rice) for a traditional side dish. 
Frozen peas or fresh peas can be used. 
Fava beans or green chickpeas are great substitutes for peas. 
Add the tomato puree to taste at the end until it tastes perfect to you. 
If you want it spicy, leave the seeds in the serrano chili. I would start with half a chili. Dried red chilli or crushed red pepper flakes are fine too. 
Nutrition
Serving:
6
oz
|
Calories:
241
kcal
|
Carbohydrates:
27
g
|
Protein:
10
g
|
Fat:
13
g
|
Saturated Fat:
11
g
|
Polyunsaturated Fat:
1
g
|
Monounsaturated Fat:
1
g
|
Sodium:
885
mg
|
Potassium:
1093
mg
|
Fiber:
7
g
|
Sugar:
12
g
|
Vitamin A:
684
IU
|
Vitamin C:
48
mg
|
Calcium:
108
mg
|
Iron:
6
mg