During the winter I dreamed of all that I could do with the plants I had been researching. Milkweed shoots were on the top of the list, and there was one recipe that I knew would be great.
In Milan they have a preparation for asparagus called "a la Milanese" (pronounced: milahnaysay), it's a lot fancier than it sounds, all it is is asparagus topped with a fried egg. Since I knew the milkweed had tender stalks you could eat, I thought I'd make a milkweed Milanese.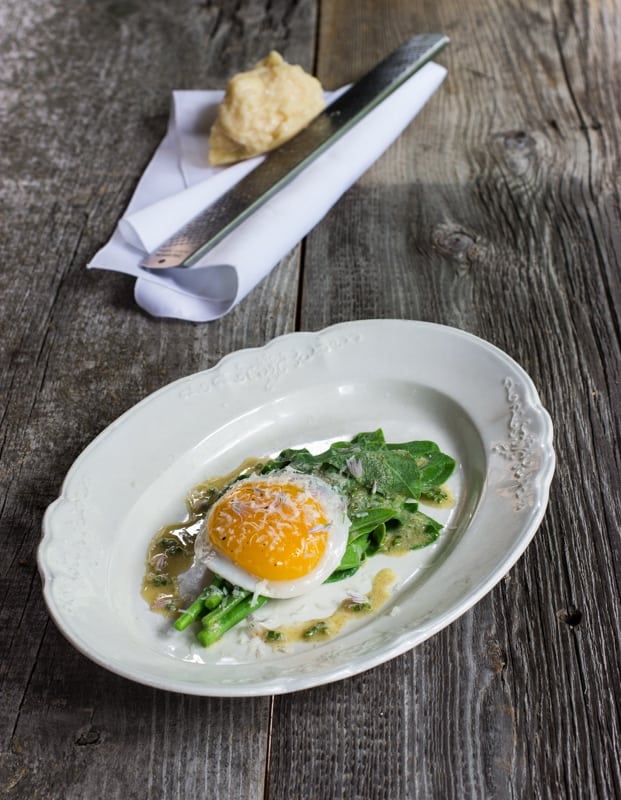 There are lots of recipes for the Milanese method out there: some add cheese, some have bread crumbs, some might have a vinaigrette. You can dress it up however you want, but the key components are the asparagus and the egg.
The first time I read about it was in one of the first cook books I ever owned: Mario Batali's Babbo. His asparagus Milanese was topped with a duck egg and some parmigiano, nice and simple.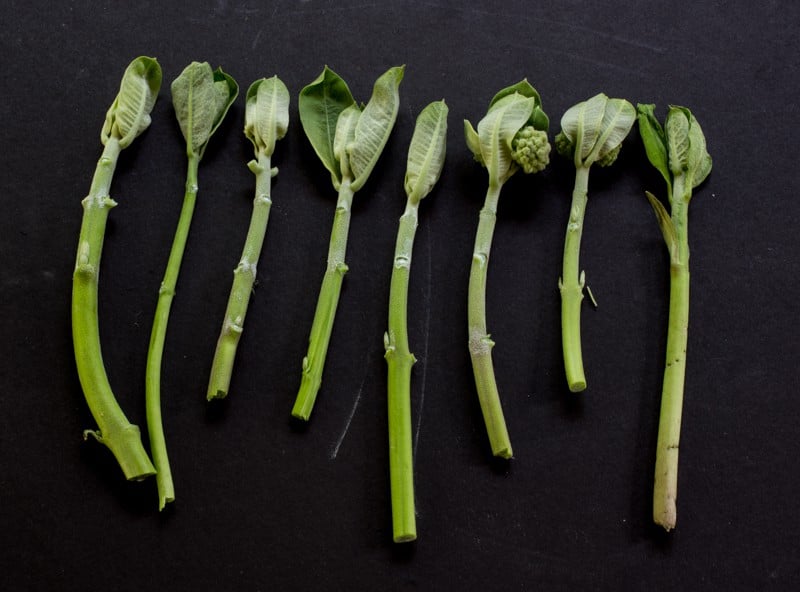 I cooked this dish two different ways, first with some of the floppy leaves attached, and without. I liked both of them, but you have to make sure the leaves aren't too big. The young leaves don't really have a noticeable texture, but as they continue to grow they start to develop a slightly furry, fuzzyness to them, a bit like tasting a cooked leaf of sage crossed with spinach. After banching in salt water, the leaves will be cooked, but their fuzzy texture has this weird ability to make them taste dry, even if they're still wet from their cooking liquid.
After tasting the larger leaves, I could hear the voice of an old chef I used to work for from Milan in my head:
"Alahn! Be careful with that pasta! There is no sauce. Make sure that it's moist."
Afterwords he would shoot a big glug of olive oil in the pan. We don't usually think of oil or fat as being "wet", but it is in a way. I knew the milkweed was telling me it needed to be dressed somehow to counter that dry texure: lubing it up with a little oil, butter, lard, or a vinaigrette and rich duck egg yolk as per this recipe, will do the trick.
The milkweed and duck egg would be o.k. by themselves, but a little acidity will really make things pop. Chive blossoms are in season, and they make excellent vinaigrettes, as well as being pretty on the plate.
The chive flower vinaigrette recipe here is fine all by itself on a salad or a piece of fish, and a fun variation I like is to put honey in it to make a sweet dressing like you would with poppy seeds, which has a nice sweet-savory flavor. While we're on the topic too, the unopened buds of chives make great onion-y tasting capers, see a basic recipe for that here.
However you cook your milkweed shoots, just make sure to have some fat handy, you really can't go wrong.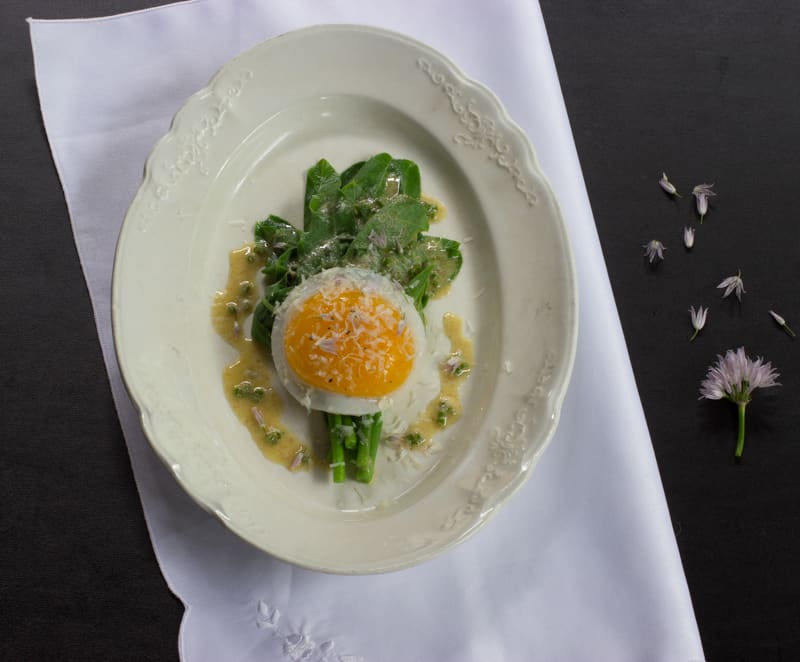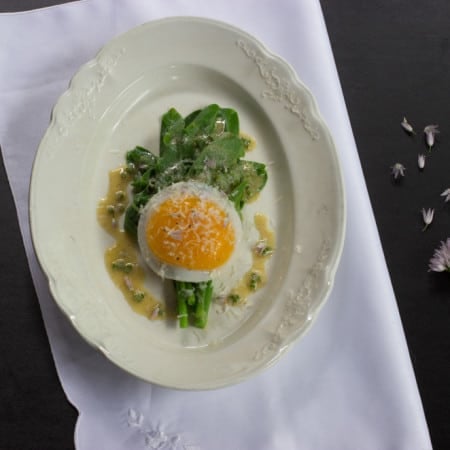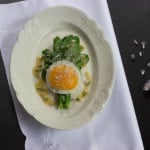 Print Recipe
Milkweed Shoots Milanese
Serves 2 as an appetizer
Ingredients
8

oz

milkweed shoots

a fat handful

1

duck or chicken egg

Fresh grated parmesan

for serving

1

tablespoon

unsalted butter

Kosher salt for seasoning water

1

recipe chive flower vinaigrette

follows
Instructions
Heat 2 quarts of water in a sauce pan and season it lightly with salt. Trim the milkweed shoots of their leaves up to the top of the stalk, if the top leaves are small and tender, leave them if you like. While the water is heating,

Heat a cast iron or teflon pan with the butter, when it is totally melted, but not sizzling, add the egg. Reduce the heat to low and cook until the white is set but the yolk is still creamy, about 4-5 minutes, then turn off the heat and reserve.

When it's time to serve, wait for the water to come to a rolling boil, then add the milkweed shoots and cook for 30 seconds. Remove the shoots and drain for a second on a paper towel to remove excess water that could dilute the vinaigrette.

Arrange the milkweed on a plate with the shoots all facing the same direction. Cut the egg with a ring mold if desired to remove excess white, then place on the milkweed shoots. Spoon on the vinaigrette to taste, garnish with the chive flowers and the parmesan, and serve immediately.
Notes
Duck eggs can be swapped out for chicken eggs, but they won't be as rich or large. If you're feeling abitious, try out the circular shape with the egg, just cut it with a ring mold or a glass after they've been fried, it gives them a fun look.
Chive Flower Vinaigrette
Makes a little less than ½ cup. If you add some honey to taste and dijon instead of grain mustard it's a great replacement for poppy seed dressing.
Ingredients
1

tablespoon

whole grain mustard

1

tablespoon

fresh cut chives

sliced

1

tablespoon

fresh chive flowers

reserve a few to garnish the plate

⅛

cup

sunflower oil

⅛

cup

grapeseed oil or another flavorless oil

like canola

¼

teaspoon

Kosher salt and a pinch of ground black pepper

⅛

cup

Champagne vinegar
Instructions
Mix the mustard, ¼ teaspoon salt, a pinch of black pepper, vinegar, chives and flowers together, then slowly whisk in the oil.

You can also just put all the ingredients into a mason jar and shake them, like a grandma would do.
More