I've had a jar of fermented nasturtium capers burning a hole in my fridge from the 2018 growing season for a while, waiting for the perfect partner. This past week, the partner showed up in some fresh lamb sweetbreads.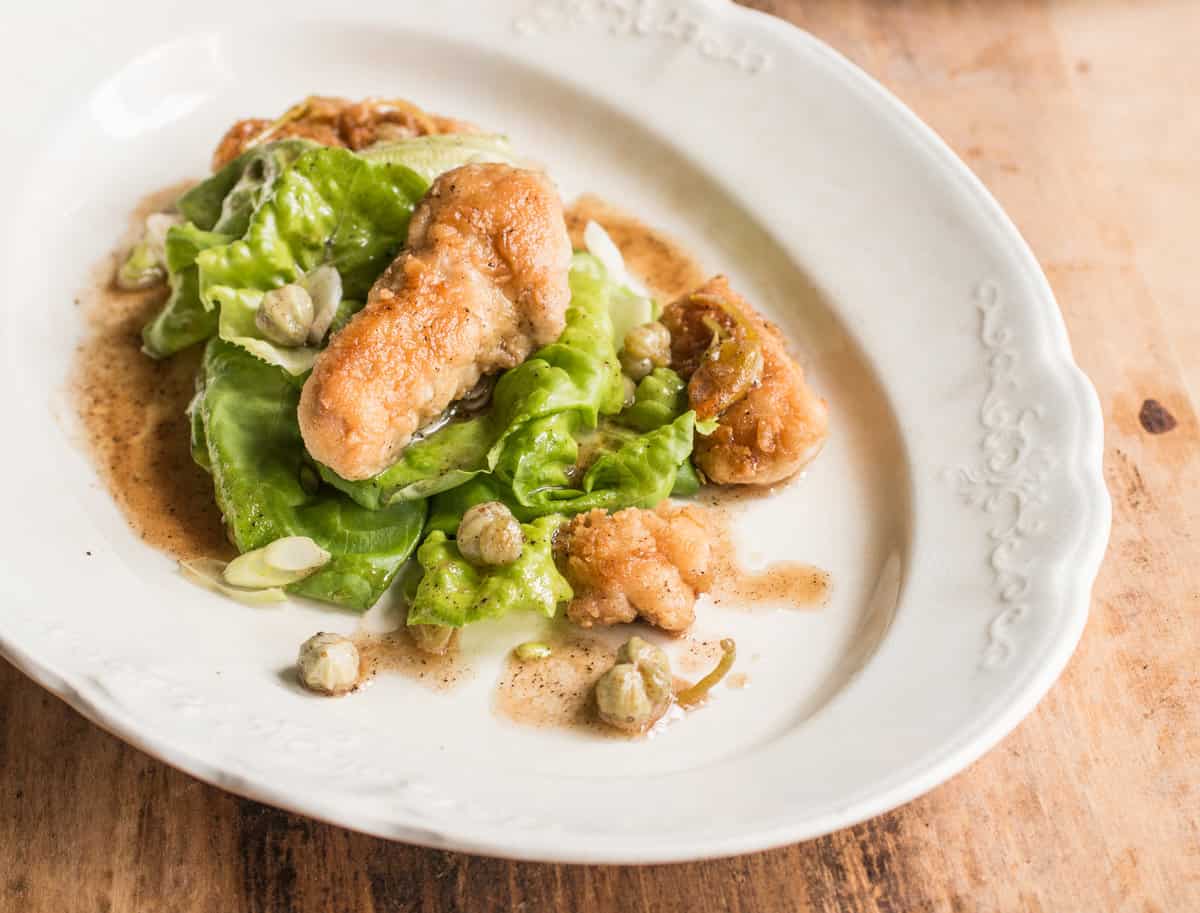 Sweetbreads can be a hard sell, and I get it, but in the scheme of organ cookery, sweetbreads are one of the most, if not the most approachable, next to tongue, in my mind, especially if you consider "gamey-ness" the biggest factor that turns people off.
Neither sweetbreads or tongue have the bloody taste of iron most people tend to associate with offal as you would in liver, kidneys, spleen or even heart. For me, strong taste is just not part of the equation here, but golden brown, crisp, juicy, mild and creamy are, that is, as long as those sweetbreads were treated well, and were super fresh.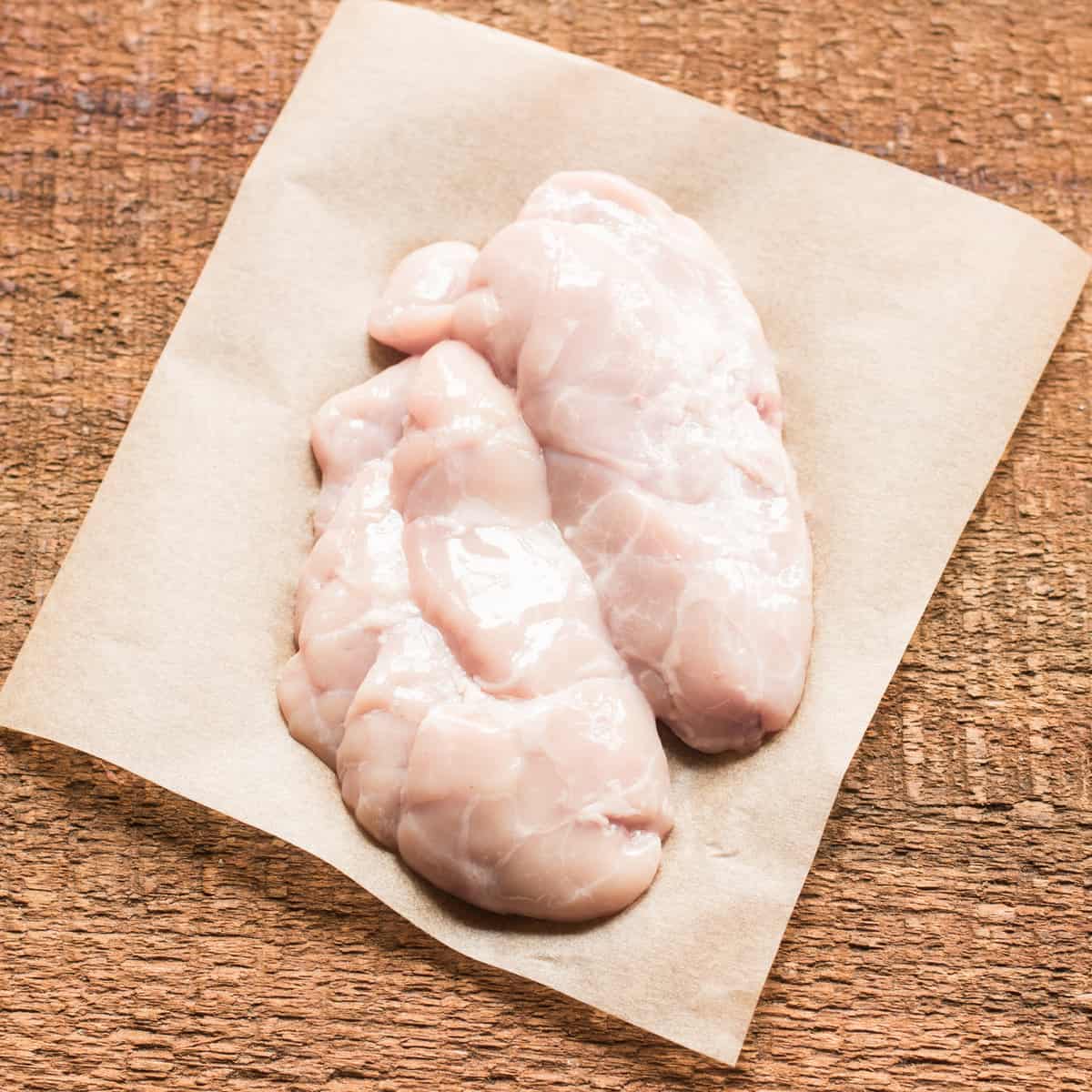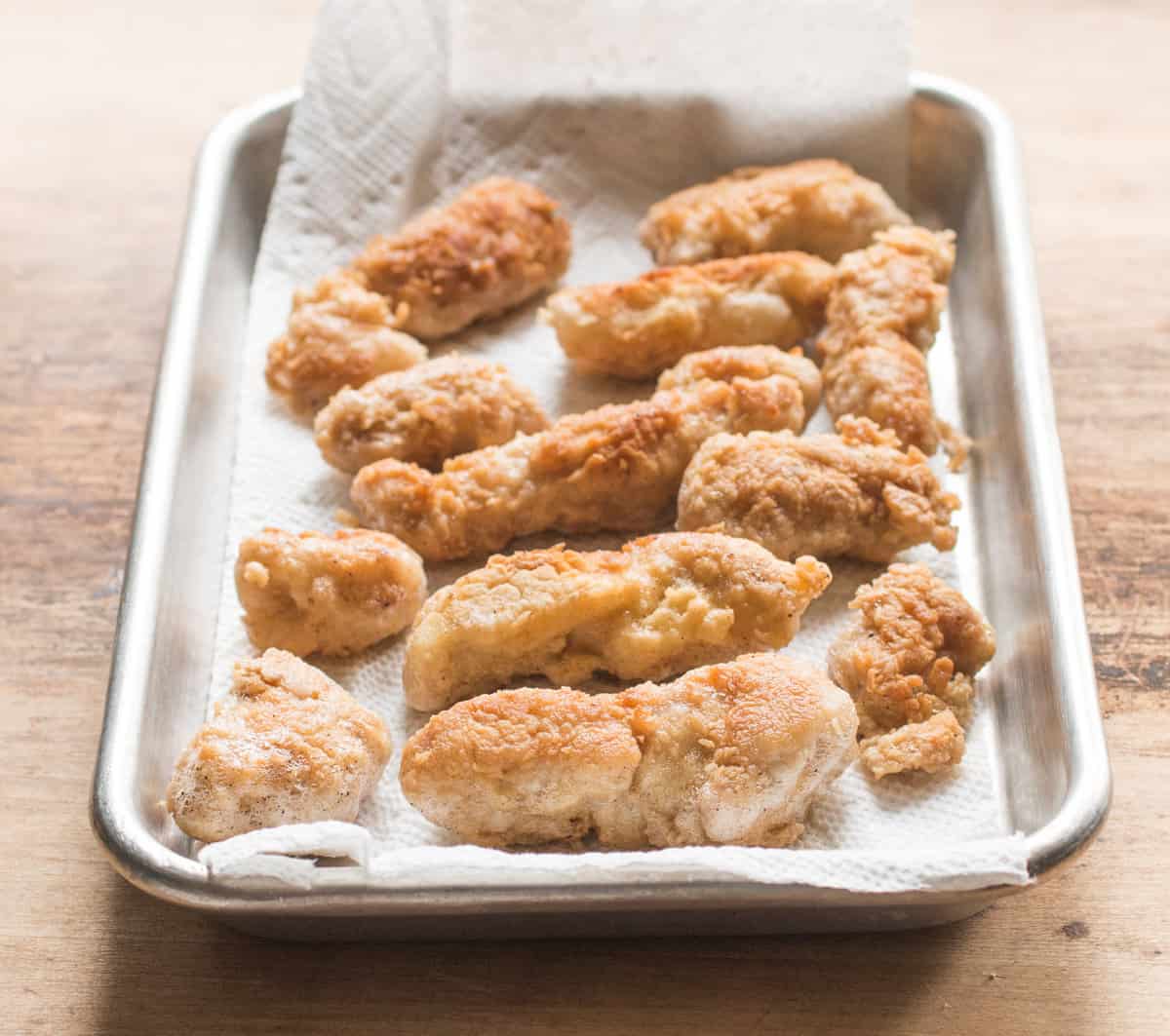 Besides being perishable, another hurdle is that they can be tough to find, but sweetbreads freeze well, and are available to the public more and more, and some butchers can order them for you if you ask in advance.
As far as lamb sweetbreads, Shepherd Song (the farm I work closely with, and who provided the ones I cooked here-full disclosure), carries them by request, and I know Lowry Hill Meats does too.
Fermented Nasturtium Capers 
I kept it super simple and traditional here, a little brown butter, some lemon, a little something green in the form of wilted butter lettuce, and, the nasturtium capers.
The capers take some time to collect, and you'll need a decent sized plant to get enough seed pods to enjoy, but you can do the same process with alot of unripe buds and seed pods, just put them in 5% brine and let them do their thing in the fridge for a month. Unsure of fermenting flower buds and seed pods? I have a tutorial in my post Wild Capers (Lacto Fermented).
Any capers are fine here, and If you don't have access to nasturtiums, elderberries, milkweed, small Allium scapes, and of course, regular non-parielle capers from the jar are just fine too.
As far a the vegetal portion of the dish, lettuce was just what I had, look for any green, sweet partner for sweetbreads: peas, favas, green chickpeas, asparagus, green beans, or a blend of some would all be great.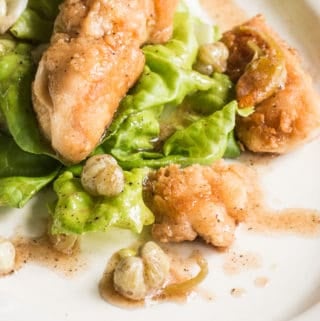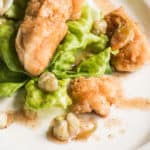 Print Recipe
Lamb Sweetbreads with Brown Butter and Fermented Nasturtium Caper
Serves 2 as an appetizer or light lunch.
Ingredients
6

ounces

fresh or frozen lamb sweetbreads

Milk or water

lightly salted, enough to cover the sweetbreads

Kosher salt and fresh ground black pepper

1

tablespoon

fermented nasturtium capers

recipe here

Juice of ½ a lemon

4

oz

unsalted butter

1

head of fresh butter lettuce

washed and dried if needed

Sliced green onions or chives

to garnish

All purpose flour

for dredging

Beaten egg

for dredging
Instructions
Prepare the sweetbreads by soaking them in milk overnight in the fridge (optional but reccomended) The next day, bring a pot of salted water to a simmer large enough to hold the sweetbreads and simmer them for 10 minutes.

Remove the sweetbreads to a bowl of ice water to cool, then transfer to a cutting board and carefully remove any sinew and membranes with a sharp paring knife, trying as hard as you can to keep them as whole as possible.

From here you can cook and serve the sweetbreads, or hold them for up to two days. To serve, heat the butter in a pan on low and allow it to brown.

Meanwhile, dip the sweetbreads in flour-egg-flour, then fry in the butter on each side until golden and crisp. Watch carefully so the butter browns and smells nutty, but doesn't burn.

Arrange a few leaves of lettuce on two plates, then divide the sweetbreads evenly between them. Deglaze the pan with the wine, cook for a minute or so, then add the lemon and capers, stir, turn off the heat.

Season with a pinch of salt and pepper and drizzle the sauce over the sweetbreads and lettuce. Scatter the green onions or chives over the top and serve immediately.
Notes
The simple pan sauce is fine on its own, but if you really want to hit a home run, add some fresh sliced mint leaves when you add the capers. 
Nutrition
Serving:
3
oz
|
Calories:
521
kcal
|
Carbohydrates:
3
g
|
Protein:
18
g
|
Fat:
49
g
|
Saturated Fat:
30
g
|
Polyunsaturated Fat:
2
g
|
Monounsaturated Fat:
12
g
|
Trans Fat:
2
g
|
Cholesterol:
356
mg
|
Sodium:
65
mg
|
Potassium:
280
mg
|
Sugar:
0.04
g
|
Vitamin A:
15788
IU
|
Vitamin C:
1
mg
|
Calcium:
18
mg
|
Iron:
4
mg