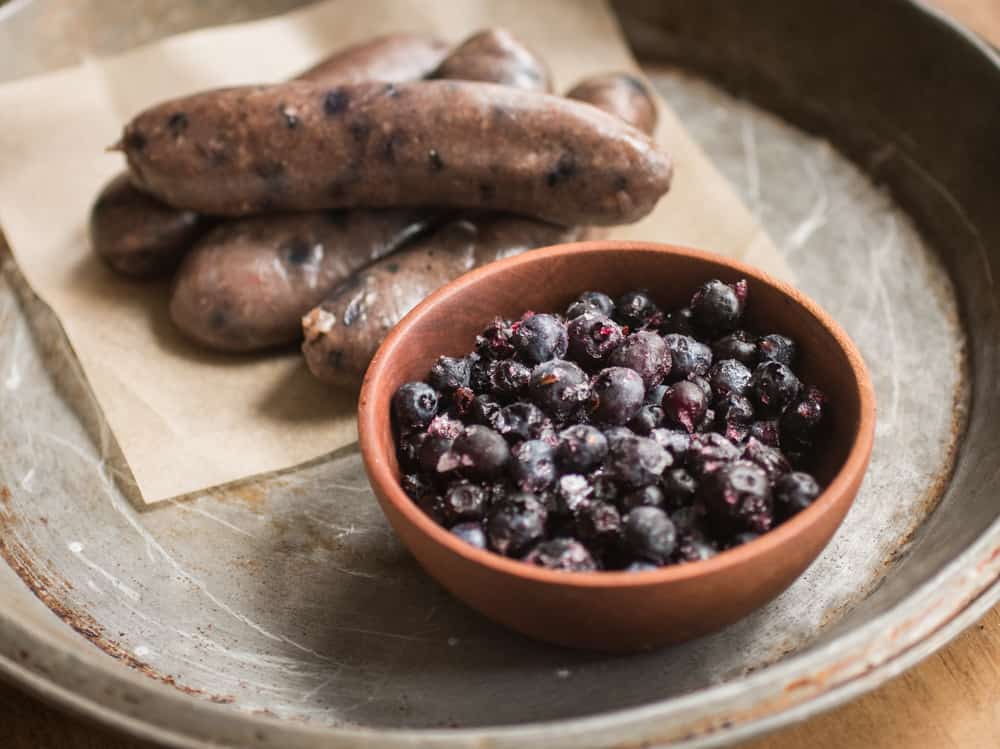 Looking in the freezer I had sausage on my mind. Seeing a couple bags of wild blueberries I remembered a moment of fear I had one day picking berries in a remote spot, and seeing a picture one of my friends posted about bears being seen harvesting berries in the area I was in. I didn't end up seeing any bears, but following the inspiration reminded me of pemmican, the jerky-esque product Native Americans made with meat, lard and berries.
Fresh out of bear meat, I grabbed some of the blueberries and ground venison from a deer I was gifted earlier in the year and got to work. Since the wild blueberries are a little sweet, I went with breakfast sausage model I had, with just a touch of maple, and some quatre epice spices-nothing too fancy.
Add frozen berries so they keep their shape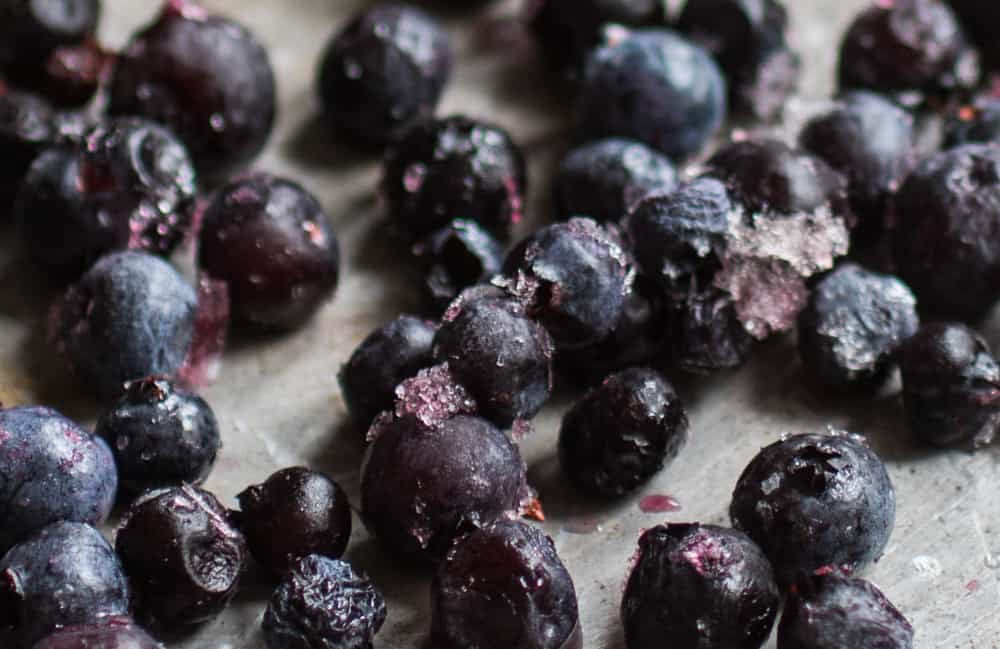 The real trick was going to be keeping the berries whole. Fresh, raw blueberries would break mixed into a sausage through it's journey through the stuffer, but frozen berries, frozen berries, if I worked quickly, could be kept whole.
I really liked the result, but unfortunately I forgot the only sausage stuffer I had access to at the moment needed to have the blade attached in order to stuff the casings properly. Next time I'd use a stuffer with a hopper to make sure every single berry stayed whole-lesson learned.
Using milk powder in game sausage 
Side note, if you've ever made venison sausage and had it come out grainy, here's a golden nugget from a sausage maker: milk powder is your best friend. The stuff is a powerful emulsifier, and gets used in a lot of sausage recipes. That, and adding enough fat are pretty much the best tricks I have for a great venison sausage that has that juicy, emulsified, bouncy texture we all want.
But, what I don't have venison? 
Follow the recipe below, substituting pork shoulder for all of the meat and fat, and removing the milk powder from the recipe.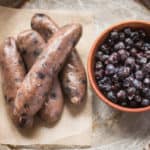 Print Recipe
Venison Breakfast Sausage with Wild Blueberries
Tender breakfast sausage made with venison and wild blueberries. Milk powder helps keep them juicy.
Ingredients
2.5

lbs

lean venison

diced into 1 inch cubes, or another meat of your choice (poultry or chicken thighs would be great too)

.5 lbs pork fat

cut into ½ inch cubes (you can substitute pork belly here, or another fatty cut too, but don't skip the fat)

25

grams

maple syrup

1 tablespoon

2

grams

grated fresh nutmeg or quatre epice spice

20

grams

grated fresh ginger

¾

teaspoon

pink salt

instacure no1 (optional)

25

grams

milk powder

5

grams

powdered ramp leaves

onion powder can be substituted

50

grams

frozen wild blueberries

picked over for debris

30

grams

fine salt or kosher salt

1.8% salt ratio to the weight of the meat here

3

grams

2 teaspoons black pepper, ground fresh and very fine
Instructions
Preferably the night before you stuff the casings, combine all ingredients but the milk powder and blueberries. The next day, soak the casings in water, then grind the venison mixture.

Mix the milk powder and frozen wild blueberries into the sausage and immediately pack into casings, tying them off to make 1.5-2 oz links for breakfast-sized sausages.

If you have time, and can convince your significant other you need the fridge space, allow the sausages to sit, uncovered in the fridge for 24 hours, preferably on cookie sheets with racks for even air circulation, to help them dry out a bit.

Afterwords, cook the sausages within 5 days, or freeze raw
Notes
Yield: 3 lbs, 20 or so 2oz sausages