Kernza, a crop being researched by the land institute in the University of Minnesota is a potentially groundbreaking game changing grain. Most grains, like wheat, corn and soy beans, need to be planted as an annual. Kernza is the opposite, a perennial grain that needs no planting, no tilling, and, because of that, actually replenishes topsoil. See more from The Land Institute here.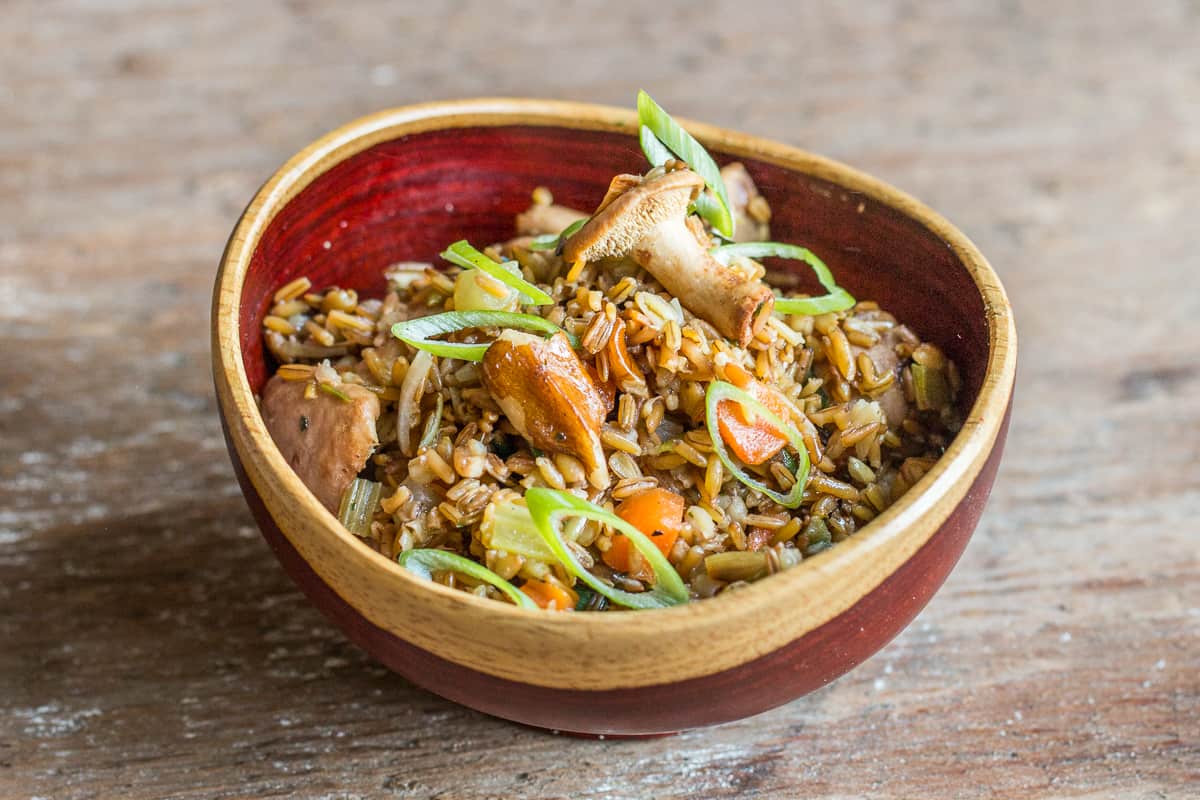 I was first introduced to it in the form of flour that I'm lucky enough to be able to purchase occasionally from Bakersfield, and I've been addicted to keeping some around ever since I heard about it. Kernza flour is difficult to work with for things like bread though, and, although it contains some gluten, it isn't nearly as much as some heirloom wheats like Turkish red and Sonoran white carried by Sunrise Flour Mill, which also have lower gluten contents than, say, conventional all purpose flour.
This means that baking the with flour, if you want something like bread with a decent airy crumb, needs to be in proportions of about 50% with a traditional, higher protein flour.
The other thing Kernza adds to the mix is a certain texture the flour gives to a dough, it's a sort of fudgy, almost custardy feel that I think really shines in quick breads, things like pancakes, waffles, or the flatbreads I made for a few hundred people at the MWHF in 2019.
But, just like other grains, Kernza can also be cooked just like you would whole wheat berries, spelt, or wild rice—as a loose grain for salads, soups, or quick sautés and stir frys. While I like the fudgy texture kernza flour gives to baked goods, right now I've been partial to using it in salads or pilafs to show off the unique shape and texture, especially if I'm serving it to first timers.
It's smaller and more thin than spelt or wheat berries, and, as a definite bonus, is also more tender than either of the other two. For a simple example of how it could be used, I made a little kernza salad to take with me on my recent pilgrimage to harvest praire turnips in South Dakota with members of the Standing Rock Lakota tribe.
It's really simple, you cook the kernza in some stock with aromatics, then toss with mushrooms, herbs and toasted nuts. I used hedgehog mushrooms and butternuts (white walnuts), but you could use whatever combo of nuts, seeds and shrooms you like. It's a filling, portable meal—just the kind of thing I like to keep in a backpack to eat in the middle of the field for lunch, or in this case, the middle of the prairie digging timpsila/prairie turnips.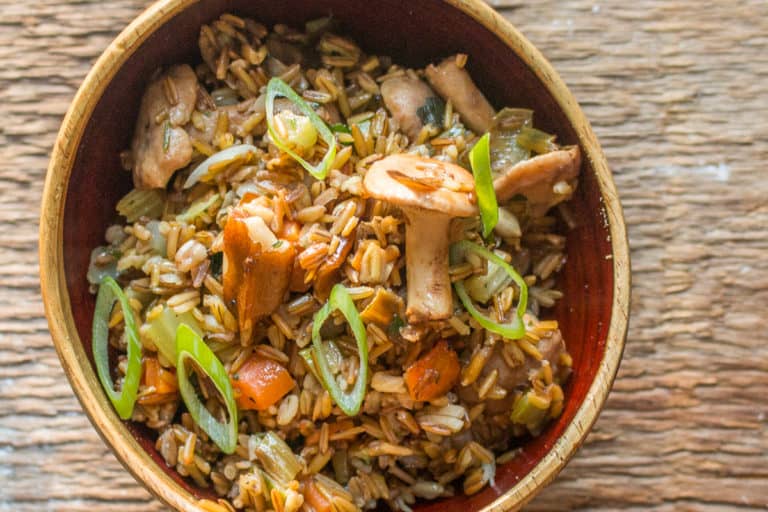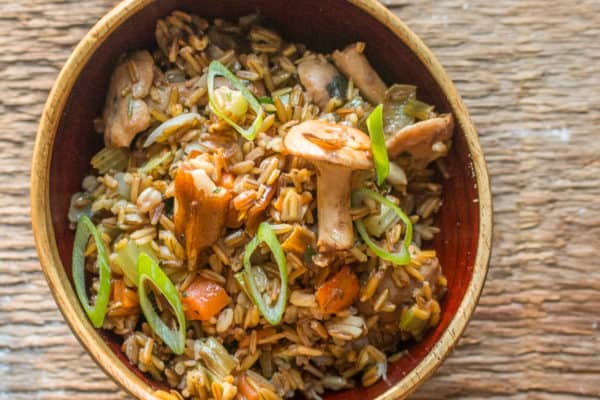 More
The Forager's Guide to Hedgehog Mushrooms
Vegan or Vegetarian Mushroom Recipes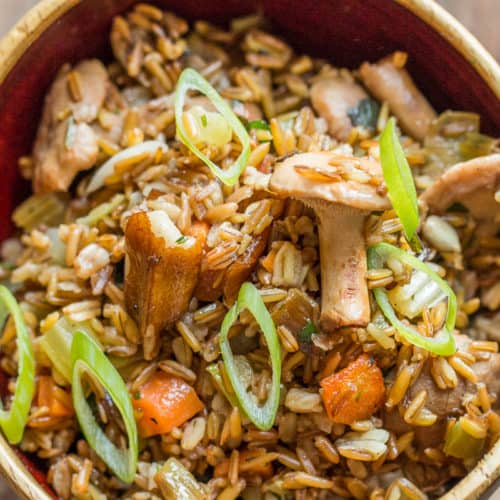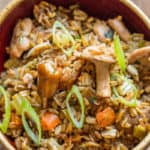 Print Recipe
Kernza Salad with Butternuts and Hedgehog Mushrooms
A salad of chewy kernza berries with butternuts, hedgehog mushrooms and wild herbs
Equipment
1 2 quart sauce pot

1 large skillet
Ingredients
Kernza
1

cup

whole kernza berries

2

cups

water

Small chunk each of carrot

onion, celery

Small handful crumbled

dried mushrooms, or generous pinch mushroom powder
Salad
¼

cup

butternuts black walnuts or other nuts, lightly toasted

1

scant cup gently sautéed hedgehog or other mushrooms or use mushroom conserve

6

oz

small diced carrot, onion, and celery

4-5

green onions, sliced

1

tablespoon

chopped fresh bergamot

Monarda fistulosa or other fresh herbs you like

Kosher salt and fresh ground black pepper

Good tasting oil

such as sunflower, hickory nut, or olive

Dash of apple cider vinegar
Instructions
Lightly toast the kernza in a skillet for a few minutes until you can just smell it. Bring the kernza and water to a simmer with the remaining kernza ingredients, turn the heat to low, cover, and cook until the kernza is just tender and most of the water is absorbed. Discard the vegetables.

Meanwhile, sweat the diced vegetables in a good glug of oil, slowly, until they start to brown along the edges, about 20 minutes.

Toss the vegetables with the still hot kernza, mushrooms, herbs, and green onions double check the seasoning, then adjust with salt, pepper, vinegar and oil.

If you use pickled mushrooms, you may want to rinse them depending on how much vinegar is in your recipe. My conserve can be added straight to the grain salad.
Notes
Kernza is used here as an example. You can make something similar with wild rice or your favorite grain. 
Nutrition
Serving:
4
oz
|
Calories:
233
kcal
|
Carbohydrates:
41
g
|
Protein:
8
g
|
Fat:
5
g
|
Saturated Fat:
0.5
g
|
Polyunsaturated Fat:
4
g
|
Monounsaturated Fat:
1
g
|
Sodium:
36
mg
|
Potassium:
184
mg
|
Fiber:
8
g
|
Sugar:
2
g
|
Vitamin A:
7106
IU
|
Vitamin C:
3
mg
|
Calcium:
47
mg
|
Iron:
2
mg