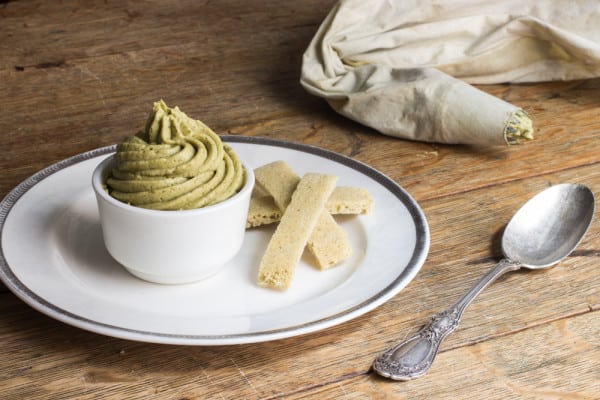 A simple mousse dessert you can make with my basic sweetened knotweed puree I discuss in this post here, stored in the freezer. If you have fresh knotweed, just cook some with sugar or maple syrup to taste until it releases the water, puree until very fine, then reduce to a thick puree, cool and proceed as per the recipe below.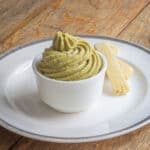 Print Recipe
Wild Peppermint-Knotweed Mousse
Yield: 4 cups, enough to serve 4 people
Ingredients
1

cup

knotweed puree

see recipe

3

leaves

of leaf gelatin

1 tablespoon powdered gelatin can be substituted

1

tablespoon

chopped wild mint

(Blefilia hirsuta)

2

cups

heavy whipping cream

chilled

1

tiny pinch kosher salt

4

tablespoons

powdered sugar
Instructions
Chill a mixing bowl and beaters in the freezer. Heat the knotweed puree on low heat in a pan until warmed through, but not boiling. Stir the chopped mint into the knotweed. Meanwhile, soak the gelatin in very cold water for 10 minutes, or until the gelatin is completely limp. Remove the gelatin from the water, then add to the warm knotweed puree and whisk until the gelatin is incorporated. Chill the pan in the fridge for 10 minutes.

Meanwhile, combine the cream and powdered sugar in a chilled bowl. Whip the cream until stiff peaks form. Remove the pan with the knotweed from the fridge, then whisk to loosen the puree. If the puree doesn't seem to be setting, reheat the puree and add a little more gelatin, then repeat the process.

Fold ⅓ of the cream into the knotweed mixture, then gently, and thoroughly fold in the rest. Put the mousse in a container, pressing plastic down onto the surface of the mousse to prevent oxidization. Refrigerate the mousse until set, and slightly stiff, preferably overnight.

To serve the mousse, spoon it into a pastry bag and pipe it into whatever dish or vessel you like.
Notes
I made this with some wild peppermint, but warm spices like cinnamon, cloves, cardamom, and nutmeg would be great in it's place during the winter. It's great served with toasted cake or biscotti too, pictured is toasted strips of wild rice flour pound cake.