You went to the market, or better yet the woods, and now you're staring at some beautiful chanterelles in your kitchen. If you're new to cooking chanterelles, or even if you're an old-school hunting pro, before you chop them up like any old mushroom, take a few minutes and consider some things with me.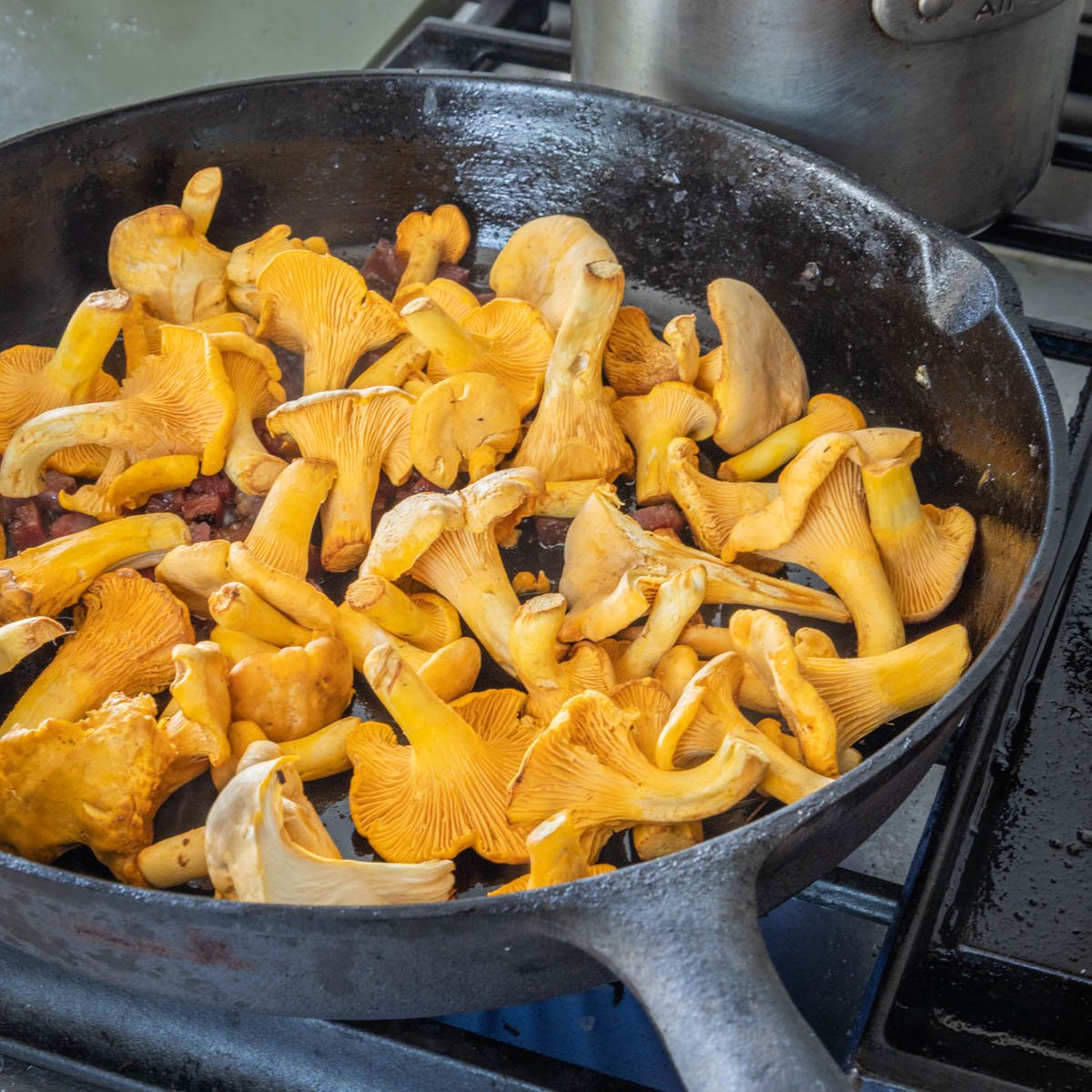 First: clean the mushrooms and store properly
After you get back from a long day of hunting, the last thing you may want to do is meditate over the sink with pounds and pounds of mushrooms, but home refrigerators generally have a really dry refrigeration to them. If you don't clean them quickly, as water evaporates from the mushrooms, the dirt will stay, and it will get stuck on, and be very difficult to remove.
You can make things easier on yourself by making sure to cut the dirty stem from the mushrooms in the field, and brush clean with the handy brush you keep in your bag (a pastry brush works great, or some mushroom knives like Opinel come with a brush in the handle.
At home, when I want to clean the mushrooms I fill a sink with very cold water, and then swish them, one by one, in the cold water to remove grit, then put them in a paper bag lined with slightly damp towels until I need them. Over the course of a few days, or even weeks, I may need to refresh the towel as some of the moisture evaporates in the fridge. You can keep the chanterelles in a plastic bag too, but they will go bad faster, the plus side is that plastic holds in moisture.
General cooking
Chants, as my mushroom hunting friends and I call them, more than many other mushrooms really beg for some special treatment. When I first got to cook chanterelles in a kitchen as a young chef, I didn't think twice about chopping up the big monsters that we would get from Oregon through the fall and winter, and when they get big (we were cooking a species called C. formosus that can be very large) cutting them into chunks can be the best way to go.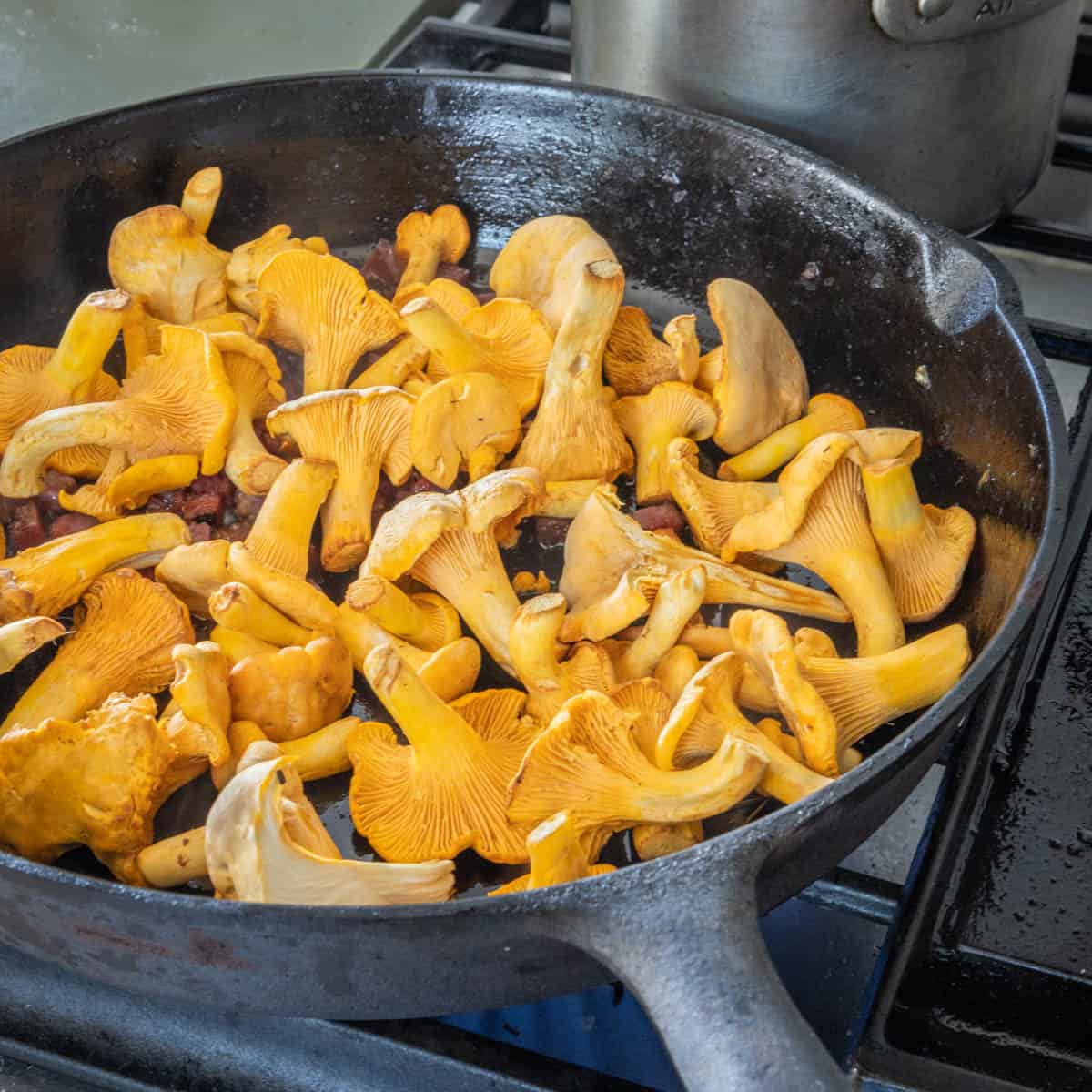 Cook those chanterelles whole!
There's a time and place for cutting up chanterelles, and I'll get to that, but for the most part, if I'm serving them at a restaurant, or at home, I leave them whole. My dream meal of chanterelles is filled with the small and medium-sized buttons, the first ones of the season. When they're still young, before the caps have become wavy and thin, they'll be very firm and almost have a squeaky cheese quality to them, firm, and chewy.
Even better than the texture though is the flavor, when you bite into one, the scent rolls up from your mouth into your nose, and there's no denying what you ate. As well, the best pickled chanterelles you'll have are going to be the smallest ones, since they'll hold their shape and texture. Older mushrooms can still be pickled, but can end up with a soggy texture.
Can you overcook chanterelles?
Absolutely, positively, yes. This is a common problem I see when people post recipes they've made, it's not their fault, I overcooked them for years too. Once the chanterelles are heated through, they're ready to eat, the problem can be that depending on the strength of the heat of the pan, it can take longer to brown the mushrooms than it does to actually cook them. Overcooked chanterelles don't necessarily have to be crunchy, obliterated nubs, they can also be browned, oily, slugs.
So how do you avoid overcooking the mushrooms?
Well, first make sure to allow the mushrooms to dry if their wet, if you're cooking a large species that holds water, (C. californicus, C. formosus). I like to dry mushrooms by packing them gently in towels in the fridge after I wash them, since I do typically wash them, unless they're absolutely pristine.
Secondly, make sure to cook the mushrooms on high heat, quickly. Lastly, don't hesitate to remove the mushrooms from the pan if you're cooking them with other things that take longer, or cook the mushrooms at the last minute in a separate pan and add to the dish at the last minute.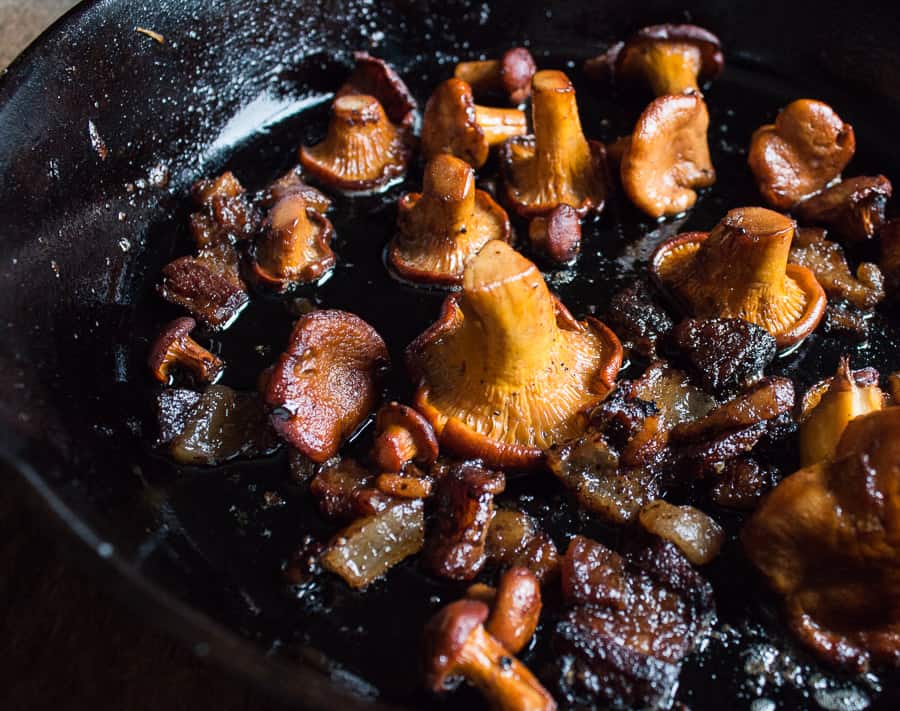 Browning
Another key to flavor with chants is to make sure that they get a little color, don't cook them until they dry out and get tough, but brown them a bit, gently. This can be tricky if you're trying to cook a big batch of them, but keeping them whole makes life alot easier again here.
When the mushrooms are cut up, they take up more surface area and can let off a lot of water if it was wet outside or if you had to rinse them, which I generally do unless they're very clean.
Older and bug damaged chanterelles
If you were to make the same dream meal you made using the first perfect buttons of the year with a bunch of chopped up chanterelles, to me it just wouldn't be the same.
Unfortunately the season doesn't go on forever, so if you buy you chanterelles, or hunt for them the chanterelles you have access to will eventually become be bigger throughout the year, or have damage from bugs. When I have mature mushrooms, or some with a couple bug holes, they'll generally get cut up and used for a number of different things. Here's a few examples:
Duxelles are a classic way to preserve mushrooms, and not just chanterelles.
Cooking chopped chanterelles in cream is a great way to stretch their flavor. Like most of us know, mushroom aromas are very soluble in cream-a classic way to enjoy them.
Conserve, or a marinade with a little vinegar, garlic and herbs can work, and it's also great with young buttons.
Drying or powdering your older chanterelles is ok too, but It does change their flavor a little differently than most mushrooms. I don't care for it, but many people do.