Winter means snow, cold, and a chance to try to use up some of the preserves I've put up for the year. I didn't put up a ton of fruit this year, but I still picked plenty of mushrooms.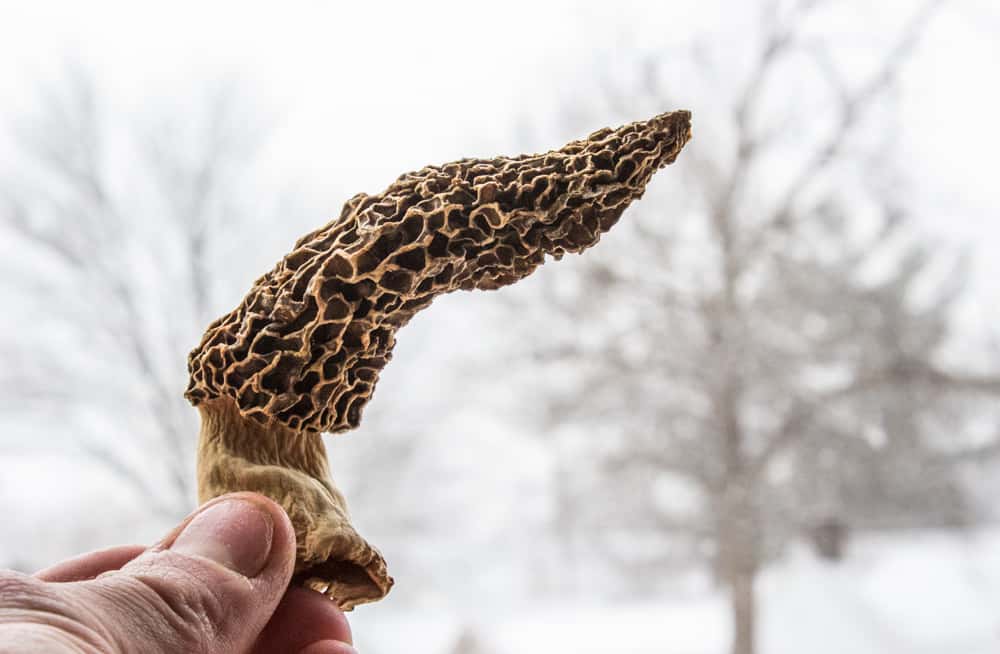 Here's a dish using dried morels and fresh pasta that's easy and familiar, but interesting enough for people who are more adventurous or curious about food history. It all has to do with how the meat it cut for the sauce.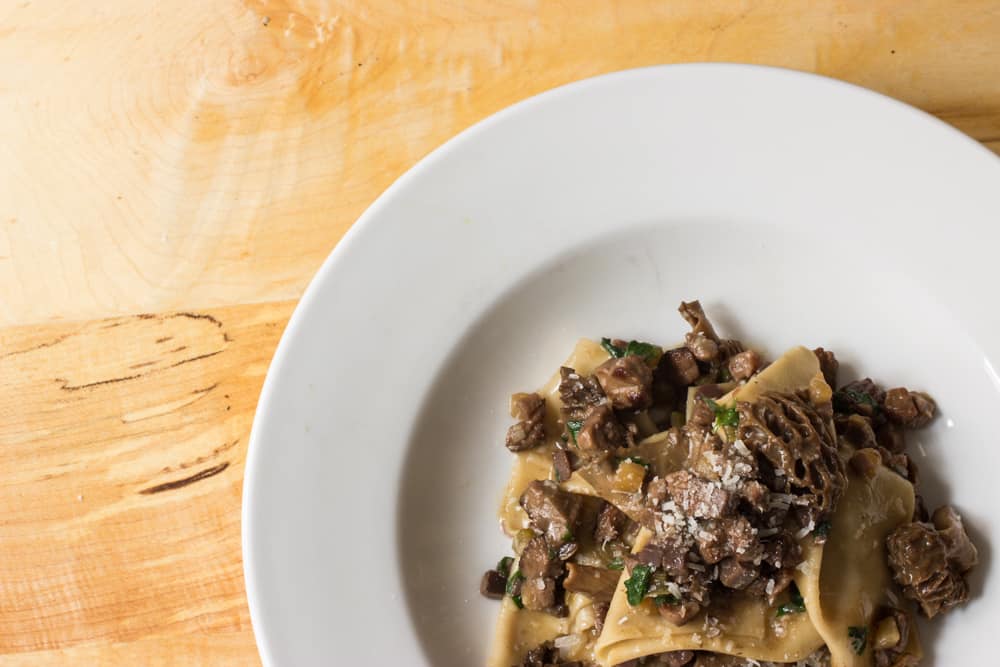 When we think of pasta sauce that includes meat, most of the time you're going to think of ground meat, since it disperses in the sauce and is the basis for most recipes we've come to know in America. In "The Fine Art of Italian Cooking", one of my favorite books by Giuliano Bugialli, the author discusses what pasta sauces with meat have looked like throughout the centuries.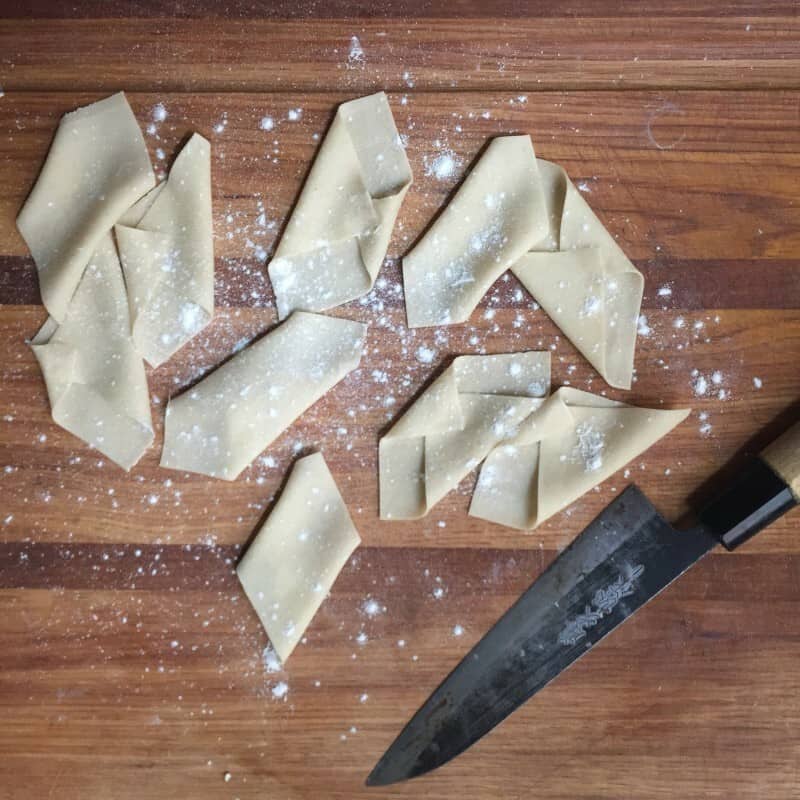 The book is filled with old techniques, pictures of ancient manuscripts, and simple to complex, technically rigid recipes. Bugialli is a meticulous stickler for tradition, and goes deeper to trace the historical foundations of recipes than any author I've ever read.
One of the pasta sauces he discusses in the book is a sauce where the meat is cut with scissors into little pieces rather than being ground. Bugialli claims it keeps the texture of the meat more than when it's ground and allowed to cook into an amalgamous mass. I personally like pasta sauce any which way, but it's fun to know an alternate method the next time you're craving some good old fashioned meat sauce.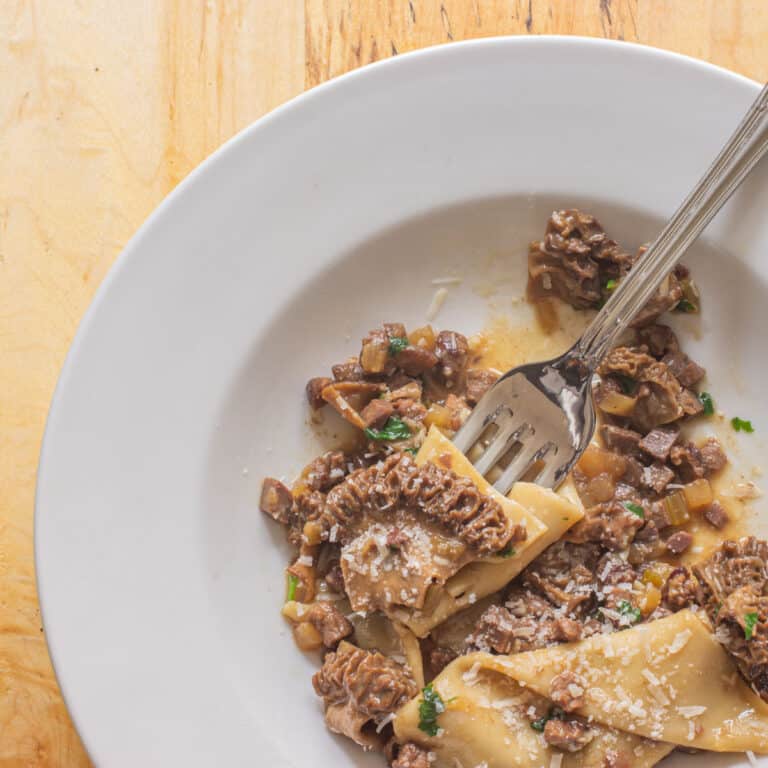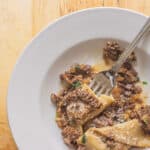 Print Recipe
Fresh Pasta with Beef and Dried Morel Ragu
Fresh egg noodles with a beef and morel mushroom sauce. Feel free to use your favorite fresh pasta recipe, or you could try the small batch I list below that's tried and true. I made large penne shapes here, but any old shape or noodle you like would be fine. 
Equipment
1 Pasta roller

1 3 quart sauce pot
Ingredients
1

lb

grass fed beef chuck

chopped roughly into ¼ inch pieces or snipped with a scissors.

2

small cloves of garlic

minced

½

tablespoon

tomato paste

¼

cup

carrots diced ¼ inch

¼

cup

celery diced ¼ inch

¼

cup

onion diced ¼ inch

2

cups

beef stock

preferably homemade

1

ounce

dried morel mushrooms

½

cup

dried red wine

3

tablespoons

unsalted butter

Kosher salt and pepper

1

Teaspoon

fresh chopped Italian parsley

Fresh grated grana padano or parmigiano

for serving
Pasta (optional ¼ cup semolina flour¾ cup all-purpose flour¼ teaspoon sea salt1 large eggs beaten⅛ c. warm water
¼

cup

semolina flour

¾

cup

all-purpose flour

¼

teaspoon

sea salt

1

large

egg

2

tablespoons

warm water
Instructions
Pasta
Combine the flours and salt in the bowl of a stand mixer with the egg and mix, slowly drizzling in the water until a rough dough forms.

Continue to work the dough until it comes together, about 5-10 minutes on the lowest speed setting. When the dough cleans the sides of the bowl and comes together in a solid mass, remove it from the mixer and allow to rest, wrapped in plastic for 30 minutes.

Alternately, pile the flour and salt into a mound on a cutting board and make a well in the center, then add the eggs and mix together with a fork, gradually adding the water as needed and working the mixture with your hands.
Morel Ragu
Re-hydrate the morels in water to cover for 30 minutes. Agitate the morels in their liquid to dislodge dirt, then remove them from their liquid, strain the liquid through a coffee filter, and reserve the two separately. Roughly chop the morels.

Heat the butter in a deep sided saute pan with a lid, add the vegetables and garlic and cook slowly on medium-low heat, stirring occasionally, about 10 minutes.

Add the beef and cook 10 minutes more, seasoning with salt and pepper. Finally add the tomato paste, stir and cook for another 10 minutes. Add the wine and cook down until evaporated. Add the stock, morels and their strained liquid and cook covered with the lid ajar for 1 hour on low heat, or until the meat is tender.

Double check the seasoning for salt and pepper, then serve immediately, tossing the sauce with the pasta, parsley and butter, garnishing with parmesan. OR refrigerate the sauce and cool, uncovered in a labeled, dated container. When the sauce is cooled, cover it.
Nutrition
Serving:
5
oz
|
Calories:
465
kcal
|
Carbohydrates:
34
g
|
Protein:
31
g
|
Fat:
15
g
|
Saturated Fat:
12
g
|
Polyunsaturated Fat:
2
g
|
Monounsaturated Fat:
9
g
|
Trans Fat:
1
g
|
Cholesterol:
147
mg
|
Sodium:
523
mg
|
Potassium:
851
mg
|
Fiber:
2
g
|
Sugar:
2
g
|
Vitamin A:
1802
IU
|
Vitamin C:
3
mg
|
Calcium:
55
mg
|
Iron:
5
mg
More