Carbon steel pans are an unsung hero of professional kitchens. In the last few years there's been a carbon renaissance, and now they seem to be everywhere. Today I'm going to break down why I use them, what they're good for, why I think it's worth having one in your "batterie de cuisine" at home, as well as a shout out to one of my favorite pan-crafting artists Dennis Kehoe: a blacksmith who forges all his pans by hand.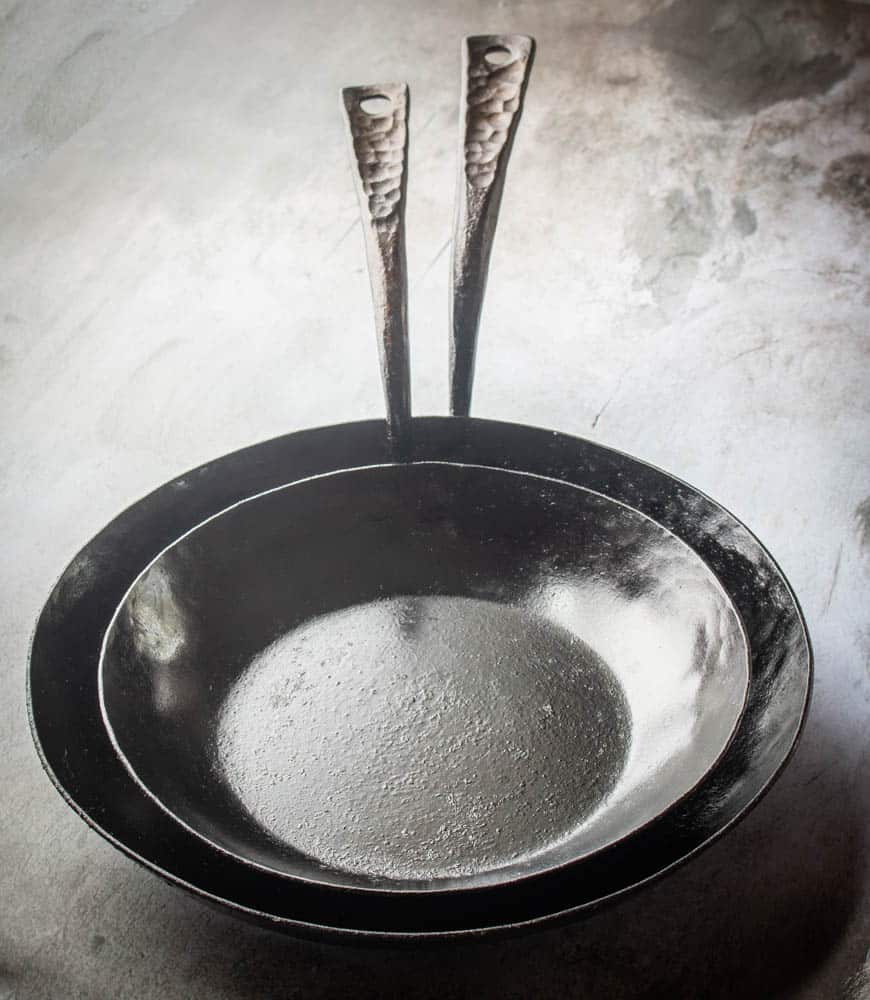 For years I didn't know exactly what carbon steel (also referred to as blue steel) cookware was, but I knew people liked them as the guys on hot side argued over the small six-inch pans like they were made of gold. I didn't really understand how useful they were until I started working really busy sauté stations where I could be working ten pans at a time on a busy night. Most of the pans would be stainless steel, but for extra firepower (usually for searing proteins) one or two would carbon.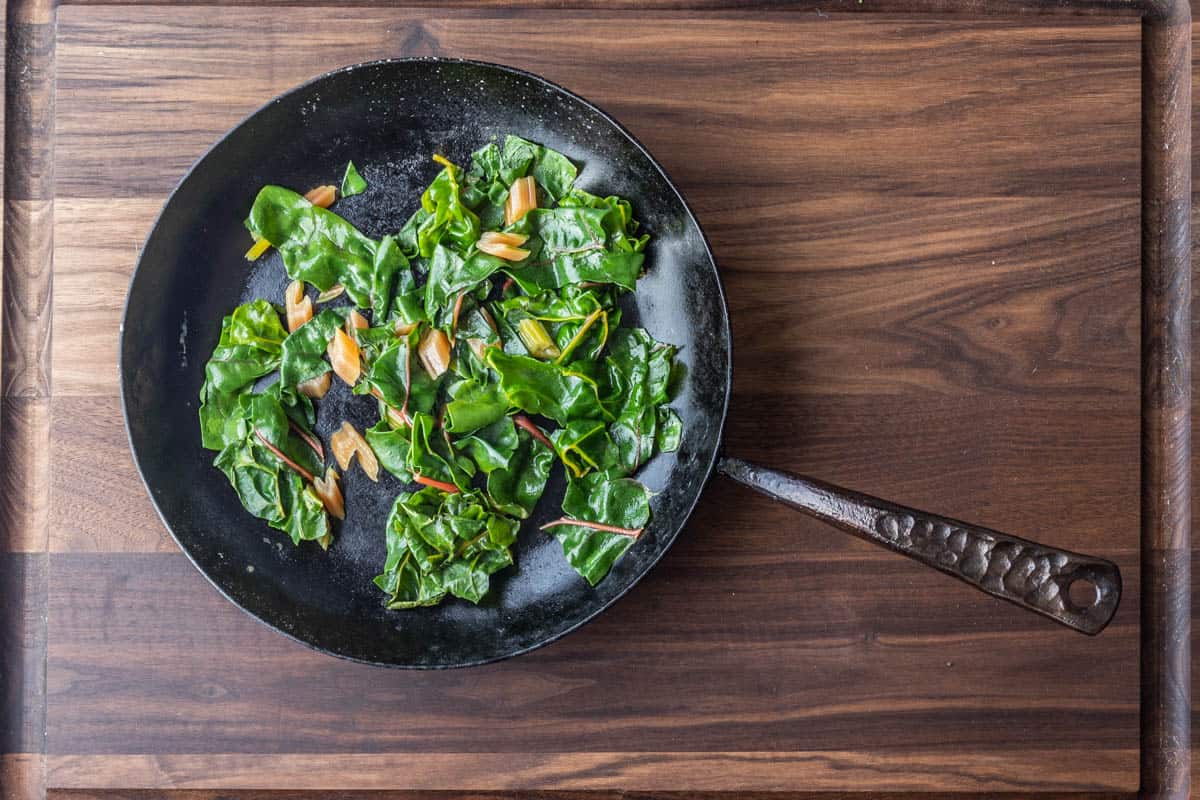 On a busy line, one of the most precious commodities is a fresh pan, especially at times when you have dishes that take more than one pan to put together. Since carbon steel and cast iron pans shouldn't go through the dishwasher they're valuable commodities-just cook, wipe, reload, repeat.
Cast iron vs Carbon Steel
Think of carbon steel as cast iron's hot, nimble cousin. Both types of pans are made with iron and a small percentage of carbon. There's differences though, and they're good to know, the biggest in my mind being that cast iron starts as a liquid metal poured into a mold, where carbon steel is typically made from sheets of metal.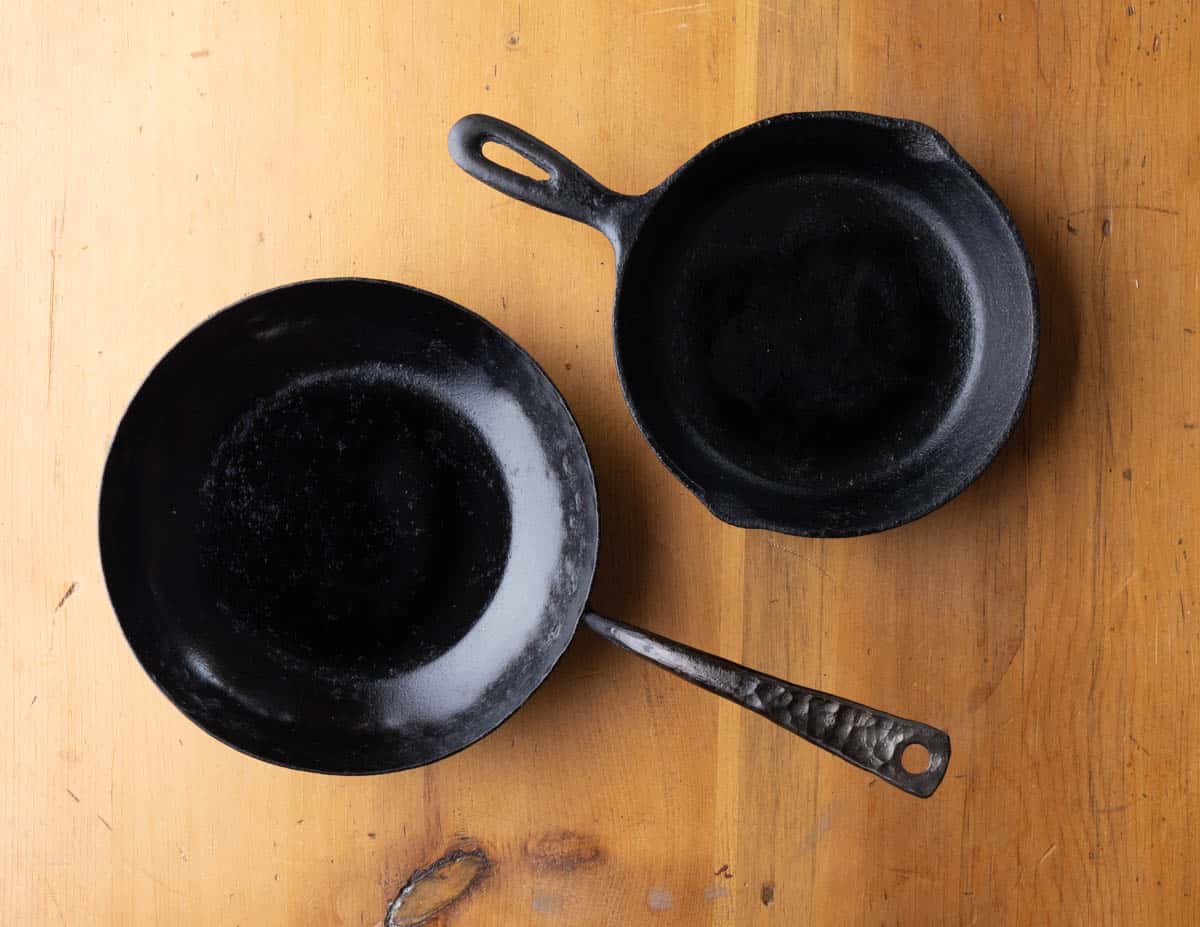 Believe it or not, the liquid mold aspect of cast iron actually makes them more brittle than carbon steel, which is why they can crack if they're dropped (I've only seen it once or twice) Cast iron is also heavier than carbon steel, often nearly twice the weight, partially to make it more durable. I love my 12 inch cast iron pan from my great-grandmother, but, I've also sprained my wrist once or twice by lifting it the wrong way, and I'm not alone.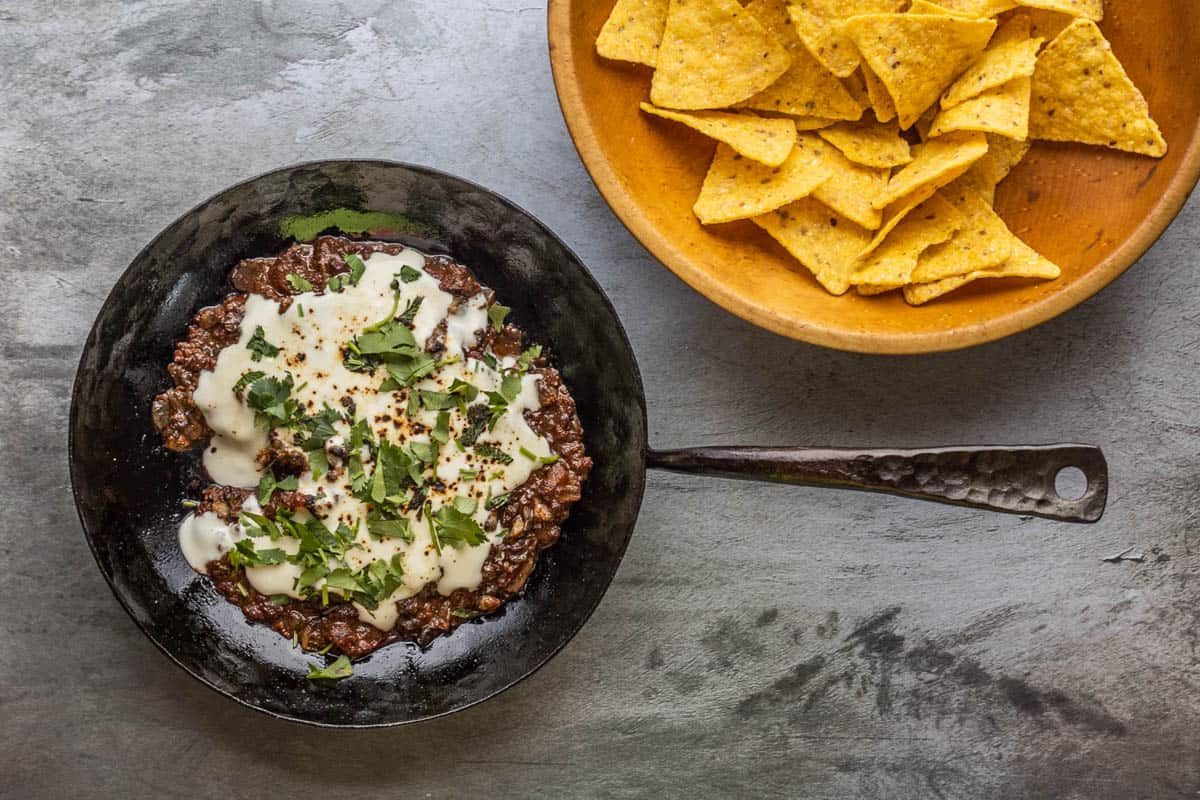 Acid
Both cast and carbon are sensitive to acid. Versatile as they are, you won't be simmering tomato sauce in either of them, which is why we have things like enamel-coated cast iron, the enamel providing a barrier between the acid and metal. That being said, if the pan is quickly cleaned and oiled after cooking, I don't have any problem making pan sauces and other things, even if they have lemon juice or a good shot of wine.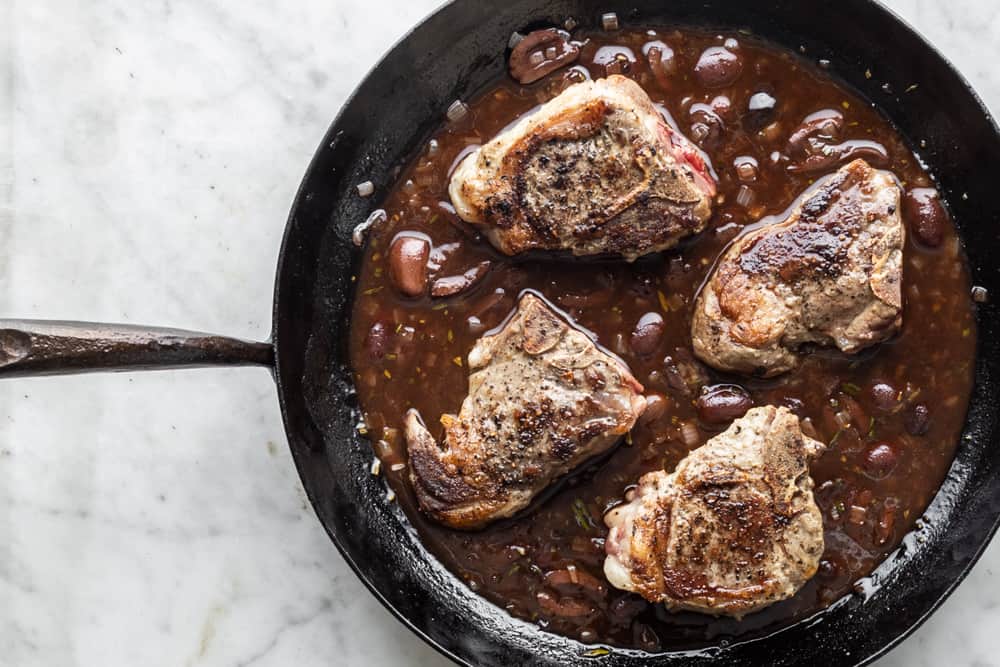 Heat Retention 
Cast iron takes a while to get hot, and can be too slow for some restaurant needs, but, as it's thicker, it stays hotter longer. This can be good for keeping foods hot and serving out of the pan, but isn't something I always want. Carbon steel pans get hot fast and cool down quick-just one of the other reasons they see so much use in kitchens.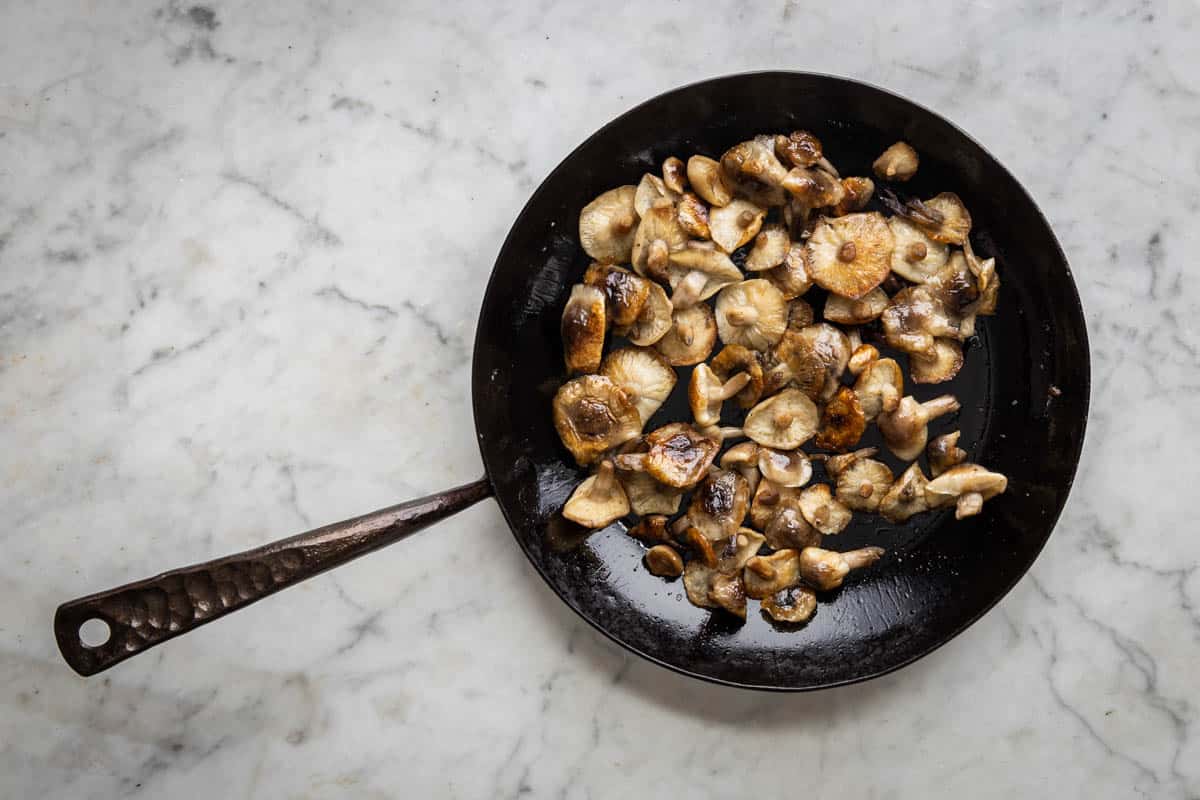 Since cast iron pans are made in a single piece, they're also known for getting very hot, and I know a few people who don't care for the short, stubby handles for that reason. The handles of a carbon pan will get hot too, but it takes longer, and, as they're lighter, they'll cool down quicker.
The ultimate Sear 
Carbon steel pans are my first choice for hot, fast cooking as well as pan-roasting. Steak with an incredible sear? Perfect Brussels sprouts? Chicken breast with the golden brown crackling skin? Scallops better than your favorite restaurant (after some practice!) are just a few examples of what carbon excels at.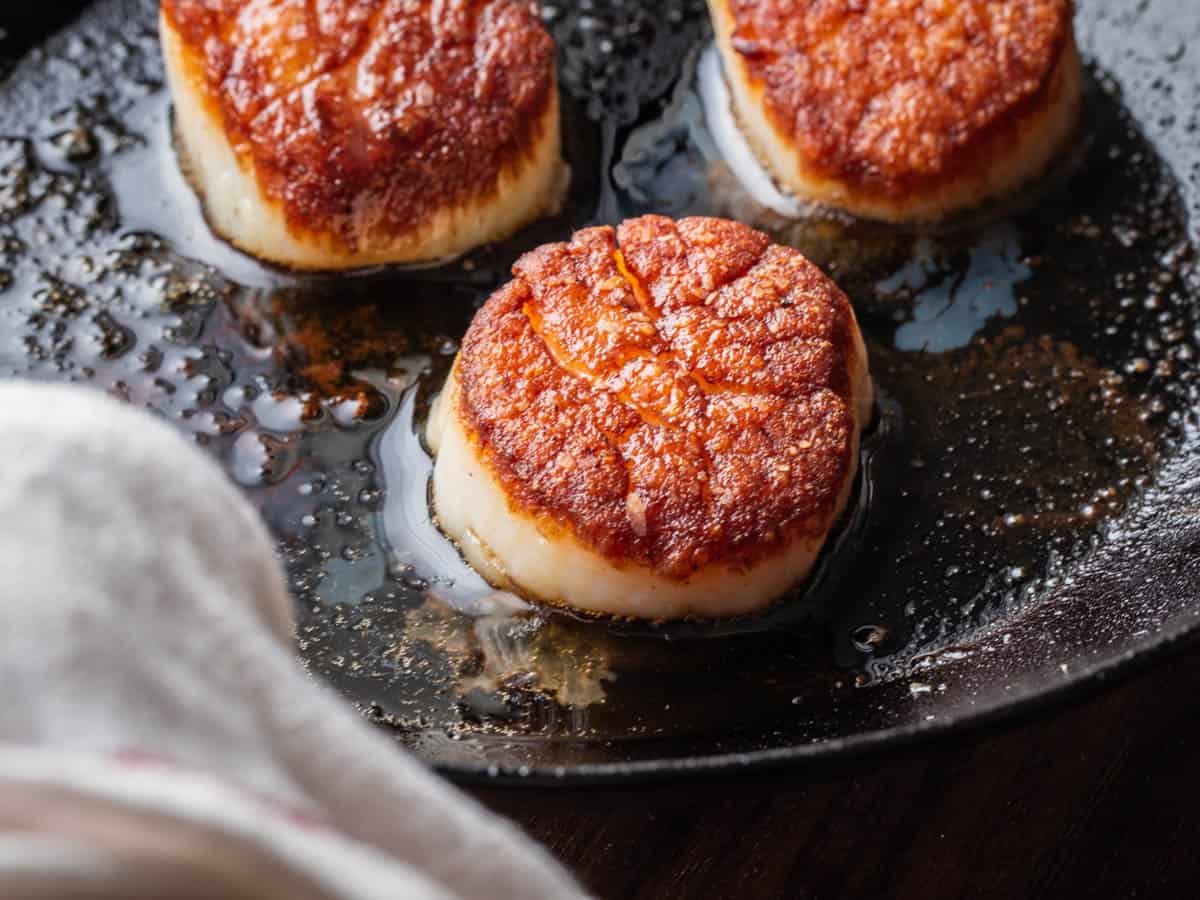 Cast iron's also good for searing, but carbon heats more evenly, and typically gets hot at least twice as fast as cast iron depending on the thickness of the carbon pan, which can vary.
Lightning fast, even heat is only part of the equation, but it's a big one, especially when someone is paying for say, the perfect plate of scallops. If you've ever wanted to make seared lops like your favorite restaurant, with that perfect crust edge-to-edge, carbon steel is the way. They're also great for cooking cuts like the teres major steak.
See for yourself in the quick demo below.
Seasoning and Cleaning
Seasoning a carbon pan is exactly the same as with cast iron. Here's what I do: get the pan hot, rub with a tiny amount of oil (start with ½ teaspoon or so) then bake in the oven for an hour at 500F, turning the oven off and leaving the pans to cool naturally. But, the best way to season pans is just to use them regularly. I keep mine directly on the stove so they're ready for action. The more you use it, the better it will be.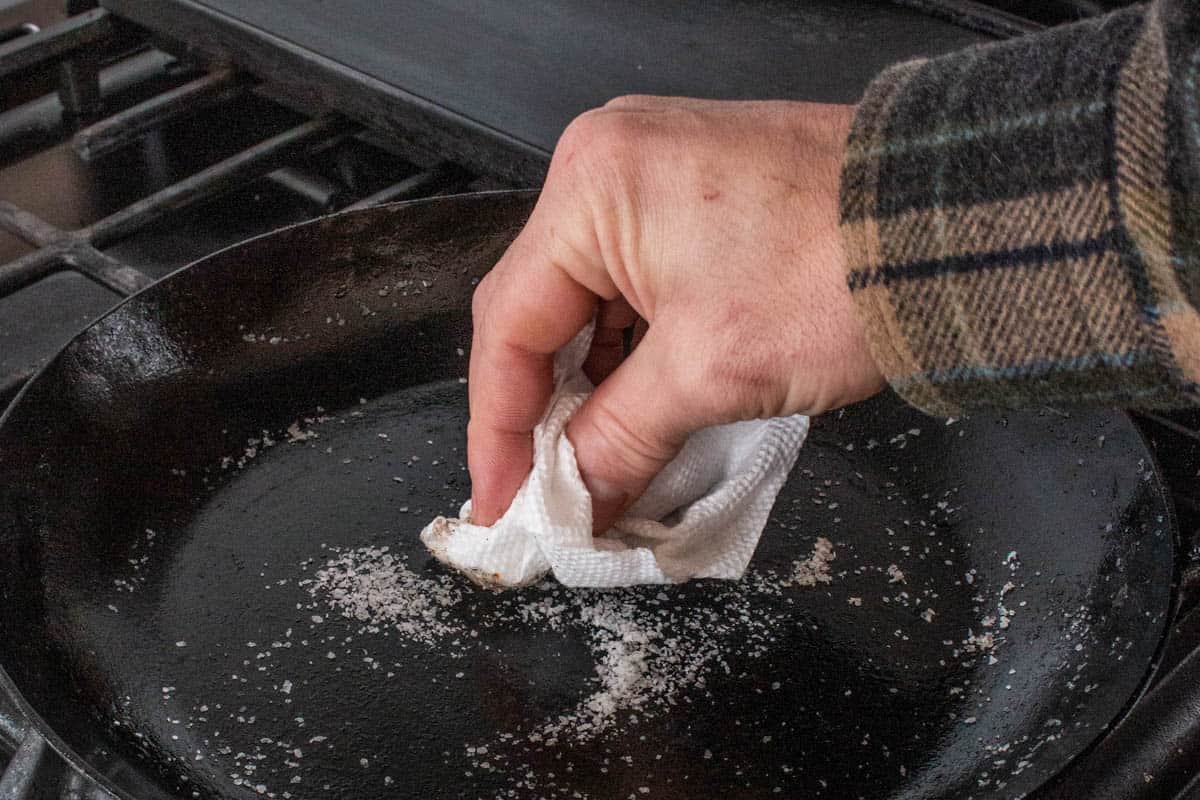 Cleaning carbon steel pans is the exact same as cast iron. If the pan doesn't have any stuck on bits, I simply wipe it out, adding a drip of oil if it looks dry. If there's some debris, say, from searing a steak or scrambling eggs, I'll add water to cover the bottom of the pan, bring it to a boil, scrape with a wooden spoon, pour it out, rub the pan with coarse salt, dry, and then apply a tiny bit of fat before storing.
Both cast and carbon pans can have great non-stick qualities, and a couple days with my Kehoe pans I was able to have eggs swirling around without sticking. To get the best non-stick quality from cast or carbon though, it's important to make sure you're using enough oil. You don't need to go overboard, but I always add a little bit more fat with carbon and cast than I would if I'm cooking with stainless steel.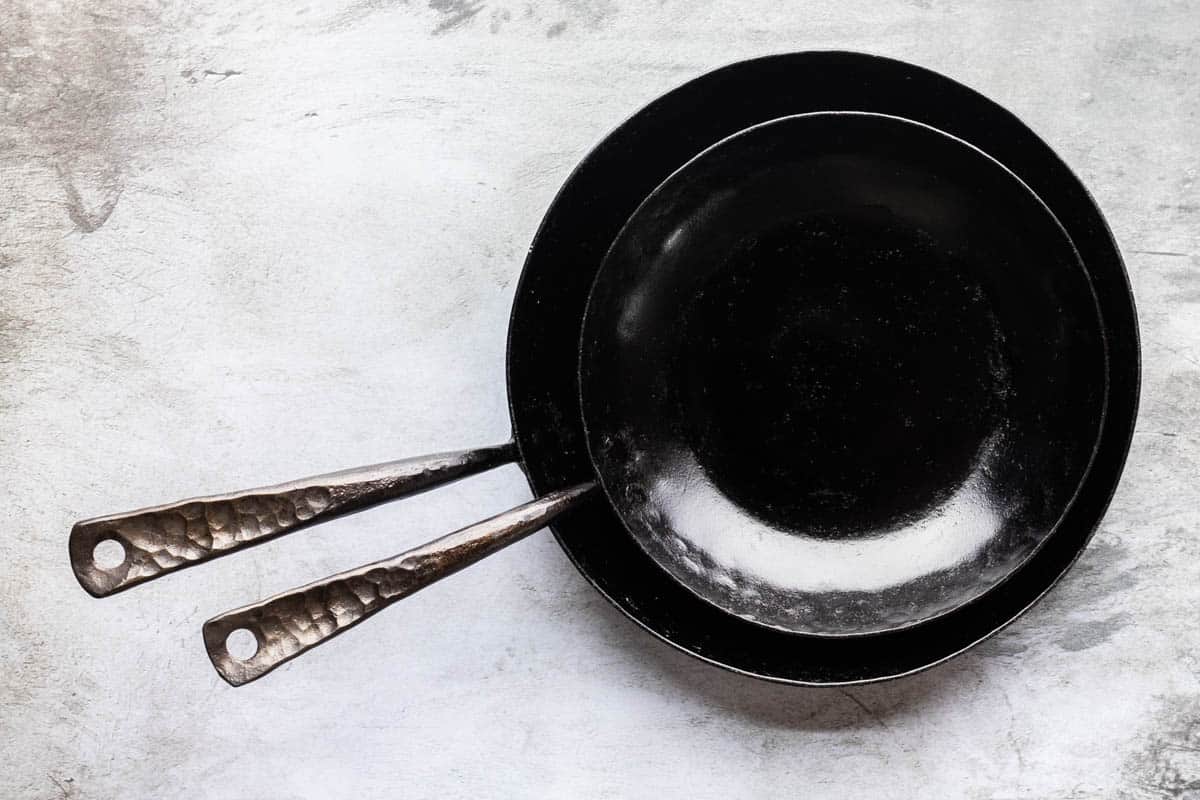 Heat is important. If you watch the demo video in this post, you'll see how long I keep the pan on the heat. For searing most meat and fish, it's important to see a tiny whiff of smoke before the protein hits the pan, otherwise it might stick-it's the same with cast iron and stainless steel.
Options
Like most things, there's a carbon pan for every budget. The carbon pans I used in my restaurants were the about $90 each, and you can get a decent one for about $45. But, if you appreciate one of a kind, handmade tools that double as family heirlooms, I think you'll like one of my favorite makers.
Kehoe Carbon Cookware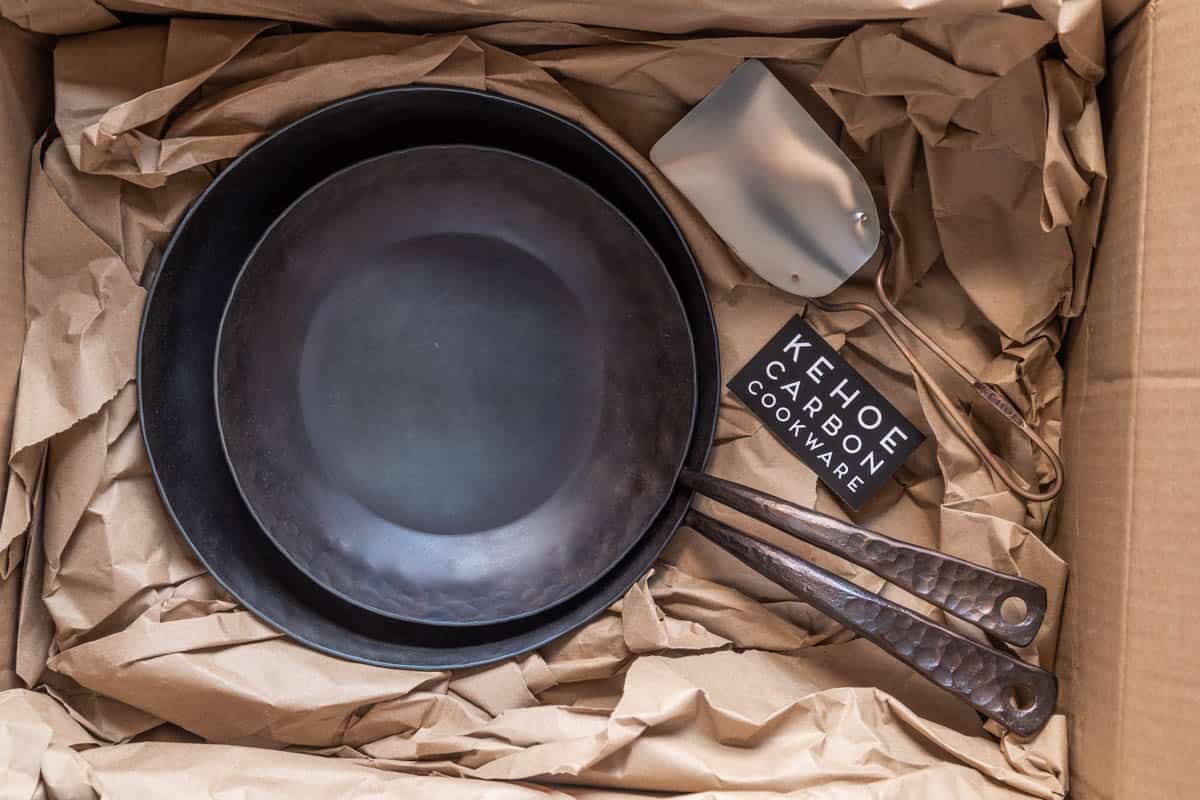 An artist blacksmith by trade, Dennis Kehoe spent years making sculptures and other commission projects. In 2018 he made his wife Kasey a carbon steel pan as a Christmas gift. They liked the pan so much that they began making them in small batches, and, a couple years later, the business has grown enough that he's now doing it full time (read the whole story on his about page).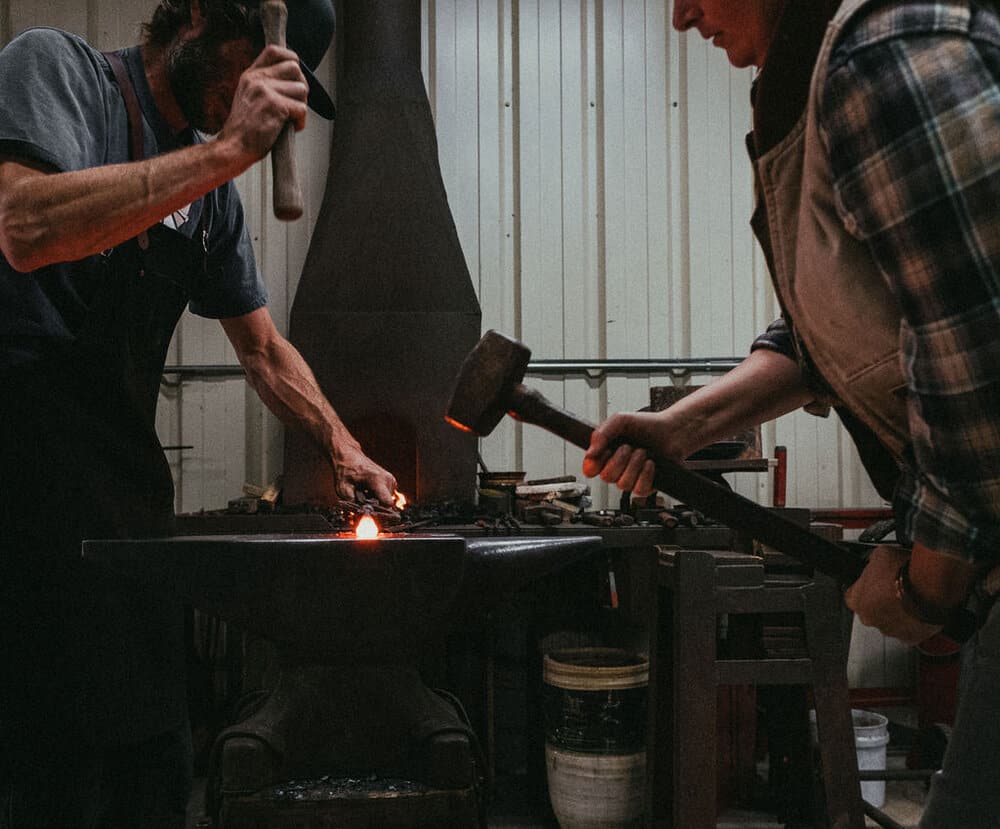 A few of my friends have Dennis's pans, so I was aware of them, but I have so many pans already it's hard to justify getting new ones, especially ones that are investments. Any skepticism I had about the quality was gone after I held the first one though, and just having them around made me look for excuses just to use them. After using them for a few months, seeing them on the stove ready for action still makes me happy every time I walk in the kitchen.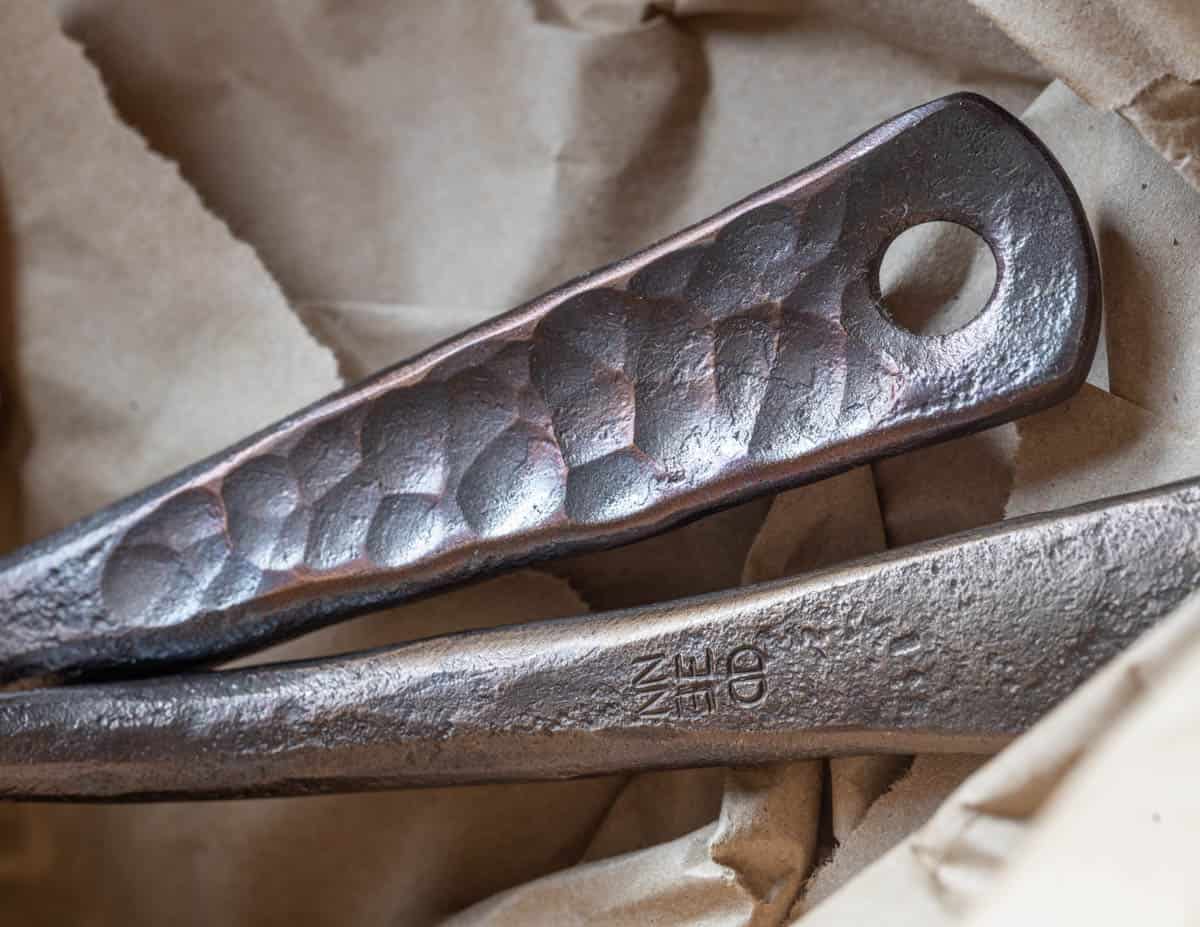 The pans are gorgeous, but the handles are my favorite, and are a good example of function blending with aesthetics. Dennis's pans are the only ones I've seen with a handle that tapers as it approaches the pan. The tapering gives it an elegant look, but the smaller point of contact where it meets the pan also means that the handle stays cooler, longer, as you can see in the thermal image shot sent in by a customer.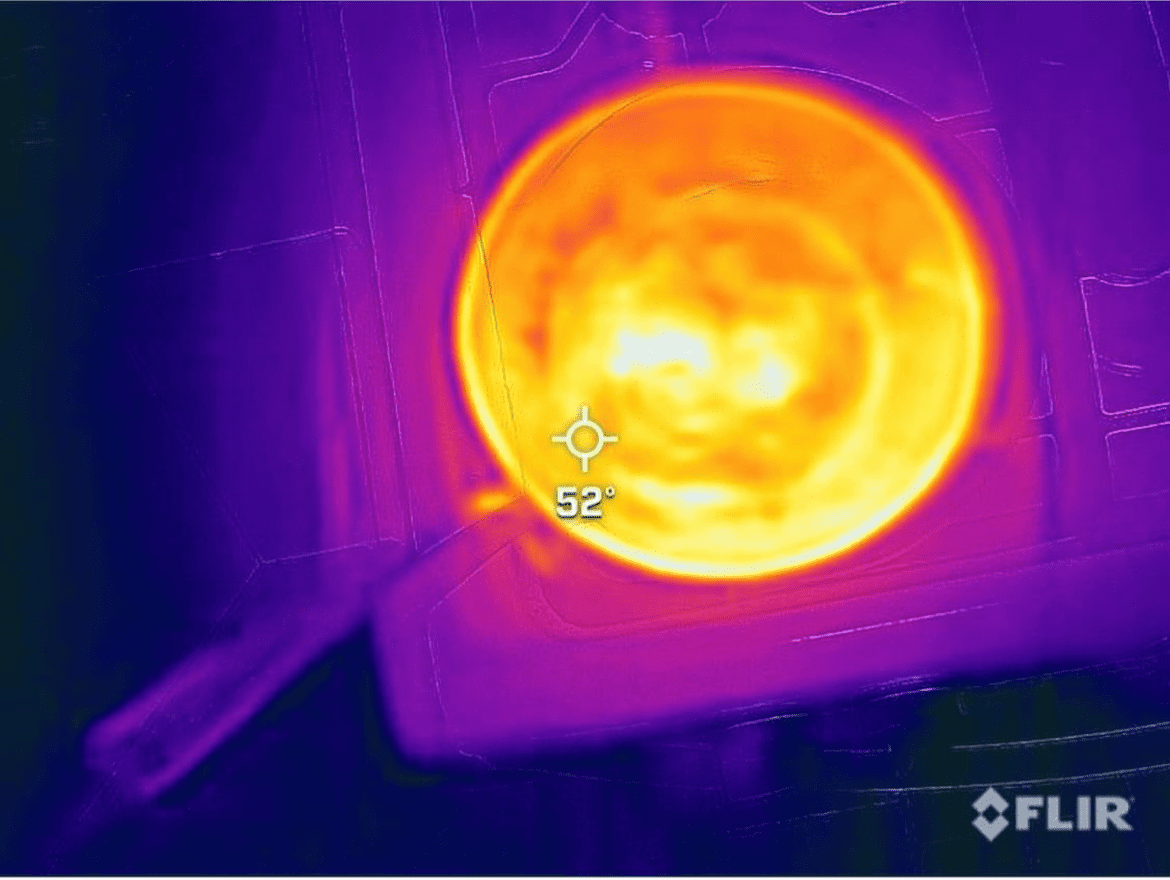 So, there you have it. Cooking with carbon steel pans is the same as with cast iron, they're just lighter in weight, and quicker on the draw. Both are good, just a little different.
If you're interested in your own pan handmade by a blacksmith, there's a link below. They're an investment, but most good things are. Their current Spring pre-order for pan reservations ends in April, but they'll do a few batches each year. I also recommend the lighter, 12 gauge pans which are pictured in this post, vs the heavier 10 gauge.
Where to Buy Carbon Steel Pans
https://www.kehoecarboncookware.com/