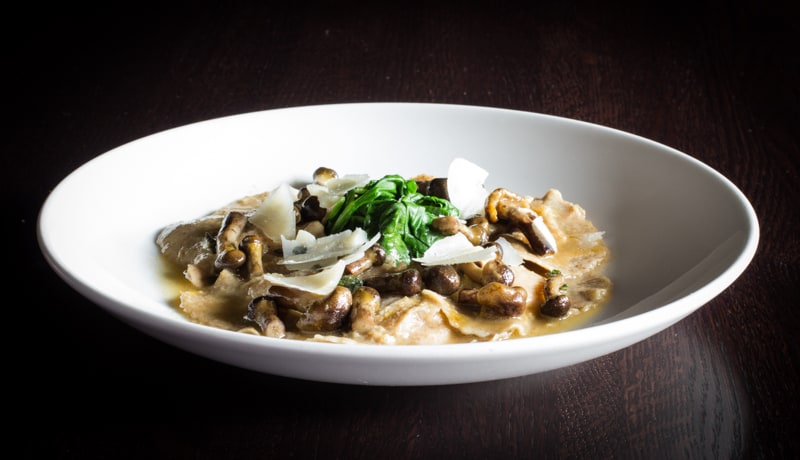 The past few years have been hit and miss for me with honey mushrooms. Its all about timing, and these guys quickly bolt and get past their prime. If you get lucky though, you can find staggeringly large fruitings.
I didn't come across tons this year, but I did get a few clusters of honeys that were perfect. The bulk of them went into duxelles for pierogi filling, but I did eat a couple fresh.
Excluding candy caps, honey mushrooms have the most noticeably sweet taste I've had, here they're paired with some fall squash ravioli, a little brown butter and spinach. It's easy, and hyper-seasonal. I make ravioli out of wild rice flour pasta, but if you don't feel like making your own ravioli there are plenty of decent frozen brands available at nice grocers.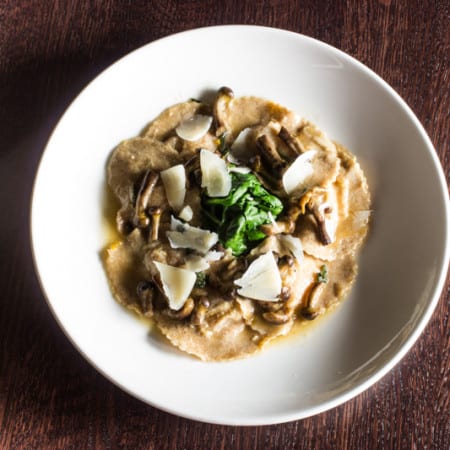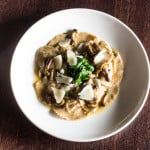 Print Recipe
Heirloom Squash Ravioli With Honey Mushrooms, Brown Butter and Sage
Yields about 24 ravioli, enough to serve 4 people as a light entree
Ingredients
Wild Rice Pasta
½

cup

wild rice flour

1 ½

cup

ap flour

5

egg yolks

¼

teaspoon

kosher salt

2

tablespoons

cold water
Squash Filling
1.5

lbs

heirloom butternut squash

¼

cup

grated parmesan cheese

¼

of a whole nutmeg

grated

1

teaspoon

chopped fresh thyme

½

teaspoon

powdered ginger

1

tablespoon

flavorless oil

Kosher salt and ground white pepper

to taste
Sauce and Finishing
1

lb

small

young honey mushrooms, cleaned and trimmed to a length of 1-2 inches.

4

tablespoons

unsalted butter

plus 2 chilled, diced tablespoons for finishing the sauce

⅛

cup

sliced fresh sage

½

cup

dry white wine

1

cup

homemade chicken stock

plus more if needed to thin the sauce

4

ounces

fresh young spinach

cleaned, blanched, and shocked in an ice bath

Kosher salt and fresh ground black pepper

to taste
Instructions
Rye Pasta
Mix the flours, and salt with eggs, yolks, and water in the bowl of a stand mixer until the mixture comes together in a smooth dough, and springs back when pressed. Wrap the dough in plastic and refrigerate it for 20 minutes until needed.
Squash
Meanwhile, season the squash with oil, salt, pepper and thyme, then cook, covered in the oven for 20 minutes at 350 or until tender. Transfer the squash to the bowl of a food processor and blend until very smooth, then remove to a bowl, allow to cool and add the cheese, ginger and nutmeg.
Ravioli
Roll out the pasta to the thinnest setting on a pasta machine, then use the rim of a glass to cut out circles of dough. Make ravioli by wiping the bottom cirlce of dough with beaten egg, then filling with a heaping teaspoon of the filling, topping with another circle of dough, and pressing gently to remove air pockets and seal the edges. Dust the ravioli with semolina flour or cornmeal to prevent sticking, then refrigerate or freeze until needed.
Serving
To serve the dish, boil some lightly salted water for the ravioli and cook them until just al dente. Meanwhile, heat the 4 tablespoons of butter in a non-reactive saute pan until browned and aromatic, add the mushrooms and sage and cook until the mushrooms are completely cooked, about 5 minutes. Season the mixture to taste with salt and pepper, then deglaze with the wine and reduce by half. Add the chicken stock and reduce by half again, then add the spinach, finally finish by stirring in the remaining cold diced butter to make a creamy sauce. Add the ravioli and toss to coat, double check the seasoning and adjust if needed, then divide the ravioli evenly between 4 heated dinner plates and serve immediately topped with a little extra grated parmesan if desired.
Notes
One of the other reasons I made this was to highlight the fantastic heirloom squash we have in Minnesota. I used a variety of butternut squash here called a pumpkin butternut, like the name implies, it taste a bit like pumpkin. The pumpkin butternut is very good, but your favorite squash will work just fine to make a ravioli filling too.
More