A delicious, surprisingly rich dish of wild greens with walnut sauce inspired by Turkish recipes for borage. It's one of my favorite Virginia bluebell recipes, but many greens can be used.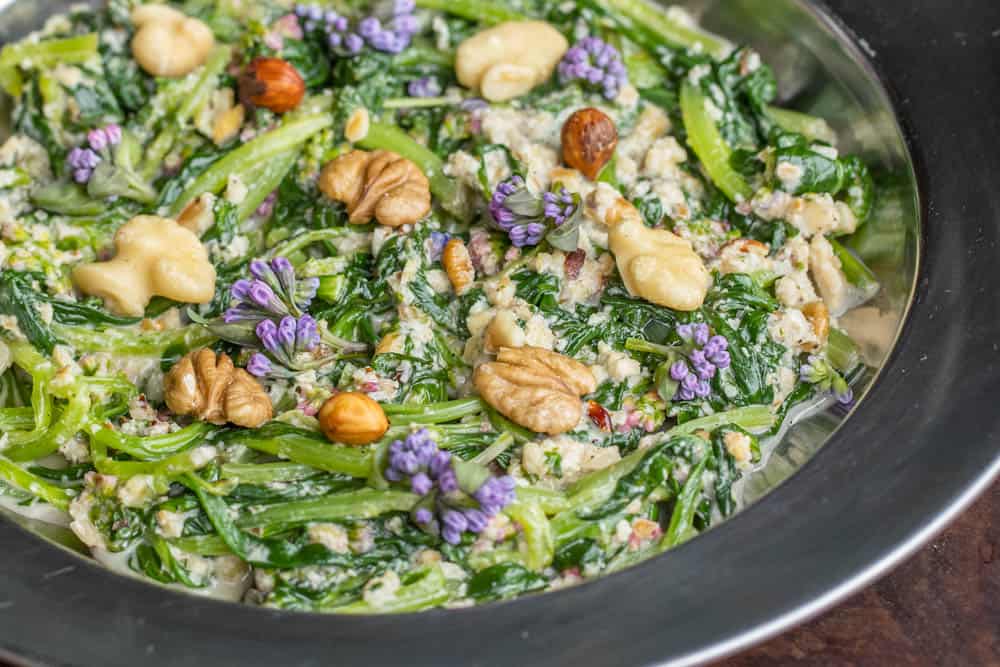 As I was cooking with my Virginia Bluebells this year, I started looking around in my library for recipes specifically calling for borage greens, since Virginia Bluebells are in the Boraginaceae.
Borage has been cooked in the Mediterranean for a very long time, but I also found different recipes from Eastern Europe like Georgia, as well as Turkey.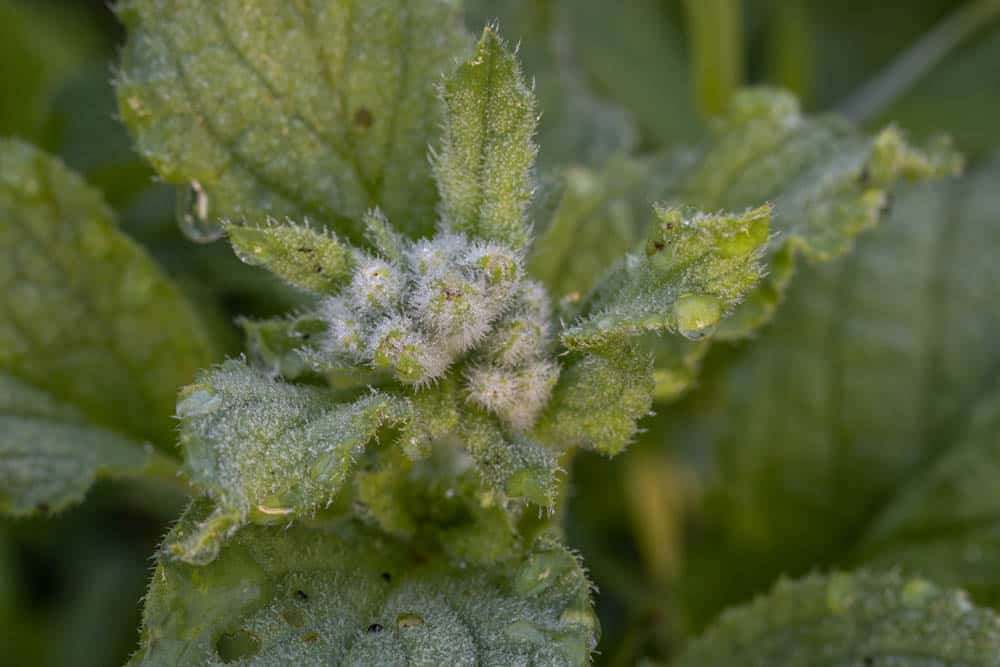 The flavor of the leaves is a bit stronger than some other wild greens I cook. Some have described the flavor as "mushroomy" but aquatic is probably a better descriptive term in my opinion (some people will call them fishy).
One constant I kept seeing in some of the recipes was a pairing of borage greens with rich sauces made from walnuts.
In Italy, borage is combined with a number of different plants to make something called the Prebboggion, a mix of anwywhere from 7-16 (roughly) different plants that can be blanched and cooked with garlic and olive oil, or mixed with ricotta to make the famous pansotti dumplings of northern Italy, which is served with a walnut sauce.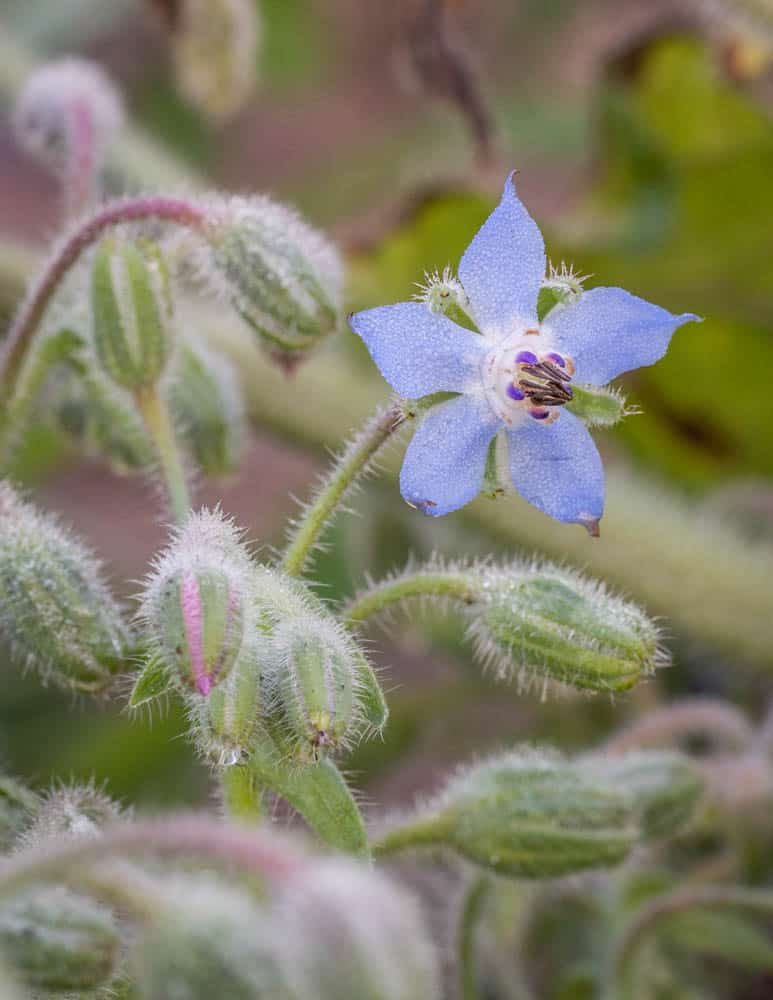 In Turkey, the greens are simply simmered and tossed with a very similar sauce. Mine is a hybrid of a few of the different recipes I found for borage greens, but you could use many different wild plants here, some with a little bitterness to them are an especially good foil for the richness of nuts.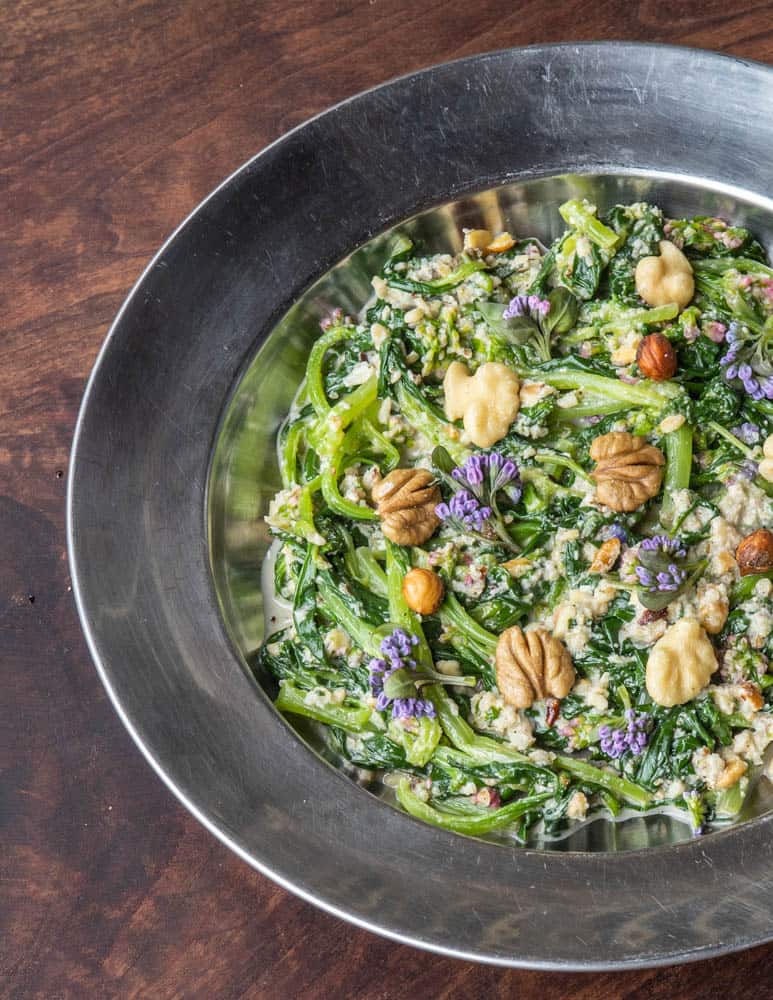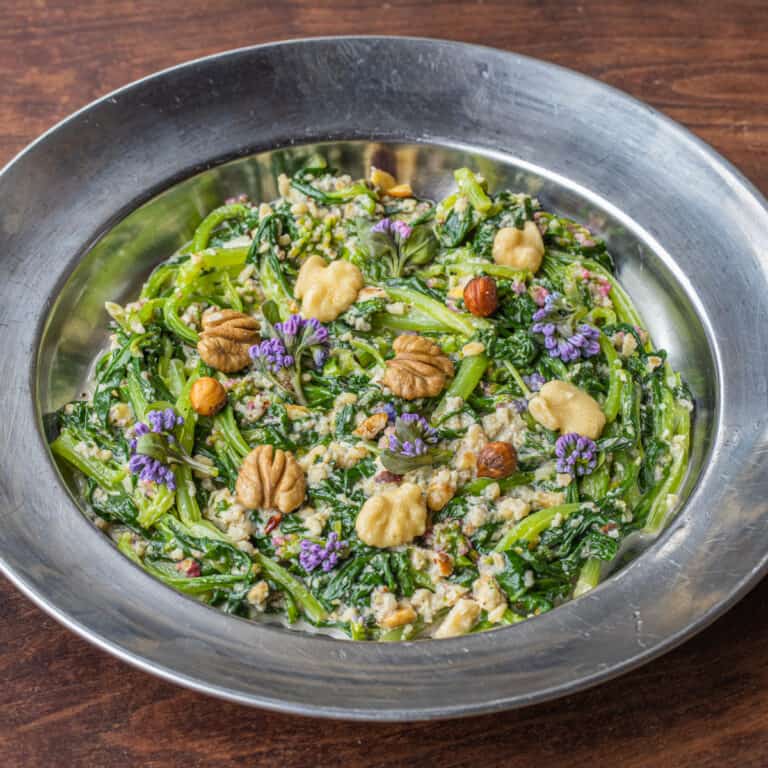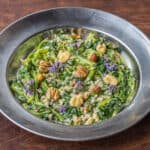 Print Recipe
Virginia Bluebells or Borage Greens with Walnut Sauce
A dish of Virginia Bluebells, borage, or other greens inspired by traditional Italian and Slavic recipes with a rich walnut dressing. A pinch of crushed red pepper can be a nice addition.
Ingredients
4

oz

Virginia Bluebell shoots, 4-8 inches

borage, or another green you like can be substituted.

¼

cup

black walnuts

or other nuts or seeds that are easily crushed

1.5

tablespoons

extra virgin olive oil

Pinch

of kosher salt

Fresh ground black pepper

1

medium clove of garlic

1

tablespoon

fresh lemon juice and a scrape or two of zest

1

tablespoon

sliced fresh mint leaves
Instructions
Immerse the Virginia Bluebells in cold water and allow to soak for 5 minutes to clean them, then remove and gently spin dry. Reserve a few flower clusters for a garnish (optional).

Toast the nuts lightly in a hot oven or pan until aromatic, then cool completely. Crush the garlic clove with a pinch of salt and pepper in a mortar and pestle and mash it up well, then add the nuts crush them, and gradually add the olive oil and lemon juice, mashing to a coarse paste.

Season the paste with an extra pinch of salt to taste-it should be well seasoned. Reserve the nut paste.

Meanwhile, prepare a steamer basket in a pot with 2 inches of boiling water, add the Virginia bluebells and cook until just hot and wilted (30-60 seconds was fine for me. Borage leaves will take longer to cook, they should be blanched in boiling salted water instead of being steamed.

Taste a shoot here and there to make sure the texture is to your liking. If your shoots are longer than 5 inches, cut them into 1 inch segments before or after cooking.

When you're pleased with them, remove the shoots and leaves with tongs to a bowl, allowing some water to drip off in the process.

Add the walnut paste and mint to the greens and mix thoroughly but gently. From here the greens can be put in a covered container and held for serving later, but I think they're probably best, still a bit warm, straight from the pot.

Before serving, double check the seasoning quick and adjust as needed for oil, salt, pepper, and lemon until it tastes good to you. Serve cool or at room temperature.
Notes
This is a rustic, traditional dish you can adapt to what you have on hand. Here's a few ideas: 
Use sesame seeds or sunflower seeds instead of walnuts. 
Use your favorite vinegar instead of lemon juice
Use spinach, chard, or other greens you like. 
Nutrition
Serving:
3
oz
|
Calories:
202
kcal
|
Carbohydrates:
4
g
|
Protein:
5
g
|
Fat:
20
g
|
Saturated Fat:
2
g
|
Polyunsaturated Fat:
7
g
|
Monounsaturated Fat:
10
g
|
Sodium:
45
mg
|
Potassium:
398
mg
|
Fiber:
2
g
|
Sugar:
0.4
g
|
Vitamin A:
5323
IU
|
Vitamin C:
16
mg
|
Calcium:
66
mg
|
Iron:
2
mg
More