Crispy fried murklor mushrooms, also known as Gyromitra. These aren't for beginner or amateur mushroom hunters, but if you're one of the few that eat these, you'll love this recipe.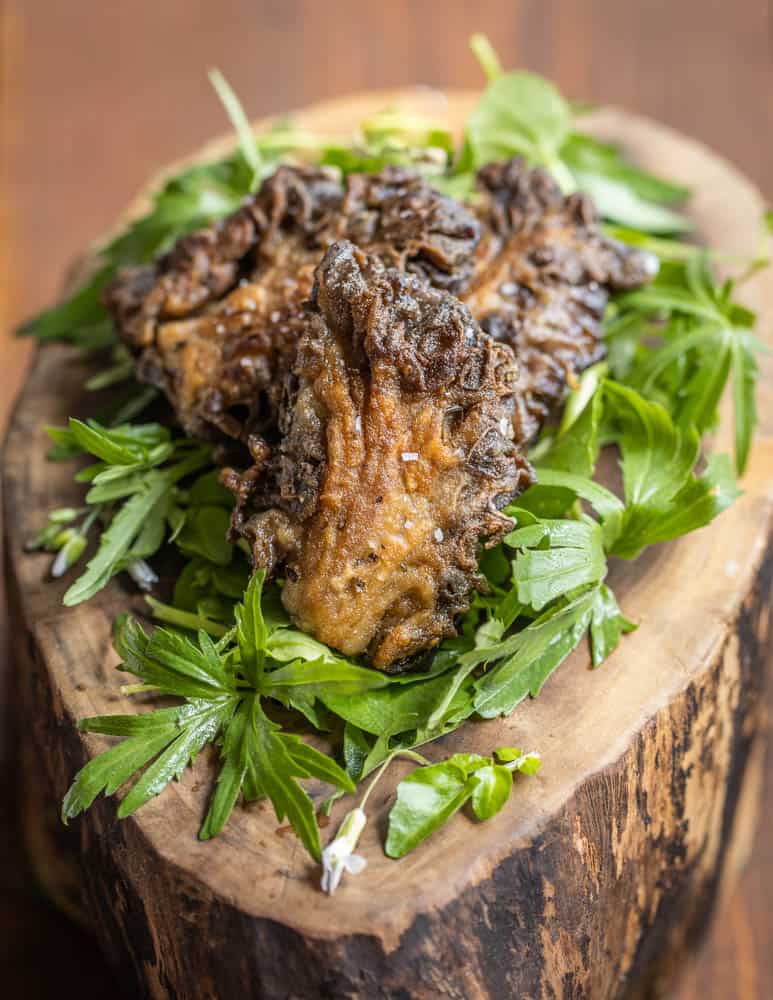 I finally got to eat my first Gyromitra caroliniana, also known as the "Big Red".
Where I live on the border of Minnesota and Wisconsin we have a number of Gyromitra that I've eaten, well two species to be exact (Gyromitra korfii and Gyromitra Brunnea) and they're ok. Gyromitra caroliniana is special in a number of ways though.
First, the mushrooms are very large. Gyromitra can grow to stupendous size, and these are some of the largest I've had. Secondly, the mushrooms are widely regarded as one of, if not the safest Gyromitra we know, so safe, that they can be cooked without par-blanching.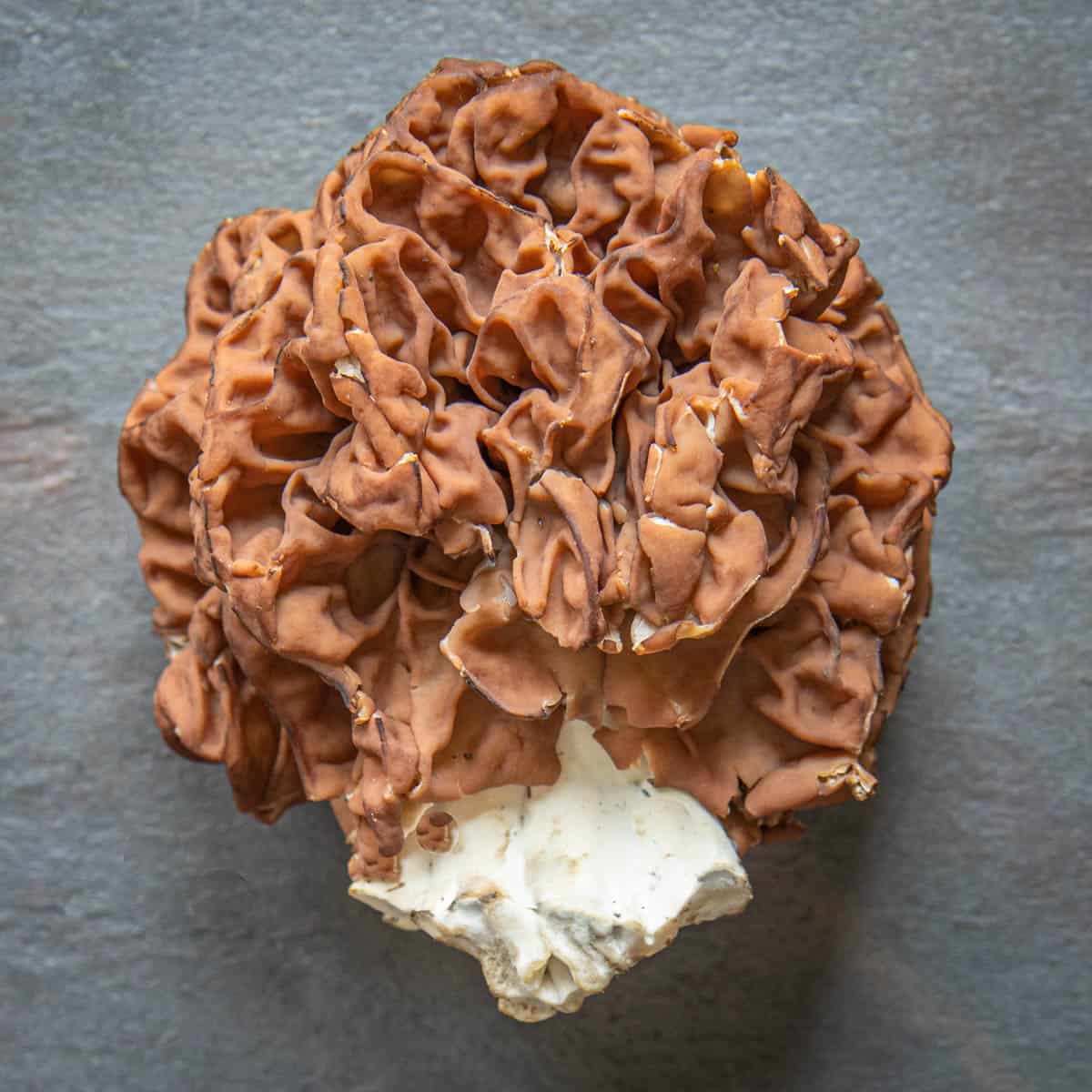 For the record, korfii and brunnea are probably ok without par-blanching too, but, for the time being, I still blanch mine, and, if you're just starting out with these mushrooms I think you should too if it makes you more comfortable. If you're an experienced Gyromitra-phagist, do what you prefer.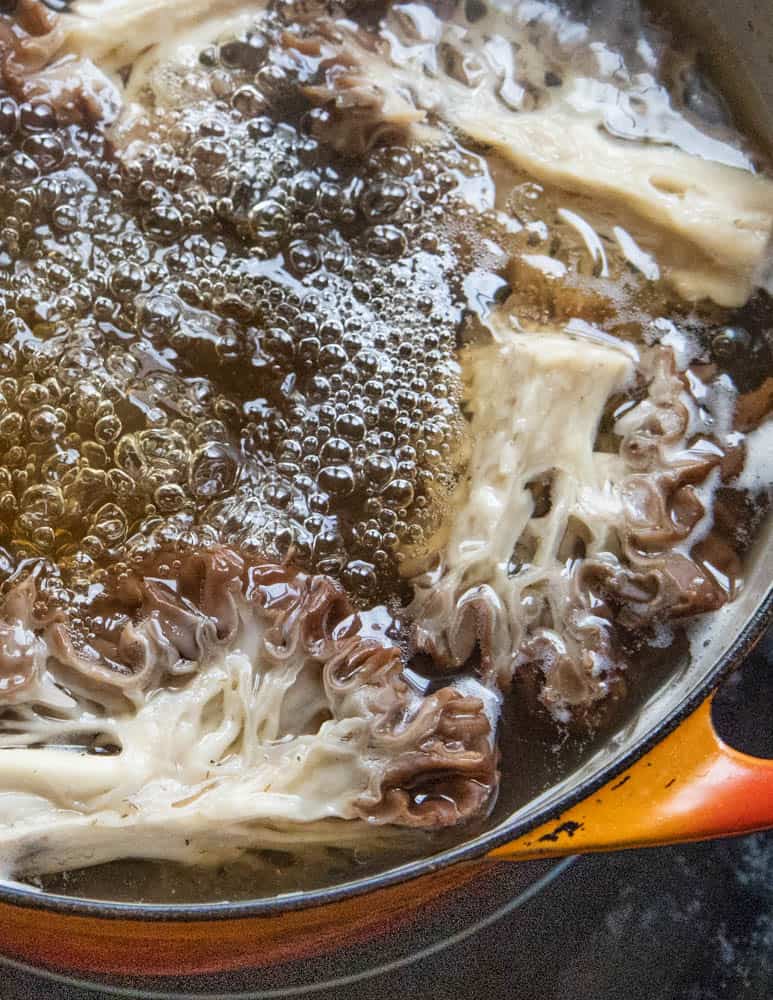 Boiling mushrooms before you cook them is not exactly an intuitive thing to to, its exactly the opposite of what I try to do with just about every other mushroom I cook.
Par boiling/blanching mushrooms means that they're going to be wet when they're done, and wet mushrooms do not saute in fat very well—the folds of the mushroom trap water that will migrate out as they saute, spattering and sputtering and popping, and, you get the idea.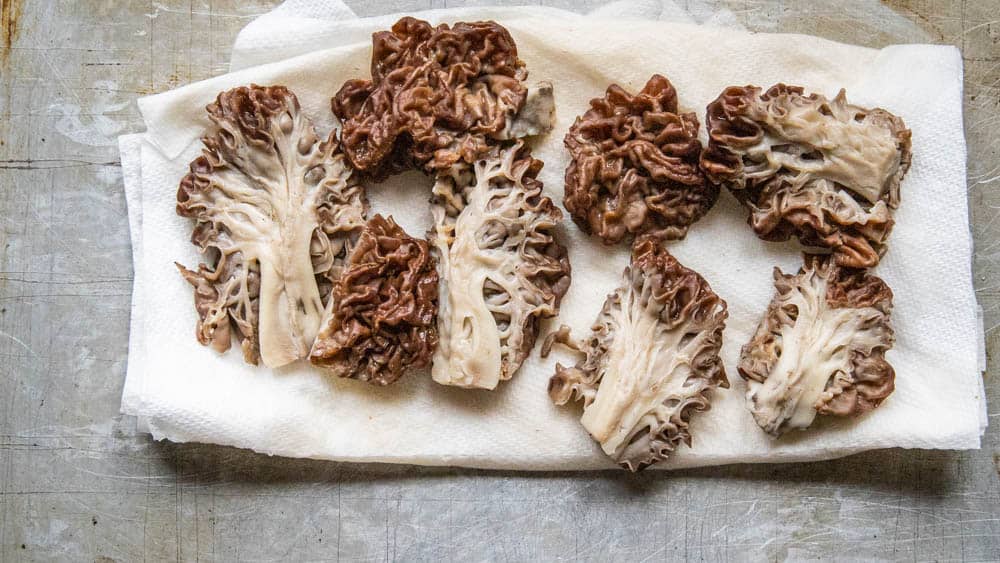 The spattering and sputtering are what gave me the idea for the crispy technique here.
After the par-cooking, the mushrooms are pressed between towels to remove as much moisture as possible, then tossed in some seasoned flour that acts as a barrier between any residual water and the cooking oil in the pan. You may here a little crackle here and there, but it's nothing compared to cooking wet mushrooms in a pan.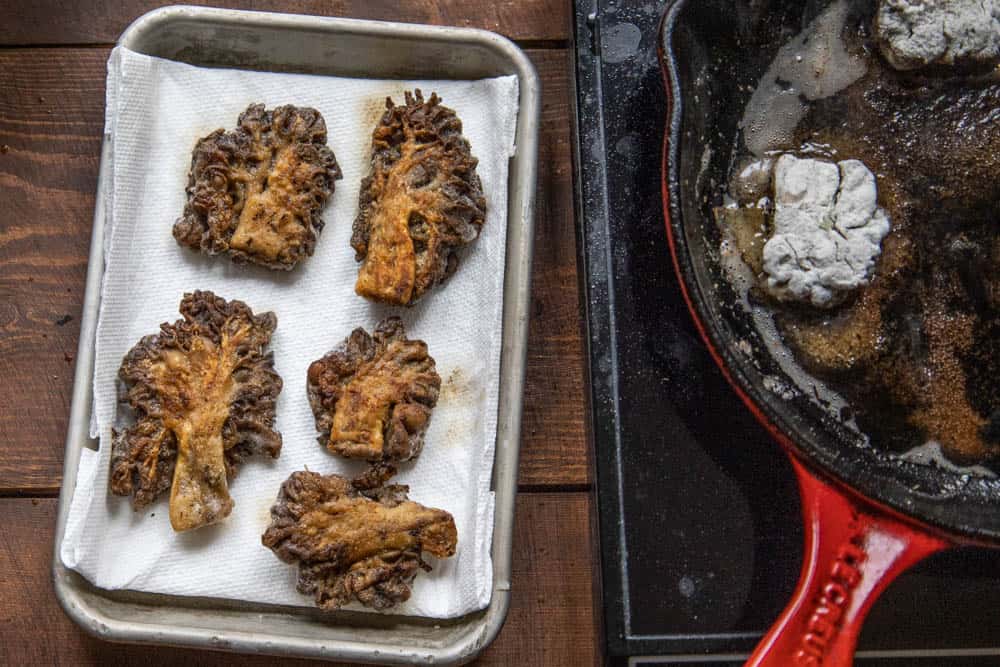 Cooked like that, they're quite good, brown and crispy just like a mushroom should be. That being said, they're not a morel, and next time I may cook them without blanching, which would undoubtedly have a richer flavor.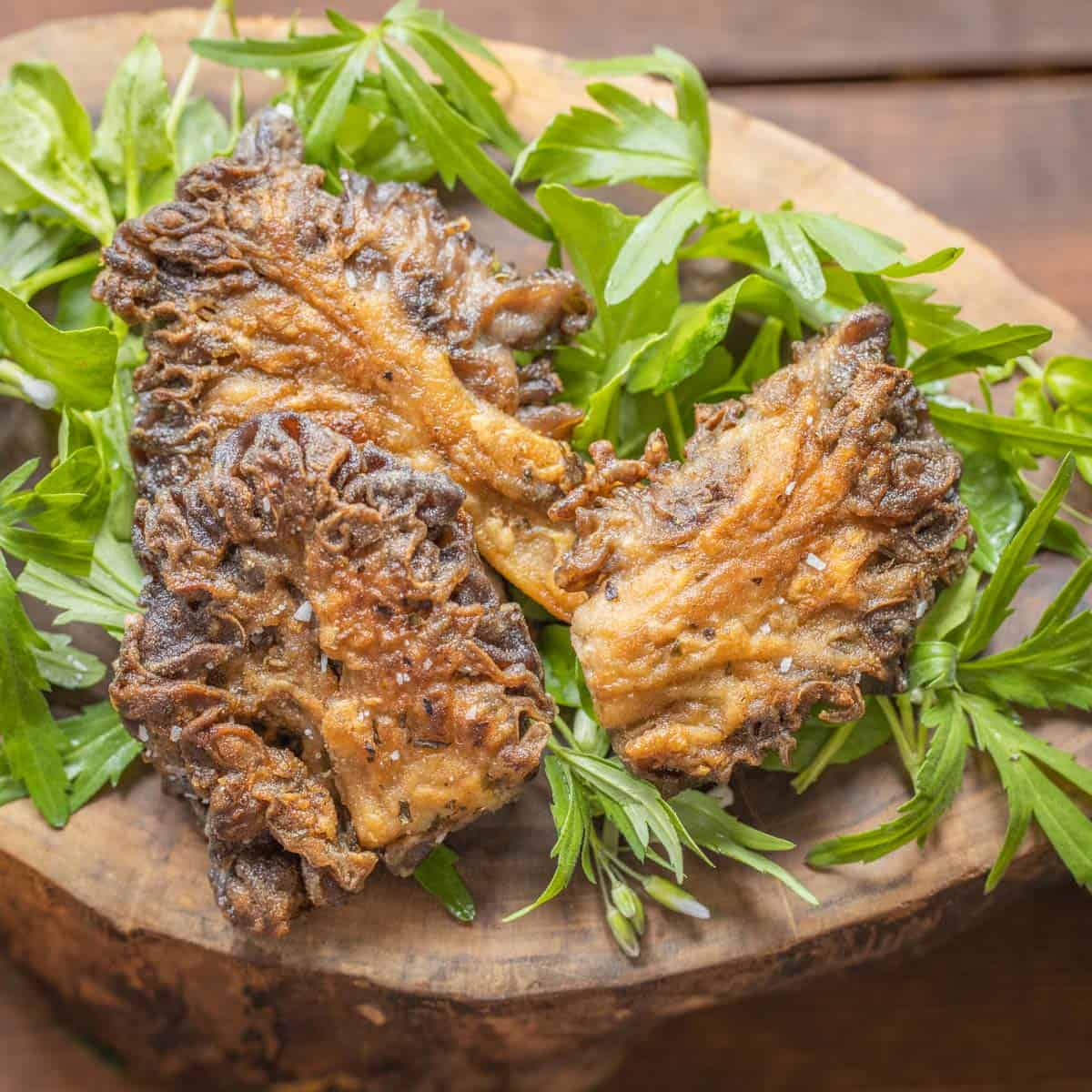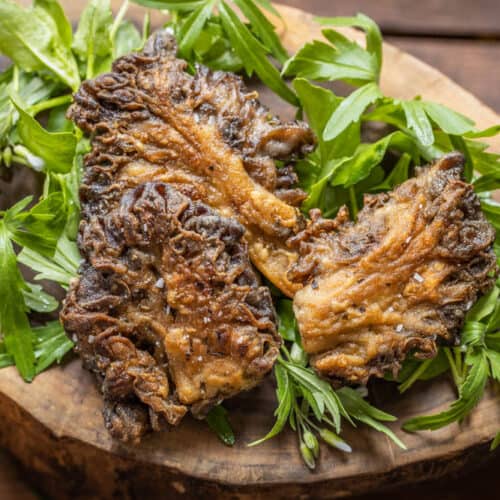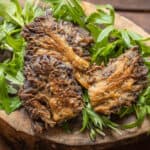 Print Recipe
Crispy Gyromitra
Crisp par-boiled gyromitra with an herby crust. Dredging the blanched mushrooms in flour helps them not spatter in the pan. Serves 2-4 as an appetizer or garnish for a steak or salad.
Equipment
1 10 inch saute pan or skillet
Ingredients
Mushrooms
8

oz

fresh Gyromitra mushrooms

3

qts water

¼

cup

cooking oil
Seasoned flour (think of this as an example, you can use your favorite dredge)
1

cup

flour

1

tablespoon

dried ramp leaves

crumbled

1

tablespoon

dried bergamot leaves

crumbled

1

teaspoon

paprika

½

teaspoon

fresh ground black pepper
Instructions
Clean the Gyromitra well by trimming any clinging debris from the stems. Cut the mushrooms in half if they're small and quarter them if they're large. Diligently inspect the inner folds of the mushroom for pill bugs, spiders, centipedes, and all manner of creatures and evict them.

Bring the water to a rolling boil, add the mushrooms, put a lid on the pot and cook for 10-15 minutes, depending on how many you're cooking. Remove the mushrooms to drain, then put them between paper towels to cool, pressing them between towels to remove as much water as possible.

Combine the ingredients for the flour dredge.

Sprinkle the Gyromitra on both sides with salt, allow to sit for a minute or two.

Meanwhile, heat the oil in a wide pan.

Toss the mushrooms in the flour dredge, tap off the excess, and add them to the pan with the oil.

Cook the mushrooms until crisp and golden on both sides, then serve, sprinkled with some finishing salt if you want. Lemon wedges can be nice too.
Nutrition
Serving:
2
oz
|
Calories:
234
kcal
|
Carbohydrates:
27
g
|
Protein:
5
g
|
Fat:
12
g
|
Saturated Fat:
7
g
|
Polyunsaturated Fat:
1
g
|
Monounsaturated Fat:
3
g
|
Trans Fat:
0.5
g
|
Cholesterol:
30
mg
|
Sodium:
14
mg
|
Potassium:
281
mg
|
Fiber:
3
g
|
Sugar:
0.5
g
|
Vitamin A:
600
IU
|
Vitamin C:
0.01
mg
|
Calcium:
34
mg
|
Iron:
8
mg
More