A simple barbecue sauce you can make from different fruit juices like elderberry, aronia, and wild grape. Read on and I'll explain the particulars.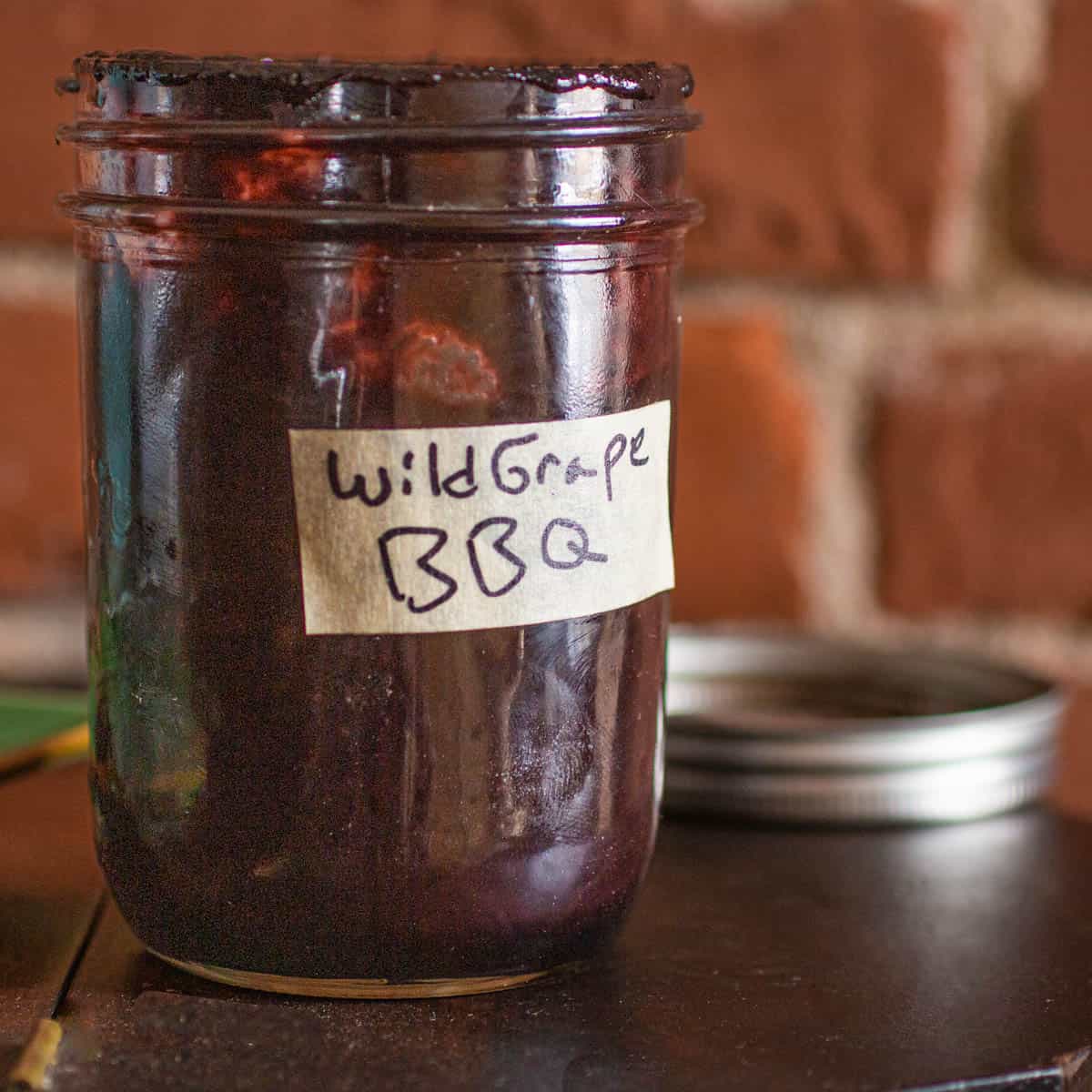 I love gathering fruit, especially wild fruit I can extract juice from like wild grapes, aronia berries, and elderberries. After the hustle and bustle of harvesting, when it comes time to use up what I've put away, I know I'll make a few jellies and other preserves, but there's always a part of me that says: "but what else?".
Don't get me wrong, I love a good jelly or jam, but, I don't eat tons of them, and I can only give so many away as gifts. I also try not to eat sugar constantly, and if you make preserves out of all your fruit, you're going to be eating a lot of that, too, and during the winter, I'm usually trying to battle a few extra hibernating pounds, not put extra ones on. It's good to have balance.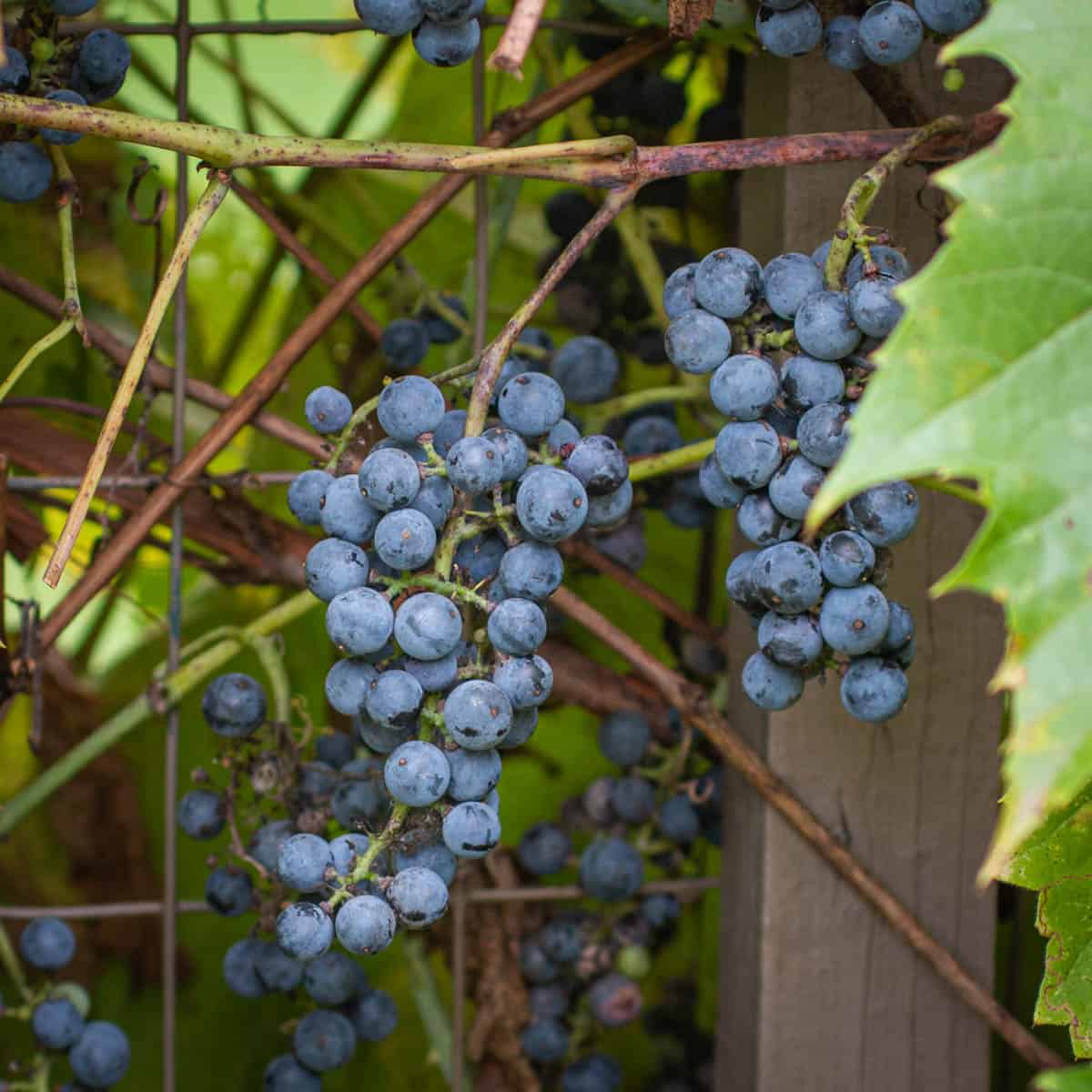 Wild grapes especially have a great tartness that comes from the tartaric acid they naturally contain, so, besides making arguably the greatest wild fruit jelly that's ever touched a piece of toast, they also make great condiments.
Pondering what to do with a good stash of thick wild grape juice I pressed from my grandmothers vines, I was reminded of my aunt and uncle making barbecued sausages, (you know, the little smokey type) one year for Christmas. I'd never seen a recipe like they made though: some sort of tomato product combined with, grape jelly. Yep. Apparently grape jelly BBQ is a thing.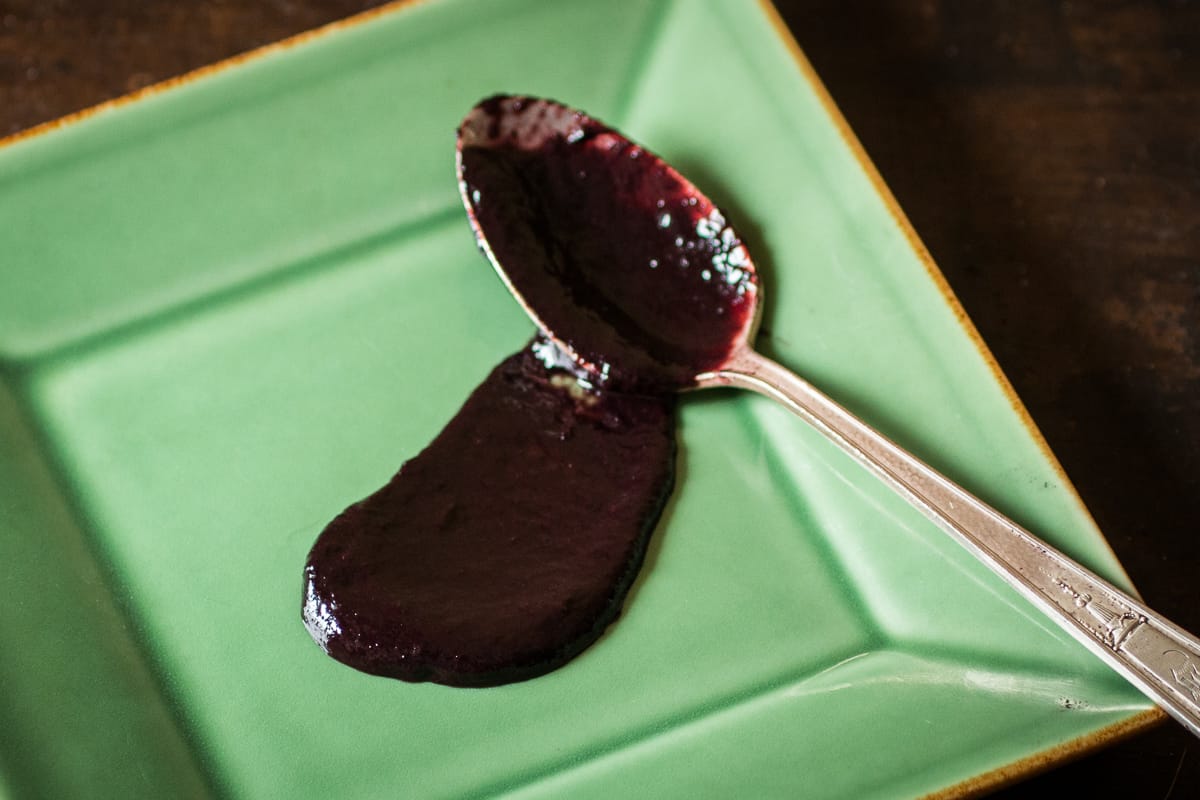 Chef opinions of condiments made from bottled ketchup and jelly aside, I remembered that the sweet and sour aspect was interesting, and that it might not be bad to make a version with my definitely not sweet wild grape juice and a few barbecue flavors.
It's a great way to use up extra wild fruit juice, but especially fruits like aronia, wild grape and elderberry that have rich, deep colors. If purple finger paint and sweet-tangy barbecue sauce had a baby, this would be it.
Make it spicy, or go home
But, don't expect it to taste exactly like barbecue sauce, because it isn't. Typical barbecue sauce recipes includes something smokey (typically liquid smoke, which I loathe).
I've made a number of different fruit barbecue sauces, and, I can tell you that while I might like a sweet and mild sauce sometimes, if you try that with wild fruit juice, it's going to be boring. My advice, is to make the sauce as directed below the first time, then branch out on your own. To ensure it's interesting, this sauce should be nice and spicy.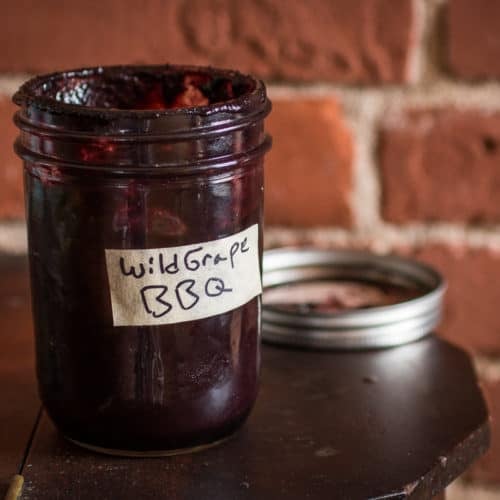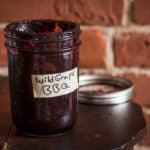 Print Recipe
Spicy Wild Grape BBQ
This should be quite spicy. If you use chili powder, consider adding something to enhance the kick.
Ingredients
2

cups

wild grape juice

1

oz

dried guajillo chilis

or use the same quantity of chili powder

3

tablespoons

cornstarch

½

cup

brown sugar

3

oz

honey

1

teaspoon

molasses

1.5

teaspoons

salt
Finishing ingredients
2

tablespoons

worcesterchire

1

tablespoon

mustard powder

2

teaspoons

fresh ground black pepper

1

tablespoon

grated or finely minced garlic

1

inch

piece ginger

finely grated

¼

cup

red wine vinegar
Instructions
Toast the chilis until aromatic, then cool. Remove the stems from the chilis (they should be crisp and brittle) then discard the seeds.

Crumble the chilis, then grind to a powder in a spice grinder.

Mix the sugar and cornstarch. Mix the grape juice with the sugar-starch mixture and everything except the finishing ingredients, bring to a simmer, cook until thickened, whisking occasionally (watch for splattering) then turn of the heat and cool completely. (see note)

Mix in the finishing ingredients, bottle and store for up to a month.
Notes
I like to puree the mixture in a blender for the smoothest product here, but you necessarily have to, if you do, be careful as you don't want it to splatter. 
Nutrition
Serving:
2
tablespoon
|
Calories:
157
kcal
|
Carbohydrates:
39
g
|
Protein:
1
g
|
Fat:
1
g
|
Saturated Fat:
0.1
g
|
Polyunsaturated Fat:
0.2
g
|
Monounsaturated Fat:
0.2
g
|
Sodium:
503
mg
|
Potassium:
212
mg
|
Fiber:
1
g
|
Sugar:
34
g
|
Vitamin A:
947
IU
|
Vitamin C:
2
mg
|
Calcium:
30
mg
|
Iron:
1
mg