Homemade vinegar (or red wine vinegar) infused with a double-dose of black cap raspberries or whatever berries you have. It's raspberry vinegar on steroids, inspired by a recipe from a legendary English chef duo.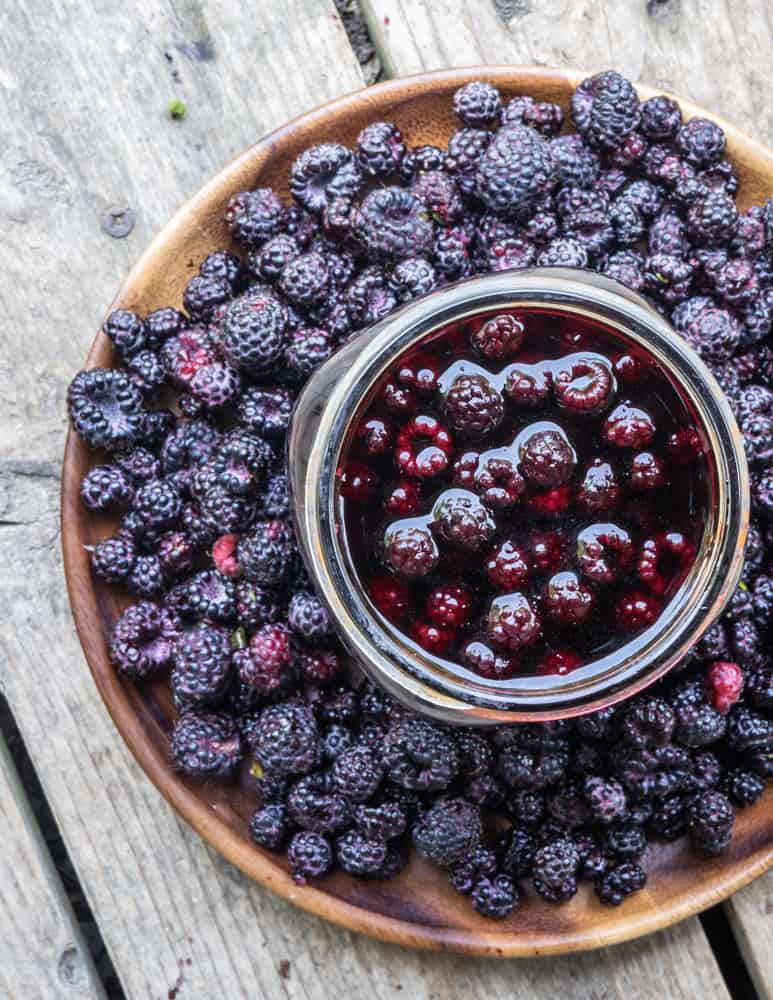 Growing up in the restaurant industry in the Early 2000's, I was witness to some of the great culinary cliches of our time, many of them born in the 1990's from what I can gather.
Honestly, there's too many to count, and I'm guilty of a few myself, like stacking food a la Alfred Portale. I remember one night I decided to do a main course that involved a whole bone-in chicken breast perched on top of a polenta cake, arriving to the diner like some kind of poultry flying saucer. The front of the house manager was, not impressed.
There's lots of funny 90's and 2000's food cliches: played-out style errors like balsamic reduction "Christmas Trees" on everything from cheesecake to caprese salad, dried parsley sprinkled on the rims of plates, mango salsa, and molded food, to name a few.
Most of those I think are a little funny now, some (mango salsa) even good from time to time if I have a craving (and a very ripe mango). But one of the food fails stands above them all to me: raspberry vinaigrette, or raz vin as it's known in line cook speak.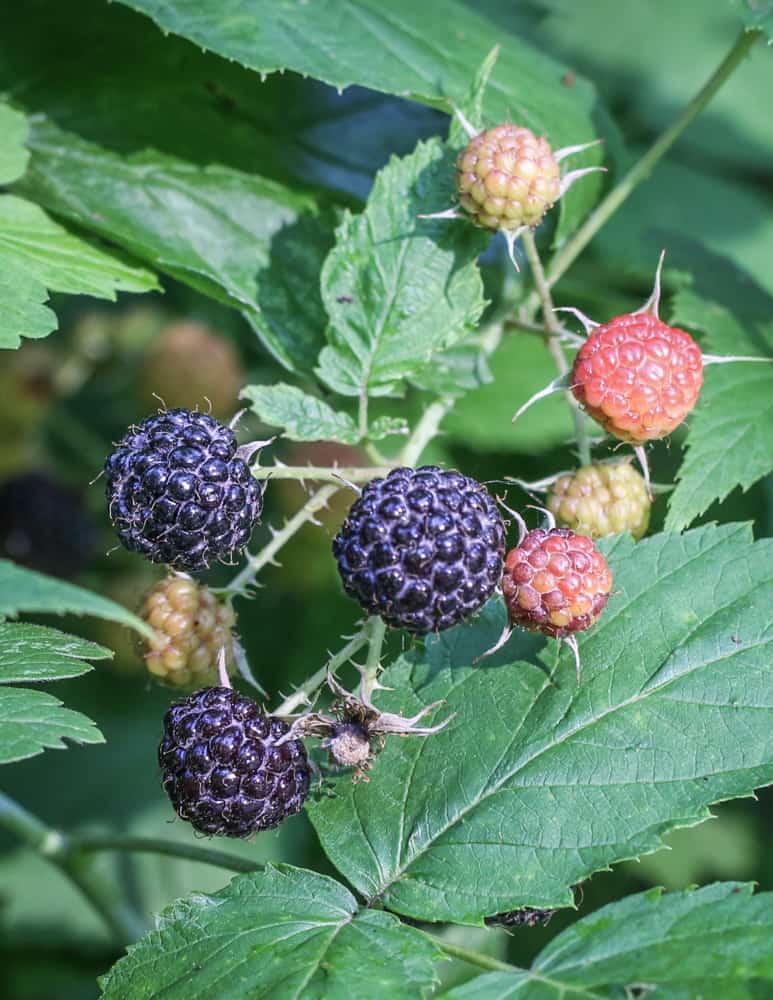 Raspberry vinaigrette was one of the most popular salad dressings I can remember, and I used my fair share of it. I remember one salad made with romaine that got a sprinkle of pre-crumbled feta cheese on it, another with candied walnuts.
Whatever the dance partners on the plate were, there was always something a little unsettling about the raspberry dressing that married them.
The raz vin of my early 20's came pre-prepared from Sysco (the commodity food giant) in opaque, 1 gallon plastic tubs. Unscrewing the lid and peeling off the freshness seal (always a satisfying experience) revealed an off-pink, curiously thick, flesh-colored goop that, after mixing with your quintuple-washed spring mix, was more likely to make the salad arrive at the table looking like a clump of wet hair than food.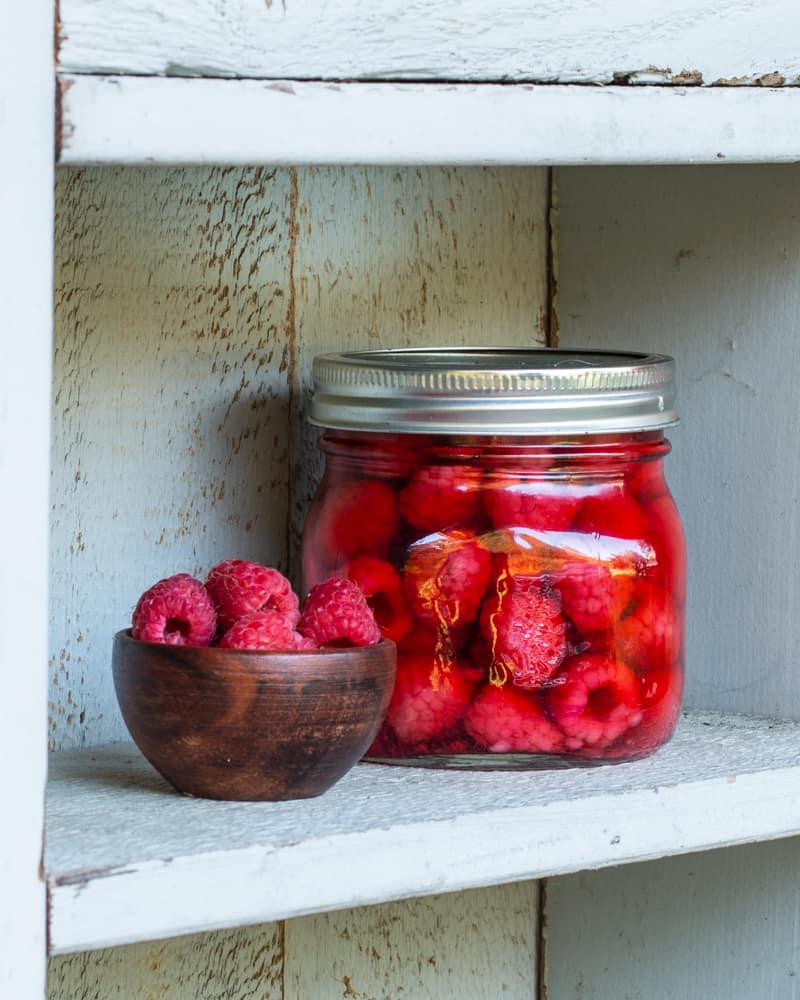 Here's the thing though. Raspberry vinaigrette, and dressings made with many similar berries, especially the wild blackcap or black raspberries pictured here, used to be very good, and I mean toe-curling good.
But, over time, they, like plenty of other good things, got modified and streamlined. The sin of the flesh-colored raspberry goop was burned into my mind, but while I was researching fun uses I could apply to wild berries while writing the fruit chapter of my book, I took a look at a few of the old French classics for inspiration and saw something I liked.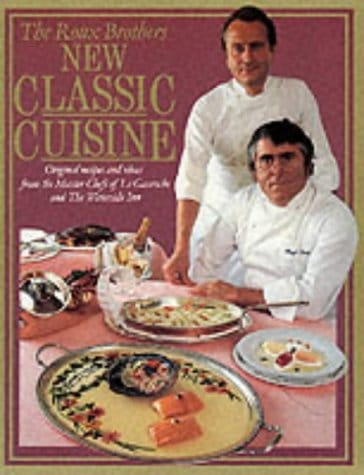 I worked for a chef who was a Maitre'D at La Gavroche, and while reading the book "New Classic Cuisine" by Michel and Albert Roux, the famed 3-star Michelin Chefs who ran the restaurant, known for their contributions to nouvelle cuisine and stats like serving the worlds most expensive meal ($20,945 for a meal for three, mostly wine) I had an epiphany.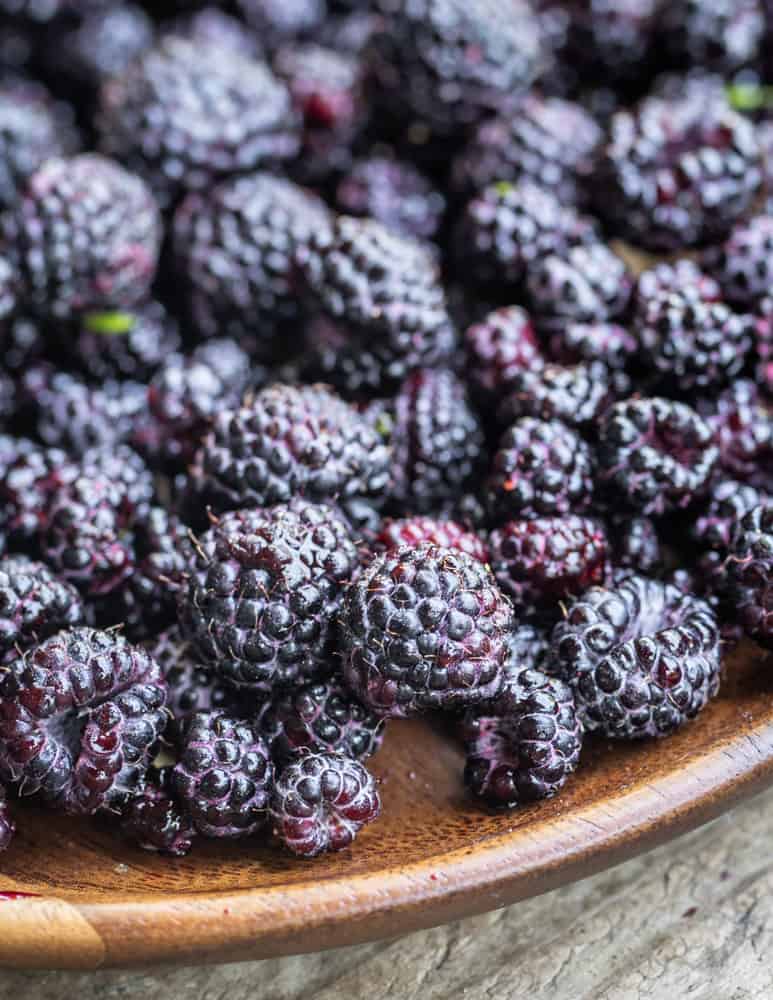 Flipping through the book to the fruit section and scanning the pages, I saw a recipe for raspberry vinegar. I remember reading it for fun (enjoying the nostalgia of working my first pantry station).
Something was different though, this raspberry vinegar sounded really good, and just reading the recipe I could tell it was nothing like the stuff I used to dress salads with. As is so often the case with food, the modern, commercialized version bears no resemblance to the original taste it was meant to imitate.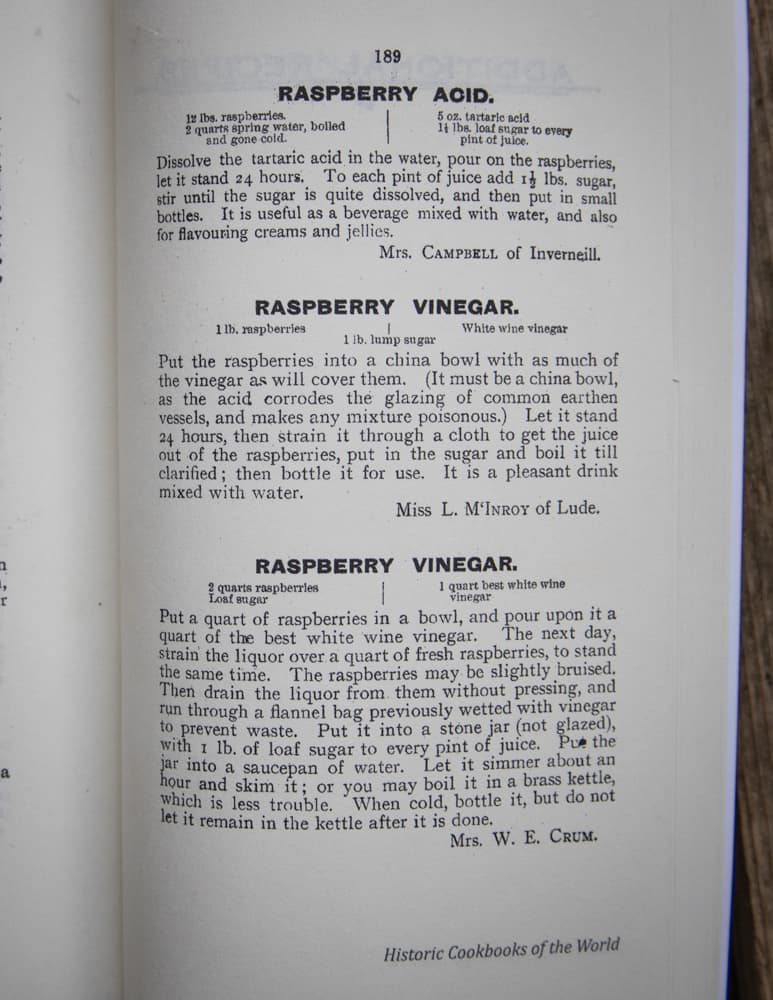 A double infusion
The recipe from the Roux Brothers was simple enough: put some raspberries in vinegar, sweeten in a bit, strain and bottle for use (more or less), but there was a step in there I'd never seen before. After you mix the berries with vinegar and let them sit for a few days, you remove them, and add the same amount of berries again, and repeat the process, creating a double infusion.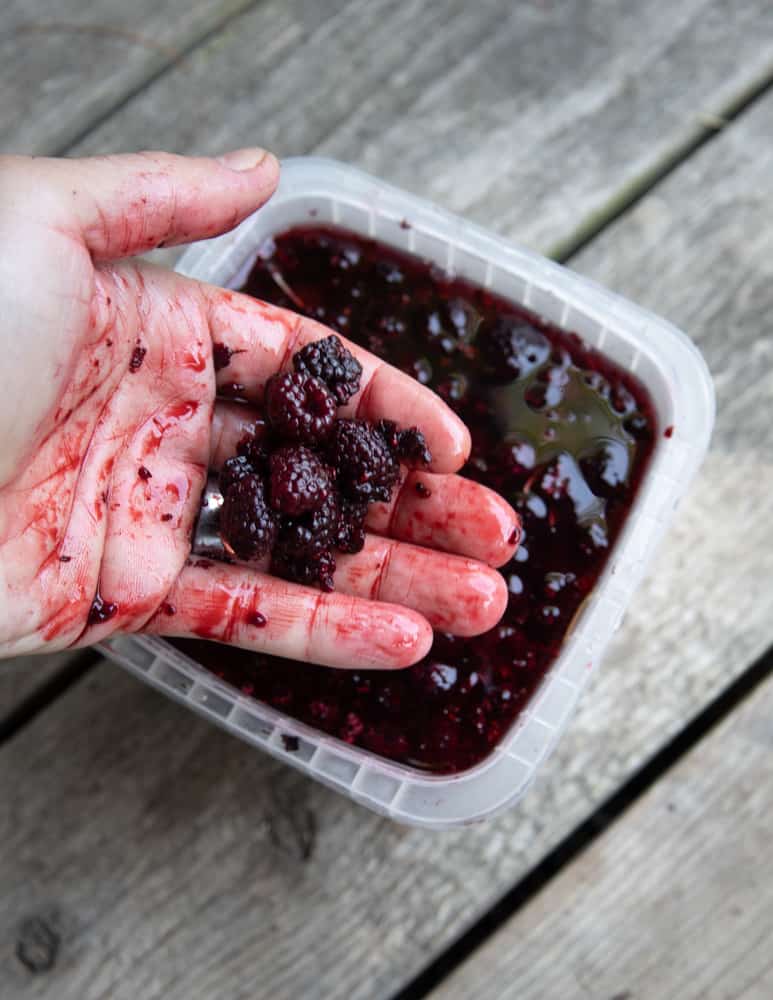 I worked out a version of the recipe, tested it with a few berries, and I can tell you, it makes the most delicious berry-flavored vinegar I've ever tasted, and the salads it makes are beyond the pale, especially with wild greens I use for salads like lambs quarters that benefit from a touch of sweetness.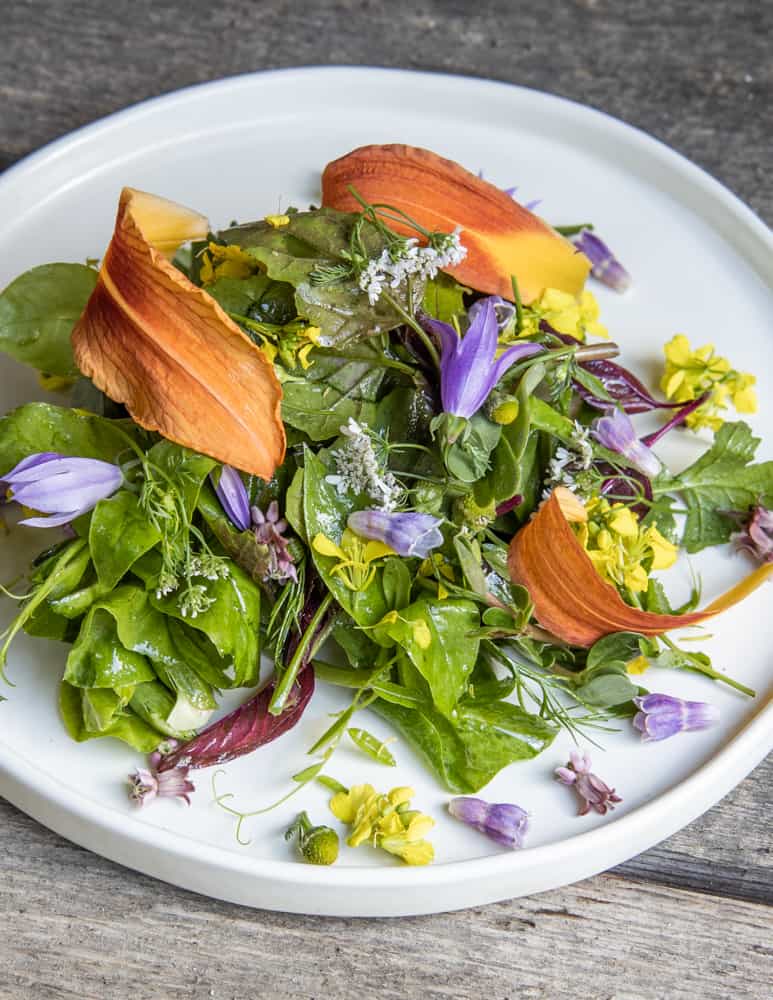 After I was primed to see it, I started seeing the double fruit maceration in other places too. Just recently, I came across another berry vinegar, nearly identical to the first calling for fresh strawberries, and then another two versions of raspberry vinegar. Like many of those old culinary traditions, people did it for a reason, and I think it's safe to say they didn't put quarts of fresh berries into something that sucked.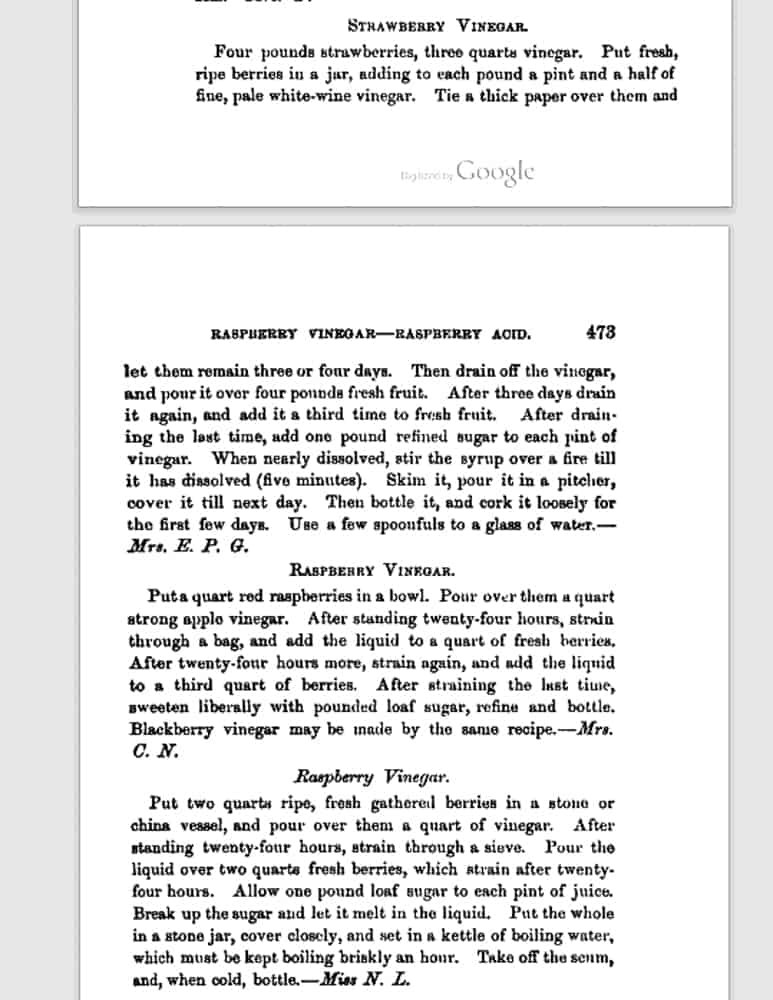 Raspberry Vinegar vs Fermented Raspberry Vinegar
Just for the sake of clarity here, lets go over the difference between fermented and infused vinegars made from the same fruit. There's a trend of fermenting everything and everything (I do plenty of that), so if you read the words "ultimate berry vinegar" and assumed at first you'd be allowing fresh berries to ferment into vinegar you wouldn't be alone.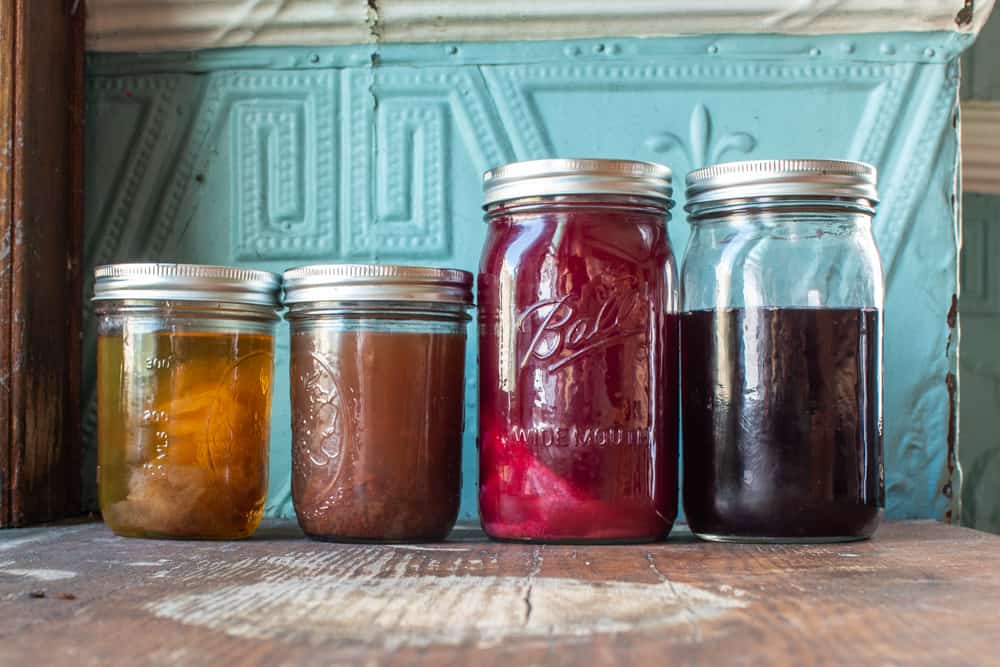 Vinegar made from berries and wild fruits is great (see two methods for fruit scrap vinegar here) but if you've ever done it yourself you'll know that the finished product gives a different taste than the fresh essence of the fruit.
But, a simple infusion and/or reduction keeps the fresh flavor of berries very well, and vinegar seems to amplify the power of the infusion more than something like, say, syrup made with water. Adding alcohol to the mix, as in the Roux Brother's recipe, also helps to draw out flavors and natural juices, a technique Kenji Lopez Alt covers in his book The Food Lab.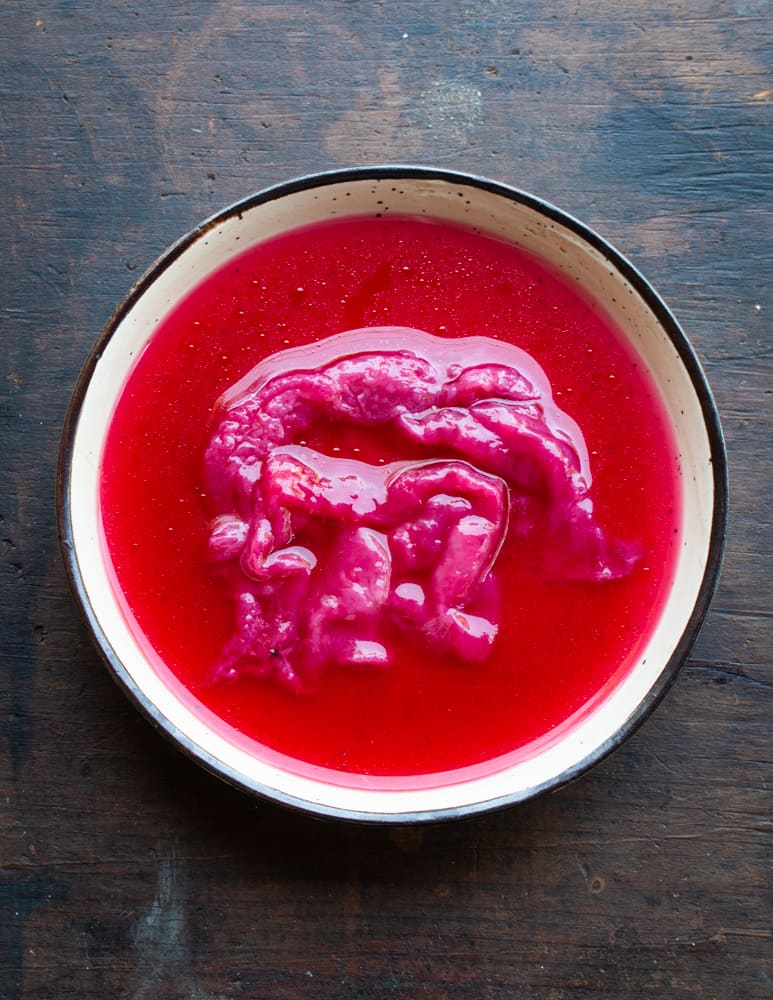 That being said, the ultimate, ultimate berry vinegar is going to be multiple macerations of berries in a vinegar made from the fermented berries themselves as I've noted in the recipe here, but a good white wine vinegar is just fine.
You can also save the berries themselves from the macerations to make into vinegar after the infusion is complete. As I mentioned, blackcap raspberries make one of the best infusions here, but just about any ripe, juicy berry will give you a good result.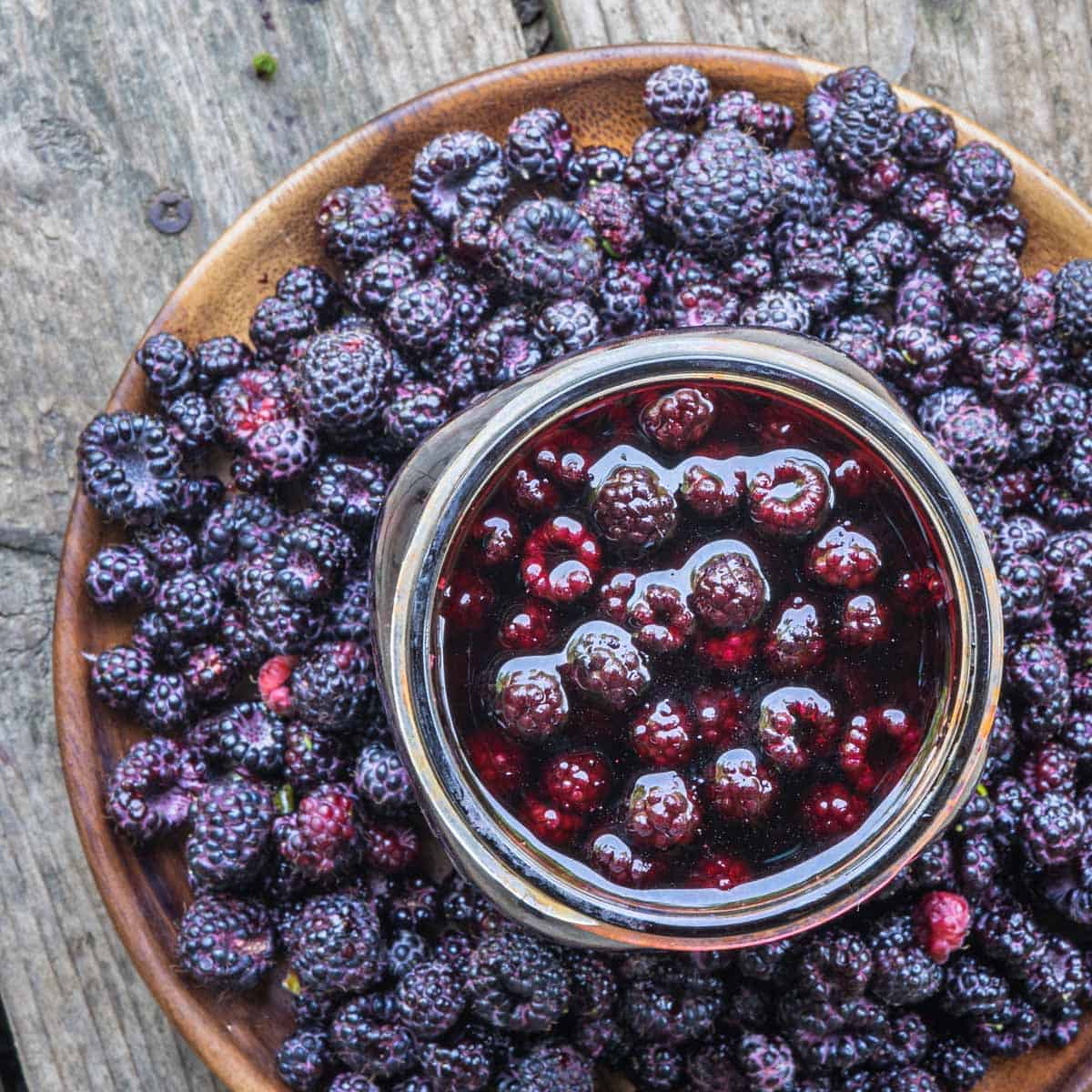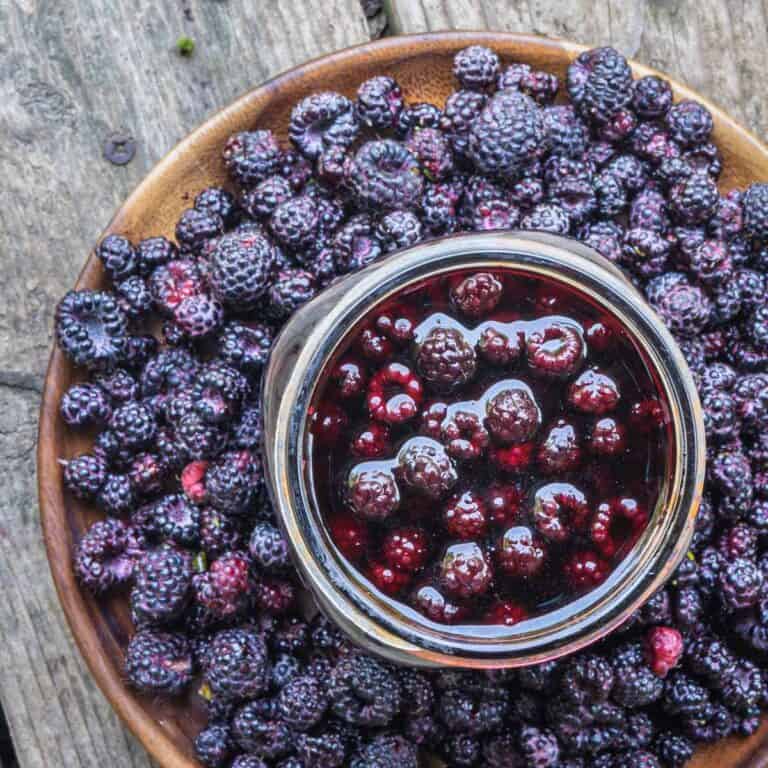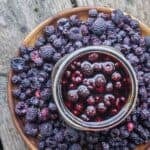 Print Recipe
The Ultimate Berry-Infused Vinegar
Berry-infused vinegar made with cognac, maple syrup or sugar, and a double infusion of fresh berries. Makes about 2 cups.
Equipment
1 large bowl or mason jar

or a container with a lid that can hold 5-6 cups of liquid.
Ingredients
¼

cup

cognac or brandy

*See note

1.5

lbs

fresh berries, such as blackcap raspberries, preferably overripe

*See note

5

tablespoons

(75 grams) maple syrup, or a comparable amount of sugar

2

cups

high quality white wine vinegar
Instructions
The Maceration
Divide the berries in half. Refrigerate half the berries, then put the rest in a container and cover with the vinegar, maple and cognac or brandy and allow to sit for 48 hours, stirring occasionally and pressing them against the side to help the berries break up a bit.
Second Maceration
Strain out the berries from the vinegar (saving them for another purpose, like jam or vinegar) then repeat the process with the reserved berries and infused vinegar.
Heating/infusing
After the second infusion, strain out the second batch of berries and transfer the vinegar to a bowl on top of a simmering pot of water and allow to gently heat for 30 minutes.
Cool and store
Cool the vinegar to room temperature, then bottle and store. It's excellent used to deglaze pans and make beurre blancs and other sauces, but shines the most used alongside some good tasting oil, especially nut oils like hazelnut or pumpkinseed in a simple dressing.
Using the vinegar to dress a salad
To dress a salad with the finished vinegar, season salad greens to taste with oil and the vinegar in separate containers (don't mix them, shake in a jar to emulsify, or anything like that) add a pinch of salt, a few cracks of pepper and maybe a couple torn leaves of basil or mint.

Mix, taste, adjust the seasoning for vinegar, salt and herbs until it tastes good to you, and serve.
Notes
The Alcohol
Don't be tempted skip the alcohol here-it serves a purpose. Besides brandy or cognac adding complimentary notes, the alcohol seems to serve a dual purpose of helping to extract the juice of the fruit more than just vinegar alone. Cooking takes the raw edge off the alcohol.
Berries
This uses a generous amount of fresh berries, but you can probably get away with using half the amount, splitting it in half for the two macerations/infusions. 
Nutrition
Serving:
1
Tablespoon
|
Calories:
10
kcal
|
Carbohydrates:
5
g
|
Protein:
8
g
|
Saturated Fat:
0.2
g
|
Polyunsaturated Fat:
3
g
|
Monounsaturated Fat:
0.5
g
|
Sodium:
15
mg
|
Potassium:
57
mg
|
Fiber:
10
g
|
Sugar:
15
g
|
Vitamin A:
100
IU
|
Vitamin C:
102
mg
|
Calcium:
150
mg
|
Iron:
8
mg