Behold the glory of leftovers! Breakfast venison hash is a great example of how I use leftover wild game meat-especially braising cuts from deer. It also uses two culinary adjectives everyone I know loves: tender and crispy.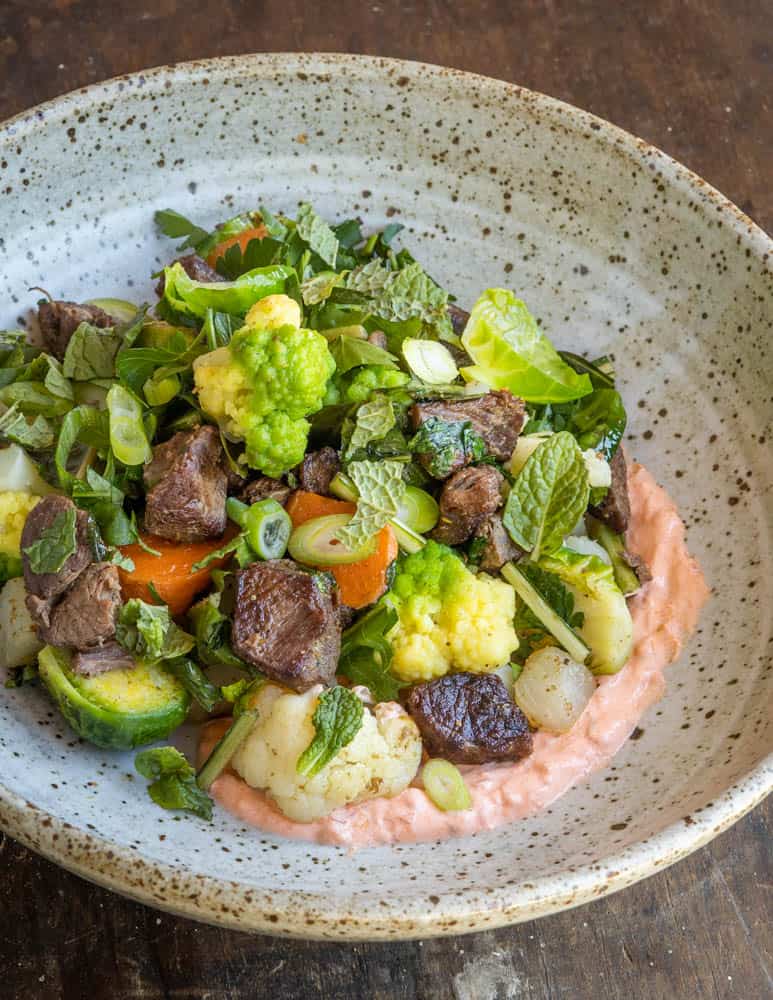 Story goes I'd come home after dinnertime from working on a few different videos for the grass fed lamb and goat farm I work with. None of the recipes were ready to eat yet, and I'd totally forgotten to plan out something for dinner.
Boiled and fried meat
Racking my brain for the easiest, quickest thing I could make, I remembered that I'd taken some venison trim from butchering a leg to make stock for one of the videos, and the trim was meaty, meaty enough that it could make a meal. Now, boiled, unseasoned scrap and trim might not sound like the most appetizing thing, but it can be if treated right.
I don't know of any culture that has a specific name for the process, but it's definitely a thing, especially in the Middle East. I guarantee you: meat that's been cooked twice, first by browning and then simmering in liquid, followed by draining and a second browning makes for absolutely delicious, melt-in-your-mouth crispy chunks known as griblets in our house.
The process is as easy as it sounds: brown some chunks of meat (or just boil them if they have an odd shape, like a shank, etc) add stock or water, simmer until spoon-tender, then chill to help hold their shape. After chilling, you drain the meat well, using the stock for another purpose, and fry those spoon-tender pieces golden brown.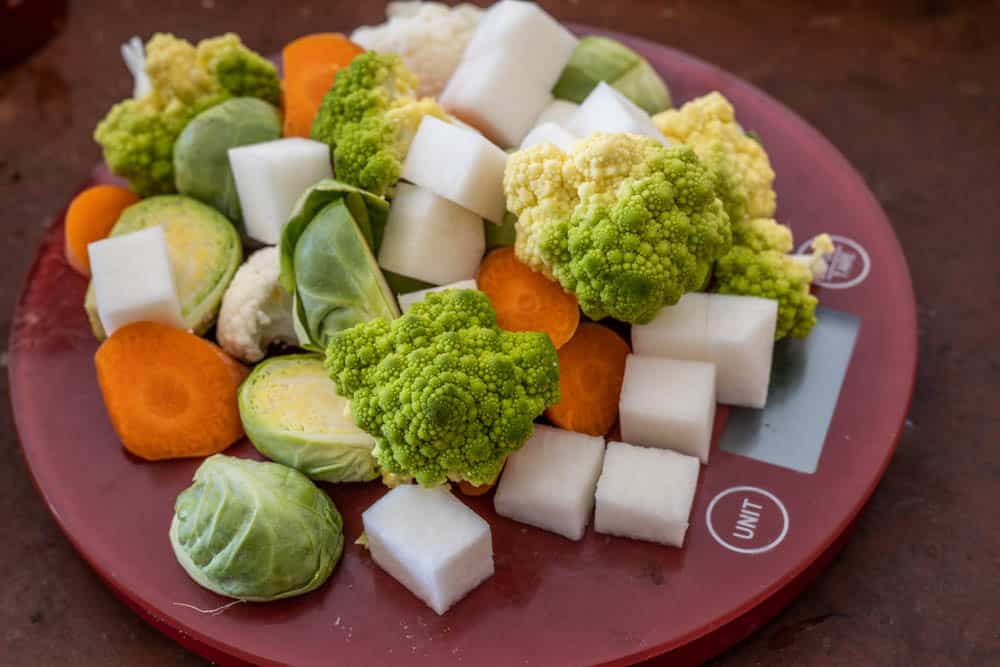 Hash
Twice-cooked meat is only half the equation here. Vegetable hash is a great meat grinder for all the vegetal odds and ends lying around in the fridge: a couple radishes, a handful of spinach, the bottom of a butternut squash, a couple tired carrots or potatoes, that handful of cauliflower, three Brussels Sprouts that escaped the bag—you get the idea.
Blanching is key
Veggie hash is super easy, with one catch: you can't just throw the veggies in the pan raw. All the different vegetables will have different individual cooking times, and you need to level the playing field, which you do by blanching or otherwise par-cooking in some way. Blanching is preferable here as sautéing could lead to greasy veggies, and is how I would instruct my line cooks to prepare things like this, say, for Brunch.
After you blanch the vegetables, you drain them and add to the pan with the fried meat chunks, give them a toss, add some seasonings, and serve in a bowl. I often put a "swoosh" of sauce around the rim of the bowl or in the bottom of a deep bowl as a condiment, mayonnaise-y things like aioli or seasoned sour cream are great.
Using other meats
Most people think of corned beef when they hear the word hash, and you can use corned meat too. Some people might want to use ground beef or ground venison, but those won't cook up the same as chunks of cooked meat-trust me. If you want to make ground venison hash, you'll want to brown the meat on medium-heat first, then drain and add to the vegetables just to heat it through.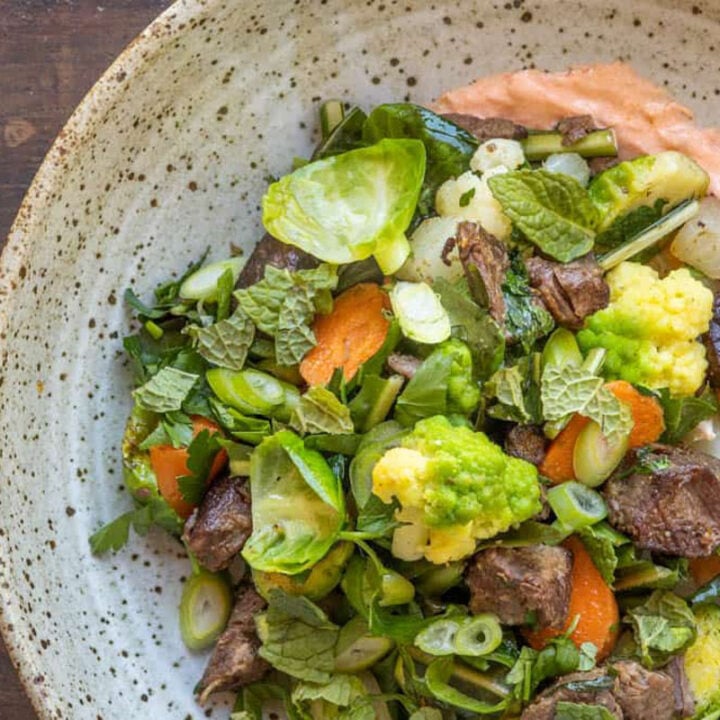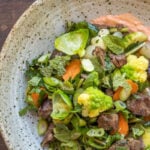 Print Recipe
Breakfast Venison Hash with Vegetables
This is a small batch, I would suggest doubling it. The process here is what's important, more than an exact recipe. Serves 2, scale as needed
Equipment
1 12 inch cast iron skillet or similar
Ingredients
Venison
8

oz

venison scrap

trim, or stew meat, preferably from the neck or shoulder

Kosher salt and pepper

2

cups

meat stock or water in a pinch

Cooking oil or lard

as needed
Vegetables
10

oz

mixed vegetables preferably in a variety of colors*

1

oz

sliced green onions

Fresh torn herbs like basil or mint

Small handful of chopped Italian parsley

1

teaspoon

fresh ground cumin

or to taste

1

small clove garlic

mashed to a paste
Optional garnishes
Spicy mayonnaise

sour cream, aioli, etc,

Lemon wedges
Instructions
Venison
Cut the venison roughly into 1 inch cubes, season with salt and pepper and allow to sit overnight in the fridge, uncovered (this step is optional, but helps build flavor).

Brown the venison on one side in the oil, then transfer to a small oven-safe soup pot. Pour the oil off from the pan and deglaze with a splash of the stock, scraping up the browned bits.

Pour the remaining stock and drippings over the venison in the small pot, cover, and cook for 2 hours. Chill the venison to firm it up and help it hold it's shape.
Vegetables
Bring a couple quarts of salted water to a boil, then blanch the vegetables individually until aldente to your taste. There is no need to chill the vegetables in water after blanching.
To finish the hash and serve
Drain the meat from the stock and dry it well, reserving the stock for making soup or another purpose. Heat two tablespoons of oil in a large 12 inch skillet. Brown the venison again, then add the vegetables and heat through. Add a glug of oil if the pan threatens to dry out.

At the end, just before serving, stir in the smashed clove of garlic and the cumin to taste, along with the parsley and scallions if using.

Make a "swoosh" of some spicy aioli or another condiment in the bottom or side of each pre-warmed serving dish (a bowl is just fine too) spoon in the hash, sprinkle on some of the extra herbs, and serve.
Notes
You can use your favorite vegetables here. For the meat, since it's cooked until tender, you'll want to use venison shoulder or shanks. 
Nutrition
Serving:
8
oz
|
Calories:
260
kcal
|
Carbohydrates:
16
g
|
Protein:
35
g
|
Fat:
6
g
|
Saturated Fat:
2
g
|
Polyunsaturated Fat:
1
g
|
Monounsaturated Fat:
2
g
|
Cholesterol:
104
mg
|
Sodium:
444
mg
|
Potassium:
1042
mg
|
Fiber:
3
g
|
Sugar:
7
g
|
Vitamin A:
7
IU
|
Vitamin C:
69
mg
|
Calcium:
47
mg
|
Iron:
5
mg