Venison heart bolognese is a great way to introduce people to eating heart if they're on the fence about eating it medium rare, or in large pieces. I use venison here, but any heart can be used since it's put through the meat grinder.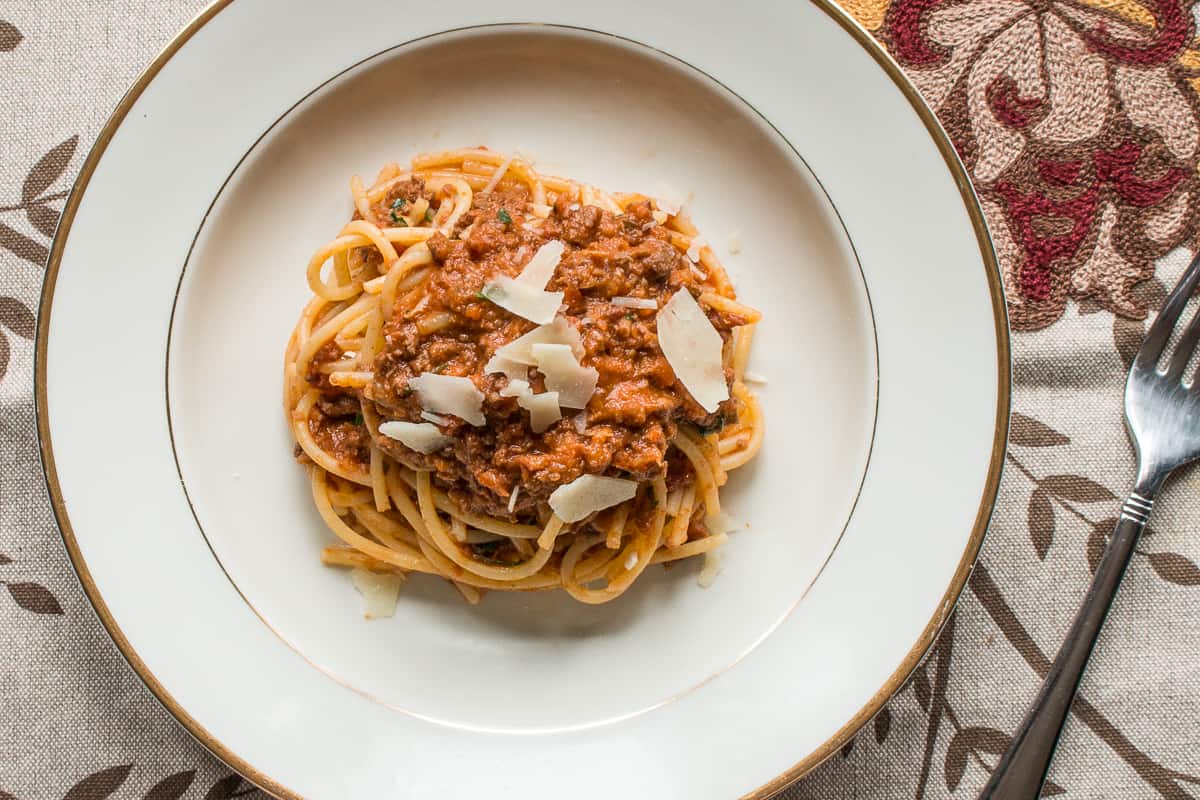 I love coming up with creative ways to introduce people to eating offal, and venison heart Bolognese is one of my new favorites. Many recipes don't, especially those designed for Americans, gut my Bolognese (as I was taught by my chef from Rome, Angelo) always incorporates a little bit of offal, typically chicken liver, but hearts are mild enough that after being ground you can substitute them for ground meat.
Since the meat is stretched a little with the addition of vegetables and some belly or pancetta to add fat, it's also a great way to stretch a heart or two so that it can feed a family for a meal.
You don't need much aside from an hour or two of mostly unattended cooking, but a meat grinder is pretty important, and turns into a one-stop-shop for prep. You just push everything, hearts, belly, and vegetables through the grinder, then sweat and simmer for a few hours.
You might be able to do something similar in a food processor, with a lot of care, but it would be putsy, and it will take a number of batches to get through it all, unless you have a large restaurant-style Robocoup, and even then, the texture will never be as even as when it's put through the coarse die of a grinder. If you have a kitchen-aid mixer, I really like this metal meat grinder here.
Reheating and Serving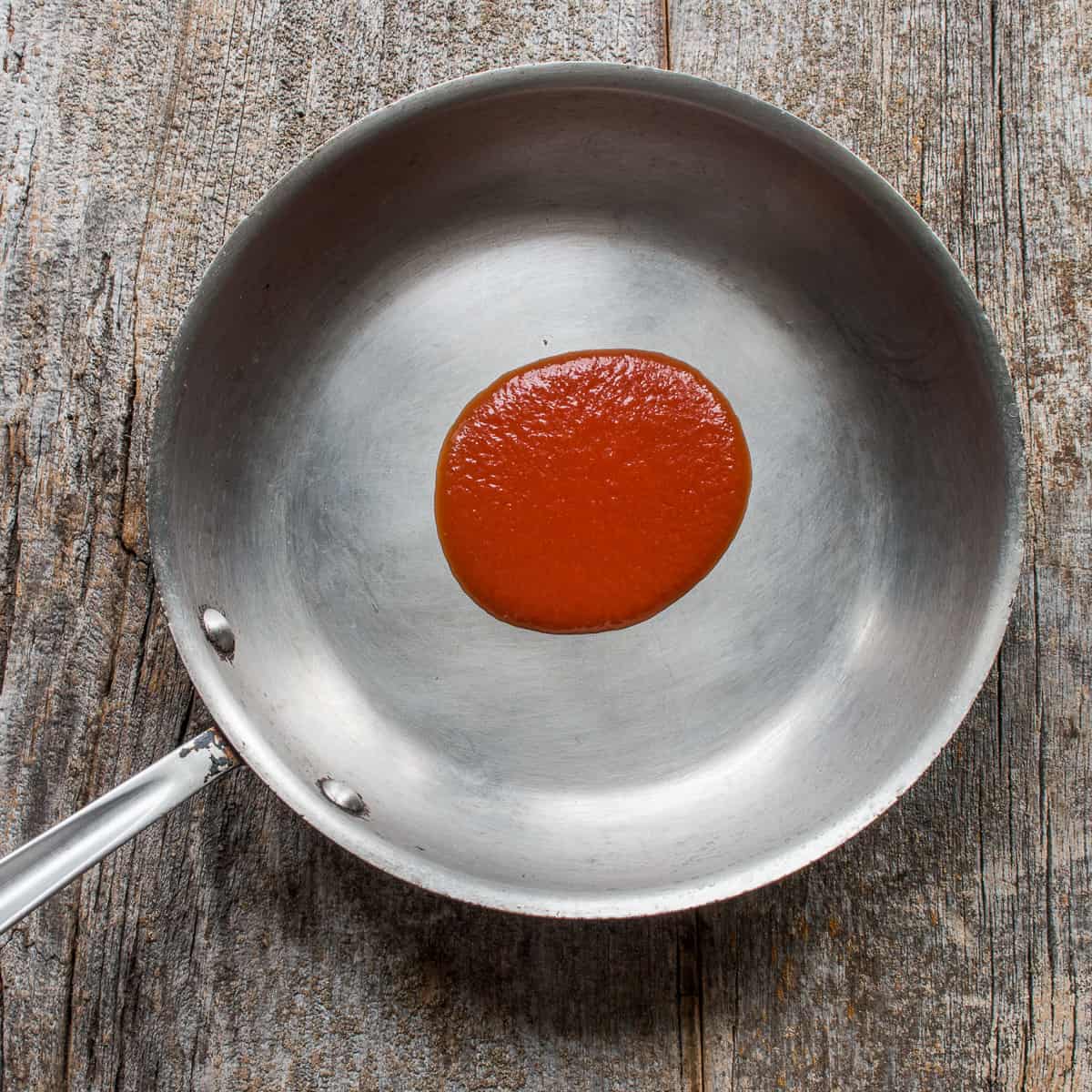 Make Ahead For The Best Flavor
Making the ragu is only the first step though. Like most slow-cooked things, the flavor improves after chilling and sitting for a bit, and the real magic happens when you know how to reheat the sauce like you'd get in a restaurant.
Don't get me wrong, the veni heart bolo will taste ok reheated on it's own (with plenty of parmesan) but it will be a showstopper if you follow my instructions for restaurant plating--all you need is some canned tomato sauce or pureedl, strained canned tomatoes, a couple knobs of butter, and some parsley. See the photo gallery below for an example.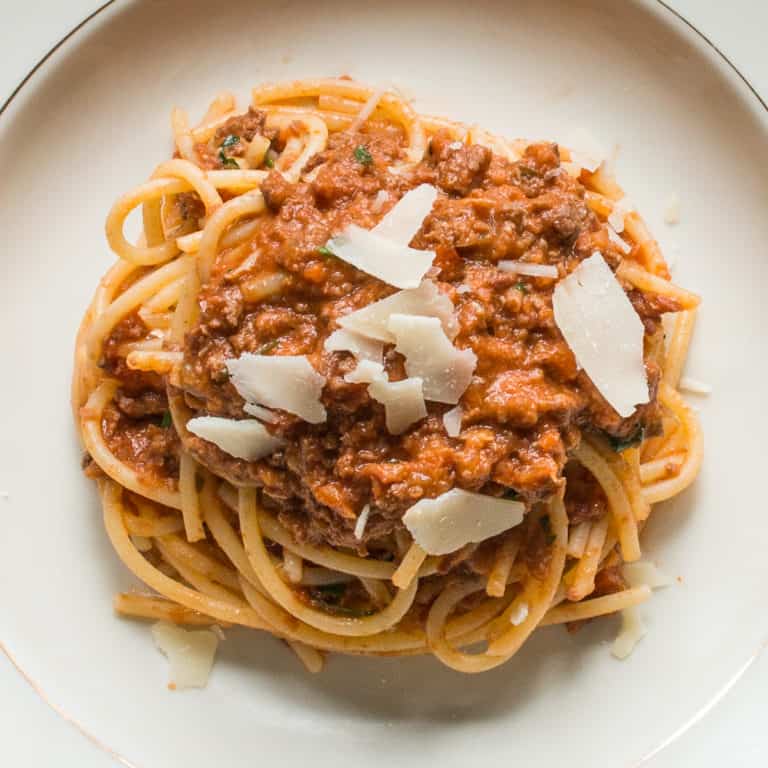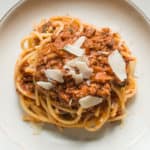 Print Recipe
Venison Heart Bolognese
The classic Italian ragu is a great vehicle for under-loved venison hearts. Serves 4-6
Ingredients
Ragu
2

lbs

Venison heart

preferably frozen--you can get away with a little more or less depending on the size of your heart(s).

5

oz

venison belly,

or pork pancetta, cubed (optional)

25

grams

garlic cloves

whole

1

rib of celery chopped

1

medium carrot chopped

1

small onion chopped

1

cup

half and half

1

cup

dry white wine

1 28

oz

can whole peeled tomatoes

¼

cup

tomato paste

2

dried bay leaves

1

tablespoon

chopped fresh thyme

or substitute 1 teaspoon dried

1

teaspoon

kosher salt

plus more to taste

Fresh ground black pepper

to taste
For serving
High quality parmesan cheese

to taste, I like Grana padano

4

tablespoons

unsalted butter

¾

cup

Tomato sauce

8

oz

dried spaghetti

preferably a bronze extruded brand like Rustichella

2

Tablespoons

Fresh chopped Italian parsley

to taste
Instructions
Ragu
Allow the hearts to thaw for 30 minutes on the counter, but do not thaw completely—having them frozen a bit will help them grind easily. Trim the goat hearts of any remaining central vein/aorta as well as excess fat at the top. Cube the hearts into pieces that can fit in the meat grinder, roughly 1-2 inch pieces, then freeze again.

Mix the hearts, belly or pancetta, garlic cloves and chopped vegetables, then pass all of it through a meat grinder on a coarse die. When you get to the end, add another celery stick or a couple pieces of carrot to the grinder to help get the meat mixture out, a piece of bread is good too.

Heat the oil in a wide braising or soup pot, then sweat the ground mixture until the pan is nearly dry. Add the remaining ingredients, bring the mixture to a simmer, then turn the heat to low and cook for 2 hours or until the sauce is thick. To serve, double check the seasoning, adjust as needed, stir in the butter and parsley, then ladle over cooked noodles with parmesan on the side.
To serve as you would eat in a restaurant.
For 4 servings, heat ¾ cup of tomato puree in a pan, then add 2.5-3 cups of cooled ragu, heat through, double check the seasoning and adjust, add parmesan to taste along with 4
Notes
Don't use smoked bacon instead of the pancetta, the smoke flavor will change the dish. 
Any heart can be substituted for the venison. 
Nutrition
Serving:
3
oz
|
Calories:
703
kcal
|
Carbohydrates:
22
g
|
Protein:
50
g
|
Fat:
20
g
|
Saturated Fat:
19
g
|
Polyunsaturated Fat:
5
g
|
Monounsaturated Fat:
14
g
|
Trans Fat:
1
g
|
Cholesterol:
356
mg
|
Sodium:
500
mg
|
Potassium:
1598
mg
|
Fiber:
4
g
|
Sugar:
12
g
|
Vitamin A:
1398
IU
|
Vitamin C:
36
mg
|
Calcium:
190
mg
|
Iron:
13
mg