I love simple, rustic desserts, easy things that can be thrown together. There's just something about a bowl of good cream, whipped to soft peaks and mixed with fresh berries that just tastes right.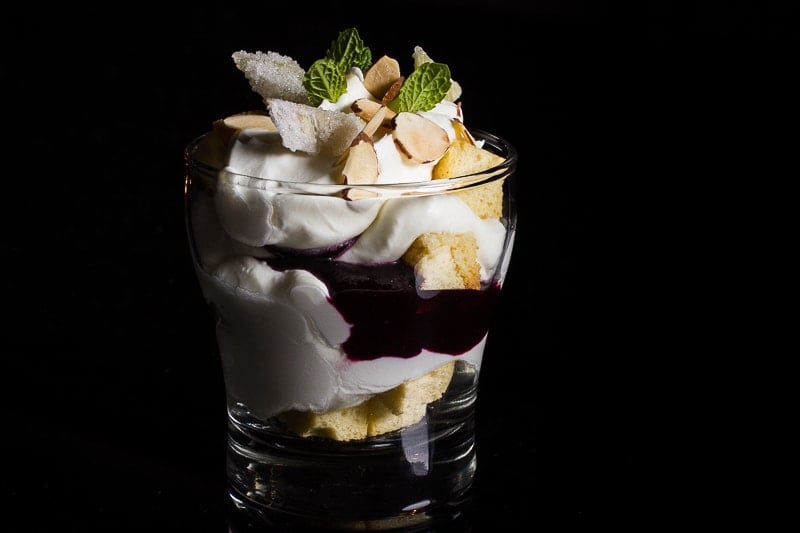 The more I cook, the less I cook like that, and sometimes I just want something simple. Syllabubs are simple, and, unlike most berry-cream dishes, this one's designed for a Midwestern Winter, when there's preserves to use.
What's a syllabub? It's a light, boozy dessert, and a sort of American, old-timey sweet that's endearing in their simplicity. I made my first one after reading James Beard wax about them in one of his books (I forget which one).
Over the years, I've had my time addicted to researching French, Italian, and other cuisines, but there's something to be said for digging in the American crates, too, and Beard is a treasure trove of classic culinary Americana. Essentially, a syllabub is just whipped cream with booze in it, which by itself isn't that exciting, but when paired with a couple other things can make a fun dessert.
More importantly, I thought it could be a good vehicle for my serviceberry jam (I ended up preferring nannyberry butter as it's seedless), and any other preserves I had laying around collecting dust in the pantry, along with some of the last shards of candied angelica stems hiding in the fridge.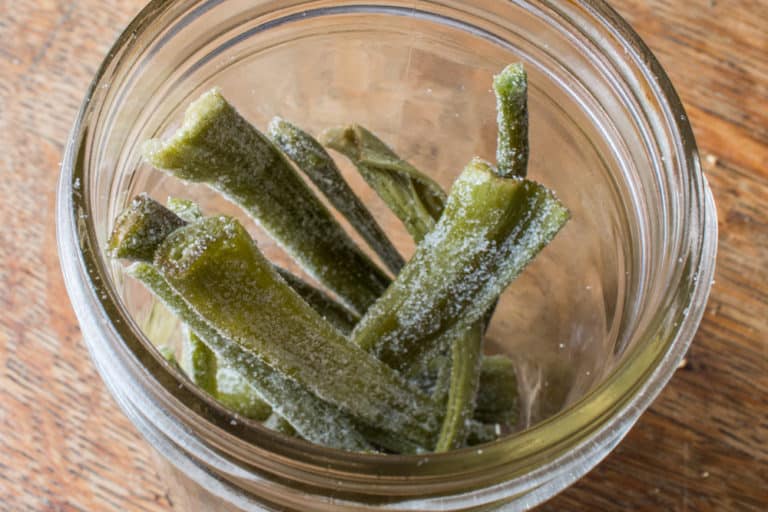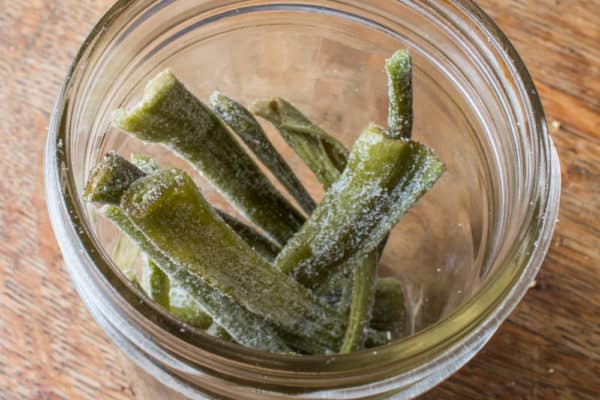 Pick a jam, any jam
If you pick fruit and make preserves, or know someone who does, you know there always ends up being a jar or two laying around the following summer, or maybe you were gifted and extra jar of something, or whatever, and it's been waiting patiently to be used.
This, and the different variations you can do with whipped cream, yogurt, fruit, and nuts, are all are great candidates for using up that last little jar of jam, instead of just reaching for toast (not that there's anything wrong with jam on toast). If your jam is stiff, you may need to loosen it a bit for this.
The recipe I ended up with layers the syllabub with spoonfuls of nannyberry puree, and soft brioche or a sweet bread for some texture, although pieces of meringue would be just as good, and I'll be making it with them next time.
To garnish, there's some candied angelica, and toasted almonds. The finished dessert is probably closer in composition to a trifle with the brioche in it, but you could leave it out for a version closer to the American original, or use pieces of cake or macaroons, especially dense, interesting things made with some kind of nut-meal.
At the end of the day, the syllabub can be something you throw together with whatever you have. Don't have angelica? Skip it. No Gran Marnier? Ditto. Want to mix the jam into the cream for a fruit swirl? Do it.
My version is just as light and fluffy as James Beard's original recipe, but to deepen the flavor of the cream so it isn't all booze and no fun, I scent it with orange peel and carroty angelica seeds that are infused into the wine an strained out before whipping. For a more angelica-forward dessert, you could sweeten and whip my angelica creme fraiche. I'm sure you could use your imagination to come up with something similar.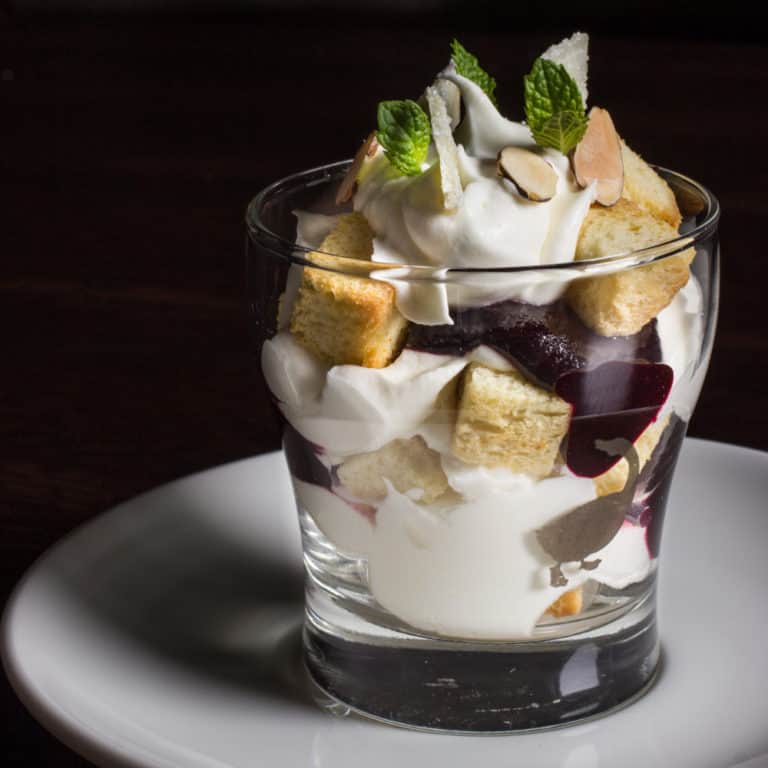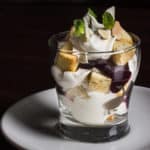 Print Recipe
Nannyberry Syllabub with Candied Angelica 
An old-timey American dessert made from cream whipped with wine. Serves 4 as a light dessert
Equipment
Electric Beaters or Stand Mixer

Small custard dishes (pictured is a small, 4 oz liquor glass)
Ingredients
Roughly half a cup of fruit preserves

or another jam you like (I used nannyberry)

Mint sprigs

to garnish (optional)

Sliced, candied angelica stems

to garnish (optional)

Toasted slivered almonds

to garnish

About 1.5 cups of ½ inch diced brioche, untoasted

(optional)

For the syllabub

¼

cup

dry white wine

2

tablespoons

Gran Marnier

1

tablespoon

ground dried angelica seed

(optional)

Zest of one orange

¼

cup

granulated sugar

1

cup

heavy cream
Instructions
Heat the wine and Gran Marnier until almost simmering, then pour over the orange zest and angelica, cover, and infuse overnight, or at least a few hours. The next day, strain through a fine sieve and keep chilled.

Whip the cream and sugar to soft peaks, then slowly drizzle in the wine mixture. You want the cream to be fluffy and lightly stiff, but be careful not to whip it on too high of a speed since it will break.

Whisk the fruit preserves to loosen them, adding a teaspoon or so of maple or water as needed until it can be spooned/dolloped.

To assemble the syllabubs, take glasses, like martini glasses or another you would use for pudding, and begin by layering a few pieces of brioche, then tablespoons of the whipped cream mixture, and spoonfuls of jam, repeating until the glasses are nearly filled to the brim, finishing with a dollop of the angelica whipped cream mixture.

Garnish with the candied angelica, mint, and almonds. The syllabubs can be assembled ahead of time and refriegerated for an hour or so and and garnished right before serving.
Notes
Lots of ways to vary this, but here's a few ideas: 
Flavor the cream with fruity booze, like Ellen's Chokecherry Bounce
Mix and match jams you like, or use a combo
Mix the jam directly into the cream gently, but not completely, to leave a nice swirl pattern
Switch out the brioche for meringue, or layers of toasted, lightly sweetened breadcrumbs. If you try meringues, the syllabub can be frozen lightly before serving. 
More