Candied angelica stems or angelica candy are the most traditional angelica recipe I know. The tender, aromatic stems are still sold in France at a high price and are an incredible addition to cakes and pastries. In this post I'll show you how to make your own from garden angelica or wild plants.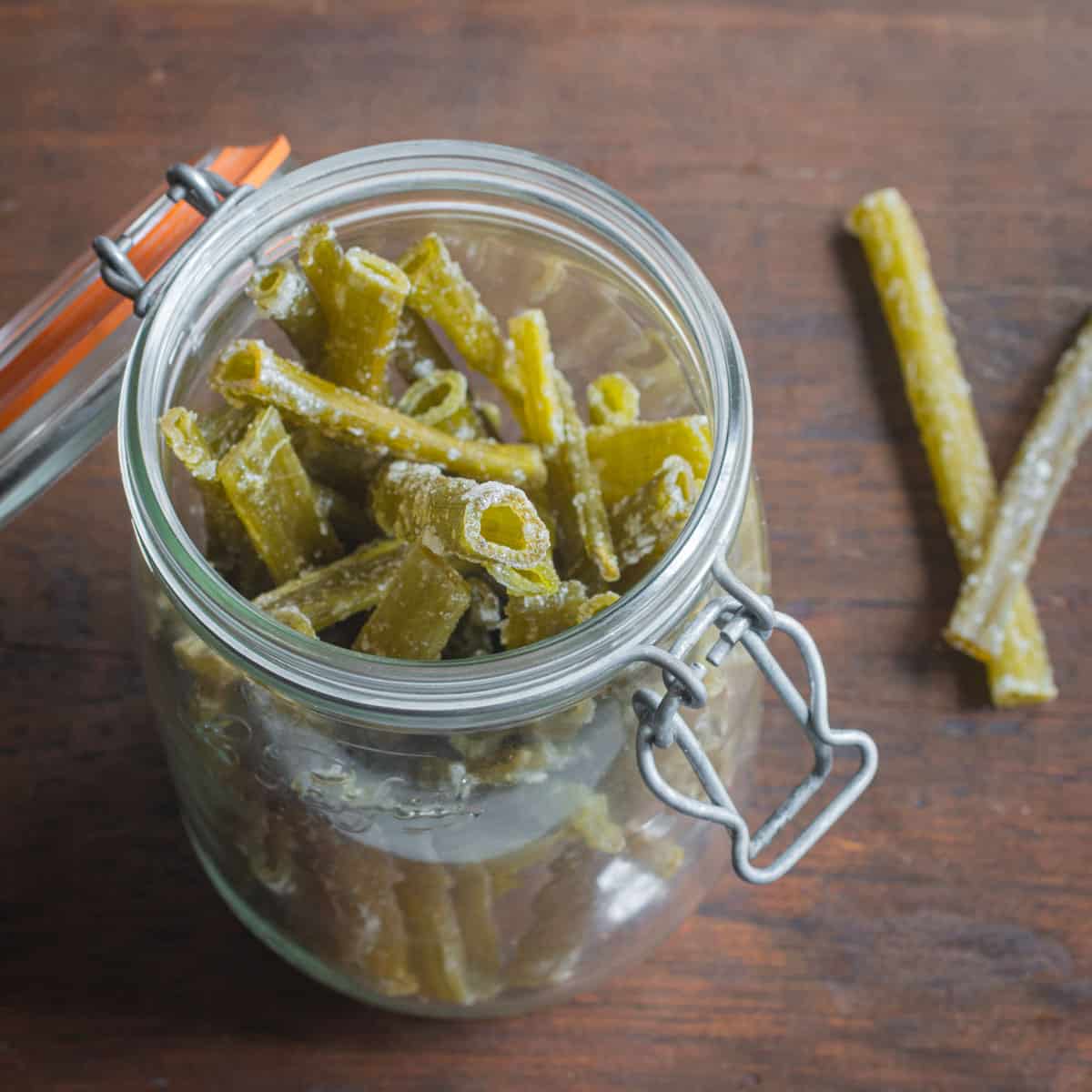 First things first, if you don't know how to positively identify wild angelica you cannot attempt this recipe. Angelica is related to hemlock. As the plants bare a casual resemblance, mistakes are not an option as hemlock is lethally poisonous.(I'm using Angelica atropurpurea here as seen below but Angelica archangelica is also used)
Below: Angelica atropurpurea at a stage showing the flowers, making it easy to identify.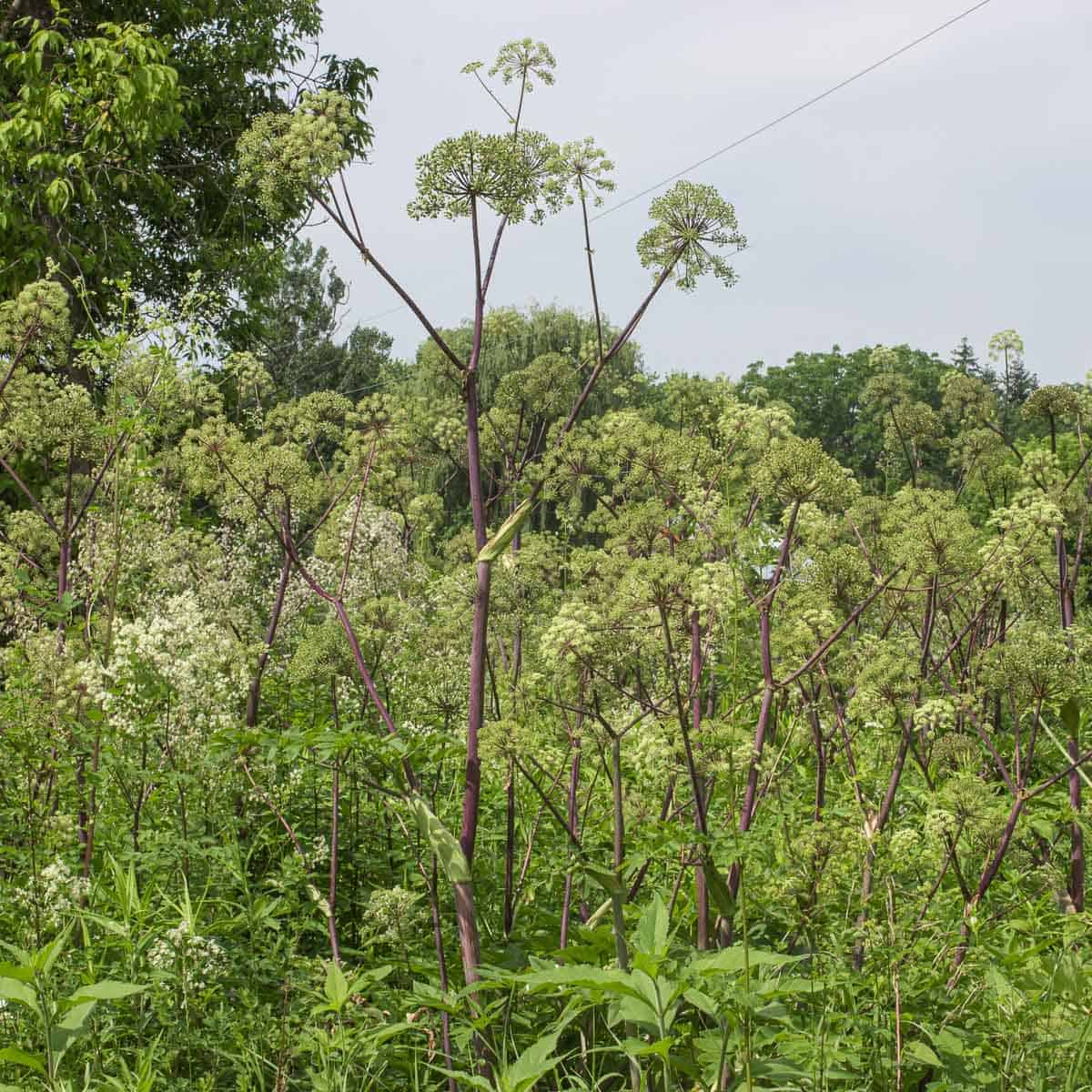 Angelica Candy
Angelica candy is the stems of the plant that have been blanched, peeled, and simmered in sugar syrup multiple times until the sugar penetrates them and changes their texture, turning them into chewy, aromatic bites. They've been used for a long time in French cuisine.
Below: fresh angelica stems cut into pieces for candying.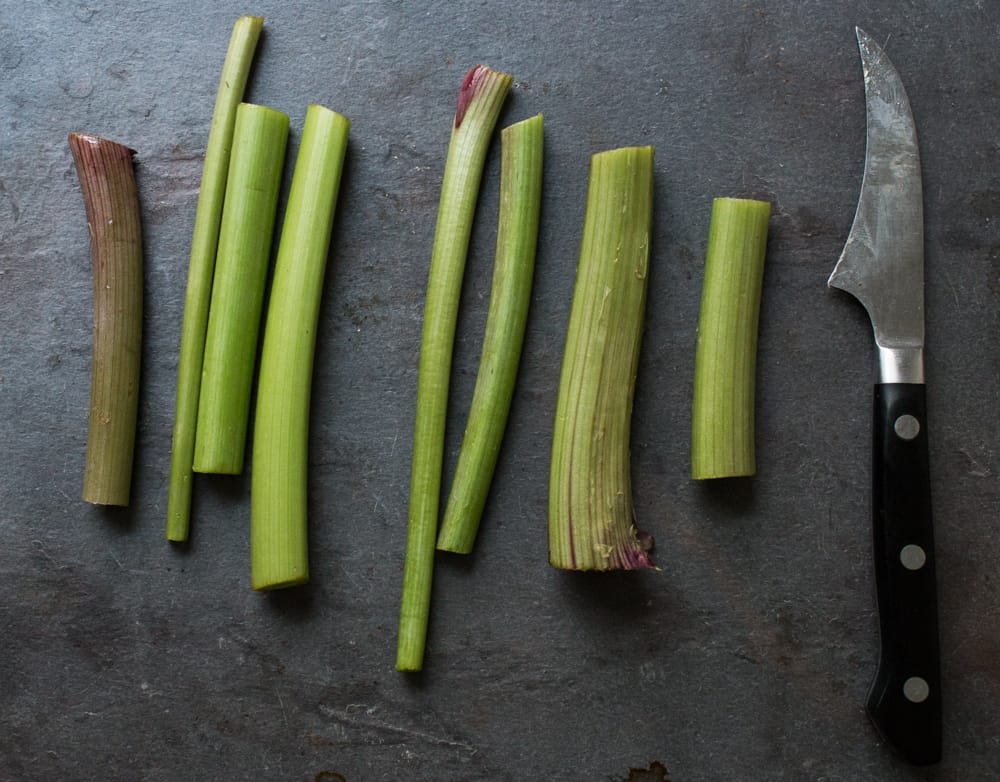 It's important to harvest the stems when they're young and tender, which means before the flowers have formed. Only the young, tender green growth should be used. If you see the plant forming flower blossoms, you can harvest the tender shoots attached to them and they make some of the best candied stems.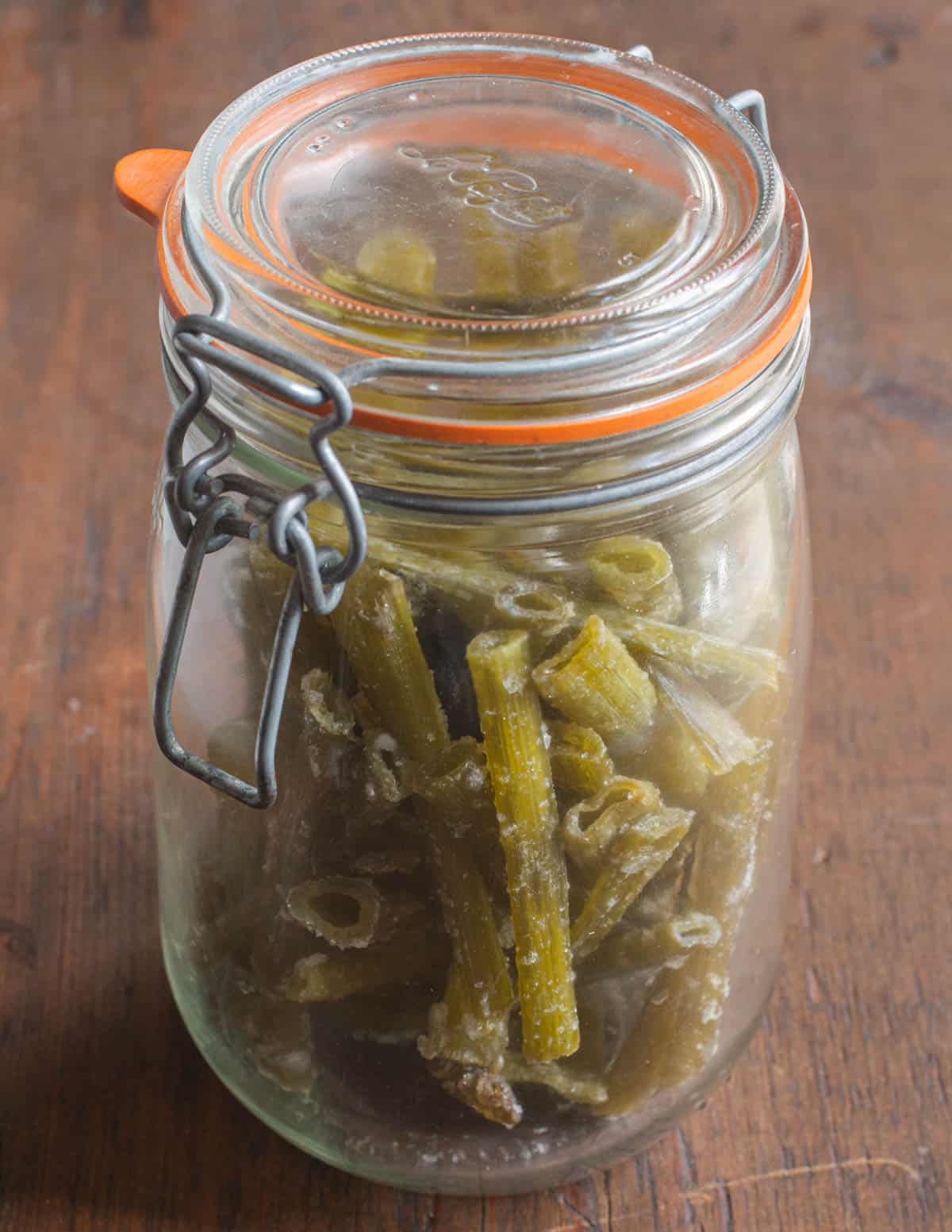 How to Make Candied Angelica
The process is simple and straightforward, but it does take some time and patience. First the young, tender stems are harvested. You will want to wear gloves when harvesting if you're new to the plant has phototoxic sap. After cooking the plant is harmless.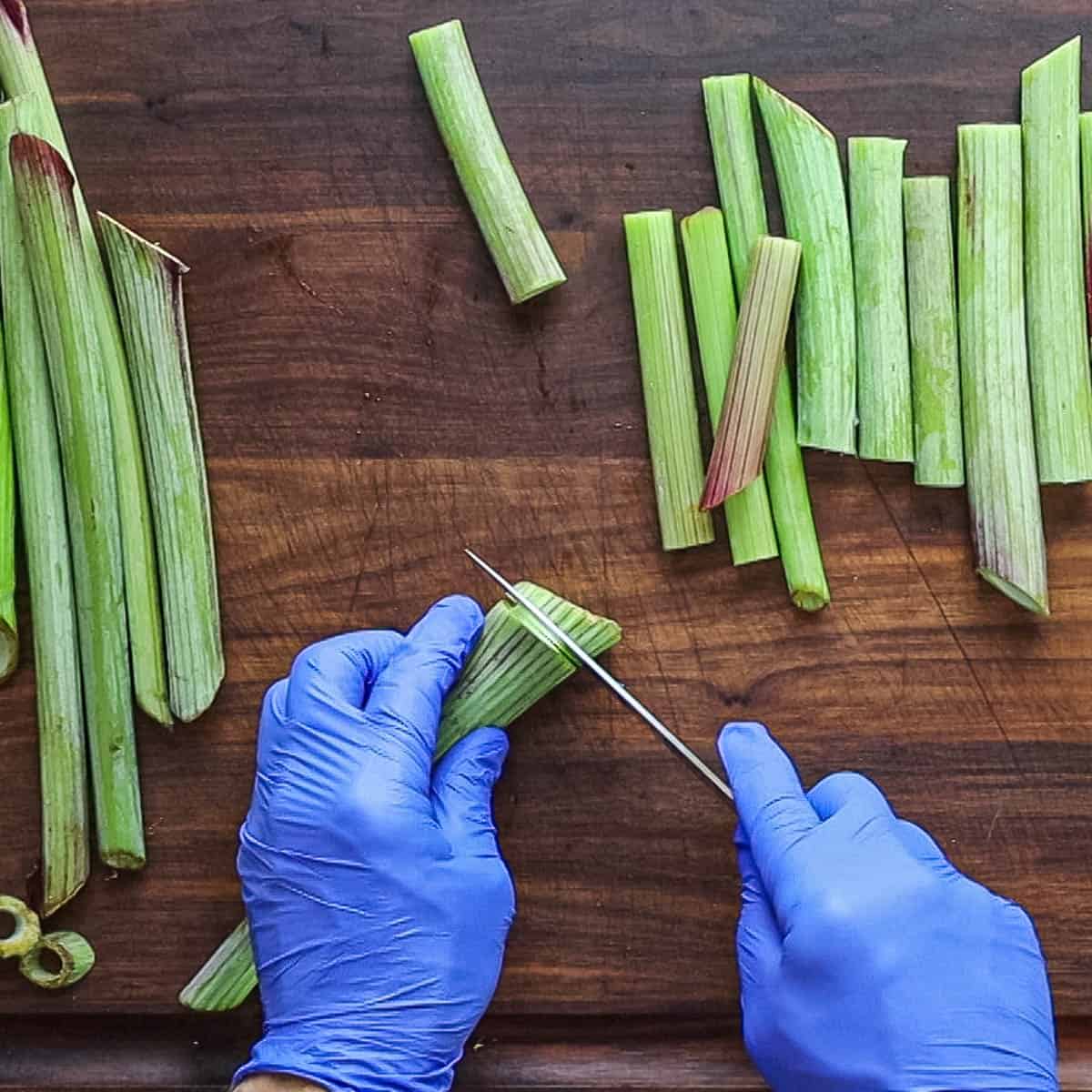 The stems are trimmed into roughly 4 inch pieces. Next the stems are quickly blanched in water to loosen the outer skin.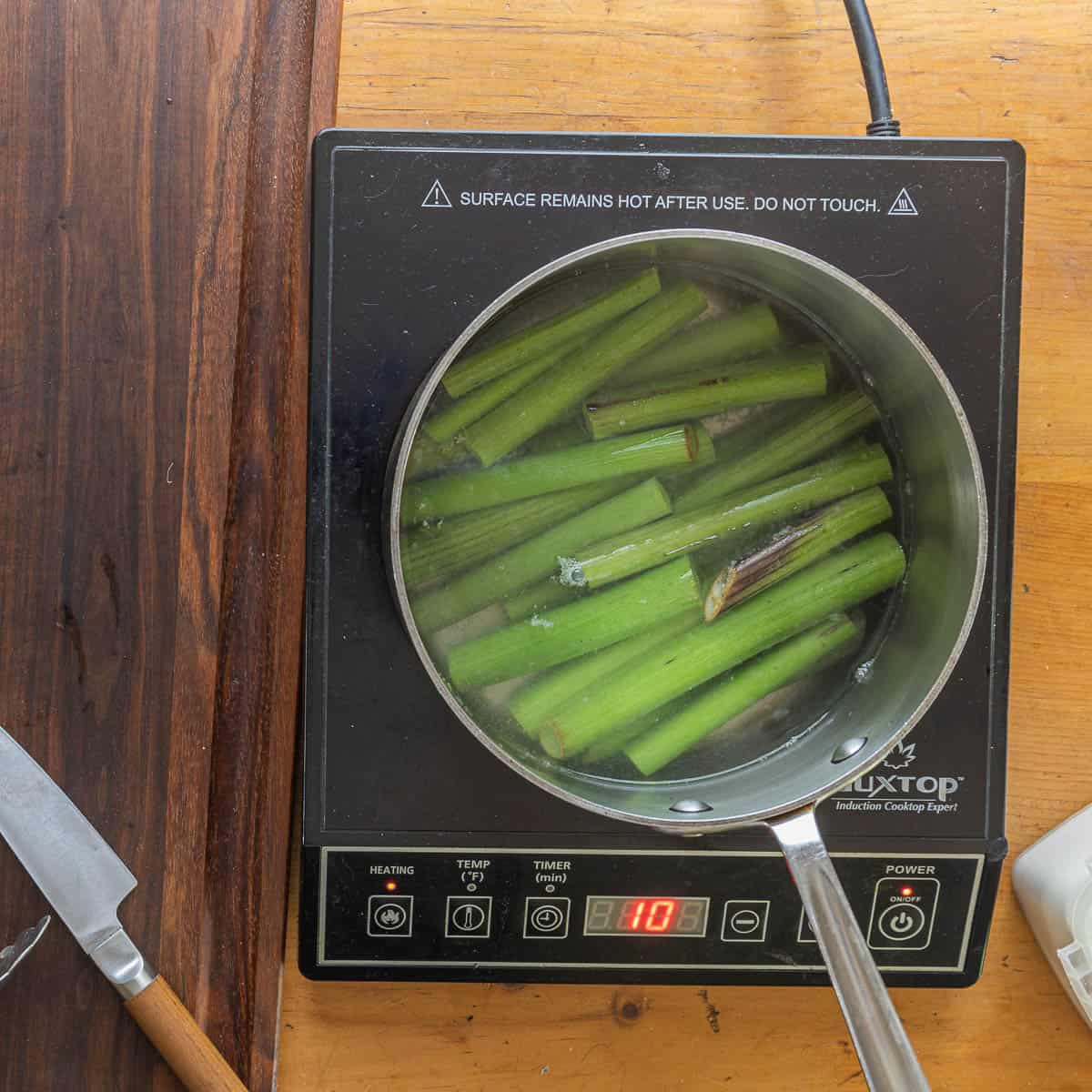 After blanching the stems are peeled with a sharp paring knife. This will take some time and practice, but it's worth it.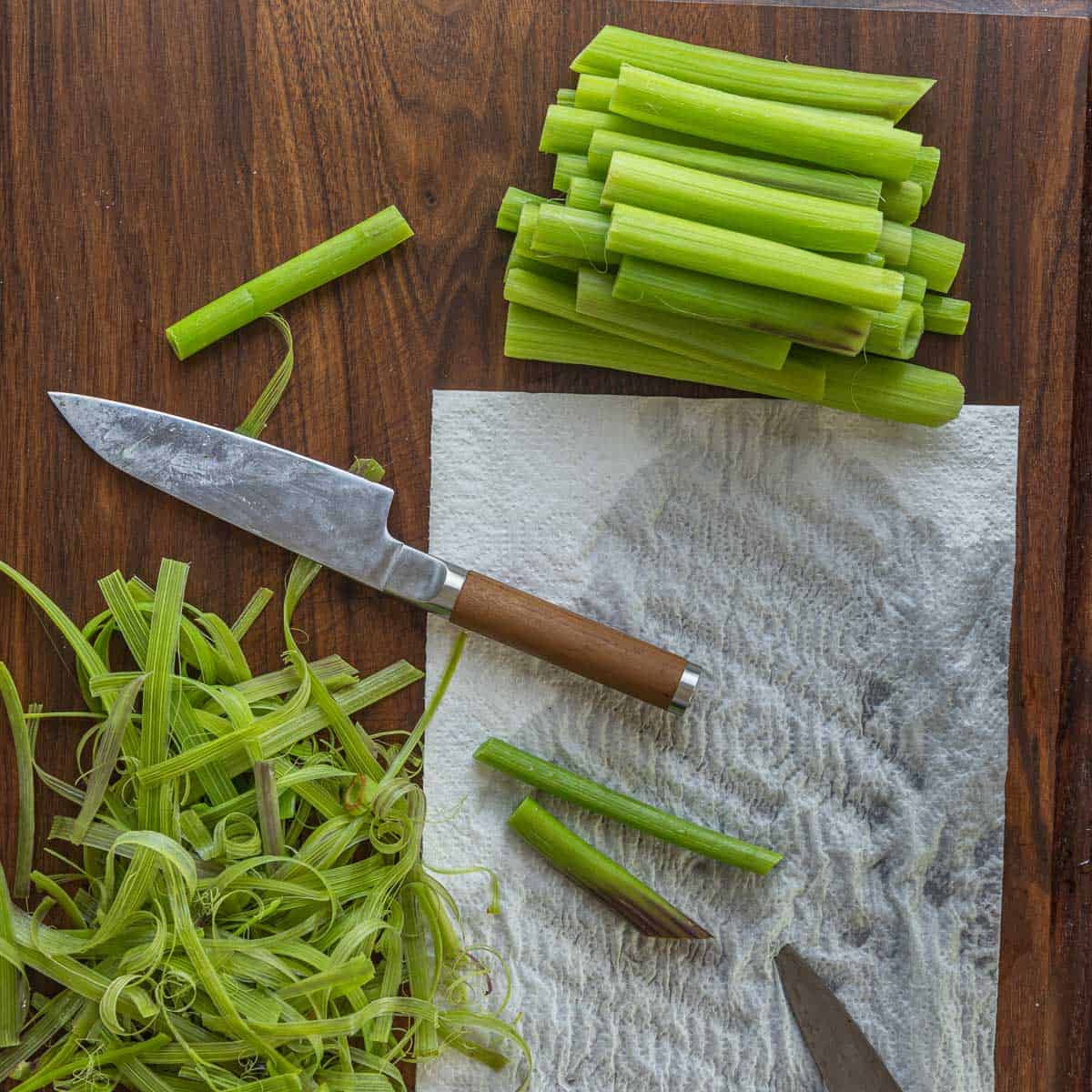 Next, sugar is added to the blanching liquid, brought to a boil and poured over the stems. The stems are then cooled in the liquid, and the process is repeated three times.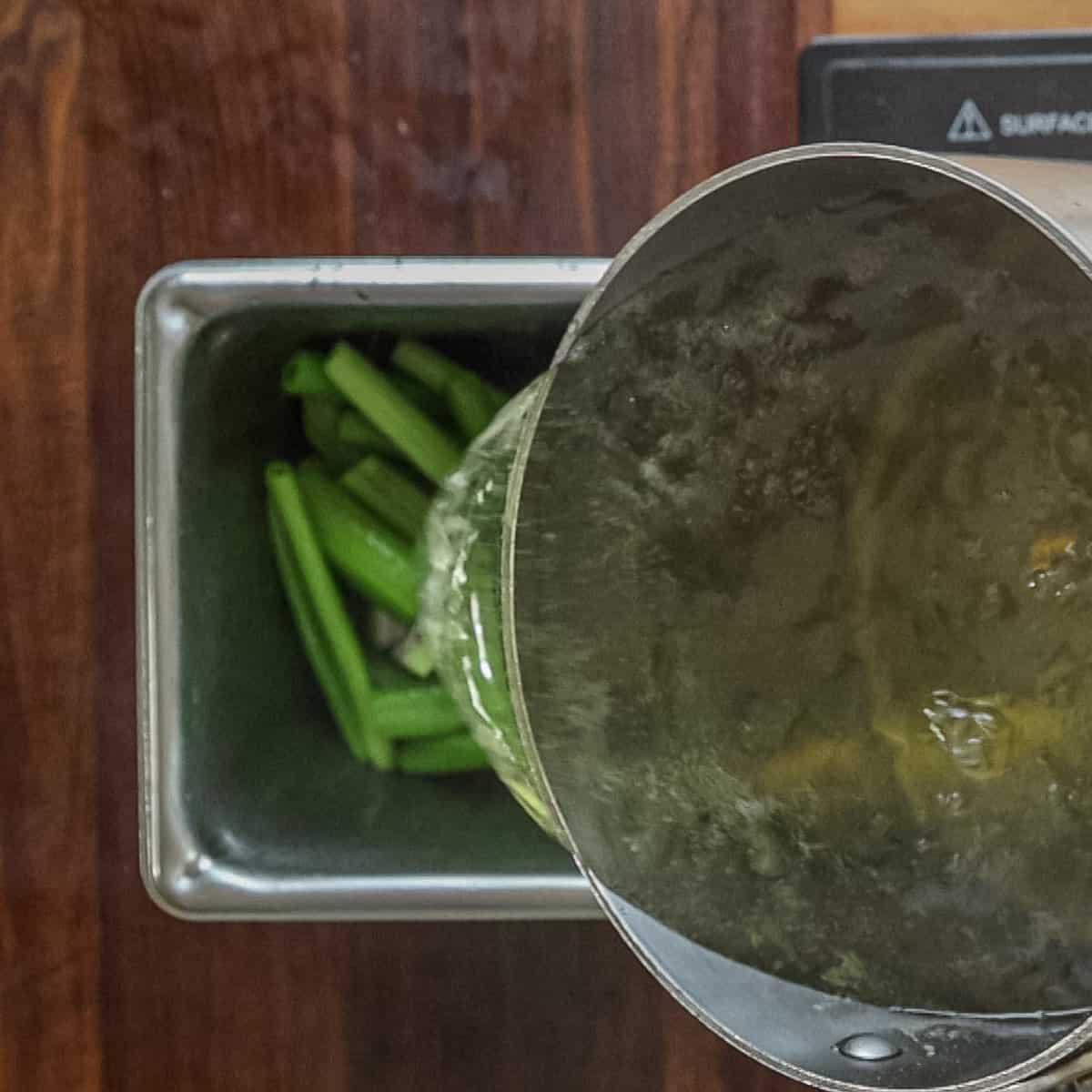 After the third boil, the stems are patted dry, then dehydrated on a tray at roughly 100 F for 8-10 hours or until no longer sticky and slightly dry, but still pliable.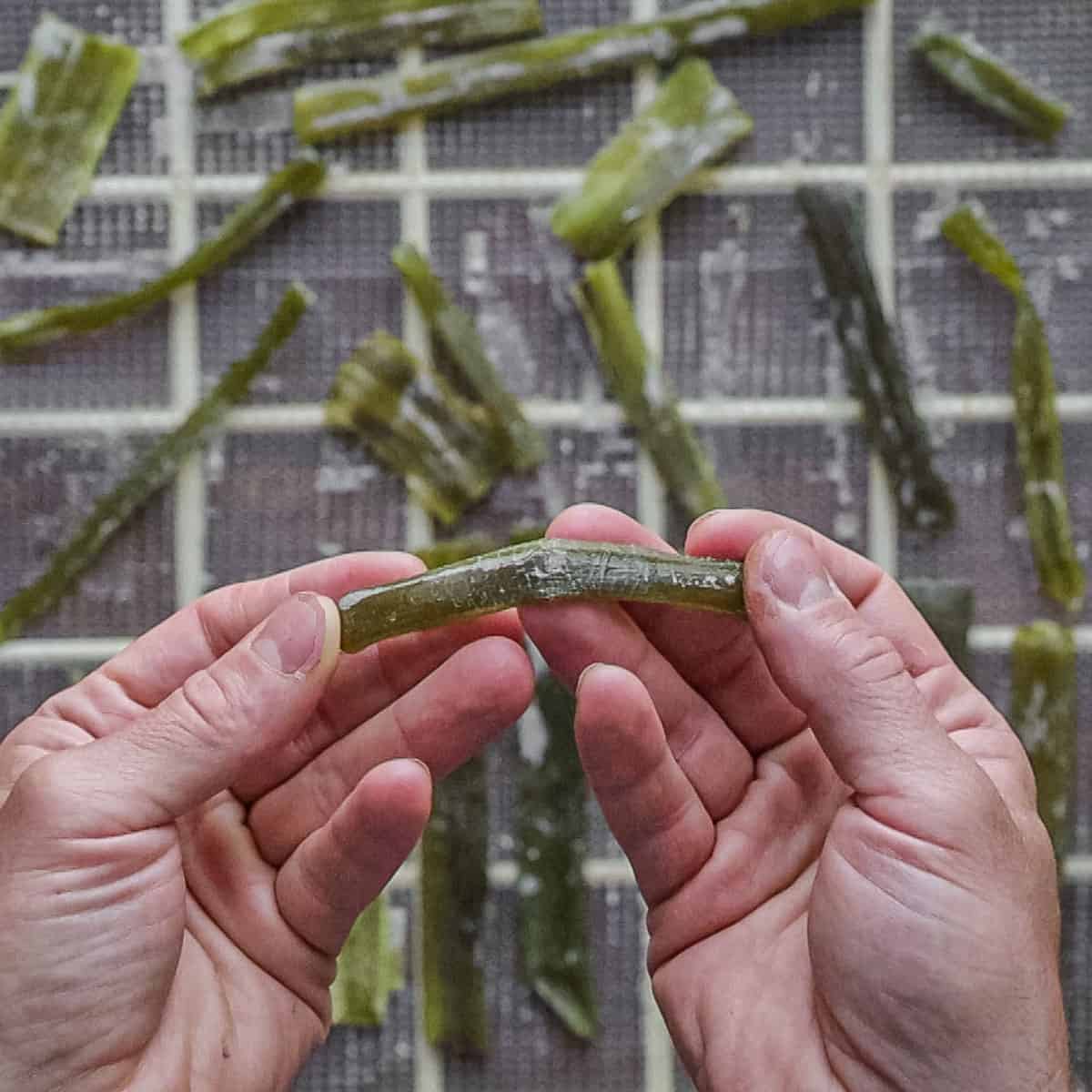 The finished, candied stems can be vacuum sealed and kept in a refrigerator, or held in a jar. Vacuum sealing is the best way to keep the chewy texture and is how they're sold commercially.
How to Use Candied Angelica
The stems are potent with a very strong, floral flavor. To use them in cooking they should be cut into pieces and can be added to cakes and pastries as a garnish on top, or put directly into batter in recipes like gingerbread and other cakes. Here's a few tips on using the angelica candy.
Angelica loves red, ripe fruit. Raspberries, strawberries, peaches and stone fruit as well as rhubarb are all great partners.
The stems are used by cutting into pieces. They are not eaten like a piece of licorice, which would be too tough.
Save the leftover syrup for making angelica lemonade, candying other fruits, or using in different fruit-based recipes and drinks. You can also add a splash of living vinegar and ferment the syrup to vinegar.
Below: vacuum sealing is the best way to keep the texture. Kept outside refrigeration, angelica will slowly lose it's soul, and eventually, will taste like nothing at all.
My favorite is when I have a dessert that's fruit based and contains some soft component, like a mousse or buttercream for the shards and leaves to be stuck in so they stand on their own.
Below: fruit pavlova garnished with angelica.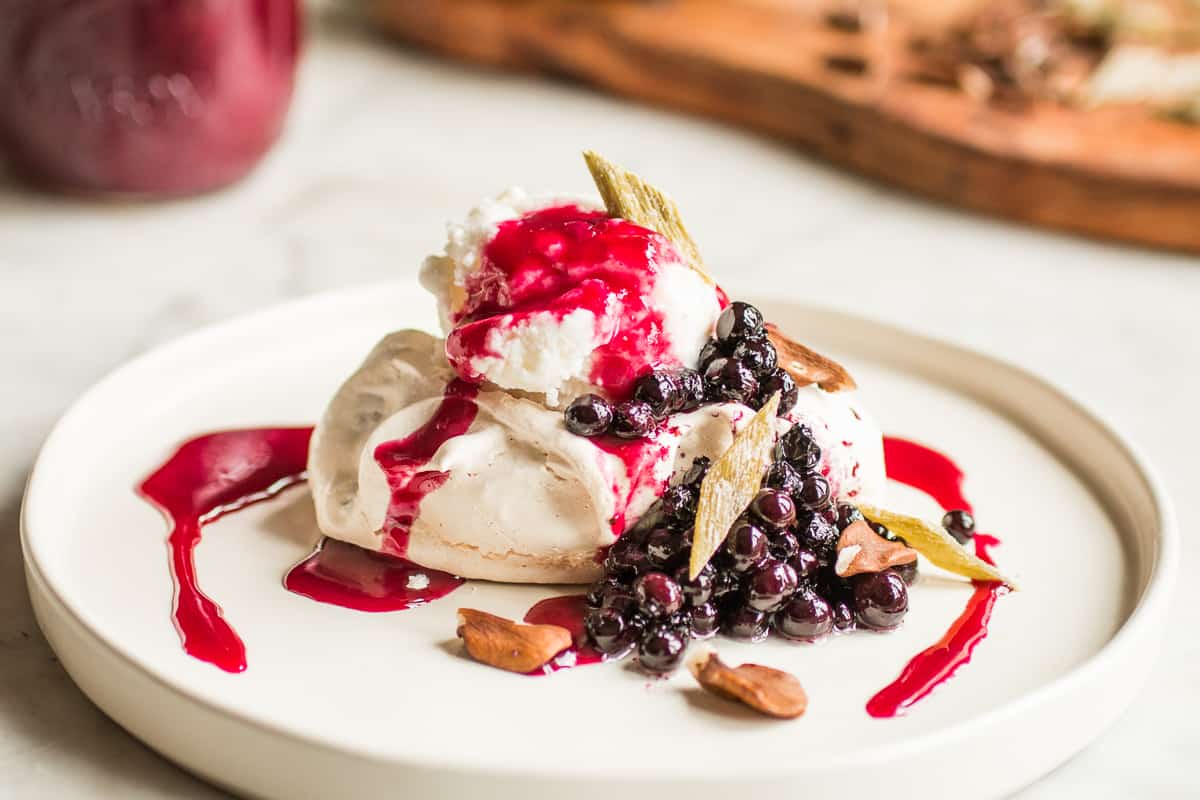 Below: nannyberry cake with angelica hidden under the flowers.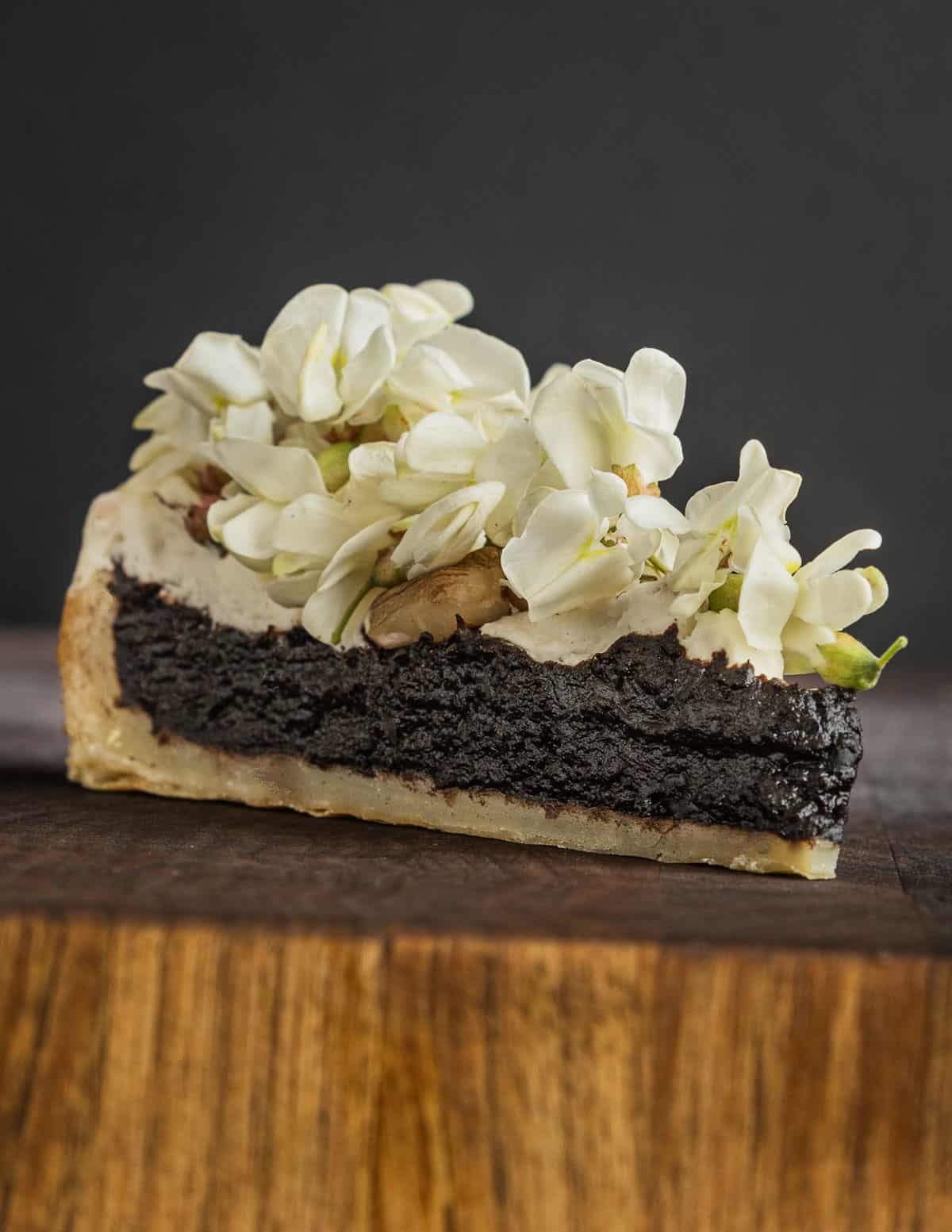 Kept cool in a dry, tightly-sealed container in the fridge, it will keep it's other-worldy perfume for months to come.
Related Posts  
The Forager's Guide to Wild Angelica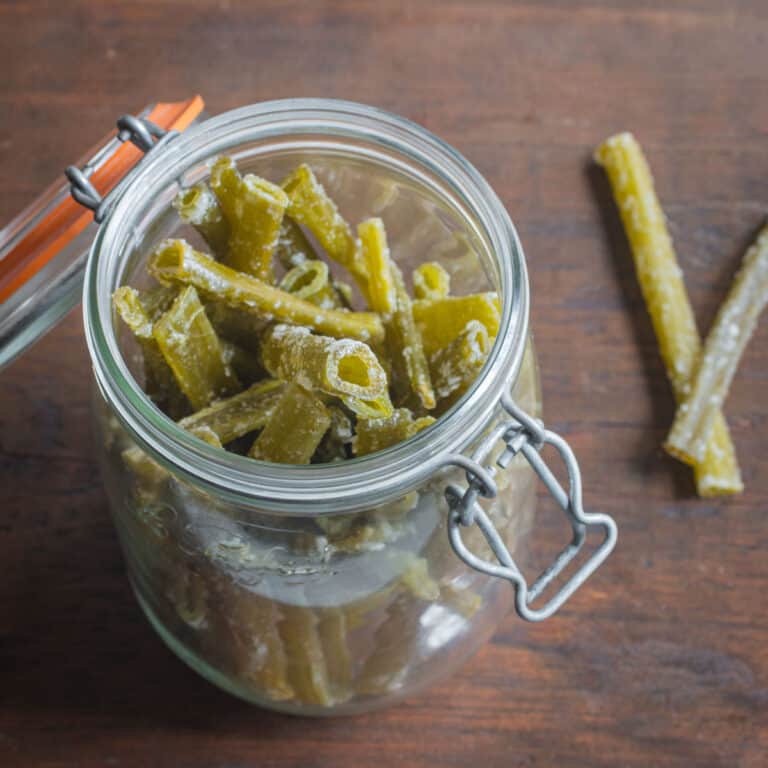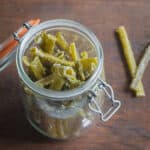 Print Recipe
Candied Angelica
Traditionally candied stems of the angelica plant. Use them to garnish cakes and desserts, or eat as a snack.
Equipment
1 3 quart sauce pot

1 Dehydrator
Ingredients
1

lb

Thick, tender young angelica stems, leaves removed

a fingers width is good

4

cups

water

6

cups

sugar

plus extra for coating the stems
Instructions
Wearing gloves, cut the stems into 3-4 inch lengths, or whatever size you'd like depending on the container you will store them in.
Peel the stems
To peel the stems, bring the 4 cups of water to a boil, then add the angelica stems and cook for a minute or two, working in batches if necessary. The blanching will loosen the tough skins. Drain and peel the angelica with a paring knife. Meanwhile, add the sugar to the poaching liquid and allow to melt.

Bring the sugar and water to a boil, then put the stems in and cook for 3-4 minutes.

Remove the angelica to a bowl or other container.

Bring the syrup back to a rolling boil for a few minutes, then pour over the stems and allow to cool to room temperature, then cool, covered.

The next day, pour the syrup off and bring to a boil again, then pour over the stalks and cool. Repeat the process one more time, pouring the syrup into a saucepan, bringing to a boil, and pouring over the stems.

After the last time, drain the stems after cooling and blot dry.

Some recipes toss the stems with sugar and store in a jar, but I find that unnecessary.

Dry the stems in a dehydrator on the lowest temp setting, preferably with the door ajar, or leave them on a cooling rack at room temp until dried, but still slightly pliable, about 8-10 hours at 100 F.

The sugar can stick a little to dehydrator trays. If it does, use a thin spatula to get underneath and remove them, or consider using a silicone baking mat or parchment.

When the stems are dried refrigerate until needed in a tightly sealed container. Vacuum sealed stems will keep the best texture.
Notes
You can save the leftover syrup for making drinks, or candying other things in the same way, adding a little extra water as needed. It makes fantastic lemonade. 
Nutrition
Serving:
1
oz
|
Calories:
4684
kcal
|
Carbohydrates:
100
g
|
Protein:
3
g
|
Saturated Fat:
0.2
g
|
Polyunsaturated Fat:
0.4
g
|
Monounsaturated Fat:
0.1
g
|
Sodium:
20
mg
|
Potassium:
300
mg
|
Fiber:
7
g
|
Sugar:
10
g
|
Vitamin A:
200
IU
|
Vitamin C:
14
mg
|
Calcium:
75
mg
|
Iron:
2
mg