Candied angelica stems are the most traditional angelica recipe I know of. The tender, aromatic stems are still sold in France at a high price. In this post I'll show you how to make your own from garden angelica or wild plants.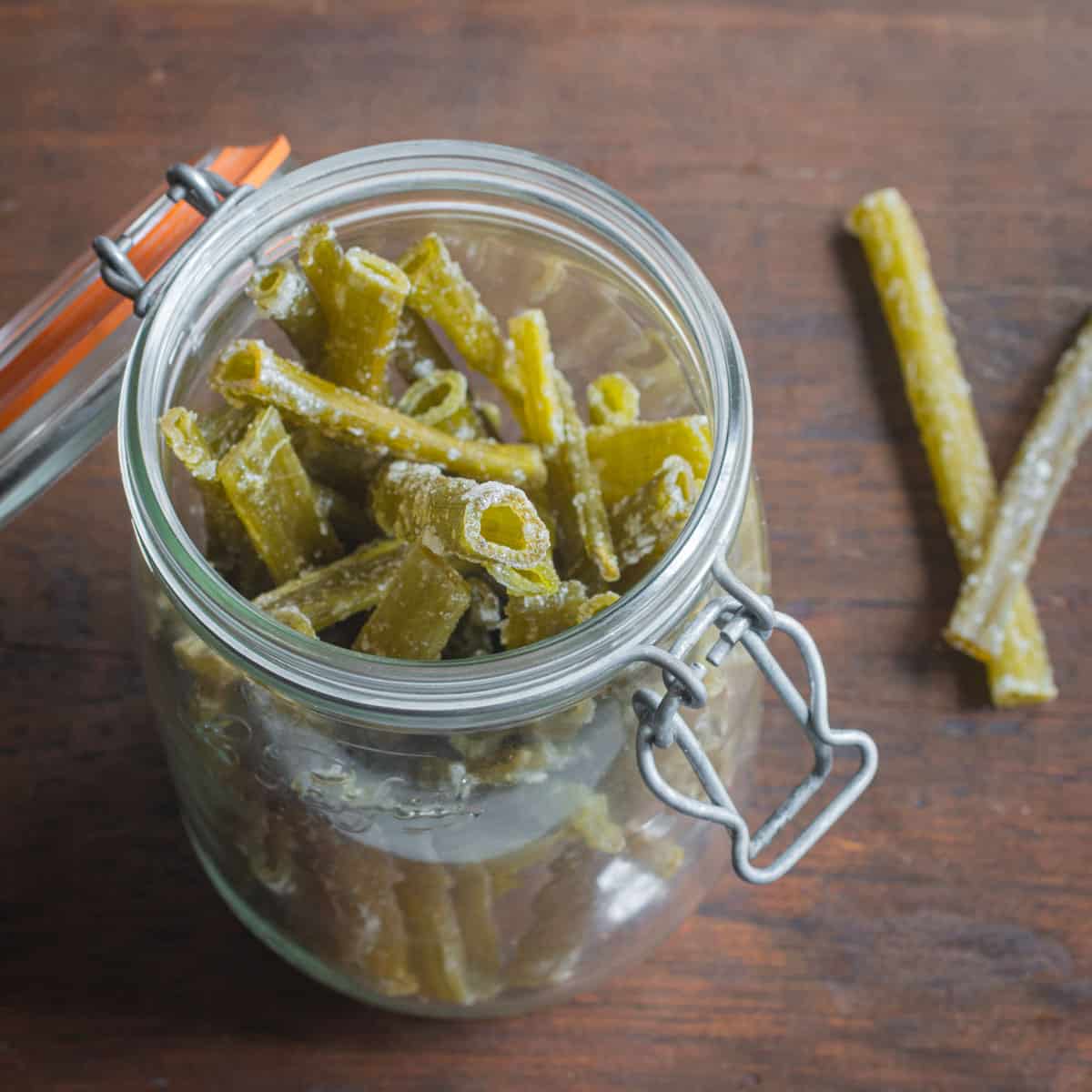 Have you ever cooked with angelica? Most people haven't, heck, most people haven't even heard of the stuff. It's available though, especially if you garden. More likely is that you've seen it sold via fancy French food companies.
If you're a food nerd like me, the first thing you may have thought of is: how do I make a candied angelica recipe? It took me a while to figure it out, but it's pretty easy. Essentially it's the same multi-stage candying technique attributed to the French that you can use for candying plums to chestnuts, and just about anything else.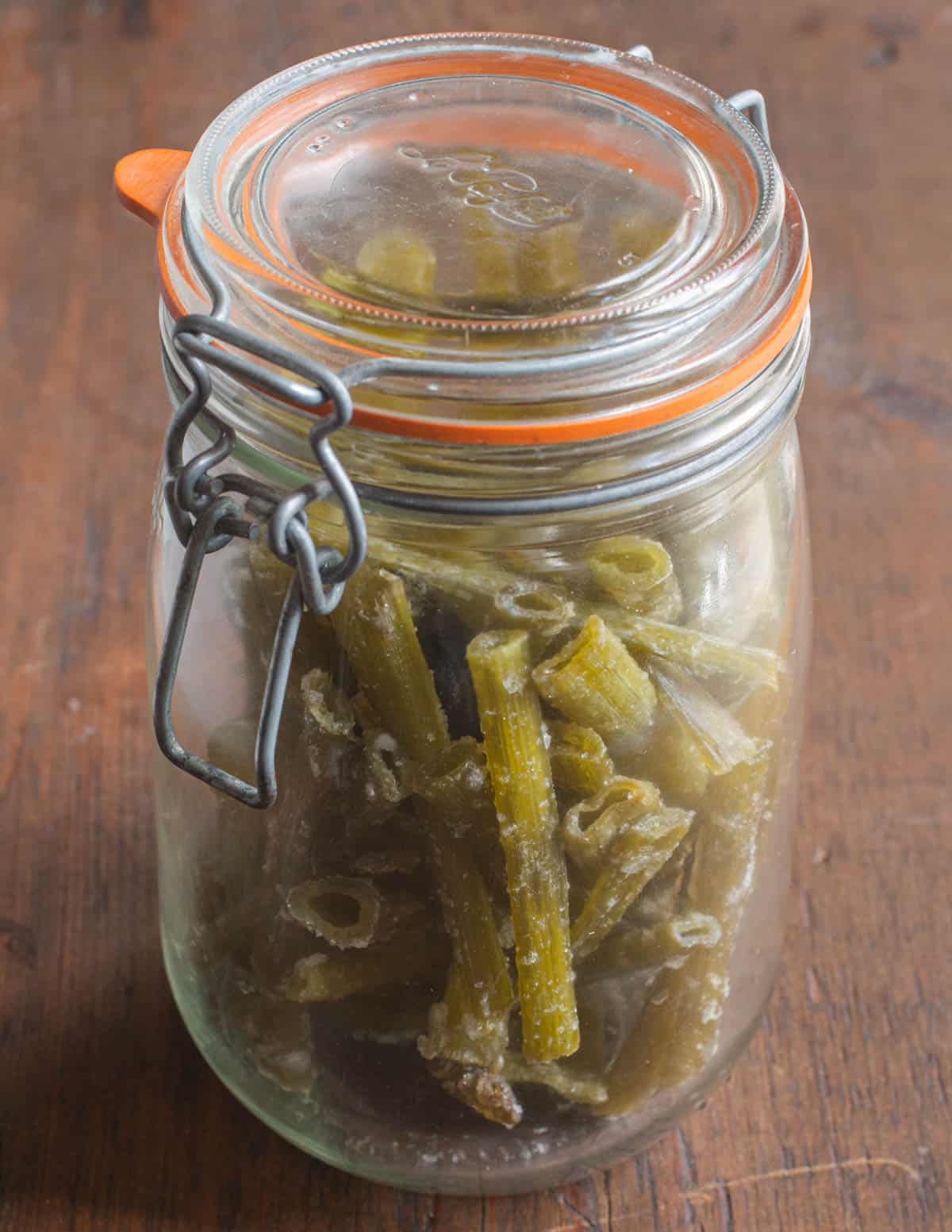 Just one decent sized angelica plant will give you enough stem to eat up a couple hours of your time preparing this, but after a single taste of the finished product, I never thought twice about dedicating some time to it.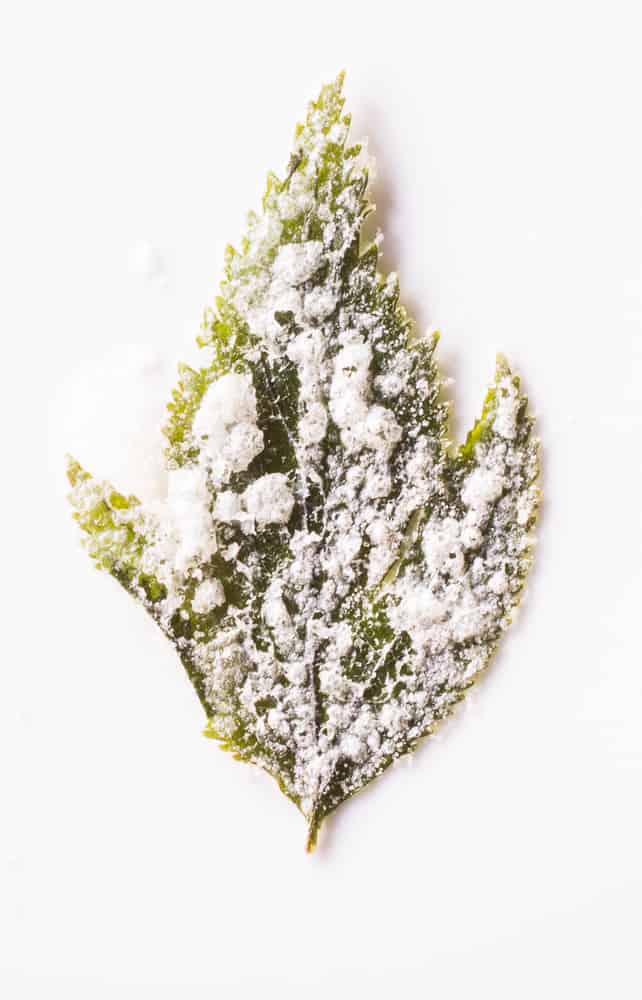 At the Salt Cellar, I serve this by itself after a meal occasionally as it's a great conversation piece to speak with diners about, but the crystalline shards cut from the candied stem make a beautiful garnish too. My favorite is when I have a dessert that's fruit based and contains some soft component, like a mousse or buttercream for the shards and leaves to be stuck in so they stand on their own.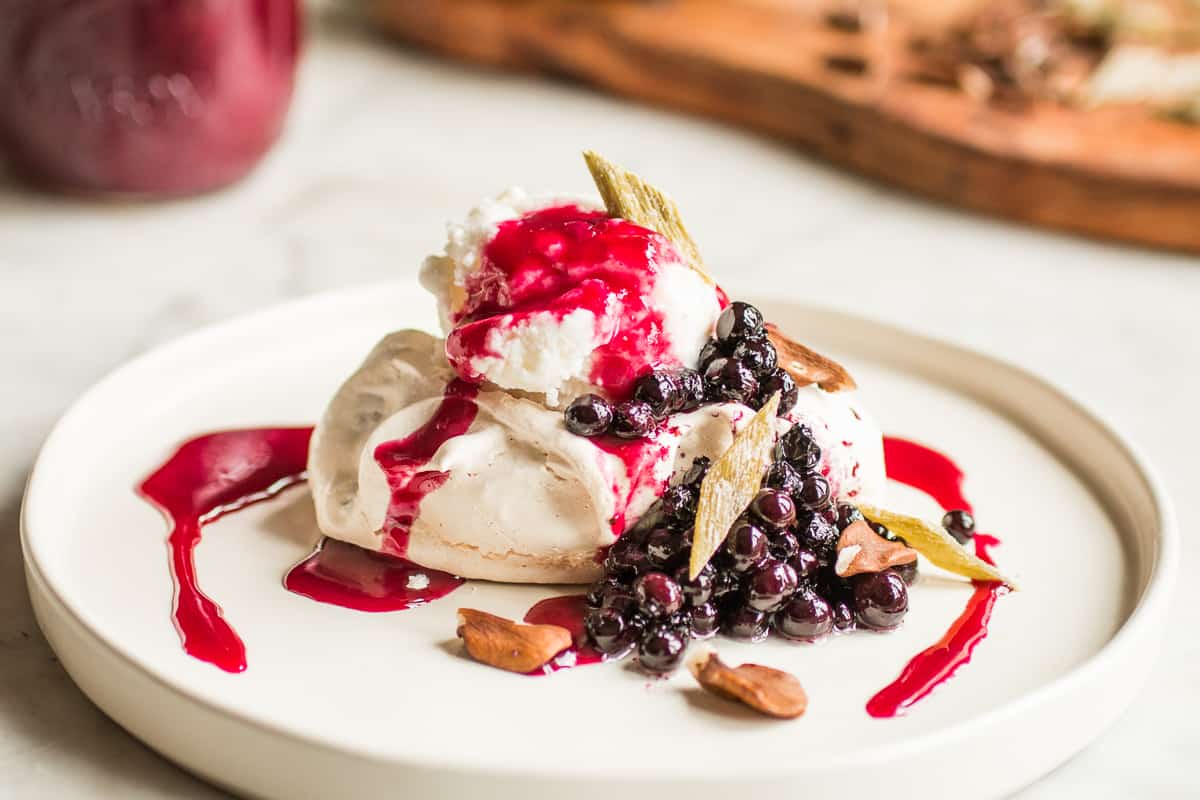 If the stem wasn't cool enough, the leaves can also be candied.The flavor of the leaves is nothing as strong as the stem, but the signature flavor of angelica is still there, just slightly more vegetal. The leaves make a nice garnish stuck in a soft something, like a cake, mousse, etc.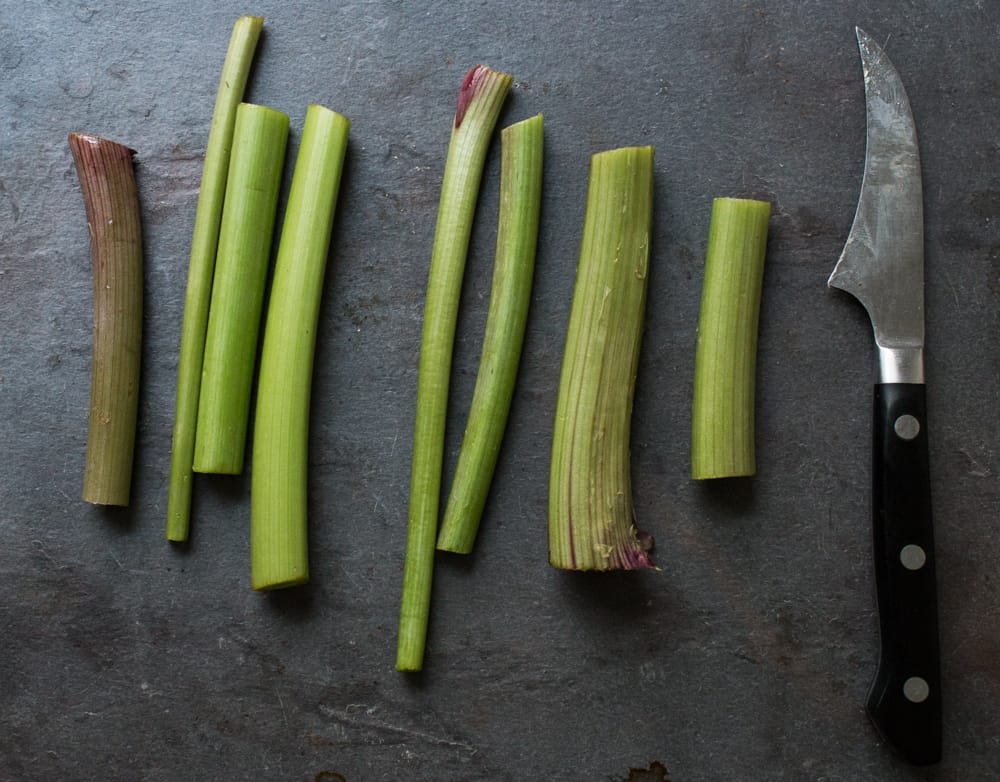 When do you harvest angelica stems for candying?
There are a couple ways you could candy angelica, but there is only one time of the year you can pick it to candy the stems: when they're young and tender.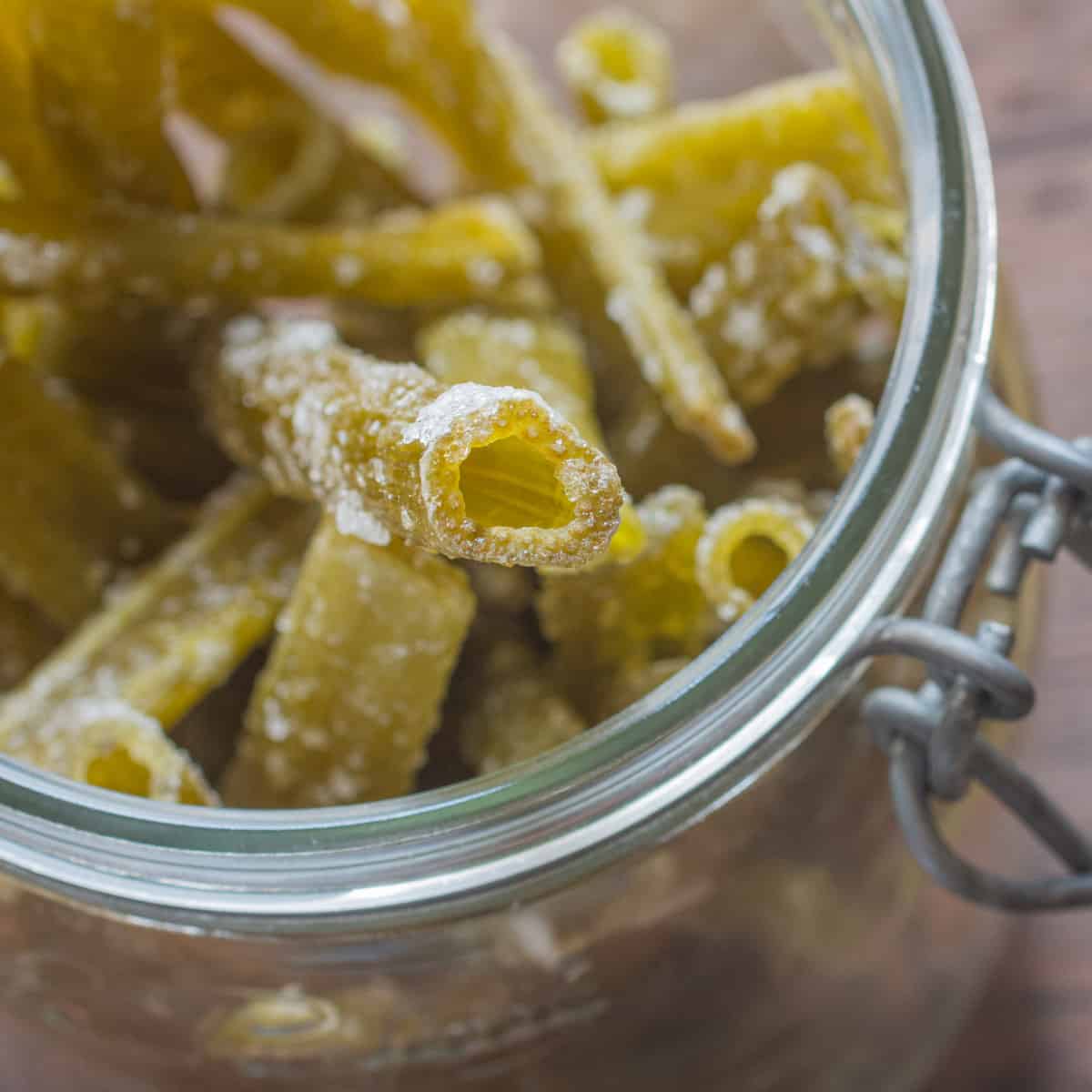 Angelica gets really woody and firm as the plant begins it's reproductive cycle and makes it's flower stalk, so I generally try to get them a month or so after they've started to come out of the ground. Don't get me wrong, you want to pick stalks large enough to get a good yield, but they need to be tender after blanching and peeling.
Proper storage is key
Candying angelica can be a bit of a labor and time sink, especially you're first time, so you need to know how to store it properly. Kept outside refrigeration, angelica will slowly lose it's soul, and eventually, will taste like nothing at all.
Kept cool in a dry, tightly-sealed container in the fridge, it will keep it's other-worldy perfume for months to come. I'll add, too that vacuum sealing and refrigerating candied stems is the most dependable way to keep angelica's aroma.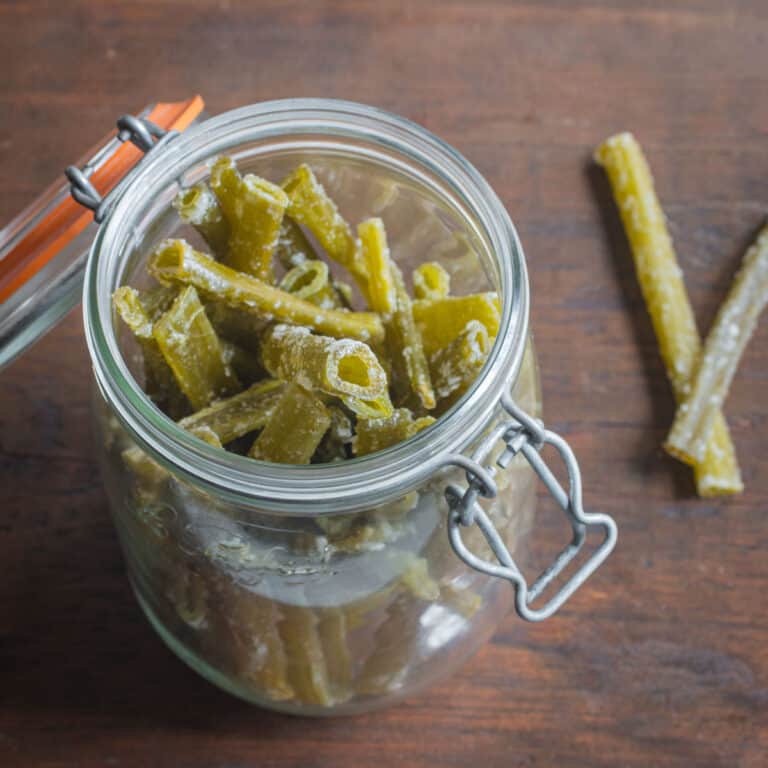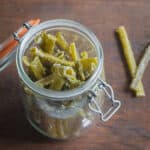 Print Recipe
Candied Angelica Stems
Traditionally candied angelica stems. Use them to garnish cakes and desserts, or eat as a snack.
Equipment
1 3 quart sauce pot

1 Dehydrator
Ingredients
1

lb

Thick, tender young angelica stems, leaves removed

a fingers width is good

4

cups

water

6

cups

sugar

plus extra for coating the stems
Instructions
Cut the stems into 3-4 inch lengths, or whatever size you'd like depending on the container you will store them in.
Optional: peel the stems
To peel the stems, which I recommend, bring the 4 cups of water to a boil, then add the stems and cook for a minute or two, working in batches if necessary. The blanching will loosen the tough skins. Peel the angelica with a paring knife. Meanwhile, add the sugar to the poaching liquid and allow to melt.

Bring the sugar-water mixture to a rolling boil, then add the angelica stems (you may have to add them a few at a time to make room) and cook for 3-4 minutes.

Remove the angelica to a bowl or other container.

Bring the syrup back to a rolling boil for a few minutes, then pour over the stems and allow to cool to room temperature, then chill, covered, for at least 12 hours.

The next day, drain the syrup, bring to a boil again, and pour over the stalks. Repeat the process one more time.

After the last time, remove the stems and blot dry.

Toss the stems with sugar (optional), then dry the stems in a dehydrator on the lowest temp setting, preferably with the door ajar, or leave them on a cooling rack at room temp until dried, but still slightly pliable.

When the stems are dried refrigerate until needed in a tightly sealed container. Vacuum sealed stems will keep the best texture.
Notes
You can save the leftover syrup for making drinks, or candying other things in the same way, adding a little extra water as needed. 
Nutrition
Serving:
1
oz
|
Calories:
4684
kcal
|
Carbohydrates:
100
g
|
Protein:
3
g
|
Saturated Fat:
0.2
g
|
Polyunsaturated Fat:
0.4
g
|
Monounsaturated Fat:
0.1
g
|
Sodium:
20
mg
|
Potassium:
300
mg
|
Fiber:
7
g
|
Sugar:
10
g
|
Vitamin A:
200
IU
|
Vitamin C:
14
mg
|
Calcium:
75
mg
|
Iron:
2
mg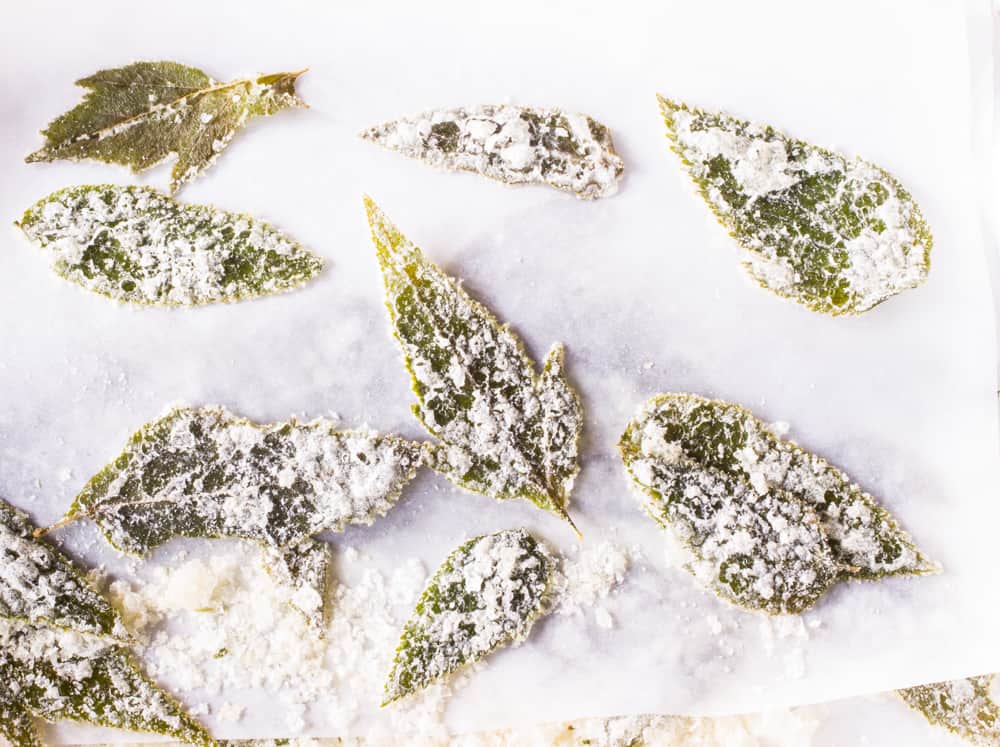 More
The Forager's Guide to Wild Angelica