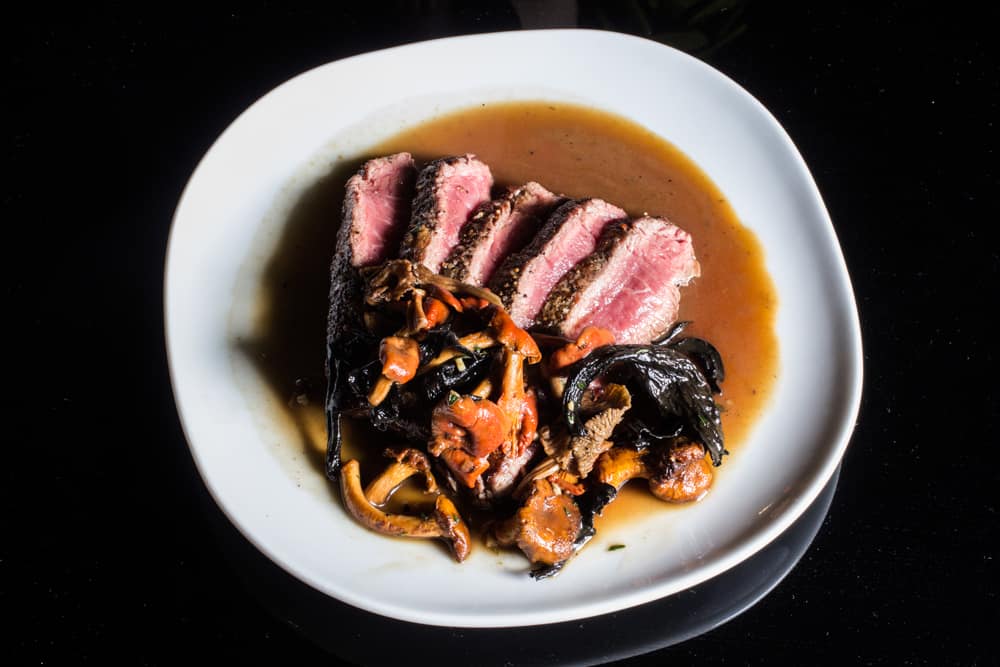 Grass fed beef is all the rage, and customers really think they want it. Ethically you do, but there's a disconnect between the beef most people have eaten all their lives, and grass fed beef. In short, grass fed beef is lean and tough-it's supposed to be. This poses problems when diners expect it to have the mouthfeel and taste of soft, corn-stuffed beef.
Personally, I just like beef. I enjoy 100% grass fed beef for what it is, and the same goes for grain finished.
Enter Certified Piedmontese beef-one of the best I've tried, and what I used to sell at The Salt Cellar. It's raised mostly on grass, but is finished on a mix of grains to soften the meat. The real kicker though is the cows themselves, they have a genetic quality related to a trait known as "double muscling" that makes them have nearly the same impact on you body as grass fed beef, which is what everyone who is morally and health conscious is after. In the end the beef yields great flavor, and tenderness, as well as being something I can feel good about serving ethically.
When I first learned of the beef a few years ago, it was through of a copy of their industry magazine laying on my boss's desk, an issue that he'd contributed recipes to.
Recently I got a call from the company inquiring about writing some recipes for their 2016 February issue of their magazine. The only tricky part is that the recipes are supposed to be approachable to the home cook, which is easier said than done. This doesn't mean that I had to dumb things down, just the opposite. But it does mean I won't write recipes that need 5 saute pans for plating.
There are so many different cuts of beef available that picking one can seem daunting, but I knew I didn't want to use anything that was typical, i.e. tenderloin. Bavette steaks are not well known here, but they are in Europe.
When I was in Provence last year, it seemed that every restaurant had only two cuts of beef: ribeye, or the bavette. The bavette is a little more chewy than most steaks, but I enjoy the texture, and the flavor is excellent. The wild mushroom pan sauce here is made from the brown bits left over in the pan from searing the steak.
If you want to try a bavette, most American butchers will be able to find it for you if you give them some direction. Officially it's part of the short loin section of the cow. Confusingly, it's also known as flap meat, comes from the belly like the flank steak, and is very similar in texture.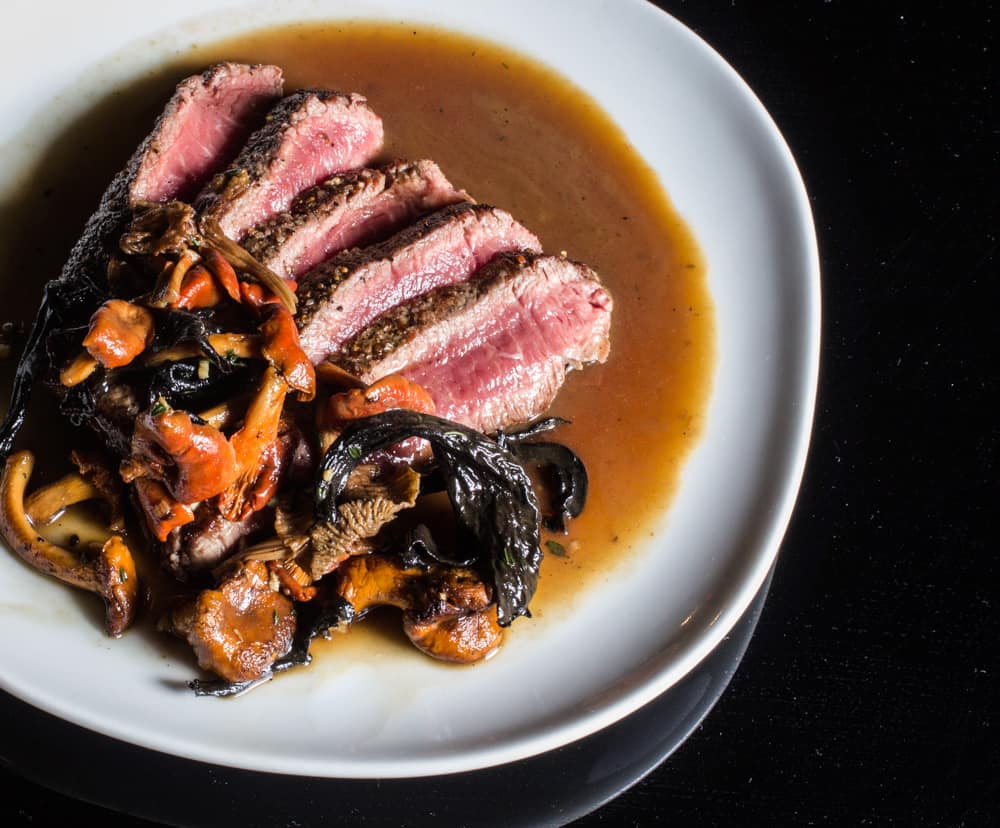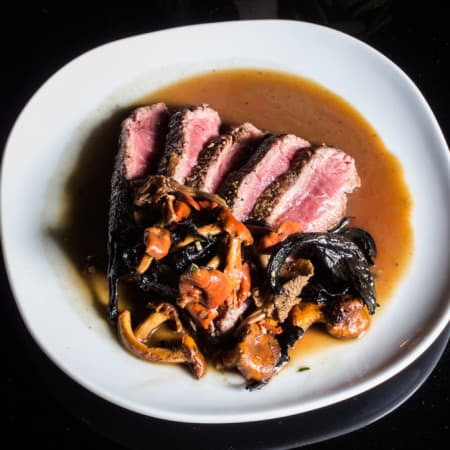 Print Recipe
Piedmontese Bavette Steak with Chanterelle Mushroom Pan Sauce
The preparation is simple, saute a steak and make a quick pan sauce.
Ingredients
1

lb

Piedmontese bavette steak

3

ounces

mixed hedgehog

golden chanterelle, cinnabar chanterelle, black trumpet, and yellowfoot chanterelle mushrooms

2

tablespoons

lard or high smoke point oil

2

tablespoons

unsalted butter

1

tablespoon

shallot

diced ¼ inch

Kosher salt and fresh ground black pepper

to taste

½

teaspoon

chopped fresh thyme

1

cup

strong beef stock

preferably homemade

2

tablespoons

cognac

½

teaspoon

champagne vinegar

or more to taste
Instructions
Open the windows and turn a fan on in your kitchen to avoid setting off smoke alarms.

Heat the lard or oil in a wide saute pan, such as a 10 inch on medium-high heat. Season the bavette steak liberally with salt and pepper, then sear until medium-medium rare, turning only once. (I like this steak cooked a little more than medium rare since it makes it more tender). Make sure not to allow the drippings in the pan to burn while you're searing the steak, since it will be the basis of the sauce.

Remove the steak from the pan and allow to rest in a warm place like an oven on the "warm" setting, put the steak on a plate in order to catch the juices that come out, you will add them to your pan sauce.

Add the butter and chanterelles to the pan, and cook for 4-5 minutes, stirring occasionally until lightly browned. Add the shallots and thyme to the pan and cook for 2 minutes more. Deglaze the pan with the cognac and cook down until thick and syrupy and the pan is almost dry. Add the beef stock and vinegar to the pan and reduce by half, then remove the pan from the heat and whisk in the butter and the juices the steak has given off. The sauce should be slightly thick, and should coat the back of a spoon. Double check the seasoning, adjust as needed, and keep warm. If the sauce is too loose, put it back on the heat for a moment or two and whisk until thickened to your liking.

To plate the dish, remove the steak from it's resting place, then slice against the grain into ½ inch slices. Arrange half of the steak on each of two pre-heated dinner plates, top with the mushrooms and spoon the sauce attractively over each portion.
Notes
Interesting depth comes from the "5 chanterelles": hedgehogs, golden, red and yellowfoot chanterelles, and black trumpets. You could make it with only one species, but I wanted to make a statement about the relation of all of these, since they're similar in texture, shape and size. 
Using a combination of dried black trumpets and cultivated mushrooms like shiitake would be a decent substitute if you don't have chanterelles.
Serve with mashed potatoes or polenta, some wilted bitter greens or broccoli, and maybe a piece of bread to soak up the pan sauce.