This is what happens when you have extra swordfish samples laying around, and need to start using up duxelles from a great lobster mushroom season.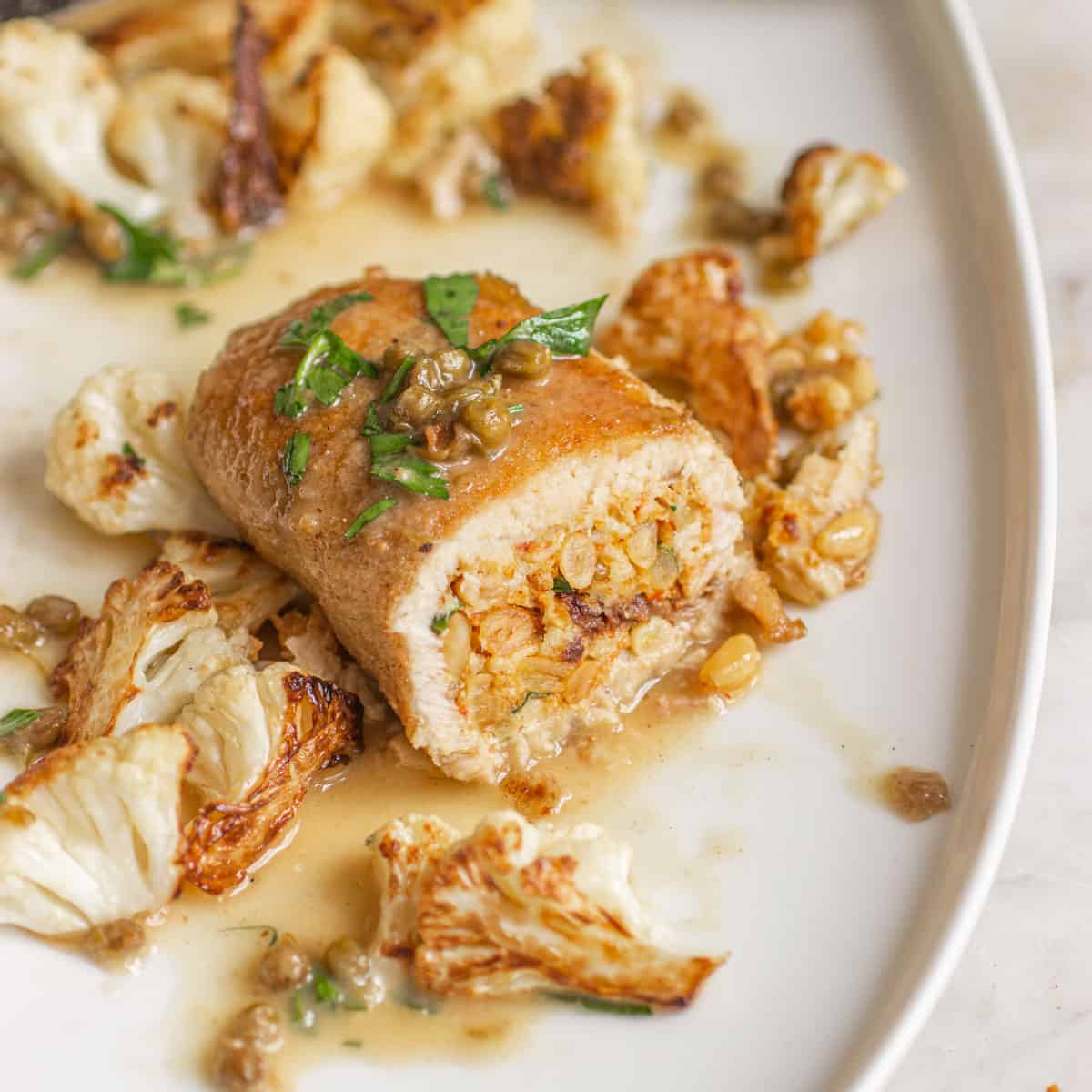 I can't remember where I got the idea, but I've been making this for years. Here's the jist: you take a thin piece of swordfish in the middle of each swordfish slice you place a little stuffing made from breadcrumbs, herbs and pine nuts, then you wrap them up like an envelope with toothpicks, saute them and serve with a simple sauce or maybe just a little bit of lemon.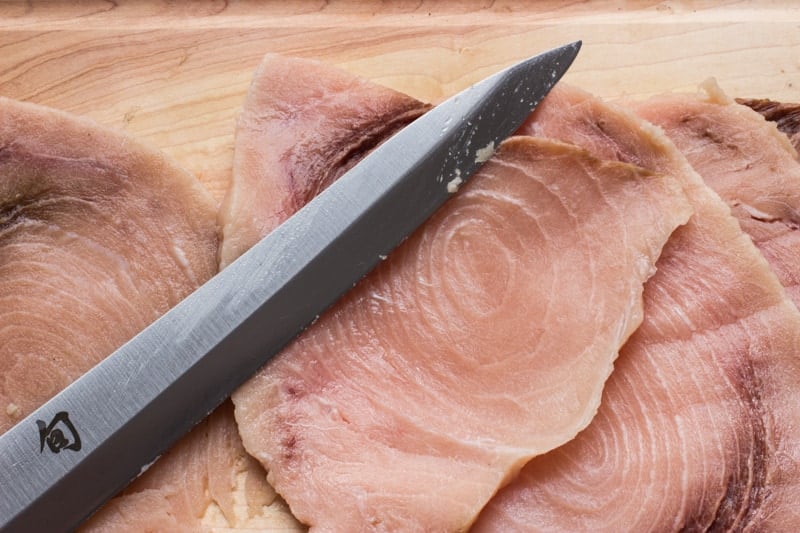 To incorporate the lobster mushrooms, I put them in the stuffing, using frozen duxelles from the 2014 season. Duxelles are a great, classic addition to stuffing. The texture of the duxelles is similar to the small flakes of breadcrumbs, which gives you a nice, even consistency.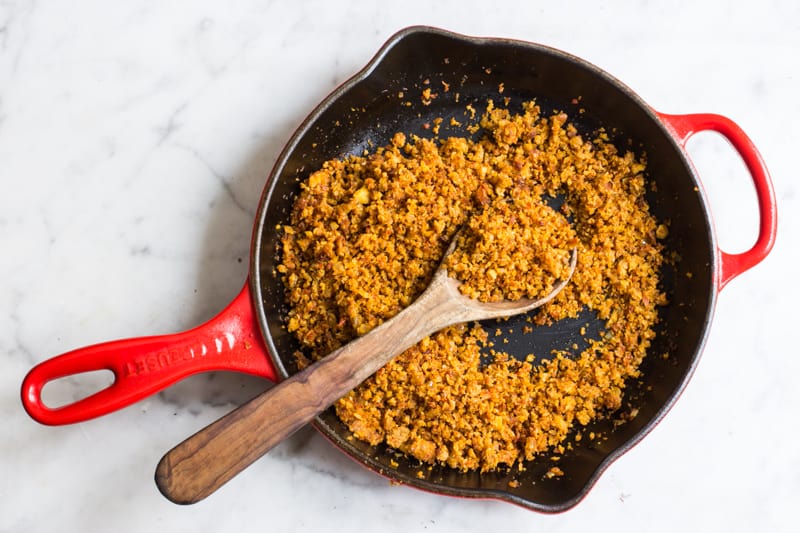 The key to the stuffing is not to add too many extra ingredients, it shouldn't be big and chunky, but very fine, It's also a little more dry than a typical stuffing. Leaving it dry, and not adding any stock means that the stuffing soaks up some of the juice the fish exudes while it cooks, which gives it a great flavor.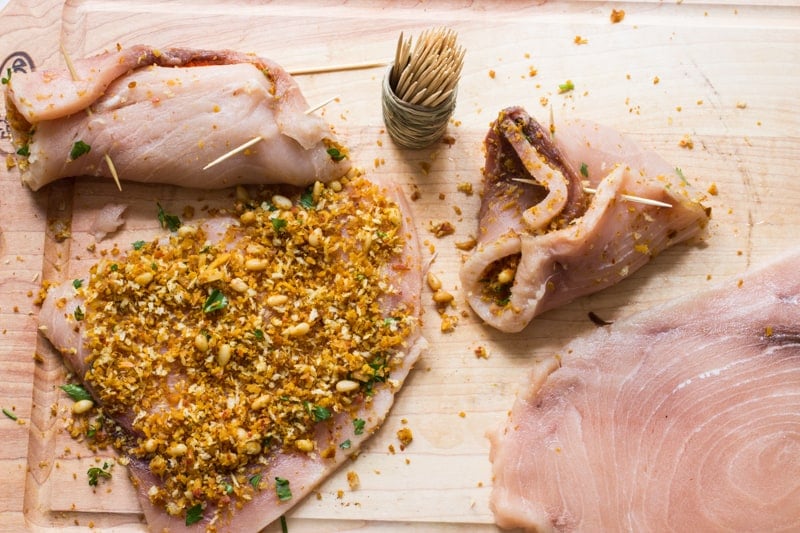 This is a great recipe for when you have a fish on hand that you might want to cook past medium rare, since the stuffing needs to be hot throughout. Walleye, northern pike, and other lake fish that should be cooked through are great candidates, as well salt water fish like cod or sole.
After the fish are stuffed and ready to cook, there are a number of different ways you could create a dish. I don't like to eat the same thing twice, so I made two different preparations to illustrate how I tweak and change dishes, and develop multiple multiple recipes from one starting point (the stuffed swordfish).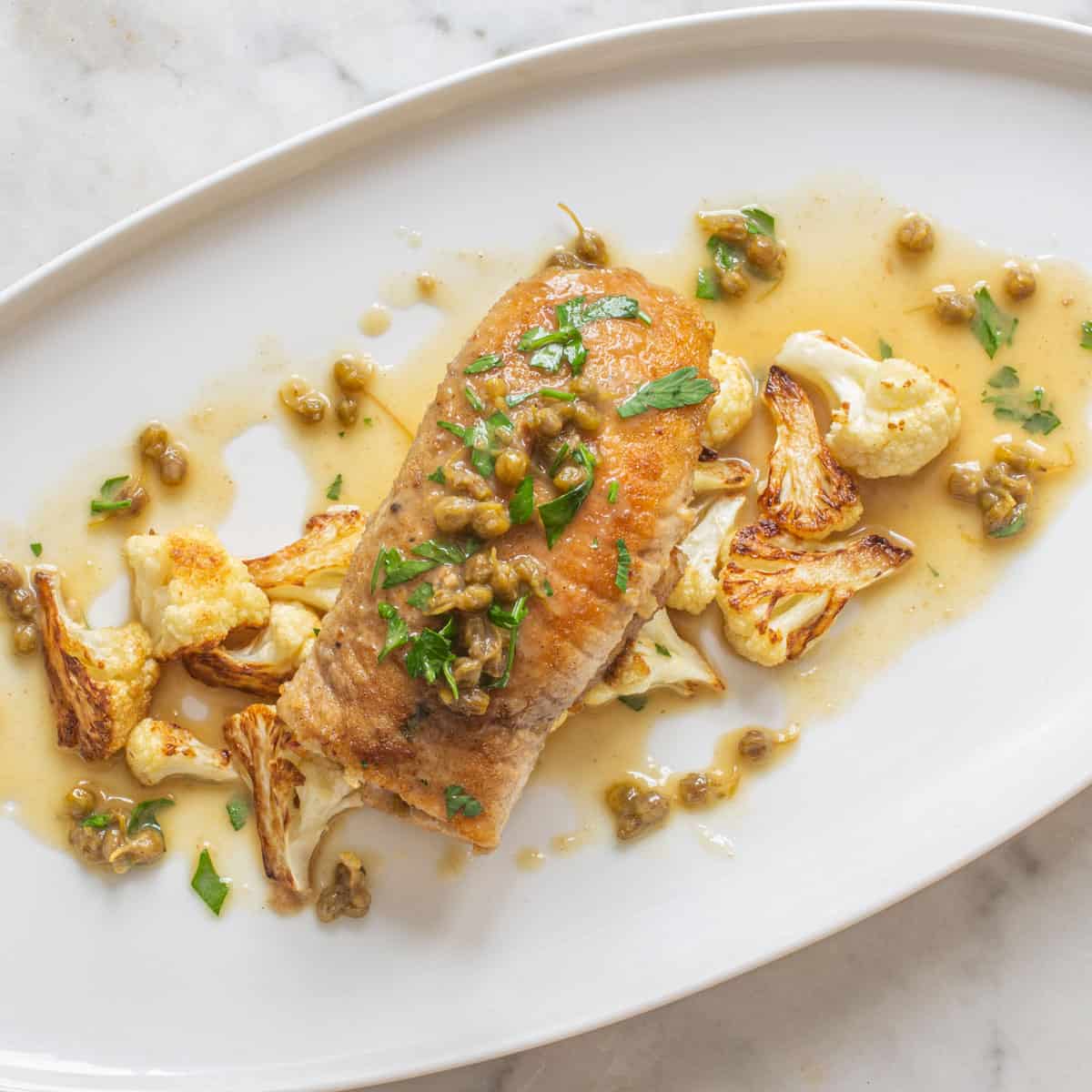 Both preparations are simple: a milkweed caper sauce, and a quick tomato sauce flavored with dried bergamot, I had some cauliflower that needed to get used up too- it works great in both recipes.
Swordfish With Lobster Mushroom Stuffing and Caper Sauce
Serves 4 as a light entree, or two people with big appetites
Ingredients
12

ounces

swordfish loin

in one piece

Kosher salt and pepper

Cooking oil or lard

1

recipe fresh lobster mushroom Stuffing

follows

All purpose flour

for dredging (optional)

2

tablespoon

Milkweed capers or other capers

¼

cup

dry white wine

½

cup

fish stock

clam juice, or chicken stock

1

tablespoon

unsalted butter

Kosher salt and pepper

Flat leaf Italian Parsley

Fresh lemon juice

to taste

1

cup

small cauliflower florets
Instructions
With a long, sharp knife, slice the swordfish pieces thinly, to create 3 ounce pieces. Pack 2 tablespoon of stuffing in each slice, then roll up the swordfish or fold the edges together to create packets. Secure the swordfish with toothpicks.

To cook, heat some cooking oil in a pan, season the swordfish packets with salt and pepper, dredge in the flour, then tap off the excess and brown about 2-3 minutes on each side, until hot throughout. Remove the swordfish from the pan and keep warm.

While the swordfish is cooking, heat 1 tablespoon oil in a pan and cook the cauliflower until lightly browned, season the cauliflower with salt and pepper and keep warm.

Deglaze the swordfish pan with the wine and reduce by half. Add the milkweed capers and stock, then increase the heat, swirl in the butter and stir the sauce to thicken it. Season the sauce with lemon juice to taste and salt and pepper if needed, then add the parsley.

To serve, divide the cauliflower between four warmed plates. Arrange the swordfish packets on the cauliflower, spoon some of the sauce on each and serve immediately.
Notes
Marlin can be used in place of sword fish, as well as tuna or skate. 
Nutrition
Serving:
4
oz
|
Calories:
165
kcal
|
Carbohydrates:
1
g
|
Protein:
17
g
|
Fat:
9
g
|
Saturated Fat:
3
g
|
Polyunsaturated Fat:
1
g
|
Monounsaturated Fat:
3
g
|
Trans Fat:
0.2
g
|
Cholesterol:
64
mg
|
Sodium:
167
mg
|
Potassium:
393
mg
|
Sugar:
0.2
g
|
Vitamin A:
191
IU
|
Calcium:
16
mg
|
Iron:
0.4
mg
Lobster Mushroom-Pine Nut Stuffing
Ingredients
1

cup

fresh lobster mushroom duxelles

basic duxelles recipe here

¼

cup

panko breadcrumbs

2

Tablespoons

lightly toasted pine nuts

½

tablespoon

fresh garlic

2

anchovy filets

rinsed

2

Tablespoons

flat leaf Italian parsley

chopped

1

tablespoon

unsalted butter

1

egg yolk

Splash of dry white wine
Instructions
Heat the butter in a pan and add the garlic and anchovy, cook for 2-3 minutes, stirring constantly. Deglaze the pan with a splash of wine, cook off the liquid, then combine with the panko, pine nuts, parsley and duxelles. From this point the stuffing can be prepared ahead of time, or frozen for later use.
More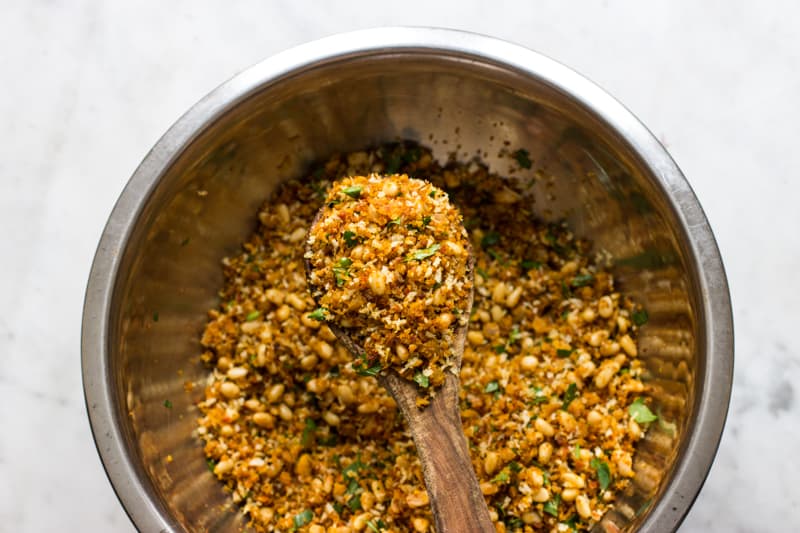 Swordfish With Lobster Mushroom Stuffing And Bergamot-Tomato Sauce
Ingredients
1

cup

pureed

whole, peeled tomatoes, passed through a strainer to remove seeds

¼

cup

diced shallot

1

cup

cauliflower florets

Kosher salt and pepper

Crushed red pepper flakes

to taste

½

cup

fish stock

clam juice, or chicken stock

1

teaspoon

crumbled

dried bergamot, picked over for stems

¼

cup

dry white wine

1

tablespoon

unsalted butter
Instructions
Proceed with the above swordfish recipe through step 2.

Brown the cauliflower lightly in the pan the swordfish was cooked in, then add the diced shallot and cook 1 minute more, deglaze the pan with the wine and reduce by half. Add the stock and reduce by half again. Add the tomato puree, red pepper flakes, dried bergamot, and reduce until slightly thickened.

Stir in the butter and season with salt and pepper to taste. Add the swordfish packets back to the pan and heat for a moment to coat them with the sauce.

To serve, remove a swordfish packet from the pan and place on each of 4 pre-heated dinner plates. Spoon some of the tomato-bergamot sauce over each portion and serve immediately.